New Age Islam News Bureau
2 Apr 2016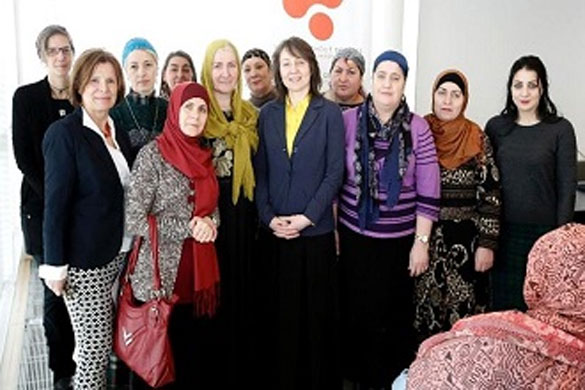 Photo: Graduates of Mother School and their trainers pose for a photo in Vienna. ─ AFP
---------
• UK Urged To Give Asylum to 100 Women Who Fled ISIS Captivity in Iraq
• Factors Pushing Lankan Muslim Women to Seek Work in Middle East
• Remembering Zaha Hadid: The World's Most Famous (And Controversial) Female Architect
• "She Who Tells a Story" Exhibition Lets Muslim Women Tell Crucial, Relevant Stories
• Police: New York Woman in Headscarf Lied About Being Slashed
Compiled by New Age Islam News Bureau
URL: https://www.newageislam.com/islam,-women-and-feminism/new-age-islam-news-bureau/muslim-mothers-fight--toxic--merchants-of-terror/d/106850
-------------
Muslim Mothers Fight 'Toxic' Merchants of Terror
AFP, Apr 1st 2016
VIENNA: There were small signs that her son was changing: He prayed more and swapped jeans for traditional long tunics.
"But I wasn't worried. Not for one second did Syria enter my mind," Fatima Ezzarhouni told AFP.
And yet that's where the young man was headed in June 2013 when he left his home in the Belgian city of Antwerp, a day after his 18th birthday, to join militants.
Almost three years on, Ezzarhouni gets the occasional phone call from her son confirming he's still alive, but never revealing his exact location.
"I have this feeling that I will never see him again," said the 44-year-old, fending off tears.
"But at least now I know I'm not alone anymore."
Ezzarhouni is one of the newest members of a global project that fights militancy not with soldiers, but mothers.
The so-called Mother Schools teach Muslim women how to spot early signs of radicalisation in children or develop coping mechanisms if the intervention comes too late.
After completing the 10-module course, the graduates then go on to train other women.
Race against recruiters
The Vienna-based Women Without Borders (WWB) organisation created the initiative in close cooperation with anti-terrorism experts of the Organisation for Security and Cooperation in Europe (OSCE), also headquartered in the Austrian capital.
Though independent, the WWB receives funding from various Austrian ministries, the European Union and the US State Department.
"Women are so well placed to work in the security arena because this is a mission about safeguarding their families," WWB founder Edit Schlaffer told AFP.
"They are in direct competition with recruiters, those toxic influences from mosques who step in when children reach adolescence and tell them: 'You're wonderful, glory is waiting for you, join us in building the caliphate.'"
Although there are other female-run programmes targeting radicalisation in various countries, the WWB project is the only truly global one.
The first school opened in 2012 in Tajikistan ─ an breeding ground for militants next to Afghanistan ─ before branches were rolled out in other nations plagued by violence, such as Pakistan and Nigeria.
In February, WWB organised its first training session for the new initiative in Indonesia, home to the world's largest Muslim population.
Although most practice a moderate form of faith in this southeast Asian country, the militant Islamic State group (IS) has provided a potent rallying cry for radicals. Hundreds are thought to have joined the militant group in Syria and Iraq.
"We heard from other mothers whose children were recruited by extremists. We could see what their strategies are, which is very relevant," Mother School participant Khotimun Susanti told AFP in Jakarta.
"Indonesian women are not used to speaking out... so we learnt that we need to develop this culture of openness."
Schlaffer stressed that a key part of the programme focused on current affairs.
"I've met mothers in Indonesia who thought their sons had gone off to work as foreign labourers in Syria. They had no clue where Syria was. When I told them it was a war zone, they broke down," she said.
'Mothers of courage'
The project is now also taking root in Europe where terrorists have been spreading fear with a string of attacks, the latest hitting Brussels on March 22.
While schools in Austria and Belgium are already up and running, new ones will open in Britain and Sweden later this year.
Ezzarhouni said she first heard about the initiative from another Belgian mother, Saliha Ben Ali, whose 19-year-old son Sabri died in Syria three years ago.
"Sabri's radicalisation was very fast, it happened in three months and we didn't see the signs," said Ben Ali, a social worker from the city of Vilvoorde, near Brussels.
"Four days after he had left, he sent his first message: 'Please mum, don't be angry. I came here to help Syrian people because nobody helps them.'"
Both Ezzarhouni and Ben Ali recently attended a Mother Schools workshop in Vienna, which united Muslim women from around the globe to share their experiences and receive training on engaging their communities back home.
Participants included the first 15 graduates from Austria's own Mother School.
The women all belonged to the country's 30,000-strong Chechen community, which has lost dozens of young people to IS.
"It's not a secret that our community has been hit hard by the radicalisation of youth," said Maynat Kubanova, a Chechen journalist and trainer at the Austrian school.
"Parents brought their children from Chechnya to Austria to save them from war. Now they lose them to a foreign conflict. The shock sits deep. But that doesn't mean that we are without power and just have to wait for recruiters to snatch our children away."
This determination to fight what Kubanova called "an invisible enemy" was palpable among those taking part in the workshop.
At the end of the three-day gathering in Vienna, many swapped contact details and hugged each other to say goodbye.
"These women have given me hope," said Ezzarhouni.
"There are many people who see us as mothers of terrorists. But we are mothers of courage."
dawn.com/news/1249305/muslim-mothers-fight-toxic-merchants-of-terror
---
UK urged to give asylum to 100 women who fled Isis captivity in Iraq
Friday 1 April 2016
Campaigners have called on the British government to grant asylum to at least 100 women and girls who escaped after being kidnapped and raped by Islamic State militants in northern Iraq.
Isis fighters have abducted thousands of girls from ethnic minority communities in northern Iraq and forced them into sexual slavery since overrunning the area in 2014.
Although many hundreds have managed to escape or have been rescued, according to Kurdish regional authorities, they are often deeply traumatised and face uncertain futures on returning to their communities.
Jacqueline Isaac, a lawyer and campaigner who works with escapees in refugee camps in northern Iraq, has called on Britain and other western countries to offer asylum and psychological support to 100 girls.
"We're not talking about letting in thousands of refugees, we're talking about 100 young girls that need care that they may not be able to get there [in northern Iraq] because of lack of resources and the culture," she said.
"It's very hard for a girl there to get what she needs and thrive because of what she has been through. Even though the Kurdistan regional government and the locals are doing a great job to try to support them, there is still that culture that is ingrained in the society that says if you have been raped or lost your virginity, you don't have as much value."
Isaac said the majority of the girls were Yazidis, a religious minority that Isis had targeted in northern Iraq, but added that Christian, Shia Muslim and Turkmen girls had also been enslaved.
A UN report published in January said up to 3,500 people were currently being held as slaves in Isis-controlled territory in Iraq, the majority of them women and children. At least 18,000 civilians had been killed and more than 3.2 million displaced since January 2014, it said, describing the violence against civilians as "staggering".
Germany has taken in at least 1,100 formerly enslaved young women from northern Iraq as part of a project that offers them specialised psychological support when they arrive, Agence France-Presse reported last month. Prof Jan Ilhan Kizilhan, a German doctor working in Baden-Württemberg state, which financed the programme, told the agency he believed that 1,200 other women would benefit from similar programmes, not counting the numbers still in captivity.
Isaac told the Guardian that she had interviewed more than 100 escapees in Iraq and Germany about their experiences, ranging in age from nine to their early 20s. She said many had described witnessing family members being killed before they were bussed to locations where they had been categorised according to age, marital status and perceived attractiveness, before being allocated to different groups of fighters.
Isaac, an Egyptian-American who is the vice-president of humanitarian organisation Roads of Success, gave evidence last year to the US Congress on abuses against women in Iraq. The Republican-dominated House of Representatives voted unanimously in March to declare that Isis atrocities against Yazidis, Christians and other minority groups amounted to genocide.
This was followed by the US secretary of state, John Kerry, who said the group was "genocidal by self-proclamation, by ideology and by actions, in what it says, in what believes and in what it does".
A spokesman for the Home Office said the British government was "at the forefront" of the humanitarian response to the crisis and had pledged £2.3bn to help refugees in the Middle East. He added that it was a longstanding government position that someone could not apply for asylum from outside the UK.
theguardian.com/world/2016/apr/01/uk-grant-asylum-women-held-captivity-isis-northern-iraq
--
Factors Pushing Lankan Muslim Women to Seek Work in Middle East
Apr 1, 2016
P.K.Balachandran
BATTICALOA: A complex set of economic and social factors are pushing Muslim women from Batticaloa district of Sri Lanka to seek work as house maids in the Middle East, despite low pay, harassment bordering on cruelty in the work place, and the possibility of being amputated, stoned to death or beheaded under Saudi law.
Interviews with returnees reveal that the inability of families to meet expenses related to education and housing, and to give dowries for marriageable daughters is the root cause of migration.
"Added to this is the system in which recruiting agents give their prospective clients LKR 1.5 lakhs to LKR 3 lakhs as salary advance to encourage them to migrate.The advance helps the women meet their immediate pressing expenses and creates an obligation to migrate," pointed out Rahini Baskaran of the NGO, Migrant Workers' Protection Network.
"The agents target women in indigent families; women whose husbands had either died or had abandoned them; and women married to violent, alcoholic and irresponsible men.The women are shown sympathy and given financial help, so that over time, they do as told," Rahini said.
Dowry is essential for marriage among Muslims in East Lanka, even though the Koran sanctions only brideprice which is paid by the groom.And often, a house is demaded as a dowry.
"In Varittirachenai, 90 percent of women have gone abroad only to collect money for dowries. If a woman has five daughters, she may have to go to the Middle East a number of times to marry off all," Rahini said.
When the returnees were asked if they were maltreated by their Arab employers, the reactions were mixed.
Maleeha (28) of Maruthamunai said: "Not all Arab women are unkind. Much depends on the behavior of the maids too."
Her 75 year old mother, Fathima Maraikar, who had been a migrant in the 1980s, said the girls of today do not show the restraint her generation did.
"There is a vast cultural change," she said.
But Fathima Majeed (41) of Sainthamaruthu said she had heard cries of maids being tied up and beaten in her neighbourhood in Riyadh.
"My land lady used to show me pictures of the beheading of Rizana. These pictures used to frighten me," Fathima said.
25 year old Rizana Nafeek of Muthur in East Lanka was beheaded in 2013 for allegedly killing an infant under her care.
Najeeba Nagoor (32) said the landladies were very suspicious. "I could not even dress up or put on a bit of make up. If I did, they'd ask if I was trying to attract the men in the house!"
m.newindianexpress.com/world/640175
---
Remembering Zaha Hadid: the world's most famous (and controversial) female architect
April 2, 2016
Mark Lamster, Architecture Critic Follow @marklamster Email mlamster@dallasnews.com
April 1, 2016
My first serious engagement with the work of Zaha Hadid came in 1995, with an exhibition of her projects, all but one of them speculative, in the soaring waiting room of New York's Grand Central Terminal.
This was an ideal place for such an encounter, Grand Central being the city's unmatched exemplar of architectural complexity, spatial drama, and public spectacle. Those qualities defined Hadid's work over a career that moved from the relative obscurity of the architectural avant-garde to the heights of international celebrity. Upon her death earlier this week in Miami at the age of 65, she had made herself the most famous female architect the world has yet known.
Hadid was born in Baghdad in 1950, the daughter of a liberal executive, and studied mathematics at the American University of Beirut. "Never in my upbringing was there a feeling that women are different from men," she said in 2008.
An interest in geometry brought a shift to architecture, and in 1977 she earned a degree from London's prestigious Architectural Association School of Architecture, then a center of radical experimentation. There she studied under the Dutch iconoclast Rem Koolhaas, joining his firm, OMA, upon graduation.
Hadid first achieved notoriety, at least within the narrow confines of the architectural profession, by winning a 1983 design competition for The Peak, a private club that would have been nestled into the hills of Hong Kong. It was never built, and couldn't have been. It didn't matter. Her fantastical drawings, "exploded isometric" views of abstract planes shifting through space, suggested a remaking of Russian constructivism. "I almost believed that there was such a thing as zero gravity," she said.
This was the Hadid I discovered gliding through the cavernous space of Grand Central. I was a young book editor at the time, and my immediate reaction was to try and put that work between covers, a project that never came to fruition. But my enthusiasm was hardly unusual; while Hadid's built work is polarizing, her early paper projects are universally admired. If nothing else, history will remember her as one of the great visionaries of modern architecture.
That show found her on the cusp of true stardom. In less than a decade, she transformed herself from an architect of speculations with little built work to a winner of the Pritzker Prize, architecture's highest honor.
Hadid's first built work, completed in 1994, was a fire station for the campus of the furniture maker Vitra, in Weil am Rhein, Germany. With its plunging concrete lines, it seemed a physical (and visceral) manifestation of her paper work.
Though she never wavered from a core dedication to an architecture of purely formal invention, her buildings became more fluid. If her drawings were characterized by orthogonals plunging through space, as she began to build in earnest, and as digital tools liberated architects from the straight line, she developed a signature style of swooping, sculptural forms, often in dazzling white.
Among her most significant works are the Phaeno Science Center in Wolfsburg, Germany (2005), the MAXXI museum in Rome (2009), the Guangzhou Opera House (2010), the Riverside Museum in Glasgow (2011), and the Heydar Aliyev Center (2012) in Baku, Azerbaijan. Her only completed building in the United States is the Rosenthal Center for Contemporary Art, in Cincinnati (2003), though she has several under construction, including a residential tower in Miami.
Building so much and so fast, and without a straight line in sight, led to persistent questions of craft and workmanship in her projects.
She was also a prolific designer of products: from tables and benches (one is on display in the garden of the Dallas Museum of Art) to women's shoes.
Hadid profited by the emergence of social media, but was punished by it as well. Images of her work, spectacular in two dimensions, spread virally on the internet, enhancing her stature. But that cut two ways.
A public campaign, led by several of Japan's most respected architects, led to the scrapping of her proposed stadium for the 2020 Tokyo Olympics. Her design for Qatar's Al Wakrah Stadium, commissioned for the 2022 World Cup, was compared unfavorably to the female anatomy. More significantly, she seemed tone-deaf in responding to accusations about unsafe working conditions on the job site.
In 2014, she took the respected New York Review of Books critic Martin Filler to court over his accusations that she was culpable for human rights violations in the Al Wakrah project. She won an apology, but was still dogged by the idea that she was too eager to lend her talents to anyone willing to enable her visions, and never mind their politics.
It didn't help that she could be combative with the press and her professional colleagues, a large woman with a large ego. She could also be charming. She dismissed much of the unflattering coverage of her life and work, with considerable justification, as born of gender bias. "If I was a man they wouldn't call me a diva," she said.
Many women — and men — consider her conviction and dedication to her principles an inspiration.
But the nature of her legacy remains an open question. There is a reasonable argument to be made that no architect of commensurate prominence has been cut off in the prime of their career since the death of Eero Saarinen, in 1961. The work she did complete is so idiosyncratic and so financially intensive that it is hard to imagine a "School of Hadid" developing in her absence, not least because her brand of formalist practice is considered almost entirely passé among younger designers. Sustainability, contextualism, modesty, resilience, craft — these are not attributes one associates with Hadid or her work, though they define architecture in the present day.
Hadid had her own imperatives, and from those, she would not deviate.
artsblog.dallasnews.com/2016/04/remembering-zaha-hadid-the-worlds-most-famous-and-controversial-female-architect.html/
------
"She Who Tells a Story" Exhibition Lets Muslim Women Tell Crucial, Relevant Stories
Roger Catlin
April 1, 2016
WASHINGTON - Although it was organized by Boston's Museum of Fine Arts three years ago, the landmark exhibition "She Who Tells a Story: Women Photographers From Iran and the Arab World" could not be more immediate in its impact.
At a time when fear of international terror is coinciding with election-year condemnations of entire cultures, what could address the divisive issues more directly than Boushra Almutawakel's portrait of a confident young woman whose hijab is an American flag? Created shortly after 9/11, the work is one of a series in the exhibition, which opens April 8 at the National Museum of Women in the Arts, that deals with the sociological complexity of such headgear in the 21st century.
The exhibition, inspired by the Arabic word "rawiya," meaning "she who tells a story," also addresses the balance of everyday life amid conflicts and challenging Western stereotypes. Here's how it adds up:
12: Number of artists represented in "She Who Tells a Story."
84: Number of pieces in the show.
13: Number of the most images by any photographer in the exhibition, reached by Shadi Ghadirian and Newsha Tavakolian, both of Iran. Tavakolian also is represented by a six-screen video from her "Listen" series.
6: Number of imaginary CD covers devised for singers prohibited from recording albums in Iran because they are women, from Tavakolian's "Listen" series.
15: Number of years after the 1979 Iranian Revolution when artist Shirin Neshat revisited her native country, producing work incorporating elements of the veil, gun, text and gaze.
14: Number of years that have passed since the West Bank incursions depicted in Rula Halawani's series "Negative Incursions," which look like printed negatives or the view from soldiers' night-vision goggles.
9: Number of images in Boushra Almutawakel's "Mother, Daughter, Doll" series, showing the artist, her oldest daughter and the daughter's doll wearing a progression of veils such that in the last image, they are completely obscured.
18: Number of days in the Egypt uprising of January 2011, whose news photographs of Tahrir Square and its brutal aftermath are rendered by Nermine Hammam into colorful postcards and Japanese screens.
60,000: Approximate number of verses in "The Shahnameh," the 1,000-year-old epic Persian poem that inspired Neshat's "The Book of Kings," a series of works depicting Arab Spring protesters.
150: Length, in inches, of the largest work in the exhibition - Lalla Essaydi's triptych "Bullets Revisited #3," in which the gold-colored embellishments surrounding reclining women are actually bullet casings.
10: Number of women depicted riding in a motorboat on the Mediterranean in non-restricted areas near Israel during a class trip, in a work from Tanya Habjouqa's "Women of Gaza" series.
3: Other museums where "She Who Tells a Story" has been on view: The Museum of Fine Arts in Boston, the Cantor Arts Center at Stanford University and the Carnegie Museum of Art in Pittsburgh.
16: Number of weeks "She Who Tells a Story" will be at the National Museum of Women in the Arts.
houstonchronicle.com/entertainment/arts-theater/article/Female-photographers-tell-important-stories-in-7223712.php
---
Police: New York woman in headscarf lied about being slashed
Thomson Reuters Apr 1st 2016
NEW YORK (Reuters) - A woman in a headscarf who reported being slashed across the cheek by an attacker who called her a terrorist has admitted she lied, police said on Friday.
The 20-year-old woman inflicted the wound on herself and was taken to Bellevue Hospital for care, police said.
SEE ALSO: New York nanny reportedly in coma after pushing baby stroller out of path of car
Anti-Muslim bias crimes in the United States have tripled since attacks by Islamic militants in Paris in November and shootings by Muslim extremists in San Bernardino, California, in December, say Muslim advocacy groups.
About 80 percent of the victims in such incidents are women, Council on American-Islamic Relations officials say.
At the same time, New York authorities are grappling with an uptick in stabbings and slashings, up 22 percent compared to the same period in 2015, Police Commissioner Bill Bratton said.
The most recent violence occurred Friday morning when a man was slashed in the face during an attempted robbery at a subway station near the World Trade Center. The victim suffered minor injuries, police said.
About 80 percent of the victims in such incidents are women, Council on American-Islamic Relations officials say.
One day earlier, the woman, who has not been identified, told police that she was attacked with a sharp object as she walked near in lower Manhattan.
The woman said she was slashed across her cheek by an attacker who called her a terrorist and fled, according to police who received a 911 call at 5:30 p.m. on Thursday.
But further investigation, including a review of several surveillance cameras in the area near Wall Street, showed that the incident did not occur, said police.
"She slashed herself and recanted her initial account of the incident," said Officer Sophia Mason, a department spokeswoman.
It was not clear whether police would file any charges against the woman for making a false claim.
On March 22, Bratton said there have been 916 stabbings and slashings reported in the city since January.
In response, police have begun a separate classification for such crimes.
aol.com/article/2016/04/01/police-new-york-woman-in-headscarf-lied-about-being-slashed/21336960/
URL: https://www.newageislam.com/islam,-women-and-feminism/new-age-islam-news-bureau/muslim-mothers-fight--toxic--merchants-of-terror/d/106850

New Age Islam, Islam Online, Islamic Website, African Muslim News, Arab World News, South Asia News, Indian Muslim News, World Muslim News, Womens in Islam, Islamic Feminism, Arab Women, Womens In Arab, Islamphobia in America, Muslim Women in West, Islam Women and Feminism