New Age Islam News Bureau
21 Jul 2017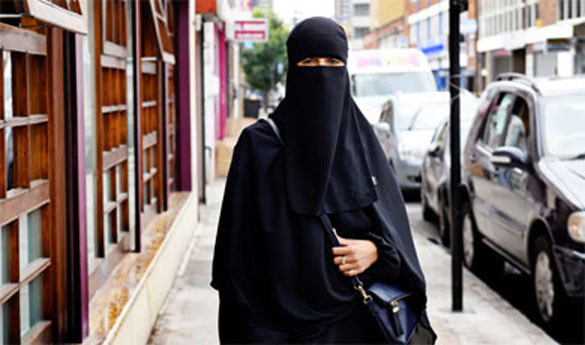 Rachida Serroukh has an 11-year-old daughter who is starting at the west London school next term. Photograph: Linda Nylind/the Guardian
-----
• Raise Minimum Marriage Age for Muslim Girls, PH Urges
• How a 16-Year-Old Muslim Girl Made the "Woman with Headscarf" Emoji A Reality
• Kerala: Muslim Woman Drops Plan to Join Teaching Institute over Dress Code
• Hijab Cosplay Takes Off In Indonesia and Malaysia as Muslim Women Embrace Fan Culture
• Nobel Winner Malala in Nigeria Speaks Out Against Boko Haram
• First Saudi Jobs Website for Women Aims To Get More Women In The Workforce
Compiled by New Age Islam News Bureau
URL:https://www.newageislam.com/islam-women-feminism/muslim-mother-takes-legal-action/d/111912
--------
Muslim Mother Takes Legal Action against School over Face Veil Ban
21 July 2017
A Muslim mother has launched legal action against her daughter's school, after being told she could not wear a face veil on its premises.
Rachida Serroukh, 37, a single mother of three daughters, has begun a discrimination test case against the prestigious Holland Park School, dubbed the "socialist Eton", in the Royal Borough of Kensington and Chelsea after she was told she would not be allowed to wear a face veil at the school.
Serroukh, a devout Muslim who has worn a face veil for the past 14 years, was delighted when her 11-year-old daughter was offered a place at the school. Not only was it across the road from where they lived, Serroukh – who was born in Ladbroke Grove – had studied there, achieving good grades.
"Education is very important to me and I want to ensure that all my children get a good education," she said. "My daughter, who will be starting at Holland Park after the school holidays, did really well in her year 6 Sats and was the top girl in her class."
But when she attended an evening for parents of new pupils at the school on 13 June, she was shocked to be challenged over her decision to wear a face veil.
After a talk by the head teacher, Serroukh – a qualified childcare assistant who plans to return to work when her daughter is settled in school – was approached by a member of staff who asked to speak to her. She was taken into a room and told it was the school's policy not to allow face veils on school premises.
"I was already feeling uncomfortable because I had to leave my daughter standing on her own," said Serroukh. "As the teacher was female, I lifted my veil when we were talking together in the room." She had already been surprised, she added, that at the welcome event for about 200 parents – including five or six who were identifiably Muslim – the head teacher said in his speech that the school was secular and did not offer prayer rooms "although it showed video footage of the school choir singing in a church".
At first Serroukh thought that the teacher who raised the veil issue had misunderstood and thought her daughter would be attending school in a face veil. "I explained clearly that my daughter wears a headscarf and would not be coming to school in a face veil. Then I realised she was talking about me not my daughter."
Serroukh asked several times to see the school policy banning visitors from wearing a face veil, as she was aware that a friend who also wore a similar veil had been attending school events for five years without encountering any problems.
"I had had no problem from security at the school gate when I entered the school and nobody there had mentioned a policy. I always lift my veil and show my photo ID when required to do so for security purposes," she said. "I didn't want to challenge the teacher until I had seen the policy."
Serroukh said the teacher then asked her to leave the school through the back exit, but she refused, explaining she needed to collect her daughter and would be leaving through the same door she had arrived – the school's front entrance.
"I was very shaken and was in a state of shock about what had happened," she said. "I had never experienced anything like this before. I have experienced name calling in the street from strangers about my veil but nothing like this had ever happened before. When I got home, I just broke down."
She wrote to the school for clarification on the face veil ban. Guidance from the Department for Education states that it is up to individual schools to decide about whether staff and pupils can wear face veils, but it says nothing about parents and other visitors.
In an email from deputy head Ross Wilson to Serroukh on 21 June, the deputy said the school did not have a written policy banning visitors wearing a face veil.
"It has not been necessary to date for the school to have this requirement stated in written policy," wrote Wilson. "Given the concerns you have raised, we are now considering a written amendment to our health and safety policy to include this specific requirement and will follow the normal protocol of seeking the approval of the governing body."
Replying on 12 July, Serroukh wrote: "How are you able to justify banning the face veil for all which come onto school grounds? I had shown my face prior to coming onto school grounds therefore security cannot have been a cause for concern."
The following day, Wilson said it was a health and safety issue to be able to identify all of those on the school site, adding: "We would wish to reiterate that no offence was intended when Mrs … met with you to discuss the situation on the evening of the welcome interviews and it was the school's intention to provide clarity and transparency."
The incident left Serroukh feeling upset and excluded from her own community, she said: "I feel like I don't belong here even though I live across the road and used to attend the school." She stressed that she wanted to work with the teachers and, when she was taking qualifications to become a nursery nurse, she lifted her veil while working with children. "What has happened to me at Holland Park is discrimination. I hope we can resolve the matter amicably," she said.
Her solicitor, Attiq Malik of Liberty Law Solicitors, said the firm had drafted a letter to the school because it was a "straightforward" test case of discrimination on the grounds of religion. "The government constantly talks about British values. To me, those values include diversity and multiculturalism. If a school in London is doing this, what might be happening elsewhere?"
The school has not yet responded to repeated requests to comment; Kensington and Chelsea referred enquiries to the school. But in Wilson's 13 July email, he referred to Serroukh's account of the meeting with the teacher during the parents' welcome evening, saying "we believe [it] to be factually inaccurate".
https://www.theguardian.com/world/2017/jul/20/muslim-mother-takes-legal-action-against-school-over-face-veil-ban
--------
Raise Minimum Marriage Age for Muslim Girls, PH Urges
Mohamad Fadli
July 20, 2017
KUALA LUMPUR: Pakatan Harapan's women leaders today urged Putrajaya to set the legal marriage age of Muslims whether male or female at 18.
Wanita PKR leader Zuraida Kamaruddin questioned why the government currently allowed Muslim girls to get married at the age of 16.
"Why is this so?" she asked at a press conference at the DAP headquarters here today.
She said increasing the legal marriage age of Muslim girls would ensure better marital life.
Islamic Family Law enactments nationwide currently set the minimum legal age for females at 16, while males must be 18.
A marriage involving Muslim girls below the age of 16 must get approval from the Shariah Courts.
Meanwhile DAP's Kulai MP, Teo Nie Ching said the issue of underage marriage was not trivial, saying child marriages had proven to have negative effects, both mentally and physically, as well as increase the risk of domestic and sexual abuse.
There were close to 9,000 underage marriages between 2010 and 2015, of which 6,268 were Muslim.
http://www.freemalaysiatoday.com/category/nation/2017/07/20/ph-urges-to-raise-muslim-girls-minimum-marriage-age/
--------
How a 16-year-old Muslim girl made the "woman with headscarf" emoji a reality
Jul 20, 2017
Millions of Muslim women who wear the traditional headscarf are finally getting an emoji that represents them — and it's all thanks to a teenage girl from Saudi Arabia.
In honor of World Emoji Day this Monday, Apple released a preview of 12 new emoji coming to users later this year. In between the icons of dinosaurs and sleepy-eyed zombies was an important new addition that marked a year's worth of work for 16-year-old Rayouf Alhumedhi: the first-ever emoji of a woman wearing a hijab.
Alhumedhi's emoji campaign started last year when realized she was the only one among her friends without an emoji that accurately resembled who she was. The student, who was born in Saudi Arabia but now lives in Vienna, Austria, set out to change that, spending two days in her bedroom drafting a proposal for a hijab-wearing emoji for the Unicode Consortium, a nonprofit corporation that manages the addition of new emoji.
"The fact that there wasn't an emoji to represent me and the millions of other hijabi women across the world was baffling to me," she told CNN. "I wanted to be represented, as simple as that. I just wanted an emoji of me."
Other people agreed. Reddit co-founder Alexis Ohanian co-authored Alhumedhi's proposal to Unicode, and helped Alhumedhi host an "Ask Me Anything" session on Reddit where she fielded questions on the emoji and on representation for Muslims in general. Unicode also connected Alhumedhi with the award-winning graphic artist who worked with her to create the final design that will appear on millions of keypads this fall.
An issue of representation — and a topic of controversy
In recent years, the hijab and other Islamic veils have emerged as a topic of controversy, sparking heated discussions over the implications of the veil on religious freedom, women's equality, and, more recently, national security.
In 2011, France became the first country in Europe to ban the full-face Islamic veil (called the niqab) in public places. This came after former French President Nicolas Sarkozy said in 2009 that the veil violates "women's dignity," and is "a sign of subservience and debasement."
Various Muslim women have firmly rebuked Sarkozy's comments and others like them, stating instead that wearing the veil makes them feel empowered and connected to their faith. Nonetheless, the issue has remained a testy subject as both Europe and the United States see a continual rise in anti-Muslim sentiment.
Alhumedhi's headscarf-wearing emoji has not been spared from this debate.
"The hijab is a symbol of oppression," wrote one user to Apple CEO Tim Cook. "By including it as an emoji you are showing your support for the oppression of women." Others conflated the headscarf with terrorist activity:
Backlash to the emoji continues even though Alhumedhi has made it clear that it's about representation, not politics. "Millions of women wear the headscarf and not just Muslim women," she said to AJ+, a news site under the Qatar-based media group Al Jazeera. "Orthodox Jews, orthodox Christians, they pride themselves on wearing it."
She added in an interview with CNN that it was important to her that they make the emoji available in various skin tones in order to ensure that the icon is accessible to all headscarf-wearing users. According to the emoji reference website Emojipedia, the "woman with headscarf" emoji will be available in four different skin tones when it's launched this fall.
Alhumedhi also acknowledged that even though an emoji may seem like a small achievement, it has the potential to normalize a community of people who are often, and increasingly, misunderstood. If headscarf-wearing women start appearing in the phones of Apple users everywhere, she said, people might start to recognize "that we are normal people carrying out daily routines just like you."
https://www.vox.com/world/2017/7/20/16003886/muslim-islam-hijab-headscarf-emoji-religion-faith-tech
--------
Kerala: Muslim woman drops plan to join teaching institute over dress code
by Nitika Kakkar
July 20, 2017
A Muslim woman has decided not to take admission for a teacher training course in Malappuram district of Kerala after her request to attend classes wearing 'purdah' was declined. Jamia Nadwiya Teacher Training Institute, run by an organisation called Kerala Naduvathul Mujahideen (KNM), turned down the applicant Husna's request as it interfered with their dress code. Husna wanted to pursue BEd from the institution.
"Three days a week, the trainees are required to wear a uniform, which is a sari. Other two days one can wear a sari or purdah, whichever they like," Mohanan Vattakkandiyil, Principal of the Teacher Training Institute, told indianexpress.com. He said this is the first time they got such a request.
According to a PTI report, Husna's husband P Harshad Muhammed had written a letter to KNM pointing out that some other institutions run by Muslim organisations allowed students to attend classes wearing Purdah. "We decided that Husna will wear Purdah as it would be more comfortable and safer than sari and approached the authorities even though there is a stipulation in the institute that students should wear sari three days in a week" as uniform", he told PTI.
Vattakkandiyil, on being questioned about this, said, "Other institutes might be doing it, we don't know about that. But we don't allow it. We have a dress code."
http://indianexpress.com/article/india/kerala-muslim-woman-drops-plan-to-join-teaching-institute-over-dress-code-4760017/
--------
Hijab cosplay takes off in Indonesia and Malaysia as Muslim women embrace fan culture
21 July 2017
JAKARTA (REUTERS) - After donning a blue Cinderella dress, Sind Yanti carefully arranges her pale yellow "hijab", or traditional headscarf, into folds that resemble hair.
"Wearing a hijab should not be a barrier for anything. We are free to be creative," said the 24-year-old Indonesian designer after posting selfies of her latest "cosplay" outfit.
She is among a growing number of young Muslim women in South-east Asia who are taking part in "hijab" costume play, finding creative ways to incorporate the head covering into colourful fantasy costumes.
Yanti's fashions are inspired by Disney and Japanese anime characters, with artful hijab designs that resemble wigs or hoods. She can express herself while preserving the Islamic requirement of modest dress for women, Yanti said.
Her made-to-order designs cost between 250,000 rupiah (S$25.64) and 500,000 rupiah each.
The fashion play is also popular in neighbouring Muslim-majority Malaysia, where young people dressed as superheroes, warriors and princesses flocked to a cosplay show in Kuala Lumpur, the capital.
Among them was 20-year-old film student Nursyamimi Minhalia, who wore a black hijab cut to form a fringe with two buns on either side.
She did not include the hijab when she began cosplaying in 2012, but was later inspired by others wearing the headscarf.
"It's quite challenging. Usually, I pick a character that covers most of my body, so it's easier for me to wear it in the 'Muslimah' style," Minhalia said, using the Arabic term for Muslim women.
Costumed roleplay, which can feature revealing outfits and elaborate hairstyles, has long been part of the fan culture linked to anime and comics.
Hijab cosplay is a new phenomenon that appears to be growing in appeal among the wider Muslim community.
Sharifah Maznah Syed Mohd, 48, whose son is an avid cosplayer, said the role-playing hobby was acceptable as long as participants stuck within religious boundaries.
Yanti said hijab cosplay has helped her stay true to her faith even while enjoying the cosplay experience.
"If I took off my hijab just because of cosplay, I'd feel sorry for myself," she added. "It would feel like there is a conflict inside my heart."
http://www.straitstimes.com/asia/se-asia/hijab-cosplay-takes-off-in-indonesia-and-malaysia-as-muslim-women-embrace-fan-culture
--------
Nobel winner Malala in Nigeria speaks out against Boko Haram
Haruna Umar
21 July 2017
MAIDUGURI, Nigeria — Nobel Peace laureate Malala Yousafzai was greeted with cheers by dozens of young women in northeastern Nigeria, where she spoke out for the many girls abducted under Boko Haram's deadly insurgency.
The 20-year-old Pakistani activist told The Associated Press she was excited by the courage of the young women who are undaunted as they pursue an education amid one of the world's worst humanitarian crises.
"This is part of my girl power trip, visiting many parts of the world," said Yousafzai, who also met with the freed Chibok schoolgirls taken in a mass abduction by Boko Haram more than three years ago. "I am here now because of the Nigerian girls. Fighting for them and speaking up for them."
Yousafzai visited internally displaced camps in and around the city of Maiduguri, where thousands have sheltered from Boko Haram's violence. The extremist group continues to carry out deadly attacks there, often using young female suicide bombers.
"They have lived in the period of extremism," Yousafzai said of the young women around her. Many have seen family members killed.
Yousafzai was 15 when she shot in the head by Taliban militants in 2012, targeted due to her advocacy for women's education.
The Nobel winner said her Nigeria visit was significant because it was the partial fulfillment of what she advocated the last time she was there. In 2014, she pressed then-President Goodluck Jonathan to ensure the rescue of the more than 200 abducted Chibok schoolgirls.
On Monday, Yousafzai met with more than 100 who have since been rescued and now stay in the capital, Abuja, for what the government calls rehabilitation.
While she told the AP she shared their joy at being freed, she said she was not happy that the girls haven't been allowed to reunite fully with their families.
She said she hopes they will "live with their family, live a normal life."
Many others remain in Boko Haram captivity, "and the government must unite so that they should make sure that these girls are released," Yousafzai said.
"Boko Haram themselves should learn that in Islam, such things are unacceptable," she added. "This is against humanity, this is against Islam."
Yousafzai also met Monday with acting President Yemi Osinbajo, speaking up for the more than 10 million children displaced by Boko Haram and pressing for the declaration of a state of emergency for education in Nigeria.
She also urged the international community to address the crisis in the country's northeast.
Girls at the internally displaced camps said the Nobel winner's story of courage gave them inspiration for a brighter future.
"Her story give us hope, that's why we too want to go to school and become something in life," said 15-year-old Fatima Ali. "We have to bear all pains like hunger to go to school. We barely eat once a day here. We have not eaten since morning because government people no longer bring us food for about two months now."
Three million children in Nigeria's northeast are in need of support to keep learning, according to the U.N. children's agency. Nearly 1,400 schools have been destroyed during Boko Haram's insurgency, which began in 2009, and more than 2,295 teachers have been killed, the agency says.
Ali said she was in school when Boko Haram attacked her town three years ago. "I want to become a soldier so that I could help my community to fight and kill Boko Haram, because they are not good people," she said. — (AP)
Another student, 15-year-old Fatima Grema, said she sees herself in Yousafzai.
"Boko Haram abducted me and wanted to marry me," she said. After being taken from the town of Baga to a location near the Cameroon border, "I later managed to escape," she said. "I was not in school until I came to the camp here."
Grema said she now wants to become a teacher.
UNICEF's country representative Mohamed Malick Fall said Yousafzai's visit is a symbol of hope, and "we will do everything in our power to make sure all children can keep learning." — (AP)
http://www.phillytrib.com/news/nobel-winner-malala-in-nigeria-speaks-out-against-boko-haram/article_f69bfb45-73a7-5050-84e7-853f459efe2c.html
--------
First Saudi jobs website for women aims to get more women in the workforce
July 20, 2017
"Alajnabia", or foreigner in Arabic, connects women job seekers with recruiters
An Algerian biomedical engineer is on a mission to make it easier for women to find work in Saudi Arabia by creating the first job-searching website for females in the deeply conservative kingdom.
Australian-born Naziha Deriche, 23, who was raised in Saudi Arabia, realised after completing her postgraduate studies in Sydney last year that it was hard for her and her friends to find jobs in Saudi Arabia.
"Most of the jobs advertised are ... for males in Saudi Arabia. And the working environment is mainly very male dominated here so I felt that there was a problem, sort of a gap," Deriche told the Thomson Reuters Foundation by phone.
So she set up a free website in March this year called "Alajnabia", or foreigner in Arabic, with the aim of increasing the amount of women in the workforce by connecting job seekers with recruiters.
"It's an ironic word. The reason we used that word 'foreign' is the fact that the idea of women working here in Saudi Arabia is so foreign," said Deriche, speaking from Dubai where she is working because she couldn't find a job in her field in Saudi Arabia.
The kingdom is trying to diversify its economy and reduce its reliance on oil with its Vision 2030 economic reform plan setting a target to lift women's participation in the workforce to 30 per cent by 2030 from 22 per cent.
Women can now work in certain retail and hospitality jobs and this year the Saudi Stock Exchange appointed its first female chair, Sarah Al Suhaimi.
Deriche said she and her friends saw the main issue with female unemployment as not just the few available jobs but also poor advertising.
Deriche, who is working with 40 recruitment agencies, said the website has had 1,000 resumes uploaded since it was set up and keeps growing.
On the site job seekers can look for work and also employers can advertise jobs and look at the women's resumes.
Jobs are also advertised on website's social media platforms.
"We're creating a healthy environment for competition where people are hired based on their skills, their qualifications, their abilities - rather than connections, or through word of mouth, or through knowing someone," said Deriche.
"I know people may think it's just a job board, but it was more of a social initiative. I wanted it to be something to simulate women empowerment."
http://www.khaleejtimes.com/region/saudi-arabia/first-saudi-jobs-website-for-women-aims-to-get-more-women-in-the-workforce
--------
URL: https://www.newageislam.com/islam-women-feminism/muslim-mother-takes-legal-action/d/111912
New Age Islam, Islam Online, Islamic Website, African Muslim News, Arab World News, South Asia News, Indian Muslim News, World Muslim News, Women in Islam, Islamic Feminism, Arab Women, Women In Arab, Islamophobia in America, Muslim Women in West, Islam Women and Feminism