New Age Islam News Bureau
24 August 2020
• Princess Haifa Launches Initiative To Highlight Saudi Arabia's Cultural Diversity Across Its 13 Regions
• Women's Group in Dubai Raises Covid-19 Aid from Recipe Book
• Rural Health Activist Agnes Padan Appointed as Sarawak PKR Women's Chief
• Iran to Partake at Women Futsal World Tournament
• Bhopal Woman Pressured for Dowry, Gets Triple Talaq On WhatsApp
• Stephanie McMahon On the Evolution of Women's Wrestling in the WWE: 'I Couldn't Be Prouder'
Compiled by New Age Islam News Bureau
URL: https://www.newageislam.com/islam-women-feminism/muslim-man-got-his-adopted/d/122707
--------
Muslim Man who Got His 'Adopted' Hindu Sisters Married is the Hero We Need
AUGUST 24, 2020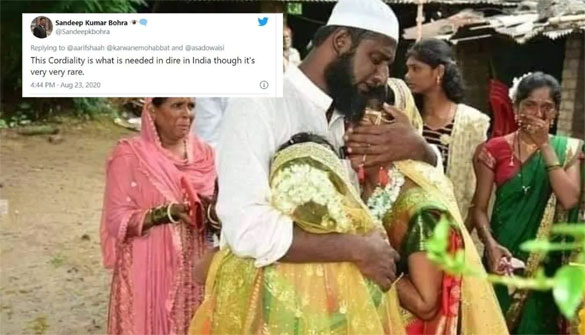 Bababhai Pathan with his two Hindu sisters. (Credit: Twitter/ Aarif Shah)
----
At a time when the country is often divided in the name of faith and religion, a kind gesture by a Muslim man towards his 'adopted' Hindu sisters stands out to be an example of brotherhood and unity.
Bababhai Pathan from Ahmednagar, Maharashtra has become the talk of the town after he adopted two 'orphaned' Hindu women as his sisters and had them married following Hindu customs and rituals.
Pathan is being widely praised as he used his personal savings to conduct the rituals, as per reports.
The incident was shared on Twitter by journalist Aarif Shah, who said, "Muslim man Bababhai Pathan, from Ahmednagar, Maharashtra, has adopted two orphan sisters & wedded them from his own expenses according to the Hindu rituals. He has been widely praised for his humanitarian work across the country."
Since being shared, netizens expressed their love and affection towards Pathan and reiterated the constant need of such 'cordiality' between people irrespective of beliefs and faith.
ALSO READ: In a Show of Communal Solidarity, Muslims Help Perform Last Rites of Hindu Neighbour in Bulandshahr
However, a report by India Times suggests that the two sisters have their mother, Bhusare, a native of Ahmednagar, who ties rakhi to Pathan every year as she doesn't have a real brother.
Bhusare, who lost his husband had Pathan marry off his daughters and he did so like an uncle of their own.
https://www.news18.com/news/buzz/muslim-man-who-got-his-adopted-hindu-sisters-married-is-the-hero-we-need-2814293.html
--------
Princess Haifa Launches Initiative To Highlight Saudi Arabia's Cultural Diversity Across Its 13 Regions
August 24, 2020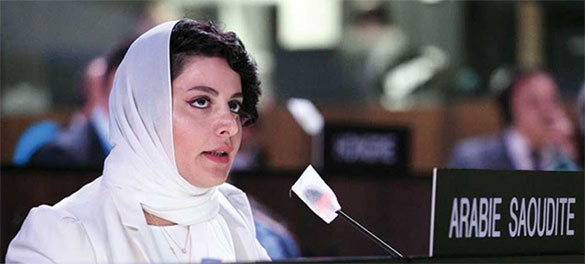 In January of this year, Princess Haifa bint Abdulaziz Al Muqrin made headlines by becoming Saudi Arabia's permanent representative to the United Nations Educational, Scientific and Cultural Organisation (UNESCO). This week, just seven months into her role, she has launched a major initiative entitled "13 in One," which aims to build bridges between Saudi Arabia's 13 regions and UNESCO, highlighting the country's rich cultural diversity.
-----
In January of this year, Princess Haifa bint Abdulaziz Al Muqrin made headlines by becoming Saudi Arabia's permanent representative to the United Nations Educational, Scientific and Cultural Organisation (UNESCO). This week, just seven months into her role, she has launched a major initiative entitled "13 in One," which aims to build bridges between Saudi Arabia's 13 regions and UNESCO, highlighting the country's rich cultural diversity.
The initiative was announced during an online session entitled "We are Our Heritage," hosted by the Saudi Heritage Preservation Society (SHPS). During the session, the Princess shared a few words regarding "13 in One," saying, "We want UNESCO to hear about the Kingdom from its sons and daughters in various regions and their participation will be used in a campaign to familiarise Saudi Arabia […] What is significant for us in the Kingdom is that we are creating our own story."
Established in May of 2010, SHPS is a Saudi charitable society that focuses on and supports the preservation of national heritage. In December 2019, it became the first Gulf organization to act as a global consultant with the UNESCO. This year, it will be taking another major step in its trajectory, as Princess Haifa revealed during the session that procedures are currently under way to register the Society at UNESCO.
The Princess also took the opportunity to discuss the possibility of registering other Saudi institutions with the UN body, saying, "This will emphasise the role of these institutions in their interaction with the international community and subsequent registration in other international organisations with their active presence in deliberations of these bodies […] This would be instrumental in demonstrating the Kingdom's cultural and heritage diversity in the international bodies in the best manner."
https://www.abouther.com/node/31711/people/leading-ladies/princess-haifa-launches-initiative-highlight-saudi-arabia%E2%80%99s
--------
Women's Group in Dubai Raises Covid-19 Aid from Recipe Book
Saman Haziq
August 12, 2020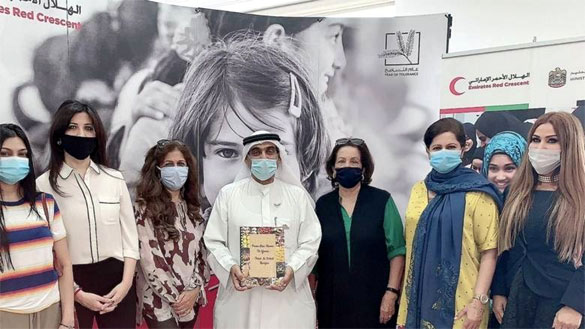 (Supplied photo)/Covid-19 aid from recipe book
------
The group also printed a special message on the illustrated online book.
As the world struggled to pass their time constructively during the Covid-19 related #StayHome period, a group of women from Dubai made the most productive use of their time as they believed that 'every dark cloud has a silver lining'.
The volunteer group known as Friends of Emirates Red Crescent, that works under the umbrella of the Emirates Red Crescent (ERC) and comprises of 12 women of different nationalities, religions and background, managed to raise Dh17,000 by simply launching a unique online recipe book and donating all the proceeds to the ERC to help those affected by the virus.
Kamu Bhavnani, co-chair of the volunteer group, said: "We were looking for ways to use our time constructively and to help those in need, especially after seeing many suffer in the wake of the Covid-19 pandemic. This is when the group's chairperson Zenny Hirji came up with the idea of a unique online recipe book that would see us all (12 members) pen down our tried and tested recipes which were considered "family favourites" and were probably passed down to us from generations."
Each member of the group - in the age group 35-75 years - contributed five of their "family or culture special" recipes that they had been making for a number of years for the book that they titled "From Our Home to Yours - Tried and Tested Recipes".
Bhavnani said: "These are not just any run-of-the-mill recipes but I would call them heirloom recipes that have been passed down the generations. They are easy to make and not the usual, regular recipes one would find online. These are those 'ageless' recipes that are probably famous in someone's culture or household and that have been tried and tested over a number of years. We used the #StayHome time to once again practise and prepare all the five recipes each of us contributed. We then photographed our dishes so that we could show people the real pictures of how the dishes looked."
The group then distributed the e-book for Dh100 and upwards (whatever people deemed fit to pay for the cause) within their circle of friends and asked them to forward it and spread the word about the good cause behind its launch - to help those affected by Covid-19.
Lebanese national and group member Lara Tabet, a TV presenter and luxury brand ambassador, said: "The tragic events around Covid-19 made us all realise that one's greatness is not what he or she has but what he or she can give. We have witnessed so many people who were impacted and so many courageous people willing to serve on the frontlines. We have also seen the great efforts extended by the leaders of the UAE and this fired us all up to want to do our part."
The group also printed a special message on the illustrated online book, where they stated the purpose behind the book launch which, Bhavnani said was "to create an unbroken chain of giving".
Friends of Emirates Red Crescent, which has been granted a special licence by the ERC to raise funds for Covid-related causes, said the money raised is being used by the charity for providing food packages to people who lost their jobs and require financial help; offering medical assistance to those who were suffering with the disease. The charity also used the money to provide shelter to a number of people who were evicted from their houses due to Covid-19 circumstances.
The group has been fundraising in Dubai in different avatars for the last 20 years. Previously, registered as The Children's Hope Foundation (CHF) they are well known in the community for their work supporting children in the areas of health, education and general welfare.
https://www.khaleejtimes.com/coronavirus-pandemic/-Womens-group-in-Dubai-raises-Covid-19-aid-from-recipe-book-1-book--
--------
Rural Health Activist Agnes Padan Appointed as Sarawak PKR Women's Chief
24 Aug 2020
BY SULOK TAWIE
KUCHING, Aug 24 — Rural health activist Agnes Padan has been appointed as PKR Sarawak women chief replacing Catherine Jok Uvang who left the party in May this year.
Sarawak PKR information chief Abun Sui Anyit said Agnes, who is also the party's Lawas division deputy chairman was chosen by PKR National Women head Fuziah Salleh after consulting the state Women branch leaders.
"The state PKR leadership welcomes her appointment, Agnes has consistently shown her commitment towards the party and its struggle.
"This means that a Dayak woman from the Lun Bawang community has been given the trust by the party to lead the state Women's wing for the first time in the history of PKR," he said.
Agnes, 41, was born in Long Semadoh, Lawas, and is the only female among eight siblings. When her mother Kam Agong passed away in 2002 due to complications in giving birth, she was entrusted to take care of her younger siblings
"This tragic incident led her to start a campaign on the importance of health in rural areas, especially among Dayak women," he said.
In November 2018, she produced a documentary with the cooperation of Freedom Film Network on Dayak women's health in rural Sarawak.
Abun said the campaign was expanded state-wide and a petition was handed over to the Ministry of Health in April 2019 for the construction of a new Lawas Hospital.
He added the hospital was approved in 1996 when PKR president Datuk Seri Anwar Ibrahim was the Minister of Finance.
"Its construction has not taken place until April this year," he said.
He said patients who are suffering from complicated health issues are transferred to the Miri Hospital which is a five to six hours of journey, involving passing through eight immigration checkpoints at the Sarawak-Brunei border.
Abun said in early 2019, Agnes started a petition for the construction of the Lawas Hospital and it was handed over to the former Health Minister Datuk Dr Zulfifli Ahmad in Parliament on April 9, 2019.
https://www.malaymail.com/news/malaysia/2020/08/24/rural-health-activist-agnes-padan-appointed-as-sarawak-pkr-womens-chief/1896530
--------
Iran to Partake at Women Futsal World Tournament
August 15th, 2020
The Football Federation of the Islamic Republic of Iran (FFIRI) has accepted to send Iran's women futsal team to the Women Futsal World Tournament.
The competition is scheduled to be held in Brazil in December but will likely be postponed due to coronavirus.
Iranian women, two-time Asian champions, have participated in the prestigious tournament three times so far.
Iran and Japan will be Asian's representatives in the tournament.
The Women's Futsal World Tournament is an international women's futsal competition for national teams, organized by national associations and the World Futsal Association.
The first edition took place in 2010 in Spain and was won by Brazil. The tournament has known no other winners besides Brazil, after the country's victories in the first six editions.
https://www.albawaba.com/sport/iran-partake-women-futsal-world-tournament-1374572
--------
Bhopal Woman Pressured For Dowry, Gets Triple Talaq On WhatsApp
AUGUST 22, 2020
BY RUDRANI GUPTA
A 42-year-old woman from Bhopal has accused her husband of allegedly giving her triple talaq over a WhatsApp call. The woman, who is also a mother of two, has filed a police complaint against her husband, stating further that she was being harassed for dowry amount of 25 lakh rupees.
According to NDTV, the woman married the accused in 2001 and had two children with him. But in June of 2020, the accused started demanding a dowry of 25 lakh rupees. As per a complaint filed by the woman, he asked her to bring the dowry from her parents if she wanted to stay with him and later forced her to leave the house. The woman reportedly came back to her mother's house in Bhopal but the husband did not let her bring the children along.
The accused works at a hotel in Bengaluru and the couple, along with their children had been living in the city since 2013.
The woman further alleged that on July 31, the accused husband called up her brother and complained about her saying that she was causing him a lot of trouble. So he divorced her by saying talaq thrice over the call itself.
Chief Minister Of Madhya Pradesh Assures Justice
Madhya Pradesh Chief Minister Shivraj Singh Chauhan took to Twitter to express his concern and reveal the course of action to be taken by the government. Addressing the woman as "Muslim sister", he tweeted, "I assured her that Madhya Pradesh police will make all possible efforts to ensure that she gets justice."
Adding further, he said in another tweet, "I have spoken to the Director-General of Police (DGP) on the issue and asked him to coordinate with the Bengaluru police for taking proper action for getting justice to the Muslim sister." Chauhan is also expected to speak with the Chief Minister of Karnataka about the issue. He tweeted, "No one is allowed to play with a woman's reputation."
Triple Talaq And Dowry Harassment Are Illegal In India
Both Triple Talaq and dowry system have been banned in India and are a criminal offence. As early as 1961, the Indian government has made dowry system illegal under the Dowry Prohibition Act of 1961. Section 304B and 498A of IPC criminalises dowry harassment. Moreover, Triple Talaq or verbal divorce was also deemed illegal in India last year under Muslim Women (Protection of Rights on Marriage) Act, 2019. Any practice of verbal divorce can be penalised with three years of imprisonment of the accused husband, along with a fine.
https://www.shethepeople.tv/news/bhopal-woman-triple-talaq-whatsapp/
--------
Stephanie Mcmahon On the Evolution of Women's Wrestling in the WWE: 'I Couldn't Be Prouder'
Evelyn Lau
August 24, 2020
Stephanie McMahon has spent the majority of her life around professional wrestling.
She is the daughter of WWE chairman and chief executive Vincent K McMahon and a fourth-generation wrestling promoter. She is also the chief brand officer of the company, but has also appeared on television as a wrestler and manager.
Over the years, she has continued to remain vocal about the need for more female representation not only in the ring but in all areas of the wrestling industry. Recently, the WWE hired its first female general manager in Latin America and also brought in a woman as chief financial officer. While that's a start, she admits there is still more work that needs to be done.
When asked about the writers who made up the creative team that puts together storylines, she says that the company is still struggling for a more even playing field.
"We do not have enough. We do not have enough female writers in the writers' room, we are actively working on that," she says. "There is a dedicated focus to how we tell our women's storylines in the show, but we can always be better."
Pro wrestling used to largely be considered a male-dominated industry: from the fans to the talent and from writers to stage crew. But McMahon, 43, says she's seen a transformation over the years, starting with the fan base.
"I've grown up in WWE so I have a bit of a different story than your typical executive but I have seen our female fan base grow to now nearly 40 per cent," she says. "I have seen little girls in our audiences wearing all the merchandise of our female superstars – and little boys [too], by the way. I've definitely seen a huge growth in our business."
One reason for the increase in female fans is because more women wrestlers are getting opportunities to shine in the ring.
"I think throughout the years, women's wrestling, we've seen it ebb and flow. In the Attitude Era, it was thought that our women were 'nice to have' not a 'need to have'. They weren't featured as main events, they were in various other roles," she says.
When once they competed in three-minute "squash matches" or were used in only managerial roles to male wrestlers, they now headline main events including, most notably, WWE's biggest annual show of the year: WrestleMania.
In 2019, Charlotte Flair, Becky Lynch and Ronda Rousey faced off against one another in a historic triple-threat main event match in front of 82,000 fans.
Wrestling fans will already know that Flair and Lynch are part of The Four Horsewomen of the WWE: the female take on The Four Horsemen wrestling stable of the 1980s and 1990s. They're joined by Sasha Banks and Bayley and the foursome are viewed as leading the way during a groundbreaking era in women's wrestling.
This is something McMahon also credits her husband, Paul Levesque, with helping bring about. He is responsible for the training and development of all WWE's future stars, including recruitment. Also known as Triple H, he uses his knowledge of the business to help women wrestlers nurture their skills in the ring and on the microphone, but perhaps even more importantly, to train them in the same way as the men.
"He started recruiting elite female athletes, as well as men, and he started training the women the same as the men, giving them the same amount of match time on television at our live events," McMahon says. "These women, when given the opportunity, absolutely started to steal the show every time to where our fans starting chanting 'this is wrestling' and 'women's wrestling'."
Even more notable over the past few years is how women wrestlers have started to be received internationally. Back in 2017, Banks and Alexa Bliss competed in the first women's match in Abu Dhabi. Just two years later, Natalya and Lacey Evans took part in the first women's match in Saudi Arabia.
"We had our first ever women's match in Abu Dhabi which took us six years to be able to have," McMahon says. "And during that match, the audience of both men and women started chanting 'this is hope', which is not your typical WWE chant.
"Then we had not one, but two women's matches in Saudi Arabia where the chant simply became 'this is awesome'. And that's really where we are today in terms of the evolution of women in our business and I couldn't be more proud of them, our fans and of course, the WWE."
https://www.thenational.ae/arts-culture/television/stephanie-mcmahon-on-the-evolution-of-women-s-wrestling-in-the-wwe-i-couldn-t-be-more-proud-1.1067377
--------
URL: https://www.newageislam.com/islam-women-feminism/muslim-man-got-his-adopted/d/122707
New Age Islam, Islam Online, Islamic Website, African Muslim News, Arab World News, South Asia News, Indian Muslim News, World Muslim News, Women in Islam, Islamic Feminism, Arab Women, Women In Arab, Islamophobia in America, Muslim Women in West, Islam Women and Feminism