New Age Islam News Bureau
27 Nov 2015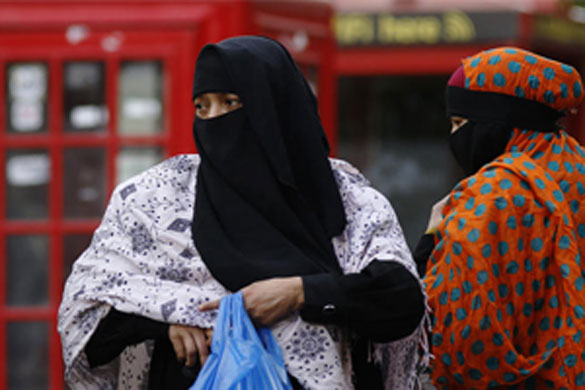 Photo: Muslim woman forced off plane in US
---------
• Muslim woman forced off plane in US cites Islamophobia
• Muslim women and participation in politics
• Police reluctant to register rape cases
• Black abaya a must-have for fashionable Muslim women
• Japanese woman feared murdered in Bangladesh; buried as a Muslim
• Despite Barriers, Saudi Women in First Election Bid
• Demand high for self-defence classes for Toronto's Muslim women
• Najran's King Khalid Hospital restores woman's sight
• Program makes women aware of breast cancer risks
• Over 100 Female Projects compete in Entrepreneurship Competition
• Two women cleared of kissing in public in Dubai food court
Compiled by New Age Islam News Bureau
URL: https://newageislam.com/islam-women-feminism/muslim-group-wants-pm-modi/d/105440
------------
Muslim group wants PM Modi to ban polygamy, order compulsory marriage registration
November 27, 2015
New Delhi: Seeking "justice and equality for Muslim women", a Muslim group has demanded a ban on polygamy and compulsory registration of marriages to secure equality and dignity to Muslim women.
In a letter to Prime Minister Narendra Modi, the Bharatiya Muslim Mahila Andolan (BMMA) said that Indian Muslims needed to have their own codified personal law "which ensures equality and dignity to Muslim women".
"Almost all Muslim countries world over such as Morocco, Tunisia, Turkey, Egypt, Jordan and even Bangladesh and Pakistan have codified personal laws governing marriage and family matters," the group said.
"Thanks to the self-appointed conservative leaders, Indian Muslims are denied this opportunity. As a result, we see instances of triple talaq and polygamy in our society," it said.
About three weeks ago, Supreme Court judges Anil Dave and Adarsh Kumar Goel asked the National Legal Services Authority of India to reply by November 23 whether gender discrimination suffered by Muslim women should not be considered a violation of the fundamental rights under articles 14, 15 and 21 of the constitution and international covenants.
The letter to Modi said that from the Shah Bano case in 1985, Muslim women had never been heard in matters concerning their lives "thanks to the politics in our country.
"Certain orthodox and patriarchal males have dominated the debate on rights of Muslim women and have stone-walled any attempt towards reform in Muslim personal law.
"In the process, the Muslim women have been denied their Quranic rights as well as their rights as equal Indian citizens," it said.
It said justice for Indian Muslim women can be enabled through amendments to the Shariat Application Act, 1937, and the Dissolution of Muslim Marriages Act, 1939 or a completely new enactment of Muslim personal law.
It said the minimum age of marriage of girl should be 18 years and for boy, 21 years. Consent of both parties must be obtained without force or fraud.
It said polygamy should be declared illegal, and both mother and father must be declared natural guardians of the child.
In property matters, Quranic shares must be applied after making a will and clearing debts, it said, adding that daughters must get equal share as sons.
It also said that the Qazi should be held accountable for violations during 'talaq', polygamy and such other matters
The letter urged Modi "to take into account the constitutional rights of Muslim women as well as their opinions towards equality and justice in any further legal measures that your government may decide to pursue".
Copies of the letter have also been sent to Law Minister Sadananda Gowda, Minister of State for Minorities Mukhtar Abbas Naqvi, National Commission for Women chair Lalitha Kumaramangalam and the Law Commission of India.
http://zeenews.india.com/news/india/ban-polygamy-muslim-group-tells-modi_1826712.html
------------
Muslim woman forced off plane in US cites Islamophobia
By Anealla Safdar
26 Nov 2015
After passing through regular security checks at Newark Liberty International Airport on her way to a holiday in Istanbul, Kameelah Rasheed was called for further questioning by customs officers.
She was later allowed on the Lufthansa flight, but eventually forced to leave the aircraft ahead of takeoff to be interrogated by an FBI agent.
The 30-year-old Muslim American told Al Jazeera on Wednesday that the two-and-a-half-hour ordeal a day earlier has left her traumatised and unable to consider flying any more.
"It was an attempt to humiliate and ostracise me," she said.
"I think this happened because I'm Muslim, because I'm travelling to Istanbul, because they have power with no checks and balances, because security means violating people's rights, because there's a general lack [of understanding of] what safety means, because people don't understand basic geopolitical situations."
Al Jazeera has contacted the Port Authority of New York and New Jersey, which operates Newark Liberty airport, for comment.
Rasheed is one of a number of Muslims in the US, or people perceived to be Muslim, who say they have been on the receiving end of profiling since the attacks in Paris on November 13, which were claimed by the Islamic State of Iraq and the Levant (ISIL) group.
Rasheed said that she was the only passenger of about 200 who was asked to leave the flight on Tuesday, as the customs officers confiscated her passport and phone.
"I was the only visibly Muslim person," said the New York resident, who wears a headscarf.
Rasheed, an artist, educator, Stanford University graduate, Fulbright scholar and contributing editor at The New Inquiry, added that while the airline had booked another ticket for her, she was scared of being targeted again on her onward journey and chose not to travel.
"I don't think there is a resurgence of Islamophobia after the Paris attacks. I think it never went away. It's becoming more legitimised.
"Right after 9/11, you could do it [commit hate crimes towards Muslims] for a couple of years and no one would blame you… And now after Paris, it's like, 'look at what they did, I can treat them how I want'. We didn't make any progress."
The customs officers asked her several of the same questions repeatedly, she said, including:
"Why are you flying? Where are you going in Istanbul? How can you afford to go on holiday?
How much was the ticket price?"
"The questions were circular and nonsensical," she said. "I wasn't going to the border with Syria. I was going to the tourist locations, to see the Hagia Sophia and take a ferry across the Bosphorus."
Rasheed was accused of having booked a one-way ticket, even after showing evidence of return flight tickets to the officers on her phone.
"I honestly feel very traumatised and shaken. I don't feel comfortable flying at all," she said. "I'm still very angry and hurt, but I have to temper that with not having expectations for being treated better. I shouldn't expect any better. This is the militarised state that we have decided to live in.
"These are the consequences of me being Muslim and black and American - everything at the moment is organised around me being checked. This is what it is."
She added that she has been stopped for extra security several times before.
"It's frustrating to me that I can't fly like a normal human being," she said.
"My mum was saying to tie my scarf another way. I can't be out in the world like other people without having to rearrange my entire life because someone else fears me for something I had nothing to do with?"
Rising Islamophobia
Last Tuesday, Spirit Airlines removed four passengers, reportedly of Middle Eastern descent, from a flight out of Baltimore-Washington International Thurgood Airport after a witness reported suspicious activity. Details of the "suspicious activity" emerged later; the Middle Eastern passenger had reportedly been watching a news report on the phone.
Last Wednesday, US citizens from Philadelphia Maher Khalil and Anas Ayyad were asked to step aside before boarding a Southwest flight at Chicago Midway airport. A fellow passenger had heard them speaking Arabic and complained to staff of being afraid to fly on the same aircraft. They were questioned by police.
Also last Wednesday, six Muslim passengers were removed from a second Southwest flight - also travelling from Chicago, reportedly because of a dispute over a seating arrangement.
"We're witnessing an increase in these kinds of reports," Ibrahim Hooper, spokesman for the Council on American Relations (CAIR), told Al Jazeera. "It's part of an overall rise in anti-Muslim sentiment following the Paris attacks.
"We're getting a lot of reports from individuals who say they are fearful of travelling. Some Muslims are even concerned about leaving their homes."
A report released by CAIR on Tuesday listed alleged hate crimes towards members of the US' Muslim minority since November 13 - or those perceived to be Muslim. It cited at least 12 instances of intimidation, threats and violence against places of worship, and six examples of violence against individuals - including shots fired into a couple's home, and an assault on a pregnant woman.
"Our nation's leaders need to speak out against this type of anti-Muslim hate. The American Muslim community is a small minority and we by ourselves, we can't push back against the tide of anti-Muslim sentiment," said Hooper.
"What we're seeing is the end result of the mainstreaming of Islamophobia by leading public officials, such as Ben Carson and Donald Trump. They have given some form of legitimacy to those who would carry out anti-Muslim attacks or profiling.
"It has taken us back almost to the dark ages of the 1930s."
He added that, unlike former US President George W Bush, the country's current leader
Barack Obama has never publicly visited a US mosque, a move that would give some reassurance to the community that it is protected against such attacks.
"We always anticipated a rise in anti-Muslim rhetoric in the presidential campaign," he said. "Where from here? I don't think Islamophobia is going to go down. It's going to go up."
http://www.aljazeera.com/news/2015/11/muslim-forced-plane-anti-islam-rhetoric-rises-
------------
Muslim women and participation in politics
Nov 26 2015
Muslim women have always been at the forefront of assisting the cause of Islam and Muslims, apart from their natural roles of being the companions of their husbands.
One of such efforts was the 8th biennial national conference and general meeting of the Criterion (an association of Muslim women in business and the professions) themed "Challenges of Globalization on Muslims" held at the National Mosque, Abuja.
The three-day event had 'Participation in Politics- Dilemma of a Muslim Woman, and ICT: Virtues and Vices' which was also earmarked for children as sub-theme.
The communiqué of the conference, jointly signed by the national amirah (president) of the association Dr. Saudat Salah Abdulbaqi and the PRO, Hajia Shakirat Abdulmajeed, noted that despite the need for their involvement, eminent and qualified Muslim women are not in governance and politics.
Also, while Islamic globalization focuses on equity, justice and fairness, western globalization focuses on materialism, market capitalism and exploitation; and the outcome of this justice is the current crisis of terrorism.
It equally observed that many Muslim couples are not living harmoniously with one another due to mismanaged domestic issues and alsothat the good, the bad and the ugly occurrences on account of informed, and uninformed consumption of ICT cannot be overemphasized and therefore suggested caution as the watchword for Muslims.
The deliberation however resolved that since women play more difficult politics at home through lobbying, negotiating and advocating to nurture their husbands and children, they need to bring this to bear in the mainstream politics of our nation.
"Nigerian women should work on how to make the political space safer and ensure that their political participation is more effective by being card-carrying members of political parties with the aim of adding value to life. The participation of women in politics should not jeopardize their primary roles as home makers," it said.
On ICT, the meeting posited that application and promotion of technology must be institutionalized in all facets of the economy and that since it has limitless opportunities to explore, it should also be done with lots of caution and parents should monitor their children usage and the time they (children) spend on the social media and internet.
On the challenges of globalization on Muslims, it was resolved that since globalization has expanded women's access to employment, it however failed to reduce gender inequality, hence the Criterion and similar organizations need to create more awareness and participate in advocacy to redress the anomaly.
The syndicate session resolved that as women entrepreneurs, Muslims must know the product; acquire more skills on the product and be the master of the 3Cs (consistency, commitment and constancy).
It also said that though conflict could arise in family and society, it could be minimized through effective communication, education, and empowerment and most importantly through prayers.
Speaking in one of the sessions a former lecturer at the Ahmadu Bello University (ABU) Zaria and political scientist, Dr. Amina Salihu, said that there is no excuse for Muslims women not to be involved in the mainstream politics of the nation, even when they play more difficult politics at home.
"The question therefore is not whether women should participate in politics or not but rather how can we make the space more safe and affirming of the great resource women bring to the field of politics. The absence of peace is anarchy, destruction and death. We have learnt that where women are involved in planning and design of interventions of projects, they (projects) are more likely to succeed and be sustainable. Learning this lesson is what has now made Peace building circles involve women at various stages of the peace process," Salihu speaking on "Participation in politics the dilemma of a Muslim woman" said.
The National Amirah of the organisation Dr. Saudat Salah Abdulbaqi said since the establishment of the organization in 1986, the mindset of Muslim women has made it difficult for them to change their plight and contribute positively to the society, saying many of the so call barriers inhibiting women development were due to ignorance.
She said that the choice of the theme was due to the linkage of the world via ICT and its attending spiral effect on all citizens of the world.
She also unveiled the maiden magazine of the organisation, 'The Cornerstone' .
On her part Senator Khairat Gwadabe said Islam did not forbid women from participating in nation building and development of the society.
The conference witnessed a post-humous honour for late Hajiya Bilkisu Yusuf who died in the September 24 Hajj stampede and two others, Alhaja Lateefah Okunnu and Alhaja Raliat Abdlrasaz, for their selflessness service to the propagation of Islam, women and children.
Speaking on the theme, the proprietress of Nurul Bayan Academy, Abuja Hajiya Maryam Tahan said while Globalization means different things to different people. "We can therefore infer that globalization/ westernization is a direct result of specifically conceived, planned and targeted neo- liberal policies and structural measures that were designed to bring all aspects of social, economic and political life under the tag of market capitalism," she said.
Ustaz Abdulfattah Adeyemi who spoke on Islamic Perspective of Conflict Resolution, urged Muslim couples to relate with each other as specified in the Shari'a so as to enjoy the blessings of marriage and contribute positively to the society.
Other highlights of the conference were visitation to Internally Displaced Camps (IDPs) in Durumi and Nurul Bayan Orphanage.
http://www.dailytrust.com.ng/news/islamic-forum/muslim-women-and-participation-in-politics/121470.html
------------
Police reluctant to register rape cases
November 27, 2015
BAHAWALNAGAR: Alleged rape victims have to move courts to get their cases registered here in Bahawalnagar.
The lapse of time often benefits the suspects as the evidence is hard to find by the time the case is registered.
In one such incident, the Haroonabad City police registered a rape case on Nov 24 on the order of the court, whereas the alleged gang-rape was committed on July 22. The alleged victim, of 48/3R, was raped by six people.
In another incident, Faqirwali police registered a gang-rape case on Nov 24 on the order of the court.
The complainant, a married woman of Chak 163/7R, was allegedly gang-raped by four people.
Haroonabad Deputy Superintendent of Police Nawazish Bukhari said he was unaware of the situation.
The Fort Abbas police also registered a rape case against four people on Nov 24 whereas the complainant had approached police for the case on Aug 8.
The complainant, of Chak 282/HR, stated the suspects had kidnapped and raped her near Faizabad.
Fort Abbas DSP Mehar Nasir Sial stated the complainant was "characterless", and that she was not a resident of Chak 282-HR.
The DSP said two witnesses of the case had retracted their statements, saying no rape incident occurred in front of them. He said the complainant was being used by suspects' rivals. The DSP did not respond when asked that a medical examination could have helped them conclude the case.
Published in Dawn, November 27th, 2015
http://www.dawn.com/news/1222559/police-reluctant-to-register-rape-cases
------------
Black abaya a must-have for fashionable Muslim women
Nov 26 2015
I attend a pretty happening mosque, where congregants dress to impress. Recently, I noticed a trend: more than half the women were sporting black abayas.
An abaya (pronounced "ah-BYE-a") is a long, loose dress worn over clothes. It comes in many different colours, but the most common is black.
Growing up, the only people who ever wore black abayas were old aunties. Now teenage girls are wearing them with patterned, layered hijabs and accessories such as chain belts. Move over, little black dress — the black abaya has transformed from mousy wallflower to the must-have item in every Muslim girl's closet.
And I don't have one! How did this happen?
It's just like that time I realized tapered-leg pants were fashionable again. I came of age in the '90s, when hip huggers and flared pants were everywhere. Tapered — or "skinny-leg" pants — were only worn by sad-sack adults with a 1980s obsession, never something a fashion-conscious '90s girl would be caught dead in.
Now, hip Muslim women are wearing skinny jeans underneath their black abayas! Gah!
The last time I wore an abaya, it was a costume — I was the judge for a Grade 9 English class mock trial. My students were trying Boo Radley for murder, so I borrowed a billowy black robe from my mom, and used a toy mallet as gavel. Boo Radley was acquitted, and the abaya returned.
I should have kept it.
I'm a late adopter when it comes to most things. I think checking email on my phone is pretty neat (also, I still check email). I joined Facebook six months ago (and my friends started scouting the sky for flying pigs).
But no more.
It's time to get with the in-crowd; it's time to banish my outdated cloak-prejudice and embrace the abaya.
Besides, what could be more slimming than a shapeless black overcoat?
To the abaya store!
(What, you thought they were sold in Walmart?)
(Actually, I have no idea where they're sold.)
To Google!
My first stop is Hijab Fashions, an east-end fixture. The owner points out a few popular styles, and tells me that abayas are measured by length, not width, so I shouldn't be embarrassed to be a size 56.
There are blingy abayas covered in crystals; some are cinched at the waist, or have colourful designs. They range in price from $30 to more than $140. I pick three and try them on, but no luck. I buy a blue jersey hijab as consolation and leave.
I head to Kaamilah Boutique, an east-end store that sells halal candy, home decor and clothing. There are plenty of colourful dresses, few in basic black. I buy matching "I heart Nana" and "I heart Nani" mugs to keep my spirits from flagging, and drive to the third store on my list.
Al-Isra is at one end of a strip mall in Scarborough. A young shopkeeper asks if she can help. "You look like a size 1," she says, eyeing me.
I have a good feeling about this place.
She helps me pick out a few abayas, ranging in price from $65 to more than $100. I settle on a dress cut in a flattering A-line with black trim.
I did it! I've finally bought the most basic staple in any Muslim girl's wardrobe!
But my joy is short lived, because now I want more.
A few days later, I drive to a popular plaza in Mississauga. I walk into Moda, a co-op with 16 vendors selling everything from halal marshmallows to jewelry, toys, hijabs and lots of clothes.
I'm drawn to a dress with batwing sleeves and an elastic waist. Canadian designed and made in Montreal, it comes in many different colours. I try on black, but then spy one in purple. I find a pretty striped dress, and look for hijabs to match. I feel a little guilty when I hand over my credit card.
A few days later, my husband looks at the bill online. "Wow, who knew black abayas were so expensive?"
I think about the blue jersey scarf, the mugs for my parents, the black abaya and the two non-black dresses with matching hijabs.
"I was just as shocked as you," I say. "But you can't put a price on a fashion staple."
He gives me a look, but wisely says nothing. I daydream about strutting into the mosque and blending into the crowd.
http://www.thestar.com/life/fashion_style/2015/11/26/black-abaya-a-must-have-for-fashionable-muslim-women.html
------------
Japanese woman feared murdered in Bangladesh; buried as a Muslim
24 November 2015
A 60-year-old Japanese woman living illegally in Bangladesh is feared to have been murdered and buried in a graveyard in Dhaka as a Muslim after she went missing last month, police said on Tuesday as they arrested five people in this connection.
Heroi Miata, whose visa expired in 2006 and had been living illegally in Bangladesh for the past nine years, could not be traced since last month after which her relatives in Japan contacted their embassy here, police said.
Following a complaint by Japanese Embassy officials on November 19, police detained five people from different parts of Dhaka and lodged a case against them yesterday, the Daily Star reported. Police said the detainees, in primary interrogation, claimed that Miata died after suffering from diarrhoea. As she was living here illegally, the detainees buried her at a graveyard identifying her as a Muslim to avoid any hassle, police said.
The detainees claimed that Miata had been living at a hotel but she shifted to a rented house at Bashundhara Residential Area recently as her dues at the hotel were increasing. An investigator, who declined to be named, told bdnews24: "We are investigating whether the woman had died of natural causes or was murdered."
On Monday, police requested a Dhaka court for exhuming Miata's body for autopsy. The court is scheduled to hear the plea on November 26. Miata's mysterious death comes as Bangladesh witnessed violence against foreigners in the past couple of months.
An Italian aid worker -- Cesare Tavella, 50, -- was shot and killed on September 28. Five days later, a 66-year-old Japanese farmer -- Hoshi Kunio -- was also killed by unidentified assailants in a similar attack on the outskirts of Rangpur city.
Earlier this month a 57-year old Italian priest working as a doctor at a missionary hospital was shot and wounded by three unidentified assailants in northern Bangladesh. All three attacks have been claimed by the Islamic State terrorist group.
http://www.dnaindia.com/world/report-japanese-woman-feared-murdered-in-bangladesh-buried-as-a-muslim-2148670
------------
Demand high for self-defence classes for Toronto's Muslim women
By: Jessica Smith Cross Metro
Nov 26 2015
Self-defence classes for Muslim women by Muslim women are in high demand, following a rash of Islamophobic attacks in Toronto.
The new classes were organized by Shameela Zaman and Anoodth Naushan. The pair works with Outburst!, a program for young Muslim women in Toronto run through the Barbra Schlifer Clinic.
After a woman wearing a hijab was attacked in Toronto on Nov. 16, Zaman and Naushan asked the Muslim community what they needed.
The answer they heard was self-defence.
"It's really troubled, concerning and bothersome that young Muslim women are feeling really unsafe everywhere," Naushan said. "Everyone, including young Muslim women, we all have the right to be safe," Naushan said.
The first class was held Thursday at the University of Toronto, and three more have been set up to accommodate demand.
It appears to be a trend. There have been requests to hold classes everywhere from Rexdale to Scarborough, and a Muslim Brazilian Jiu Jitsu instructor in Calgary has also begun offering defence training for women in her city.
"It's young Muslim women teaching other young Muslim women, and that's good," said Zaman. "We're equipping these women with these skills but we're also not blaming them for the violence that happens to them."
The Toronto workshops are being held at University of Toronto, Ryerson University, and the Scadding Court Community Centre at Bathurst and Dundas streets.
Classes are tailored to individual students' needs, Naushan said. Participants can tell the instructors what their goals are and adjust their training based on their own experience with violence.
For more information, find the Muslim Women Self Defense Workshop on Facebook.
Recent attacks
In Toronto, three Muslim women have been recently attacked in crimes that, according to police accounts, appear to have been motivated by hate. A woman wearing a hijab was beaten and robbed in Flemingdon Park by two suspects who hurled slurs at her on Nov. 16. Two days later, a trio of suspects accosted and made racist remarks towards two Muslim women aboard a TTC subway car.
http://www.metronews.ca/news/toronto/2015/11/26/demand-high-for-toronto-muslim-women-self-defence-classes.html
------------
Najran's King Khalid Hospital restores woman's sight
27 November 2015
MOHAMMED RASOOLDEEN
RIYADH: Surgery performed at King Khalid Hospital in Najran made a 40-year-old Saudi woman regain her sight which was lost eight months ago.
Hospital General Supervisor Abdo Al-Zobayri said here that the patient had lost her sight eight months ago because of a tumor at the base of her skull.
"The medical team was successful in removing the tumor from the woman's skull and helped her recover soon from the surgery," the supervisor said.
He pointed out that such an achievement was made because of the outstanding capabilities of the medical staff at the hospital which has allowed King Khalid Hospital in Najran to become a specialized center for advanced medical cases.
Al-Zobayri said the patient was discharged from the facility and was asked to report for the necessary follow-up to the surgery.
Last year, the hospital treated more than 400,000 patients who came for medical, therapeutic and pharmaceutical services.
Al-Zobayri said the emergency department received 166,750 cases; the outpatient clinics received 233,250 patients; while 12,600 benefited from hospitalization.
He said that on average 1,111 patients visit the emergency and outpatient departments. The central laboratory of the hospital has tested some 1.8 million samples with an average of 5,000 lab tests.
Last year, the facility performed 7,157 surgeries.
The hospital has some 300 doctors, including 80 consultants.
It also acts as a referral hospital in the southern part of the country and attends to patients referred by Prince Sultan Cardiac Center.
http://www.arabnews.com/saudi-arabia/news/841711
------------
Program makes women aware of breast cancer risks
27 November 2015
RIYADH: More than 200,000 women were tested for breast cancer and only 15 positive cases were detected in the capital during the monthlong campaign to fight breast cancer which ended here on Tuesday.
Speaking at the closing ceremony of the campaign, Deputy Minister of Health for Public Health Abdulaziz bin Saeed said it was a successful campaign where 2,200 women underwent mammograms and the Ministry of Health was able to reach more than 200,000 women through this campaign.
The national campaign was organized by the Ministry of Health under the auspices of Minister of Health Khalid Al-Falih. Sponsors of the program were honored with certificates of appreciation for their contributions toward the success of the project.
Pointing out that breast cancer is the second biggest cause of death among the cancer diseases after lung cancer, Bin Saeed said that around up to 70 percent of cases in the Kingdom are detected in the late stages . He pointed out that early detection will have a 97 percent chance for complete recovery.
Recalling that there were 1.67 million breast cancer patients in the world in 2012, the deputy minister said it is expected to treble by the year 2030. He also said that the world has witnessed a drop in the mortality rate among breast cancer patients due to the awareness created among women on the particular subject.
The function was attended by senior officials from the Ministry of Health, SABIC executives, representatives from the directorates of Health Affairs and the Zahra Breast Cancer Association.
Princess Haifa bint Faisal, chairman of the Zahra Breast Cancer Society in Riyadh, thanked the ministry and the sponsors for their cooperation in making the campaign a success.
Speaking at the function about SABIC's corporate social responsibility (CSR) initiatives, Yaarob A. Al-Thenayan, director of SABIC Global CSR, said the company's support for the National Campaign for Breast Cancer Awareness was part of its CSR strategy which it has adopted to meet its national obligations and serve society.
SABIC has an agreement with the Zahra Breast Cancer Association to support the purchase of equipment worth more than SR24 million for five mobile clinics for early detection of breast cancer.
http://www.arabnews.com/saudi-arabia/news/841706
------------
Over 100 Female Projects compete in Entrepreneurship Competition
Nov 27, 2015
Fatima Muhammad
OVER 100 projects for female entrepreneurs are competing to win the three top positions at the Jeddah Entrepreneurs Meet and Competition (JEM) with SR375,000 in prize money for the top three finishers at stake.
The winners will be announced at the entrepreneurship meeting to be held at the end of January 2016. The organizing committee at the Jeddah Chamber of Commerce and Industry (JCCI) noted that it would still accept more projects until mid December.
The competition is being organized under the title "Towards a Culture of Initiatives and Innovation." Those wanting to participate with their projects should send their entries and projects to the JEM website: www.jem-yie.com
Sara Al-Ayid, head of JEM, said that the aim of the competition is to focus on innovation in small businesses. This, she noted, would help grow the economy and enhance job opportunities. The meeting is an interactive platform where representatives of the government sector and private sector meet small business owners and allow them to join efforts to advance and develop entrepreneurship in the Kingdom, she added.
The competition is divided into three categories, social entrepreneurship, production projects, and innovative projects in health and education. The completion is open to females from all regions in the Kingdom.
The evaluations do not depend only on the projects but also on the character, vision, confidence and passion of the participant.
Thirty participants will move to the final stage and will be given training to enhance their skills. In addition, each one of them will get a total budget of SR100,000 for her business.
The deputy chairman of the Jeddah Chamber of Commerce and Industry Ziyad Al-Bassam said they are keen to support startups and small businesses.
At a press conference, where the competition was announced at the JCCI on Wednesday, he said the idea of this completion marks the advancement towards a growing future.
"Further, when more cooperation between the private and public sector is achieved the more it will create job opportunities and provide a base for entrepreneurship in the Kingdom," he added.
Adnan Mandoura, secretary general of the JCCI, said that up to 80% of members of the JCCI are owners of small businesses. Further, he added, that they support youth — both men and women — to start their own business and become owners of businesses rather than seek jobs.
http://saudigazette.com.sa/business/over-100-female-projects-compete-in-entrepreneurship-competition/
------------
Two women cleared of kissing in public in Dubai food court
November 26, 2015
Dubai: Two women were cleared on Thursday of kissing publicly in a restaurant after one of them contended that she had removed the mayonnaise off her friend's cheek with her tongue.
In October, the Dubai Misdemeanours Court sentenced the Italian women to two months in jail after convicting them of committing a lewd act in public when they exchanged kisses in a food court. They were also handed a deportation order.
On Thursday, the Dubai Appeal Court overturned the women's punishment and acquitted them after their lawyer Ali Abdullah Al Shamsi contended that law enforcement procedures were carried out improperly against his clients.
A man, who was eating with his friend at the mall's food court, called up the police and claimed to them that he saw the women exchanging kisses in September.
When they showed up in court, the Italian suspects pleaded not guilty and firmly refuted the claimant's story.
"We were not kissing bizarrely as the man claimed. My friend was eating and some mayonnaise spread out around her mouth. I used my tongue to remove the mayonnaise off her cheek … it happened spontaneously. We did not have any criminal intention," defended one of the women.
The other women confirmed her counterpart's statement.
Advocate Al Shamsi contended before the appellate court: "My clients were questioned in the presence of an unauthorised translator … this is an improper implementation of law enforcement procedures. Besides it was the security guards of the mall where the incident happened who apprehended my clients … this is also an illegal implementation of law enforcement procedures as they should have been detained by the police. As for what had happened in the food court, the two women did not commit a lewd act in public and they did not kiss. The prosecution witness gave ... an unrealistic description to what truly happened … he alleged that they kissed bizarrely for sometime. But one of my clients confirmed that she used her tongue to remove the mayonnaise that had spread around her friend's [other client] mouth. What she did happened in a second or two … they behaved spontaneously and did not have any intention to incite any instincts."
The suspects did not have any criminal intention to gesture indecently or immorally in public, the lawyer said.
In his defence argument, advocate Al Shamsi asked the court to acquit his clients, arguing that the prosecution witness's statement was full of contradictions and lacked consistency.
Presiding judge Aysar Al Ebyari overturned the primary ruling (two months jail sentence) and acquitted the Italian women. The deportation order was also cancelled.
Thursday's ruling remains subject to appeal before the Cassation Court within 30 days.
http://gulfnews.com/news/uae/courts/two-women-cleared-of-kissing-in-public-in-dubai-food-court-1.1627038
URL: https://newageislam.com/islam-women-feminism/muslim-group-wants-pm-modi/d/105440
New Age Islam, Islamic Website, Online Islam, Islamic World News, Womens in Islam, Islamic Feminism, Arab Women, Womens In Arab, Islamphobia in America, Muslim Women in West, Islam Women and Feminism