New Age Islam News Bureau
30 Apr 2015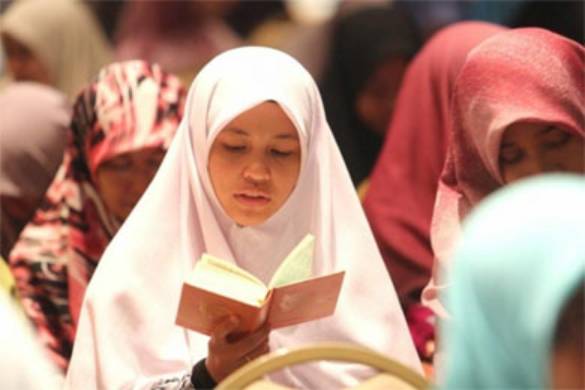 A female participant of Ikatan Muslimin Malaysia symposium takes the time to read the Holy Quran. — Picture by Choo Choy May
------
• Allowing Sodomy 'Worse' Than Forced Sex in Marriage, Isma Portal Says
• SC Takes Notice of Abuse of Women in Sindh, Pakistan
• Nobel Winner Shirin Ebadi to Publish Memoir with Random House
• We Pay ISIL to Save Yazidi Women, Kurdish Regional Government Says
• Australian Muslim Woman Wants People to Look Beyond Her Hijab
• President Jacob Zuma Must Deal With Islamic Marriage Bill
• 2 Muslim Women to Be Featured On Interfaith Panel in Central Minnesota
Compiled by New Age Islam News Bureau
URL: https://www.newageislam.com/islam,-women-and-feminism/new-age-islam-news-bureau/muslim-girls-in-kathmandu-live-in-different-world-after-quake/d/102752
----------
Muslim Girls in Kathmandu Live In Different World after Quake
30 April, 2015
KATHMANDU, April 29 (Xinhua) -- Thirteen-year-old Nargis Banu has been grown up roaming and playing around Patan Durbar Square, filled with fantastic wood crafts and magnificent pagoda style temples dated back hundreds of years ago, until last Saturday.
Now she is living in a brave new world, after the devastating quake destroyed the famous world attraction and UNESCO heritage treasure.
The landscape, which looked like a bombed area, has totally changed for her and her friend, Namira Bani, who is 12 years old. "We feel like it is totally a new place. A sort of charm has lost. We often woke up in the night after having a nightmare, in which we saw our country was completely destroyed, "said Banu.
For Banu, her three generations have spent their life in this beautiful place and a magnificent tourist zone with semi-European, semi-Himalayan architecture, cafes, bars, restaurants and hotels.
She was watching television on Saturday, when the massive earthquake jolted Nepal turning this cultural heritage site into a depressing and barren land, with only rubbles and dust left.
Some ancient temples of Patan, with the world unique grandiose Himalayan style of towers, have been destroyed by the earthquake, which have terrified the locals. "We could not enter our two-storied building since the last five days in fear of aftershocks. My house has been partially damaged so we are living in school premise, "said Banu's father, a local Muslim businessman.
More than 169 people have been confirmed dead in Lalitpur district of Kathmandu Valley where Patan is located.
Along with Banu's family, some 300 locals have been staying in the classrooms of Shree Adarsha Kanya Niketan Higher Secondary School just at the central plaza of the temple complex because they are too afraid to live in their houses full of cracks on the wall.
Even in this humanitarian crisis period, the scenario of the school looks warm as the people is seen helping each other.
People from different communities like Hindu, Christians, Muslims and Buddhists are living in harmony under the same roof.
But there are still fears for aftershocks which terrified people from returning to their houses to resume their daily lives.
"I see earthquake even in my dreams. It feels like earth is shaking time and again. It's the biggest nightmare, "said Bani.
Schools remain closed. Thousands of girls like Banu have to wait for the classrooms to be reopened for teaching instead of serving as a temporary shelter for quake-displaced families.
http://www.shanghaidaily.com/article/article_xinhua.aspx?id=279368
-----------
Allowing sodomy 'worse' than forced sex in marriage, Isma portal says
30 April, 2015
KUALA LUMPUR, April 30 — Ikatan Muslimin Malaysia's (Isma) news portal has decried the focus on Islam in an ongoing marital rape debate, claiming that other religions are worse as they may permit anal sex in marriage.
Ismaweb.net senior editor Razali Zakaria pointed out that DAP assemblyman Yeo Bee Yin's rape awareness campaign did not target any particular religion, accusing "liberal" news portals that are "close to the Jews" of trying to denigrate Islam by reporting that Muslim women are prohibited from denying their husbands sex.
"Do other religious believers not 'force' their wives to have sex? Maybe some are even worse - sodomising their wives," Razali said in an editorial published yesterday on Ismaweb.net.
"Maybe these anti-Islam quarters and portals that use the tactics of 'infidel djinns' don't want to play up the issue of sodomising wives in Islam because they know that this is forbidden in Islam," added the editor of the Muslim right-wing group's portal.
Malay Mail Online reported Monday Perak Mufti Tan Sri Harussani Zakaria as saying that a Muslim woman has "no right" to reject her husband's demand for sex, claiming that Prophet Muhammad had said women must have sex if their husbands want it even if they are on the back of a camel.
The Islamic scholar said a Muslim woman can only deny her husband sex if she is menstruating, ill, or has just given birth.
Harussani's remarks were made in response to Damansara Utama assemblyman Yeo's rape awareness campaign that had raised ire among some Muslims who claimed marital rape does not exist in Islamic marriage.
Ismaweb.net's Razali said he believes that most Muslims will not rape their wives if their spouses have good reason for rejecting sex.
"Even if the wife continues to reject sex, Islam has shown another way for the husband to release his desires - not one, in fact Islam encourages men to marry up till four women if they can afford to," he said.
"If he can't afford to marry more and if the wife still refuses to entertain him, there is still another way even if God disapproves - divorce and find another partner. That is, if there is no other way," Razali added.
He stressed that in a Muslim marriage, the bodies of both husband and wife belong to each other.
"In a spousal relationship, both partners must treat each other well," he said.
http://www.themalaymailonline.com/malaysia/article/allowing-sodomy-worse-than-forced-sex-in-marriage-isma-portal-says#sthash.qnBvxxSc.dpuf
-----------
SC takes notice of abuse of women in Sindh, Pakistan
30 April, 2015
ISLAMABAD: The Supreme Court took notice on Wednesday of instances of abuse of women in Sindh and summoned reports from the provincial police.
Chief Justice Nasir-ul-Mulk fixed the matter for hearing in the second week of May and directed Advocate General of Sindh Fateh Malik, the inspector general of police and Chairperson of the National Commission on Status of Women Khawar Mumtaz to appear before the court.
The notice was taken on a column titled "Sindh ki khawateen say insaaf – qaumi tarjeeh nahi" (Justice to the women of Sindh is not a national priority), appeared in a section of the press on April 9.
The column highlighted an incident in which a woman and her 12-year-old daughter were gang-raped and later set on fire in Ghotki a few weeks ago. The girl died while her mother suffered serious burn injuries. The accused are still at large.
The column mentioned another incident in which a newly married woman, Tahira Khoso, was killed by her husband in Jacobabad district in the name of honour. The husband has been provided shelter allegedly by a political leader in Balochistan.
Taking cognisance of the issue, the chief justice ordered that reports be called from the SSPs concerned through the Sindh IGP within three days. The NCSW chairperson has been asked to submit reports on the status of women and the incidents highlighted in the column and also provide statistical data of such cases in the country and the measures taken to curb them.
http://www.dawn.com/news/1179045/sc-takes-notice-of-abuse-of-women-in-sindh
-----------
Nobel winner Shirin Ebadi to publish memoir with Random House
30 April, 2015
Nobel Peace Prize winner Shirin Ebadi will chronicle her post-prize life and fight for justice in a new memoir for Random House, the publisher announced Wednesday.
Ebadi, who received the prize in 2003, was the first Muslim woman and remains the only Iranian to be awarded a Nobel. The Nobel committee pointed out that the award was intended to help "reduce the tensions between the Islamic and the Western worlds" after 9/11 while also fostering an open society in Iran.
Born in Iran in 1947, Ebadi was a judge who lost her position during the 1979 Iranian revolution. She became an attorney who advocated working for democracy and human rights, giving particular attention to women and children. In 2000, she was imprisoned by Iranian authorities. She has lived in exile since 2009.
"Treachery: My Story of Exile from Iran" will depict "the pressure and constant surveillance the Iranian government has put on Dr. Ebadi and her human rights work since she won the Nobel Peace Prize," Random House writes. "Years of intimidation and violence -- including the detention of her sister and daughter, an espionage plot involving her husband, and the ransacking of her offices in Tehran -- ultimately destroyed her family and forced Dr. Ebadi into exile, a story she has never told before. 'Treachery' is about personal and political betrayal and illuminates many of the issues of today involving Iran, political Islam and the Middle East."
"Building Iran has been my life's work, from the moment I became a judge through to today," Ebadi said in a statement. "The revolution stripped me of my judgeship, but I have struggled alongside the women of Iran to secure equality and freedom. I wrote my new book to document our determination. One day we will prevail, and I pray and hope that history will record our efforts."
http://www.latimes.com/books/jacketcopy/la-et-jc-nobel-winner-shirin-ebadi-memoir-random-house-20150429-story.html
-----------
We Pay ISIL to Save Yazidi Women, Kurdish Regional Government Says
30 April, 2015
The Kurdish Regional Government (KRG) of northern Iraq pays money to Islamic State of Iraq and the Levant (ISIL) militants in order to save Yazidi women who were kept as slaves, KRG General Directorate of Yazidi Affairs Minister Hadi Doubani has told daily Hürriyet.
"There are still around 3,500 Yazidis held as sex slaves and hostages by ISIL. We are trying to work out ways to save them. There are some Sunni Arabs in the ISIL-controlled areas who are cooperating with us. We pay money for the kidnapped girls who ISIL sell and these people buy them for us," Doubani said in the northern Iraqi city of Dohuk.
Thousands of Yazidis were captured and kidnapped by ISIL when the militants raided the Yazidi towns and villages of Sinjar province in August 2014. Information provided by Doubani depicted a gruesome picture of the Yazidis being held as hostages and sex slaves by ISIL.
Doubani said there were some ISIL militants who have turned the "selling and buying of Yazidi women in the slave markets" into a "trade."
"They sell women in the slave markets, some ISIL militants buy a girl for $50 and sell her back to us for $2,000-2,500. They have almost turned the whole thing into a trade," he added.
The amount of money the officials pay to save the Yazidis ranges from between $1,000 and $10,000, Doubani said.
"They ask for more money for the youngest girls," he added.
http://www.hurriyetdailynews.com/we-pay-isil-to-save-yazidi-women-krg-says.aspx?pageID=238&nID=81726&NewsCatID=352
-----------
Australian Muslim Woman Wants People to Look Beyond Her Hijab
30 April, 2015
A MUSLIM woman who says she encounters abuse on the streets is working to make others see her as the person behind the Hijab.
Hayat Doughan, who came to Australia 34 years ago from Lebanon, is part of a program by Mordialloc and Springvale Neighbourhood Houses to bring women of different faiths together.
Ms Doughan said she jumped at the chance to lead the "Learning and Living Together" project to help others understand that despite her traditional dress, she's just like any other woman.
She said she often reflected how people began to treat her differently when she made the decision to start wearing the hijab — the Islamic headscarf — 25 years ago.
"We are women like any other women, the only difference is we follow our religion, we do prayers, we cover ourselves — this is the only difference between us and any other woman in Australia," Ms Doughan said.
"We consider ourselves Australian, our children are Australian...we are citizens like any other."
But Ms Doughan said she had been abused while going about her everyday life, including during a road rage incident three months ago when she was told: "Maybe if you take the f----ing thing off your head you'd be able to drive better.".
"Being a migrant always makes you different, but being a covered Muslim, people straight away think you're dumb, you're oppressed, you have no voice," Ms Doughan said.
But Ms Doughan said she could see a change in the attitude of some people.
"Before, everyone used to turn a blind eye if they see someone abusing a Muslim woman, no one cares, no one listens," she said.
"Now we get some positive responses; some people are standing up to defend a Muslim woman who is being abused, so it's not all negative but the challenges are there."
Ms Doughan said she was very happy to be part of the project which would hopefully help other women understand her culture, and help her better understand theirs.
Mordialloc Neighbourhood House member Amna Janjua said she hoped more women would join the eight-week program which would include visits to mosques and churches, sharing stories and cooking recipes.
"The project aims to promote understanding, respect, appreciation and co-operation between all members of the community," she said.
The program starts today and people interested can book into any of the eight weekly sessions.
http://www.heraldsun.com.au/leader/inner-south/muslim-woman-wants-people-to-look-beyond-her-hijab-and-learn-about-the-culture-and-traditions-of-her-faith/story-fngnvli9-1227326894685
-----------
President Jacob Zuma Must Deal With Islamic Marriage Bill
30 April, 2015
A WOMEN'S rights organisation has asked the Cape High Court to order President Jacob Zuma and his national executive to expedite a ground-breaking law which will make Islamic marriages and divorces valid in terms of South African law.
According to court papers, the Women's Legal Centre Trust is seeking an order that Zuma, the Minister of Justice and Constitutional Development as well as Home Affairs, the Speaker of the National Assembly and the Chairperson of the National Council of Provinces, pass the bill – which has been in the pipeline since 2009 – within the next 12 months.
The trust is anticipating Muslim and their organisations – those in favour of the legislation and those against it – to be joined in the matter as interested parties.
Organisations
Therefore it has served copies of the court documents, which include a judgment by a full bench of the Constitutional Court in 2009 which said that the president and his national executive had a duty to ensure that the law was enacted, to various organisations.
These include the United Ulama Council of South Africa, which represents the Jamiats from the various provinces; the Muslim Youth Movement; the Muslim Judicial Council; the Association of Muslim Lawyers and Accountants; the Coalition of Muslim Women; the Women's Cultural Group; the South African Muslim Women's Business Forum; the Legal Resource Centre; Legal Aid South Africa; the Commission for Gender Equality and the Centre for Child Law.
Attorney Hoodah Abrahams-Fayker, of the trust, said in her affidavit that the passing of the bill was not only long overdue but was in the public interest.
"My organisation detailed the difficulties experienced by married and divorced Muslim women and the infringing of their rights in the Constitutional Court in 2009 as well as in the various high courts.
"Six years down the line, we are still waiting for the bill to be passed by Parliament.
"In terms of the law which has been in the statutory books for a long time, the Marriage Act, the Recognition Act (which became law in 1998 and recognises customary marriages as valid) and the Divorce Act are not applicable to Muslim marriages.
"The omission constitutes an infringement of a number of rights contained in the Bill of Rights.
"It is unfair and not in line with our constitution," said Abrahams-Fayker.
Dereliction
"The Minister of Home Affairs had not remedied the situation.
"This constitutes a dereliction of the minister's constitutional obligations."
She said the non-recognition of Muslim marriages and divorces had serious practical consequences.
"The important corollaries of Muslim marriages and divorces, the payment of maintenance (for spouses and children), the proprietary rights arising from marriages, the custody of and access to children are unregulated by South African law.
"The effect is that Muslim women are not able to access the legal system for purposes of regulating the consequences of dissolving their marriages to ensure that the custody, access and maintenance payments and other rights… (are protected)," Abrahams-Fayker said.
"Muslim women are badly prejudiced. Their vulnerability is compounded by the unavailability of legal enforcement mechanisms.
"Muslim personal law is skewed in favour of Muslim husbands. A Muslim marriage is generally regarded as a marriage out of community of property.
"Muslim divorcees are often left to fend for themselves and their children," Abrahams-Fayker explained.
President Zuma and the other respondents had not filed their papers in court as yet.
They have approximately a month in which to do so.
http://www.iol.co.za/news/president-must-deal-with-islamic-marriage-bill-1.1851812#.VUG-tNLF9Fs
-----------
2 Muslim Women to Be Featured On Interfaith Panel in Central Minnesota
30 April, 2015
Two Muslim women will be featured Thursday on a panel aimed to connect Muslims and non-Muslims in Central Minnesota.
The St. Cloud Interfaith Dialogue Group will host the panel "Living with our Muslim Sisters and Brothers as One Community," from 6-8 p.m. Thursday.
"We want also to give the opportunity for women to speak about their religion," said Brianda Cediel, one of the event organizers.
"I think that is important, since we have here equal rights in America, (women) have also a voice to speak about religion. I know this is going to be disappointing for many Muslim men here, but we organized (it that way) because of that ... to get their perspective."
Ayan Omar and Basema Omro will speak about their experiences living in the U.S. as women who are Muslims. Organizers also plan to have a lot of time for questions from the audience.
Omar, originally from Somalia, is a language arts teacher at Technical High School. Omro, originally from Jordan, has been in the U.S. for about a year and a half. She is a teacher in the early childhood program at Hands Across the World.
Kevin LaNave will act as moderator, and the Rev. Virgil Petermeier will round out the panel.
LaNave is the director of The Center for Service Learning and Social Change and has moderated similar panels in the past. Petermeier spent 36 years working in Indonesia, the largest Muslim country in the world.
The event will be at the Mary Center Community Room, in the building behind the Cathedral of St. Mary. It is free.
The group hosted panels with the same aims last year, one in Little Falls and another in St. Cloud.
This panel features local members of the Muslim community. Previously, organizers invited members of the Council on American-Islamic Relations to speak.
The panel comes a little over a month after a student-led protest at Tech High School over the treatment of Somali students. But organizers hope to keep the panel focused on faith.
Ayan Omar helped to organize an event where Tech High School students could show off their cultural heritage in March.
http://www.sctimes.com/story/news/local/2015/04/29/women-featured-interfaith-panel/26598333/
-----------
URL: https://www.newageislam.com/islam,-women-and-feminism/new-age-islam-news-bureau/muslim-girls-in-kathmandu-live-in-different-world-after-quake/d/102752