New Age Islam News Bureau
3 Nov 2012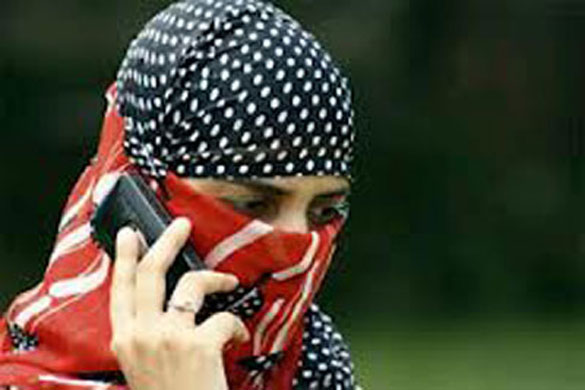 • 7 Pakistan Cops Booked 'For Ripping off Young Girl's Clothes'
• BBC Inside out Episode to Explore Sexual Grooming of White Girls by Gangs of Pakistanis
• Pakistani Rights Activist Marvi Sirmed Attacked By Gunmen in Lahore
• Sonia Amjad Blind Girl Student Denied Hostel Room in PU
• Lahore Schoolchildren Win Debating Honours in Delhi
• Malala's Best Friend Keeping Fight for Girls' Education Alive In Pakistan
• 'Malala Attack Has Raised Awareness about Education of Girls'
• Syrian Women's Forum for Peace kicks off in Cairo
• Breast Cancer: Drumming Up Support for a Cause in Dubai
• Women in emerging markets spell a $4.6-trillion investment bounty
Compiled by New Age Islam News Bureau
Photo: Muslim Girls College Directs Students to Wear Headscarf, Bans Mobile Phones
URL: https://www.newageislam.com/islam,-women-and-feminism/new-age-islam-news-bureau/muslim-girls-college-directs-students-to-wear-headscarf,-bans-mobile-phones/d/9187
--------------
Muslim Girls College Directs Students to Wear Headscarf, Bans Mobile Phones
Nov 03 2012
The Management of a government-aided Muslim Girls Inter College in Kanpur has made it mandatory for girl students to wear headscarf and banned use of mobile phones in the college.
"From today onwards, all the students of Class VI to XII would wear headscarf. The order would have to be abide by all the students irrespective of their religious background," college Principal Quamar Shaheen said.
"College manager Farhat Hussein directed me that after initial warnings, entry of the student in the college will be prohibited in case of non-compliance of orders," Shaheen said. Hussein could not be contacted despite repeated attempts.
Besides headscarf, the management has also prohibited use of mobile phones by students and teachers in the college campus.
Shalini Prasad, Commissioner, Kanpur division, refused to comment on the issue citing that she was not aware about the orders. "I can comment only after seeing the detailed orders."
http://www.indianexpress.com/news/kanpur-college-directs-girl-students-to-wear-headscarf-bans-mobile-phones/1026240/
--------------
7 Pakistan Cops Booked 'For Ripping off Young Girl's Clothes'
November 03, 2012
Seven police officials of the Waris Khan Police Station were booked on Friday on the orders of the Lahore High Court (LHC), Rawalpindi Bench, for allegedly ripping off clothes of a young girl in her house at Dhoke Farman Ali, police sources said.
Rafaqat Bibi, resident of House no. NE-715, Dhoke Farman Ali, lodged a complaint with the Waris Khan Police Station. She said that the door of her house was knocked late at night on January 25. According to her, she was present at home along with her young daughters — Sabiha Naz and Sana Naz. She added that as she opened the door, seven police officials forced their way inside. She alleged that a sub-inspector, later identified as Mazhar Shah, attempted to assault her young daughter Sana Naz sexually and ripped off her clothes while thrashing her. She said that SI Mazhar Shah later tried to abduct her daughter with the help of SI Liaquat Ali and SI Mohammad Hussain and other cops.
Mst. Rafaqat Bibi said that when the area police refused to take action against the accused cops, she lodged a complaint with the city police officer (CPO) and regional police officer (RPO), but they too failed to take up the case. She, finally, filed a petition in the Lahore High Court, Rawalpindi Bench, which ordered police to lodge an FIR against the accused police officials. The Waris Khan Police registered a case (FIR No. 863) against seven cops under Sections 452 and 354 of the Pakistan Penal Code and 155 of the Police Order 2002.
On the other hand, the Waris Khan Police claimed that the family was involved in narcotics dealing and bootlegging and most of the family members had been challaned in such cases. Police said that Rafaqat Bibi was involved in two cases of bootlegging and her three sons had been challaned in three cases each.
http://www.thenews.com.pk/Todays-News-6-140716-7-cops-booked-for-ripping-off-young-girls-clothes
--------------
BBC Inside out Episode to Explore Sexual Grooming of White Girls by Gangs of Pakistani Men
2nd November 2012
By Asian Image reporter
Next week's BBC Inside programme will explore the issue of grooming within the Asian community.
Ramadhan Foundation's Mohammed Shafiq has been commissioned to present the programme. Mr Shafiq investigates the sexual grooming of white girls by gangs of largely Pakistani men and asks what can be done to stop the abuse.
Mr. Mohammed Shafiq said, "I have been campaigning against child grooming since 2006 and so I was pleased that the BBC commissioned me to do this programme.
"Throughout these years and debates we often forget the victims and the impact of these crimes on the families. We have endeavoured to feature victims promptly and see what the communities are doing in response.
"Child grooming is evil and my heart goes out to the victims and their families but we must ensure that whole communities are not stigmatised by these crimes.
"I hope that viewers believe that we have done justice to such an important topic, I am grateful to the BBC for this opportunity and welcome feedback from viewers.
"Finally I hope that with this programme we will be able to highlight the impact these crimes have on victims and their families, sadly the work to protect these victims goes on and the campaign of the Ramadhan Foundation will go on"
The programme will be broadcast in the North West and Yorkshire Regions on Monday 5 November 2012 at 7.30pm on BBC1.
http://www.asianimage.co.uk/news/10023892.BBC_Inside_Out_episode_to_explore_sexual_grooming_within_Asian_community/
--------------
Pakistani Rights Activist Marvi Sirmed Attacked By Gunmen in Lahore
Nov 2, 2012
ISLAMABAD: Unidentified gunmen attacked prominent rights activist Marvi Sirmed on Friday, who has received threats from extremist groups several times in the past, in the Pakistani capital though she escaped unharmed.
The gunmen, who were in a black car, fired at Sirmed's vehicle at Murree Road near Bani Gala on the outskirts of Islamabad while she was returning home from work this evening.
"They tried to target us twice and fired several shots at my car which missed. Luckily, my driver sped away and we escaped," Sirmed told.
Sirmed is an outspoken defender of democracy and human rights, especially the rights of minority communities like Hindus, Christians and Shias. She has received threats from rightwing and extremist groups several times in the past, forcing her to change her residence frequently.
Often seen wearing a sari and a bindi, Sirmed has also faced accusations of being "pro-Indian" from extremists.
However, threats have never deterred her from taking steps to protect the rights of minorities and she was recently at the forefront of a campaign to prevent the abduction and forcible conversion of Hindu girls.
Sirmed, who works as the manager of a UN project to strengthen Pakistan's democracy and parliament, also played a key role in the recent campaign to free Rimsha Masih, a Christian girl who was wrongly accused of blasphemy after a Muslim cleric planted evidence against her.
Friends who had visited Sirmed at work two days ago said they had spotted a suspicious looking car parked outside her office late at night.
Police officials said they had launched an investigation into Friday's shooting.
No group claimed responsibility for the incident.
In a message posted on Twitter, interior minister Rehman Malik said Sirmed had been provided security at her residence.
Malik said he had asked authorities to submit a report on the attack on Sirmed's car.
http://timesofindia.indiatimes.com/world/pakistan/Pakistani-rights-activist-Marvi-Sirmed-attacked-by-gunmen-in-Lahore/articleshow/17067713.cms
--------------
Sonia Amjad Blind Girl Student Denied Hostel Room in PU
November 3, 2012
LAHORE (APP): Ms Sonia Amjad, a regular blind girl student of Islamic Studies Department Punjab University, despite availability, is being denied the facility of room hostel.
While talking to APP here Friday, she alleged that she personally met girls hostel No 4 Superintendent Ms Nabila Rehman who kept her allotment application dully strongly recommended by the head of the department for more than two weeks without any justification.
Full report at:
http://www.thefrontierpost.com/article/190076/
--------------
Lahore Schoolchildren Win Debating Honours in Delhi
Nov 03, 2012
New Delhi When three students, including a girl, from Lahore College of Arts and Sciences left Pakistan a few days ago for an inter-school debating competition in Vasant Valley School in South Delhi; they never thought they would score many firsts.
They represented the first school from Pakistan to participate in the competition. And, in their maiden appearance, they emerged winners of the 15th Vasant Valley Inter-School Debate for the India Today Cup.
Full report at:
http://www.expressindia.com/latest-news/lahore-schoolchildren-win-debating-honours/1025982/
--------------
Malala's best friend keeping fight for girls' education alive in Pakistan
Nov 2, 2012
The best friend of Pakistani teen activist Malala Yousufzai - who was shot by the Taliban for advocating girl's right to education - has said she is praying for her friend and is calling for more education for girls in Pakistan.
"I miss Malala. I am praying for Malala," the Daily Mail quoted 16-year-old Kainat Riaz, as saying.
Malala was shot in the neck and head and two other girls, including Kainat, sustained injuries when the Tehrik-i-Taliban Pakistan (TTP) opened fire on their school van in Swat valley on October 9. Kainat was shot in the arm during the attack.
While Malala was flown to UK for specialised treatment, Kainat's treatment continued in Pakistan.
Full report at:
http://www.dnaindia.com/world/report_malala-s-best-friend-keeping-fight-for-girls-education-alive-in-pakistan_1759369
--------------
'Malala attack has raised awareness about education of girls'
November 03, 2012
ISLAMABAD: Prime Minister Raja Pervaiz Ashraf said the attack on Malala had raised awareness about necessity of educating girls in Pakistan, saying government would take all possible steps for promotion of education.
Talking to Federal Minister for Professional and Technical Training Shaikh Waqas Akram at the PM House Friday, the premier said government's objective of making Pakistan a developed and prosperous country can only be attained by exploiting full potential of its citizens, through demand-driven training.
Full report at:
http://www.thenews.com.pk/Todays-News-13-18580-Malala-attack-has-raised-awareness-about-education-of-girls
--------------
Syrian Women's Forum for Peace kicks off in Cairo
Syrian women's civil society organizations and activists convene in Cairo to launch peace initiative, calling for a just and peaceful solution
Nada El-Kouny
2 Nov 2012
Forty-four Syrian women from different civil society organizations and young independent activists convened in Cairo on 30 October for three days to launch the Syrian Women's Forum for Peace.
The closing reception was held on 1 November at a Cairo downtown hotel. Civil leaders from a number of Syrian towns including Damascus, rural Damascus, Aleppo, Homs, Tartous, Lattakia, Sweda, Daraa, and Hasekeh, and from outside the country gathered to create a strategic plan to engage key individuals and organizations to help the conflict in Syria arrive at a just and peaceful solution.
Full report at:
http://english.ahram.org.eg/NewsContent/2/8/56993/World/Region/Syrian-Womens-Forum-for-Peace-kicks-off-in-Cairo-.aspx
--------------
Breast Cancer: Drumming Up Support for a Cause in Dubai
Amanda Fisher / 3 November 2012
Twenty-eight years ago, Julie-Ann Odell had a tumour the size of a grapefruit removed from her breast — but she was 'one of the lucky ones'.
The Dubai Drums founder, who has been getting behind the Burjuman's Pink Walkathon for more than five years now, said being able to beat the drum against breast cancer at the annual two-kilometre walk, was very moving for her.
"One lady came up to me today with her little boy and she said 'Bless you, bless you, bless you. You're here every year', and it really bought a tear to my eye," said Odell.
This year's walk, held yesterday at the Zabeel Park, Dubai and the ninth of its kind, drew record participants, with organisers making a 'conservative estimate' of more than 13,500 entrants.
Full report at:
http://www.khaleejtimes.com/nation/inside.asp?section=nationhealth&xfile=/data/nationhealth/2012/November/nationhealth_November7.xml
--------------
Women in emerging markets spell a $4.6-trillion investment bounty
Nov 3, 2012
By Sachin P Mampatta
The psychopath asks the FBI agent a question in the 1991 classic The Silence Of The Lambs: 'How do we begin to covet?' The answer: We begin by coveting what we see every day.
"If you see it on TV, that people have fewer children, that they are more successful, that their kids go to school, they look nicer, that they take care of themselves, then they will do the same," says Jose Martins Soares, head of emerging markets research at Espirito Santo Investment Bank who evoked Anthony Hopkins to drive his point home about how access to information is empowering women.
Full report at:
http://www.dnaindia.com/money/interview_women-in-emerging-markets-spell-a-4-6-trillion-investment-bounty_1759534
--------------
URL: https://www.newageislam.com/islam,-women-and-feminism/new-age-islam-news-bureau/muslim-girls-college-directs-students-to-wear-headscarf,-bans-mobile-phones/d/9187