New Age Islam News Bureau
12 May 2015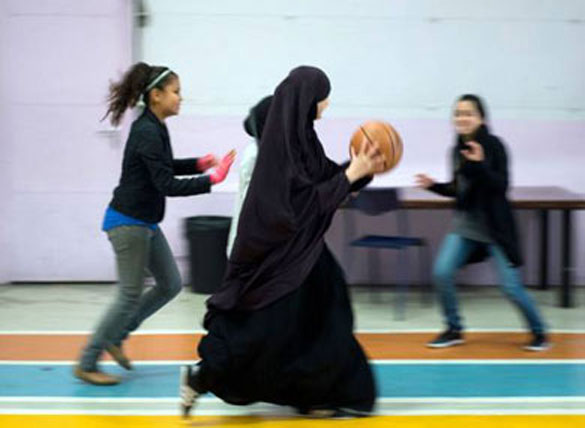 France under Pressure to Clarify Rules about Wearing Long Skirts and Muslim Robes to School
---------
• Pakistan: A Well That 'Turns Women Fertile'
• New Child Abuse Prevention Campaign Launched In Maldives
• France under Pressure to Clarify Rules about Wearing Long Skirts and Muslim Robes to School
• Nigerian Women Displaced By Boko Haram Struggle to Rebuild Their Lives, Need Jobs
• Help Fight Against Forced and Early Marriages
• Monia Mazigh Challenges Stereotypes about Muslim Women in Mirrors and Mirages
• Bangladesh HC: Stop Pornography In Social Media, Mobile Service
Compiled by New Age Islam News Bureau
URL: https://www.newageislam.com/islam,-women-and-feminism/new-age-islam-news-bureau/muslim-girl-provides-education-to-students-of-different-communities-in-kolkata/d/102917
------------
Muslim Girl Provides Education to Students of Different Communities in Kolkata
12 May, 2015
Kolkata (ANI): Often termed as the 'City of Joy', Kolkata situated in eastern part of the country is the hub centre of many commercial, cultural as well as educational institutes. People here have not only made their mark in different fields but their deeds have very well assisted in building up social harmony of the city. Lovina Khan, a social worker is one amongst them who is still working along with building up the social harmony in the region. Her work includes teaching students in St Peters School, especially to those who do not feel that learning can be done only through book materials. Here where there are students pursuing knowledge from text books, there are also girls who attend classes related to extra curricular activities, thus enabling them to start something of their own in future. What amazes about the school is that Lovina being a Muslim has never treated any of her students on religious basis. And thus the school includes students belonging to different communities.
http://www.aninews.in/videogallery9/37322-muslim-girl-runs-institution-providing-education-to-students-of-different-communities.html
---------
Pakistan: A Well That 'Turns Women Fertile'
12 May, 2015
SIALKOT: Whether taking bath in a well can make a childless woman fertile? The question might be laughed away by a gynaecologist, but for those believing in the legend of Pooran Bhagat and of the khoi (a small well) associated with it things may not be that black and white.
Situated in the far-flung rural area of the district, Pooran di khoi (the well of Pooran) is visited on Sundays by couples without an issue in the hope they would be blessed with a child if the wife performs a simple ritual --- taking a bath with the well water and then leaving her scarf tied to a tree there.
According to locals, childless couples from across the country visit the place where wives perform the ritual consecutively on three Sundays, to get what they desired most -- a child.
According to a book 'History of Sialkot' written by Rashid Niaz the ritual is being performed at the well for centuries.
According to the legend, Pooran was son of Sialkot's Raja Salawan. As a child he was exiled for 12 years on the advice of some fortune-tellers.
On his return to the palace, his step-mother Loona tried to seduce him but facing rejection she accused Pooran of attempting rape.
The Raja, believing Loona's allegation punished Pooran who was thrown into the well after being subjected to torture. He was later resurrected by a saint and turned a Bhagat (devotee).
http://www.dawn.com/news/1181293/a-well-that-turns-women-fertile
---------
New Child Abuse Prevention Campaign Launched In Maldives
12 May, 2015
The ministry of gender and law in association with UNICEF has launched a new child abuse prevention programme, Ahan, to increase awareness of child rights and reporting of child abuse.
The campaign was launched on the occasion of international children's day, which is marked across the world today.
State minister for gender Dr Haala Hameed said the reporting of child abuse cases has increased four-fold within the past four years. The ministry has set up a hotline 1412 for child abuse reporting.
Minivan News was unable to obtain the exact number of cases reported in the past four years at the time of going to press. According to previous figures by NGO, Advocating for the Rights of Children (ARC), 388 cases of child abuse were reported between January and November 2014.
Majority of reported cases relate to sexual and physical abuse, Haala said.
"In one sense, the increase in reporting is positive. It indicates an increase in awareness among the public," she said.
Haala said the ministry has received complaints people are unable to contact them through the hotline, but said the ministry is "looking for ways to fix it."
Police figures show 577 cases of sexual abuse in 2012, 573 in 2013 and 475 in 2014. Majority of the cases relate to sexual abuse of children. Meanwhile, domestic violence cases amounted to 179 in 2012, 207 in 2013 and 186 in 2014.
The human rights watchdog has previously said only a small proportion of reported child abuse cases gain justice and said many victims remain re-victimized due to systemic failures.
"Most prevalent challenges include delays in obtaining evidence and overly strict evidentiary requirements," the HRCM said in a report to the UN human rights council in September.
The HRCM also noted that societal attitudes that treat child abuse as a private matter or that force child abuse victims to deny testimony in court in order to protect family honor prevent victims from gaining justice.
The state is yet to establish a registry of child sexual offenders, the commission noted, and said the child protection system is weak in the Maldives as it is under resourced, with inconsistencies in capacity and coordination.
In a statement today, the HRCM called for justice for child abuse victims and a system to monitor perpetrators once they are released.
Attorney general Mohamed Anil today said a "holistic approach" is needed to tackle child abuse.
"Awareness is also one very important component, we also need to improve the state authorities, give them better equipment, better training, strengthen relations between all related institutions, and improve monitoring mechanisms," he said.
He also noted the importance of strengthening laws related to child rights and said his office has drafted a new child protection bill. A new juvenile justice system bill will also be ready by August, he said.
"But not having the necessary laws is not a reason to let these issues slide," he said.
http://minivannews.com/politics/new-child-abuse-prevention-campaign-launched-97920#sthash.pafmYjti.ktksmp4q.dpuf
---------
France under pressure to clarify rules about wearing long skirts and Muslim robes to school
12 May, 2015
The French government is under growing pressure to make a clear ruling on whether schoolgirls can wear long skirts in state schools.
Around 150 Muslim girls have been sent home in the last 18 months for turning up in long skirts or robes which were judged by their head-teachers to break the 11-year-old law banning religious symbols in French classrooms.
In many other French schools, Muslim girls have been allowed to wear long skirts unchallenged.
The issue was brought to a head last month when a school in north-eastern France twice sent home a 15-year-old girl who was wearing a long, black skirt. The girl, named only as Sarah, returned to school yesterday after the Easter holidays wearing jeans.
Officially, there is no ban on long skirts in state schools. Some head teachers and school districts have decided, however, that certain kinds of long skirts or robes amount to an "ostentatious" religious badge or symbol.
A 2004 law, mostly aimed at Islamic headscarves, says that state schools in France must remain "secular". All symbols or forms of dress "which can be immediately recognised as religious in meaning" must be excluded.
The issue goes back several years but has become more acute by the jihadist attacks in Paris in January.
Some French politicians, including the former president Nicolas Sarkozy, have been campaigning for a more radical interpretation of France's historic law separating church and state. Some Muslim pupils have been looking for ways to challenge the "secular" school dress rules, which they judge to be Islamophobic.
The question is how a head-teacher can make a distinction between a long skirt worn as a fashion statement and a long skirt worn for religious reasons. In some cases, teachers say, the distinction is obvious. Some teenage Muslim girls have taken to wearing long, traditional Muslim robes. Others wear long loose black skirts down to their ankles.
The education minister, Najat Vallaud-Belkacem, herself a Muslim, says that a long skirt is fine unless there is an element of provocation or religious display by the pupil. She has defended the decision of a college (middle school) in Charleville-Mézières in the French Ardennes to send home 15-year-old Sarah on two occasions.
Ms Vallaud-Belkacem says that the school judged that the girl had adopted a "proselytising" attitude – in other words she had started wearing the skirt as an "ostentatious" religious statement. Sarah herself says that she bought the skirt for €2 in a cut-price store and wore it only on hot days.
The Rheims school district says that Sarah and other Muslim girls in the school began wearing the long skirts as a protest after an "incident" in which an Islamic headscarf was worn in the school.
Phillippe Tournier, the head of the union which represents head teachers of state schools, called on the government yesterday to "stop shilly-shallying" and issue clear guidelines on long skirts. "Many school districts are ignoring this problem because they don't know whether they would be supported [at national level] or not," he said.
http://www.independent.co.uk/news/world/europe/france-under-pressure-to-clarify-rules-about-wearing-long-skirts-and-muslim-robes-to-school-10242607.html
---------
Nigerian Women Displaced By Boko Haram Struggle To Rebuild Their Lives, Need Jobs
12 May, 2015
When Modupe Ozolua arrived at a crowded refugee camp in northern Nigeria in February to distribute relief items to those affected by the Boko Haram insurgency, she asked camp organizers and volunteers basic questions about the identities of the displaced women there. What are their names? Where are they from? How many children do they have? No one knew, she said.
"We were shocked," said Ozolua, founder and president of the Body Enhancement Foundation, a Nigerian nonprofit organization that helps restore lives of underprivileged Africans. "Nobody had ever asked the women those questions."
Nigeria breathed a sigh of relief this month after nearly 700 women and girls were freed from Boko Haram militants in Sambisa Forest, but the road to recovery has only just begun. The former hostages joined thousands of Boko Haram victims already living in overcrowded displacement camps. They sleep piled onto donated mattresses and feed their children with the meals provided to them.
But it's only a matter of time until these camps close and government aid is cut off, and the displaced women with mouths to feed and no income source need more than just food and clothing donations. The families have not been provided the tools to survive outside refugee camps, and many do not have homes or jobs to go back to once the camps close. They need jobs and housing in order to successfully reintegrate into society and build independent lives outside the camps, Nigerian activists said.
"If food is not donated and given to them, they can't eat. If clothes are not given, they have nothing on their backs. That is important, no doubt, but that is not a solution to this problem," said Ozolua, a Nigerian-American born in Edo state. "You have to remember these camps are temporary. They really don't care where these people end up."
In mid-February, the Nigerian government shut down its official displacement camp in Gombe where there were 25,000 internationally displaced persons currently registered in the state, Nigerian newspaper Premium Times said. The official camp could only accomodate about 3,000 people and when it closed, the victims were paid a stipend and told to return home. Displaced people in Gombe told local media this week that since the camp closed, they are starving and the state has not distributed food items to most local governments.
Over 1.5 million people forced to flee their homes in Nigeria were still living in internal displacement as of April, the Internal Displacement Monitoring Center said. Most do not receive government assistance and will remain internally displaced for ten years or more. Nigeria's federal government can only fund displacement camps for so long and state governments are incapable of responding to the needs of thousands of IDPs, experts said.
"Nigeria is just sitting on an IDP crisis. Once you're displaced, it's really unlikely that you'll be able to return," said Hilary Matfess, a researcher with Nigerian Social Violence Project who has visited camps in Abuja. "It was just astounding to me that people had no plans to return home. They didn't want to remain in these camps but they thought as if they had no choice. They felt as if they didn't have a future."
Boko Haram militants have slaughtered, raped and burned their way through northern Nigeria since launching a brutal insurgency there six years ago. The Islamist extremist group has abducted more than 2,000 women and girls since the beginning of last year, many of whom were trained to fight or forced into sexual slavery, Amnesty International said last month. Hundreds of women who were freed or managed to escape have returned pregnant, experts said.
"Men are likely to be killed whereas women are taken as war booty," said Mia Bloom, professor of security studies at the University of Massachusetts Lowell and author of Bombshell: Women and Terrorism. "In many cases, women are blamed when they are raped, considered damaged goods and will not be marriageable."
For those who survive, refugee camps offer a fleeting solution to a longer-term problem. Displaced or not, Nigerian women in the predominately-Muslim north face disadvantages living in the region's male-dominated society. Many women are uneducated and have never held jobs. Some displaced women who are unmarried or widowed have resorted to prostitution in order to make a living. There have also been reports of children being sold and trafficked in the camps.
"No woman wants to give up their child, but that's one less mouth to feed," said Ozolua, who founded the Body Enhancement Foundation in 2003 to conduct medical missions, donation drives, educational programs and women empowerment in Nigeria.
Ozolua and her organization recently traveled to camps in Gombe and Adamawa states where they learned the identities, skills and needs of each internally displaced woman and child to help them move out of the camps and live independently. Those who knew how to sew were given sewing machines and fabric, as well as money to start small businesses to generate a source of income. Others were given supplies to make locally processed cooking oil, which they could sell. Those who lost their families and homes received an allowance to rent houses in nearby towns.
"These are people who don't have a voice," Ozolua said. "Our priority is the women. We want them to be self-sufficient."
The organization also sponsored schooling for children between the ages of one and 14 at the Girei camp in Yola, where they hired teachers and each student was provided with a school uniform, shoes and writing materials.
During a phone interview Thursday, Ozolua recalled interacting with the displaced women and girls at the Wurojuli camp in Gombe. At first, they were shy and didn't speak unless they were told. "Northern women are trained to be so submissive; they don't even look you in the eye when you talk to them," she said.
But their demeanor suddenly changed during a donation ceremony when they received teddy bears and money for rent. The girls looked at Ozolua, she said. They hugged her, smiled and sang. "Next thing I knew, these girls came so close to me," she said in between tears. "One girl put her arm around my neck. I couldn't believe it."
http://sunnewsonline.com/new/?p=119001
---------
Help Fight Against Forced and Early Marriages
12 May, 2015
According to the Assembly members, forced marriages were gaining alarming proportions in communities such as Kawumpe, Gurumpe, Cherinda, Babatokuma and Kadelso and other settlements, all within the Municipality.
The situation, they pointed out, was not only hindering girl-child education, but destroying the lives of many promising girls in the communities.
They stressed the need for collective efforts from all stakeholders to bring the situation under control.
Messrs Mathias Taasun, the Assemblyman for Kawumpe, Mohammed Abdul Aziz, Assemblyman for Babatokuma and Sulemana Bahidin, Assemblyman for Cherinda electoral areas, made the call when they addressed a meeting of the chiefs and people at Kawumpe.
The meeting was organised by the Mission of Hope Society (MIHOSO), in collaboration with Gender Studies and Human Rights Documentation Centre, a Non-Governmental Organization (NGOs).
It formed part of a two-year project of the two NGOs, with funding from the European Union (EU), and was being implemented to help reduce forced and early marriages in the Municipality and the Nkoranza North District of Brong-Ahafo Region.
According to the assembly members, most of the communities in the area regarded forced and early marriages as customary, and as a result many opinion leaders had no interest to help reduce them.
They observed that after the victims, mostly between 14 and 15 years, had given birth to two and three children, their husbands lost interest in them and began to maltreat them.
Mr Taasun observed that any teenager who resisted attempt to go into the practice was sometimes considered an outcast, and molested by their parents and other relatives.
Citing an instance where a class four pupils in one of the communities was kidnapped and sent to her husband in Accra, Mr Aziz said if pragmatic steps were not taken, the situation would be out of hand.
Mrs Gloria Babayara, the Kintampo Municipal Girl Child Education Coordinator, noted that the school drop-out rate among girls in the Municipality continued to increase, because of teenage pregnancy, which according to her, was as a result of forced and early marriages.
She said even though girl-child clubs had been formed in almost all the basic schools in the areas where the situation was alarming, as a means to advocate against it, the practice continued to increase.
Mrs Babayara said it was unfortunate that in most of the cases the victims' parents played key roles in luring or forcing their children into the practice.
Mr Chrysantus Suglo, the Kintampo Municipal Director of the Commission on Human Rights and Administrative Justice (CHRAJ), disclosed that from January to March this year, the Commission recorded six cases of forced and early marriages within the Municipality, while 26 cases were recorded in 2014.
The commission was able to rescue nine of the victims, he added.
Mr Thomas Bernakuu, Director of Programmes of the MIHOSO, explained that the 90 Community-based Action Teams (COMBATs) and volunteers, established under the project, expected to end by the close of the year, would be supported by the NGO to continue their work.
He said the 1992 Constitution, as well as the Children's Act, and other international conventions were against forced and early marriages, adding that the Constitution was superior and superseded any tradition or custom.
They, therefore, called for the prosecution of perpetrators of such acts.
http://www.spyghana.com/help-fight-against-forced-and-early-marriages/
---------
Monia Mazigh Challenges Stereotypes about Muslim Women in Mirrors and Mirages
12 May, 2015
Monia Mazigh hopes her novel can shatter some of the ignorant beliefs about Muslim women
To Canadians outside of the faith, Muslim women may all appear the same, or their traditional garb may invoke fear or an association with the exotic.
Those are the prejudices that Canadian author Monia Mazigh tries to shatter in her latest novel, Mirrors and Mirages.
Mazigh, who is in Vancouver on Monday to promote her work, was first catapulted into public life in 2002. Her husband Maher Arar was deported by the U.S. government to Syria, where he was tortured and held without charge on suspicions of terrorist affiliations.
Mazigh launched a tireless campaign for his release, and her first book Hope and Despair is a memoir that details her family's struggle.
Mirrors and Mirages, however, centre around a group of intelligent Muslim women, each coming from different walks of life and whose lives converge in Ottawa.
"This book is not about telling who the Muslim women are, but maybe [about giving] the reader some sense of more questions and more curiosity, and then also at the same time, bring that humanity among this group of people," Mazigh told The Early Edition.
Prejudices stem from ignorance and fear
Whether a woman decides to cover her hair and face, or her entire body, has become something of a political football in Canada, with Prime Minister Stephen Harper insisting that women not wear a niqab during the oath of citizenship, and saying that the niqab is "rooted in a culture that is anti-women."
A judge in Quebec also sparked controversy in February, when she refused to hear a woman's case because the woman was wearing a headscarf, or a hijab.
Mazigh says that when she first arrived in Canada in the 1990s, preconceived notions about Muslim women mostly stemmed from ignorance of the religion.
"People really didn't know how to talk to me, how to approach women who are dressing differently and having a different faith," she said.
"Now it's more fear because we really are scared of what this religion is about. It's the idea of linking Muslim women with oppression."
Monia Mazigh speaks about her novel, Mirrors and Mirages at 7 p.m. PT on Monday at the Vancouver Public Library.
http://www.cbc.ca/news/canada/british-columbia/monia-mazigh-challenges-stereotypes-about-muslim-women-in-mirrors-and-mirages-1.3068725
---------
Bangladesh HC: Stop pornography in social media, mobile service
12 May, 2015
The High Court yesterday directed the government to stop the spread of pornography contents by mobile phone content providers and in social media within seven days.
The bench of Justice Moyeenul Islam Chowdhury and Justice Md Ashraful Kamal issued the order following a writ petition filed by Human Rights and Peace for Bangladesh.
The court also asking the government to explain in four weeks why its inaction to stop such activities should not be declared illegal.
The chairman of Bangladesh Telecommunication Regulatory Commission and the secretary to the Information Ministry will have to take steps to comply with the directives.
Manzill Murshed, counsel for the petitioner, said these are punitive offences under the Pornography Act, 2012 and the Information and Communication Technology (ICT) Act of 2006.
"More people are losing morality nowadays due to such trend. The authorities have not taken any effective steps to stop such illegal activities," he said.
http://www.dhakatribune.com/bangladesh/2015/may/11/hc-stop-pornography-social-media-mobile-service#sthash.u7BgYojQ.dpuf
---------
URL; https://www.newageislam.com/islam,-women-and-feminism/new-age-islam-news-bureau/muslim-girl-provides-education-to-students-of-different-communities-in-kolkata/d/102917