New Age Islam News Bureau
9 Dec 2016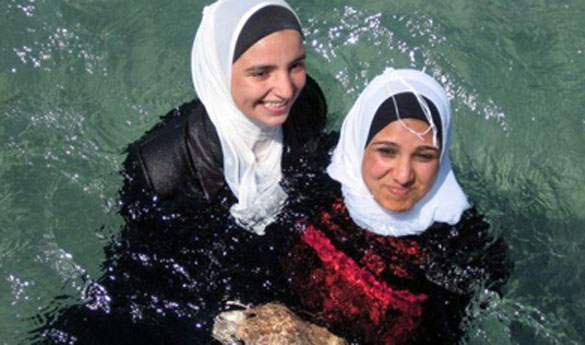 Photo: Muslim Girl Not Allowed To Skip Swimming Class in Germany
-------
• Saudi Arabia: Land of Female-Led Social Entrepreneurship?
• Facing War and Hunger, Momentum for Women's Rights Slows in Yemen
• Number of Potential Female Jihadists in Austria Higher Than Expected
• Muslim Fashion Steps into the Spotlight In U.S
• Islamic Studies Scholar Addresses Myths and Mores behind the Veil
• Isis Survivor Says UK Could Save Lives of Yazidi Women by Admitting Refugees
• Rebellion and Religion Have Guided Millions of Cairene Women to the Hijab
• Global Women Organizations Discuss Women Empowerment in Arab States
• Arab Father to Lehava: Save My Daughter from Her Jewish Suitor
Compiled by New Age Islam News Bureau
URL: https://newageislam.com/islam,-women-and-feminism/new-age-islam-news-bureau/muslim-girl-not-allowed-to-skip-swimming-class-in-germany/d/109332
----------
Muslim Girl Not Allowed To Skip Swimming Class in Germany
PUBLISHEDDEC 9, 2016
German court rejects her parents' appeal that even a burkini breached Islamic dress codes
BERLIN • Germany's highest court has ruled that ultra-conservative Muslim girls must take part in mixed swimming classes at school, ruling against an 11-year-old pupil who had argued that even wearing a burkini, or full-body swimsuit, breached Islamic dress codes.
The Constitutional Court in Karlsruhe rejected an appeal by the girl's parents that she should be excused from the classes because a burkini did not conform with Islam's ethic of decency, German media reported.
A spokesman for the court could not be reached for comment.
Germany is in the grip of a heated public debate about the role of Islam in society as it seeks to integrate more than a million mainly Muslim asylum seekers who have entered the country since last year.
Chancellor Angela Merkel, whose conservatives have been punished at the polls in regional elections by voters angry at her open-door policy, on Tuesday proposed a ban on full-face Muslim veils.
The girl's case before the lower courts was that a burkini revealed the shape of her body, something that went against her religion. The Constitutional Court noted that the lower courts had found this to be untrue, and further found there were "no binding rules in Islam" to define appropriate clothing.
The plan would make it a regulatory offence for women to cover their faces in courtrooms, administrative buildings and schools, as well as while driving or attending demonstrations. "Therefore the full veil is not appropriate here, it should be banned wherever it's legally possible," Dr Merkel said.
The call echoed proposals in France and other European nations to put restrictions on full- face coverings such as the burqa or other Islamic traditions for women such as the niqab, which shows only the eyes.
Dr Merkel's Christian Democrats, who have been losing support to the AfD, a populist party that says Islam is incompatible with the Constitution, toughened their tone on integrating migrants at a party conference this week.
Wednesday's ruling could give more credibility to future attempts by the government to ban the full-face veil after a parliamentary election next year.
The girl's case before the lower courts was that a burkini revealed the shape of her body, something that went against her religion.
The Constitutional Court noted that the lower courts had found this to be untrue, and further found there were "no binding rules in Islam" to define appropriate clothing.
Last summer, when debates broke out across Europe over the so-called burkini swimsuit, Dr Merkel and other German leaders said they favoured a partial ban on full veils.
Dr Merkel had said that "from my standpoint, a fully veiled woman scarcely has a chance at full integration in Germany".
The French beach town of Cannes recently banned the burkini. Nations such as France and the Netherlands have already instituted partial burqa bans.
straitstimes.com/world/europe/muslim-girl-not-allowed-to-skip-swimming-class
------
Saudi Arabia: Land of Female-Led Social Entrepreneurship?
DECEMBER 9, 2016
Saudi nonprofit leader and social entrepreneurship pioneer Lujain Al Ubaid answers questions from refugee girls at Agnes Scott College in Decatur. Photo by Trevor Williams
When Saudi nonprofit leader Lujain Al Ubaid travels abroad, she often finds herself in the unenviable position of having to explain her culture.
Saudi Arabia, the perception goes in the West, suppresses women, forcing them to wear headscarves and forbidding them the chance to get behind the wheel.
While some stereotypes are rooted in reality, other tropes she encounters reveal the need for her voice, to show that cultural differences about their role in society aren't always best portrayed through news reports and movie scripts.
"It's like going to an Indian lady and asking why is she wearing a sari all the time," she told Global Atlanta about her black headscarf, which she left behind for the interview but donned for a public speech at Agnes Scott College.
"I want people to understand that there are amazing women who choose to wear the scarf over their head or wear the black dress when they travel abroad, or even choose to over their face," Ms. Al Ubaid said, just days after a Georgia legislator withdrew plans to introduce updates to an anti-masking law widely viewed as targeting Muslim women. "Even with these choices, that doesn't mean that they are oppressed or anything because they are choosing, and that doesn't make them unqualified for positions."
Despite challenges, the founder of Tasamy for Social Entrepreneurship is working to empower others in her home country while sharing the story internationally of her own journey toward impact — and she's doing it in partnership with her government.
Ms. Al Ubaid speaks globally about Saudi Arabia's growing nonprofit and entrepreneurial sectors, which are experiencing rapid change as more organizations are formed, and more existing outfits focus on innovation and using metrics to gauge their real impact.
"We are challenged by a lack of data," she said, noting that the few charities that existed focused on doling out aid without a clear sense for sustainable impact. Social enterprise, she says, fills the space between simple aid and a pure profit motive.
Tasamy, she said, changed the conversation when she and her co-founders started it five years ago on a whim out of frustration with the status quo. Since then, she has attended executive programs at Harvard and Columbia universities and has engaged in a variety of global programs.
The organization now puts on a yearlong fellowship to help social entrepreneurs hone their ideas, as well as a three-month "Kun" (Arabic for "be") program that aims to help others create pilot projects.
Although a relatively wealthy country, she believes there are ample social problems to address in Saudi Arabia: rising rates of obesity, food waste, 3 million people unemployed and 12 percent of some 30 million people living below the poverty line.
Among Tasamy's successes so far are backing the creation of a new plate for lamb feasts that cuts wasted rice by 30-40 percent, as well as a female entrepreneur from a small city who is building an online platform for home-based, female-owned businesses to make financial transactions.
Ms. Al Ubaid's itinerary included many engagements in Atlanta, from talks at Coca-Cola Co. and the Atlanta Women's Entrepreneurship Initiative to an appearance at the Georgia Council for International Visitors holiday reception.
At Agnes Scott, a women's college investing heavily in globalizing its curriculum, she made a particularly poignant address to an audience of young refugee girls attending the Global Village Project school, also in Decatur.
Ms. Al Ubaid's passion for helping others started when she was 10, visiting a poor neighborhood in Riyadh with her mother, she told the girls. As their car approached, people receiving food and supplies put their hands on the windows, leaving impressions that lasted long after the last food was delivered.
"Their hand prints remained on the glass of the car as they remained on my soul and heart," she said. "I wanted less hands to be asking for things in the world."
She also shared her experience in India, where she learned how to listen as she worked with villagers outside city of Hyderabad. She even talked about gradually overcoming her fear of public speaking, as well as how she has come to view leadership as orchestrating things in the background rather than always being vocal and out front.
The Global Village girls, meanwhile, were armed with questions about her favorite countries, the toughest parts of her job, whether she had ever been separated from her family, how she learned English, her motivations for doing good and more.
Many of the girls are recent arrivals with low levels of English, and some of the students from Syria and Iraq in particular perked up when Ms. Al Ubaid answered a question in Arabic.
Seeing an empowered Arab woman traveling the world and presenting in public was impactful for the students, said Amy Berry, a teacher at the Global Village Project.
"We talk so much with our girls about how can you be brave, how can you be confident, how can you resettle successfully here, learning the language," Ms. Berry said, pointing out the value of practical engagement with someone with a global profile. "They see her, they watch how she's presenting — even the fact that she's got a PowerPoint."
Women's Issues
Ms. Abaid doesn't deny the challenges that women face in Saudi Arabia. According to the World Economic Forum's 2014 Gender Gap Index, only 19 percent of the Saudi workforce in the country is female, despite the fact that 53 percent of university graduates are women. The country ranks No. 130 out of 142 countries on the index overall.
But with trailblazers like business executive Lubna Al Olayan of Olayan Financing Co. to look up to, things are gradually changing. Just this past week, incidentally, billionaire prince Alwaleed bin Talal, who has no official government role, said women should be allowed to drive as a matter of human rights. Women recently were awarded the right to vote in local elections.
Saudi's economy more broadly undergoing shifts after decades of dependence on oil, with a nascent entrepreneurial culture and a government focused strengthening small and medium businesses that form the backbone of mature economies.
Deputy Crown Prince Muhammad bin Salman, son of King Salman and second in line for the throne, has shaken things up with an ambitious plan to sell shares of the state oil company, Saudi Aramco, and use the proceeds to diversify its holdings. He also wants to privatize roads and airports and boost small enterprises as part of his sweeping Vision 2030 plan.
Meanwhile, Ms. Al Ubaid said an increase in nonprofit activity reveals a more socially engaged youth culture. More than 70 percent of the country's population is under 30 years old, and while women do face real issues, she has found by traveling the world that many of them are shared across borders and cultures.
"Ninety percent of the challenges that women face globally are almost the same, and 10 to 15 percent are related to culture and work," she said.
Women globally often find it hard to be heard in business, she said. While assertive men are seen as effective bosses, women taking the same tone might be perceived as bossy, she added.
The kingdom, meanwhile, is relatively young in the eyes of history.
"You will be seeing a lot of progressive change, which is positive in Saudi, but things take time. Nothing will happen overnight."
She also pointed to the fact that her organization has garnered interest from all over the Middle East, with emails coming in from places like Jordan, Syria, Egypt, Palestine, even war-torn Aleppo, Syria, before the situation deteriorated recently.
She asked the Agnes Scott audience to consider ways it could work with the organization to expand its regional reach.
"We consider that as a responsibility."
Ms. Al Ubaid said her visit was an example of Saudi corporate social responsibility in action. Her trip was arranged under the auspices of the King Abdulaziz Center for World Culture, a museum and cultural institution backed by Saudi Aramco. The Middle East Institute in Washington worked with the Georgia Council of International Visitors to coordinate meetings on the ground in Atlanta.
globalatlanta.com/saudi-arabia-land-female-led-social-entrepreneurship/
------
Facing war and hunger, momentum for women's rights slows in Yemen
BY LARISA EPATKO December 8, 2016
In Yemen, where forces loyal to the government are clashing with Houthi rebels, millions are going hungry. Because food is so scarce, aid groups are finding they have to focus on life-saving measures and set women's empowerment efforts aside – at least for now.
"Yemen is experiencing one of the worst humanitarian crises in the world at this point, and the aid agencies are struggling even to provide food," said Kristine Beckerle, a Yemen researcher at Human Rights Watch. "It's a very grim situation."
Muhannad Hadi, the World Food Program's Middle East regional director, recently visited the Yemen governorates of Sanaa, Hajjah and Hodeidah, and said the population suffers from widespread malnutrition.
Children were laying in hospital beds too sick and weak to even cry. Next to them sat their mothers, also fatigued but keeping vigilant watch, he said.
One woman he met told him she had to sell everything she had just to bring her sick child to the clinic. "The terrain in Yemen is very mountainous and rocky. People can't walk. They need a means of transportation, and that comes at a cost," Hadi said.
Yemen's pre-existing problems
Even before the conflict began in 2015, Yemen had challenges in education, health and food access, said Hadi. And now, "the needs have skyrocketed." About 14 million people don't have enough to eat, and 7 million are in severe need of food.
Yemen imports about 90 percent of its food, mostly through sea ports. The fighting has made those routes unpredictable, resulting in soaring food prices, which consume more and more of the families' incomes.
The World Food Program has had to cut its rations in half — one family ration is 2,100 calories per day — to feed more people. In doing so, they have been able to spread 3 million rations to about 6 million rations around the country. "It's the only way to keep people alive," Hadi said.
During his travels, he saw mainly women and children as the ones who were suffering. "In a place like Yemen, where it's a male-dominated society, the ones who are forgotten at home are usually the women and children," he said.
When hunger takes precedence
Along with skipping a meal and resorting to cheaper food that is often less nutritious, parents are resorting to desperate coping mechanisms, including marrying off their young daughters and pulling them out of school, Hadi said.
Education, which normally is a priority for parents even in conflict situations, "is becoming the least important thing for them these days," said Hadi. "You don't even touch on the gender issue. The discussion is hijacked by the hunger and how they have to skip meals."
In terms of women's rights, Yemen ranks last in the World Economic Forum's 2016 Global Gender Gap Report, which measures the gap between men and women's access to resources and opportunities.
"You don't even touch on the gender issue. The discussion is hijacked by the hunger and how they have to skip meals." — Muhannad Hadi of the World Food Program
Among the disparities, women need a male guardian to approve their marriage, and they don't have equal rights to men in divorce, child custody or inheritance, according to a 2015 Human Rights Watch report.
Hadi said his previous work in Yemen, during the late 1990s, included promoting women and girls' education and assisting the health sector to support pregnant and lactating women, which showed the promise of changes in society. But now, "that country is definitely going backwards," he said. "What I see breaks the heart."


World Food Program regional director Muhannad Hadi visits the Hodeidah Hospital in Yemen, where 2-year-old Aya is being checked for malnutrition. Photo by Abeer Etefa/WFP
World Food Program regional director Muhannad Hadi visits the Hodeidah Hospital in Yemen, where 2-year-old Aya is being checked for malnutrition. Photo by Abeer Etefa/WFP
In the Middle East, the issue of gender equity has to be pushed at the national level, he said. "Sometimes we don't feel that we're getting the warranted or the needed support" from governmental and nongovernmental partners, and that "worries us."
Following the Arab Spring uprising, Yemen held a National Dialogue Conference in 2013 to help carry out a peaceful transition in government. At that point, there was momentum toward better protecting women's rights in the constitution and trying to push back against child marriage, said Beckerle.
"It's not really a fair thing to say we need to wait until the conflict is over to deal with those matters, because we don't know how long the conflict is going to last." — Kristine Beckerle of Human Rights Watch
But since then, Shiite Houthi rebels ran out President Abed Rabbo Mansour Hadi, who fled to the port city of Aden and declared he was still running the government. The dueling governments make it difficult for advocates to push for any legislative changes, Beckerle said.
"Airstrikes and land mines and the fighting, to be fair, are very serious things" that need attention, she said. "But the way in which this conflict has pushed women's rights in Yemen backward is another tragic piece to the puzzle."
In the meantime, women's rights activists in Yemen, who Beckerle met with in August, have observed an increase in incidents of domestic violence and forced marriage during the ongoing conflict.
"It's not really a fair thing to say we need to wait until the conflict is over to deal with those matters, because we don't know how long the conflict is going to last," she said.
pbs.org/newshour/updates/facing-war-and-hunger-momentum-for-womens-rights-slows-in-yemen/
------
Number of potential female jihadists in Austria higher than expected
9 December 2016
Jihadism in Austria is an issue that evidently also affects women. According to a survey conducted by the Austrian Green Party via the Ministry of the Interior, over 280 people revealed that they either planned to or had already traveled to IS conflict zones in Syria and Iraq to join groups engaged in active combat.
Of those who responded to the questionnaire, 59 were female and the remaining 221 were male. On the day the survey closed, 87 people were known to have returned to Austria from one of these perilous areas - 13 of these being women. 50 of the survey participants reported that they had been prevented from leaving the country for such perceived reasons, 22 being women.
Women's laureate Berivan Aslan expressed surprise and shock at the high number of women. "The number is unpleasant. I did not expect the percentage of female IS-sympathisers to be as high as 21 percent." She pointed out in a statement to the APA that in Belgium, where the jihadist scene is considerably larger, the proportion women is only 17 percent.
"Disoriented young women in Western Europe feel attracted to IS-fighters and imagine that being on the side of a fighter building their own 'state' would afford oneself stability and meaning. In the Islamic Statement, women are given the role not only of the wife of a 'hero', but are also used as fighters and suicide bombers," says Aslan.
She therefore has called for measures designed specifically for women to be taken in order to curb any rise of female interest in the Islamic State as soon as possible. "There are reasons specific to women why they want to join the IS, which is why preventative measures specific to women are needed."
thelocal.at/20161209/number-of-potential-female-jihadists-in-austria-higher-than-expected
------
Muslim Fashion Steps into the Spotlight in U.S
December 9, 2016
Muslim women are stylish with a wide range of choices, which will be showcased at a modest fashion show in Redmond this weekend. It's part of a trend that has high-end designers and mass-market retailers focusing on the Muslim market.
When Muslim-American women gather, their clothing tells a varied story. Some wear robe-like gowns that flow to the floor, in plain dark colors or in elaborately sparkling hues and patterns; others might don coordinated outfits of loosefitting pants and tunics that hint at the country of their heritage; and some simply choose jeans and shirts. Many, but by no means all, cover their hair, with flowing veils or simple headscarves (known as hijab, a word which also refers to the Muslim practice of dressing modestly).
"In the U.S., you have Muslims from Indonesia, from Iran, from Pakistan, from Tunisia — different places. And they all have their own attire, their own beautiful garments," said Saideh Jamshidi, a journalist who recently relocated to Seattle from Wisconsin. For several years, she has been working on a project called Fashionable Muslim Women (available to view at goltune.com) in which Jamshidi and others travel to different cities to photograph women, in their varied attire, at large gatherings of Muslims — with the goal of presenting Muslim women as stylish, unique individuals, with a wide range of choices.
The same idea is behind the Expressions of Style Fashion Show this Saturday, Dec. 10, at the Muslim Association of Puget Sound mosque in Redmond. It's a women-only event that will showcase the work of five Indonesian and two local fashion designers. The clothing will be modest — which generally means long sleeves, long hemlines, loosefitting garments — but undeniably elegant and even playful.
6 p.m. Dec. 10, Muslim Association of Puget Sound, 17550 N.E. 67th Court, Redmond; tickets $35 general/$20 student/$75 VIP. Women-only event; no children under age 13. Information: facebook.com/azizahfashionshow
It's timely, said event organizer Sherine Abbas, because of the many stereotypes around Muslim women. Some Westerners, she said, "might look at someone who is dressing a certain way, and they have a certain idea — maybe she is oppressed, she is uneducated, she has no job. As opposed to, if they go to an event that is run by Muslim women, they can see that [Muslim women] are doctors, designers, entrepreneurs."
The show also comes at a time of increased interest in modest fashion. In September, the first New York Fashion Week major runway show with all hijab-wearing models was presented from Indonesian designer Anniesa Hasibuan. Both high-end designers (Dolce & Gabbana, Tommy Hilfiger) and mass-market retailers (Uniqlo, Marks & Spencer) have, in the past couple of years, launched modest lines aimed at the Muslim market — and the Cover Girl cosmetics company recently introduced brand ambassador Nura Afia, a Colorado native who appears in commercials and on billboards in her hijab.
Resat Kasaba, a Middle East expert and director of the Henry M. Jackson School of International Studies at the University of Washington, says that this rise in visibility can be explained by the significant growth of the middle class in a number of Muslim-majority countries worldwide over the past decade. "These families have more disposable income, and it has generated a huge market for fashion," he said. "In a business sense, it's become a huge opportunity." Those years have also brought, he said, more acceptance of "a public expression of religion."
While modest fashion may not yet be entirely mainstream in the U.S., the industry seems to be moving in the direction of inclusion — which is welcome news to local Muslim women who want to be both covered and stylish. "I felt like when I was in school, my peers didn't understand why I would want to do modest fashion," said Sabika Makhdoom, a Woodinville-based designer whose work will be featured in the show, of her time studying fashion design at the University of Washington. "I think it's come a long way in people's eyes and perceptions."
Kent-based designer Rahma Yusuf, whose garments will also be included in the Expressions of Style show, agreed. "I feel like it's going in that direction," she said of the increased mainstreaming of Muslim-inspired fashion. "The fashion industry is seeing a gap, a sector of women who are invisible. Now it's starting to open up."
Aania Aslam, a senior at the University of Washington who blogs about beauty and fashion on Instagram, says she's seeing more recognition of modest style across social media. "To see a hijabi model in Cover Girl, it's kind of like seeing yourself portrayed in the media, as a positive person," she said.
The fashion show is presented by Azizah magazine, a quarterly print and digital publication aimed at Muslim-American women, as the first of a series of events designed to emphasize both modesty and empowerment for Muslim women. All women, however, are welcome to attend — and are likely to meet Muslim women in a wide range of attire at the event.
The guiding principle for Muslim women, Azizah creative director and co-founder Nina Soerakoesoemah said, is modesty — but the interpretation of that is very much up to the individual. "Modesty is more than the clothes that we wear," she said. "In Islam, modesty is one of the things that characterizes you, not just how you are dressed outwardly, but how you interact."
"It is a fashion show for clothes," Soerakoesoemah said, speaking to newcomers who might be curious about the runway styles, "but we want to remind them that it lies in the heart."
seattletimes.com/life/fashion/muslim-fashion-steps-into-the-spotlight/?utm_source=RSS&utm_medium=Referral&utm_campaign=RSS_seattle-news
------
Isis survivor says UK could save lives of Yazidi women by admitting refugees
Friday 9 December 2016
Britain could save the lives of thousands of women and girls if it followed Germany's lead in allowing refugees from the Yazidi community into the UK, according to a UN goodwill ambassador and survivor of sexual enslavement by Islamic State.
UK government faces calls to shelter Yazidi refugees persecuted by Isis
Nadia Murad Basee Taha, who escaped Isis after she was held captive for almost three months in 2014, has welcomed the efforts of British MPs in lobbying the home secretary, Amber Rudd, to allow Yazidi refugees into the UK. The MPs want the resettlement programme that will admit 20,000 vulnerable people fleeing conflict in Syria by 2020 to be extended to Yazidis.
"Those who have lost their lives, lost everything – this would be literally saving them and giving them a new life, if the UK were going to do that," said Murad, who is calling on the international community to take action against the perpetrators of violence.
Murad was awarded the EU's Sakharov human rights prize in October for her work campaigning for the rights of the Yazidi community.
In August 2014, Isis stormed the city of Sinjar in northern Iraq, forcing thousands of Yazidis to flee. Hundreds of people were killed and more than 6,000 women and children kidnapped by the Islamist militants.
Last year, Germany opened its doors to more than 1,000 Yazidi women and children who had managed to escaped Isis, offering physical and emotional care to treat the horrific abuses they experienced while in captivity. It is believed more than 3,400 are still held by Isis.
Murad, who now lives in Germany with one of her sisters – another still lives in a camp in Iraq – was abducted from the village of Kocho two years ago and sexually and physically abused by 12 fighters before managing to escape. Isis killed almost all the men in the village, including six of Murad's nine brothers. Her mother was also killed.
Murad has no doubt that what happened to the Yazidis, a group persecuted for centuries, was genocide. A UN report published in June concurred. As well as the violence meted out to women, she points to the mass graves that have been found as evidence of targeted atrocities against the group by Isis. "Isis said in videos that they came to commit genocide against Yazidi people," Murad said.
Speaking during the Trust Women conference in London last week, Murad called on the international community to bring the Islamist fighters to justice.
"I would like those who came to exterminate us, committed the crimes, to be held accountable for their crimes. Minorities should be protected, they should have the right to practice their faith," she added. "We have to have justice."
A group of Yazidi women released by Islamic State militants wait for assistance in the Iraqi city of Kirkuk in January 2015.
While falling short of demanding the crimes against the Yazidis be referred to the international criminal court, Murad said some form of international hearing was needed as she and others in her community had little or no faith in the legal systems in Iraq and Kurdistan.
"It will be a true acknowledgement when those criminals are brought to face justice before an international court, where people see their criminality and their crimes."
In December last year, Murad, who has also received the Council of Europe's Václav Havel human rights prize for her work, shared her story with the UN security council. She urged member states to "liberate our territory" from Isis and establish a fund to compensate abuse survivors and enable the region to be rebuilt. Murad, who is expected to address the security council again this month, also called on member states to open their borders to Yazidi refugees.
"Every time I speak it's difficult," she said, "but also every time I say something that people have not heard. It's also therapeutic for me. I believe in justice, I just hope this will [happen] in the short term."
Does she want to return to Sinjar? "To come from a village to Europe, a life with so many people, there are big differences. But because they embrace us and they treat us with so much respect, I don't feel that difference. And I love the German people and the country."
But she added: "If we can restore our rights and bring justice to victims and against perpetrators … I would like to go back."
theguardian.com/global-development/2016/dec/09/isis-survivor-says-uk-could-save-lives-yazidi-women-admitting-refugees-nadia-murad
------
Rebellion and religion have guided millions of Cairene women to the hijab
December 9, 2016
Over the past couple of decades, millions and millions of Egyptian women have found peace in wearing the hijab or veil – a sign of modesty and a visible manifestation of their commitment to the teachings of Islam.
I, too, thought I wanted my share of that peace, especially if the trade-off was as surmount­able as altering the way I dressed. After all, the prospect of peace amid my upbringing in a city as consuming as Cairo was simply an offer my 14-year-old self could not refuse. The truth was, though, that I was only able to find said peace years later, after I took my veil off.
My story is not unique. It is the story of millions of Egyptian women. But it illuminates the complex forces that have changed cities like Cairo, from places where, a few decades ago, some communities chose to wear the veil and some didn't, to now where some form of hijab is worn by the overwhelming majority of women.
I remember when it first happened. I woke up one morning, pulled out a white scarf from my mother's wardrobe, wrapped it around my head the way a friend of mine had taught me, then headed out to catch the bus to my evangelical parochial middle school.
When I reached school, my friends, Muslim and Christian, congratulated me. Everybody seemed relieved that I'd finally done the right thing. Everybody approved of me. My parents were less enthusiastic – not because I wore the hijab when I had not even hit puberty, but because they were concerned I would want to take it off later (they said it would be worse than not wearing it at all). What I did not know was that I would spend much of the following decade struggling to decide whether to wear it or not.
At the time it felt right. All those pink-coloured, crescent-emblazoned pamphlets that my Muslim classmates had been furtively distributing around the school promised not only a guaranteed spot in heaven, but also a combination capable of defeating all of my clichéd teenage identity crisis woes: a sense of purpose, heightened self-worth and, more importantly, the pleasure of walking down Cairo's streets without getting leered at or groped – an experience ever so alien to any female in Egypt (14-year-old girls included).
But there was a political climate to the rise of the veil. It can be summed up in an incident from 2006. It is telling that the one incident that pushed 130 parliament members to demand the resignation of the Mubarak-era Farouk Hosni throughout his 24-year career as minister of culture was not the death of 50 people in one of his ministry's theatres when it burnt to ashes due to negligence and a lack of safety measures. Nor was it the theft in broad daylight of a US$50-million (Dh184m) Van Gogh painting from one of his ministry's museums. Nor was it the simple fact that Mr Hosni had been in the cabinet for more than two decades (standard practice under the Mubarak regime). No, the one thing Egyptian lawmakers wanted Mr Hosni to be held accountable for was a comment to a newspaper in 2006, where he was quoted as saying that the hijab is a "step back for Egyptian women". Because by 2006, the hijab was the norm, not the exception.
It was in the mid-2000s that I finally joined the ranks of the majority of Egyptian women in covering my hair. By then, the hijab had not just become the prevalent fashion among Muslim girls in my school, it had become the default for women in Egypt – a country with a 90 per cent Muslim population. People would ask you: "Why aren't you veiled yet?" and not the other way around.
thenational.ae/opinion/comment/rebellion-and-religion-have-guided-millions-of-cairene-women-to-the-hijab
------
Global Women Organizations Discuss Women Empowerment in Arab States
Fri, Dec 09, 2016
International Women's Peace Group (IWPG) as a global women network group takes part in the sixth conference of Arab Women Organization (AWO) in Cairo, Egypt on December 13th to 14th. With the vision of empowerment of Arab women, AWO discusses how to seek a necessary change in Arab women's role in societies and strengthen their participation in societal development.
Ms. Nam Hee Kim, Chairwoman of IWPG, the only Asian speaker in the first ministerial conference held by the Arab League last September, emphasized that she was inspired by the passion and warmth of the women of the Arab region and would be a bridge to interact with the international network established through the organization "The International Women's Peace Group (IWPG)" to voice the development of peace and empowerment of the Arab women. In the sixth conference, Ms. Kim will state with an emphasis on concrete action plans for women's expanded roles in peace and security, which are to be discussed at the UN and international communities.
In the conference, sessions include problems of female refugees and victims of violence, extremism, and terrorism. With these, female leaders will figure out measures to strengthen financial abilities in an international economy and to develop a sense of responsibility based on their experiences of their leadership.
According to a press release HWPL sent to WIC, Arab Women Organization is leading a movement to improve women's role in changing society. Furthermore, it coordinates international/regional women issues in Arab countries, fosters cooperation and exchange of experience to enhance the status of women, and provides essential education services for women.
IWPG is a non-governmental organization, closely cooperating with women all across the world, regardless of age, to come together to achieve peace. It has a vision to end war and achieve peace with spirit of peace by women referred to as "motherly hearts" to protect our children and hand down a legacy of peace.
It engages in the establishment of strategies to achieve world peace by facilitating active communication among women from all walks of life, such as holding Global Women Leaders Seminars and World Women Peace Forums.
waltainfo.com/index.php/news/international/detail?cid=26262
------
Arab father to Lehava: Save my daughter from her Jewish suitor
Anti-assimilation group receives urgent request from Arab man hoping to prevent his daughter from marrying a Jew.
Contact Editor David Rosenberg, 09/12/16 08:00 | updated: 08:24
Lehava founder and anti-assimilation activist Bentzi Gopshtain is frequently contacted by concerned parents looking to prevent intermarriage in their families.
Recently, however, Gopshtain received a rather unusual request from a father in Jerusalem, desperate to prevent his daughter from marrying out of the faith.
Unlike most of the appeals Lehava receives, which concern Jewish women dating Arab men, in this case the call for help came from an Arab father whose daughter was being courted by a Jewish man.
The father in question called Gopshtain, desperately imploring him to help in keeping his child from marrying out of Islam.
In a phone conversation with Gopshtain, the man explained that he had in the past rendered assistance to Israeli security forces. In return, and for their safety, he and his family had been relocated from Judea and Samaria to Jerusalem. His children attended Israeli schools and his daughter even enlisted in the IDF.
As she enlisted, however, the father discovered that his daughter had become involved romantically with a Jewish man.
"That I am not prepared to accept," the man told Gopshtain. "As an Arab [Muslim], I will not accept that my daughter will date a Jew. I want to preserve our honor and on our national identity."
At the man's request, Gopshtain looked into the matter and contacted the young man in question, who agreed to meet with Gopshtain in Tel Aviv.
After explaining the long-term issues involved with such a relationship, says Gopshtain, eventually the young man broke up with his Arab girlfriend.
"This case disproves the claim that Lehava is a racist organization," said Gopshtain. "We do everything we can to fight any case of assimilation. It's sad that Arabs understand what many Jews do not, and thus refuse to support our work against assimilation. Assimilation threatens our people. Preventing it, through a preservation of the Jewish flame [of identity], is what preserved the Jewish people throughout the exile."
But not everyone accepted Gopshtain's claims.
Amir Hetsroni, a former professor at Ariel University and a noted left-wing pundit who gained notoriety in 2015 for his attacks on Sephardic voters following the Likud victory in May of that year, is one.
Hetsroni, who himself is in a relationship with an Arab woman, Shirin Noufi, wrote that his live-in girlfriend believed Gopshtain had made the entire tale up.
"Shirin thinks you're making up stories," wrote Hetsroni on Facebook. "I haven't checked it out, but she and I will continue to promote assimilation."
In September, Hetsroni met with Gopshtain in the latter's hometown of Hevron for a tour of the city. Not one to miss an opportunity to combat assimilation, Gopshtain urged Hetsroni to break up with Noufi.
israelnationalnews.com/News/News.aspx/221488
URL: https://newageislam.com/islam,-women-and-feminism/new-age-islam-news-bureau/muslim-girl-not-allowed-to-skip-swimming-class-in-germany/d/109332
New Age Islam, Islam Online, Islamic Website, African Muslim News, Arab World News, South Asia News, Indian Muslim News, World Muslim News, Womens in Islam, Islamic Feminism, Arab Women, Womens In Arab, Islamphobia in America, Muslim Women in West, Islam Women and Feminism