New Age Islam News Bureau
28 Feb 2017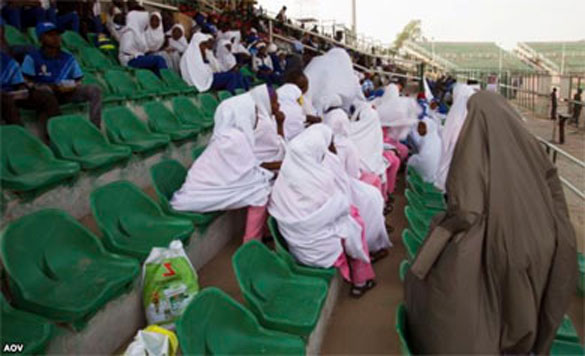 Female rugby players, who wear hijab on top of their uniforms, in Kano State, Nigeria, a predominantly Muslim state, wait their turn to play at the tournament. (VOA / C. Oduah)
-------
• Sindh Govt to Ensure Inclusion of Women in Electoral System
• Pakistani Woman Among '10 Best Teachers in the World'
• Nigeria: Girls Rugby Teams Shatter Stereotypes
• The Beautiful Reason Why This Muslim Woman Is Running the Boston Marathon
Compiled by New Age Islam News Bureau
URL: https://newageislam.com/islam-women-feminism/muslim-girl-invited-attend-trump's/d/110237
---------
Muslim Girl Invited to Attend Trump's First Address to Congress
Feb 28, 2017
CHICAGO: Donald Trump's first joint session address to the Congress on Tuesday is generating a lot of debate as to what to expect from a president whose presidency has been the most unorthodox and unconventional.
Soon after coming into White House, Trump imposed a ban on seven Muslim countries from travelling to the United States which triggered protests and condemnation from around the world.
Since then we have been hearing about the incidents of detention and questioning from noted Muslims inside America at different airports. The address would also be the first to be attended by a Muslim girl on invitation of US Rep Bill Foster.
According to a report in Chicago Tribune, 17-year-old, Samia Abdul-Qadir was invited after the Naperville North High School junior participated in Foster's recent community discussion at the Islamic Center of Naperville on the local effects of the president's attempts to ban travel from several Muslim-majority countries.
Abdul-Qadir told the 150 people in attendance about how a fencing teammate once told her she "looked like a terrorist" because she was wearing a hijab. "It pierced my heart," she said.
Abdul-Qadir, who placed third in foil fencing in the Midwest regionals and advanced to the national competition last fall, will attend as Foster's guest. Each member of Congress is allowed to invite someone to the president's annual address, which is called the State of the Union after the president completes his first year in office.
"I've always been taught that America's strength comes from the spirit of inclusion and diversity," Abdul-Qadir said in a statement from Foster's office. "I don't think it makes America any safer to single out a group of people because of their religious beliefs. It goes against this country's core values."
Foster said America thrives on the innovation, culture and diversity that immigrants bring, and no one should have to live in fear that these opportunities will be taken from them.
http://www.pakistantoday.com.pk/2017/02/27/muslim-girl-invited-to-attend-trumps-first-address-to-congress/
---------
Sindh govt to ensure inclusion of women in electoral system
Feb 28, 2017
NAUSHAHARO FERZOE: Sindh Assembly Member Shahnaz Ansari has said that the Pakistan Peoples' Party (PPP) and Sindh government were committed to ensuring women rights and their inclusion in the electoral system in the province.
She expressed these views on her visit to the District Election Office, on Monday, she stated that vote was the fundamental right of every individual and the active participation of women in the electoral process was imperative for exercising the right of franchise by the women.
Election Officer and Naushaharo Feroze Voters' Education Committee focal person Naeem- ur- Rehman Jalbani briefed that there were 912 census blocks in the district and in 61 blocks number of registered woman voters was less than 40 percent.
The situation could be improved by the cooperation of concerned departments including the elected representatives, education department, health, lady health workers and civil society, he commented and added that a campaign has started so that women vote could be included in the electoral list.
On the occasion, the MPA assured the election officer of full cooperation in this regard.
http://www.pakistantoday.com.pk/2017/02/27/sindh-govt-to-ensure-inclusion-of-women-in-electoral-system/
---------
Pakistani woman among '10 Best Teachers in the World'
February 28, 2017
ISLAMABAD - Salima Begum, a Pakistani teacher born in remote village of Gilgit-Baltistan, has made it to the top ten finalists of Global Teacher Prize 2017.
The Global Teacher Prize carries one million dollar award for an exceptional teacher who has made an outstanding contribution to the profession.
Salima is going up against finalists from Jamaica, Spain, the United Kingdom, Germany, Canada, Brazil, Australia, Kenya and China for the $1 million award.
Though her own education has been marred by lack of resources, she strongly believes in students 'constructing' meaning for themselves through the information they receive, and holds that classroom activities should correspond closely to real-life situations. Currently, she teaches in Elementary College for Women in Gilgit.
"Throughout her career, Salima has contributed to teacher training, instructing more than 7,000 teachers across her province, and 8,000 more throughout Pakistan through the education reform programme," reads information about her bio posted on Global Teacher Prize website.
The United States Agency for International Development has acknowledged her contribution to their Teacher Education project, and she has also published a number of research articles. Her leadership has resulted in her being made head teacher of her school, and under her guidance students have performed exceptionally well in official examinations, resulting in an increase in enrolment in her school.
Salima has adopted the technique of developing students' local wisdom and to make students brainstorm about their contribution to society with their knowledge.
Developing ethical, moral and social values in her students has been top of her priority list. For example, she designed and implemented an environmental project with her children and the local community, to produce organic fertilisers, which was a great success, the website said.
http://nation.com.pk/national/28-Feb-2017/pakistani-woman-among-10-best-teachers-in-the-world
---------
Nigeria: Girls Rugby Teams Shatter Stereotypes
28 FEBRUARY 2017
By Chika Oduah
It's a rare sight. Girls in Nigeria playing rugby. And in northern Nigeria's Kano state, the girls in the Basic College secondary school are defying cultural norms.
"A girl is expected not to be involved in all those masculine games, because they believe rugby needs strength," said Rahilat Umar. "So they believe, as a girl, I'm just supposed to face my studies, leave all those games. I believe that what a man can do, a woman can do better."
At 13 years of age, Umar is one of the youngest players on this all-girls high school rugby team. The team captain, Janet Emmanuel, is a star player. Janet says she has learned to ignore what people say about girls playing rugby.
"We are not weaklings at all," Emmanuel said. "We're doing good in rugby."
'Here to crack rocks'
The team has been getting ready for Nigeria's largest rugby tournament, and Coach Stanley Uka is working hard to prepare them as much as he can on the field.
"To let them know that they're coming here to crack rocks," said Uka. "Not just coming here for child's play."
Off the field, the coach knows that some of his players are facing challenges.
Umar comes from a conservative Muslim family. Her father is strongly against her playing rugby.
"I sent her to school to learn, not to be playing rugby," said her father. "As a Muslim and a girl, I don't think it will be very wise, I allow her to play rugby. If I decide to stop her, I will do that."
Game day is here
But Umar said she hopes her parents will eventually come around. The next day is game day, and the team is ready.
At the Kano State Youth Rugby Championships, only two of the thirteen competing teams are made up of female players. Umar's parents are not coming. But she doesn't dwell on that for long. Coach Uka is counting on her.
"Rahilat as a player is one of the fantastic players I have," said Uka. "When it comes to games, Nigeria ... was nowhere to be found when it comes to the females. But presently, the females are coming up; they are beating the imaginations of so many people."
This is the second time the tournament takes place. It was put together by the Kano State Rugby Association and the Barewa Rugby Club. U.K. national Martin Crawford moved to Kano 13 years ago. He grew up playing the sport, and these days, he's passing it on to Nigerian youngsters.
"When we started, we focused on the senior secondary [students] and we realized that was a mistake," said Crawford. "Because if you catch the kids when they're 12 or 13, they're with you till 13, 14, 15, 16. They leave secondary school, by that time, they're die-hard rugby players. They play rugby for the pure pleasure of it, in fact, they'll walk over hot coals."
Coach is proud
They try their best, but by halftime, no one scores. And Coach Uka is not happy. They try again. But it's a scoreless draw. In the end, both female teams win a trophy. Uka said he is proud of his players.
"Nigerian females are coming up and not just crawling," said Uka. "They are really coming up, and I believe they're going to make the world proud some day. With the cooperation and the understanding of her parents, Rahilat is moving somewhere, and I know for sure she will get somewhere. The sky will not just be her limit, but her starting point."
Umar is disappointed that they didn't score, but that doesn't dampen her spirits.
"I tried my best," said Umar. "I put all my effort in it."
These female players from Basic College secondary school represent change and gender equality.
http://allafrica.com/stories/201702280117.html
---------
The Beautiful Reason Why This Muslim Woman Is Running The Boston Marathon
28/02/2017
Last year, Rahaf Khatib broke barriers by becoming the first Muslim woman to wear a headscarf on the cover of an American health or fitness magazine.
Now Khatib is continuing to raise the bar by raising money for Syrian refugees while running the Boston Marathon.
Khatib is one of 14 runners chosen by Hylands, a sponsor for the Boston Marathon, to run as part of their all-women team during the 2017 race. She is using her time in the spotlight to raise funds for the Syrian American Rescue Network, a non-profit that helps Syrian refugees who have settled in Khatib's home state of Michigan become self-sufficient.
So far, Khatib has raised nearly $10,000 for the charity.
"I truly believe as a stay-at-home mom and Muslim, that this [opportunity to run the Boston Marathon] was sent to me as an obligation to help," Khatib told The Huffington Post in an email. "I want to make an impact on the Ummah [the worldwide Muslim community], no matter how small, it's my way of giving back to society and humanity."
The cause is a personal one for this runner. Khatib comes from a family of Syrian immigrants. She was born in Damascus, Syria, and applied to become an American citizen later on in her life.
President Donald Trump's executive order on immigration indefinitely banned refugees from Syria from entering the United States. The order, which some critics have called a "Muslim ban," is facing numerous legal challenges. Trump is expected to issue a revised version of the order this week.
Khatib told Shape magazine that the plight of Syrian refugees is dear to her heart.
"My dad came here 35 years ago and my mom came after with me as a baby," she told Shape. "I was raised in Michigan, went to college here, elementary school, everything. What's happening now could have happened to me in 1983 when I was on a plane coming to the U.S."
Khatib started running about five years ago, after the stay-at-home mother of three realized that her local gym offered daycare. Within the past two years, she's run six marathons, 14 half marathons, and two sprint triathalons.
Her goal now is to compete in six major world marathons. She's already completed the Berlin and Chicago marathons.
She started the Instagram account @RunLikeAHijabi to inspire other Muslim women to get active. Khatib told The Huffington Post that she believes that taking care of your health and fitness is an essential part of Islam.
"The Quran reminds us that our bodies are an 'amanah' or deep trust from [God]," Khatib wrote. "So we have a duty to take care of our health."
http://www.huffingtonpost.in/entry/rahaf-khatib-boston-marathon_us_58b481b4e4b0a8a9b7852630
---------
URL: https://newageislam.com/islam-women-feminism/muslim-girl-invited-attend-trump's/d/110237
New Age Islam, Islam Online, Islamic Website, African Muslim News, Arab World News, South Asia News, Indian Muslim News, World Muslim News, Women in Islam, Islamic Feminism, Arab Women, Women In Arab, Islamophobia in America, Muslim Women in West, Islam Women and Feminism