New Age Islam News Bureau
12 Oct 2017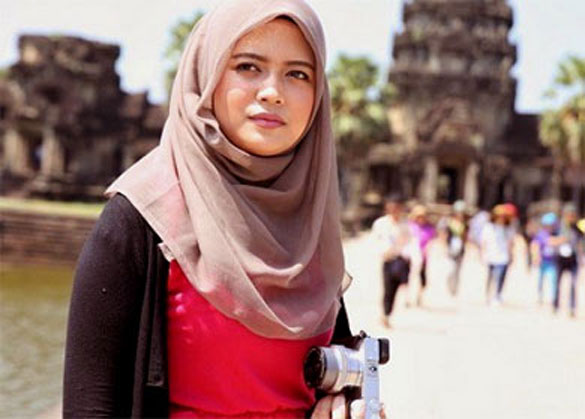 25-year-old Anissa Syifa Adriana shares experiences of travelling. PHOTO: INSTAGRAM
------
• Muslim Girl in Vienna Harassed For Wearing Burqa
• A Page from the Diary of a 25-Year-Old Muslim Woman Travelling Alone
• Saudi Women as Traffic Cops under Consideration
• 'No Lecturer Posted In Naudero Girls' College since Inception'
• Tribal Women Flay Islamabad Police for Violence
• Imam University Denies Seizing Cell Phones of Women Students
• Iran: Young Woman Sentenced To Flogging and Forced Labour
• Iraqi Women Visit Historic Monastery after Its Recapture From Islamic State
• Educated Girls Can Make Better Future for Themselves: Hale
• 6 Bangladeshi Girls Awarded For Their Role in Preventing Child Marriage
• Traffic Police Warn Women about Unauthorized Driving Instructors
• Luxury Motor Show in Riyadh Enjoys Huge Female Turnout
Compiled by New Age Islam News Bureau
URL: https://www.newageislam.com/islam-women-feminism/muslim-girl-vienna-harassed-wearing/d/112859
--------
Muslim girl in Vienna harassed for wearing burqa
Oct 12, 2017
VIENNA: Two women harassed a young Muslim girl for wearing a burqa at a Viennese metro station, after a law banning the donning of burqas had become effective on October 1, as reported by Austrian media.
Police arrived at the scene when the confrontation became physical. However, the burqa-clad woman did not resist the police and uncovered her face for identification, according to police spokesman Daniel Fürst. The police kept a record of the woman, while her refusal to comply with the law resulted in a public argument.
The newly instated law banning burqas was drafted by Europe, Integration and Foreign Affairs Minister Sebastian Kurz and approved by parliament in May. According to the new law, women wearing burqas can be taken to police stations for identification. Moreover, such women as refused to uncover their faces could be fined up to 150 euros ($168).
The ban on burqas and other clothes concealing the face follows the precedent set by other European Union countries, starting with France in 2011.
Full and partial face veils such as burqas and niqabs divide opinion across Europe. Advocates of religious freedom argue for its legitimacy while secularists and those who view it as a symbol of oppression demand its prohibition. The niqab covers everything but the eyes, while the burqa also covers the eyes with a transparent veil.
https://www.pakistantoday.com.pk/2017/10/11/young-muslim-girl-in-vienna-harassed-for-wearing-burqa/
--------
A Page from the Diary of A 25-Year-Old Muslim Woman Travelling Alone
October 11, 2017
A 25-year-old Muslim Indonesian woman has been travelling in Asia alone, and shared her experiences and the reactions of people who encounter her on her escapades.
Anissa Syifa Adriana saved $1,000, and left her job in August 2016, and then went on to explore different countries in Southeast Asia. Her travels include a 550-mile motorcycle trip through Southern Vietnam before she opted to settle down as an English teacher in Northwestern China.
"I was working at a job with the government when one of my coworkers told me about Couchsurfing. All of a sudden, this whole community — and the idea of inviting someone to stay with you and showing them your own city for the sake of new friendship — was opened up to me," she said as she explained how the drive to travel unraveled.
Pakistani passport still second worst for international travel
"In many ways, I feel like I was quite naive before leaving Indonesia. As a Muslim woman, I was part of the majority: I wore a hijab daily as a personal choice and prayed five times a day," she added. Her epiphany came with travel experience and exposure, "it wasn't until I was out of the country that I realised that some people are uncomfortable with it."
She narrates a particular incident in Thailand which occurred between her and her male host at a hostel. "He was very hesitant and asked "Are you sure you can hug me?" Little gestures like that would happen a lot on my trip".
"A Couchsurfing host I had in the Philippines also transferred me at the last minute to one of his friends, because the friend has a Muslim fiancée. He's never hosted a Muslim person before, so I think he just wasn't sure what to do. He told me, "Your hijab is a really bold statement to me — I don't really know how to interact with you, and I don't know if it's okay for me to stay with you." He was being respectful of the fact that he's a man and I'm a Muslim woman, but this episode stayed with me vividly," Adriana said.
She also talked about how her experience was shaped by the way she dressed as well. One of the focal points of the interview was how her travel experience was impacted by her religion. She also said that while travelling with the hijab, her immigration process becomes lengthier.
"I receive a lot of judgment from other Muslims because of how I live," she said while sharing how comments on her YouTube videos were comments on her instead. The "not Muslim enough" label has been thrown on her multiple times. "Someone left the comment, "You're a Muslim and you shouldn't be touching someone's shoulder," and they preached that I should be learning more about Islam, but Indonesia is not an Islamic country."
Trump signs new travel ban, imposes restrictions on 8 countries
"However, I've been rethinking my relationship with the hijab lately. It's only a piece of cloth — it doesn't change who I am. But, when I put it on, things are different, and I become self-conscious of it as well. If I don't wear it, I can just be any solo female traveler," she added.
"It's nice to have space from the hijab sometimes, because it becomes completely attached to your identity," she concluded.
https://tribune.com.pk/story/1528455/page-diary-25-year-old-muslim-woman-travelling-alone/
--------
Saudi women as traffic cops under consideration
By Fatima Al-Dibais
October 12, 2017
DAMMAM — The employment of Saudi women in the Traffic Department (Muroor) is under active consideration of a high-level ministerial committee constituted to carry out studies about the necessary arrangements to implement the royal decree allowing women to drive.
The committee comprises representatives of the ministries of interior, finance, and labor and social development.
The ministerial committee will give advice within 30 days from the issuance of the Royal decree and then implement the decree by June 2018.
Sources said that traffic departments in various parts of the Kingdom have reduced punishments against women caught driving.
They said women caught driving will not be detained and will only be fined a minimum sum of SR500 and a maximum of SR900 for not holding a regular driving license.
The Traffic Department in Riyadh announced that it had registered a normal traffic violation case against a woman who was shown driving a car in a video clip.
A woman driver recently died in Jeddah when she ran into a cement barrier. Her husband, who was accompanying her, suffered serious injuries.
Another woman who was driving on Huda Al-Sham road between Jeddah and Makkah hit a truck and sustained serious injuries for which she was kept in a private hospital in downtown Jeddah. Her male companion, a 13-year-old Jordanian, died in the accident.
The Traffic Department, however, warned against giving driving lessons to women on the roads and public places.
http://saudigazette.com.sa/article/519237/SAUDI-ARABIA/Saudi-women-as-traffic-cops-under-consideration
--------
'No lecturer posted in Naudero girls' college since inception'
M.B. Kalhoro
October 12, 2017
LARKANA: No lecturer has been posted in the Government Girls' College of Naudero since its inauguration at the hands of Sindh Senior Minister Nisar Ahmad Khuhro in 2014.
This emerged during an unscheduled visit of Larkana District and Sess­ions Judge Abdul Ghafoor Kalhoro to the girls' college on Wednesday. It was revea­led that the institution was run without lecturers in the subjects of English, Sindhi, mathematics, chemistry, physics, Pakistan studies and zoology, sources said.
The students whom the judge met while visiting the classrooms told him about the shortage of teachers of basic subjects.
It surprised the judge that the computer laboratory of the institution was non-functional where thick cobwebs were hanging from the furniture while the science laboratory was in dilapidated condition.
Students looked dissatisfied with affairs in the college and their studies. The judge noted with concern the poor hygienic condition in the institution. When asked, principal Ms Shaheen Pathan said that neither any sanitary worker, gardener, night watchman nor any clerk was appointed in the college.
The bus of the institution having 500 students had forcibly been given to the government college (boys), the principal told the visiting judge. He asked for producing any official proof so that it could be returned to the management of girls' college.
Also the institution was not getting textbooks to be distributed free among the students, the principal said, adding that officials at the directorate of education and in the district accounts office did not release funds without taking bribe, which hindered urgent work in the college.
The students also complained about the "harsh" attitude of the principal to the judge. He asked the principal to be soft with students and assured [those who complained] that principal would not take any action against them, the sources said.
The girls said the institution was without electricity and its washrooms were without water. The principal explained that for a long time the college transformer had been lying faulty. The judge asked the principal to send him all problems in writing so that they could be solved, the sources said.
The court sources said that of the 500 enrolled students, only 40 were present in the college during the session judge's visit. Two chillers were found installed in the institution.
During the visit, the principal and some non-teaching staff were absent, but they reached the college within 30 minutes.
The district and sessions judge has asked the authorities concerned to resolve the issues and take action against the delinquent staff members.
https://www.dawn.com/news/1363185/no-lecturer-posted-in-naudero-girls-college-since-inception
--------
Tribal women flay Islamabad police for violence
October 12, 2017
PESHAWAR: Scores of women belonging to different political parties and civil society organisations have criticised the Islamabad police for resorting to violence against women during a rally in the federal capital on Oct 9 for merger of the Federally Administered Tribal Areas with Khyber Pakhtunkhwa and demanded action against the officials concerned.
Speaking at a press conference at Peshawar Press Club on Wednesday, Naheed Afridi, a member of Takra Qabaili Khwendi (brave tribal sisters), said that holding a peaceful protest was the democratic right of every citizen and subjecting the law-abiding people was tantamount to oppression.
She said that the tribal people, including women and youth, staged a rally in a peaceful manner in Islamabad to press the government for acceptance of their demands.
Ms Afridi claimed that a big contingent of police and personnel of law enforcement agencies had been deployed for obstructing them. She called it an irresponsible attitude on the part of federal government and police and demanded probe into the matter.
Call for probe into the incident
She regretted that despite passage of three days of the incident interior minister Ahsan Iqbal had failed to take notice of the incident.
Flanked by TQK members, including Ayesha Hassan, Sakeena Mohmand, Laila Shahnawaz and ANP's former MNA Jamila Gilani, Ms Afridi claimed that several women had fallen on the ground and sustained injuries when the police took action against them.
She alleged that women protesters were also warned by the police personnel that they would face dire consequences if they proceeded towards D-Chowk. She also demanded of the Islamabad police to seek an apology from the tribal women for the incident.
Other women on this occasion vowed that they would continue struggle till merger of Fata with KP and abolition of FCR.
They said that they wanted their due rights and for this purpose the government should implement the reforms recommended by its own committee.
https://www.dawn.com/news/1363282/tribal-women-flay-islamabad-police-for-violence
--------
Imam University denies seizing cell phones of women students
October 12, 2017
RIYADH — Imam Muhammad Bin Saud University in Riyadh has categorically denied reports that it was confiscating or searching the mobile phones of women students on the campus.
A statement by the head of the university's legal department, Khaled Al-Youssif, refuted claims by some female students that their mobile phones were confiscated or searched for messages from young men while entering the campus.
"This is not true. The university does not confiscate or search the students' smart devices," he said, while threatening to take legal action against any media organization that circulates such false claims.
Al-Youssif also said measures against female students for not dressing modestly or keeping their hair short like men were not meant to be punitive action but were taken to maintain campus discipline.
"The violators of the dress code and hair style were not more than 0.025 percent of about 80,000 men and women students in the university," he added.
He said the disciplinary measures taken against some female students for violations of the dress code or hairstyle were strictly confidential and were thoroughly reviewed by legal and Shariah consultants at the office of the rector before they were implemented.
Al-Youssif said students who commit minor offenses would be asked to sign affidavits never to repeat such violations.
"If violations are committed for a fifth time, it will be forwarded to the rector to impose a suitable punishment, which is mostly disciplinary," he added.
He said the university was taking utmost care of all its students so that they would become useful citizens after graduation.
"We are preparing our students religiously, scientifically and practically and are supporting them when they face problems in their studies or behavior," he said.
Al-Youssif asked any female student who has any complaint against any measure taken against her by the university to come and meet the rector on Sundays or Tuesdays.
http://saudigazette.com.sa/article/519234/SAUDI-ARABIA/Imam-University-denies-seizing-cell-phones-of-women-students
--------
Iraqi women visit historic monastery after its recapture from Islamic State
Oct 12, 2017
By Elise Harris
Last week 300 women visited a historic monastery near Mosul after its liberation from the Islamic State – a decision their priest said was made in order to show they aren't afraid, and that Christians in Iraq are there to stay."We decided to go to San Behnam and Sara monastery because a lot of Christian people are afraid to go to this place, because it is sometimes dangerous," Fr. Roni Momika told CNA Oct. 6, after returning from the visit.He said the group wanted to go to the monastery "to pray and to tell the world that we are here and we will pray for peace, and we will pray for the soldiers, and we will pray for Christians in all the world.""Our message to give is for all people," he said, "and our message is we want to put the name of the Father and the Son and the Holy Spirit out loud and to tell the people we are here."
Fr. Momika is a Syriac Catholic priest from Bakhdida, also known as Qaraqosh. As a seminarian he was forced to flee when Islamic State militants attacked the city, 21 miles southeast of Mosul, in 2014. After completing his studies in Lebanon, Momika returned to Iraq and was ordained in a refugee camp in Ankawa, the Christian suburb of Erbil, the capital of Iraqi Kurdistan.
He served women and youth in the camp, which held some 5,000 families, for over a year and a half as the battle to overthrow Islamic State carried on. However, he returned to Bakhdida two months ago after it was re-captured by the Iraqi army.Some 2,000 families joined him in returning to their hometown, which had formerly been referred to as the "Christian capital" of Iraq. The other 3,000-some families have stayed either in Erbil or surrounding villages.Since returning to Bakhdida, Fr. Momika has taken charge of St. John the Baptist parish and has continued to lead his women's group with another priest, which is held every Wednesday at his parish.In his comments to CNA, Momika said his was the first group to go to Mar Behnam Monastery since it was regained from the Islamic State, and "we were so happy.""As you know we were displaced people, refugees, but now we have come back to Qaraqosh after the liberation," he said, explaining that he and his fellow priest, Fr. Younan, offer the women something different every week, ranging from lectures to reflections on scripture.However, this week they decided to make the 20-minute drive and take the women to the monastery, about 23 miles southeast of Mosul, which dates to the 4th century and is home to Saints Behnam and Sara, a brother and sister killed by their father after converting to Christianity.Built by Assyrian King Senchareb as a penance for killing his son and daughter, the monastery is one of the oldest in Iraq. Although it has changed hands several times throughout history, the Syriac Catholic Church has consistently been in charge of the monastery since 1839.When the Islamic State unleashed its offensive on the Nineveh Plains in 2014 they bombed parts of the monastery, destroying the tombs of the saints. However, since its liberation monks have moved back in and are working to restore the areas that have either been burned or bombed.During their visit, Momika said he and the women "and we had a special time. It was a good idea to take all these women to this monastery because we have a special memory with this monastery, because it's our monastery."
The monastery has not yet been blessed after the destruction, since efforts to rebuild are still preliminary, he said, but the Church "is good for prayer."Many people have returned to Bakhdida and are trying as much as possible to live life as normal while rebuilding their city, Momika said, but noted that there are many others who can't come back yet "because their house is not rebuilt, or it's burned or destroyed."Currently Syriac Catholic Church leaders in the area are working hard to rebuild the houses that were destroyed with the help of several charitable organizations, including Aid to the Church in Need, SOS and the Catholic Near East Welfare Association. But funding is a problem, he said, since there is so much that needs to be rebuilt.However, despite the challenges that face them, including the possibility of fresh conflict as a result of the recent Kurdish referendum, which voted nearly unanimously for an independent Kurdistan separate from the Iraqi central government, Momika said the people want to stay."For us in Qaraqosh, it's because it's the center of Christianity in Iraq and it's the center of the Syriac-Catholic Church in Iraq. I think this is why so many came back to Qaraqosh."In its position on the Nineveh Plain, Bakhdida sits between the Kurdish and central governments, "and I think this is the bigger problem for us," he said, but noted that at the moment "we are living here in peace.""I think our God will save us, not the soldiers or anyone else," he said, explaining that he personally chose to come back "because this is my place and it's liberated and it's my history, it's my family place and it's my own place...I won't stay in another place that's not my place."--CNA
http://www.heraldmalaysia.com/news/iraqi-women-visit-historic-monastery-after-its-recapture-from-islamic-state/38746/1
--------
Educated girls can make better future for themselves: Hale
October 12, 2017
Islamabad - United States Ambassador to Pakistan David Hale yesterday said that the educated girls can make better future for themselves.
US envoy commemorated the International Day of the Girl Child at an event here celebrating the US government's commitment to girls' education and women's opportunities, equality, and advancement. The event highlighted local organisations throughout Pakistan that receive the Small Grants and Ambassador's Fund Program and work to improve the lives of girls in Pakistan.
At the event, Ambassador Hale said, "When girls are educated, they can make better futures for themselves, their families, their communities, and their countries."
He added, "The United States government invests heavily in educating and enabling girls; and through the Small Grants and Ambassador's Fund Program, the American people have worked with Pakistani Non-Governmental Organizations to improve the lives of over a million Pakistani women."
The event featured a screening of "Second Chance at Hope," a documentary about the inspiring achievements of young girls in Baluchistan. There was also a sign language performance of the Pakistani national anthem by students of the USAID supported Anjuman Nawjawanan (youngsters' association) Charsadda.
The girls from CEENA Health and Welfare Services – a USAID supported orphanage – presented an inspiring tableau performance of Allama Iqbal's poem 'Lab Pai Ati Hai Dua (My longing comes to my lips as supplication of mine).'
USAID's Small Grants and Ambassador's Fund Program funds local organisations throughout Pakistan. Implemented by the National Rural Support Program and funded by the United States government, the SGAFP supports innovative community activities to enable vulnerable populations, encourage social entrepreneurship, develop small-scale energy solutions, promote culture and the arts, and improve disaster preparedness.
Since 2010, SGAFP has awarded 335 diverse and innovative projects worth US $36 million throughout the country. More than two million people – 55 per cent of whom are female – have benefitted.
The project recently provided a grant to the Saba Aslam Education and Welfare Trust – known as the "Saba Homes School and Orphanage" to build a three-story school in Rawalpindi. The school will educate vulnerable and marginalized girls.
Meanwhile, Pakistan People's Party Senator Farhatullah Babar called for research in preparing a credible data base of children facing multiple crises to plan for addressing issues facing them.
Speaking at a seminar here on the eve of International Day of the Child Girl, he said as a first step the National Commission on the Rights of the Child be set up without further delay the tasks of which also include preparation of a data base.
The Bill was recently signed by the President into an Act and now there is no hurdle in the way except bureaucratic lethargy and political ineptness in the way of its formation.
"There is no credible data that depicts grim situation of the children facing evils like swarah (forced marriage) and child marriage, exploitative domestic labour, sexual abuse, in prisons or suffering from disabilities.
"There are children facing statelessness, internal displacement, in indigenous communities like the Kalash children, on death rows and those caught in armed conflict but there was no data available to plan for them," he said.
Senator Babar said that the event participated by girl children from all over the country who spoke out their hearts was a political statement that the girl child in Pakistan were protesting the robbing of their innocence and childhood.
"It showed that given opportunity they can express themselves, "they know the way and they are not afraid to lead," he added.
http://nation.com.pk/islamabad/12-Oct-2017/educated-girls-can-make-better-future-for-themselves-hale
--------
6 Bangladeshi Girls Awarded For Their Role in Preventing Child Marriage
October 12, 2017
Six adolescent female children have received awards for their role in preventing child marriage.
Lawmaker and noted singer Momtaz Begum handed over crests to the girls at a programme held at the Krishibid Institute auditorium on Wednesday.
The awardees are Shamima Akhter, Amina Khatun (Nila) and Lilima, all from Acid Survivors Foundation, Mukta Akhter Mou from Brac, Shabana Akhter from The Hunger Project and Tuli Debnath from Ghash Foring.
Brac, Acid Survivors Foundation and the Australian High Commission organised the event focusing on the various needs of a girl child, the challenges they face and the importance of building their capacities.
Organising partners of the event were Girls Not Brides campaign and Engage Men And Boys Network.
Among the others, Anna Minz, director, Gender Justice and Diversity Programme, Community Empowerment Programme and Integrated Development Programme, Sally-Anne Vincent, acting high commissioner of Australia to Bangladesh, noted psychologist Dr Mehtab Khanam and Ain o Shalish Kendra Executive Director Sheepa Hafiza, spoke at the programme.
Talking about her childhood, Mumtaz said: "I have come from a disadvantageous family situation. It is an achievement that I have become a Member of Parliament now.
"It has become possible only because of my self-confidence. If you grow such confidence in yourself, then even you will go far in your life."
Acting Australian high commissioner Sally-Anne Vincent said: "South Asia has the highest rate of child marriage in the world, with 46% of girls being married by 18. Given this high prevalence, it is an area of focus for DFAT's advocacy efforts in the region."
Psychologist Dr Mehtab Khanam said: "Women's empowerment needs both social and psychological change. This can only be possible when there is a change in our state's structure."
She said: "The first thing a girl hears at the very beginning of her life is 'no'. The continuous discouragement from the family and society lowers her self-confidence.
"But for boys it is usually a different scenario. Boys are not habituated to hear 'no' from their families, society and particularly from women. They grow up receiving the message that women are inferior."
She added saying that a lot of times boys become sexually violent and take revenge when a girl refuses their proposal.
On the other hand, Anna said: "Several incidents of rapes are occurring in Bangladesh but there is very little attempt to bring the criminals to trial."
Award winner Mukta Akhter Mou said she grew up in her maternal uncle's family and they wanted to marry her off while she was quite young.
Later, she sought the help of her teacher and a local student watch group protested against the marriage attempt.
http://www.dhakatribune.com/bangladesh/2017/10/12/6-girls-awarded-preventing-child-marriage/
--------
Traffic police warn women about unauthorized driving instructors
11 October 2017
The spokesman of the General Department of Traffic, Col. Tareq Al-Rbean, warned Saudi women to be aware of some people who may exploit them under the guise of teaching them how drive or advertising female driving instructors.
Al-Rbean stressed in a phone call on Monday with the Rotana "Hala" TV show that "women should not be in a hurry to learn how to drive through unauthorized offices. Authorized offices will be announced soon."
Col. Al Rben had revealed that many unauthorized offices were recently training women how to drive, including offices in the Eastern Province, and warned that these offices would be penalized and exposed to the media, according to Sabq electronic newspaper. He further noted that establishing authorized driving schools for women would not take more than a month once the ministerial committee finalizes the necessary regulations.
Furthermore, he said that tests for drivers' licenses for women would consist of two stages: Theoretical and practical.
Al-Rbean stressed that the traffic department would not hesitate to penalize any person or company without the proper authorization to train women on driving.
http://www.arabnews.com/node/1176001/saudi-arabia
--------
Luxury Motor Show in Riyadh enjoys huge female turnout
12 October 2017
The 11th edition of the Luxury Motor Show (EXCS11), which was held at Four Seasons Hotel in Riyadh, achieved unprecedented success in the light of the royal decree allowing women to drive. A number of women who wanted to learn about the latest models attended the show.
The Luxury Motor Show (EXCS11) was inaugurated by Salman bin Muhsin Al-Dhalaan, general manager at Ministry of Transport branch in Riyadh, and under the sponsorship of Alahli Lease Finance Program and Mobil 1.
The Luxury Motor Show gathers leading luxury car manufacturers under its roof every year. This year's show was attended by senior executives of luxury car makers who took part in the launch of new models that were revealed on the first day of the show.
Abdullah Alshemasi, CEO of the specialized systems for exhibitions and conferences and founder of the show, said: "We were very ambitious to bring this show globally to compete with big motor shows in the Middle East, which we managed to do successfully." He added: "The new models that have been uncovered at the show this year underscore the importance of EXCS as one of the most significant economic events ... especially in the luxury car segment."
Alshemasi thanked King Salman for the historic royal decree allowing Saudi women to drive.
"We thank Custodian of the Two Holy Mosques for this historic decision, which will enhance the role of women in society, and also enhance the national economy as ... car sales are anticipated to rise by 15 to 20 percent," he said.
United Motors Company, dealer of Alfa Romeo cars in Saudi Arabia, showcased the Alfa Romeo luxury lineup for the first time in a luxury motor show, and unveiled the new SUV model Stelvio, and sports luxury model Giulietta.
Tesla Incorporation unveiled the future electric car Tesla, but without revealing the name of its local dealer.
Abdul Latif Jameel, the authorized dealer for Lexus cars in Saudi Arabia, showcased the new generation of Lexus LS and Lexus sports LC.
McLaren 720S was rated the "Best Luxury Sports" car, Mercedes-Benz S-Class the "Best Luxury Sedan," while Alfa Romeo Stelvio was rated the "Best Luxury SUV."
http://www.arabnews.com/node/1176176/corporate-news
--------
URL: https://www.newageislam.com/islam-women-feminism/muslim-girl-vienna-harassed-wearing/d/112859
New Age Islam, Islam Online, Islamic Website, African Muslim News, Arab World News, South Asia News, Indian Muslim News, World Muslim News, Women in Islam, Islamic Feminism, Arab Women, Women In Arab, Islamophobia in America, Muslim Women in West, Islam Women and Feminism