New Age Islam News Bureau
19 March 2019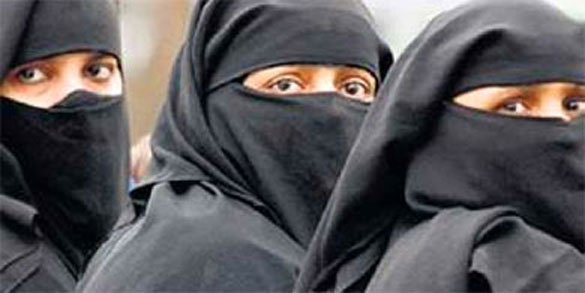 For representational purposes
------
• Chinese Girl Embraces Islam to Marry Pakistani Man
• New Ride Sharing Apps for Arab Women
• Nasrin Sotoudeh, Women's Rights Defender Sentenced to Prison in Iran
• The Job Market Is Male-Dominated In Iran, Pays 17% to Women
• Saudi Relief Centre Concludes Training for Yemeni Women
• Al-Haqbani Becomes First Saudi To Sit On Board Of Arab Women Foundation
• Woman Muslim Convert Dies While Saving Others in NZ Terror Attack
• Saudi Arabia and Iran share a mutual disdain for women who speak up
• Afghan Women Want a Responsible U.S. Withdrawal
Compiled by New Age Islam News Bureau
URL: https://www.newageislam.com/islam-women-feminism/muslim-feminism-doesnt-end-triple/d/118070
--------
Muslim Feminism Doesn't End At Triple Talaq: Women to Politicos
By Donita Jose
19th March 2019
HYDERABAD: The 16th term of Lok Sabha had seen a lot of discussion about Muslim women's rights, especially in the context of Triple Talaq. However, women's rights activists in Hyderabad note that when it comes to the political discourse of parties ahead of the general elections, Muslim women and their issues have been largely ignored.
None of the political parties are fielding any Muslim women in the electoral fray or talking about issues specific to Muslim women.
The issues of women hailing from Hyderabad like illegal detention of Muslim women as labour in Gulf countries, 'Sheikh marriages', lack of educational opportunities or issues related to women and the Muslim personal law are also missing.
"Banning instant triple talaq was a move in the right direction. However there is still disparity in how a 'talaq' (initiated by men) and 'Kula' (initiated by women), is dealt with by the Qazis," notes Jameela Nishat of the NGO, Shaheen.
Even now, 'Kula' needs a man's consent in writing but 'talaq' does not need a women's consent, notes Jameela.
"There is absolutely no systemic regulation in Muslim personal law about familial relations. These matters are being looked into by the Waqf board, which is not the correct authority," said Lubna Sarwath of the Socialist Party of India.
"If they truly want to bring justice to women all the marriages must come under the Minorities commission of government and personal laws must be regularised," she added.
Another critical issue that has been ignored by successive MPs and governments is that of Muslim women being forcefully married to rich Sheikhs.
"Sheikh marriages are still a reality. However, AIMIM has been absolutely unsuccessful in curbing it. With no pressure from neither them nor the State government, the practice continues unabated with many young girls forcefully married off, to rich sheikhs due to poverty. Why is this not a critical issue for the political parties," asks Syed Shahezadi, who had contested unsuccessfully on a BJP ticket from Chandrayangutta Assembly constituency last year.
Regarding the issue of Muslim women travelling to Gulf countries to work as domestic help and getting held up there illegally, Sarwath said that the issue is for the Ministry of External Affairs to deal with and should have been taken up by the Hyderabad MP Asaduddin Owaisi.
Source: newindianexpress.com/cities/hyderabad/2019/mar/19/muslim-feminism-doesnt-end-at-triple-talaq-women-to-politicos-1953020.html
--------
Chinese Girl Embraces Islam to Marry Pakistani Man
March 18, 2019
ISLAMABAD: A Chinese girl embraced Islam to marry a Pakistani man.
According to details, the Chinese girl fell in love with a Pakistani man residing in Germany. Both decided to come to Pakistan to marry.
The Chinese girl tied the knot with the Pakistani man after converting to Islam. The newlywed couple has decided to extend their stay in Pakistan.
The process of inter-cultural marriages continues as a Chinese boy had earlier tied the knot to a Pakistani girl. The wedding was held in traditional Pakistani style.
https://www.pakistantoday.com.pk/2019/03/18/chinese-girl-embraces-islam-to-marry-pakistani-man/
--------
New Ride Sharing Apps for Arab Women
March 7, 2019
The proportion of Israeli Arab women who go to work outside the home has for many years been much longer than that of Israeli Jewish women. There have been cultural and educational problems causing this. Many conservative Arab men prefer to keep their wives at home to cook, clean and take care of the family. In addition, the women's educational level has been low.
But the times are changing, and more Arab women want to go out and work. However, it has been hard for them to get to do so even if they are hired, as few have their own cars, and public transport doesn't always reach their destination in reasonable time. Now, researchers at the Transportation Research Institute (TRI) of the Technion-Israel Institute of Technology in Haifa, in collaboration with the non-profit feminist organization Kayan – supported by the Office of the Chief Scientist in Israel's Transport Ministry – is trying to help.
They developed a smartphone application to help solve the problem of Arab women's access to the workplace in the absence of adequate public transportation, thereby increasing their participation in the job market.
The application was developed by Prof. Yoram Shiftan, Dr. Robert Ishaq, and Ebtihal Shety of TRI at the Technion's Faculty of Civil and Environmental Engineering, in cooperation with Kayan's general director Rafah Anabtawi and Mona Mahajneh, the director of the community department.
The research team developed a unique, ride-sharing application which supports Arabic and is adapted to the Arab sector in general and to Arab women in particular. It connects drivers with passengers who need to reach the same destination. The application also features a package-delivery scheduling system.
To develop the app, the research team held focus groups with the participation of 117 women from 10 communities in northern Israel . They concluded that the participants support the values of mutual assistance and responsibility expressed through their willingness to implement travel-share and to benefit from convenient and time-saving travel at low cost.
The participants also discussed various challenges and concerns, especially concern for their personal security. Most of the participants said they would prefer to travel only with drivers whom they know. Another disadvantage that arose in the focus groups was the loss of flexibility and privacy.
Ishaq and Shety said: "We knew that we were facing a major challenge, but we believed that a ride-sharing application could only improve the limited public transportation in Arab communities. Our main target audience was women who suffer from lack of transport options both inside and outside their villages. The application's main potential is that the majority of these women (98%) have access to a smartphone and 73% have a driver's license."
It was "clear to us that we had to offer a simple and intuitive application that fully supports the Arabic language," said Shiftan. We chose a simple and meaningful name – Safarcon – which means 'Your Travels,' and a logo designed in both Arabic and English. While the application is also available for men, its main goal is to increase transport mobility among women. This is a non-profit application, and the financial accounting takes place between the driver and the passenger."
Referring to the importance of the application for Arab women, Anabtawi said, "The problem of accessibility to public transportation is considered one of the most significant barriers that women face and which hinders women's integration into the job market and their involvement in the public arena. This application, which was designed according to their needs – taking into account gender and cultural sensitivity – may provide a solution, if only partially, to the inter-locality and inter-city mobility limitations."
The researchers believe that Safarcon can help Arab women cope with the lack of adequate transport and mobility solutions and that via the use of the application the number of Arab women entering the workforce is likely to increase.
Referring to the importance of the application for Arab women, Anabtawi said, "The problem of accessibility to public transportation is considered one of the most significant barriers that women face and which hinders women's integration into the job market and their involvement in the public arena. This application, which was designed according to their needs – taking into account gender and cultural sensitivity – may provide a solution, if only partially, to the inter-locality and inter-city mobility limitations."
The researchers believe that Safarcon can help Arab women cope with the lack of adequate transport and mobility solutions and that via the use of the application the number of Arab women entering the workforce is likely to increase.
https://www.weeklyblitz.net/tech/new-ride-sharing-apps-for-arab-women/
--------
Nasrin Sotoudeh, Women's Rights Defender Sentenced to Prison in Iran
15 Mar 2019
Prominent Iranian human rights lawyer and women's rights defender, Nasrin Sotoudeh, was sent to prison on Monday for defending the women who were arrested for taking part in the anti-headscarf movement. The nature of her sentencing remains disputed. Some reports said that the sentence entails 33 years in prison and 148 lashes, but the Islamic Republic News Agency reported it to be seven years.
Sotoudeh is an outspoken critic of the Islamic Republic of Iran's laws on women. The lawyer, who is currently in Tehran's Evin prison, was arrested last year in June for representing a number of women and removing the headscarf as symbol of protest against the country's mandatory Islamic dress code. She was earlier charged with "spying, spreading propaganda and insulting" Iran's supreme leader, Ayatollah Ali Khamenei.
Over the past one decade, the human rights lawyer has been facing intimidation and false charges by the government. In the year 2018 and 2019, she has been charged with multiple cases related to national security offenses. In 2011, the Iranian court banned her from practicing law, as well as from travelling outside the country, for 20 years, along with 11 years imprisonment, which was later reduced to six years.
Following the Iranian revolution of 1979, the country has adherence to a "regressive" and compulsory Islamic dress code, especially for women. Women are not allowed to appear in public without wearing a headscarf or hijab. Further, the dress code dictates that women's hair and body must be covered in public. Violation of the rule imposed by the country is a punishable offense. According to the Islamic Penal Code of Iran (1991), "women who appear in public without a proper hijab should be imprisoned from ten days to two months or pay a fine of 50,000 to 500,000 Iranian Rial (USD 1 to 12)". The law is reportedly applicable to all Iranian women regardless of their religion.
Criticizing the rule of "reactionary clerics", the Women's Democratic Organization and the Tudeh Party of Iran noted that the regime has refused to change its regressive and anti-women attitude amid the increasing resistance by Iranian women.
The women's movement continues to gain momentum in the country, demanding an end to the discriminatory laws and the protection of women's rights.
In 2014, UK based journalist and author of The Wind in My Hair, Masih Alinejad, started an online campaign called My Stealthy Freedom. The journalist herself was in exile from Iran for breaking their mandatory rule of wearing hijab. However, her movement was much welcomed by the women residents of Iran, who demand their basic rights and their freedom of expression.
It has now been forty years since women came out on the streets, demanding a ban on the law. Over the past few years, the country has witnessed a new form of protest, especially by the women fighting for their basic freedom – their right to dress. Last year, in December, a woman took off her white headscarf in public against the compulsory law. In a video published by My Stealthy Freedom, several women, aware of the future repercussions, posted pictures of themselves taking the white scarf off their heads. https://www.newsclick.in/nasrin-sotoudeh-womens-rights-defender-sentenced-prison-iran
--------
The Job Market Is Male-Dominated In Iran, Pays 17% to Women
Mar 19, 2019
In the final days of the Iranian year 1397, the state-run media published reports on gender gap in the job market in Iran, unequal wages of women and men, women's unemployment, etc.
The state-run Salamatnews.com reported that according to official figures from 2016 and 2017, only 14.9% of Iranian women are recruited in the labor force. This despite women making up more than half of university graduates over the past four decades. Clearly, this does not correlate with women's share of employment compared to men's, something that the Salamatnews.com calls it "Iran's undesirable status on working women's participation and wage." (The state-run Salamatnews.com, March 12, 2019)
This report contradicts previous reporting by the official IRNA news agency on January 17, 2019, in which it declared women's participation in the job market as standing at 16.8%.
Citing official statistics, Salamatnews.com also writes that Iranian women's share of the job market is lower than the average 20% in Middle East and North African countries, adding that women's unemployment is twice as much as the unemployment of men.
The report also indicates that presently, one of every three women with a master's degree is unemployed. So, Iranian women's participation rate in the job market is much lower than other countries with average or relatively high revenues.
Another issue of importance mentioned in this report, is the admission that women's wages are far below those of men and indeed, one of the reasons for the recruitment of women is their cheap labor.
Salamatnews.com, citing an example in one of the southwestern provinces, reveals that some women are paid salaries between 250,000 and 700,000 tomans (approx. $18.5-$52) while the minimum wage is 1.1 million tomans (approx. $81.5). In fear of losing their jobs and being fired, many women do not ask for pay raise or insurance, nor do they file any lawsuit against their employer.
In another example, women teachers are forced to accept jobs with a monthly salary of only 500,000 tomans (approx. $37) without any insurance.
According to the World Economic Forum, women's participation in Iran's job market is 23 percent while their wages are 41 percent less than those of men. Taking into account the purchasing power (PPP), this figure drops to 17%.
Based on the same report, women comprise 46% of the professional and specialized workforce.
It's important to note that such stats don't represent the reality because they rely on figures published by the Iranian regime, which is notoriously renowned for skewing stats to misrepresent the abysmal conditions of the country.
The job market in Iran pays 17% to women
It should be noted that the statistics published by the World Economic Forum is based on the Iranian regime's official sources and statistics which are not transparent or accurate. Nonetheless, the Iranian regime has been ranked 142 among 149 countries in the WEF's Global Gender Gap Report 2018. Only seven other countries are ranked lower than the Iranian regime: Mali, Congo, Chad, Iraq, Syria, Pakistan, and Yemen.
The official IRNA news agency published another report in which it pointed out that women's salaries are 17% of men's, underlining the fact that the Iranian regime's conduct in this field has been "one of the worst conducts among the countries of the world." (The official IRNA news agency – March 13, 2019)
https://women.ncr-iran.org/2019/03/19/the-job-market-is-male-dominated-in-iran-pays-17-to-women/
--------
Saudi Relief Centre Concludes Training for Yemeni Women
March 19, 2019
LAHIJ: The King Salman Humanitarian Aid and Relief Center (KSRelief) has completed a pilot project management course for women heads of households in the Yemeni governorate of Lahij.
About 100 women trainees were taught skills to help manage, market and sell products that will improve the living conditions of family breadwinners as part of the Yemen Livelihood Improvement Project.
Courses taken by trainees in past months include sewing, hairdressing and food preparation. The women trainees expressed their gratitude to KSRelief for providing them with training to improve their incomes.
Recently, the center distributed 360 food baskets, weighing 46 tons, to displaced people in Dhale governorate in Yemen, helping 3,780 people — and 300 food baskets, weighing 22 tons and 200 kg in a number of districts of Al-Jouf governorate in Yemen, helping 1,800 individuals — as part of a project to distribute 102,170 food baskets targeting nine Yemeni governorates.
The center also conducted a training session on how to combat insect threats to agriculture and another in agricultural marketing as part of training programs for the Yemen Livelihood Improvement Project.
http://www.arabnews.com/node/1468786/saudi-arabia
--------
Al-Haqbani Becomes First Saudi To Sit On Board Of Arab Women Foundation
2019-03-11
JEDDAH — The Arab Women Foundation announced on Sunday Norah Muhammad Al-Haqbani, from Saudi Arabia, has joined it as a member of its Board of Directors.
In a press statement, Fatima Majed Al-Sirri, deputy chairperson of the Dubai-based Foundation, said Al-Haqbani was chosen unanimously in recognition of her professionalism and her various contributions to women's causes.
Al-Sirri added Al-Haqbani became the first Saudi to be at the helm of the foundation since its founding.
The Arab Women Foundation was established in 2000 and is deemed one of the most important Arab organizations concerned with developing and expanding women's role and participation in the development process via several development, scientific and humanitarian programs.
The Foundation is carrying out a series of projects for the benefit of women in the less developed countries in such fields as education, training and health. In the forefront of its pioneering projects is the initiative to build centers for the early detection of breast cancer as well as modern centers for obstetrics and women's health. These centers won the praise from the United Nations.
The Foundation carries out many other activities, including the Distinctive Arab Woman's Prize, dialogue forums and annual report on the current status of Arab women's participation in the decision-making bodies, and an integrated program for scholarships in postgraduate studies allotted for female students in poor countries.
The Foundation announced earlier the setting up of the Women International Football Association (WIFA), with its headquarters in London. This comes within the strategy to support women in the sports field.
During the next two years, WIFA is set to organize a championship within the "Nations' Cup for Women" through cooperation agreements with the organizations concerned with women's football.— SG
http://www.saudigazette.com.sa/article/560942/SAUDI-ARABIA/Al-Haqbani-becomes-first-Saudi-to-sit-on-board-of-Arab-Women-Foundation
--------
Woman Muslim Convert Dies While Saving Others in NZ Terror Attack
March 18, 2019
A 65-year-old New Zealand woman sacrificed her own life while saving others when terrorist opened fire at the Linwood Mosque, Christchurch, on Friday.
Linda Armstrong was known to be cheerful and kind-hearted, who always helped others. On the fateful day, Sister Linda - as she was fondly known, threw herself before the gunman in a bid to save the lives of other women present in the mosque to offer prayers, reported Newshub.
Armstrong had converted to Islam two decades ago and had been with the Linwood Mosque for only two years. Edward Wadsworth, General Secretary of the Linwood Mosque said, "It did not matter who you were or what your background or beliefs or anything was. If you needed anything done she would find a way to do it."
Recalling how Armstrong helped several displaced people affected by wildfires in Nelson and Tasman District, New Zealand, Wadsworth said she drive a car load of essentials to help out. "Sister Linda always told me she had a peaceful time in Islam. She found true peace every brother sister was her family," Wadsworth added.
Recounting her heroic action, fellow worshiper Imam Lateef Alabi, said, "On the day there were other ladies there and she was like that (moving from side to side) but she got shot at. She put her own body before them." While Armstrong's next door neighbour who has not yet come to terms with her death said, "From what I've heard she threw herself over somebody to protect them and that's when she got the bullet. That's her, that's her."
https://www.khaleejtimes.com/international/rest-of-asia/woman-muslim-convert-dies-while-saving-others-in-nz-terror-attack
--------
Saudi Arabia and Iran share a mutual disdain for women who speak up
March 19, 2019
(CNN)In the 40 years since the Iranian Revolution, Middle Eastern policy in every major nation has revolved around one binary question: Are we friends with Iran, or are we friends with Saudi Arabia? Iran has built itself up as the Shia superpower in the region; the Kingdom of Saudi Arabia, with its extraordinary oil wealth, is its most powerful Sunni rival.
Whenever President Donald Trump, his administration and his family are faced with awkward questions about their closeness to Saudi Arabia, they have a tendency to deflect attention to the sins of Iran. Last November, about eight weeks after the dissident Saudi journalist Jamal Khashoggi was killed and his body dismembered with a bone saw -- reportedly on the orders of Jared Kushner's friend Crown Prince Mohammed Bin Salman (bin Salman denies any involvement) -- and amid rising criticism of US support for Saudi's war in Yemen, the Trump administration held a dramatic press conference to reveal evidence of new weapons being sent by Iran to proxies in Yemen and elsewhere.
The message from Team Trump was clear. Hold the line with the Saudis, nasty as they may be, or we could see an escalation in Iranian-backed violence across the Middle East.
Yet as the world plays one nation against the other, Saudi Arabia and Iran have one thing in common. Both are upping their crackdowns on women's rights and the feminists who fight for them. And the United States should pay attention.
Last week, Iran quietly sentenced a woman named Nasrin Sotoudeh to 38 years in jail and 148 lashes. (Although even Sotoudeh does not seem to have been formally told of the sentence.) Her crime was to be a lawyer. Specifically, she was a defense attorney who regularly defended the women who peacefully protest Iran's repressive religious laws by removing their hijabs in public spaces. On paper, Sotoudeh has been charged with crimes like "propaganda" and "prostitution," but many in Iran aren't buying that.
The theocrats in the regime are sending a message to women: If you resist, we will come for every single person who gives you help. By imprisoning a lawyer for defending her clients, the state is effectively depriving feminist activists of even the basic framework of legal protection. They are also scaring off anyone who might so much as give a lift or a bottle of water to a woman joining the wrong protest. They're not just attacking an enemy, they're cutting off its supply lines. This is how you destroy a movement.
Meanwhile, Saudi's treatment of women is no better. When bin Salman first came to prominence as the new crown prince and effective manager of the kingdom for his aging father, he wooed Western allies by promising liberal reforms. The key plank of this PR strategy was to relax the notorious ban on women driving. But no sooner was this announcement made -- heavily promoted to Western media -- when he quietly instigated the arrest of many of the women who had campaigned hard against the ban. Loujain al-Hathloul, a key feminist leader, is reported by her family to have been waterboarded, electrocuted and sexually threatened by prison interrogators. The Saudi government denied any use of torture.
Like Sotoudeh in Iran, Hathloul and other activists also went on trial last week. Bin Salman's message to feminists in Saudi Arabia is subtly different from that currently sent by the Iranian regime. If reforms come, it will come at a time and in a manner of his choosing. Let no woman be so ambitious as to demand it on her own terms. And, on Sunday, The New York Times reported that arresting these female activists was, in fact, part of bin Salman's long-term strategy to suppress dissent, over a year before the killing of Khashoggi.
Perhaps it's unreasonable to expect Trump to put women's rights at the forefront of his Middle Eastern agenda. (How exactly does one render "grab 'em by the by the p***y" in Arabic?) But as we play one misogynistic regime against another, is it too much to ask that Western diplomats raise the cases of Sotoudeh and Hathloul when they next sit around the negotiating table?
The Iran versus Saudi Arabia divide will continue to be the ping-pong axis of Middle Eastern affairs for years. Yet it's no coincidence that they're both cracking down on women's rights activists at the same time. After the killing of Khashoggi, America has demonstrated that under this administration, it won't waste its breath standing up for democratic values worldwide.
Ivanka Trump, meanwhile, has been trumpeting her new Women's Global Development and Prosperity Initiative, which aims to support women's legal rights in developing countries and empower women through micro-loans and entrepreneurship. If she's serious about women's rights abroad, perhaps she could ignore her husband's friends and have a word with Dad?
https://edition.cnn.com/2019/03/18/opinions/saudi-arabia-iran-repression-of-women-maltby/index.html
--------
Afghan Women Want a Responsible U.S. Withdrawal
by Palwasha Hassan
March 18, 2019
The recent article by Cheryl Benard, "Afghan women are in charge of their own fate," presents a view that is not only distorted and patronizing towards Afghan women, but is also contrary to American interests.
It is ironic that Benard chastises us not to fight for our rights "via op-ed in the pages of the Western press." However, as this is the venue she has chosen, we would like to take the opportunity to disavow her and your readers of some misconceptions about Afghan women's role in the peace process.
I strongly agree with Benard's assertion that Afghan women should be in charge of their own fate and should earn their rights through their own struggle. However, the picture that she puts forward of Afghan women waiting for their rights to be bestowed from the outside is irreconcilable with the reality here on the ground.
While we Afghan women appreciate the support that has been provided by American institutions and others since the beginning of the war, we have been fighting for our rights long before the American military arrived and will continue long after it has withdrawn. We kept struggling and educating our young ones in underground schools before America came to help us, and we kept our struggle going when American money went to empower warlords who were more interested in personal enrichment than advancing peace.
Benard highlights the time, resources, and lives that America has sacrificed in the interest of rebuilding Afghanistan. We have also sacrificed greatly, for a war we didn't ask for. In fact, as a young women's rights activist, eighteen years ago my organization asked to stop the bombing of Afghanistan and resolve the Afghan issue in a peaceful way. If we had done so then, perhaps today we both would not be counting the deaths of two-thousand-five-hundred American soldiers since the war began or of an estimated fifty-seven Afghan soldiers and policemen every single day. We also could have spared the lives of countless thousands of Afghan women and children who have been killed in night raids or have been bombed in Taliban attacks on public buildings and roadsides.
We are not seeking to blame the United States for the current situation Afghanistan finds itself in. Nor are we asking the American military to stay indefinitely. What we are asking for is a responsible withdrawal that is not at the expense of women's rights and which respects the time, energy and lives that both men and women have sacrificed in the name of peace.
Research has shown that there is a 35 percent increase in the probability of a peace agreement lasting at least fifteen years when women are involved. The positive role that women play in peacebuilding has also been recognized globally through United Nations Security Council Resolution 1325 and through the United States' own Women Peace and Security Act. It would be foolish to ignore this now, at such a crucial moment, by excluding Afghan women from the peace negotiations.
Those of us who have been involved in the peace process for many years—through advances and setbacks—have found our strength through work in our country and our communities. Both the war and our experience working with superpowers like the United States have taught us that no other people can be as resilient as we are.
We are not begging for our seat at the table. We are fighting for it. All we are asking is for those who call themselves our allies not to actively work against us.
Palwasha Hassan is the executive director of the Afghan Women's Educational Center.
https://nationalinterest.org/blog/skeptics/afghan-women-want-responsible-us-withdrawal-47967
--------
URL: https://www.newageislam.com/islam-women-feminism/muslim-feminism-doesnt-end-triple/d/118070
New Age Islam, Islam Online, Islamic Website, African Muslim News, Arab World News, South Asia News, Indian Muslim News, World Muslim News, Women in Islam, Islamic Feminism, Arab Women, Women In Arab, Islamophobia in America, Muslim Women in West, Islam Women and Feminism