New Age Islam News Bureau
19 Jan 2013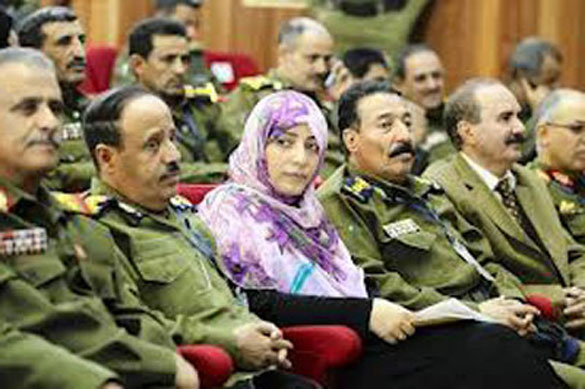 • Malians Report Vicious Rapes and Abuses Committed by Rebels
• Girls Step Lightly Around Religion to Study Dance in Pakistan
• Number of Women Police Officers on the Rise in the UAE
• Three Suspects Held For Rape of Minor Girl in Pakistan
• Young Nobel Peace Prize Laureate Yemen's Karman Confident That Change Is Unfolding
• Police Arrest Underage Females from Orphanage, HRCM Calls for Immediate Release
• Algeria Militants Want Aafia Siddiqui Released In Proposed Prisoner Swap
• Blasphemy petition against Sherry Rehman, Pak Ambassador to USA, accepted
• Women Win Equal Time in Sundance Drama Competition in Canada
• Internet Lover Gets Six Months in Prison for Threatening To Kill a Ukrainian Woman
• 131cm Tall Neena Nizar Of Dubai: I'm Tiny But I Make The Most Of Life
• Critically injured Burundi student opens his eyes as sister arrives in Patiala
• Women Gain Ground Among Gulf Cup Fans
• Licenses to Be Issued For Women Salons
• An American Sister's Struggle to Find & Keep Islam
• Jailed ex-Ukraine PM Yulia Tymoshenko accused of contract killing lawmaker
Compiled by New Age Islam News Bureau
Photo: Young Nobel Peace Prize Laureate Yemen's Karman Confident That Change Is Unfolding
URL: https://newageislam.com/islam-women-feminism/muslim-faith-healer-(pir)-rapes/d/10065
---------------
Faith Healer Rapes and Impregnates Minor in Anantnag, J&K
Hindustan Times
January 19, 2013
A 13-year-old girl was allegedly raped by a self-styled faith healer (pir) in his mid fifties in Anantnag district, 60 km from Srinagar, last summer.
The crime was discovered after a routine medical check-up of the girl revealed she was eight months pregnant. "The parents of the girl were staunch followers of the pir, Mohammad Yousuf Bhat. He used to visit their house often," said Mattan SHO Farooq Ahmad.
The girl allegedly became the victim of the healer in summer last year when he visited her home and raped her when he found her alone.
A local newspaper reported on Friday that when the girl complained of pain in her abdomen, the family took her to the same pir for faith-healing.
"It was only after she complained about the abnormal size of her stomach that she was taken to a doctor who said she was pregnant," the report said.
The report quoted police sources as saying that the girl had complained to her mother about the rape but the latter dismissed her utterances as "childish".
Anantnag SSP RK Jala said the newspaper report was correct. The girl is expected to deliver the baby in February, after which a DNA analysis will be conducted by the police to confirm the accusation.
"The crime was committed some 7-8 months ago. It is unfortunate that such a thing has happened in our society," said Anantnag DCP Farooq Ahmad Shah.
Locals said the pir has eight children from three marriages and some grand-children as well while the victim's father is a farmer without a steady income.
Despite advancement of modern thought and practice in the region, many Kashmiris still revere 'godly' people and have a staunch belief in faith healers.
http://www.hindustantimes.com/India-news/srinagar/Faith-healer-rapes-and-impregnates-minor-mother-dismisses-complaint/Article1-993148.aspx
----------------
Malians Report Vicious Rapes And Abuses Committed by Rebels
January 18, 2013
Nick Chiles
As French and Malian forces battle al Qaida-linked rebels in Mali, reports are emerging of horrific human rights abuses and rapes committed there by the rebel soldiers — leading to widespread fears that hundreds of thousands of refugees will flee to neighboring countries.
According to the United Nations refugee agency, some estimates predict up to 700,000 people will flee Mali in the next few months, most of them afraid of what will happen if they encounter the rebels. This is in addition to the 376,000 Malians who fled the turmoil during the past year —including 147,000 who went to Mauritania, Niger and Burkina Faso. The Malian government estimates 229,000 are displaced within the country.
The refugees interviewed by U.N. workers describe an extremely disturbing and confounding interpretation of Islamic Sharia law. In a report by the U.N. Human Rights Council, a case is cited of a 22-year-old woman raped by six armed men for not wearing a veil in her home — leading one to wonder how a strict reading of Islam could conclude that sexual violence was the proper response.
The report also said girls as young as 12 had been forced to marry members of al-Qaida in the Islamic Maghreb and other militant groups, and then subjected to days of gang rape before being abandoned after a "divorce."
Earlier this week, French soldiers realized they would have a more difficult time than they thought rooting out rebels from the town of Diabaly, where they are hiding in plain sight by blending in with the villagers.
The standoff pointed to the likelihood that France's engagement in Mali would probably be longer and bloodier than any of the officials in Paris anticipated, particularly after the early success last week chasing the rebels with air raids and bombs. But after the rebels took the town of Diabaly, about 250 miles north of the capital city of Bamako, French and Malian forces closed in on the town to expel them. But as they encircled the village, they had to identify the rebels among the civilians.
"It's a very specialized kind of war," a Malian colonel told The New York Times. "The town is surrounded."
The French and Malian combined force is waiting to be joined by soldiers from neighboring countries such as Nigeria, Niger, Ivory Coast and Burkina Faso.
http://atlantablackstar.com/2013/01/18/malians-report-vicious-rapes-and-abuses-committed-by-rebels/
---------------
Girls Step Lightly Around Religion to Study Dance in Pakistan
JANUARY 18, 2013
MICHELE LANGEVINE LEIBY
ASSOCIATED PRESS
LAHORE, Pakistan — In small groups, the girls begin streaming in to the tiny concrete-walled room that serves as a dance studio. A dozen gangly youngsters plop down on the bare cement floor, chattering incessantly, pulling their hair back into elastic bands, fastening their payal, the cluster of bells braceleting the dancers' ankles and lower legs. The chatter hushes briefly as the call to prayer rings out from a nearby mosque and the students scramble to cover their heads with their shawls in silent deference.
Off in one corner, across from musicians readying their instruments (two drums and a harmonium) sits a woman named Zeenat Begum, whose daughters — age 12, 13 and 14 — are preparing to perform. Many Pakistanis put a premium on sons who are groomed to earn a living and support their families, but Begum has set her daughters on a career path that can lead either to international acclaim or less-than-honourable reputations in their homeland.
Herself a retired dancer, Begum enrolled them in the back-street Classical Dance Studio in Lahore, flouting religious conservatives who raise insinuations about female performers and obscene behaviour. Classical dance, known as Kathak, is a form that evolved in India as part of religious traditions in which dancers use movements and facial expressions to tell a story. Under the influence of the Mughal courts, the most talented dancers became wealthy courtiers and famed entertainers.
But since the conservative Islamic rule imposed by military ruler Gen. Mohammed Zia ul-Haq from 1978 to 1988, dance has declined in Pakistan. The Pakistan National Council of Arts has made efforts to bring dance back to the stage, but many in the majority Muslim nation still see dance as base displays of licentiousness. Dancers here remain tainted by presumptions that they also dabble in prostitution.
Begum shies away from questions, but studio owner and instructor Zafar Dilawar, an unimposing middle-aged man, is happy to talk. He has spent his life teaching dance at the studio near the old red light district where his father was also a teacher beginning in 1957.
In the quiet before class starts, the instructor sips tea and explains that over the years the enrolment has decreased because many of the dancers have gone abroad in pursuit of money and acclaim.
Most of the dancers at the school train with Dilawar, who proudly claims some of the best actresses in Pakistan among his former students.
"Those who know art appreciate it and those who don't, don't appreciate it," Dilawar says.
"Religion is a bane on Pakistan — in India [dancing] is a part of their religion. In Pakistan, the mullahs are not prepared to listen. I am among a very few keeping alive the art, otherwise it would have died save there is no dearth of talent in Pakistan."
Her daughters can practice up to six hours a day, says Begum as she taps the ash from the end of a cigarette with a sky-blue varnished fingernail. She hopes one day they will be rewarded for their diligence. The ideal age for beginning dance training is around 10-12 and it requires at least two years to become a good dancer.
And it is an ongoing process. There is Nahid Siddiqui, among the most renowned classical dance performers in the world and also a sexagenarian. "She is still learning," Dilawar said of the famously graceful woman who began training in her teens. "You learn throughout your life."
The three sisters' faces are set with concentration as they go through their routine. They dance with their eyes and with their hands; their feet now tapping, now stamping, punctuate the rhythmic music and movements. When the music ends the girls plop back down onto the floor — a bell has come loose during the complicated footwork and must be found and retied; a once-neat ponytail has come undone and must be rebraided.
No one applauds or even says "nice job" — but the instructor, without a flicker of change to his stoic expression, gives them a single nod before he turns his attention to the rest of the class.
http://www.northjersey.com/arts_entertainment/187547021_Girls_Step_Lightly_Around_Religion_to_Study_Dance_in_Pakistan__Lahore_.html
------------
Number of Women Police Officers on the Rise in the UAE
Number of women police officers on the rise in the UAE, a fact lauded by the UN
By Basma Al Jandal
January 18, 2013
Duabi: Several years have passed since the commissioning of the first batch of female police cadets in Dubai.
Today, more than 1,500 women are working in Dubai Police, 93 of them in leadership positions.
The evolution has been three decades in the making and has transformed the concept of policing in the UAE, say officials. Emirati women, especially, are joining the police force after being qualified and prepared to carry out their tasks and duties.
Females joining Dubai police forces are given all chances, opportunities and logistical support to refine their performance.
The top-down police efforts for the inclusion of women in the police service were honoured recently by the United Nations Award for Public Services for 2012 in the fields of quality and public service.
"Police women have reached the highest ranks, including lieutenant colonel, while some of them are of high qualifications with doctoral, master's and bachelor's degrees and Higher Diploma and secondary school. All of them are specialized in scientific and criminal sciences," said Lieutenant General Dahi Khalfan Tamim, Commander in Chief of Dubai Police.
He said Emirati women are joining the police forces to boost the security and social progress of the country.
He said women working at Dubai Police are given full opportunity for advancement.
"We provide the necessary support for females working within police ranks, whether they are with military forces or civil employees," he said.
Major General Taresh Eid Al Mansouri, director of the Human Resources Department at Dubai police, said the law of human resources at Dubai government has ensured the Emirati women's full right to work and guarantees women equality with their male counterparts.
Al Mansouri said Dubai Police established a special section for women's affairs within it's organisational structure.
"The Women's Affairs section considers all matters relating to working females, their needs, demands and it addresses their problems that hinder their work and to know their views and suggestions in order to find a balanced and attractive work environment for them," he said.
"Police women have demonstrated efficiency and enthusiasm in performing tasks that were once restricted to men. I feel very proud when I see the Emirati women perform the same duties of men, as this helps reflect a positive image about capabilities of UAE women," he added.
Captain Massoud Ibrahim, head of the female police unit at Dubai Police, which comes under the General Department of Organisations Protective Security and Emergency, said the infusion of a great number of women into Dubai Police is a strong addition.
"Emirati women have also proved their competence in the work of security at police despite the high level of danger accompanying this profession," he said. Sergeant Iman Salem Mubarak, from General Department of Organisations Protective Security and Emergency Management and VIP protection, joined Dubai Police in 1992 and her job was to secure and protect the VIPs.
Mubarak said when she joined work it was dominated by men.
"My work is a unique experience, In every day work there is an adventure. I do an interesting and difficult task. I work on securing high profile female personalities, my duty is to ensure the high profile figures protection," she said.
Mubarak said her work with VIPs needs her also to behave in very nice manner and to follow protocols.
"My work with police over the past years was a key role in changing my life on a personal level, I became more confident and it improved my self esteem. I learned patience and skill in management and that increased my self-confidence which helped play a large role in obtaining my university degree in psychology," she said.
Second Lt Maryiam Bilal Al Mussam said the first official division for her at police was working at the Office of Investigations of children in Al Rashidiya Police Station.
"My work at the office of investigation of children's issues means Dubai Police have full trust in Emirati women to instigate criminal cases," she said.
"I learned how to protect the privacy of the victim," she said.
First Corporal Reem Amiri, the oldest employee in the programme to communicate with the victim and the Head of the Department to communicate with the victim in the Al Qusais police station, said she engaged in ,training programmes to learn how to communicate and help victims.
"I learned how to perform on humanitarian bases and I learned the great need of the victim for support," she said.
Mariam Misbah said she joined work in Dubai Police Academy in 2002, as a translator.
Today she is head of conferences, translation and publishing in academy, pointing out that the encouragement of management helped female employees at Dubai police to have high ranks and positions.
"Female police are the pioneers. We are proud of this well-trained female police. They work hand-in-hand with their male counterparts," said Major General Mohammad Eid Al Mansouri, Director of the General Department of Organisation Protective Security and Emergency of Dubai Police.
http://gulfnews.com/news/gulf/uae/general/who-said-policing-was-a-man-s-job-1.1134052
---------------
Three Suspects Held For Rape of Minor Girl in Pakistan
January 18, 2013
MIRPURKHAS: The police have arrested the prime suspect involved in the rape and murder of a nine-year-old girl in Mirpurkhas on Thursday.
The girl, NA, was reportedly kidnapped last Friday, but her burnt body was found inside a gunny bag on Wednesday. Medical experts said that the culprits sexually assaulted the girl, throttled her with a wire, and then set the body on fire. Doctors have sent her remains to a laboratory for further investigation.
An FIR was registered at the Satellite Town police station against unknown men. Mirpurkhas SSP Farooque Ahmed Jamali informed Sindh Express that three suspects, Noor Ali alias Mama Panhwar, Wali Ahad Bhatti and Fahd alias Dada Qureshi, had been arrested. He claimed that the prime suspect in the case, Panhwar, had confessed.
Mirpurkhas DIG Ghulam Haider Jamali, who constituted a probes committee, said that two suspects had been detained.
Family mourns loss
According to details, 'NA' was a student of Class IV, but also used to help her father run a paan kiosk in the evening. Her mother, Salma, said that she had gone to a shop on Friday afternoon, but did not return. Getting worried, the family informed the police about her disappearance. They thought that she was kidnapped.
Hamid Abro, the victim's father, worked as a rickshaw driver by day, and ran the paan kiosk in the evening. He told media personnel on Thursday that he used to send his daughter to collect unpaid bills from his customers. He suspected that some of these people might have kidnapped and assaulted his daughter.
The girl's body was found inside a bag that was lying near Sohail Town and Mir Colony. Residents noticed the bag when they saw stray dogs trying to tear it. The police were called in, and they took the body to the Civil hospital, and then informed the family.
http://tribune.com.pk/story/495438/three-suspects-held-for-rape-of-minor-girl/
---------------
Young Nobel Peace Prize Laureate Yemen's Karman Confident That Change Is Unfolding
By Jeffrey Fleishman, Los Angeles Times
January 16, 2013
SANA, Yemen — Tawakul Karman hurried through the morning chill with the burden of a rebel who has crossed from obscurity to fame. The youngest Nobel Peace Prize laureate in history, she slipped past boys playing soccer and soldiers stirring on the narrow streets of this garrisoned city.
"I brought you flowers," she said to a guest. "They bring hope."
Her secretary, conjuring up the fidgety air of the White Rabbit, checked his watch to nudge her toward her next appointment. But time here is negotiable and Karman would not be distracted from a conversation that ranged from the way tribal women, veiled and hushed, can disappear in plain sight to the upheavals reshaping the Arab world.
Full report at:
http://www.latimes.com/news/nationworld/world/middleeast/la-fg-yemen-woman-nobel-20130117,0,2008440.story
---------------
Police Arrest Underage Females from Orphanage, HRCM Calls for Immediate Release
By Ahmed Nazeer | January 17th, 2013
The Human Rights Commission of the Maldives (HRCM) has called for the immediate release of two underage females living in the Villingili orphanage, who were arrested and sent to Maafushi prison.
Local media alleged that the two girls, aged 15 and 16, were arrested on December 28, 2012, after escaping the orphanage in the middle of the night to fraternise with some boys.
Full report at:
http://minivannews.com/society/police-arrest-underage-females-from-orphanage-detain-in-maafushi-prison-51311
---------------
Algeria Militants Want Aafia Siddiqui Released In Proposed Prisoner Swap
January 18, 2013
NOUAKCHOTT: Gunmen in Algeria who are holding about 60 hostages at a gas plant, want to swap the American hostages for prisoners held in the United States including Pakistani Aafia Siddiqui, the ANI news agency quoted sources close to their leader as saying on Friday.
The abductors, who are also holding other Algerian and foreign hostages, have also demanded negotiations for an end to French intervention in Mali, the agency said, quoting sources close to Mohktar Belmokhtar.
Full report at:
http://tribune.com.pk/story/495810/algeria-militants-propose-prisoner-swap-including-aafia-siddiqui/
---------------
Blasphemy petition against Sherry Rehman, Pak Ambassador to USA, accepted
January 18, 2013
ISLAMABAD: The blasphemy issue is still haunting Pakistan's ambassador to United States Sherry Rehman.
On Thursday, a two-judge apex court bench headed by Justice Anwar Zaheer Jamali approved a petition, requesting a case to be registered against Rehman under section 295-C of the Pakistan Penal Code (PPC), over allegedly committing blasphemy.
Full report at:
http://tribune.com.pk/story/495669/blasphemy-petition-against-sherry-rehman-accepted/
---------------
Women Win Equal Time in Sundance Drama Competition in Canada
18 January 2013
PARK CITY, Utah — For the first time, the Sundance Film Festival could do a boy-girl, boy-girl seating arrangement of directors in its US dramatic competition — and not run out of girls.
The festival has 50-50 parity — eight women, eight men — among the 16 films in the competition, a record that female filmmakers consider to be a hopeful sign they are making progress toward equal time with males.
Full report at:
http://www.khaleejtimes.com/kt-article-display-
---------------
Internet Lover Gets Six Months in Prison for Threatening To Kill a Ukrainian Woman
Salah Al Deberky / 19 January 2013
A 31-year-old GCC citizen who threatened to kill a Ukrainian woman he met online, before robbing her of her mobile phone and money, has been put behind bars for six months.
The case dates back to June last year when the duo struck up an online friendship in just three days, before arranging to meet at a hotel's nightclub.
Full report at:
http://www.khaleejtimes.com/kt-article-display
----------------
131cm Tall Neena Nizar Of Dubai: I'm Tiny But I Make The Most Of Life
As told to Yasmeen Maqboo
January 4, 2013
Some battles are lost, some are won, but mine is ongoing. In fact, it multiplied threefold after I learnt that both my sons Arshaan, five, and three-year-old Jahaan have inherited my condition, which means they may never grow tall, be able to walk without aid or have normal-looking facial features.
The reason is they share my rare bone condition called Jansen's Metaphyseal Chondrodysplasia, a genetic disorder characterised by short-limbed dwarfism.
At 34, I am probably the oldest surviving person with this condition and, including my two boys, there are now just 22 such cases in the world, according to my doctor.
Full report at:
http://gulfnews.com/life-style/people/neena-nizar-i-m-tiny-but-i-make-the-most-of-life-1.1127688
---------------
Critically injured Burundi student opens his eyes as sister arrives in Patiala
Jan 19 2013
Patiala : She has travelled thousands of kilometres from the tiny eastern African nation of Burundi to India, not only to be by the bedside of her brother in hospital, Yannick Nihangaza, but also with the hope that one day he will be able to talk to her like they used to, before a murderous assault in Jalandhar last April nearly killed Yannick.
For about nine months now, Yannick's father Nestor Ntibateganya has been with his son who is in a vegetative state in Patiala's Columbia Asia hospital. Yannick's older sister Fiona, 25, joined him on Tuesday.
Full report at:
http://www.indianexpress.com/news/critically-injured-burundi-student-opens-his-eyes-as-sister-arrives-in.../1061711/
----------------
Women gain ground among Gulf Cup fans
Female spectators lift the atmosphere at venues in their own quiet way
By Habib Toumi
January 18, 2013
Manama: "Wow! This is more intense than the dramas we watch on TV," Maysa told her friend as the clock ticked away on the intensely contested Gulf Cup semi-final match between the UAE and Kuwait.
The scores were level as the two teams looked for a way to settle the issue, watched by thousands of enthusiastic spectators. Extra time looked inevitable and the players seemed prepared to slug it out for another 30 minutes. Suddenly Ahmad Khalil scored what could be the most important goal in his career, sending the UAE team into the finals and forcing out a valiant Kuwait team that had previously won all three Gulf tournaments hosted by Bahrain and was hoping for an encore.
Full report at:
http://gulfnews.com/news/gulf/bahrain/women-gain-ground-among-gulf-cup-fans-1.1134041
---------------
Licenses to Be Issued For Women Salons
19 January 2013
Licenses for women to operate beauty salons will be issued soon to Technical and Vocational Training Corporation (TVTC). This was said by Fawzia Al-Harbi, director of Public Relations and Information for Technical Training for Girls at the TVTC.
Al-Harbi said the special licenses will be granted under conditions determined by the relevant authorities.
Meanwhile, Dr. Mounira Alulola, Deputy Governor of Technical Training for Girls, has rejected claims that there is no training for TVTC students in the mornings and evenings.
"The TVTC is keen to constantly provide their students with all the necessary raw materials including cosmetics and sewing materials," Alulola said.
Full report at:
http://www.arabnews.com/licenses-be-issued-women-salons
---------------
An American Sister's Struggle to Find & Keep Islam
By Reading Islam Staff
19 January 2013
I am born and raised in Jersey City.
My parents are from Columbia and from Italy.
From being with my friends, spending time more with them, once I began on my own journey, really, because I really didn't ask anyone exactly of other religion, it was just something teenagers at that age we really didn't discuss about religion.
So I myself started searching on the Internet about Islam, that's when I came into the site Why Islam, which was one of my web sites that I found, and they sent me a lot of information, books, the Quran, a prayer rug, Hijab.
Full report at:
http://www.onislam.net/english/reading-islam/my-journey-to-islam/contemporary-stories/460942-an-american-sisters-struggle-to-find-and-keep-isl.html
-------------
Jailed ex-Ukraine PM Yulia Tymoshenko accused of contract killing lawmaker
Jan 19 2013
Kiev: Ukraine's jailed former prime minister, Yulia Tymoshenko, has been accused by government prosecutors of planning the murder of a lawmaker, with the help of Pavlo Lazarenko, another former PM.
Tymoshenko and Lazarenko, who have been detained in the United States, are the main suspects in murder of deputy Yevgen Shcherban in 1996, Prosecutor-General Viktor Pshonka said.
Full report at:
http://www.indianexpress.com/news/jailed-exukraine-pm-yulia-tymoshenko-accused-of-contract-killing-lawm.../1061769/
----------------
URL: https://newageislam.com/islam-women-feminism/muslim-faith-healer-(pir)-rapes/d/10065