New Age Islam News Bureau
5 Feb 2018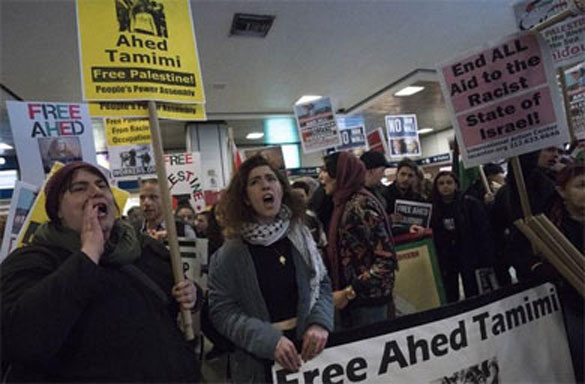 Protesters rally to demand the release of Ahed Tamimi, a 16-year-old Palestinian girl held in Israeli military detention, at Penn Station Jan. 30, 2018 in New York (Don EMMERT / AFP)
-----
• Israel Postpones Trial of Female Palestinian Teenager, Ahed Tamimi
• Car Show Opens, Boosted By Advent of Saudi Women Drivers
• Filipino Muslim Women Lift Veil on Hijabs
• Boxer's Victory Aids Saudi Women Empowerment
• Soccer Team Abayas A New Fashion Trend
• Syrian Women at Risk of Losing New Economic Power to Tradition
• Women Taxi Drivers in Oman Soon
• Pakistan People's Party Gives Senate Ticket to Hindu Woman
• Iran: Women Continue To Cycle despite Ban
Compiled by New Age Islam News Bureau
URL: https://www.newageislam.com/islam-women-feminism/muslim-domestics-tn-working-delhi/d/114172
--------
Muslim Domestics from TN Working In Delhi Changing Their Muslim Names
03rd February 2018
NEW DELHI: When one's name is the reason why one doesn't get a job, even as a domestic help, there's just one option left: change the name. That's what a group of domestics from Tamil Nadu, denied jobs in Delhi for being Muslim, have been doing. They have been adopting Hindu names.
"We just do menial jobs at homes. I do not see why my Muslim name should come in the way of my getting work as a domestic help. I don't like losing my identity, but I have a family to feed," says 27-year-old Shehnaz (name changed). She moved to Delhi five months ago after marriage.
The problem is the same for Shabnam (name changed), who came to the national capital four years ago. She has been working as a domestic since her husband died in a road accident.
"I am uneducated and it is very difficult for me to get a job. The only one I can get is of a domestic help, and even that is not happening because of my religion. I want to be known by my real name. I am not a criminal. I don't see any reason to hide my identity," she rues, pointing at 12 women who have suffered the same fate.
Residents of Delhi don't mince words, though. "It is my personal choice who I will employ and who I won't. I do not feel secure about a Muslim woman working in my house. I do not trust them," says Radhika Shukla of Pandav Nagar, adding that most women in her locality would not employ Muslim domestics.
The residents also say they do not trust police verification of domestic helps. "Unless we have a formal request for verification or a complaint, we cannot take action. We know it is wrong to discriminate on the basis of religion but unless people file complaints, we cannot act," says a senior police officer.
An online portal that provides domestic helps has a religion column listed against the names of women registered with it.
http://www.newindianexpress.com/thesundaystandard/2018/feb/03/maid-of-dishonour-muslim-domestics-from-tamil-nadu-working-in-delhi-blame-it-on-the-name-1767878.html
--------
Israel Postpones Trial of Female Palestinian Teenager, Ahed Tamimi
Feb 4, 2018
The military trial of a teenage Palestinian girl charged with punching two Israeli soldiers has been postponed, for the second time, until February 13.
Gaby Lasky, Ahed Tamimi's lawyer, announced the news on Sunday.
Tamimi, 17, had been due to stand trial on January 31 along with her mother, Nariman, before the case was for the first time postponed until February 6.
Both Ahed and her mother have been ordered to be held in custody throughout their trial.
Ahed has been charged with 12 counts and could face a lengthy jail term if convicted.
Ahed's 20-year-old cousin Nour has also been charged and freed on bail. Her next court date has also been set for February 13.
The UN Office of the High Commissioner for Human Rights (OHCHR) has criticized the handling of the case by Israeli authorities.
The European Union has expressed concern about the detention of Palestinian minors in Israeli jails, including the teenage girl.
Qadoura Fares, chairman of the Palestinian Prisoners Club, earlier said the charges were false. "Their aim is to terrorize people, and they are trying to deter children and others."
Tamimi became the latest face of Palestinian resistance when footage emerged in mid-December of her slapping a fully-armed Israeli officer and then another one in the face during a protest in her home village of Nabi Saleh, near the Palestinian city of Ramallah. Israeli forces had earlier shot her cousin in the face.
Faced with embarrassment, Israeli authorities decided to arrest Ahed. Amazingly, according to some accounts, 20 Israeli Jeeps went to take her into custody.
Footage appeared later of her ransacked room, with her belongings strewn across the room, her bed mattress overturned, and her closets emptied on the floor. In the footage, a window can be seen with what seems to be a bullet hole.
Ahed was arrested along with her mother, who has been nabbed five times before, one of which was for filming her children and other youths protesting against Israel.
Ahed Tamimi, who was 16 at the time of her arrest, has been hailed as a hero by Palestinians. She is now known for her courage in the face of Israeli forces.
Since young age, Ahed has been filmed and photographed audaciously confronting Israeli forces. In one video, Ahed and her parents speak of their desire for freedom from occupation and "injustice."
http://www.presstv.com/Detail/2018/02/04/551286/Ahed-Tamimi-I
--------
Car Show Opens, Boosted By Advent of Saudi Women Drivers
5 February 2018
RIYADH: The decision to allow Saudi women to drive starting June this year has brought bright prospects to the local car industry as the biennial three-day Automechanika car show takes center stage on Monday.
Saudi Arabia is the largest auto and auto parts market in the Middle East, accounting for an estimated 40 percent of all vehicles sold in the region, statistics show. The Kingdom imported about 1 million vehicles in 2016.
Ahmed Pauwels, CEO of Messe Middle East, which is a co-organizer of the show, said the influx of Saudi women drivers will have a significant impact on auto parts, maintenance and services industry in the Kingdom.
"Car manufacturers will be the first to benefit in allowing women to drive, along with banks and insurance companies that finance and underwrite new car purchases," Pauwels said.
At present, the Kingdom already has seven million passenger vehicles in operation and this will increase significantly in the coming years, with some nine million new drivers expected to be added to the roads.
He advised car manufacturers and suppliers in the Kingdom to stake their claim early in the market, which is full of opportunities.
He added that after the car manufacturers benefit, "the aftermarket comes next when these millions of additional cars will require regular repair maintenance, replacement parts, tires, batteries, accessories, car care and grooming.
"Revenues for the Kingdom's aftermarket was worth more than $6.7 billion in 2016, so it's already a significant market, and the largest in the Middle East," he said.
The exhibition, with 200 companies from 25 countries as participants, is being held from Feb. 5 to 7 at the Riyadh International Exhibition Center with Mansour Abdullah Al-Shathri, Riyadh Chamber's board vice chairman, as the guest of honor.
http://www.arabnews.com/node/1239576/saudi-arabia
--------
Filipino Muslim Women Lift Veil on Hijabs
February 5, 2018
Muslim women in the Philippines are trying to raise awareness on what they described as misconceptions about wearing a hijab or veil.
To mark World Hijab Day on Feb. 1, Filipino women were encouraged to wear the veil for a day to experience the life of a "hijabi."
A "hijab" is a veil that covers the head and chest of Muslim women especially while in the presence of adult men outside of their family. A "hijabi" refers to a Muslim woman wearing a hijab.
"There are those who think that women wearing the veil are being forced, oppressed and worse, being labeled as terrorists," said civil society leader Sitti Djalia Turabin-Hataman.
Through World Hijab Day they can raise awareness and put a stop to all sorts of discrimination, including discrimination against Muslim women, she said.
"We hope to foster deeper respect and understanding among and between Filipinos of varying cultures and faiths toward national unity and peace," said Turabin-Hataman, a former legislator from Mindanao.
She said Muslim women who wear the veil experience discrimination and maltreatment in many parts of the world because people do not understand its significance.
Amihilda Sangcopan of the Children of Mindanao Party in Congress vowed to work for a bill that will protect a Muslim woman's right to wear the veil.
"Wearing the hijab is something personal. It is a way of self-discipline, you compose yourself, you tell yourself to be good, to be kind, to be the best person you can, because that is what your hijab represents," she said.
According to the National Commission on Muslim Filipinos, there are about 10.7 million Muslims in the country, or about 11 percent of the population.
Most live in parts of the southern Philippine region of Mindanao, especially in the so-called Bangsamoro region.
https://www.ucanews.com/news/filipino-muslim-women-lift-veil-on-hijabs/81417
--------
Boxer's victory aids Saudi women empowerment
February 4, 2018
Manama: Dona Mohammad Al Ghamdi's victory in the 2018 International Boxing Championship in Jordan has given a shot in the arm to the drive to give more rights to Saudi women. On Friday, Dona became the first Saudi woman to be crowned at the championship that featured several boxers from different countries. The event was held in Balqa, north of Amman.
Her success at the championship is both an individual achievement for her, and also helps with the empowerment of Saudi women in various fields.
Four years ago, nothing could have prepared Dona for her feat. Weighing 155kg , she did not have the profile of an international sports champion.
She recalled how she started boxing mainly to shed the extra kilos, thinking boxing training would help her slim down faster and better than regular diets.
However, she was not able to achieve the desired results.
On a visit to Jordan, she stayed with her sister, a student at a college there.
There, Dona heard about a physical fitness trainer who could help her reduce her weight and she signed up.
"With time, I learned a lot about fitness and the secrets of fitness boxing," she was quoted on Sunday by Saudi news site Al Marsad as saying.
"I lost many kilos thanks to the intensive training, and in the course of the training, I developed a passion for the sport. I decided to keep on practising. My trainer, following nine months of assiduous work, encouraged me to go professional."
A Saudi trainer told Dona he was ready to help her train in Saudi Arabia to become a professional boxer.
"The offer was irresistible and I continued to practice and subsequently won fights and medals. I signed up for pan-Arab competitions and bagged two medals in my first competition. In the second championship, I won a silver medal and in the third, the Arab Boxing Championship, held in Jordan, I won the gold," she said.
Women's participation in sports got a boost when the kingdom held its first basketball tournament for women in Jeddah in November.
In October, Saudi Arabia said it would allow women to watch sporting events in the main stadiums in Jeddah, Riyadh and Dammam starting January 1.
In July, the education ministry said female students were to take physical education classes at school.
http://gulfnews.com/news/gulf/saudi-arabia/boxer-s-victory-aids-saudi-women-empowerment-1.2168378
--------
Soccer team abayas a new fashion trend
February 5, 2018
JEDDAH — Soccer team abayas have become the new way for women to express their support for their favorite soccer teams after the General Sports Authority allowed women into sport stadiums.
Women for the first time watched soccer matches between local teams in stadiums in Jeddah and Riyadh last month and in Dammam on Saturday.
Abaya designers have produced a line of soccer themed abayas (the loose over-garments, essentially a robe-like dress worn by Muslim women).
Riri Al-Aboud, a fashion designer, said the idea to design soccer-themed abayas started in 2016.
"I've always been a soccer fan. But once the decision to allow women to enter sports stadiums was announced, I began designing soccer-themed abayas. I try to make every design unique and creative to give women the ability to express their personalities and their support for the teams they want," said Al-Aboud.
She said there are 14 teams in the Saudi Professional League, but only a few of them are popular and in constant demand.
"Most of the customers want Al-Etihad or Al-Ahli abayas. I am proud of making women's experience in the stadiums a happy and joyful one. I am personally a supporter of Al-Ahli team, but I do not discriminate against supporters of other teams. They all represent our country," said Al-Aboud, who wants to have a kiosk at Al-Jowhara Stadium to present her abaya designs.
http://saudigazette.com.sa/article/527645/SAUDI-ARABIA/Soccer-team-abayas-a-new-fashion-trend
--------
Syrian women at risk of losing new economic power to tradition
February 4, 2018
The conflict in Syria has had a devastating impact on women. But it's also transformed their role in the workforce, inadvertently opening the door to previously male-dominated employment sectors. As a result, women are becoming increasingly influential in the public sphere and in shaping the country's future.
This positive — albeit slow — shift for women has come, however, at a devastating price. After seven years of conflict, many of their fathers, brothers, husbands and sons have been killed, injured, forced to flee the country or join in the fighting, significantly decreasing the number of working-age men. The result is that women are now the decision-makers and breadwinners in almost one in three households.
"The thing is, no one feels that it's a particularly great thing that women gain power and opportunity because men are missing and dying, so it's a very complicated step forward," Bonnie Morris, a gender studies scholar who teaches courses on women and war, tells Syria Deeply. "But it often reveals, to many people's surprise, how competent women have been all along, given the opportunity to develop their talents."
Women had equality with men since Syria adopted its civil and commercial codes in 1949, granting women the right to control their own assets and manage their own businesses. But others laws limit these freedoms. The penal code, for example, permits husbands to forbid their wives from working outside the home.
In 1973, Syria adopted its current Constitution, stipulating that women should have equality with men and that obstacles to their advancement be removed. Article 45 guarantees women "all the opportunities that enable them to participate fully in political, social, economic and cultural life".
Culturally, however, women's roles and responsibilities continued to be largely confined to the home, where they face societal barriers that have blocked them from several sectors of employment or from the opportunity to work in general. In May 2017, Jordan-based Bareeq Education and Development carried out a survey of Syrian women over the age of 18 inside and outside the country. Of the 1,006 respondents, 81 per cent said that, "the social norms in Syria truly impede women's success".
Seven years of war have chipped away at some of these barriers. By 2015, between 12 per cent and 17 per cent of households in Syria were female-headed. And that ratio has risen from 4.4 per cent in 2009 to 22.4 per cent this year, according to a report from the Tahrir Institute for Middle East Policy. Before the war, in 2010, women made up 22 per cent of the formal labour force. Since 2011 that number has dropped, but formal labour opportunities have decreased for both men and women and the latter are now more likely to be found in informal and small-scale work. The female employment rate in 2015 was 14 per cent.
'Women are the base today'
In some sectors, women make up the overwhelming majority of the workforce. In certain areas of Syria, for example, 90 per cent of the agricultural workforce is female. Necessity has also forced them into roles that were unthinkable before the conflict. Mariah Saadeh, a former independent member of parliament who has campaigned for women's rights in Syria, says there are factories in Damascus almost totally populated by women.
"The traditional role of women is changing because of the war," she says. "They work in restaurants, in services. They go to factories. They do agriculture. They make the handmade things. They are the base today for the future."
The conflict has also allowed women to break into civil society, media and government sectors — something that was consistently prevented prior to the war. The Syrian Network of Female Journalists reports that in emerging media — outlets set up after the war broke out in 2011 — women make up 54 per cent of the radio workforce and hold 35 per cent of the print media jobs.
And yet, as the conflict evolved over the years and more hardline groups took control in opposition-held areas, women's participation in public life in some areas has become more difficult. For female journalists, for example, barriers to information and opportunities have left many working on their laptops rather than covering the frontline and being more involved in the coverage, according to Syrian Network of Female Journalists co-founder Milia Eidmouni.
Female journalists face another problem as well, one that is familiar to women in many lines of work: Pay and advancement discrimination. Despite women finding themselves able to work where once they might not have, opportunity does not mean equality. Only 4 per cent of senior journalists in the Syrian emerging media are female. "From our experience and the feedback we got from members, all of them are saying that men and women don't get paid equally," Eidmouni says.
Overall, income in female-led households "tends to be below that of male-headed households", according to the March 2016 report titled 'Women, Work & War', published by the relief agency Cooperative for Assistance and Relief Everywhere, or CARE. In the southern province of Deraa, for instance, monthly income for female-headed households is between 15 per cent and 32 per cent lower than it is for male-headed households.
'No going back'
As the conflict continues, more and more women are building skills and taking on employment. Some learn on the job, while others develop their skills under NGO or United Nations programmes. The UN Development Programme (UNDP), for instance, supports female-headed households through workshops, vocational training and emergency employment opportunities in areas of women's expertise. In 2016 alone, the organisation provided job opportunities for 6,103 women heading households, the UNDP reports.
The question for Syria moving forward — once the war comes to a close — is whether the place women hold in society has changed forever.
Still, cultural barriers and social stigma are far from being completely eradicated. Many Syrian women are highly educated, but due to the war, "adolescent girls have had their education interrupted; and been forced as a result of dire economic conditions to assume responsibilities early", the CARE report reads. Consequently, the majority continue to take up what is considered "gender appropriate" work such as teaching, health care or craftwork.
"If women are the less educated ones in the family, they often are stuck in menial positions that are not necessarily empowering," Morris says. "For women who are better educated, there's often the need to take a job that they might feel is beneath them, and then there's a lot of bitterness about that."
The question for Syria moving forward — once the war comes to a close — is whether the place women hold in society has changed forever. A report by Bareeq suggests that 88.36 per cent of Syrian women believe the fight for women's rights is a legitimate right, while 96 per cent believe a woman's role is both at home and at work.
Morris, nevertheless, warns that as Syrians return to their country and reconstruction begins to take place, the desire to recreate a state of normalcy could lead to a conservative backlash where traditional roles are encouraged. Other champions of women's rights in Syria are hopeful that women's increasing participation in Syria will increase.
"I believe there's no turning back," Eidmouni says. "But we need to work to make it happen for everyone."
For now, with millions of refugees outside Syria reluctant to return because of the ongoing conflict and the country's uncertain economic future, the new status of women is still a work in progress. "I think if there's a percentage of men who do not accept women working," says Saadeh. "But if they don't accept women working, they will pay the price, because women today do everything. If they stop working that will create a lot of trouble."
http://gulfnews.com/opinion/thinkers/syrian-women-at-risk-of-losing-new-economic-power-to-tradition-1.2168199
--------
Women taxi drivers in Oman soon
February 4, 2018
Muscat: From March 1, Oman will allow women to drive taxis and heavy vehicles, according to a statement released by the Royal Oman Police. "The Omani government's endeavour is to give women equal business and employment rights," the statement read.
The new, women-driven taxis will be painted pink, blue and white to differentiate them from the traditional orange and white taxis.
Many women have welcomed the move. "It's good news for us as women; we have called for female driven taxis in Oman for years. This has now happened, thanks to the government's efforts," said Nasra Al Beloushi, a private sector employee, told Gulf News.
She added that women passengers will feel safer and more comfortable in the knowledge that a woman is driving them to their destination. "Some women sometimes avoid taking taxis due to the [perceived] lack of safety as well as harassment by taxi drivers," Al Nasra explained.
Huda Al Mashari, a mother of four and a job seeker, said she would become a taxi driver to earn a living, ferrying women and children around. "Hopefully in the near future, I can make some money to help my family," she said.
Suhair Hamdan, an expatriate worker, said a new app should be introduced to ensure hassle-free travel for women. "There is a lot of demand for women taxi drivers. I think they can do good business," she said.
Ahmad Al Ansari, an Omani taxi driver told Gulf News the decision will not have a big impact on his job as most of his clients are men. "It's a good move. Women will feel more comfortable being driven by another woman," he said.
As part of its amendments to the traffic law, Oman has also introduced heftier penalties for traffic violations starting from March 1. The new regulations are aimed at reducing traffic accidents in Oman.
From March 1, expats in Oman will have to renew their driving licence once every two years, instead of the current 10. Also, car seats will be mandatory in Oman for children under four.
http://gulfnews.com/news/gulf/oman/women-taxi-drivers-in-oman-soon-1.2168141
--------
Pakistan People's Party gives Senate ticket to Hindu woman
05th February 2018
KARACHI: The Pakistan People's Party (PPP) on Sunday gave a Senate ticket to Krishna Kumari, a Kolhi woman belonging to a remote village in Nagarparkar district in Sindh, to contest for a general seat for the upcoming elections.
The PPP holds a majority in the Sindh assembly. She will be the first female Hindu to become a Senator in Pakistan if she wins.
According to The Dawn, Kumari said that she was given assurances by senior party leaders that they would get her elected as the Senator "to set a new precedent and empower women from remote areas and minority communities".
Kumari has reportedly been asked by PPP to file nomination papers to contest the Senate elections.
"I was called by Bilawal Bhutto, Faryal Talpur and senior leaders a few days back. They said they will allot me the ticket to contest the election to become a senator on a general seat from Sindh," said Kumari.
Kumari was born to a poor peasant named Jugno Kolhi in 1979. Kumari and her family spent almost three years in jail for trespassing a land, allegedly owned by the landlord of Kunri of Umerkot district.
She was married off at the age of 16 when she was studying in Class 9. However, her husband supported her in pursuing further studies.
In 2013, Kumari did her masters in sociology from Sindh University.
Kumari is a social activist who joined PPP a few years ago, along with her brother, who is a chairman of a union council, Berano.
She has actively participated and worked for the rights of the backward communities living in Thar and other parts of Sindh province.
The Election Commission of Pakistan (ECP) on Friday announced the schedule of Senate elections, which will be held on March 3.
In a notification, the ECP has called upon the members of the provincial assemblies of Punjab, Sindh, Khyber-Pakhtunkhwa and Balochistan provinces to elect seven Senate members from general seats, two members from the seats, exclusively reserved for women and two members for the seats reserved for technocrats including Ulema from each of province.
http://www.newindianexpress.com/world/2018/feb/05/pakistan-peoples-party-gives-senate-ticket-to-hindu-woman-1768572.html
--------
Iran: Women continue to cycle despite ban
04 February 2018
A woman bicyclist attested that women's cycling does not receive any form of support from the government or the Cycling Federation.
The mullahs' supreme leader Ali Khamenei reiterated that women are banned from riding bicycles in public in November. Nevetheless, women continue to engage in this sport.
Fatemeh Hodavand, member of women's cycling team, in an interview said, "Women's cycling does not receive any financial support. We have to buy our own bikes."
The cycling tournaments have already begun, but since Iranian women do not have any cycling tracks for practicing, they have to travel to Malaysia from a long time ahead of the tournament, she added.
Before the start of the trounaments, Hodavand had revealed that there were no financial sponsors for female cyclists and that they had to procure their own bicycles and equipment.
Hodavand said, "The bikes provided by the Federation are too big for women and we have to pay for our bikes without having any financial support." (The state-run Mehr news agency – February 3, 2018)
http://www.women.ncr-iran.org/iran-women-news/4751-iran-women-continue-to-cycle-despite-ban
--------
URL: https://www.newageislam.com/islam-women-feminism/muslim-domestics-tn-working-delhi/d/114172
New Age Islam, Islam Online, Islamic Website, African Muslim News, Arab World News, South Asia News, Indian Muslim News, World Muslim News, Women in Islam, Islamic Feminism, Arab Women, Women In Arab, Islamophobia in America, Muslim Women in West, Islam Women and Feminism