New Age Islam News Bureau
12 September 2022
• Mehbooba's Daughter Iltija Mufti Advocates Dialogue with Pakistan, Hurriyat
• FIFA Demands Explanation from Iran over Barring Of Women from Soccer Match
• Faith in Fabric: Can Birmingham-Based Artist Farwa Moledina's Art Change Perceptions Of Muslim Women?
• 63-Year-Old Saudi Citizen, Abu Abdullah, Married 53 Women Looking For "Stability"!
• Hend Sabry Among 6 Arab Women Filmmakers Honoured By RSFF in Venice
• Saudi Arabia: Divorced Women Can Travel With Sons If They Have Custody Deed
• UAE Aims For Greater Political Empowerment of Emirati Women
Compiled by New Age Islam News Bureau
URL: https://newageislam.com/islam-women-feminism/muslim-domestic-workers/d/127932
--------
Muslim Domestic Workers in India Change Names Out Of Fear: A Study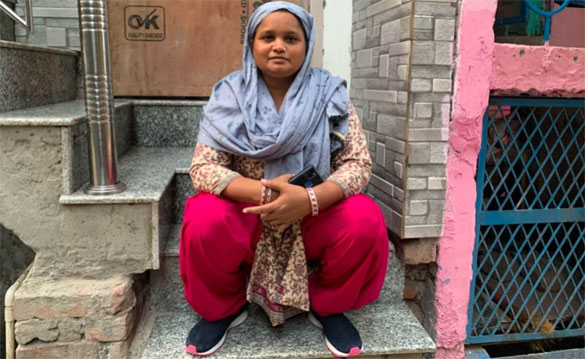 Seema, previously known as Shahana Parveen, outside her friend's home in New Delhi [Romita Saluja/Al Jazeera]
----
September 12, 2022
The 2020 study by the Initiative for What Works to Advance Women and Girls in the Economy (IWWAGE) and the Institute of Social Studies Trust (ISST) found out that more Muslim women are engaged in the informal sector than women from any other religion in India.
India's Muslim domestic workers face rampant caste-based discrimination and even violence. Employers often restrict workers' access to kitchens, washrooms, elevators, and even their places of worship. There are separate utensils for the workers to eat with. Muslim workers face marginalisation due to their religious identity, said Anita Kapoor, activist and general secretary at the Shehri Mahila Kamgar Union (Urban Domestic Workers' Union) in New Delhi.
"Many workers have to hide their name and identity in order to get a job and avoid discrimination," she told.
"And it's not only the worker who has to change her name but also her kids who often accompany their mothers to work, and their husbands who sometimes take up jobs like driving in the same households. So, their entire family has to go through this struggle."
"Of all my clients, only one has hired a Muslim domestic worker," says Shashi Chaudhary, who runs a placement agency in New Delhi.
"So many Muslim girls and boys call me for work. But what do I do? Nobody wants to hire them. I feel so helpless. Sometimes I feel like crying over their circumstances." Says Chaudhary.
Source: The Hindustan Gazette
https://thehindustangazette.com/election/muslim-domestic-workers-in-india-change-names-out-of-fear-11155
--------
Mehbooba's Daughter Iltija Mufti Advocates Dialogue With Pakistan, Hurriyat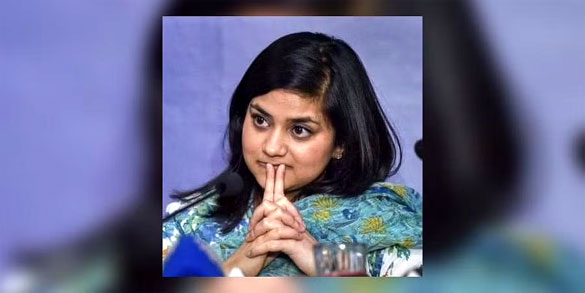 Iltija Mufti. (Photo | Twitter, @Iltija_Mufti)
-----
12th September 2022
JAMMU: PDP chief Mehbooba Mufti's daughter Iltija Mufti on Sunday advocated dialogue with Pakistan and the Hurriyat Conference for the permanent resolution of the Kashmir issue.
She also suggested the opening of Jammu and Kashmir borders and implementing of self-rule to make the region an economic hub and a gateway between central Asia and India.
"People of J&K are very much politically aware. The J&K problem needs to be resolved by taking all the stakeholders on board," she said, advocating holding of talks with Pakistan and Hurriyat Conference.
She alleged that the central government wants PDP and National Conference to replace Hurriyat and incubate mainstream parties of their own liking, turning Jammu and Kashmir into a test laboratory as they want "opposition mukt bharat."
Mufti said the Peoples Democratic Party (PDP) is pro-human and desirous of a solution to the problems of the people. "J&K is strategically located and has many things in common with central Asia. Government should use the opportunity and make the borders irrelevant, facilitate self-rule, trade and movement of people for economic integration," she said.
Referring to the forthcoming Shanghai Cooperation Organization (SCO) summit in Uzbekistan's Samarkand on September 15 and 16, she said Prime Minister Narendra Modi who is attending the summit should have organized it in Kashmir.
"Open J&K and let it become an economic hub and gateway between central Asia and India," Mufti said, speaking at a conclave here. She said the Peoples Alliance for Gupkar Declaration (PAGD)— an amalgam of five mainstream parties including the National Conference and PDP fighting for the restoration of Article 370- is crucial because the people have pinned their hopes on it.
"PAGD has to be more active, more alert and need to work out unity in real sense by leaving aside party interests. You have to look at the large picture. Our special status and identity are under attack and we have to protect it," she said.
Mufti did not agree that PAGD is on a ventilator and said "pull out 10 lakh forces from J&K, you will see who is on the ventilator." She also claimed that arm-twisting tactics are being used against her family to force them into submission.
"When there is a meeting of PAGD, my mother or my grandmother, who is 75 years old, is getting a summon (to present before any agency). My grandmother was also denied a passport for the past two years," she said.
She accused the BJP of launching a disinformation campaign in the country by projecting Article 370 as a hurdle in the development and giving rights to women and marginalized sections.
Quoting a survey in 2017, she said J&K human index was 0.68 which was higher than Gujarat and "we were number one in life expectancy, female literacy and health infrastructure. Today, our unemployment rate is 56 per cent, there is a scam in the recruitment process and corruption has become rampant."
She said the claim that the revocation of Article 370 was done for the betterment of the people is baseless. "They have no good intentions as they view Kashmir as military, law order and a religious problem. Since they see the issue through the religious prism, the solution they are trying to implement is to change the demography and disempower the people economically," she alleged.
Mufti claimed that the BJP government is trying to suppress the people, ignoring the reality that Kashmir is a humanitarian and political issue and there is a strong sentiment which needs to be addressed.
Source: New Indian Express
https://www.newindianexpress.com/nation/2022/sep/12/mehboobas-daughter-iltija-muftiadvocates-dialogue-with-pakistan-hurriyat-2497200.html
--------
FIFA Demands Explanation From Iran Over Barring Of Women From Soccer Match
September 09, 2022
The disciplinary committee of world soccer's governing body, FIFA, has sent a letter to the Iranian Football Federation demanding an explanation about why women were prevented from entering the stadium to watch a match earlier this year between the Iranian and Lebanese national teams in the northeastern Iranian city of Mashhad.
Iranian authorities had made around 2,000 tickets available to women to attend the World Cup qualifying match against Lebanon on March 29.
But when the ticketed female supporters arrived at the Imam Reza stadium in Mashhad, police blocked their entrance and pepper sprayed them when they began to protest.
FIFA said at the time it was aware of the situation, and on September 6 sent a letter to Iranian soccer officials giving them six days to supply further information ahead of a disciplinary committee scheduled for September 22.
Women have been barred from attending soccer matches in Iran since the Islamic Revolution in 1979.
Iran's clerical establishment has long opposed the practice of allowing women into stadiums along with male fans. But under pressure from FIFA, Iranian authorities have allowed some women to attend matches in recent years.
In September 2019, FIFA ordered Iran to allow women access to stadiums without restriction and in numbers to be determined according to demand for tickets.
The FIFA directive, which threatened to ban Iran from international competitions, came after the death of Sahar Khodayari, a soccer fan who died after setting herself on fire over fears that she would be jailed for trying to attend a soccer match while wearing a disguise.
On August 25, for the first time since 1979, a limited number of women were allowed to watch a club match at Azadi Stadium.
Women attending soccer matches are seated in specially designated areas away from male spectators.
Source: Rferl
https://www.rferl.org/a/iran-soccer-fifa-women-barred/32025412.html
--------
Faith in Fabric: Can Birmingham-Based Artist Farwa Moledina's Art Change Perceptions Of Muslim Women?
Kadish Morris
Mon 12 Sep 2022
Since moving to the UK from Dubai in 2010, Birmingham-based artist Farwa Moledina has set about reclaiming the narrative around Muslim women. "I think there's an erasure of Muslim women in contemporary art. There's a singular narrative that you find in museum and gallery spaces. There's never an alternative presented."
Moledina, who has exhibited work at Birmingham Museum and Art Gallery, the Midlands Art Centre and also as part of the Lahore Biennale, creates strong, intricate works that incorporate patterns, textiles and symbols. She is inspired by the work of the Moroccan photographer Lalla Essaydi, who is best known for her depiction of Arabic female identity, and also by the writer Edward Said's critique of orientalism.
Her forthcoming exhibition, Women of Paradise at the Ikon Gallery in Birmingham, is inspired by the four women named by the prophet Muhammad as the Women of Paradise: Khadijah bint Khuwaylid, Fātima bint Muhammad, Maryam bint Imran, and Asiya bint Muzahim. "There's something about each of their stories that are examples to us as Muslims. Their strengths, their bravery, their faith and their independence. They are role models."
Moledina believes Khadijah's story is particularly symbolic. She was the wife of Muhammad and was instrumental in spreading Islam. "She was a merchant. Prophet Muhammad was actually employed by one of her agents to go and do the selling. And on noticing his honesty and integrity, she proposed marriage to him," Moledina says. "She supported him both emotionally and financially. This is a story of independence and endeavour that is inspiring for Muslim women. A lot of the time, the story you get is that Muslim women sit at home. They don't work. They're oppressed."
Moledina's work always starts with a pattern. She then creates intricately detailed, often colourful and decorated artworks that are inspired by the distinctive characteristics of Islamic design: floral motifs, geometric designs and calligraphy.
At Ikon, there will be four wooden frames shaped in the form of a mihrab, an arched nook that indicates the direction of prayer towards Mecca. They are typically ornately decorated, and form the focal point of a mosque. In Moledina's work, a mihrab will frame a silhouette of each of the four women, who wear a burqa or a chador. The surrounding patterns and embroidery will tell the story and identity of the women. "It takes a long time to design. I make 30 interactions of each pattern before I'm finally happy with it. A lot of it is small changes that most people wouldn't notice," says Moledina, "but the act of designing these patterns is almost meditative to me."
Still, Moledina worries that by looking at the exotification of Muslim women, she could also end up tokenising them, too. "It's quite a fine line that I need to navigate, to make sure that I'm making work about my lived experience, without orientalising myself," she says. "With this work, I did feel a bit of responsibility. I have a daughter now. I want to take her to museums and galleries and I want her to see herself."
Women of Paradise by Farwa Moledina is at the Ikon Gallery, Birmingham, to 13 November.
On a role: four works from Women of Paradise
Maryam
"This piece alludes to Maryam mother of Isa, otherwise known as Mary, mother of Jesus. It is rare to find depictions of Mary in museum or gallery spaces outside the Christian imagination; she is always Mary, never Maryam. This work interrogates that assumption of neutrality by providing a different perspective on this figure. The silhouette takes inspiration from the typical composition of Mary and Jesus found within Christian religious paintings."
Not Your Harem Girl
"Inspired by the interiors in 19th-century orientalist paintings, Not Your Harem Girl aims to deconstruct the exotic and erotic orientalist tropes surrounding Muslim and eastern women. It particularly seeks to reclaim the orientalist concept of the harem. The pattern includes elements of Jean-Auguste-Dominique Ingres's La Grande Odalisque, embroidered text with the phrase "Not Your Harem Girl" and a henna design of the same phrase."
No One Is Neutral Here
"This piece is a digital print on polyester, and the fabric printed on fabric results in a pale and imprecise reproduction of the original photograph. It creates notions of figuratively pale reproductions of Muslim women within orientalist paintings and articulates my concern with the cultural construction and visual mediation of the "orient" by western male painters."
Khadijah
"The wife of the prophet Muhammad, Khadijah was a merchant woman – she is a shining example of strength, faith and independence for Muslims. This piece features her tomb in Saudi Arabia before it was destroyed, verses from the Qur'an relating to her, and camels to symbolise her work as a merchant."
Source: The Guardian
https://www.theguardian.com/artanddesign/2022/sep/12/farwa-moledina-art-islamic-design-muslim-women
--------
63-Year-Old Saudi Citizen, Abu Abdullah, Married 53 Women Looking For "Stability"!
11 Sep 2022
A 63-year-old Saudi man has married 53 women, not looking for personal pleasure, but "stability, happiness and psychological comfort".
In an interview with MBC, Abu Abdullah confirmed that he was not looking for personal pleasure in his multiple marriages, stressing that he now has one wife and no intention of polygamy again.
"It was my first marriage when I was 20 years old, and my wife was six years older than me," Mr Abdullah told the 'MBC in a Week' programme.
He explained that it was his belief that stability comes from marrying an older woman, and not a younger one.
"At the beginning, after my first marriage, I did not think about taking the decision to polygamy because I was comfortable and had children. My first wife does this," Saudi website Sabq reported.
He said that it was only after a problem occurred between his first and second wife that he decided to marry his third and fourth wives, divorcing the first two after some time.
He later divorced his third wife after a dispute arose between her and his fourth wife.
Mr Abdullah continued to remarry after he divorced his fourth wife, indicating that he always tried to be fair to his wives.
He revealed that although he had mostly married Saudi women, he had to marry foreigners while he was traveling outside the kingdom for work, where he would stay for a period of three to four months.
Source: GDN Online
https://www.gdnonline.com/Details/1142306/63-year-old-Saudi-citizen-married-53-women-looking-for-stability
--------
Hend Sabry among 6 Arab women filmmakers honoured by RSFF in Venice
10 Sep 2022
The gala, which was co-organised by the RSFF and Vanity Fair, was held at the Palazzo Rocca in Venice.
The RSFF honours "six remarkable women working at the heart of the Arab film industry," read a press release.
The other women filmakers who were honoured during the gala were: Saudi director Haifaa al-Mansour - known for Wadjda, Perfect Candidate, Mary Shelley; award winning Saudi actress and filmmaker Ahd Kamel (Collateral, Honour, Wadjda), Saudi actress Sumaya Rida (Rupture, Rashash); Oscar nominated Tunisian director Kaouther Ben Hania (The Man Who Sold His Skin, Beauty and the Dogs); and British-Lebanese actress Razane Jammal (The Sandman, Kira & El Gina, Paranormal, Carlos).
The second edition of the Red Sea International Film Festival will run in Jeddah, Saudi Arabia between 1-10 December.
The 79th Venice International Film Festival opened on 31 August and continues until 10 September.
Sabry, 42, is an internationally acclaimed film and TV actor who started her career in 1994 at the age of 14 with a stellar performance in the Tunisian production Samt Al-Qosoor (Silence of the Palaces) by director Moufida Tlatli.
Her first appearance in Egyptian cinema, however, came in the 2002 production Muzakirat Murahiqua (A Teenager's Diary), a role that cemented her stardom among Egyptian audiences.
Her later appearances include starring in films such as Mowaten wi Mokhber wi Haramy (A Citizen, a Detective, and a Thief) in 2002, Banat West El-Balad (Downtown Girls) in 2005, and Ibrahim El-Abyad in 2009.
She also starred in Oumaret Yacoubian (The Yacoubian Building) in 2006 opposite Egyptian star Adel Emam and an extensive cast of other heavywights.
Her portrayal of an HIV positive woman in the 2011 production Asmaa also earned her several awards.
Sabry's more recent roles include films such as 2016 short film The Parrot (Al Babagha).
They also include the feature films Beautiful Life (Haya Gameela, 2017) and The Treasure (Al-Kenz, 2017), Noura's Dream (Hilm Noura, 2019) and The Blue Elephant 2 (Al-Feel Al-Azraq 2, 2019).
Multiple awards, civic work
Sabry has received many awards and recognitions for outstanding work throughout her career..
In 2017, she received the Faten Hamama Excellence Award during the 39th Cairo International Film Festival.
In 2019, won the Starlight Cinema Award of the Venice International Film Festival, becoming the first Arab woman to ever receive this recognition.
Sabry is also active in social and humanitarian work.
She has been Good Will Ambassador for the UN World Food Programme (WFP) to raise awareness about hunger since 2010.
In 2021, Sabry was awarded France's Order of Arts and Letters in the grade of Officier (Officer) as a promotion to the Chevalier award she received in 2014.
Source: Ahram
https://english.ahram.org.eg/NewsContent/5/32/475709/Arts--Culture/Film/Hend-Sabry-among--Arab-women-filmmakers-honoured-b.aspx
--------
Saudi Arabia: Divorced women can travel with sons if they have custody deed
September 11, 2022
Tawfiq Nasrallah
Dubai: Saudi Arabia has announced that divorced women can travel with their sons if they have a custody deed.
According to the General Directorate of Passports (Jawazat), custody deeds include the new ones, in addition to the old deeds that prohibit the mother from travelling with her son. The old deeds had been issued before the new amendments to the regulation.
Jawazat added that if there was a custody deed, then the custodian could book an appointment and visit the Jawazat department to issue or renew the custody passport and issue an electronic travel permit.
Jawazat stated that children between 18 to 21 years old can travel with one of their parents, or with the approval of one of them. The legal age for travel without the need to issue a travel permit is 21 years (in Hijri year).
All measures and requirements to issue a travel permit for boys under the age of 21 can be checked via the Absher platform, and through the Jawazat's departments.
The Jawazat clarified the methods of renewing or issuing a passport for a child whose custody is in the name of one of the parents. It stated that it can be done via both parents' accounts on the Absher platform, the father or the mother.
Source: Gulf News
https://gulfnews.com/world/gulf/saudi/saudi-arabia-divorced-women-can-travel-with-sons-if-they-have-custody-deed-1.90497665
--------
UAE aims for greater political empowerment of Emirati women
September 12, 2022
Abu Dhabi: The Ministry of State for Federal National Council Affairs (MFNCA) has organised a dialogue session to promote political participation among Emirati women.
Organised in cooperation with the General Secretariat of the Federal National Council (FNC) and the General Women's Union (GWU), the session was held at the FNC headquarters in Abu Dhabi, and highlighted the Emirati women's parliamentary achievements over the past 50 years.
Tariq Hilal Lootah, undersecretary of the MFNCA, said that Emirati women are strategic partners in nation-building and are surging ahead in the march towards the UAE's next 50 years towards development and prosperity.
"Today, women are key figures in decision-making and law-making, and this comes as a result of the work of our wise leadership's support for them since the formation of the UAE. The UAE believes in the power of its women and has full confidence in their ability to lead and manage high-impact projects on a national and global level," he said.
Lootah also pointed out that Emirati women have been proactively participating in all fields.
Positions of power
"They are making an outstanding contribution to parliamentary work, winning seats on the FNC and holding positions of power. They are also on the forefront to discuss issues and make key decisions in the service of the nation and its citizens. This trend has been greatly helped by the historic decision to raise the percentage of Emirati women's representation in the FNC to 50 per cent, in line with the directives of the FNC. The UAE government aims to empower women and encourage them to contribute to all developmental processes, and to shape the future of the UAE," he added.
He highlighted the importance of the participation of members of the FNC committees, which are the main arms that help in the execution of its constitutional powers, such as discussions about draft laws and overseeing the representatives in monitoring the work of the government.
The members of the Social Affairs, Labour, Population and Human Resources Committee, the FNC's most important committees, also participated in the dialogue session. These committees are tasked with the study of draft laws, general topics, international agreements and treaties related to various aspects of the citizens' lives, including social development, human resource development, family, women and childhood affairs, charitable and social institutions, juvenile care, employment, rehabilitation and training and work policies and planning, population policies, and settlement plans. Members accordingly discussed the committees' legislative and oversight accomplishments achieved during the 17th legislative chapter.
Noura Al Suwaidi, GWU secretary general, said: "Emirati women enjoy their full rights, which the UAE's wise leadership enshrined in fair legislation and policies that pave the way for many of the UAE's achievements – particularly in terms of gender balance, where the UAE leads the Arab and the wider region. Emirati women make up 50 per cent of the FNC and 27.5 per cent of the members of the Council of Ministers, where nine of 33 Ministers are women. This is one of the highest rates in the world and reaffirms the fact that the UAE considers women to be an active and influential partner in driving comprehensive and sustainable development in the country, and especially political development."
Source: Gulf News
https://gulfnews.com/uae/uae-aims-for-greater-political-empowerment-of-emirati-women-1.90374846
--------
URL: https://newageislam.com/islam-women-feminism/muslim-domestic-workers/d/127932
New Age Islam, Islam Online, Islamic Website, African Muslim News, Arab World News, South Asia News, Indian Muslim News, World Muslim News, Women in Islam, Islamic Feminism, Arab Women, Women In Arab, Islamophobia in America, Muslim Women in West, Islam Women and Feminism