New Age Islam News Bureau
27 Nov 2019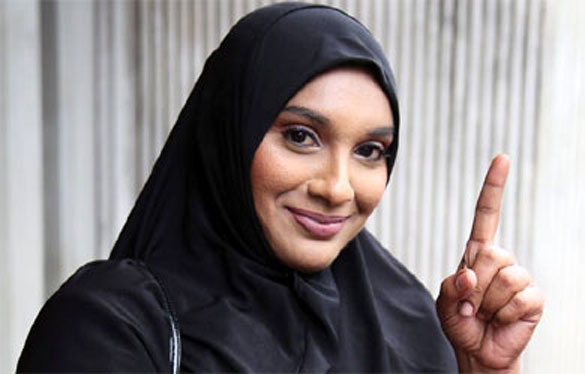 Trinidad cop, Sharon Roop, who sued over hijab uniform awarded big $$ compensation
-----
• Muslim Cop Awarded $185,000 in Compensation after Hijab Ban
• Egyptian Woman Wins Case against Islamic Inheritance Laws
• The Forgotten Violence against Muslim Women in the West
• How A Fake Imam, The Krassenstein Brothers And A Canadian Played Roles In A Dubious Story About Ilhan Omar And Qatar
• Muslim Parents Permanently Banned From Protesting LGBT Education Outside British School
Compiled By New Age Islam News Bureau
URL: https://www.newageislam.com/islam-women-feminism/muslim-cop-awarded-185000-compensation/d/120376
------
Muslim Cop Awarded $185,000 in Compensation after Hijab Ban
By Stabroek News November 26, 2019
(Trinidad Express) Special Reserve Police (SRP) officer Sharon Roop, who won her right last November to wear her hijab while in uniform, has been awarded $185,000 by the High Court for breach of her Constitutional rights.
Justice Margaret Mohammed made the order at the Hall of Justice in Port of Spain today, when the matter was recalled for an assessment of damages hearing.
The officer was awarded damages including aggravated damages in the sum of $125,000 and vindicatory damages in the sum of $60,000.
Her team of attorneys, led by Senior Counsel Anand Ramlogan, had attempted to convince the court that the proper award to the officer should be between $200,000 and $250,000 in compensatory damages, and between $300,000 and $350,000 in vindicatory damages.
But the State resisted those submissions by her attorneys, arguing that any award of compensation must be fact dependent and must be no more than is necessary to give recognition and value to the importance to Roop's constitutional rights and "emotional distress, pain, anguish and severe inconvenience" after she was denied to wear her hijab on the job.
The case arose after Roop wrote to former police commissioner Stephen Williams requesting that she be allowed to wear her hijab together with her police uniform but this request was ignored for about two years.
It was after she after she did not here from the commissioner's office that she retained the services of Senior Counsel Anand Ramlogan who in turn issued a pre-action protocol letter to the office of the commissioner.
However, no favourable response was received, and legal action was later filed at the High Court.
In her ruling last November, Justice Mohammed found that Roop's constitutional rights had in fact been infringed by the her denial to wear her Hijab while in uniform.
The judge had also struck down the long-standing rule against the head-wear by law enforcement officers.
In her ruling, Justice Mohammed said the intention of the framers of the Constitution was for an "evolving plural society" where religious symbols were permitted.
https://www.stabroeknews.com/2019/11/26/news/regional/trinidad/trinidad-cop-who-sued-over-hijab-uniform-awarded-big-compensation/
----
Egyptian woman wins case against Islamic inheritance laws
Ayat Al Tawy
Tuesday 26 Nov 2019
An Egyptian lawyer has said on Monday that she won a case that challenges the country's Islamic inheritance laws, which mandate that male heirs inherit double the share of females.
Huda Nasrallah, a Christian, has over the past year been demanding that the property left by her late father be divided equally between her and her two brothers.
She is one of approximately 10 million Coptic Christians who live in Egypt, a predominantly Muslim country whose constitution dictates that Islamic sharia is the main source of legislation.
Islamic doctrine typically mandates that male heirs receive twice the share of female heirs.
But Nasrallah, a human rights lawyer, has built her case around an article in the 2014 constitution that says the respective doctrines of Egyptian Christians and Jews should be used to decide family law and inheritance cases that affect them.
Coptic Orthodox teaching specifies that inheritances should be divided fairly between heirs, regardless of sex.
Nasrallah's two brothers had testified that they wanted their father's estate to be divided fairly between the three offspring, but the courts had twice ruled against them.
But this week, a higher court issued a final ruling in Nasrallah's favour.
"Finally a ruling was issued on my case for inheritance to be equally distributed between male and female heirs," Nasrallah said on Monday on Facebook.
Local courts that issue official inheritance declarations have continued to rule based on Islamic inheritance laws, with many Christian families deciding to settle inheritance matters outside the country's legal system.
"But now, courts can rule based on the Christian doctrine," Nasrallah said in TV comments following the ruling.
She had said that her move was not primarily about inheritance, but rather the right to be treated equally to her brothers.
Nasrallah confirmed that this week's ruling is the second of its kind in recent years, as a Cairo court had handed down a ruling in favour of a Coptic woman in a similar case in 2016.
http://english.ahram.org.eg/NewsContent/1/64/356612/-.aspx
------
The forgotten violence against Muslim women in the West
We may have just marked the International Day for the Elimination of Violence against Women, but acknowledge the vulnerability of Muslim women who are attacked simply for wearing a visible symbol of their religion.
Now in its 25th year, the International Day for the Elimination of Violence against Women just passed, and it aims to draw attention to the widespread violence and discrimination many women continue to face across the world.
In the aftermath of 9/11, during the George W Bush administration, the US declared a 'War on Terror'. Since then, Muslim women have become particularly susceptible to violence, discrimination and have more generally become a stigmatised community.
Muslim women, due to their headscarf and the perception that they are less likely to speak out, have been targeted mainly by men over what they wear.
France
In 2010, France introduced a draconian law that banned the Muslim face veil in public spaces. Before that, Muslim women were forbidden from wearing a headscarf to school in legislation passed in 2004.
The increased focus on the attire of Muslim women has also resulted in increased hate crimes.
In 2013, a 21-year-old Muslim woman was attacked by two men in Paris due to her veil and suffered a miscarriage. In 2015, a 29-year-old headscarfed woman was attacked and lost her unborn baby.
Far from being one-off random attacks, the political atmosphere in France has proved to be a useful incubator and normalising anti-Muslim discourse.
In 2016, the former French minister for women's rights Laurence Rossignol compared Muslim women who chose to wear the headscarf to "ni***rs who were in favour of slavery".
The comments were condemned by the Collective Against Islamophobia for "using the memory of slavery to again stigmatise Muslims, including veiled women," adding, "we have reached a new level in terms of institutional racism and islamophobia."
The Collective Against Islamophobia has found that Muslim women are, in 75 percent of cases, the first victim of the attacks.
More recently, Muslim women in France have been attacked for accompanying their children on school trips wearing the headscarf, and there is an ongoing debate about whether children's mothers should be banned from doing so.
United Kingdom
When the UK Prime Minister Boris Johnson compared veiled Muslim women to letterboxes in 2018, research showed there was a 375 percent increase in attacks towards Muslim women.
Johnson has since refused to apologise for his "derogatory and racist" remarks. But the figures indicate that political rhetoric matters and has real-life consequences for Muslim women.
A report by a British charity found that women continue to bear the brunt of anti-Muslim attacks because of their visible Muslim attire, accounting for the majority of reported attacks.
The majority of the perpetrators were found to be men.
Many attacks, however, go unreported because either Muslim women don't know who to tell or what difference it will make, if any.
The ruling Conservative Party in the UK has been accused of turning a blind eye to anti-Muslim sentiment within its own party.
A recent study found that Conservative Party members have bought into many myths about Muslims including that parts of the UK are run according to Islamic law and with some even believing that Islam is a threat to their way of life.
US
When the US invaded and then occupied Afghanistan in 2001 after the 9/11 attacks, one of the main arguments for going to war was to "liberate" Afghan women from Muslim men.
Fast forward to 2019, the US is still in Afghanistan, however, closer to home Muslim women in the US are facing increasing threats to their wellbeing by more often than not the same American men that allegedly want to liberate Muslim women in Afghanistan.
Trump was convinced to keep US troops in Afghanistan on the premise that Afghan women would be liberated, but at home, the US president is less cautious about the welfare of Muslim women.
The election of Donald Trump as US president has given a loud and visible voice to anti-Muslim sentiment bubbling deep in American society.
When Trump announced the "Muslim ban", his electorate cheered.
The resulting election of the first Muslim Congresswomen Ilhan Omar has resulted in an outpouring of death threats, abuse and visceral attacks both from Trump's base and the US president himself. Her hijab making her an obvious object of attacks.
A poll by Pew Research found that Muslim women were significantly more pessimistic about their place in the US and a majority say it was now more difficult to be a Muslim for them.
The poll also found that the majority of Muslim women faced discrimination as apposed to Muslim men.
Recently a Muslim woman who was attacked took matters into her own hands by investigating the issue herself.
https://www.trtworld.com/europe/the-forgotten-violence-against-muslim-women-in-the-west-31693
------
How A Fake Imam, The Krassenstein Brothers And A Canadian Played Roles In A Dubious Story About Ilhan Omar And Qatar
November 26, 2019
The story is based on the claims of Alan Bender, a self-described fixer for the Saudis, who are Qatar's sworn enemies. He claims Qatari officials summoned him and divulged their innermost secrets.
The accusation appears to be part of a campaign by "Imam of Peace" Mohamad Tawhidi, who positions himself as a western-friendly, anti-extremist Muslim, but who studied under an ultraconservative cleric.
Foreign elements are pushing a dubious story, targeted at American conservatives, that Ilhan Omar is a secret agent of the nation of Qatar.
The claim comes from a deposition from a Canadian self-described problem-solver for the Saudi ruling family — the arch-nemesis of Qatar — who gave 200 pages of testimony that offered a haphazard smorgasbord of accusations against the country.
The Oct. 23 deposition of the fixer, Alan Bender, was taken as part of a case that had little to do with him, and most of the questions and answers had no seeming relevance to the case either.
The Daily Caller News Foundation reviewed the deposition and deemed it not credible. It even gets Omar's job wrong, repeatedly calling her a senator.
But the Jerusalem Post published that a "Florida court has heard" that Omar was a secret foreign agent, and the story rapidly began making the rounds among American conservatives.
In the deposition, Bender attested that the Qataris called him out of the blue, flew him to the royal palace, and shared their misdeeds with him in extreme detail, despite his prior association with their rivals.
The deposition includes all manner of accusations, such as that Omar is a "sex maniac" and that reporters at CNN, the Washington Post and the New York Times are on the payroll of Qatar. Bender appeared eager to expose all of that dirt, yet inexplicably said he'd "rather not" provide key details, such as the names of the reporters supposedly taking bribes.
"I'd rather not say 'cause I know the name and details," he said of CNN. "I'd rather not mention specific names but I have, yes, several names," he said of the New York Times.
Bender did not return a request for comment. In the deposition, he said he will "sometimes intervene on behalf of members of the [Saudi] ruling families; mediate, solve their problems."
'Imam of Peace'
Mohamad Tawhidi, an Australian Muslim with a large social media following under the handle "Imam of Peace," has been pushing the idea that Omar is connected to Qatar for months.
Tawhidi also spuriously accused a journalist at the DCNF of being on the payroll of Qatar for not quickly and uncritically printing storylines pushed by him, despite the DCNF repeatedly covering misdeeds by Qatar. He falsely claimed that any hesitation was because of an editor "who I can confirm works for Qatar…. It took me 48 hours to find out."
Tawhidi would not tell TheDCNF's reporter which of his colleagues had supposedly entered into a secret agreement with a Gulf nation. (RELATED: Lamborghinis, Burkas, Sex Party Invites And 'Chop Chop Square': A New York Lawyer's 15 Years In The Middle East)
The Australian Broadcasting Corporation reported in 2017 that Tawhidi's alma mater said he never graduated and it "does not recommend" him "for lecturing in any way. Accordingly, he has no competency to do religious activities or preach sermons."
Tawhidi has built 600,000 Twitter followers by criticizing extremist and anti-West elements of Islam.
But the Australian outlet says after dropping out of university, he studied under a fringe cleric who holds ultra-conservative positions, such as that men may marry nine-year olds, that Sharia law should govern, and that women should not hold roles in government.
"The teachings I learnt were not incorrect but some were better off concealed. The coming year, 2016, will be a big year for me," he wrote in a letter cited by the ABC. "You will be seeing and hearing more of me in the media and social networks. Thus, I request from you all to keep in mind that my mission is an ideological one."
An aerial view shows Doha's diplomatic area March 21, 2013. REUTERS/Fadi Al-Assaad (QATAR - Tags: CITYSCAPE TPX IMAGES OF THE DAY) - GM1E93L1O2W01
An aerial view shows Doha, Qatar's diplomatic area March 21, 2013. REUTERS/Fadi Al-Assaad
Krassenstein brothers
As the evidence-free story of Omar as a secret foreign agent spread on social media, the cast of characters got even odder as the Krassenstein brothers got involved.
The left-wing brothers previously allegedly ran Ponzi schemes and online financial scams, and in 2017 law enforcement seized nearly half a million dollars from them, contending it was derived from wire fraud, the Daily Beast reported.
The brothers were not charged with any crime, and soon moved on to a similarly lucrative online venture that involved constantly baiting President Trump on Twitter, garnering large followings by exploiting political tribalism until they were banned from Twitter in May for violating its rules.
On Tuesday, a post on the brothers' Facebook page (authored by one of their wives) said that four months ago Bender contacted the Krassensteins to tell them that Tawhidi was working for Qatar's enemies to spread lies about Omar.
Then in early August, they say, Bender changed his tune and said that Tawhidi's allegations were true. "It appears that something happened in August which turned both Al-Saleh and Alan Bender against Qatar. Whether it was another foreign government paying them (ie Saudi Arabia) or some other international battle in the mid-east, I am not 100% certain," the post said.
It is unclear why Bender would contact the Krassensteins. The post says "as the right wing media runs with this story," even though prominent conservative reporters who have covered Ilhan Omar or Qatar quickly flagged it as baseless.
The Krassensteins attributed the operation to two different countries — the United Arab Emirates and Saudi Arabia — and a host of prominent American conservative figures, a motley crew that would be unlikely to come together around an obscure Canadian businessman.
Yet the Krassensteins did seem to have some insight into the operation. As Tawhidi built suspense endlessly on Twitter about how a second witness would emerge, the Krassensteins said it would be a man named Abdullah Al-Saleh.
They turned out to be right: Al-Saleh tweeted similarly thin evidence a short time later.
https://dailycaller.com/2019/11/26/ilhan-omar-qatar-imam-of-peace/
------
Muslim Parents Permanently Banned From Protesting LGBT Education Outside British School
KURT ZINDULKA
26 Nov 2019
Today a High Court judge, Mr Justice Warby, upheld the decision in June of this year to create an exclusion zone around the Anderton Park Primary School, making the ban of anti-LGBT protests, by mostly Muslim parents, permanent in the area.
The three main protestors: Amir Ahmed, Shakeel Afsar and his sister Rosina Afsar fought the injunction in court claiming that the protests should be protected as freedom of speech. The Muslim parents also objected to the school not consulting with them over the introduction of LGBT lessons, reports the Birmingham Mail.
A Christian organiser, John Allman, joined the other defendants in condemning the breach of freedom of speech.
The judge in the case said that the protestors had 'grossly misrepresented' the content of the LGBT relationship lessons causing harm to the children, teachers and local residents.
The headteacher of the Anderton Park Primary School, Sarah Hewitt-Clarkson, described the protestors as 'toxic and nasty' and said that there were ample opportunities to discuss concerns about the curriculum with the school.
She said that in a meeting she had with Mr Afsar, he slammed his hand on her desk and demanded that she remove the LGBT lessons from the school.
"It was volatile, it was aggressive. I had never had a meeting like that before in 26 years of teaching. He set up a WhatsApp group that afternoon … trying to whip up a frenzy", she told the court.
Earlier this year, another school in the area was also targeted by Muslim protestors after the introduction of a programme called 'No Outsiders' which taught students about LGBT issues alongside its existing sexual education courses.
https://www.breitbart.com/europe/2019/11/26/muslim-parents-permanently-banned-from-protesting-lgbt-education-outside-british-school/
------
URL: https://www.newageislam.com/islam-women-feminism/muslim-cop-awarded-185000-compensation/d/120376
New Age Islam, Islam Online, Islamic Website, African Muslim News, Arab World News, South Asia News, Indian Muslim News, World Muslim News, Women in Islam, Islamic Feminism, Arab Women, Women In Arab, Islamophobia in America, Muslim Women in West, Islam Women and Feminism