New Age Islam News Bureau
26 Dec 2016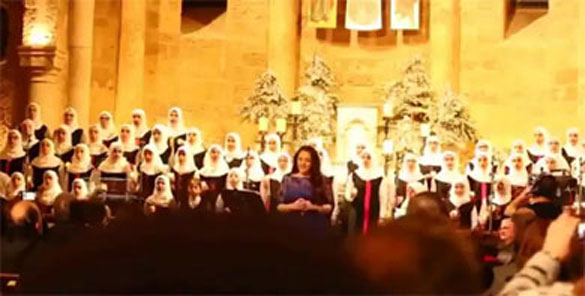 The December concert is one of several the Muslim girls performed in in the run-up to Christmas Beirut Chants, via Facebook
---------
• Hindu Youth Pool Money for Muslim Girl Marriage
• Music Clip of Skateboarding Niqab-Clad Women Takes Saudi Arabia by Storm
• Seven Women Win Seats on Oman's Municipal Council
• Christian Mother Asia Bibi Spends 7th Christmas on Death Row in Pakistan
• Chibok Girl Recalls 'Miracle' Release by Boko Haram as Reunited With Family
• Long Beach Police Change Policy, Will Allow Muslim Women To Wear Headscarves While In Custody
• Books on Women Empowerment in High Demand at Jeddah Fair
• Toll-free helpline for women in distress launched in KP
• Kurdish female fighters playing key role in battle for Raqqa
Compiled by New Age Islam News Bureau
URL: https://www.newageislam.com/islam,-women-and-feminism/new-age-islam-news-bureau/muslim-choir-girls-sing-arabic-christmas-carols-in-touching-video-from-beirut/d/109497
--------
Muslim Choir Girls Sing Arabic Christmas Carols In Touching Video from Beirut
Bethan McKernan
Footage of a Muslim girls' choir singing Christmas carols at a church concert has emerged from from the Lebanese capital of Beirut.
The ensemble of around 40 girls can be seen in a video singing 'Silent Night' in Arabic at St Elie Greek Catholic Church, located in a majority Muslim neighbourhood of the city.
The Imam Sadr Foundation choir was taking part in a concert organised by the Beirut Chants Festival, which organised 23 free concerts for advent from December 1st.
The girls' performance took place on the 19th December, where they also accompanied famous Lebanese musician Abeer Nehme. The concert was one of several Christmas events they have taken part in, according to the Imam Sadr Foundation's Facebook page.
The video has been widely shared on social media, with many comments praising the beauty of the music and the touching interfaith gesture. "Thank you for sharing this beautiful moment," one person wrote. "Lebanon at its best," another comment read.
Lebanon is a tolerant and religiously diverse country, whose population is 40 per cent Christian.
Its 1926 constitution ensures that there is parity between Muslim and Christian representatives in government and the highest offices - President, Speaker of Parliament and Prime Minister - must be occupied by Christian, Shia Muslim and Sunni Muslim candidates respectively.
http://www.independent.co.uk/news/world/middle-east/muslim-choir-girls-sing-arabic-christmas-carols-beirut-lebanon-touching-gesture-a7495321.html
--------
Hindu Youth Pool Money for Muslim Girl Marriage
DECEMBER 25, 2016
For decades, Haridaspura, has not witness communal tension as residents of varying faiths accommodate the religious practises of the other
Residents of a slum in the backyard of Golconda have set an example worthy of emulation by overcoming religious barriers to perform a marriage.
Haridaspura, located about a kilometre from Fateh Darwaza, is a mixed locality. Hindu youth of the locality recently pooled in money to arrange the wedding of a Muslim girl from an impoverished family.
"The girl's parents approached the Haridaspura Welfare Association for help. Three others and I pooled in about Rs. 15,000 to make arrangements for the wedding," said Masuri Rajesh, the treasurer of the association. With the money arranged, the youth set up a tent in front of the girl's one-room house and arranged dinner for 250 people in the local community hall.
Riyaz Ali Khan, a community elder and retired lecturer of a private college, who attended the wedding, said it was a simple affair.
"The bride did not have new clothes to wear for the wedding. But the youth ensured that the bride's family were able to feed the guests. Such acts go a long way in maintaining communal harmony, besides spreading universal brotherhood," he said.
According to locals, Haridaspura has not witnessed communal tension in the last many decades as residents of varying faiths accommodate the religious practises of the other.
"The Hindu community organises an Iftar during Ramzan which the Muslim community reciprocates for Hindu festivals. Members of both communities respect the religious sensibilities of others," says Mr. Ramesh.
http://www.thehindu.com/todays-paper/tp-national/tp-telangana/Hindu-youth-pool-money-for-Muslim-girl-marriage/article16941178.ece
--------
Music clip of Skateboarding niqab-clad women takes Saudi Arabia by storm
26 December 2016
A new music video showing niqab-clad local women skating, playing basketball, singing and dancing is taking Saudi Arabia by storm.
The song and music clip titled "Hwages" (roughly translated as concerns in English) was uploaded on YouTube on Dec. 23 and has gained more nearly half a million views since then.
The video opens to a scene showing three women wearing the niqab entering a car while a young boy takes the front steering wheel, in a nod to Saudi Arabia's ban on women driving.
The son is an attempt at critiquing the stereotypical image of Saudi women, with scenes showing men jesting at them while standing near an airplane and driving a car.
But the women in "Hwages" can be seen playing basketball, bowling and even skateboarding at one point on the streets of Saudi Arabia.
"May all men be erased as they've given us mental illness," is one verse roughly translated from Arabic sang by three women in the video produced by Saudi production company 8ies Studios.
It was inspired by a low-quality production video that went viral in 2014 using the same lyrics.
https://english.alarabiya.net/en/News/gulf/2016/12/26/Skateboarding-niqab-clad-women-takes-Saudi-Arabia-by-storm.html
--------
Seven women win seats on Oman's Municipal Council
December 26, 2016
Muscat: Seven women were elected to Oman's Municipal Council in the second-ever such vote held in the country on Sunday.
The result marks a significant increase from 2012, when four women won seats.
"Society is becoming more aware of how important the woman's role is, in pushing the wheels of development in the country along with men," Mohammad Al Hinai, an Omani political commentator, told Gulf News.
Of the 23 women candidates vying for seats this election, seven secured wins — two in the Buraimi governorate, two in North Batinah, two in Muscat and one in South Batinah.
For the first time, an entire province is being represented by only women.
Mariam Al Shamsi and Latifa Al Manei won the only seats for the Sunnainah province of the Buraimi governorate.
Sana Al Mashari and Amna Al Beloushi will represent their respective provinces (Amerat and Seeb) in the governorate of Muscat.
Rahma Al Ghufaili will represent the Liwa province of North Batinah governorate and Moza Al Hosni will reperesent Khabourah province of North Batinah.
Rahma Al Nufli was elected as a municipal member of Musanah province of South Bartinah governorate.
Sunday's polls triggered a huge turnout, as more Omanis became registered voters — 623,224 in total including 333,733 men and 289,491 women with an increase of 100,000 from the last election, according to the Ministry of Interior.
731 candidates were contesting for 202 seats.
To encourage people to vote, the ministry had allocated 107 election centres across the country including 18 centres for men, 18 for women and 71 centres for both men and women.
"The election process went very smoothly without any obstacles," said Khalid Al Busaidi, Undersecretary of the Ministry of Interior and the head of the organising committee of the election.
A new state-of-the-art machine was used for the first time in the municipal elections to count votes more efficiently, and to ensure transparency.
Under the system, the voter inserts the paper, marked with a tick, next to the candidate of his/her choice.
Oman established its first Municipal Council in the capital Muscat in 1939; all members were appointed by the government.
In 1972 it was restructured to limit participation only in the Muscat governorate.
In 2012, for the first time, Oman opened the Municipal Council up for elections.
Candidates must be Omani, not less than thirty years old and have no criminal record.
Candidates should submit their applications to offices of the walis (governors) in the provinces from where they wish to contest.
Members of the elected Shura Council and appointed State Council are not eligible to contest the municipal elections.
The rules also bar all government employees from contesting.
Under a law promulgated last year, 61 provinces in the country will have seats in the Municipal Council.
The council's term is four years.
http://gulfnews.com/news/gulf/oman/seven-women-win-seats-on-oman-s-municipal-council-1.1951769
--------
Christian Mother Asia Bibi Spends 7th Christmas on Death Row in Pakistan
BY BRANDON SHOWALTER , CP REPORTER
Dec 25, 2016
Pakistani Christian mother of five Asia Bibi is spending her seventh Christmas in prison after her death sentence appeal was put on hold in October when a judge abruptly recused himself from hearing her case.
In this Nov. 20, 2010 file photo, Salman Taseer, right, Governor of Pakistani Punjab Province, listens to Pakistani Christian woman Asia Bibi, left, at a prison in Sheikhupura near Lahore, Pakistan. Taseer was shot dead Tuesday, Jan. 4, 2011, by one of his guards in the Pakistani capital, apparently because he had spoken out against the country's controversial blasphemy laws, officials said.
Imprisoned Christian mother of of five, Asia Bibi, is facing the death penalty after being accused of blasphemy in 2009 by angry Muslim women, who were upset that she drank from the same drinking water as them.
was sentenced to execution in 2010 after being accused by her former colleagues of blaspheming against the Prophet Mohammad.
The daughters of Asia Bibi posed with an image of their mother outside their residence in Sheikhupura, located in Pakistan's Punjab Province.
Bibi, 45, was sentenced to death in 2010 on allegations of blasphemy after two Muslim co-workers accused her of insulting the Muslim prophet Muhammad, something which she denies.
Bibi's blasphemy allegation stems from an altercation in June 2009 that she had with a group of Muslim women in the town of Sheikhupura in the Punjab province. As the women were picking berries, the Muslim women became enraged when Bibi drank from the same water bowl that they women drank out of.
Since Bibi was a Christian, the women considered her unclean. After an argument between the women ensued, the Muslim women went to the police and accused Bibi of saying something along the lines of "My Christ died for me, what did Muhammad do for you?"
Bibi was supposed to find out in October at a final appeal hearing at Pakistan's Supreme Court whether or not she would be executed, but that decision was delayed indefinitely after one of the senior judges, who was set to preside over her appeal, suddenly resigned.
Local media said that Justice Iqbal Hameed recused himself from the case without giving a specific reason.
William Stark, a regional manager for South Asia for International Christian Concern, which advocates for persecuted Christians around the world, said in a phone interview with The Christian Post that Bibi's struggle is "the premier case for why blasphemy laws are a problem."
Bibi's case, as it now stands, is in what he calls a "wait-and-see" period.
"Hopefully in 2017, the Pakistani Supreme Court will form a new bench and will be able to hear her case," Stark said. "And, frankly, if the case is actually heard on the merits, the Supreme Court has no other option but to find for her and actually let her go."
Stark told CP that he's somewhat optimistic for Bibi's case based on recent court rulings on the rights of religious minorities and conversations he's had with her attorney, Saif Malook, who is a Muslim.
If the court rejects her appeal, however, Bibi would be the first woman in Pakistan to be executed for blasphemy.
"Asia's case is very much a lightning rod within Pakistan itself," Stark said, referencing the 2011 assassination of Punjab Gov. Salman Taseer, a supporter of Bibi who had planned to reform the country's strict blasphemy law.
Taseer had been accused by hardline groups of committing blasphemy himself by criticizing the law, which is supposed to protect Muslim sentiments, but according to human rights groups is often used to settle personal scores and oppress Christians and other religious minorities.
"People who get close to it [Bibi's case] are very scared for their lives," he added. "It's a case that really kind of encapsulates the abuse of blasphemy laws generally. And it's such high profile that even to bring it up you're inviting controversy. If you're bringing up Asia Bibi in a public area, it's not a wise decision."
CP reported in October that Pakistani Christians are worried that justice will not be done.
"Every day that passes I fear that she will either be killed in custody and that her death will be masked as a natural death, or that she will finally fail her Supreme Court hearing — as this would be the most popular decision in a country riven with hate," wrote Wilson Chowdhry, chairman of the British Pakistani Christian Association on his group's website.
"Sadly that position is even held by much of the Judiciary (officials) who have also been blinded by the hate agenda promulgated through media and the education system in Pakistan."
As Bibi has been sitting in prison for over six years, reports have indicated that the health of the 51-year-old mother has been deteriorating. A report from last June indicated that Bibi has had trouble walking and has also vomited up blood inside of her jail cell.
Less than 2 percent of Pakistanis identify as Christians. The country remains among the worst persecutors of Christians, ranking sixth on Open Doors USA's 2015 World Watch List.
http://www.christianpost.com/news/christian-mother-asia-bibi-spends-7th-christmas-death-row-pakistan-blasphemy-172314/
--------
Chibok girl recalls 'miracle' release by Boko Haram as reunited with family
December 26, 2016
YOLA - When Boko Haram militants decided to release some of the 200 Chibok schoolgirls kidnapped two-and-a-half years ago in northeast Nigeria, Asabe Goni did not dare to dream that she would be among the girls allowed to go home.
During their time in captivity the girls were encouraged to convert to Islam and to marry their kidnappers, with some whipped for not doing so, but Goni said otherwise they were treated well and fed well until supplies recently ran short.
Hungry and ill, the 22-year-old did not even have the energy to stand up in October when the Islamist militants said that any girls who wanted to be released should line up. She just sat and watched as other girls scrambled to get into line.
"I was surprised when they announced that my name was on the list," Goni told the Thomson Reuters Foundation in the first interview by one of the 21 freed girls to international media.
"It was a miracle," she said, while expressing regret that she had to leave behind her cousin who was also abducted.
A group of 21 girls was released two months ago after Switzerland and the International Red Cross brokered a deal with the Boko Haram. They have been held since in a secret location in the capital Abuja for debriefing by the Nigerian government.
But the girls have been taken back to the Chibok area in Borno state to spend Christmas with their families, returning home for the first time since being seized from their school in April 2014, an act that sparked global outrage.
"I was very happy when they said I should go home," Goni said in an interview in her family's home in the northern city of Yola, surrounded by her father, stepmother, five siblings and several neighbours.
The kidnapping of more than 200 schoolgirls from Chibok in April 2014 hit international headlines and prompted global figures, including U.S. First Lady Michelle Obama and a list of celebrities, to support a campaign #BringBackOurGirls.
But none of the girls were sighted again until May this year when one of the students, Amina Ali, was found in a forest with a baby and a man claiming to be her husband.
Her discovery prompted hopes that the girls were alive and Nigerian President Muhammadu Buhari pledged to ensure the release of the remaining girls in captivity.
"GIVEN UP HOPE"
Recalling the abduction, Goni said the girls, which included her younger cousin Margaret with whom she had lived since she was a child, trekked for three days through Sambisa forest, Boko Haram's vast woodland stronghold, before they arrived at a camp.
"I was in great pain," she said. "Many of us didn't stop crying until about three months after we were kidnapped."
While the girls were not forced to convert to Islam, the militants told them that they would all be sent home if they did so, said Goni. Neither were they forced to marry, she added.
"But the way they talked to us about it, you would be afraid not to," she said, recalling how the girls were sometimes flogged with a whip. "That is why some were convinced to marry."
Goni said the girls were otherwise treated well by the militants. They were given material to sew clothes and fed three times a day until recently when food became scarce.
The girls told state officials they were not abused or raped by the militants, and all tested negative for sexually transmitted diseases, according to a confidential report based on a two-week debriefing prepared for Buhari and seen by the Thomson Reuters Foundation in November.
When Goni was released, she did not have time to say goodbye to Margaret, whom she calls her sister, or the other girls.
"Some of the other girls left behind started crying," she said. "But the Boko Haram men consoled them, telling them that their turn to go home would come one day."
Nigerian authorities say they are involved in negotiations aimed at securing the release of more of the girls, while the army has captured a key Boko Haram camp in Sambisa forest, Buhari said earlier today.
Far away from negotiations and army operations, Goni chatted with her siblings and helped her mother prepare breakfast as she spoke of her excitement of going to church on Christmas Day.
"I never knew that I would return (home)," Goni said. "I had given up hope of ever going home."
http://nation.com.pk/international/26-Dec-2016/chibok-girl-recalls-miracle-release-by-boko-haram-as-reunited-with-family
--------
Long Beach police change policy, will allow Muslim women to wear headscarves while in custody
12/25/16
In the wake of a lawsuit alleging officers forcibly removed a Muslim woman's hijab before booking her into jail, the Long Beach Police Department has changed its policy to let detainees wear headscarves and other religious items while in custody unless there's a safety concern.
Until last month, Long Beach police barred prisoners from keeping any type of religious head covering with them behind bars. Department procedures listed "hats, veils, tunics, etc.," along with items to be confiscated like cigarettes, shoelaces and belts. But last month, Long Beach police Chief Robert Luna issued an order immediately overruling that policy, according to the department.
"If an arrestee is wearing a religious head covering, employees shall make all reasonable efforts to allow this practice, except where safety and security concerns dictate otherwise," Long Beach police spokeswoman Marlene Arrona said in an email.
In practice, this means inmates will generally be allowed to keep the item unless jailers are worried the person will use it to harm him or herself, according to Long Beach's jail administrator Tom Behrens.
"Quite honestly unless there's a situation ... where this person is distraught, potentially suicidal, I can't imagine taking a headscarf away," Behrens said.
Luna's Nov. 8 order isn't comprehensive. For instance, it doesn't address whether inmates will be allowed to wear head coverings in booking photos, which is a pivotal component of the lawsuit that spurred the policy change.
But Behrens said that the booking photo issue hasn't come up in the year or so he's run Long Beach's jail. The department is still deciding what to do in those cases, he said.
Police officials are working on finalizing a new written policy in line with Luna's order, Arrona said.
THE LAWSUIT
Luna issued the order more than six months after a Muslim woman sued the city and Luna, alleging officers violated her civil rights and humiliated her by stripping her of her headscarf.
The lawsuit alleges that two officers who arrested Long Beach resident Kirsty Powell forcibly removed her hijab even though she explained she wore it as part of her religious beliefs.
On May 5, 2015, officers pulled over Powell, 33, and her husband near Market Street and Long Beach Boulevard.
Powell's lawsuit alleges officers said they stopped the couple because they were in a low-rider. Police later said the car's hydraulic suspension was unsafe, leading to the traffic stop.
After pulling the couple over, the officers discovered there were three misdemeanor warrants out for Powell's arrest, one each for vehicle theft, petty theft, and resisting arrest, police said shortly after the incident.
But the warrants for vehicle theft and resisting arrest actually had nothing to do with Powell, according to Yalda Satar, an attorney with the Council on American-Islamic Relations who is representing Powell in her lawsuit.
Authorities issued the warrants after Powell's sister gave Powell's name as her own during a run-in with police, Satar said.
Satar said the petty theft warrant was related to a shoplifting incident in 2002 when police questioned Powell but did not cite her. The lawsuit says Powell was unaware that authorities issued the warrant.
Nevertheless, Powell spent the night in jail, according to her lawsuit.
During the booking process, while Powell was still handcuffed, one of the officers "forcefully stripped her of her hijab," the lawsuit states.
Police returned Powell's headscarf the next day when her husband posted bond and she was released around 1:30 in the afternoon, but in the meantime, Powell alleges she was left uncovered in front of male officers and groups of male inmates who walked by her. Police also refused to let her take her booking photo with the headscarf on, according to the lawsuit.
"The existence of the photo continues to haunt Mrs. Powell," the lawsuit states.
The document says Powell felt "exposed, humiliated and violated" by Long Beach police's actions.
"She cried throughout the ordeal and experienced humiliation when both her religious beliefs and personal integrity were violated," the lawsuit says. "She felt that the male officers and male inmates had seen parts of her body that they should not have seen, according to her religious beliefs."
The lawsuit asks a judge to bar Long Beach police from ever releasing Powell's booking photo. It also seeks unspecified damages and an order forcing Long Beach to revise its jail policy to allow inmates to wear religious head coverings.
After Powell's lawsuit was filed, the Long Beach Police Department released a statement saying in part that it would reach out to local religious leaders in an effort to be culturally sensitive. The statement also promised the department would talk about the issue with other law enforcement agencies "to ensure that our policies and practices remain consistent with industry standards."
In an interview this month, Satar said she hadn't been told about Luna's order adjusting the policy.
Satar called the change a step in the right direction, but said the policy still has to be implemented properly by jail staff.
"I want to make sure the officers are aware and they're properly trained as well," she said.
Satar said she expects the lawsuit to move toward a settlement.
OTHER POLICIES
Unlike in some facilities that have begun stocking jail-approved headgarments to issue religious detainees alongside their inmate jumpsuits, trips to the Long Beach jail are usually brief, Behrens said.
Prisoners usually remain there only a day or two and, "When you come into the Long Beach jail, you keep the clothing that you're wearing," Behrens explained.
Religious headwear will now generally fall into that category, too.
By contrast, police in the Michigan cities of Dearborn and Dearborn Heights began providing Muslim women with tear-resistant hoods to wear while in custody after a pair of lawsuits were filed against the municipalities last year.
Long Beach jailers could still confiscate headgarments if they see a risk, according to Behrens. A long headscarf, he said for example, could conceivably be twisted up tightly and used to strangle someone.
But he said the department has a range of options available before taking that step.
An inmate trying to harm others could be held alone in a cell or even transferred to county jail more quickly than usual, according to Behrens.
Safety is a primary concern, but, "The main piece of this policy is we want to keep the dignity of this person," he said.
According to Satar, it's not uncommon for police departments to lack guidelines addressing hijabs or other head coverings.
"In my experience, looking at policies throughout (the) Southern California area, almost all the policies were the result of some lawsuit," she said in an email. "On the other hand, most departments do not find themselves faced with this problem because the instances of arrest related to an individual with a religious head covering is uncommon."
The nation's largest jail system, run by the Los Angeles County Sheriff's Department, doesn't have a specific policy governing hijabs or headscarves, according to department spokeswoman Nicole Nishida. The only religious headwear addressed specifically in the department's manual is the brimless kufi cap, which the department allows male Muslim inmates to wear, she said in an email.
In practice, however, female inmates are allowed to keep their headscarves after the booking process, Nishida said.
During the process, the female inmate is first searched by a female deputy and then two booking photos are taken, one with the headscarf on and one with it off, according to the department.
But Nishida said, the hijab could soon be officially recognized by the department.
"The Sheriff's Religious and Volunteer Services (RVS) is currently working on identifying all allowable religious items within custody. There will be more information forth coming from RVS identifying each religious item that will be allowed for each religion," Nishida said. "The hijab is one of those items."
A larger societal shift could be what drives law enforcement to adopt procedures that are more sensitive to inmates' religions, said Jim Bueermann, president of the Police Foundation, a nonpartisan nonprofit organization that studies policing issues.
"What I think is happening is as our western kind of Christianity-centric society is becoming more informed about the religious apparel and accouterments of other religions, you're starting to see accommodations be made and comfort levels rising."
Policing institutions can be slow to accept cultural change, he said.
Bueermann used tattoos as an example. When he began his career, any visible ink was outright banned, but 33 years later, when he retired as Redlands police chief in 2011, hardly anyone batted an eye at officers with tattoos.
"There's some lag time between how society gets comfortable with certain things and how policing in the United States gets comfortable with some things," Bueermann said.
http://www.presstelegram.com/general-news/20161225/long-beach-police-change-policy-will-allow-muslim-women-to-wear-headscarves-while-in-custody
--------
Books on women empowerment in high demand at Jeddah fair
Dec 26, 2016
BY SHAHD ALHAMDAN
JEDDAH — With around 450 publishing houses from 21 countries and more than 1.5 million titles to choose from, books about women self-development and motivation were in high demand during the Second Jeddah International Book Fair.
"My Self Suffice Me, My Way to Freedom" is a motivational learning book targeting Saudi and Arab women. It is the first published work of Saudi writer Aisha Allugmani.
Readers will find several positive and motivational messages for women to increase their confidence and become stronger by fighting for their rights.
The book was among the hits at Sharjah and Doha international book fairs.
Allugmani, who is holding an administrative position in Taibah University, said, "The book includes several topics that help in enhancing self-confidence in women and their capabilities. It also discusses how women should fight the customs and traditions that made them paralyzed individuals without an identity."
How women can create and develop a path for themselves; how they search for strong points and invest in them, how to know their rights, how to become an independent person and how to be with men who appreciate them and support them, were some of the tips that the book gives to Saudi females.
"Before two years I had the idea of writing a book about Arab women, particularly Saudi women, and I started writing the book in August 2015. It got published in October 2016. I have not faced any issues during the writing process," she said.
Many people who read the book, according to Allugmani, agreed with her ideas and asked her to continue writing, yet a few men criticized her thoughts.
She added, "I wish that the book could have an impact and raise awareness and knowledge among women about their rights. People can find my book in Saudi Arabia and Gulf countries. It is available in all branches of Jarir Bookstores and Virgin Megastore, in addition to some e-books stores."
Allugmani is planning to write another new book that will also focus on women and their rights.
Asked about her future plans, she said she plans to continue working in one of the NGOs in Madinah and dedicate her efforts to help the disabled. In future she is planning to establish her own NGO and concentrate more on social responsibilities.
http://saudigazette.com.sa/saudi-arabia/books-women-empowerment-high-demand-jeddah-fair/
--------
Toll-free helpline for women in distress launched in KP
By Mobarik A Virk
December 26, 2016
The Chief Executive of ACT Mubashar Nabi, said that the toll-free help line 'Bolo' (Speak out) has been launched in Islamabad in coordination with the government of the Khyber-Pakhtunkhwa in collaboration with 'Trocaire' (the official overseas development agency of the Catholic Church in Ireland) and the Australian Government.
"This project, aimed at encouraging the girls and women in Khyber-Pakhtunkhwa by offering them free legal assistance and psychological help if required, was much needed. Such facilities are already available in most parts of the provinces of the Punjab and Sindh, but lacked in KP and Balochistan," he said.
"Now girls and women of the KP, experiencing any form of gender-based or domestic violence or oppression have a credible and authentic source where they can approach without spending even a penny.
They can approach this toll-free helpline 'Bolo' where well-trained staff would be available to help and guide them as to what they could do, how they can have access to justice and even provide them psychological counseling if they are suffering from any trauma," Mubashar Nabi said.
He appreciated the government of the Khyber-Pakhtunkhwa to help launch this help line for girls and women in the province where cultural and traditional barriers have kept the girls and women behind in the race of life and where domestic violence and gender-based violence mostly goes unreported.
The spokesperson for the 'ACT said that the toll-free help line, which was launched earlier this month within the premises of the Social Welfare Department of Khyber-Pakhtunkhwa, has already started operations.
"It was launched at an impressive ceremony held in Peshawar on December 8, 2016 which was chaired by the Provincial Minister Sikander Sherpao and other senior officials of the KPK government.
The Australian High Commissioner was also present at the launching ceremony," the spokesperson said.
She said that since the launch of the help line 'Bolo', around 7 or 8 calls are being received daily from different parts of KP, but mostly from Peshawar.
"So far we have not received any complaint regarding serious form of gender-based or domestic violence. In fact we can understand that some of the girls and women calling on this help line were facing some serious problems but they are not willing to press the matter to the point where they could ask for some legal support.
And we can understand their situation. So, what mostly these women and girls are asking for is the socio-psycho therapy, which is being provided to them by the expert staff engaged for the purpose," she said.
"However, we feel that gradually the confidence of girls and women in the KP would build up and the time would come where they would actually start speaking out loud against the gender-based and domestic violence and about their rights granted and enshrined in Shariah as well as the Constitution of Pakistan," the spokesperson for the ACT said.
https://www.thenews.com.pk/print/174512-Toll-free-helpline-for-women-in-distress-launched-in-KP
--------
Kurdish female fighters playing key role in battle for Raqqa
December 26, 2016
Raqqa – Since the US-backed Syrian Democratic Forces (SDF) launched the Euphrates Wrath Operation to combat ISIS in Raqqa, hundreds of female fighters have joined the campaign.
A main all-female force that participates in the operation is the Kurdish YPJ–also known as the Women's Protection Units.
Cihan Ehmed, a Kurdish YPJ officer and the official spokesperson for the SDF-led Euphrates Wrath Operation, told ARA News that their female fighters have shown "an exceptional performance" in the fight against Islamic State's (ISIS) militants.
Cihan said that the main objective behind their participation in the battle for Raqqa was to liberate women enslaved by ISIS.
"Women are playing a key role in this operation. Our female fighters are participating in this operation for one main objective, which is the liberation of women held by ISIS terrorists in Raqqa city," she told ARA News in an exclusive interview.
"Similar to previous battles, women remain a main participant in counter-terrorism efforts in Syria," she said. "The Kurdish-led Women's Protection Units (YPJ) represent the determination of our female fighters to eliminate terrorism and tyranny, and ultimately accomplishing women's freedoms."
According to Cihan, the YPJ female fighters have been taking part in the fight for Raqqa at the frontline. She also emphasized the key role of women in this operation.
"Our fighters have joined the battle's front-lines. The first phase of the Euphrates Wrath Operation was led by YPJ commander Rojda Felat. As the operation proceeds in its second phase, many YPJ officers and fighters continue to take part in the fight against ISIS," the official spokesperson for the SDF-led Euphrates Wrath Operation told ARA News.
"We, as Kurdish YPJ female fighters, insist to liberate Raqqa. There are many women, mostly Yezidis, held captive by ISIS terrorists inside Raqqa. These women have suffered the most at the hands of ISIS terrorists over the last few years," she stressed. "Thus the main goal from our participation in this operation is to free these women and protect their rights."
Cihan further confirmed that the YPJ now also includes Arab female fighters beside the Kurds.
"Beside the Kurdish female fighters, there are also some Arab women who have joined the Euphrates Wrath Operation. They all fight as part of the Women's Protection Units (YPJ)," she said. "They have been fighting side by side with Kurdish fighters. They've shown an exceptional bravery in the fight for Raqqa indeed."
The SDF launched the second phase of the Euphrates Wrath Operation on December 10, with the objective of securing Raqqa's western countryside and Tabqa Dam, which bridges the Euphrates River. The SDF has so far captured more than 1300 km² in western Raqqa within the second phase of the operation. During the first phase of Euphrates Wrath, that was launched on November 6, the SDF captured roughly 560 km² of land in northern Raqqa. The long-term objective of Euphrates Wrath is the elimination of the Islamic State in its de facto capital, Raqqa city.
The Kurdish People's Protection Units (YPG), Women's Protection Units (YPJ), Syriac Military Council, Raqqa Revolutionaries Battalion and Tel Abyad Revolutionary Brigade are participating in Euphrates Wrath. In addition to these local fighters, foreign soldiers from a half-dozen nations are participating, either as YPG volunteers or under the auspices of the US-led coalition.
http://aranews.net/2016/12/kurdish-female-fighters-playing-key-role-in-battle-for-raqqa/
--------
URL: https://www.newageislam.com/islam,-women-and-feminism/new-age-islam-news-bureau/muslim-choir-girls-sing-arabic-christmas-carols-in-touching-video-from-beirut/d/109497
New Age Islam, Islam Online, Islamic Website, African Muslim News, Arab World News, South Asia News, Indian Muslim News, World Muslim News, Womens in Islam, Islamic Feminism, Arab Women, Womens In Arab, Islamphobia in America, Muslim Women in West, Islam Women and Feminism, Moderate Islam, Moderate Muslims, Progressive Islam, Progressive Muslims, Liberal Islam