New Age Islam News Bureau
2 Dec 2012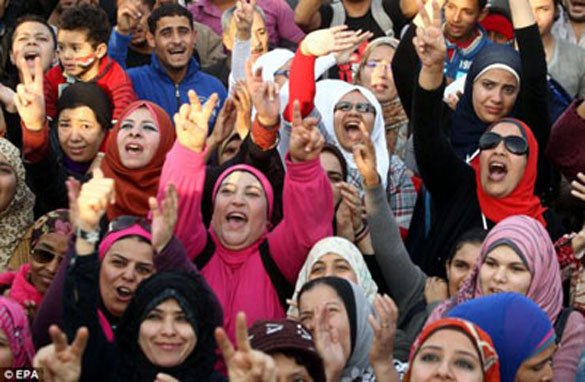 • Syrian Refugee Girl Ram's Compassion Wins Bahrainis Hearts
• New Documentary Portrays Islam as Path to Women's Empowerment
• '4,000 Domestic Violence Cases In Afghanistan In 7 Months'
• Canada Muslims Fight Violence against Women
• American Muslim Women Reclaim Their Narrative
• Kuwaiti Women Hope to Win Seats in Parliament
• France and the Veil – The Dark Side of the Law
• Fatima Bhutto Denies Launching Political Career
• Saudi Female Fans Want Their Own Space in Football Stadiums
Compiled by New Age Islam News Bureau
Photo: Danger: women protesting in Cairo's Tahrir Square face the increased danger of sexual assault by large gangs of men
URL: https://newageislam.com/islam-women-feminism/muslim-brotherhood-paying-gangs-go/d/9511
------------
Muslim Brotherhood 'Paying Gangs to Go Out and Rape Women Demonstrators on Tahrir Square
By RUTH WHITEHEAD
1 December 2012
Egypt's ruling party is paying gangs of thugs to sexually assault women protesting in Cairo's Tahrir Square against President Mohamed Morsi, activists said.
They also said the Muslim Brotherhood is paying gangs to beat up men who are taking part in the latest round of protests, which followed a decree by President Morsi to give himself sweeping new powers.
It comes as the Muslim Brotherhood co-ordinated a demonstration today in support of President Mohamed Morsi, who is rushing through a constitution to try to defuse opposition fury over his newly expanded powers.
Just 24 hours earlier around 200,000 people gathered in Tahrir Square, the heart of last year's revolution which toppled President Hosni Mubarak, yesterday to protest against a new draft constitution.
Large marches from around Cairo flowed into the square, chanting 'Constitution: Void!' and the people want to bring down the regime.'
But amid the calls for democracy a sinister threat has emerged.
Magda Adly, the director of the Nadeem Centre for Human Rights, said that under Mubarak, the Government paid thugs to beat male protestors and sexually assault women.
'This is still happening now,' she told The Times. 'I believe thugs are being paid money to do this ... the Muslim Brotherhood have the same political approaches as Mubarak,' she said.
One protestor, Yasmine, told the newspaper how she had been in the square filming the demonstrations for a few hours when the crowd suddenly turned.
Before she knew what was happening, about 50 men had surrounded her and began grabbing her breasts. She said they ripped off her clothes, starting with her headscarf and for nearly an hour, indecently assaulted her with their hands.
A few men tried to help her but they were beaten away. Eventually some residents who had seen the attack from their windows came to her aid and an elderly couple pulled her into their home. She suffered internal injuries and was unable to walk for a week.
Four of Yasmine's friends were also sexually assaulted in the square that day, in the summer.
Afaf el-Sayed, a journalist and activist, told the newspaper she was assaulted by a group of men while protesting in Tahrir Square just over a month ago and she was sure her attackers were 'thugs from the Muslim Brotherhood'.
In February 2011 the correspondent for the American network CBS, Lara Logan, endured a half-hour sexual assault in Tahrir Square by a group of men. She said after the ordeal that she had been 'raped with their hands'.
While the exact frequency of these attacks is unknown, activists have reported nearly 20 attacks in the last ten days and say there has been a dramatic increase in mob sex attacks on protestors in the last year.
Most attacks take place in one particular corner of the square, at roughly the same time every evening, and usually starts with a group of men forming a human chain around women as if to protect them.
Yasmine said she was almost sure the assault was planned. She managed to throw her camera to a friend and was able to watch the footage later. She told The Times: 'Just before the attack it looks like men are getting into position. They look like they're up to something, they don't look like random protestors.'
The newspaper spoke to two men who admitted they were paid to target female protestors. Victor and Tutu, both in their thirties, said they operate in a group of around 65 local men and got paid between £10 and £20 a time. But they would not reveal who pays them.
'We're told to go out and sexually harass girls so they leave the demonstration,' Victor told The Times. He said the aim was to cause disruption and instil fear in protesters. He said members of the public sometimes joined in.
Protestors in Tahrir Square yesterday angrily vowed to bring down a draft constitution approved by allies of President Morsi.
The protests have highlighted an increasingly united opposition leadership of prominent liberal and secular politicians trying to direct public anger against Morsi and the Islamists - a contrast to the leaderless youth uprising last year which toppled autocrat Hosni Mubarak.
Figures from a new leadership coalition took the stage to address the crowds. The coalition, known as the National Salvation Front, includes prominent democracy advocate Nobel Peace laureate Mohamed ElBaradei, leftist Hamdeen Sabbahi and former Arab League chief Amr Moussa.
'We are determined to continue with all peaceful means, whatever it takes to defend our legitimate rights,' ElBaradei told the crowd. He later posted on Twitter that Morsi and his allies are "staging a coup against democracy" and that the regime's legitimacy 'is eroding'.
Sabbahi vowed protests would go on until 'we topple the constitution'.
The opposition announced plans for an intensified street campaign of protests and civil disobedience and even a possible march on Morsi's presidential palace to prevent him from calling a nationwide referendum on the draft, which it must pass to come into effect. Top judges announced Friday they may refuse to monitor any referendum, rendering it invalid.
If a referendum is called, 'we will go to him at the palace and topple him,' insisted one protester, Yasser Said, a businessman who said he voted for Morsi in last summer's presidential election.
Islamists, however, are gearing up as well. The Muslim Brotherhood drummed up supporters for its own mass rally today and boasted the turnout would show that the public supports Morsi's efforts to push through a constitution.
Brotherhood activists in several cities handed out fliers calling for people to come out and "support Islamic law". A number of Muslim clerics in Friday sermons in the southern city of Assiut called the president's opponents "enemies of God and Islam".
The week-long unrest has already seen clashes between Islamists and the opposition that left two dead and hundreds injured. On Friday, Morsi opponents and supporters rained stones and firebombs on each other in the cities of Alexandria and Luxor.
The Islamist-led assembly that worked on the draft for months passed it in a rushed, 16-hour session that lasted until sunrise on Friday.
The vote was abruptly moved up to pass the draft before Egypt's Constitutional Court rules on Sunday whether to dissolve the assembly. Liberal, secular and Christian members and secular members had already quit the council to protest what they call Islamists' hijacking of the process.
The draft was to be sent to Morsi today to decide on a date for a referendum, possibly in mid-December.
The draft has a distinctive Islamic bent - enough to worry many that civil liberties could be restricted, though its provisions for enforcing Sharia, or Islamic law, are not as firm as ultra-conservatives wished.
Protests were first sparked when Morsi last week issued decrees granting himself sweeping powers that neutralized the judiciary. Morsi said the move was needed to stop the courts - where anti-Islamist or Mubarak-era judges hold many powerful posts - from dissolving the assembly and further delaying Egypt's transition.
Opponents, however, accused Morsi of grabbing near-dictatorial powers by sidelining the one branch of government he doesn't control.
http://www.dailymail.co.uk/news/article-2241374/Muslim-Brotherhood-paying-gangs-rape-women-beat-men-protesting-Egypt-thousands-demonstrators-pour-streets.html
------------
Syrian Refugee Girl Ram's Compassion Wins Bahrainis Hearts
By Habib Toumi
December 1, 2012
Manama: A Syrian girl staying at a refugee camp in northern Jordan has won the hearts of Bahrainis after she was shown bursting into tears in a television report.
Nine-year-old Ram was in her new classroom in the recently opened Bahrain Educational Compound at Zaatari Camp for Syrian refugees when she talked about her living conditions.
"My name is Ram Ebrahim Al Meflah. I thank Bahrain and the people of Bahrain and the King of Bahrain because they gave us generously and helped us a great deal," she said.
She then told the Bahrain Television reporter that she recalled with fondness her friends, but was not sure about their fate.
"They are very nice to me. I do not know what has happened to them. I do miss them a lot. I don't know what has happened to them. They are from Al Qidam area and I too am from there," she said. ". I worry a lot about them," she managed to say in an emotional voice before bursting into tears and hiding her face with her hand.
The young girl's candid remarks and spontaneous concerns about her lost neighbours and friends won her immediate sympathy in Bahrain.
"She was so innocent and so pure," Mohammad Anas, a university student, said. "I was really touched by what she said. She has obviously been through so much pain herself and now she is worried about her friends. I really pray for her and for all the other children at the camp. Running away from death, they are now forced to live in very demanding conditions," he said.
Ebrahim Ahmad, an executive with a company, said that he was ready to support Ram.
"I felt so much sympathy with her. She has witnessed more, much more than a child should see or go through at her age. She deserves to be treated well, both at school and at the camp. I know that the conditions are not outstanding, so I believe more countries should emulate the example of Bahrain and extend a warm hand to Ram and the other children," he said. "I am myself ready to support in any capacity I can."
For Hessa, a journalist who had visited the camp, "Ram was particularly spontaneous in expressing what most of the camp children felt."
"She really broke my heart. She was obviously concerned about her friends and classmates and wished to know where they were or what they were doing," she said. "Being uprooted from familiar surroundings is obviously a formidable mental challenge and all the children deserve special attention to help them. Bahrain has made a difference by enabling them to resume their formal education, and I hope more countries will join in providing a more secure environment for them."
Meanwhile, United Nations officials have hailed Bahrain for opening an education compound to help with the formal education of the children of Syrian refugees who fled to Jordan.
Dominique Isabelle Hyde, United Nations International Children's Emergency Fund (Unicef) representative in Jordan, said the facility was the best in the camp.
At least 5,000 school-age children are expected to benefit from the $4 million (Dh14.68 million) facility, officially opened by Shaikh Nasser Bin Hamad Al Khalifa, chairman of the Bahrain Royal Charity Foundation, on Sunday.
The 4,600-sq m school is located at the Zaatari Camp, 80 kilometres north east of the Jordanian capital Amman, where more than 40,000 Syrians who have fled the 20-month-long civil war, are now staying.
"This school is giving the children hope and ambition for the future," Shaikh Nasser said as he chatted with a group of students.
The Bahrain Education Compound was built following orders by King Hamad Bin Eisa Al Khalifa to support Syrian refugees and their children. Shaikh Nasser last week signed an agreement in Istanbul to build a hospital for Syrian refugees in Turkey.
http://gulfnews.com/in-focus/syria/refugee-girl-s-compassion-wins-hearts-1.1112799
------------
New Documentary Portrays Islam as Path to Women's Empowerment
Carolyn Weaver
November 30, 2012
NEW YORK — A growing number of women in Islamic countries have turned in recent years to serious study of their religion: memorizing the Quran, learning to recite it properly, and studying hadith and other aspects of Islam. An American-made documentary, The Light in Her Eyes, shows how this religious movement can also foster greater freedom for women in traditional societies.
The focus of the film, Syrian preacher Houda al-Habash, established her summer Quran school for girls in 1982, when she was just 17. Until the spring of 2012, she held classes on the women's side of a Damascus mosque, where girls memorized the Quran, practiced reciting it, and studied other Islamic teachings. She also supervised religious study classes for girls and women in other parts of the city.
American filmmaker Julia Meltzer, who was teaching journalism at the University of Damascus in 2005, happened to meet al-Habash through a colleague who was studying with her.
"From the moment that I walked into her mosque, I thought, you know, we don't get to see places like this, where girls study Quran with other women who have been trained and studied for a long time," said Meltzer, who made the film with co-director Laura Nix.
They were struck by how al-Habash merged conservative traditions with progressive ideals for women's greater role in the world. She believes that Islam requires women to wear hijab, and that wives should serve their husbands. Yet she also thinks women should be highly educated, and pursue careers and public lives, if they choose, even if it means staying up late to finish their housework, too.
"You are free in your choices, free in your way of thinking, free in your faith, free in everything," she tells a graduating class at her school.
"Women can be teachers and students, women can rule and arbitrate," she says. "Does religious law allow a woman to be president? Yes! Don't shut off your brain," she urges the girls.
"It's a story about just one mosque," Nix explains. "We don't claim to be telling a story [about] the entire region. But at least for the girls and women in Houda's mosque, it's a place for them to go, in a way that's comfortable for their parents. And they're also driven to learn more about their religion, and Houda offers an environment that's very organized, very warm and inclusive and inviting."
Although warm, al-Habash also is a demanding teacher, who urges her students to read more, and study harder in their other classes. Islam regards all learning as a form of worship, she says, adding,"Whenever a human being reads, he benefits and his mind grows."
The Light in Her Eyes includes TV clips of ultraconservative male clerics protesting against women's participation in public life. al-Habash responds in the film by saying that her study of Islam has taught her that they are mistaken.
"Muslims themselves have deprived women of everything, even the right to learn, teach and to enter the mosque," she says firmly. "This is ignorance, which has nothing to do with religion."
"Those clerics and their voice are so powerful an element in that region, and Houda is very much in contrast to them," Nix says. "But she believes that the way to make that change is through Islam. And by going through the Quran historically, and bringing up incidents of women working, women who ran businesses, she is showing a model to her whole community of what a different role for women can be."
Al-Habash's daughter, Enas al-Khaldi, was 20 at the time of the film, and studying international relations at the University of Sharjah in the United Arab Emirates. She also wears hijab, like her friends, who are shown together in lively conversations about Islamic traditions and their future marriages and careers.
"I started memorizing Quran when I was three years old," al-Khaldi tells the filmmakers. "And I finished memorizing Quran when I was 10. For girls, it is very important to learn what is in Quran, because if you don't really know what is the [truth], you are going to be misled."
Meltzer and co-director Laura Nix finished filming in November 2010, soon before the uprising began. They didn't have government permission to film, so they had to shoot discreetly, especially in the street.
"We never felt like we were in danger, but we recognized that at any point, we could be asked to stop shooting," Meltzer said. "The big challenge was for Houda to let us into her life and to let us into the mosque, because the risk was much, much greater for her. If she had been stopped or found out or questioned by the secret police, it could have been very dangerous for her and her family. Or they just might have shut her school down."
Why did al-Habash agree to take that risk? "Houda's interested in having there be a different vision of Islam in the West," Meltzer says. "And she could tell we wanted to be able to give a different story. Occasionally when we were shooting something, she'd say, 'Oh no, you're not allowed to use that.' But when we included that in the final film, she didn't say anything. At the Dubai premiere, she came with her entire family, and she said she's really proud of the film, and feels it tells a truthful story about her."
The film had its U.S. broadcast premiere on the public television series POV.
http://www.voanews.com/content/new-documentary-shows-how-islam-empowers-women/1555927.html
------------
'4,000 domestic violence cases in Afghanistan in 7 months'
Dec 02 2012, 15:12 hrs
Mumbai : About 4,000 cases of domestic violence have been reported in Afghanistan in the last seven months, chairperson of Afghan Independent Human Rights Commission Dr Sima Samar has said.
"In the last seven months, 4,000 cases of domestic violence were reported in Afghanistan," Samar said during an award function held here recently.
Male-domination in the society and lack of education are responsible for this, she said.
Samar, however, acknowledged that the condition of women has improved as compared to what it was under the Taliban.
"The condition of women in Afghanistan has improved a lot since the fall of the Taliban. During the Taliban rule, women were practically imprisoned in their own houses," she said.
According to her, the situation is changing for the better as girls are now getting educated. "Women are now educating themselves. They are also active in politics and have even
began working as journalists," she said.
However, at some places there is a threat from the Taliban, who continue to burn girls' schools and even assault them, Samar said, adding, "Nonetheless, girls are taking the risk of going to their schools."
http://www.indianexpress.com/news/4000-domestic-violence-cases-in-afghanistan-in-7-months/1039329/
------------
Canada Muslims Fight Violence Against Women
By Muneeb Nasir
28 November 2012
TORONTO – In a new effort to fight domestic violence in their country, Canadian Muslims are championing a new campaign to end violence against women.
"This campaign will allow Muslim Canadians to reflect on the reality of violence against women," Imam Michael Abdur Rasheed Taylor, Co-Chair of the Muslims for White Ribbon Campaign, told OnIslam.net.
"We hope to challenge everyone, especially men and boys, to speak out and think about their own beliefs, language and actions.
The campaign, Muslims for White Ribbon Campaign, aims to end violence against women in the country.
Full report at:
http://www.onislam.net/english/news/americas/460221-canada-muslims-fight-violence-against-women.html
------------
American Muslim Women Reclaim Their Narrative
01 December 2012
By SHAZIA KAMAL
During this 2012 election year, Muslim women from all parts of the United States rallied together to mobilize their communities to get out the vote. A social media campaign led by activist Zeba Iqbal encouraged Muslim American men and women to amplify their influence in their respective spheres and relay the importance of voting. We held the power to elect those that would make the best decision for our future. Irrespective of the candidate, the message to Muslim American women was strong and bold: reclaim the Muslim American narrative to be an effective decision–maker by claiming the vote.
Full report at:
http://english.alarabiya.net/articles/2012/12/01/252779.html
------------
Kuwaiti women hope to win seats in parliament
29 November 2012
By ISRAA JAWHAR
Kuwaiti women are taking part in parliamentary elections both as candidates and voters for the fifth time since they won their political rights.
After failing to win seats in the 2012 parliament, which is currently dissolved, Kuwaiti female politicians are hoping this time to score political victory similar to 2009 when four women became MPS for the first time.
Full report at:
http://english.alarabiya.net/articles/2012/11/29/252480.html
------------
France and the Veil – The Dark Side of the Law
BY VALERIA COSTA-KOSTRITSKY
30 NOVEMBER 2012
French anti-veil laws are steeped in racism and have opened the door to abuse against Muslims.
In 2004, France introduced the law on "secularity and conspicuous religious symbols in schools" which banned wearing conspicuous religious symbols in French public primary and secondary schools. Its supporters argued that this was keeping with the long-established principle of laïcité – the separation of Church and State – but it was clear to all that Muslim girls were the principal target of the law. How did this happen and what does it tell us about contemporary France? A story in five parts.
Leaving school
Full report at:
http://www.newstatesman.com/world-affairs/2012/11/france-and-veil-%E2%80%93-dark-side-law
------------
Fatima Bhutto denies launching political career
December 2, 2012
Fatima Bhutto, granddaughter of former premier Zulfiqar Ali Bhutto and daughter of the late Murtaza Bhutto, on Sunday denied news about her advent into politics for the upcoming elections.
Bhutto posted an update on her Twitter account saying:
Tribune story exists only in the galloping imagination of the author. It is obviously, wildly untrue.
Full report at:
http://tribune.com.pk/story/474080/fatima-bhutto-denies-launching-political-career/
------------
Saudi female fans want their own space in football stadiums
28 November 2012
Some Saudi women came all the away from the kingdom only to watch their country's Al-Fateh team play against Kuwait's Al-Arabi in a UEFA Cup football match in Kuwait City on Monday.
"We came all the way from al-Hasa to support our team, and we wish that our team will win," one woman said, adding "this is the first time we came here to watch a game live...the experience is superb and hopefully we will win."
Full report at:
http://english.alarabiya.net/articles/2012/11/28/252296.html
------------
URL: https://newageislam.com/islam-women-feminism/muslim-brotherhood-paying-gangs-go/d/9511