New Age Islam News Bureau
15 Jul 2012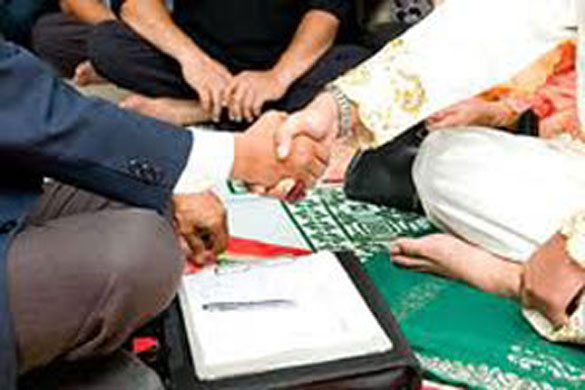 • Muslim Body Flays Stalling of Minor Girl's Marriage
• Muslim Woman seeks equal status among wives
• 'Cultures are poles apart but united by dancing'
• Indonesian Women Take Dating Into Their Own Hands
• Saudi's Olympic opening to women 'small step'
• Egypt's NCW blames Islamists for exclusion of women
• We didn't issue any 'Talibani firmans', say elders
• Muslim Women Training for self-reliance
• London Olympics Will Feature More Women Than Men For The First Time
Compiled by New Age Islam News Bureau
Photo: Muslim Body Flays Stalling of Minor Girl's Marriage
URL: https://newageislam.com/islam-women-feminism/muslim-body-flays-stalling-minor/d/7932
----------
Muslim Body Flays Stalling of Minor Girl's Marriage
Chennai, July 14, 2012, PTI, An umbrella body of Muslim organisations is up in arms against Perambalur district administration protesting the stalling of a marriage of a 17-year-old girl of their community on the ground that she was a minor.
The 'Federation of Tamil Nadu Muslim Organisations and Political Parties' on Sunday said the officials of Social Welfare Department in Perambalur had on June 25 prevented the marriage of the girl which was to take place in the presence of her parents and the groom.
The officials acted on the orders of District Collector Darez Ahamed and lodged the bride in a government home and arrested the groom, federation president Abdur Rahman claimed.He said as per the Islamic law, a Muslim girl can marry as per her choice at the age of 15 if she has attained puberty ."Our Shariat Law allows a woman to marry, once she attains puberty. Our Constitution recognises this. So, the district administration cannot stop the marriage saying it was a marriage of a minor ," he said.
http://www.deccanherald.com/content/264382/tn-muslim-body-flays-stalling.html
--------
Muslim Woman seeks equal status among wives
Mahir Haneef, TNN
KOCHI: Jul 15, 2012, Islam calls for maintaining justice or fairness among wives by Muslim men opting for polygamy. However, a woman, who approached the Kerala high court fearing injustice from her husband after his second marriage, has raised the question why any statutory body isn't insisting that men engaged in polygamy should maintain equality among wives.
In a petition filed before the high court, Shejina, a resident of Thalappilly in Thrissur, demanded that the existing practice of permitting a Muslim male to have four wives at the same time without fulfilling the various conditions insisted by the Islamic law should be declared illegal and unconstitutional.
While strict Islamic law calls for ability to maintain justice among wives as the only criterion for polygamy, many Islamic countries have laid down additional conditions such as obtaining permission from existing wives or being able to physically satisfy all the wives.
Shejina approached the high court in 2009 upon learning that her husband Shefeer is planning to marry a woman named Bushra without nullifying the marriage with her. Fearing that she would be ousted from the house once her husband marries again, she also approached the family court of Thrissur and obtained an injunction restraining Shefeer from ousting her from the house. While her plea was still pending to be disposed before the family court and HC, Shefeer married Bushra. When her petition was finally heard by the high court, Shejina's additional prayer in the petition, that her husband shouldn't be allowed to marry again without fulfilling the conditions laid down in Islamic lawregarding maintaining equality, had become infructuous as the marriage was already over.
Division bench comprising justice K T Sankaran and justice M L Joseph Francis disposed the petition based on the submission by Shejina's counsel Nagaraj Narayanan that the plea should be allowed to be withdrawn to be presented again as public interest litigation. "Many Islamic nations have laid down strict conditions for polygamy such as obtaining consent of existing wife , ability to satisfy all wives, and maintaining fairness among wives. India has the second largest Muslim population in the world.
However, scant regard is given to the condition of equality here," said Narayanan.
The PIL demanding that Muslim men should be allowed to marry more than once only if they fulfil conditions as per Islamic law would be filed in a week, he said.
http://timesofindia.indiatimes.com/city/kochi/Woman-seeks-equal-status-among-wives/articleshow/14915244.cms
-------
'Cultures are poles apart but united by dancing'
15 July 2012 12:00
Gini Zdesar has just set up pole dancing classes at her home studio in a trendy canal side development in Kings Langley.
It is a fledgling project as she has just moved to the area – a far cry from Bahrain, where this time last year she was rushed off her feet with demand from Middle Eastern women who wanted her to teach them moves on the pole.
She said: "It all started when I brought my pole over to Bahrain so I could use it to lose weight.
"All of my friends noticed that I was looking good and wanted to know what I was doing.
"When I told them it was pole dancing they wanted to give it a try.
I started putting posters up in The Rugby Club, which is frequented by ex-pats and liberal Middle Eastern women, and next thing I knew about 80 per cent of my clients were Middle Eastern and Muslim."
While world news reports highlighted simmering unrest in Bahrain between the governing Sunni Muslim and the Shia Muslims and debates were raging about whether the F1 Grand Prix should go ahead in the country, Gini was experiencing a Bahrain that was very different.
She said: "I had plenty of women coming to my door all covered up.
"They would come inside and whip off their burqas and cloaks to reveal their gym wear underneath.
"They loved pole dancing and some of them told me that their husbands had never been so interested in their fitness regime!"
The image of a woman in a burqa conjures up thoughts of oppression, religion and even terrorism among some people in the Western world,
But for the pole dance instructor women in burqas were her best clients.
They enjoyed individual 45-minute lessons that concentrated on flexibility, co-ordination, fitness and confidence, rather than sexiness. It was more about working up a sweat and losing weight.
Gini said: "I also held pole dancing parties. Women would come wearing burqas and they would wait for the male caterers to leave before they would take off the cover-ups and reveal designer clothes and very high heels underneath. They dressed liked celebrities.
"They would drink mocktails and let themselves go on the pole."
It made Gini think that maybe the burqa wasn't the sign of oppression that some people may think.
She said: "I don't know whether it was their choice or they are told to wear them by their husbands and families but some of the Middle Eastern women would arrive for pole dancing covered up and some would come in shorts and T-shirts, depending on how they felt.
"One week my friend Nas came wearing gym clothes and the next she came wearing the cloak part of her burqa because she felt my security guard was staring at her during her previous visit.
"It was her choice to cover up.
"The reason women wear the burqa is so that men don't get any pleasure from looking at them.
"When my husband told me he wanted to go and work in Bahrain I was very worried about whether I would be able to expose any part of my skin and what I would be allowed to wear. I didn't know much about the country," she explained.
"I was dreading it but when I got there I was really shocked at how westernised it was.
"Bahrain gets a lot of stick from other Middle Eastern countries for not being an Islamic state and being more liberal."
It seems there were two worlds in Bahrain – one of civil unrest between Sunnis and Shias and the other was a cosmopolitan life lived by well-off Middle Eastern people and ex-pats.
The political and religious differences were kept separate from those living a more westernised lifestyle, who felt safe tucked away in their guarded villas and shopping malls.
Gini said: "The Sunnis made sure that the Shias stopped coming out of their area.
"We had the police keeping them under control. Whether that was good or bad, I don't know."
As the economy in Bahrain took a dip and contract work in the UK became more lucrative for Gini's husband the couple decided to move back to England.
Towards the end of their stay, which was at the end of last year, the political unrest became more evident.
"There were police check points and curfews in certain areas that weren't there when we first arrived," explained Gini.
"By then we could hear gun fire in the distance and smell tear gas in the air but I was never scared."
http://www.hemeltoday.co.uk/lifestyle/entertainments/cultures-are-poles-apart-but-united-by-dancing-1-4056955
--------
Indonesian Women Take Dating Into Their Own Hands
Catriona Richards, July 15, 2012
In the past, women were expected to wait around for a man to choose them. But that image of the princess sighing out the window of the tallest tower no longer applies in Indonesia. Educated Indonesian women know what they want, and with the help of modern technology they are going out to get it.
Armed with a list of characteristics that they look for in a partner, more women are signing up to online dating sites to find their very own Prince Charming, with varying degrees of success.
We talk confidentially to three women about their experiences with Internet matchmaking and the factors they think can make or break a relationship.
Via, college student
Via looks for three things in a man: proximity, piety and a proposal. Better still if he's a fan of Japanese cartoons and comics.
The 24-year-old college student began her search for love online when she was browsing a site for fans of all things Japan. She noticed a column advertising a dating service, and decided to click through and join.
"I thought, who knows? I may even find someone who likes Japan as much as I do and we can have our honeymoon there," she said.
Via gave her real name and a link to her website. She tried to be as honest as possible about herself, because she was looking for a husband, not a boyfriend.
"If I date someone, it's with the intention of getting married," she said. "I want that to be clear. In the past, I have ended relationships with guys who aren't clear about whether they want to get married."
She is also upfront with her prospective partners about the importance of having the same religion.
"For me, religion is always No. 1," she said. "And I don't mean just as something on their identity card. I want them to really understand the teachings they follow."
Via believes that differences in background are complicated enough without throwing in a difference of religion. She wants to find a Muslim husband with the same values as her, so they can build a life together.
But that doesn't mean she hasn't broken her own rules in the past.
Via once developed an online relationship with a hotel owner from India. Once they got chatting, the pair found they actually had a lot in common, despite their distance.
The more they chatted, the closer they felt to one another, until finally the man said he wanted to come to Jakarta to meet her.
Via said that was fine, so long as he wanted to get married and stay with her in Indonesia. She was afraid to go with him to India, where she had no friends or family and couldn't speak the language.
"He was really broken," she said. "He cried and said he couldn't believe it. He was angry with me. Meanwhile, I didn't know what to do, because that was the reality."
After that, they stopped chatting and Via avoided going online. But her search continues for a husband closer to home.
"My parents told me that a difference of culture within Indonesia is difficult enough, let alone trying to find someone overseas," she said.
Ajeng, public relations officer
After her best friend married a man she met online, Ajeng thought she might give it a go, too.
The 30-year-old public relations officer set up a profile on indonesiancupid.com and started searching for men in the age range of 30 to 40, preferring those with a good-looking profile picture and a steady job.
She tried to be honest about herself in her profile, disclosing that she enjoys the occasional drink and cigarette, but didn't give her real name.
"I think if you met a guy on there, you would expect that he would do the same," she said.
Ajeng would like to find someone to start a relationship with, but is also happy to just get to know someone and see how things go. Some of the people she has met online have turned out to be lasting friends. But some have turned out to be more than friends, too.
"There's this one guy I really like, he lives in Pakistan," she said. "He really caught my eye among the other profile pictures, so I clicked the heart icon to show interest. About a week later, he sent a message to me and we started e-mailing back and forth."
Ajeng ended up chatting to the guy on a regular basis before they decided to "meet" over video chat.
"I felt so excited, but a little bit worried. I wondered if he really looked as handsome as he did in the picture," she said.
When the video connection was up and running Ajeng was impressed by what she saw — until he started to smile. The first thing she noticed was that he had a front tooth missing.
"I told my friends, 'He's so hot ... but toothless!' and they burst out laughing," she said.
But Ajeng didn't let a small detail like that get in the way. The pair have already made plans to meet up in Jakarta next month.
"I think he's a really nice guy, and maybe I shouldn't judge him by his looks," she said.
The only trouble is, in some of their conversations, Ajeng herself feels like she is being judged.
"He told me he doesn't like girls who smoke or drink. He said it turned him off," she said. "It sounds like he's the one who's judging without noticing that on my profile, it's clearly shown that I do those things.
"For now, I'm just going to consider him a friend," she added.
Pradnya, professional writer
When Pradnya signs up to online dating services, her first mission is to sort the straight-talkers from the scammers.
The 35-year-old writer is selective about who she opens up to, and keeps only a small number of people on her chat list.
Pradnya has profiles on Oasis.com and AsianEuro.com, a site that promises to help "Asian singles find their true love" and Europeans find "the Asian woman of their dreams." But so far, what she has mostly found is friendship.
"Out of like 10 guys — all of whom were overseas — that I ever chatted with, I finally met two of them in person. We never started a relationship, as we didn't feel fit for each other as time went by, but we remain very good friends until now, and it's been years," she said.
Pradnya uses an alias online, though she will often reveal her real name after chatting for some time. Chatting is really what she is looking for: She writes on her profile that she wants to meet "someone who is real, honest and whom I can feel comfortable being around."
Religion is not an issue for her, and neither is location.
When she was assigned to write a story overseas in the city where one of her online friends lived, she met up with him while she was there.
"Both of us felt as if we had known each other for a long time when we first met," she said. "That is quite normal when you are communicating with someone online, as you feel that you can tell them everything and are somehow very open with them."
But the friendship never became anything more than that.
"As we spent time together we realized that we wouldn't be good in a relationship, but we would be very good friends," she said.
Pradnya does not feel disappointed that none of her encounters turned into love stories.
"A lot of people may think the online dating concept is ridiculous, but I've tried it myself and I think it's just fine," she said. "Yes, there are scammers, or people who are not real out there, but there are people who are sincere, too."
http://www.thejakartaglobe.com/lifestyle/indonesian-women-take-dating-into-their-own-hands-online/530567
---------
Saudi's Olympic opening to women 'small step'
By BRIAN MURPHY
Associated Press
CAIRO, July 14th, 2012, Across the world, word that Saudi Arabia would send women athletes to the Olympics for the first time immediately rocketed to the top of websites and broadcasts. In Saudi Arabia's official media: Not even a hint.
The state-sponsored silent treatment was a lesson into the deep intricacies and sensitivities inside the kingdom as it took another measured step away from its ultraconservative traditions.
While Saudi rulers found room to accommodate the demands of the International Olympic Committee to include women athletes, they also clearly acknowledged that — in their view at least — this did not merit billing as a pivotal moment of reform in a nation that still bans women from driving or traveling without the approval of a male guardian.
"It does not change the fact that Saudi women are not free to move and to choose," said political analyst Mona Abass in neighboring Bahrain. "The Saudis may use it to boost their image, but it changes little."
Even the two athletes selected to compete under the Saudi flag — 800-meter runner Sarah Attar from Pepperdine University in California and Wodjan Ali Seraj Abdulrahim Shahrkhani in judo — live outside the kingdom and carry almost no influence as sports figures. There is no other choice: Women sports remain nearly an underground activity in Saudi Arabia.
Ahmed al-Marzooqi, editor of a website that aims to cover women and men's sporting events in Saudi Arabia, viewed Thursday's announcement as mostly an attempt to quiet international pressure on the lone nation trying to stick with an all-male Olympic team. The other former holdouts, Brunei and Qatar, had already added women Olympic athletes — with Qatar even planning to have a woman carry its flag in London later this month.
"We are still disappointed here," al-Marzooqi said from the Saudi city of Jiddah. "I should be happy for them, but this will do nothing for women who want to be in sport in Saudi Arabia."
Still, the opening is not without significance.
The Saudi decision must have received at least some nod from the nation's Islamic religious establishment, which hold de facto veto power over nearly all key moves by the Western-allied monarchy and gives the royal court its legitimacy to rule over a nation with Islam's holiest sites.
Full Report at:
http://www.timesfreepress.com/news/2012/jul/14/saudis-olympic-opening-women-small-step/
--------
Egypt's NCW blames Islamists for exclusion of women
Al-Masry Al-Youm
14/07/2012
The head of Egypt's National Council for Women, Mervat al-Tallawy, said Friday that Egyptian women are excluded from the revolutionary scene due to "social culture and the currents that have taken advantage of the revolution and taken positions, such as political Islam."
Tallawy told Saudi satellite channel Al-Arabiya that political Islamists "always refuse to grant women their natural place, although all their statements say the opposite."
She said that appointing a woman vice president will not correct the situation, because the answer is in fixing the development of woman's rights in the Constitution rather than leaving it to gift giving by the president or Parliament.
Tallawy said supporters of Islamism in the Parliament have tended to undermine the rights acquired by women.
She gave as examples proposals to cancel the law giving women the right to obtain divorce, which is a right granted in the Quran, to reduce the marriageable age of girls to 12 years, and to cancel laws against sexual harassment and female genital mutilation.
She said that these proposals are derived from Islamic Sharia law and have the approval of Al-Azhar, the State Council and the Ministry of Justice.
Tallawy attributed women's problems to erroneous interpretations of the Sharia, while Islam produced the first document in the world that recognized human rights, she said, even before countries described as "civilized."
Essam al-Erian, vice chairman of the Muslim Brotherhood's Freedom and Justice Party, said President Mohamed Morsy believes that the presidential institution may combine various components of Egypt's society, such as women and Copts, without necessarily making them all vice presidents.
http://www.egyptindependent.com/news/ncw-blames-islamists-exclusion-women
---------
We didn't issue any 'Talibani firmans', say elders
JIBY KATTAKAYAMMOHAMMAD ALI
Asara leaders say the media has not reported all decisions such as ban on dowry and compulsory schooling
The leaders of the Samaj Sudhar Sabha in Asara village here who recently ordered women to stop using mobile phones on Saturday claimed that they had never imposed any "blanket ban" and only restrained them from using mobile phones while stepping out of their homes. However, the Sabha members did not backtrack on their decision forbidding women from visiting the marketplace unescorted by family members.
Mohkam Pehalwan, a wrestler who served in the Indian Army and was part of several medal-winning Services contingents in national sporting events from 1981 to 1994, said the villagers had never issued any "Talibani firmans" and there was no "khap" in Asara as claimed by the media.
"Please do not look at us from the perspective of your urban lifestyles. We are rural communities with a set of core values which you may find strange. Women here do not even wear burkha — we are Jats who converted to Islam. If they wear burkha, who will go and work in the fields? More than 70 per cent of the women here are educated and those girls who have studied at Asara Muslim Inter College here have gone on to become teachers and government servants," Mr. Mohkam claimed.
"The media has not reported everything that was decided on Tuesday. We also banned taking and giving of dowry, made going to school compulsory, and stopped children and youngsters from listening to music on headphones, because we believe they should use the time constructively by studying."
However, in what he claimed was proof of the acceptability of the Asara decision among neighbouring rural communities, Mr. Muakkam said a "mahapanchayat" would meet on July 20 in which other caste groups from 36 nearby villages would also participate, to ratify the decisions taken on Tuesday.
Full Report at:
http://www.thehindu.com/news/national/article3640433.ece
-------
Muslim Wome Training for self-reliance
Irena Akbar: Jul 15 2012
Afsana (18) is busy sewing a blue cotton salwar on the floor of a small flat in a building located in one of the narrow lanes of Batla House in Southeast Delhi. She's just enrolled for a year-long course in "adult education" at Muslim Women's Welfare Organisation (MWWO), a self-help group that seeks to empower Muslim women belonging to low-income families. Afsana, originally from Madhubani in Bihar, is one such woman — a domestic help whose parents are no more, and who lives in a slum in Okhla with her sister, also a domestic help, and brother-in-law, a mason.
She's too shy to speak, and when she does, she is barely audible, but at the end of her year-long course, which teaches her to sew clothes and read and write elementary Hindi and Urdu, she hopes to be able to "be more confident and make a decent living". It is such hopes that MWWO seeks to fulfil through the many short-term and long-term courses in tailoring, fashion designing, typing and make-up it offers to disadvantaged women.
Today, MWWO trains 70 such women in its long-term (one year) programmes. The count goes up to 150 in summer, when a lot of girls sign up for short-term (10 days to two months) courses. For Mamduha Majid, who founded the self-help group in 1989, the inspiration for empowering women of her community was "the Shah Bano case of 1985". "I was divorced around the same time, and my children were toddlers then. But I rejected the idea of alimony. Why should I beg a man who has kicked me out of his life? Asking him for maintenance money would be disrespecting myself. Thus, I was dead against the Supreme Court verdict in the Shah Bano case, which granted her the right to claim money from her husband," says Majid, who protested against the case ruling at India Gate, and gave several speeches against it "wherever I could". But the long-term solution wasn't fiery demonstrations, rather a gradual process of empowering women, giving them skills that would make them independent and "never beg". So, in 1988, she and a few other women, went door-to-door in Batla House, asking people if they'd want to enrol their daughters in a tailoring course. Only about 15 girls signed up, after much difficulty convincing their families, and were provided free sewing machines and fabric. MWWO began from the garage of Majid's home, and as more girls began enrolling over the years, thanks to word of mouth, they shifted to a flat, provided by Majid's friend, and have now moved to another flat, provided yet again by another of Majid's friends. "I have very supportive friends, who donate their flats, sewing machines, clothes, computers, and at times even money for this organisation," says Majid, whose children are all grown up and live in the United States, Angola and Saudi Arabia.
But relying only on friends for material support has been a challenge. "I have run from pillar to post, visiting the Ministry of Minority Affairs, for monetary help. I even asked the Delhi government for help. But no one pays any heed, despite us having all our legal documents in place," says Majid, who has had to discontinue the computer course and often pays salaries to her staff after a gap of two to three months due to paucity of funds, given that the girls are charged a fee of only Rs 150-250, depending on the course, and in some cases like that of Afsana, are trained free of cost.
Full Report at:
http://www.indianexpress.com/news/training-for-selfreliance/974561/0
---------
London Olympics Will Feature More Women Than Men For The First Time
Anna Breslaw
When Hope Solo told ESPN recently that Olympic Village is basically just a hedonistic Parthenon fuckdome, the sentiment was as empowered as it is debauched. As recently as 1984, women from the over-200 nations that participate in the Olympic games weren't allowed to run a marathon in the Los Angeles games. By 1996, 26 countries were still abstaining from sending women to the 1996 Atlantic games.
But this year—appropriately enough, the year that anti-gender discrimination in athletics law Title IX turned 40—there's been two significant instances of progress this year for female athletes: first, in this year's London Olympics, 269 American women and 261 men will be competing. Secondly, Saudi Arabia is sending two women to the UK for the games: Wodjan Ali Seraj Abdulrahim Shahrkhani in javelin and Sarah Attar in the 800-meter run, which inspired Muslim countries Qatar and Brunei to send their own female competitors to the Games for the first time.
Attar, 19, says she's honored to represent Saudi Arabia at the Games and hopes to make "big strides for women [in Saudi Arabia] to get involved in sport." However, Attar was born and raised in California, attended Pepperdine University and completed her training in San Diego. Women in Saudi Arabia are effectively barred from athletics. Human Rights Watch director of global initiatives Minky Warden illuminated this discrepancy in a statement that criticized Saudi Arabia for doing "the bare minimum" to placate the International Olympics Committee and avoid international contempt:
This is a breakthrough for the two women who will compete under the Saudi flag, but it raises the irony that millions of women and girls in Saudi Arabia are still denied an opportunity to participate as a matter of government policy.
Warden and Human Rights Watch implore the I.O.C. (comrpised of "white European men," they also note) to take this opportunity to allow female sports in schools and create women's divisions in the Saudi games.
This is an advance, a precedent that could be difficult for hard-liners to roll back. At the same time, the I.O.C. has a real responsibility to get genuine reform. Otherwise, disallowing sport for women inside the country is still a violation of the Olympic charter, which bans gender discrimination.
http://jezebel.com/5926023/london-olympics-will-feature-more-women-than-men-for-the-first-time
-----------
URL: https://newageislam.com/islam-women-feminism/muslim-body-flays-stalling-minor/d/7932