New Age Islam News Bureau
18 May 2022
• Change In Saudi Arabia Is 'Profound', Princess Reema Tells Arab Women Forum
• Critical Regional And Global Issues Examined At Arab Women Forum
• Number Of Muslim Girls In Udupi Colleges Doubles In 15 Yrs, Hijab Ban Threatens Progress
• Saudi Women Should Not Relinquish Their Rights In Business, Says CEO Suzy Kanoo
• Arab Women Are Now Ministers And CEOs, Yet Stereotypes Persist
• Arab World Is Ready And Equipped To Welcome Women To Business Sector: Nora Al Dabal
• 'Saudi Women's Participation In Economic Activities Reaches Highest Level With 35.6%'
Compiled by New Age Islam News Bureau
URL: https://newageislam.com/islam-women-feminism/mumtaz-1947-violence-sikh-darbar/d/127034
--------
Mumtaz Bibi, Woman Lost In 1947 Violence Meets Sikh Brothers Gurudwara Darbar Sahib at Kartarpur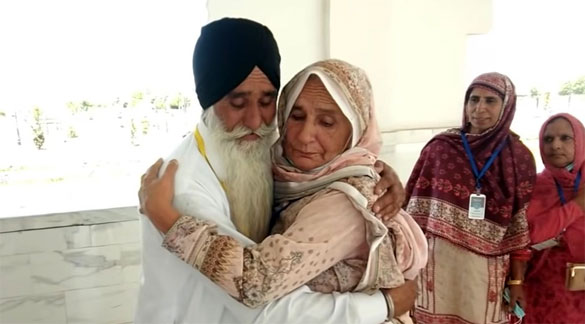 Photo credit: Punjabi Sanjh TV YouTube
----
May 18, 2022
NAROWAL: The woman who was separated from her family during the violence at the time of the Partition of India met her Sikh brothers at Kartarpur.
At the time of the Partition, Mumtaz Bibi was an infant who was lying on the dead body of her mother who was killed by the local violent mobs.
One Muhammad Iqbal and his wife, Allah Rakhi, adopted the baby girl and raised her as their own daughter, naming her Mumtaz Bibi. After the Partition, Iqbal took up residence at the village of Varika Tian in Sheikhupura district.
Iqbal and his wife did not tell Mumtaz that she was not their daughter. Two years ago, Iqbal's health suddenly deteriorated and he told Mumtaz that she was not his real daughter and that her real family was Sikh.
After Iqbal's death, Mumtaz and her son, Shahbaz, started searching for her family through social media. They knew the name of Mumtaz's real father and the village (Sidrana) in Patiala district of Indian Punjab where they settled after being forced to leave their native home. Both the families got connected through social media.
Mumtaz's brothers Sardar Gurumeet Singh, Sardar Narendra Singh and Sardar Amrinder Singh, accompanied by family members, reached Gurudwara Darbar Sahib at Kartarpur. Mumtaz along with her other family members reached there also and met her lost brothers after 75 years.
Source: Dawn
https://www.dawn.com/news/1690175/woman-lost-in-1947-violence-meets-sikh-brothers-at-kartarpur
--------
Change In Saudi Arabia Is 'Profound', Princess Reema Tells Arab Women Forum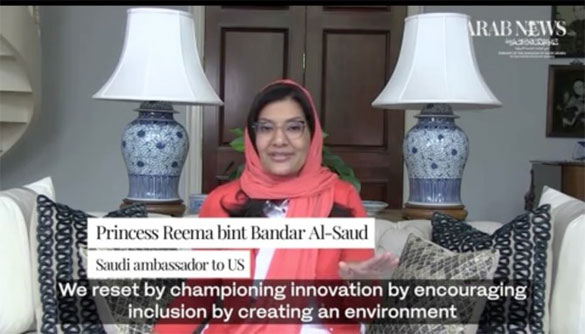 Princess Reema bint Bandar
-----
May 17, 2022
DUBAI: Saudi Arabia has millions of talented, motivated women, eager to contribute to the growth of the Kingdom, Princess Reema bint Bandar, Saudi Arabia's ambassador to the US said in a keynote speech delivered to the Top CEO conference at the Palazzo Versace Hotel in Dubai on Tuesday.
Speaking via video at the start of the Top CEO Conference and Awards — the first to go ahead in-person after a two-year hiatus due to the pandemic — she said Saudi Arabia and the Arab world had recently experienced "profound and historic change for women in Saudi Arabia in the region."
"We know nations cannot keep half their talent on the side lines, and still expect to grow, transform," she explained, adding: "We have millions of talented, motivated women eager to contribute, and they are the key to social, cultural and economic progress in the Kingdom and, frankly, in the Arab world and around the world.
"As a business leader in the Kingdom, when the doors to women were just starting to open, I realized that opening the doors wasn't enough. Women had to be prepared to take advantage of those open doors, and we have to equip them with the skills."
Thanking the event's CEO, Julien Hawari, for inviting her to speak, Princess Reema spoke of Saudi Arabia's strategies in combating any uncertainties that might stand in the way of progress, and the country's plan for economic diversification, environment sustainability, and gender diversity.
And she described the TOP CEO conference as an event that brings what she called a "remarkable group of business leaders" together.
She praised the Kingdom for being proactive in confronting the coronavirus pandemic head on by undertaking necessary public health and economic security measures.
She praised the Kingdom for being proactive in confronting the coronavirus pandemic head on by undertaking necessary public health and economic security measures.
As a result, she said, the Kingdom was now well-positioned to emerge as a global leader, adding that she saw the Arab population in the country as young, educated, tech-savvy and, as a result of that, its markets are growing — driven by technology and innovation.
"Under vision 2030, Crown Prince Mohammed bin Salman's bold plan to restructure Saudi Arabia's economy, we're diversifying from energy dependence. We're embracing technology and sustainable development and we're creating an inclusive society for all and opening opportunities for young entrepreneurs," she said.
According to Princess Reema, the country started its metamorphosis more than seven years ago, and it was still transforming itself.
"It'll be less reset and more restart," she said, "In part, because we've recently experienced profound and historic change for women in Saudi Arabia in the region," she said.
She went on to recall how, when she was the CEO of one of the Kingdom's retailers, her workplace was the first in the country to provide day care — something unheard of at the time.
"In Saudi Arabia, I've not only seen the change, I've lived it. I know how important it is to open the workplace to women, and not just to encourage and promote equality and equity, but to plan for it … Because we understood that even if the doors were open, we had to not just prepare the women, we had to welcome them," she said.
Beyond that, Princess Reema has been active with working with women to prepare them to join the workforce by offering training and financial literacy courses.
She told the audience Saudi Arabia had more women with advanced degrees than men, and that women had fearlessly entered the workforce in under a generation — with the world taking notice. Apple recently opened an all-women coding school in Riyadh, and opportunities are multiplying.
The princess explained that while the country had made great progress, there was still much to do. She said Saudi Arabia needed to continue to prioritize renewable, sustainable, tech-driven and green initiatives, so that the Kingdom could create a more resilient public sector while fostering a robust private one.
"We 'reset' by championing innovation, by encouraging inclusion by creating an environment where young people have brighter futures than their parents. And that's the future. The future we must build together, harnessing creativity and ingenuity of all of our citizens, and rewarding business leadership that values diverse and inclusive workplaces and supports the creation of innovative and creative ecosystems where everyone can participate and contribute," she concluded.
Source: Arab News
https://www.arabnews.com/node/2083621/business-economy
--------
Critical Regional And Global Issues Examined At Arab Women Forum
JUMANA AL-TAMIMI
May 18, 2022
DUBAI: Arab women breaking traditional barriers, online dating scams, the economic toll of fake news and the potential of women in the Middle East and North Africa were among the many issues debated at the Arab Women Forum in Dubai on Tuesday.
Launched in Saudi Arabia in 2018, the AWF is a platform to enhance and support the ever-growing contribution of Arab women in the region's economy and society.
The forum hosts wide-ranging conversations to explore regional and global business dynamics with a strong focus on women's empowerment.
This year's event, hosted at the Palazzo Versace hotel at the Jaddaf Waterfront, featured speakers from a range of professions and industries and experiences, and kicked off with a special address by Princess Reema bint Bandar, Saudi Arabia's ambassador to the US, delivered by video from Washington, D.C.
Princess Reema, who is also a female entrepreneur, shared her thoughts on the post-pandemic business scenarios and Saudi Arabia's plan for economic diversification, environment sustainability and gender diversity under Vision 2030, the reform strategy introduced by Crown Prince Mohammed bin Salman in 2016.
In a special address titled "Beyond the business reset," she underscored the importance of not just opening doors for women to enter the workplace, but welcoming them in. "We have millions of talented, motivated women eager to contribute, and they are the key to social, cultural and economic progress in the Kingdom and, frankly, in the Arab world and around the world," she said.
Saudi Arabia has done a "great reset" by transforming itself, and is entering the "restart" phase after successfully handling the impact of the COVID-19 pandemic, she said. "In post-pandemic, there is less reset and more restart," Princess Reema said.
From embracing technologies, reducing carbon emissions and protecting the environment, to empowering and advancing women in different fields, Saudi Arabia is opening the door wide for a brighter future being built by both men and women, she said.
"I have not seen the change; I lived it. I know how important it is to open the workplace for women. When the doors for women were about to open, I realized that opening the doors wasn't enough; women had to be prepared to take advantage of those open doors. We have to equip them with skills," she said.
Speaking to Arab News, Nora Al-Dabal, arts and creative planning executive director at the Royal Commission of AlUla, said Saudi women have always played a role in the development of Saudi Arabia, "but the (2030) Vision has unlocked the full potential of, and opened bigger opportunities" for women.
In the past four years, there has been a 130 percent increase in female participation in the labor force, particularly in the private sector, Al-Dabal said.
"Today, women constitute 30 percent of the private-sector labor force. In the past two years, there has been an increase of 60 percent in the number of businesses owned by women," she added.
Princess Reema's speech reflected the seriousness of the Saudi leadership in transforming the Kingdom, diversifying its economy and utilizing the potential of all its citizens, said Deepali Janin, an Indian businesswoman who attended the event.
Janin, the founding director of Meraki, a family-owned diamond business that began in India some seven decades ago, entered Dubai in 2011 and now is looking at the Saudi market.
"I feel the Saudi leadership is dedicated and serious about its planning and thinking. I think it is going to be a long journey, meaning more strength, more confidence and more influence."
Story tellers from the war front
Some believe women journalists are successful because of their attention to detail. But for Arizh Mukhammed, a war correspondent, it is a woman's heart and emotions that make her coverage of conflicts distinctive.
"It is not easy to cover war, because like any human being, you feel fear and I feel fear," said Mukhammed, a reporter for Sky News who, together with Christiane Baissary, a senior news anchor for the Al-Hadath news channel, participated in a session entitled "Story tellers from the war front."
Acknowledging that "fear will be there in the minds of reporters as they cover from the front lines," Mukhammed said: "Your courage must have limits. When you are going to cover war, you have your fears, but they must be put under control."
Following the panel discussion, she said she could not ignore human suffering and agony in her own war reporting. "Women war journalists find a deeper dimension in human suffering". She added that men might surround themselves with the impression that they are "strong and fearless, but women actually are much more patient and are strong enough."
For her part, Baissary said there is a common misconception that women are not suited for war coverage as some think women are emotional and more sensitive than men. "A soldier once told me that women should not be in a war zone. He was trying to convince me that I should not stay to cover the war," she said.
"This mentality is not just in the Middle East but everywhere," she said, adding that things have now changed and women are gaining more opportunities to cover conflict zones.
The moderator of the discussion, Noor Nugali, Arab News assistant editor-in-chief, praised the role of women journalists deployed to war zones, citing the career of Al Jazeera correspondent Shereen Abu Akhleh, who was killed while on assignment for the channel on May 11 in the West Bank city of Jenin.
"I think it was really important for us to highlight female war correspondents and women correspondents because what they are doing is just out of the ordinary," Nugali said in remarks after the session. "Usually when people think of correspondents, the first thing that comes to their minds (is) women are too soft, women are incapable of handling such situations. But the reality proves the resilience, strength of women and capability of female correspondents."
It's fake news
We are overwhelmed with incidents of fake news in our daily lives. They range from rumors on social media to footage of incidents taken out of context.
"It is imperative to distinguish that fake news wasn't invented with the rise of social media," said Faisal Abbas, Arab News editor-in-chief, during a panel discussion on the subject at Tuesday's AWF.
"Fake news started with the beginning of humanity," he said, alluding to the manipulation of Adam and Eve by Satan, who tricked them into eating the forbidden fruit.
The panelists discussed attempts to define fake news and identify those responsible for preventing its spread throughout the world, and especially the Arab region, known for its high social media engagement.
Hussein Freijeh, Snap Inc MENA's general manager, said authorities' efforts to regulate social platforms "doesn't take away the responsibility of the tech platforms" in tackling the problem of fake news.
Fellow panelist Khaled Abdulla Janahi, chairman of Vision 3, said even the non-inclusion of a small fraction of the facts during narration amounts to dissemination of fake news.
"People sometimes are frustrated, so they look for a way to express their anger. But it is important for people to express their perspectives," he said.
Noting that content that includes or reflects anger, hate and racism brings traffic, Abbas said: "Nobody is against freedom. We are against chaos."
The keynote speech at the AWF was delivered by Cecilie Fjellhøy and Pernilla Sjöholm, stars of the recent hit Netflix documentary film "The Tinder Swindler."
They spoke about their journeys from being victims of romance scam to an inspiration for women around the world. Instead of hiding in oblivion, the women have gained the status of global inspiration against emotional fraud.
Source: Arab News
https://www.arabnews.com/node/2084291/middle-east
--------
Number Of Muslim Girls In Udupi Colleges Doubles In 15 Yrs, Hijab Ban Threatens Progress
MAY 17, 2022
'Hijab or education?' — A question which made a false equivalence was posed to young Muslim girls studying in colleges in Udupi district at the height of the hijab controversy that rocked Karnataka this year. The same question was misused by Hindu right-wing organisations to perpetuate the claim that Muslim girls prefer the hijab and are not interested in education. However, data accessed by TNM contradicts the same, revealing that more Muslim girls have been enrolling in education in the last two decades.
The number of Muslim girls attending pre-university(PU) colleges doubled in the last 15 years in Udupi district, according to data compiled by the Deputy Director of Department of Pre-University (DDPU). During this period, the hijab was allowed in almost all private colleges and most government colleges in the district. Experts now fear that the enforcement of a hijab ban could affect the future of the education of Muslim girls and undo the strides made so far.
"This is a moment that could irreversibly affect the future of the education of Muslim girls in Udupi," says Idrees Hoode, a senior member of the Udupi Muslim Okkoota, a coalition of organisations representing the Muslim community in Udupi. "A lot of work went into encouraging Muslim girls to attend schools and colleges in the last 20 years. But now, we may have to start all over again," Idrees says.
What the data reveals
The data for Udupi collected by the DDPU department showed that since 2005, the enrollment of Muslim girls in pre-university education was steadily increasing in Udupi district. While 674 Muslim girls were enrolled in PU colleges in the district in 2005, the number increased to 943 in 2010, 1,169 in 2015, and 1,446 in 2021 — which is the latest available data.
This corresponds with a nationwide trend of an increase in the Gross Attendance Ratio (GAR) of Muslim women in higher education in India from 6.7% to 13.5% between 2007 and 2018, as per an analysis of the National Sample Survey (NSS) by Khalid Khan of the Indian Institute of Dalit Studies.
"The figures are not surprising. There has been a concerted effort to encourage Muslim girls to enter higher education in Udupi. It flies in the face of one of the most repeated arguments during the hijab controversy, when mediapersons constantly questioned Muslim students whether they prefer religion or education," says Idrees Hoode.
Better socio-economic conditions, changing perceptions
Idrees's words are backed up by Wafa Sultana, a lawyer based in Qatar who is a native of Karkala in Udupi, and has previously spearheaded agitations against a hijab ban. "You'll find a large number of 1990s-born Muslim girls in the coastal region, who have had the privilege of attending universities around 2010," says Wafa.
She explains that this trend is linked to the migration of Muslim families in coastal Karnataka to Gulf countries. "The main reason for this was the improvement in the socio-economic status of Muslims because of migration to the Gulf. There was also an increase in Muslim-run institutions that encouraged the community from within to educate their girls," she says. "The increase in male members of families going to the Gulf countries, which fare better in literacy and female higher education, gave them a different perspective of women in public spaces," she adds.
Though coastal Karnataka is considered an important educational hub and Muslims account for 8.22 % of Udupi's population, there were no Muslim-run institutions in the district for PU education at the start of the 21st century. The foundations of education in the region were laid by Christian missionaries giving it an advantage over other regions in the state. In the second half of the 20th century, dozens of schools and colleges were established by private institutions to address the growing demand for English education.
But it was only in 2001 that the first Muslim-run institution for pre-university education — Beary's PU College in Kodi in Kundapura — was established by the family of Syed Mohamed Beary, a construction and real estate magnate. "The number of Muslim-run PU colleges increased to four by 2010, mainly because of private enterprise and philanthropic efforts of socio-religious Islamic organisations," says Aslam Haikady, the administrator of Salihath institution in Hoode in the district.
The Salihath PU College in Hoode, Al-Ihsan PU College in Muloor, and Thouhid PU College in Gangolli were established between 2005 and 2010, causing a ripple effect and encouraging Muslim families to educate their girl children beyond class 10, Aslam says. These three institutions promoted education only among girls from the Muslim community and did not enroll boys. The Salihath PU College in Hoode, for instance, had 59 Muslim girls enrolled in 2010 and this number has now increased to 79. "Since our college began, we have been mainly encouraging girls to enroll in higher education," says Aslam.
"Muslim girls performing well in academics were felicitated in events and their achievements were published in local Muslim-run newspapers. This encouraged more families to enroll their girl children in higher education," says Wafa. "Earlier, when I asked my grandfather why he didn't send my mother to university, he used to ask: 'Who would have married your mother with a university degree, when our men barely had one?' Now, women with university degrees have better marriage prospects, too."
With the increase in the enrolment of Muslim girls in PU colleges, more Muslim students entered universities and began pursuing job opportunities that were previously unattainable. "For the first time, Muslim girls were pursuing higher education in technical fields as well. The sight of hijab-wearing Muslim women became more visible in public spaces, and the stigma among young women in the community that they are supposed to stay at home was slowly reduced," says Idrees Hoode.
Colleges shutting out girls wearing the hijab is not a new development in coastal Karnataka. There have been protests over the issue in SVS College in Bantwal, Ramakunjeshwara College in Uppinangady, and St Aloysius College in Mangaluru, among others, in the last decade-and-a-half. They were resolved internally in the college with institutions offering a compromise. But this year, the controversy that began in Udupi received widespread attention and became a topic of discussion in national and international news channels. The Karnataka High Court deliberated on the issue in a landmark case before ruling on March 15 that the hijab is not "essential" to Islam.
Experts fear that the enforcement of a ban on wearing the hijab in the classroom this year threatens to reverse the gains of increasing enrolment of Muslim girls in higher education in Udupi in the last two decades. "Currently, Muslim students who have been denied permission to finish their academic years are at a crossroads. Some took off their hijabs for the sake of writing exams fearing they would lose an entire year of hard work. Some sought help from Muslim institutions while some others are helplessly sitting at homes requesting reimbursements for exam fees," says Wafa.
Two decades' worth of gains now in peril
The DDPU and the Muslim Okkoota are documenting the number of students impacted by the enforcement of a ban on the hijab in Udupi. Together, they estimate at least 415 girls studying in PU and degree colleges in the district are affected including 232 degree students and 183 pre-university students. Some of the students' families are planning to relocate to places like Mangaluru to enroll their children in institutions where the hijab is allowed.
It is not just the ban on the hijab that has distressed the girls. "It is also how hostile the college environment was and how little the college management did to intervene and stop the hatred and abuse towards Muslim girls," says a Muslim student of MGM College, who did not wish to be named. "We have witnessed young Muslim adolescents face derogatory comments, get abused, harassed, and have gates shut on their faces, while simultaneously being burdened with questions on their scriptures, religious texts, interpretations, scholarly opinions and more," says Wafa.
She believes that there is a lot of work to do to begin undoing the damage done in the last few months. "Unless there is a strong political will to make spaces inclusive of all faiths without discriminating them on the basis of their life choices, there is no way the damage of such a magnitude can be undone," says Wafa.
Source: The News Minute
https://www.thenewsminute.com/article/number-muslim-girls-udupi-colleges-doubles-15-yrs-hijab-ban-threatens-progress-164050
--------
Saudi Women Should Not Relinquish Their Rights In Business, Says CEO Suzy Kanoo
Dana Al-Omar
Nour El-Shaeri
May 17, 2022
DUBAI: When it comes to taking a huge step like running a family business, most entrepreneurs would flinch, especially in a male-dominated industry. Female successors would instead pass their rights to a male than take the path of leadership.
In an exclusive interview with Arab News, the CEO and president of Khalil bin Ebrahim Kanoo Co. and International Motor Trading Agency, Suzy Kanoo, shared her advice on what women should do when put in that position, and it's not relinquishing their rights.
Speaking on the sidelines of the Arab Women Forum event in Dubai, Kanoo, who has also authored "Hear Us Speak: Letters from Arab Women," expressed that one of the main obstacles women face in the business world is not believing in themselves.
"The Japanese call it Ikigai. Find a purpose and passion, do it well, and make sure it benefits society. Whatever it is, anything that you think is insignificant isn't insignificant for that individual. So, find that purpose and do it well," she added.
Kanoo has been the voice of the Arab world, and her book discusses real-life stories about Arab women that have experienced physical or emotional abuse but outlived their circumstances.
"My book emphasizes that never let a male, whether a cousin or a brother, force you or coerce you into signing documents asking you to relinquish your rights of the family business," she said.
Her book brought to light the circumstances of the marginalized women who succumbed to male domination and gave away what was rightfully theirs.
However, Kanoo feels those were different times. She finds Gen Z is the most empowered generation. They believe that nothing should stop them from achieving their goals. In addition, they understand technology better than the previous generations.
But the struggle is not over. Even emancipated women have to fight on multiple fronts. An accomplished writer and businesswoman, Kanoo is currently facing problems with the automotive business. Her production declined by 50-60 percent.
Does that mean she is letting off the reins? No chance. The feisty lady is expanding into different sectors, opening a restaurant from personal investments and launching an advisory company for blockchain technology.
Source: Arab News
https://www.arabnews.com/node/2084091/business-economy
--------
Arab women are now ministers and CEOs, yet stereotypes persist
May 17, 2022
DUBAI: Outdated and harmful stereotypes of meek and oppressed Arab women still prevail in Western and Asian media.
Despite these faulty notions about who and what they are, Arab women continue to defy expectations and make inroads in the worlds of business, politics, finance, diplomacy and tech.
However, many believe more must still be done to tackle baseless misconceptions about Arab women, their role and their capabilities in the eyes of the outside world.
"We live in a world which has historically looked at our part of the world as a traditional one, where women are more in the family and household," May Nasrallah, founder and executive chairman of deNovo Corporate Advisers, told Arab News.
"But in reality, we are so far away from that (in terms of) the evolution and how much we've changed in how we operate here. In the UAE, we have women in government, leadership positions, heads of banks, family groups and ministers, so we've changed a lot, but there is a lack of knowledge."
To change the image of the Arab woman abroad, Nasrallah has urged traditional forms of media, such as television broadcasters, to showcase more female Arab leaders.
"We see multiple examples where they are very impressive," she said. "It's about continuing to escalate women to let the world see what they are capable of."
Another potential area of improvement is in challenging gender expectations that persist within some communities.
"We need our own traditional images to change internally," Nasrallah said. "It changes with the different generations and we're getting there. Look at the leadership around us, and who is running our region right now. It is very forward-thinking, very open minded, and it enhances women in leadership positions. It's been reflected time and again."
Nasrallah believes self-doubt is another obstacle that needs to be overcome in the mindsets of Arab women. Recalling her own time in investment banking, she remembers male colleagues putting themselves forward for promotions or new roles — whether they were capable of them or not.
"Women, on the other hand, second guess themselves and that's inherent in our configuration, which needs to be changed," she said.
A support network at home is also crucial. Nasrallah, who has four sons, said that she drew encouragement from both her father and husband, who pushed her to maintain her full-time career.
"Having men around us that encourage us to continue to go forth in the business world or workforce is a huge positive."
Equally, providing the right tools to be successful and to not be afraid to fail would give more women the mentality required to succeed. Having a supportive network of peers would also provide an important ecosystem that can help support them in entrepreneurship.
For Suzy Kanoo, CEO and president of the Khalil bin Ebrahim Kanoo Company and International Motor Trading Agency in Bahrain, raising awareness about the successes of Arab women is key.
"We talk about how great we are, but women underestimate their strength — it's unequaled," she told Arab News.
"In my family business, I attend conferences around the Asian continent, and I have noticed they preferred to talk to the male manager, which hit me, and I realized I am blessed to be a part of this region and I am so proud to be an Arab woman."
Kanoo, who wrote a book about empowering Arab women called "Hear Us Speak: Letters from Arab Women," said the West fails fundamentally to understand Arab women and their religion.
"(For the West), being more modest or wearing a hijab has something to do with a woman being more submissive," she said.
"(For them) it's synonymous with that, but when they come here, they see it's not true at all. This is a choice that everyone has the right to, but I'm respected the same way as someone who wears one and this is the beauty of our region."
Making an effort to understand, visit and read more about the region would help eliminate such misconceptions, she believes, as foreigners would come to realize that the ideas they have been fed about the role and status of Arab women is false.
However, Kanoo believes an issue arises when Arab women seek to move up the professional ladder.
"I see that lacking," she said. "We need more action, with more women on board seats. We're just as educated. So, we need an extra push and more affirmative action on that."
She called for more female judges to preside over family courts across the Middle East — a move that would rebalance the mere 8 percent of female judges seen today.
Arab women must also become more assertive in demanding their rights, taking shame out of the equation, Kanoo added. "Once we stand up and (claim) our rights, that's it, people start to respect that."
Generation Z — those born between the mid to late-1990s and the 2010s — is challenging outdated behaviors thanks to social media and evolving parenting habits. "Social media paved the way and parents are another large influence on that," Kanoo said.
"More than anything, our governments are helping us through the different reforms we are seeing, across Saudi Arabia and the UAE. Nothing is going to hold Gen Z back. We're not there yet, but we're moving forward, which is fantastic."
But continuing to empower Arab women is not just about reputation or doing the right thing — it is also good for the economy, said Nasrallah.
"A better educated mother will better educate her children and give them opportunities as well, so it's an ecosystem that will benefit to evolve and grow.
"More separation brings you down as a society and we need to be lifting ourselves up and showcasing to the world what we are capable of."
Nasrallah and Kanoo were part of a discussion panel on "Arab women's image," which took place at the Arab Women Forum within the Top CEO conference in Dubai on May 17.
Source: Arab News
https://www.arabnews.com/node/2084196/middle-east
--------
Arab World is ready and equipped to welcome women to business sector: Nora Al Dabal
DANA AL OMAR AND NIRMAL NARAYANAN
May 17, 2022
DUBAI: The Arab World is ready and equipped to welcome women into the business sector, Nora Al Dabal, executive director of Arts and Creative Industries at the Royal Commission for AlUla told Arab News.
In an interview with Arab News on the sidelines of the Arab Women Forum in Dubai on May 17, Dabal hailed several initiatives for women that are happening in Saudi Arabia as a part of Vision 2030.
"You have so many things that are happening in Saudi, and so many opportunities that both men and women can be part of. And I think if we just remove those barriers and or perceptions, and really see the human that is qualified or not qualified for that position, [that] is what we need to do," Dabal told Arab News.
Dabal also highlighted the necessity of building skills for women to become successful in the world of business.
"I think it's very important to build your skills in general, in whatever specialization you're in. And I think that takes time and effort," added Dabal.
Talking about RCU's future plans, Dabal said that the desert accelerator is the first step to Saudi Arabia's realization of arts within its landscape.
Source: Arab News
https://www.arabnews.com/node/2083916/business-economy
--------
'Saudi women's participation in economic activities reaches highest level with 35.6%'
May 18, 2022
RIYADH — Abdullah Abuthunain, deputy minister of human resources and social development for the labor sector, said that the participation of Saudi women in the economic activities reached the highest level in the Kingdom's history with 35.6 percent.
The overall economic participation rate of Saudi citizens has risen to 51.5 percent, he said while noting that the number of Saudis working in the private sector has exceeded two million men and women.
Addressing the first scientific conference for labor market research, studies and indices, Abuthunain said that the Saudi employment market is currently witnessing strategic reforms that include eight pivotal areas and 25 development initiatives.
"The labor market strategy focuses on adopting occupational standards for more than 200 professions and establishing skills councils for key economic sectors to help in job planning and setting standards for skills," he said.
Abuthunain said that there will be a participatory mechanism between learning and training institutions and the private sector that will help in responding quickly to the labor market's requirements for skills, ensuring the appropriateness of curricula and identifying future skills, including personal skills.
Source: Saudi Gazette
https://saudigazette.com.sa/article/620640
--------
URL: https://newageislam.com/islam-women-feminism/mumtaz-1947-violence-sikh-darbar/d/127034
New Age Islam Islam Online, Islamic Website, African Muslim News, Arab World News, South Asia News, Indian Muslim News, World Muslim News, Women in Islam, Islamic Feminism, Arab Women, Women In Arab, Islamophobia in America, Muslim Women in West, Islam Women and Feminism