New Age Islam News Bureau
26 Aug 2016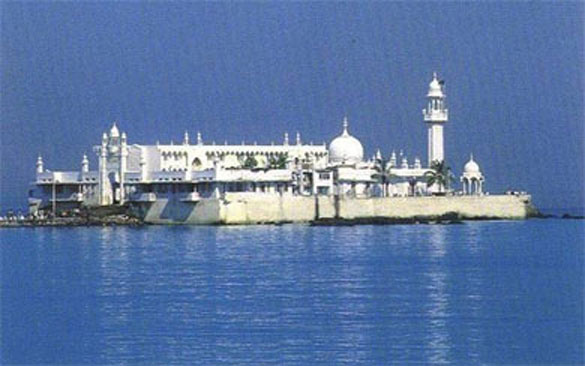 Haji Ali Dargah, Mumbai. (YouTube photo)
----------
• Mumbai Court Revives the Inclusive Worship of Women at Haji Ali: Dargah Trust Wants Shariah Enforced to Deny Women Entry into the Sanctum Sanctorum
• 'Seriously and Clearly Illegal': France's Top Court Overturns Burkini Ban
• Hijab A Form of Independence for Women, Jawi Says In Friday Sermon
• More Female Extremists Leaving Canada to Join Islamic State: Report
• Muslim Refugee Thrown Out Of Integration Programme in Germany for Wearing Headscarf
• SC To Hear Plea of Muslim Woman Seeking Ban on Triple Talaq Today
• Pakistani Girls Take On Male-Dominated Gaming Industry
Compiled by New Age Islam News Bureau
URL: https://www.newageislam.com/islam,-women-and-feminism/new-age-islam-news-bureau/mumbai-court-revives-the-inclusive-worship-of-women-at-haji-ali--dargah-trust-wants-shariah-enforced-to-deny-women-entry-into-the-sanctum-sanctorum/d/108374
----
Mumbai Court Revives the Inclusive Worship of Women at Haji Ali: Dargah Trust Wants Shariah Enforced to Deny Women Entry into the Sanctum Sanctorum
Mohammed Wajihuddin | TNN | Aug 27, 2016
MUMBAI: Sufi shrines have traditionally been liberal spaces, known for their all-embracing philosophy. Friday's historic verdict lifting the ban on women's entry into the Haji Ali Dargah's sanctum sanctorum restored the shrine's famed inclusivism.
I n one stroke, the HC order also dispelled notions that Islam discriminates against women and fuelled a debate within the community on whether the clergy was denying women what religion gave them. "... Sunnis who visit Sufi shrines were seen to be practicing gender discrimination when they stopped women from visiting Haji Ali Dargah. This verdict will help change this perception," a senior cleric in the city who follows the Deobandi school of thought said.
"The verdict... removes the misunderstanding that Islam considers women inferior to men," said noted Islamic scholar Zeenat Shaukat Ali.
Historically, men and women prayed together at the inception of Islam. When the faith was revealed to Prophet Muhammad, he ended several tribal practices, including deep hatred for the female gender. Allowing women equal space in places of worship was a strong way to empower them. "During the Prophet's time, men and women prayed in the mosques together. Women would stand behind men not because they were considered inferior but because they carried children who cried and had to be taken home hastily," explained Ali, who has written extensively on women's position in Islam. It was much after the Prophet's death that men and women started to be segregated at places of worship.
Source: timesofindia.indiatimes.com/india/Haji-Ali-ruling-restores-liberal-reputation-of-Sufi-shrines/articleshow/53880867.cms
---
'Seriously and Clearly Illegal': France's Top Court Overturns Burkini Ban
Aug 26, 2016
Paris: France's highest administrative court on Friday suspended a ban on full-body Burkini swimsuits+ that has outraged Muslims and opened divisions within the government, pending a definitive ruling.
The Conseil d'Etat gave the ruling following a request from the League of Human Rights to overturn the Burkini ban+ in the Mediterranean town of Villeneuve-Loubet on the grounds it contravenes civil liberties.
The court said in a statement the decree to ban Burkinis+ in Villeneuve-Loubet "seriously, and clearly illegally, breached the fundamental freedoms to come and go, the freedom of beliefs and individual freedom."
Under the French legal system, temporary decisions can be handed down before the court takes more time to prepare a judgment on the underlying legality of the case.
The ban, which spread to more than a dozen coastal towns, had exposed cracks within the Socialist government's unity as Prime Minister Manuel Valls defended it on Thursday while some ministers criticised it.
This secularism and minority appeasement and dirty vote bank politics similar to what you see in Bengal UP and Bihar will ruin France.
The issue has shone a light on secular France's difficulties responding to homegrown jihadists and foreign militants following Islamist attacks in Nice and a Normandy church in July.
It has also made French cultural identity a hot-button issue along with security in political debates as the country switches into campaign mode ahead of a presidential election next April.
Source: timesofindia.indiatimes.com/world/europe/Burkini-ban-seriously-and-clearly-illegal-Frances-top-court-says/articleshow/53875413.cms
----
Hijab A Form of Independence For Women, Jawi Says In Friday Sermon
Friday August 26, 2016
KUALA LUMPUR, Aug 26 — the hijab is a form of independence for women as it promotes modesty and prevents sexual abuse, the Federal Territories Islamic Religious Department (Jawi) said today.
In its Friday sermon ahead of the National Day celebrations, Jawi said that the hijab protects a woman's "sacred dignity" from abuse and harassment.
"The requirement of Hijab is also a form of independence for women, as protection from any form of harassment," the sermon said.
"The Quran mentions that Hijab is recommended for women so that they are recognized as modest women and prevents them from becoming victims of sexual abuse.
"However, some people with cynical views consider hijab as confining women in their garments whereas, as a fact, that is true freedom and true independence, when a woman's sacred dignity is saved from being the target of abuse and harassment," it added.
The sermon was themed "True Independence" and was prepared in conjunction with the upcoming National Day and yesterday's National Women's Day.
The sermon also stressed that Islam recognises independence and freedom with being free to submit to Allah and being free from the shackles of tyranny as forms of independence.
It added that for Islam, freedom is not specifically for Muslims alone and that it is a right that should be enjoyed by people of all races and religion.
In September last year, a Friday sermon by Jawi had blamed women who do not cover their "aurat," or intimate body parts, for causing social ills that would affect even those who do.
The sermon last year had also compared uncovered women to uncovered dishes, which it said are bound to frequent by flies, making them unappetising.
themalaymailonline.com/malaysia/article/hijab-a-form-of-independence-for-women-jawi-says-in-friday-sermon
--
More female extremists leaving Canada to join Islamic State: report
August 26, 2016
The number of Canadian women who head overseas to join extremist organizations like the so-called Islamic State is growing, a new government report indicates, but one expert says they are often left disappointed after they arrive.
The federal report, released on Thursday, says that in some cases, Canadian women have even taken their children to conflict zones.
Full report at:globalnews.ca/news/2903707/more-female-extremists-leaving-canada-to-join-islamic-state-report/
--
Muslim refugee thrown out of integration programme in Germany for wearing headscarf
25 AUGUST 2016
A Muslim refugee in Germany has been fired from an internship at her local town hall after she refused to remove her headscarf.
The town's mayor told the woman she could not wear the headscarf, as government workers had to be seen to be neutral.
Full report at:telegraph.co.uk/news/2016/08/25/muslim-refugee-thrown-out-of-integration-programme-in-germany-fo/
--
SC To Hear Plea Of Muslim Woman Seeking Ban On Triple Talaq Today
August 26, 2016
New Delhi [India] The Supreme Court will on Friday hear the petition of a Muslim woman challenging the Constitutional validity of 'triple talaq' to end a marriage.
In her petition, Ishrat Jahan sought a declaration from the apex court that Section 2 of the Muslim Personal Law (Shariat) Application Act, 1937 was unconstitutional, as it violated fundamental rights guaranteed under Articles 14 (equality), 15 (non-discrimination), 21 (life) and 25 (religion) of the Constitution.
Full report at:siasat.com/news/sc-hear-plea-muslim-woman-seeking-ban-triple-talaq-today-1007857/
--
Pakistani Girls Take On Male-Dominated Gaming Industry
August 26, 2016
CALIFORNIA: Girls make Games is an all-girl led collective headquartered in San Jose, California, that aims to educate, inspire and teach a new generation of girls on how to make a place for themselves in this ever expanding industry.
A CNN Money report in 2015 listed 'Video Game Designer' as one of the best and fastest growing jobs for the next decade.
However, the gaming industry is male-dominated, from the development of the video games to those who play them. Even today, the stereotype of a gamer remains that of a young, acne-ridden male.
This bro-culture of gaming is under threat.
Founded by Laila Shabir, an MIT alum, Girls Make Games hosts annual summer camps and workshops leading up to a demo day.
It aims to increase gender diversity in the male dominated gaming industry especially in the wake of the 'Gamergate' controversy which led to female gamers being harassed online.
The three-week camp takes place across nine cities of the United States and has educated more than 800 girls since it began in 2014.
This year's batch includes Fatima Naweed, a 16-year-old Pakistani who made the journey all the way from here just for the camp.
Speaking exclusively to MIT tech, Naweed says, "While the camp was very diverse, with students from India, China and Pakistan, they were all living in the US – I was the only one who came from abroad."
The camp provides an introduction to game design, game art and programming. Campers learn game play models and terminology, and create characters and backgrounds using Photoshop. There are also guest talks from industry experts.
Participants at the camp get tours of the work space and labs at Google and Xbox, and are provided with contact information of industry professionals in case they came up with new games.
At the end of the camp, there is a demo day where the top 5 teams showcase their video games in front of industry expert judges. The winners of the 2014 demo day went on to launch their Kickstarter campaign and publish their video game "The Hole Story."
According to estimates from PricewaterhouseCoopers, video game design is a massive global industry that will be worth $90 billion by the year 2020.
The gaming industry in Pakistan is small and mainly driven by studios like Mindstorm Studios, Caramel Tech and we.R.play, however, the local industry has received certain levels of recognition and success.
"Fruit Ninja" which Caremel Tech worked on has had more than 500 million downloads. Mindstorm Studios' "Whacksy Taxi" was a top app on App Store in over 25 countries and "Cricket Power" became the official ICC Cricket World Cup 2011 game.
Full report at: dawn.com/news/1280108/pakistani-girls-take-on-male-dominated-gaming-industry
--
URL: https://www.newageislam.com/islam,-women-and-feminism/new-age-islam-news-bureau/mumbai-court-revives-the-inclusive-worship-of-women-at-haji-ali--dargah-trust-wants-shariah-enforced-to-deny-women-entry-into-the-sanctum-sanctorum/d/108374
New Age Islam, Islam Online, Islamic Website, African Muslim News, Arab World News, South Asia News, Indian Muslim News, World Muslim News, Women in Islam, Islamic Feminism, Arab Women, Women In Arab, Islamophobia in America, Muslim Women in West, Islam Women and Feminism