New Age Islam News Bureau
7 Jul 2015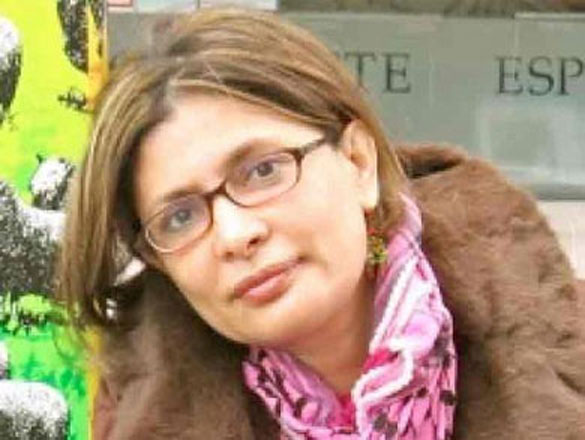 Saudi filmmaker Faiza Ambah
------------
• Wait for Hindu Marriage Law in Pakistan Just Got Longer
• Insta-Hit: How A Pakistani Desi Girl Made It To Rihanna's Video
• Britain: Jewish and Muslim Women Connect Over Mitzvah Day
• Spanish Police Arrest Women Accused Of Recruiting Girls for ISIS
• Nigeria Military Frees 180 Boko Haram Suspects, Including Babies
Compiled by New Age Islam News Bureau
URL: https://www.newageislam.com/islam,-women-and-feminism/new-age-islam-news-bureau/movie-by-saudi-filmmaker-faiza-ambah-screened-in-jeddah/d/103803
----------
Movie by Saudi filmmaker Faiza Ambah screened in Jeddah
July 07, 2015
JEDDAH – "Mariam", a francophone film directed and written by Saudi filmmaker Faiza Ambah, was screened at the French Consul General's house in Jeddah on Sunday.
The short movie, which is around 44 minutes long, centers around a girl named Mariam who is born in France and is of Arab origin.
The film explores how the veiled girl reacts after France passed a law banning religious symbols in public schools.
The movie is in a French with English subtitles and was shot in France. The film was produced by SilverGrey Pictures Company in Jeddah and French producer Jerome Blatrak from Bizibi, a French production company.
After the film screening, Ambah talked about the importance of making films that address issues faced by Muslims and Arabs globally.
Ambah has a background in journalism - she was Gulf Correspondent for The Washington Post before leaving in 2009 to focus on filmmaking.
Her scripts have been supported by the Sundance Institute through the Rawi Screenwriter's Lab in Jordan, the Dubai International Film Festival and the Doha Film Institute.
She was a jury member at the Gulf Film Festival in Dubai in 2013 and organized a festival of Gulf Films at the Institut du Monde Arabe in Paris, France the same year.
http://www.saudigazette.com.sa/index.cfm?method=home.regcon&contentid=20150707249662
----------
Wait for Hindu marriage law in Pakistan just got longer
ISLAMABAD: The minority Hindu community in Pakistan will have to wait more before they can register their marriages as the lawmakers on Monday deferred till July 13 the final approval of the Islamic country's first Hindu marriage law.
The Hindus, who constitute 1.6% of Pakistan's total population, have been struggling to get a specific marriage law since the country was founded in 1947. Hindu marriages can not be legalized or registered in Pakistan in absence of such a law. The National Assembly Standing Committee on Law, Justice and Human Rights headed by Chaudhry Muhammad Bashir Virk met in Islamabad to discuss and finalize a set of laws to formalize and facilitate registration of Hindu marriages.
The 2014 bill was jointly presented in the parliament last year by Ramesh Lal of opposition Pakistan People's Party (PPP) and Dr Darshan of ruling Pakistan Muslim League-Nawaz (PML-N).
A separate but similar government law known as 'The Hindu Marriage Bill, 2015' had been tabled in the parliament by law minister Pervaiz Rashid in March this year.
The two bills will establish rules and regulation for registration of marriage and di vorce for Pakistani Hindus, as currently in the absence of such a law, Hindus in the country do not even have a legal proof of marriage.
http://timesofindia.indiatimes.com/world/pakistan/Wait-for-Hindu-marriage-law-in-Pakistan-just-got-longer/articleshow/47967218.cms
------
Insta-Hit: How A Pakistani Desi Girl Made It To Rihanna's Video
By Entertainment DeskPublished: July 7, 2015
RiRi's bizzare music videos are always a hit on the internet. This time when bad girl Rihanna released a video of her song B**ch Better Have My Money, curious cats were eager to find out who the mysterious brown henchwoman in the video was.
Sanam is a 25-year-old Seattle resident who caught Rihanna's eye on Instagram. Three months ago, Sanam received an Instagram message notifying her that @badgalriri had begun following her account. Days later, Rihanna sent her a direct Instagram message inviting her to collaborate on an unspecified project.
In an interview with Vice, Sanam revealed that Rihanna was actually nervous to approach her.
The first day I met her, I was like, "How did you find me?' She was like, 'I saw you on my Explore page.' … She was like, 'Just thought you were so cool, and I was like, I don't know if I should message her or not. I don't know if she's going to be down.' I'm just sitting there, like, 'Are you crazy? How could you be nervous to message me?'" stated Sanam.
Sanam is a visual artist at a plant store and had never worked in a music video before Riri approached her. Now Sanam's on a first-syllable basis with Riri and rising fast with the major internet fame.
When asked about her experience of working with the pop queen, Sanam said, "So while she might try to murder her accountant and his wife in her music videos, Rihanna's a total sweetheart in real life.
"She's so sweet. She was showering us with compliments. She is so real and down-to-earth, which is the corniest thing to say about a famous person, but she really is."
http://tribune.com.pk/story/916460/rihanna-headhunted-the-desi-babe-in-her-music-video-from-instagram/?utm_source=Daily+Roundup+Newsletter&utm_campaign=f9f8556b80-Daily_Roundup_5pm&utm_medium=email&utm_term=0_19961368d8-f9f8556b80-65338937
Britain: Jewish and Muslim women connect over Mitzvah Day
July 3, 2015
Good deeds can be contagious. Just ask Laura Marks, a British Jew who is widely credited with creating one of her community's most widely celebrated new traditions: an annual Mitzvah Day, now in its 11th consecutive year, in which thousands of British Jews perform charity work in retirement homes, homeless shelters, hospitals and even neglected cemeteries.
Inspired by the custom of some American Jewish communities, including in Los Angeles and Detroit, Marks thought the activity not only promised to brighten people's lives but would give American-style confidence to a community where "many feel being Jewish is slightly embarrassing," as Marks put it.
The idea took off-and its scope has reached far beyond the Jewish community. In 2010, inspired by Mitzvah Day, Britain's Hindu community launched a date of good deeds called Sewa Day. And in March, the Muslim community held its first Sadaqa Day.
"I took the inspiration and the model completely from what Laura is doing, and I have no hesitation in saying that," said Julie Siddiqi, director of the Islamic Society of Britain and the founder of Sadaqa Day.
Marks facilitated the creation of Sadaqa Day, and the cooperation between the two women gave birth to a new interfaith initiative called Nisa-Nashim, which means "women" in both Arabic and Hebrew. The action kicked off June 9 with an event at the Jewish Museum in the London Borough of Camden attended by 100 women.
In working together to adapt Mitzvah Day to the Muslim community, Siddiqi, a British-born convert to Islam, and Marks "realized charity and social action were an effective basis for strengthening women's involvement in communal life in both communities," Marks said.
For Muslim men and women, "Sadaqa Day's a good way to show what their faith is about as opposed to what people think and read about Islam," Siddiqi said. For Muslim women especially, she added, "it's a way to do something self-led in a way that they are not given, or feel they're not given, the opportunity to do normally in their male-led faith communities."
Muslims and Jews unite around Mitzvah Day in Detroit, where members of both communities hold joint charitable activities each year. But Muslim-Jewish relations are far more strained in Britain, where Jews last year were the target of at least 1,168 anti-Semitic attacks, of which many are believed to have been perpetrated by Muslims over Israel's actions last summer in Gaza.
Across Europe, interfaith dialogue took a hit in recent years as Jewish communities reported attacks at record levels. In France, the French Council of the Muslim Faith pulled out of the annual dinner in February of its Jewish counterpart, CRIF, an umbrella of French Jewish communities and groups, after CRIF's president said that most anti-Semitic attacks were the handiwork of Muslims. And in the Netherlands, the Jewish-Moroccan Network was disbanded amid fights over Israel.
"It's true that when something happens in Gaza, people all over social media talk about it and it becomes very toxic," Siddiqi said. But while politics can sometimes poison relationships, "Mitzvah Day and social action are apolitical, helping to form friendships that will hopefully stop the dynamic in the next round of violence," she added.
At the interfaith event, participants divided into four tracks-sports, culture, business and social action-to brainstorm and draw up plans for interfaith work in those fields.
Women especially have the potential of changing the dynamic, according to Rabbi David Rosen, the England-born, Israel-based director of interreligious affairs at the American Jewish Committee.
"Despite the setbacks, interfaith dialogue is expanding and is actually more robust now than it has ever been," Rosen said. He cited Vatican initiatives and a host of joint Jewish-Muslim actions to curb the radicalism that led to the slaying of 12 people in three attacks on Jewish targets in France and Belgium by Islamists since 2012.
In this context, Rosen added, the development of women's initiatives "has great potential because it expands interfaith beyond the male-dominated establishment" of Muslim and Jewish communities, "reaching new audiences"- an elusive goal for interfaith activists seeking to extend beyond their own progressive circles to compete for the rank-and-file's hearts and minds.
"The contribution of women, who, I think we can all agree tend to be more sympathetic, can be profound," Rosen said.
Back in London, Marks and Siddiqi's new initiative is already bringing down barriers for Nicola Gee, a London Jewish mother of four who, despite having many Muslim friends, has never visited a mosque in Britain.
"Instead of writing 13 emails to arrange a tour or whatever, I called one of the women I met last week at the launch," she said. "I'm going to the mosque Friday."
http://www.heritagefl.com/story/2015/07/03/features/britain-jewish-and-muslim-women-connect-over-mitzvah-day/4655.html
----------
Spanish police arrest women accused of recruiting girls for ISIS
Jul. 07, 2015
MADRID: Spanish police arrested a woman in the Canary Islands Tuesday accused of recruiting girls to join ISIS, the Interior Ministry said.
The Spanish woman, who was arrested in Arrecife, Lanzarote, has direct contacts with members of the militant group, according to a statement by the ministry.
Spain has arrested 46 people this year in relation to militant activities and has said it is working to prevent radicalized young Muslims joining armed groups in Iraq or Syria or attacking targets at home.
https://www.dailystar.com.lb/News/World/2015/Jul-07/305508-spanish-police-arrest-women-accused-of-recruiting-girls-for-isis.ashx
----------
Nigeria military frees 180 Boko Haram suspects, including babies
Jul 6, 2015
Nigeria's military has released 180 people suspected of being members of the homegrown Nigerian Takfiri terrorist group Boko Haram, including women who had been detained together with their toddlers and infants.
The detainees had been held for months prior to being handed over in the northeastern city of Maiduguri on Monday to Borno State Governor Kashim Shettima.
Army chief Lt. Gen. Kenneth Minima, who handed over the detainees, said they "have been investigated and found to be free of all suspected incrimination."
Some freed women said they are widows and others said they were arrested because their brothers were suspected Boko Haram members.
Boko Haram, whose name means Western education is forbidden, has claimed responsibility for a number of deadly shooting attacks and bombings in Nigeria since the beginning of its operation in 2009, which have claimed the lives of thousands of people.
The file photo shows Boko Haram militants in Nigeria.
The news regarding the detention of the suspects emerged as Nigerian President Muhammadu Buhari's government has said it was investigating a report by the London-based rights group Amnesty International, calling into question the Nigerian military's treatment of the people in its detention.
Last month, the report accused the military of bringing about the deaths of 8,000 detainees, killing some outright and claiming the lives of the rest by subjecting them to starvation and suffocation.
http://www.presstv.ir/Detail/2015/07/06/419053/Nigeria-Boko-Haram-Maiduguri-Borno-State
----------
URL: https://www.newageislam.com/islam,-women-and-feminism/new-age-islam-news-bureau/movie-by-saudi-filmmaker-faiza-ambah-screened-in-jeddah/d/103803