New Age Islam News Bureau
10 Jan 2015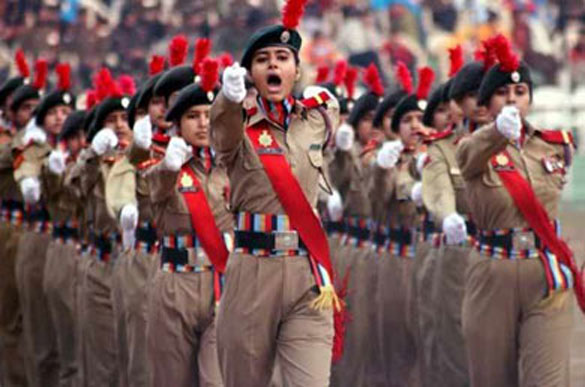 The armed forces for the first time will have all-women marching contingents in the Republic Day parade on the majestic Rajpath this year
-------------
• In A First, Indian Women of Armed Forces to March on R-Day
• French Hunt for Gunman's Girlfriend after Bloody Siege Climax
• Malaysia Online Network Launches Nation's First Sex Education Show
• Iraqi Female Nurses Struggle for Equality
• Banner Year for Feminism but Not for Women, Peace, and Security
• Wearing Hijab Is a Matter of Religion Not Culture
• RAF's Female Commander Set to Lead Airstrikes against the Islamic State
• Pakistani Father Killed the Two Girls and Three Boys to Gain 'Magic Powers'
• 'Save The Children' Urges Donors to Step up Aid and Stave off Deaths
• 'Liberate Saudi Children from Anxieties'
Compiled by New Age Islam News Bureau
URL: https://newageislam.com/islam-women-feminism/most-wanted-woman-france-went/d/100955
----------
Most Wanted Woman in France Went From Bikini to Burqua to Jihad
10 Jan, 2015
Wearing a skimpy bikini with her arms wrapped around her lover's waist, this is Hayat Boumeddiene before she turned into a jihadi killer's accomplice and became France's most wanted woman.
Photographs of the 'wife' of the kosher supermarket hostage killer reveal how she was radicalised by the man she would go on to marry.
Her husband Amedy Coulibaly is dead, one of the three terrorists who brought France to a halt in 48 hours of bloodshed.
Now, 26-year-old Boumeddiene is on the run and is believed to be 'armed and dangerous'.
Coulibaly died in a hail of bullets along with four hostages in the storming of the Jewish supermarket.
But Boumeddiene may have eluded capture during the confusion as the hostages were running away, police said.
The couple 'married' in a religious ceremony after Boumedienne, who was never seen without her veil, waited four years for him to come out of jail following his conviction for armed robbery.
The couple were never married in a civil ceremony – the only marriage legally accepted in France.
While Coulibaly had a well documented track record, Boumeddiene tonight remains a shadowy figure.
But it's becoming clear that the one-time cashier was radicalised after meeting the man she would marry.
She is from an Algerian background and altered her surname to 'make it sound more French', according to an investigating source.
She told police who interviewed her as part of their inquiries into Coulibaly's murky dealings with Islamic extremists that she had walked away from a low-paid job as a cashier in the Juvisy suburb of Paris in 2009 and taken the veil. She 'devoted herself' to Coulibay.
Interrogated by police in 2010, Boumeddiene said she was inspired by her husband and the radicals she lived with to 'read a lot of books on religion and because of this, I came to ask questions on religion.'
'When I saw the massacre of the innocents in Palestine, in Iraq, in Chetchna, in Afghanistan or anywhere the Americans sent their bombers, all that…well, who are the terrorists?'
She added that when Americans killed innocents, it was the right of men to defend their women and children.
Always cool and composed, Boumeddiene never wavered under police cross examination.
When told that they knew she and Coulbaly had visited Beghal at the same time as Cherif Kouachi and two other convicted terrorists, jihadi recruiter Ahmed Laidouni, and Farid Melouk of GIA, she replied: 'We went there for crossbow practice.'
The couple lived in nearby Bagneux, where they were known as devoutly religious couple, despite Coulibay's regular run-ins with the law.
To neighbours the pair were quiet, respectful and normal and had even gone on a holiday to Malaysia together.
But a month ago they simply disappeared from their suburban house until flashed across the world's screens today.
Coulibaly murdered at least four hostages at the Kosher supermarket in Paris, according to Reuters news agency.
He is believed to be part of an Al Qaeda terror cell linked to a British-based jihadi extremist, Djamel Beghal.
The 50-year-old preacher, who recruited terrorists while worshipping at London's Finsbury Park mosque, met Cherif Kouachi while in prison in Paris.
Coulibaly has a long history of both petty and serious crimes. The only boy born in a family of ten in Juvisy, Essonne, he first came to police attention as a 17-year-old delinquent.
Convictions for theft and drug offences followed. In September 2002 in Orleans, Loiret, he was arrested for the armed robbery of a bank.
It's believed he became involved with the younger of the Kouachi brothers, Cherif, when he was part of a jihadist recruitment ring in Paris that sent fighters to join the conflict in Iraq. Kouachi was subsequently sentenced to three years in prison.
It is not known whether Boumeddiene was in the Kosher store with Coulibaly.
The two sieges by suspected Islamic terrorists played out at the same time, as fears grew that they would be looking to cause another bloodbath.
Coulibaly is believed to be the one responsible for shooting a policewoman dead in south Paris on Thursday.
The revelation led police to link it to the murder of 12 people around the offices of the Charlie Hebdo satirical magazine on Wednesday.
'He was in the same Buttes Chaumount cell as the Kouachi brothers,' said a source close to the investigation.
'He was friends of both of them.'
Both Said Kouachi, 34, and his brother, Cherif Kouachi, 32 – who have been killed in a building north of Paris – were first arrested in 2005
They were suspected members of the Buttes Chaumont – a group operating out of the 19th arrondissement of Paris and sending terrorist fighters to Iraq.
Cherif was convicted in 2008 to three years in prison, with 18 months suspended, for his association with the underground organisation.
He had wanted to fly to Iraq via Syria, and was found with a manual for a Kalashnikov – the automatic weapon used in Wednesday's attack.
Said was freed after questioning by police, but – like his brother – was known to have been radicalised after the Iraq War of 2003, when Anglo-American forces deposed Saddam Hussein.
Both brothers were said to be infuriated by the killing of Muslims by western soldiers and war planes.
Vincent Olliviers, Cherif's lawyer at the time, described him as initially being an 'apprentice loser - a delivery boy in a cap who smoked hashish and delivered pizzas to buy his drugs.
But Mr Ollivier said the 'clueless kid who did not know what to do with his life met people who gave him the feeling of being important'.
Belkacem was a leading members of the GIA, or Armed Islamic Army – an Algerian terror outfit responsible for numerous atrocities.
The Kouachi brothers, who are orphans, were radicalised by an Iman operating in northern Paris.
They were raised in foster care in Rennes, in western France, with Cherif training as a fitness instructor before moving to Paris.
They lived in the 19th arrondissement and were radicalised by Farid Benyettou, a janitor-turned-preacher who gave sermons calling for jihad in Iraq and suicide bombings.
The Kouachis share similar backgrounds to Mohammed Merah, the 23-year-old French Algerian responsible for murdering seven people, including four Jews and three Muslim soldiers, in the Toulouse area in 2012.
Merah, who was himself shot dead by police, had also been left to operate as a terrorist in France, despite the authorities knowing he had trained with Al Qaeda in Afghanistan.
http://www.dailymail.co.uk/news/article-2903601/Wife-Kosher-supermarket-killer-armed-dangerous-run-police-warn.html#ixzz3OSI3IBM6
----------
In A First, Indian Women of Armed Forces to March on R-Day
10 Jan, 2015
NEW DELHI: The armed forces for the first time will have all-women marching contingents, apart from their regular ones, in the Republic Day parade on the majestic Rajpath this year, which will have US President Barack Obama as the chief guest.
It has been quite a scramble for the Army, Navy and IAF to look for 148 women each - one contingent commander, three platoon commanders and 144 in the marching block - since they still constitute a miniscule minority in the predominantly male environs of the over 13-lakh strong armed forces.
"The orders came from the top since PM Narendra Modi was keen on women empowerment and 'Naari Shakti' as the main theme for the parade. Women officers, with proper turnout, drill standards and fit enough for the 10-km march, have been pulled out from different stations across the country," said a source.
Unlike paramilitary and police forces, the armed forces cannot draw women from other ranks for the parade since they induct them only as officers. Moreover, though women have been allowed to join the armed forces since the early-1990s, they currently number just about 3,000 of the 59,400 officers. The Army has around 1,300 women officers, IAF 1,350 and Navy 350.
Women officers till recently could serve just a maximum of 14 years in branches like signals, engineers, aviation, intelligence, ordnance, air traffic controller and air defence due to what were called "operational, practical and cultural problems". They can now opt for permanent commission but only in a few wings like legal, naval constructor, accounts and education.
As earlier reported by TOI, the country's top civilian leadership and military brass have also been consistently opposed to deploying women in combat roles. So, women officers cannot be fighter pilots, serve on sea-faring warships or join the infantry, armoured corps or artillery. This when many countries around the globe have allowed it. Countries ranging from US and Russia to Turkey and Pakistan, for instance, have had women fighter pilots for long. Similarly, even countries like Malaysia, Sri Lanka and Bangladesh deploy women on warships, with the US also allowing them on submarines.
http://timesofindia.indiatimes.com/india/In-a-first-women-of-armed-forces-to-march-on-R-Day/articleshow/45816598.cms
----------
French hunt for gunman's girlfriend after bloody siege climax
January 10, 2015
French forces were today frantically hunting for the girlfriend of an Islamist gunman as the country mourned 17 dead in three blood-soaked days that shook the nation to its core.
After President Francois Hollande warned the threats facing France "weren't over" and Islamist groups issued chilling warnings of fresh attacks, authorities pursued Hayat Boumeddiene, said to be "armed and dangerous."
She is the partner of Amedy Coulibaly, who died yesterday when security forces stormed a Jewish supermarket in eastern Paris where he had taken terrified shoppers hostage.
He killed four hostages during the siege and called friends from the scene urging them to stage further attacks.
Hollande held an emergency meeting of key ministers early today, hours after a dramatic end to twin sieges that also resulted in the death of two brothers who had killed 12 at the offices of the Charlie Hebdo magazine on Wednesday.
As France's bloodiest week in decades drew to a close, the mood began to turn to one of grim national reflection.
President Francois Hollande said he would attend a march of unity in Paris on Sunday expected to draw hundreds of thousands of people as well as the leaders of countries including Germany, Britain, Italy and Spain.
Questions were also mounting over how the three men — brothers Cherif and Said Kouachi, and supermarket gunman Coulibaly — had slipped through the security net after it emerged that all three were known to the intelligence agencies.
With fears spreading in the wake of the attack, the US warned of a global threat, telling its citizens to beware of "terrorist actions and violence" all over the world.
Hollande, meanwhile, described the attack on the supermarket as an "appalling anti-Semitic act" and said: "These fanatics have nothing to do with the Muslim religion."
The Kouachi brothers were cornered in a printing business in Dammartin-en-Goele outside Paris yesterday after a firefight with police that Paris prosecutor Francois Molins said left Said with a minor neck wound.
The brothers took the manager hostage, later releasing him after he helped Said with his wound, while a second man hid beneath a sink upstairs, said Molins.
The second man was able to text security forces information from inside the premises, a source said, and survived the assault unharmed.
The gunmen had a hefty cache of arms including Molotov cocktails and a loaded rocket-launcher.
One witness described a terrifying face-to-face encounter with one of the suspects, dressed in black, wearing a bullet-proof vest and carrying what looked like a Kalashnikov.
The salesman told France Info radio that one of the brothers said: "'Leave, we don't kill civilians anyhow'."
As French elite forces moved into place around the building, with snipers deployed on roofs and helicopters buzzing overhead, a fresh drama unfolded in eastern Paris with a hail of gunfire around lunchtime.
There, Coulibaly — suspected of gunning down a policewoman a day after the Charlie Hebdo massacre — stormed a Jewish supermarket hours before the Sabbath, killing four shoppers and taking others hostage.
However up to five people — including a three-year-old boy — survived hidden inside a refrigerator for five hours, with police pinpointing their location using their mobile phones, prosecutors and relatives said.
Police swarmed to the Vincennes area, ordering terrified residents to stay indoors.
Outside the kosher supermarket, an AFP reporter saw at least one body lying at the scene, where the sliding glass door of the shop was completely shattered.
"It's war!" shouted a mother as she pulled her daughter away.
As the sun set shortly after 5:00 PM local time, the two Islamist Charlie Hebdo gunmen charged out of the building with guns blazing before being cut down.
Shortly afterwards security forces moved in on the supermarket, where Coulibaly had just knelt to do his evening prayer when the special forces struck.
BFMTV revealed police were able to exploit a lapse in his defences as he had not hung up his phone after speaking to one of their reporters.
Meanwhile, questions mounted as to how the three men could have slipped through the security net.
As the drama reached its climax, links emerged showing the brothers and Coulibaly were close allies and had worked together.
Molins, the prosecutor, said Coulibaly had "threatened to kill all the hostages" if police moved in on the Kouachi brothers, and he had said the supermarket was booby-trapped.
All three had a radical past and were known to French intelligence.
Cherif Kouachi, 32, was a known jihadist who was convicted in 2008 for involvement in a network sending fighters to Iraq.
His brother Said, 34, was known to have travelled to Yemen in 2011, where he received weapons training from AQAP.
It also emerged that the brothers had been on a US terror watch list "for years".
http://indianexpress.com/article/world/world-others/french-hunt-for-gunmans-girlfriend-after-bloody-siege-climax/99/#sthash.PhELPN89.dpuf
-----------
Malaysia Online network launches nation's first sex education show
10 Jan, 2015
A new sex education show by web TV network PopTeeVee goes on air today, the first such programme in Malaysia where the topic has long been regarded taboo.
June Low, the host and writer of the Malay-language "Popek-popek", said the show aimed to address ignorance on the subject, saying that solely advocating sexual abstinence had been ineffective in curbing sexual and the spread of sexually-transmitted diseases.
Together with performer Sudarshan, June answers basic questions on sex, with the first episode touching on the topic of virginity and myths surrounding it.
Eleven more episodes will follow, to be aired fortnightly.
Topics covered include contraception, dating, relationships and body image.
"Popek-popek" can be viewed at PopTeeVee.net and YouTube.com/popteevee.
It aims to cut down the "surprises" for parents, taking on a role that coy parents have abdicated.
It also comes at the back of a sex survey in February last year among schoolchildren in Negri Sembilan, as well as another recent survey which found that Malaysians spend an average of over 12 minutes browsing online pornography.
http://www.themalaysianinsider.com/malaysia/article/online-network-launches-nations-first-sex-education-show#sthash.3tQMv2M4.dpuf
----------
Iraqi female nurses struggle for equality
10 Jan, 2015
Social media user Kamal Rahal expressed his wish for Iraqi nurses to "get married and have a happy life" on the "Iraq Nurse" Facebook page.
Rahal did not make this wish out of the blue. It was the automatic reaction of Iraqi society's harsh disapproval of female nurses and devaluation of their work.
Nurse Hassan Hatem, from Hilla in the center of Babil province, is looking for a woman to marry. It is only natural that he consider his colleagues at Hilla General Teaching Hospital, but, he told Al-Monitor in a Jan. 4 interview, "I was not able to marry a colleague who I used to love because my family refused our marriage." He added, "I sought to persuade my father of the marriage but he categorically refused the idea of letting me marry a female nurse."
Hatem attributed his father's refusal to the fact that society still considers a woman who works as a nurse to be rebelling against moral values and the social customs that prohibit women from staying overnight outside the household or to have physical contact with men, even patients. This conservative social idea holds that a woman's work place is in the home, and Iraq's culture of shame classifies women as "weak" individuals who must be kept isolated. The reluctance of many Iraqi women to work despite widespread unemployment, especially among women, is causing a shortage in Iraqi hospitals and prompting the Iraqi Ministry of Health to recruit nurses from India.
Nursing was introduced in Iraq in 1933 and according to the Iraqi Ministry of Health records, there are currently no more than 40,000 Iraqi nurses, 75% of them men.
Rahima Hussein, also from Babil, has been working as a nurse since 1979. She told Al-Monitor that her job is one of the reasons she never got married. Hussein stressed that many of her colleagues stopped working due to the narrow societal view of the profession, saying, "Several became midwives working in houses."
However, journalist Qasim Mozan, the editor of the society column in the Iraqi newspaper Al-Sabaah and a frequent investigator of social issues, told Al-Monitor, "Ever since women started working in this humanitarian profession, they have been looked down on and their honor has been questioned. Even their parents were criticized and described in demeaning terms."
Mozan added, "The perception of women as inferior is old. After 2003, when Iraqi President Saddam Hussein's regime fell, the conservative movement dominated and strengthened the previous popular skepticism, thus discouraging Iraqis from working in the nursing profession. This led the Ministry of Health to recruit nurses from Asian countries to fill the shortage in medical staff."
Anaam al-Zaidi, who has been working as a nurse in Al-Hussein Teaching Hospital in Dhi Qar for five years, is optimistic about the future of female nurses. She told Al-Monitor, "The perception of inferiority is gradually receding in society," explaining, "This is due to the social openness to the world, the media and Iraqis traveling abroad to receive treatment."
She added, "Families are encouraged to allow women to work in the health sector, given the tempting salary. Women receive around 500,000 Iraqi dinars [$437] upon their employment, and this salary increases with years of service." Zaidi pointed out that nearly two decades ago, it was not common to see even the current number of female nurses in Iraqi hospitals, but over the last five years, women have been increasingly willing to work in this sector.
Zaidi's opinion is in line with that of journalist Alaa Koliy. In an interview with Al-Monitor, Koliy said, "A lot of people are starting to understand the role of female nurses and how their work requires some activities that seem strange in a conservative society, such as touching men and staying overnight in the hospital."
Koliy asserted, "The situation has changed and there is an improvement in the relationship between society and the female nurse, given the need for job opportunities and the spread of education and openness to other cultures."
For his part, social researcher Sabah Kadhim points out the contradiction between the rejection of the nursing profession and society's need for it. He told Al-Monitor, "The security situation, leading to casualties from war and terrorist attacks, calls for the qualification of medical and paramedical staff and for the development of the nursing sector to meet treatment needs."
In the city of Diwaniya, medical assistant Alaa Najem told Al-Monitor, "Around 25 Indian nurses work in Iraq for a salary of about $500 to $600, which is less than the salary received by Iraqi nurses, which contributed to the improvement of health services in Diwaniya's hospital and health centers."
Iraqi nurse Lamia Saleh told Al-Monitor that working with Indian nurses has increased her competence, stressing, "Nurses recruited from abroad have a high professionalism and extensive experience." For her part, Indian nurse Kerala Mathu said that Iraqi nurses are eager to work, but lack expertise and need more qualifications.
Despite Iraq's dire need for nurses, social customs still discourage the Iraqi government from issuing laws promoting the nursing profession and ensuring fair remuneration for female nurses.
http://www.al-monitor.com/pulse/originals/2015/01/iraq-women-nurses-marriage-economic-conservative-society.html#ixzz3OSBcmSHg
----------
Banner Year for Feminism but Not for Women, Peace, and Security
The Women's International Perspective
10 Jan, 2015
In the fight for gender equality, 2014 was arguably a watershed year for feminism. Sixteen years after Time magazine asked "Is Feminism Dead?", women and men both nationally and globally ensured 2014 to be a historic year for feminism and the equality of the sexes. As Rebecca Solnit states in a recent Guardian article, "[I] have been waiting all my life for what 2014 has brought."
So, what exactly did the year bring?
The year began with Tunisia's ratification of its new progressive constitution, one that enshrined women's rights and recognized equality between men and women before the law without discrimination. In late March, following years of advocacy, under UN Security Resolution 1244/99, Kosovo amended a law offering redress to survivors of sexual violence during the 1998-99 conflict. One month later, Uganda's parliament followed suit by passing a resolution acknowledging the need for providing gender-sensitive reparations to both men and women victimized by the Lord's Resistance Army during the country's 20-year insurgency. Over the summer, the Global Summit to End Sexual Violence in Conflict incited unparalleled public attention and coverage, as over 1,000 high-level government officials, experts, NGO members and activists worldwide gathered in search of an answer to combatting sexual violence in conflict.
Here in the United States, there were seminal moments and breakthroughs in domestic and sexual violence awareness. While Columbia University student Emma Sulkowicz sparked a conversation regarding sexual assault on university campuses, there was outrage and protest over domestic violence cases – especially following the release of a shocking video showing National Football League player Ray Rice knocking his girlfriend out in an elevator. While neither campus rape nor intimate-partner violence are new phenomena, there is a definitive growing trend in anger towards such violence against women and a demand for more action.
2014 was also filled with vocal women in both civil society and the arts, all who became major symbols for the cause. There was Malala Yousafzai, who simultaneously won a Nobel Peace prize and became a well-known symbol for the rights of young girls and education globally. Beyoncé Knowles, world-renowned artist, managed to make women's empowerment both important and cool for a young generation. Let's not forget Emma Watson, who became the official Goodwill Ambassador for UN Women and helped launch the "He for She" campaign following a speech that has been seen by over 6.5 million viewers worldwide.
Throughout 2014, social media and technology were used to help bring about much needed conversations about inequality and some of the darker problems facing young girls throughout the world. Online campaigns such as #YesAllWomen (as well as #YesAllMen) and even the silly-yet-thought provoking awareness campaign over "man-spreading" found ways to bring men into the conversation as well, proving that feminism is integral for all. Civil society members and activists also utilized the power of video to bring up issues such as street harassment and child marriage.
Yes, without drawing too much on hyperbole, 2014 truly was an important year for feminism. However, as we begin 2015 – a year that also brings the deadline for the Millennium Development Goals – one facet of gender equality still remains grossly under-discussed and unrecognized: security, both national and regional, is a women's issue and one of the greatest obstacles to gender equality.
In 2014, the impact of conflict and armed violence on women came to light in several instances around the world. In April, Boko Haram militants in two separate incidents within Chibok, Nigeria kidnapped over 400 schoolgirls aged 16 to 18. Although international outcry arose to #BringBackOurGirls, very little was done as many of the girls were sold into marriage and numerous others still remain at large.
As fighters from the Islamic State militant group gained ground throughout Iraq and Syria in the name of their so-called "caliphate," hundreds of young girls and women were collected and sold into sexual slavery or faced harrowing sexual assault. The brutal rape and torture of mostly Christian and Yazidi girls and women led many to commit suicide. Although Amnesty International reported it, the abuse remained grossly underreported by mainstream media for the most part. As Aki Peritz and Tara Maller state in their op-ed in Foreign Policy magazine, "the jihadists' rape campaign in Iraq and Syria is not a women's issue … it is a terror tactic and a crime against humanity." However, with all that was said throughout the year regarding ISIS, it seemed as though no one wanted to talk about the violence against women.
So, yes – while there were many clear victories for women in 2014, there were far too many times in which issues pertaining to women and gender fell on deaf ears, specifically in matters of security and conflict. While conflicts have evolved tremendously in the post-Cold War era, the conversation over who is impacted by these conflicts has not. Men and women, girls and boys suffer from conflict and while conversations have ignited and incited a need and yearning for change in many aspects to gender equality, there is still a major gap in conversation when it comes to women, peace, and security. The only way to incite this much-needed change is to begin a conversation – just as we did in 2014. In this New Year, filled with hope and optimism, we must ensure that these devastating issues are discussed and addressed so that the global fight for gender equality may continue to evolve and thrive.
ghazal rahmanpanahGhazal Rahmanpanah is an Iranian-American born in Tehran and raised in Maryland and Washington, DC who recently received her MA in International Policy Studies and MBA in International Economics at the Middlebury Institute of International Studies at Monterey. She is currently working as a media analyst for a global strategic communications firm. Ghazal is passionate about gender equality and the role it plays in disarmament initiatives.
http://thewip.net/2015/01/08/banner-year-for-feminism-but-not-for-women-peace-and-security/
----------
Wearing hijab is a matter of religion not culture
10 Jan, 2015
Saudi Arabia is a great country where people feel Islam unlike any other country in the world.
I read the views of the author of a post on the wearing of the hijab (headscarf) and niqab (face veil) in the Jan. 3 edition of Saudi Gazette.
He is a good writer, but it is possible that his views could mislead people. He is not correct in interpreting religion and culture.
The covering of the body and face is not culture or tradition. It is religion - Islam.
This religion is and will be the last religion on earth and all the commands of Allah including hijab and covering the face are considered to be a matter of religion and not of culture.
People should consult the true and respected Islamic scholars in Saudi Arabia because scholars know and have the authority to comment on such sensitive issues.
http://www.saudigazette.com.sa/index.cfm?method=home.regcon&contentid=20150110229998
----------
RAF's Female Commander Set to Lead Airstrikes against the Islamic State
10 Jan, 2015
The RAF's first female commander of a bomber squadron is set to lead airstrikes against the Islamic State.
Wing Commander Nikki Thomas, will lead the newly reformed Number 12 (B) Squadron at Marham, where she will command at least 250 highly trained members of the RAF who she is set to lead into Iraq this summer.
The squadron disbanded as a Tornado unit at RAF Lossiemouth on March 31, 2014, however after recent government decisions, will continue to operate under three front line Tornado squadrons at Marham.
Wg Cdr Thomas, said: "I am so proud I can't stop smiling from ear to ear. I have been flying for 12 years and faced many different tasks but nothing as busy and challenging as this - but commanding a Squadron is something that really excites me. I would rather this sort of job than be stuck in an office all day.
"The fact that I am a woman has personally made no difference, nobody treats me differently, and hopefully the more this influences girls to join the better, because this is a great job."
Wg Cdr Thomas joined the RAF as a navigator in 2000 and has an extensive experience of combat operations - with over 35 missions in Afghanistan in three months.
In December 2009, as squadron leader of No 31 Squadron Tornado team, she formed the RAF's first all-female Tornado jet crew with pilot, Flight Lieutenant Juliette Fleming.
Their missions helped both American and British troops under fire in Helmand Province.
She was the first woman to take that role in Afghanistan and one of the youngest members of the RAF to rank so highly.
She takes over from Wing Commander Jez Holmes, who in yesterday's ceremony, also relinquished his role at Number 2 (Army Cooperation Squadron), now based at RAF Lossiemouth and re-equipped with Typhoon aircraft.
Wg Cdr Holmes, said: "I hand these squadrons over fully knowing in 2015 that they will continue to lead the field, both at home and around the world.
"I am sure that Wing Commander Thomas will do a great job commanding the re-invigorated 12B squadron and that they will continue to deliver for many years to come."
http://www.edp24.co.uk/news/raf_appoints_first_female_commander_of_bomber_squadron_based_at_marham_1_3911926
http://www.dailymail.co.uk/news/article-2901515/RAF-appoints-woman-bomber-commander-Veteran-female-pilot-history-given-control-Tornado-squadron.html
----------
Pakistani Father Killed the Two Girls and Three Boys to Gain 'Magic Powers'
10 Jan, 2015
A Pakistani father-of-six is on the run after strangling five of his children to death, apparently believing the sacrifice would endow him with magical powers including alchemy, police.
Ali Nawaz Leghari, 40, killed the two girls and three boys, aged between three and 13 overnight Thursday in the village of Saeed Khan, some 230 kilometers north of the city of Karachi.
"The man's financial condition was bad but he was also learning black magic and it seems that he made the sacrifice to excel in the craft," police officer Qamaruddin Rahimo told AFP.
Amjad Sheikh, the district's police chief, confirmed the incident which occurred while Leghari was undertaking a 40-day spiritual journey, known as a 'Chilla' prescribed to him by a pir (living saint) that he hoped would teach him the art of alchemy.
Rahimo said that on Tuesday Leghari had attempted to poison the family's dinner but was spotted by his wife, resulting in a bitter quarrel.
The wife along with their eldest son left the house to go and stay with her parents.
With the pair out of the way, Leghari was able to successfully carry out his plan to sedate the remaining five children and then used a rope that was found at the scene to strangle them, said Rahimo.
"He strangled them one by one inside the room and later dumped them on a bed in the courtyard," he said, adding police were now hunting Leghari down.
Black magic practices are rooted in mystic Sufi lore and have traditionally been the domain of pirs and aamils (sorcerers).
The practice is particularly strong in rural parts of the country including the impoverished southern Sindh province where the killings took place.
http://english.alarabiya.net/en/variety/2015/01/09/Magic-gone-wrong-Pakistani-father-sacrifices-five-children-to-gain-magic-powers-.html
----------
'Save the Children' urges donors to step up aid and stave off deaths
10 Jan, 2015
Save the Children (STC) and other aid agencies in the Middle East are trying to help vulnerable families and ensure they do not go through this alone.
Snowstorm Huda that has hit the Middle East poses a very serious threat to millions of refugees living in tents, huts and fragile structures that can barely protect them from the freezing cold let alone offer any warmth or comfort.
Children are particularly vulnerable to the freezing temperatures. Images of them, some barely toddlers are heartbreaking as they don't even have shoes, head gear or adequate clothing leaving them susceptible to sickness and, tragically, death too.
The UAE's airlift of the much needed aid and its "Be Compassionate" campaign that has seen residents, business houses and government departments stepping forward and pitching in with donations totaling millions, will alleviate some of the suffering of these helpless refugees who have been caught in the eye of the storm through no fault of theirs.
But much more needs to be done. The UAE has shown the way and other countries need to follow its example. This is purely and simply a humanitarian initiative that is not influenced by politics, nor by geographical borders.
There are currently more than three million Syrian refugees living in Lebanon, Jordan, Turkey, Egypt and Iraq, as well as hundreds of thousands of displaced Iraqis and Palestinians in Gaza.
"We welcome and greatly admire the UAE's efforts. The needs of more than three million Syrian refugees and even more in-side Syria are tremendous and a lot more needs to be done with funding relief, resettling refugees in richer countries and ending the conflict diplomatically. Jordan, Lebanon, Turkey, Egypt and Iraq cannot be left alone to face this unprecedented crisis," Roger Hearn, Save the Children's Middle East Regional Director told Khaleej Times.
Save the Children (STC) and other aid agencies in the Middle East are trying to help vulnerable families and ensure they do not go through this alone. For many refugees, this is now their fourth winter without a home.
However, while STC is not involved in the distribution of the UAE's relief shipment that is now into its fourth day, Hearn praised the country's humanitarian efforts.
"We are not involved in the distribution of aid being flown in from UAE but we welcome the move and call on other donors to step up their aid," he said. Save the Children is on the ground in all the affected countries including inside Syria, where an estimated seven million people are internally dis-placed, helping to protect children from the worst effects of this storm.
"In Zaatari Camp, Jordan, we have now 800 refugees in our 12 storm shelters where we are providing them with heating, blankets, mattresses, food and drinking water," said Hearn.
As temperatures drop to minus, there are fears that some caught in the freezing cold could die. Last November, two newborn Syrian babies died due to the cold when a "lesser" snowstorm whipped Lebanon.
While everything is being done to stave off deaths, more relief aid is desperately needed.
"Our biggest concern is that this extreme weather poses a deadly threat to children and some of the most vulnerable refugees, displaced Iraqis and Palestinians left homeless since the last war on Gaza," says Hearn.
"Children are particularly vulnerable to the freezing temperatures, and we have already heard reports of them dying from the cold in Lebanon. Many of the refugee families and displaced people are living in tents, huts and half-built buildings and lack warm winter clothing, so getting winter supplies to them — blankets, improved shelter and warm clothing — is urgent," he added.
This is a frightening and critically dire time for the millions of children who are homeless in the Middle East. Temperatures are predicted to drop as low as -11 in some areas and for really young children living without adequate shelters, often without proper shoes or winter coats, this is a very real threat.
"Save the Children and other aid agencies in the Middle East are trying to help vulnerable families and ensure they do not go through this alone.
"Beyond the immediate urgency of this storm, we reiterate our call for governments to step up their aid, to increase resettlement of refugees and a stronger focus on a diplomatic solution to the Syria crisis," said Hearn.
http://www.khaleejtimes.com/kt-article-display-1.asp?xfile=data/hudastorm/2015/January/hudastorm_January18.xml&section=hudastorm
----------
'Liberate Saudi children from anxieties'
10 Jan, 2015
Teaching will not be meaningful unless the students are liberated from anxieties and fear complex, stated C.K. Ahammed, member of the board of studies at the University of Calicut, University of Kannur and Hamdard University and the head of the department of English at Farooq College.
Delivering the keynote address at a seminar held at Alif International School, Riyadh, he said: "The foundation of a better society depends on the building of sparkling personalities. The personality development of students takes place when they assimilate broad vision beyond the textbooks. To realize this, our classroom must be free and constructive. Teachers should pay attention to equipping students with confidence so that they come forward free of fear."
P.K Abdul Nasser, former head of the department of English at Farooq College, inaugurated the seminar. School Principal K.C. Shaijal presided over the meeting. Executive Director Luqman Pazhur and CEO Mahmood Abbas also spoke.
Academic Coordinator Aiyman Khan delivered the welcome speech and Coordinator Sonia Mustafa presented the vote of thanks.
http://www.arabnews.com/saudi-arabia/news/687276
----------
URL: https://newageislam.com/islam-women-feminism/most-wanted-woman-france-went/d/100955