New Age Islam News Bureau
7 Aug 2014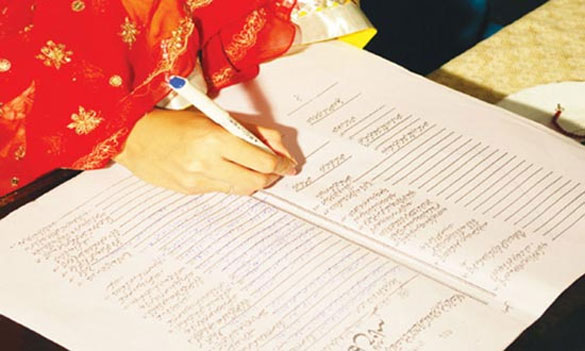 • Female Protesters 'Forgotten' in Brutal Coup Prisons
• The Senegal Tech Hub Run by Women for Women
• Syria: Women, Children Held Hostage for a Year
• Trafficked Kenyan Woman in Oman on Hunger Strike – Report
• Helmet Rule Relaxation for Sikh Women in Delhi Triggers Copycat Demands
• Michelle Obama to African First Ladies: Fight for Our Girls
Compiled by New Age Islam News Bureau
URL: https://www.newageislam.com/islam,-women-and-feminism/most-pakistani-women-not-consulted-before-filling-of-nikaahnama--study/d/98466
------
Most Pakistani Women Not Consulted Before Filling of Nikaahnama: Study
07 August 2014
PESHAWAR: In Peshawar, more than 50 per cent of women and even many men can't read their Nikaahnama (marriage certificate); 74 per cent women aren't consulted before the filling of marriage registration forms, and 40 per cent married women don't even know who had filled them, says a recent study done by the Provincial Commission on the Status of Women (PCSW).
• The findings of the study on 'marriage registration in Khyber Pakhtunkhwa', which targeted around 400 households in 18 selected union councils of Peshawar district, were launched at a local hotel on Wednesday.
Among participants were lawyers, rights activists and journalists.
The survey done to understand the challenges and issues related to marriage registration in the province was the first of its kind and scope in the region.
Suhail Farooq, head of the economics department of Hazara University, who conducted the survey for the PCSW sponsored by the Aurat Foundation and USAID, said it was surprising that clauses relating to women rights were crossed beforehand a marriage took place.
He said usually, family elders filled marriage forms.
"We didn't come across a single woman during the survey who filled her marriage certificate form for herself," he said.
According to the survey, 51 per cent of marriages have been found to be unregistered or the respondents had no idea about registration of his or her marriage. Mostly, non-registration of marriage was being attributed to customary practices.
Experts said actually, the clerics, who solemnised marriages, didn't report marriages as either they didn't consider it their responsibility or they were ignorant about the importance of their registration.
"There should be ownership of marriage certificate and it should be simplified," said Muntazir Khan of the home department.
Some participants suggested simplification of marriage registration form and improvement of the capacity building of marriage registrars, while others insisted marriage certificates and rights of a person and its importance should be made part of syllabus for students up to matriculation level.
They also suggested that marriage registration be made part of the National Database Registration Authority record and that there should be a computerised mechanism to keep record of marriage registration.
The PCSW recommended some additional clauses in the marriage certificates.
"The marriage certificate should have some additional clauses indicating if the bridegroom is already married, has never married or a widower… names of bridegroom and bride with detail description of his/her education, profession, property, and monthly income, whether spouse will live under joint family system, separate or otherwise?"
However, Meraj Hamayun, a member of the PSCW and a legislator, said listing dowry items was a clause of the marriage certificate form, which encouraged dowry.
Amina Durrani of the PSCW said the participants' feedback would be incorporated in the final policy recommendations. She said one of the recommendations was that there should be a penalty for marriage registrar over violation of the law, or misuse of powers.
She said a marriage registrar could be penalised with rigorous imprisonment extendable to three years and a fine of up to Rs50,000 if he didn't follow the legal registration process.
http://www.dawn.com/news/1123809/most-women-not-consulted-before-filling-of-nikahnama-study
------------
Despite ban on music Kashmiri girls take part in talent hunt show
07 August 2014
Srinagar, (ANI): Despite ban on music by separatists in Jammu and Kashmir, girls came out to participate in a talent hunt show and enthralled audience with their music. Young girls took part in a two-day musical talent hunt, 'Pa ma ga re sa 2014' in Srinagar city on Sunday and sang Bollywood and regional songs. Last year, all-girl Kashmiri band Pragaash stopped performing after receiving threats from Islamic militants who claimed that the band members allegedly broke the codes of Islam. In a region where the boom of guns and bombs has drowned out all sounds for almost 20 years, a cacophony of melodies from guitar, drums and electric keyboards is now sweeping Kashmir's war-weary youngsters with a message of love and peace.
http://www.aninews.in/videogallery2/26410-despite-ban-on-music-kashmiri-girls-take-part-in-talent-hunt-show.html
------------
Jamia Alumni Fete University's First Muslim Woman Officiating VC
07 August 2014
JEDDAH/RIYADH — Jamia Millia Islamia alumni associations in Jeddah and Riyadh have welcomed the appointment of Dr. Talat Aziz as the first Muslim woman acting vice chancellor of the New Delhi-based premier educational institution.
Dr. Talat Aziz, senior professor in the department of teacher training and non-formal education in the Faculty of Education, took over as acting vice chancellor as the incumbent head of the institution and globally renowned geologist Dr. Talat Ahmad has proceeded on leave.
The development is being termed as historic as never before a Muslim woman has been nominated officiating VC of Jamia that has been at the forefront of women empowerment since its inception in 1920.
In statements to the press, Ghazal Mehdi, president of the Jamia alumni association (Riyadh chapter), congratulated Dr. Talat Aziz on assuming the post. Likewise, Nadeem Alam and Syed Athar Hasnain Rizvi, senior Jamites and active members of the Jamia alumni association in Jeddah, felicitated Dr. Talat Aziz. They all hoped that under her able leadership and guidance, Jamia will attain new heights.
Dr. Talat Aziz, from Memon Saadat in Bijnore District in the northern Indian state of Uttar Pradesh, is the daughter of noted academician and professor of history, Syed Iqbal Mehdi.
She is now the senior most professor in Jamia. A product of Aligarh Muslim University (AMU) from where she completed her M.Sc. (Chemistry) in 1973, she has held several administrative posts in the university and Delhi government.
http://www.saudigazette.com.sa/index.cfm?method=home.regcon&contentid=20140807213865
------------
Ban on Women's Trousers in Church Sparks Protest at Abbasiya Cathedral, Egypt
07 August 2014
Tens of Egyptian Orthodox Coptic Christians entered the main cathedral in Cairo on Wednesday while Pope Tawadros II was speaking to protest against a decision from a bishop for women to wear more "modest" clothing during Holy Communion.
Last month, Bishop Bishoy of Damietta and Kafr El-Sheikh governorates ordered for signs to be put in churches in the diocese stating that "all ladies and girls above the age of 11 should refrain from wearing trousers, blouses or make-up during the sacrament of holy communion in the divine liturgy, and they should wear modest dress."
The decision sparked a protest outside of Abbasiya's Coptic Cathedral in Cairo on Wednesday, according to Al-Ahram's Arabic news website.
The protesters eventually entered the church and raised signs against the decision and asking for direct action from Tawadros II, who was speaking at the pulpit at the time.
Tawadros II called on the protesters to lower their signs and not to protest in such a manner, assuring them that he is working on the matter.
Bishoy's decisions have previously triggered anger from Christian women.
In May 2012, he called on "Christian girls to learn from veiled Muslim women with their modesty. Some Christian women might be displeased with me, but the Virgin Mary, Saint Demiana and the nuns wore modest clothes."
http://english.ahram.org.eg/NewsContent/1/64/107901/Egypt/Politics-/Ban-on-womens-trousers-in-church-sparks-protest-at.aspx
------------
Bangladesh: 40% girls do not attend school during menstruation
07 August 2014
A recent survey on adolescents' hygiene reveals that menstruation is a serious threat to the education of schoolgirls in Bangladesh.
Around 40% of the surveyed girls reported that they did not go to school for an average of three days every month during the time of their menstruation. The study also found that 89% of the girls stored their menstrual cloths in a hidden place for repeated use without washing them in a hygienic manner.
The ICDDRB's Centre for Communicable Diseases (CCD) conducted the survey titled "Bangladesh National Hygiene Baseline Survey" in association with the Policy Support Unit of Local Government Division. The survey was financed by international development organisation WaterAid Bangladesh with technical cooperation from Stanford University.
The ICDDRB issued a press release on the survey yesterday.
The objective of the survey was to assess the hygiene practices of adolescents and a total of 100 rural and urban areas (both schools and household settings) were surveyed across the country.
The study found that a single toilet was available for every 187 students in schools against the government standard of one toilet per 50 students. Only 45% schools had improved toilets for students and only a quarter of the toilets were clean. Less than 5% schools had separate toilet facilities for boys and girls that offered optimal menstrual hygiene management.
According to Dr Leanne Unicomb, head of the Water Sanitation and Hygiene Research Group that led the survey, schools are important settings for disease prevention initiatives, in part because hygiene behaviours that are learnt early in life can lead to habit adoption.
http://www.dhakatribune.com/education/2014/aug/06/survey-40-girls-do-not-attend-school-during-menstruation#sthash.0JThyBey.dpuf
-------------
Female Protesters 'Forgotten' in Brutal Coup Prisons
07 August 2014
A detailed account of 64 innocent girls and women detained in inhuman conditions in junta dungeons.
The news media organization "Nabd El-Nahda" (Progress Pulse) published on its official Facebook page a detailed list of women and girls "forgotten" in detention in coup prisons. The list mentions where the 64 girls and women were arrested and their current places of detention, together with the trumped up crimes they are supposed to have been detained or jailed for.
According to the list, the female detainees forgotten in Qanater prison are thirty-six:
Samya Shanan and Nagah Abd-Rabbo: Rounded up in raids on Kerdasa village by coup security forces; Nagah was arrested in October 2013, and Samya in December 2013, supposedly in relation to the Nahia Police Station arson incident.
Rasha Mounir Abdel-Wahab and Hind Mounir Abdel-Wahab: Detained in the first Ramses clashes. Rasha's husband died while waiting in line to visit her in detention.
Dr Samah Samir: Arrested with her husband from the vicinity of Al-Azhar University, accused of distributing meals to Azhar students. She has been sentenced to 3 years in prison.
Salwa Hassanein (engineer), Safa Hussein (student) and Asmaa Sayed (student): Arrested on January 8, 2014, and sentenced to 5 years in prison.
Laila Mohamed, Shaimaa Sayed and Asmaa Mukhtar: Arrested from the Supreme Court in January 2014, and sentenced to 5 years in prison.
Samah Rifai: Arrested from Shubra town as she helped to hospital a man who had been injured in a Matareya peaceful protest march. She was accused of trying to kill the same injured man she had been trying to help.
Ayah Hegazy and Amira Farag: Arrested from "Bilady" children's foundation. They have been falsely accused of abducting children and recruiting them to take part in Muslim Brotherhood demonstrations.
Sanaa Seif, Yara Salam, Samar Ibrahim, Hanan Al-Tahhan, Nahid Sherif, Rania Al-Sheikh and Salwa Mehrez: Detained from the Itehadia Presidential Palace march that protested the putschists' law which banned demonstrations. They are all incarcerated in one room in Qanater prison.
Also in Qanater prison, Al-Azhar junior students (15 girls in four trumped up cases): Ayah Okasha, Sarah Mohamed Ali, Alaa Mohamed Ali, Alaa Sayed, Aisha Abdel-Fattah, Yasmeen Mamdouh, Asmaa Nasr, Asmaa Hamdi, Rawda Gamal, Shaimaa Omar, Afaf Omar, Rafidah Ibrahim, Hanadi Ahmed, Karima Al-Sirafi and Sarah Khaled.
In Marg Police Station, three women are held in detention: Menatualla Saad (student) – detained on a dubious charge of "possession of a camera and a Palestinian scarf"; Wagida Moussa (65 years) – detained after coup forces pulled her out of a taxi, which happened to pass a demonstration coup forces had been breaking up brutally. Because she wore the full Islamic veil, they fabricated several charges against her, including possession of a rifle, being a member of an armed organization, causing chaos and public disruption, working to suspend the Constitution, and blocking a highway. She was sentenced on July 20, 2014 to three years imprisonment and a fine of fifty thousand Egyptian pounds (approximately US$7200).
In Matareya Police Station, Hanim Mohamed El-Saghir is being held hostage. She was arrested from her home, just to put pressure on her husband to give himself up to coup forces.
15 more girls are detained in the putschists' prisons in a number of governorates across the country:
In Alexandria (5 girls): Heba Sami, Fatima Nassar, Sayeda Rifai, Wedad Kamal and Mahinur Al-Masry.
In Dakahlia (3 girls): Mennah Mustafa, Yusra Al-Khatib and Abrar Al-Anani.
In Ismailia (3 girls): Roqaya Saeed, Mervat Qandil and Hager Tobagi.
In Gharbiya (two women): Ihtram Sayed and Sanaa Khashab.
In Port Said (one girl): Rasha Gaafar.
In Sohag (one girl): Hiam Ali.
Moreover, the Nabd El-Nahda news media organization said on its Facebook page that 10 girls are reported missing. Those are: Linda – a Bosnian girl who officials claim was dead, but provided no evidence or details of her alleged death; a group of six girls with Dr. Asmaa Khalaf Shandin; Rania Ali Omar Rashwan – arrested with her husband, and then vanished in Cairo; and Ola Abdel-Hakim Mohamed Saeed – arrested by coup forces on July 3 outside Al-Azhar University, and completely vanished since then.
http://www.ikhwanweb.com/article.php?id=31729
------------
The Senegal tech hub run by women for women
07 August 2014
Coudy Binta De's eyes light up when she talks about how she first became fascinated with computers.
The 24-year-old says that as a young girl she went to visit her mother in work at one of the Senegalese government's first computer departments.
"Seeing those big computers, with their black screens and green text, was just amazing for me," says Ms De, who was inspired to grow up and become a computer engineer in Senegal.
With women holding less than 30% of information technology (IT) sector jobs around the world, encouraging and helping more people like Ms De get work in the industry has long been an aim for policymakers and equality campaigners alike.
And perhaps unsurprisingly, the percentage of women working in IT across Africa is even lower than the global average.
In Senegal itself recent data is hard to come by, but a report published in 2009 by the International Youth Foundation said women held only 14% of IT jobs in the country.
'Role model'
To help boost the number of women in Senegal's IT sector, Ms De and three fellow female computer engineers have decided to take matters into their own hands, and set up the country's first technology hub run by and for women.
The centre is based near a busy junction in Sacre Coeur, a middle-class suburb of the capital Dakar.
It has been named Jjiguene Tech Hub - Jjiguene meaning "woman" in Wolof, the most widely spoken language in Senegal.
At the hub its earnest residents, predominantly women in their 20s, have spread themselves across five sparsely furnished rooms. Bright brainstorm doodles drawn on white sketchpads add a bit of colour to the walls.
Some of the women are there to learn, while others are working on their own entrepreneurial ideas.
"We want to be a role model for girls and for women in tech. They think it's just for men," says 26-year-old Awa Caba, another co-founder of the hub, and a specialist app designer.
Ms Caba and her colleagues at Jjiguene run training courses, not just for women who come to the hub, but also at elementary and secondary schools around the country.
The training they offer ranges from a basic introduction to IT, such as using programmes like Microsoft's Word and Outlook, to computer coding with languages such as HTML and CSS.
At present the hub offers all its services for free. It is able to do so thanks to sponsorship, both from local businesses and US giant Microsoft, which has an office in Dakar.
Microsoft has had a presence in Senegal for a number of years, as have other global IT firms such as IBM and SAP.
The fact that they all have offices in the country is indicative of how successful the IT sector is in Senegal.
According to a 2013 study by the McKinsey Global Institute think tank, internet-facilitated business contributed 3.3% of Senegal's gross domestic product (GDP) - the highest level for any African nation - with Kenya in second place on 2.9%.
'Encouragement'
One of the youngest students at the hub is 18-year-old Kate Manon Sio, who is just out of school, and now considering her different options for a university degree.
Ms Sio joined the hub reluctantly, her original plan was to study languages or communication, but it seems that she is on track to become a tech convert.
"Initially I wasn't excited about it, but I changed my mind because I realised that technology is very, very interesting, particularly for girls," says Ms Sio, who has learned coding since joining Jjiguene Tech Hub.
"Before, I didn't have the opportunity to talk with girls and women involved in this field. Even though I use technology and a computer, I thought it was for men," she adds.
Even though the focus of the hub is on women, a few men have managed to sneak in.
One of them is Ismayla Ba, a 58-year-old businessman, whose IT company Oasis Media Group provided the initial outside financial support for the centre.
"I wanted to support these young women and their project. It's important. And why not work together?" says Mr Ba, who now shares office space at the hub.
"They really need to be encouraged. I think in general women are much more serious and rigorous than men when it comes to work - in many domains, not just in technology," he says.
'Pushed me'
To further help the young women who use Jjiguene's service to go on to thrive in Senegal's IT sector, the staff also provide coaching in being confident.
Aminata Balde, a 22-year-old student of telecommunications, who regularly attends the centre, says: "Here at the hub they have really pushed me. I learned how to be confident as a girl. [Before] I was always afraid to express myself or to handle stuff."
Such has been the popularity of the hub that the number of women attending on a regular basis has grown from four to 65 in under two years.
Ms De says: "All the success stories [in Senegal's IT sector] have been about men.
"But we have always known that there are a lot of women who are perfect [for the industry]."
http://www.bbc.co.uk/news/business-28363783
------------
Syria: Women, Children Held Hostage for a Year
07 August 2014
(New York) - Non-state armed groups should immediately release the at least 54 women and children they have held hostage since opening a military offensive in rural Latakia governorate over one year ago, on August 4, 2013. In May 2014, the groups released 40 people they were holding after negotiations with the Syrian government, but are still holding women and at least 34 children, according to four videos published on YouTube on May 30. Each video shows people identifying themselves as hostages held by "the Mujahadeen room in Latakia countryside." "For a year families have been waiting to be reunited while rebel groups and the government negotiate over their fate," said Sarah Leah Whitson, Middle East and North Africa director. "Civilian lives are not pawns for fighters to trade. The hostages should be let go immediately." The 40 hostages freed in May were released in two groups, 15 on May 7 and 25 on May 8, as part of a well-publicized agreement between the armed groups and the Syrian government. In exchange for their release, government forces allowed opposition fighters safe passage out of the Old City of Homs, which the government had under siege. The groups are apparently holding the remaining hostages with the intention of compelling government actions, including exchanging the hostages for detainees in government custody. Common Article 3 of the Geneva Conventions bans hostage taking. The International Criminal Court's "Elements of Crimes" defines a hostage taking as the seizure or detention of a combatant or civilian, combined with threatening to kill, injure, or continue to detain the person, with the intention to compel a government, international organization, or group to act or to refrain from acting as a condition for the person's safety or release. Human Rights Watch spoke to the father of two children who were among the hostages released. He said that his daughter told him that a gunman had killed her mother and one of her sisters and an unknown number of other women and girls hours after their abduction, while holding them in the village of Blouta. She told him their captors separated the women and older girls from the younger children, and herded them into a room where a lone gunman shot them dead. Human Rights Watch has obtained the names of 17 women and girls who are believed to have been killed shortly after their abduction by armed opposition fighters in Latakia, but is unable, as of yet, to confirm their deaths or who caused them. The source, an activist in Latakia working on behalf of the hostages, said the victims were between 13 and 75 years old. The father said his children told him that opposition fighters took civilian hostages from their villages and held them at various places in the town of Salma and surrounding villages in Latakia. The captors allegedly told the hostages they were part of a group of over 100. In addition to the 40 released in May, three others were released earlier because they were elderly and in failing health, and three other elderly hostages had died, apparently from natural causes, while still held captive according to the father and the activist. The father also told Human Rights Watch that, according to his daughter, the captors repeatedly struck her brother, 5, in the face when he cried for his mother, and that both children had seen the captors tie their mother's arms and legs before killing her. He said that his son now suffers from nightmares, calls out for his mother, and asks: "Where is she? Why did the terrorists kill her?" He said the children told him they had seen their captors beating other hostages and whipping them with electricity cables, and that they had given the hostages insufficient and poor quality food. The four videos published on YouTube on May 30, apparently filmed earlier that day, show 54 women and children. In each video, one woman hostage gives the date and says she and other hostages are being held by "the Mujahadeen room in Latakia countryside." Human Rights Watch investigations found that at least 20 separate non-state armed groups participated in the military operation that began on August 4, 2013, in Latakia countryside, variously proclaiming it the "campaign of the descendants of Aisha, the mother of believers," the "Barouda offensive," and the "operation to liberate the coast." The Islamic State, formerly known as the Islamic State of Iraq and Sham, held between 110 and 120 hostages in September, an opposition military leader from Latakia involved in negotiating the hostage exchange told Human Rights Watch, and Jaish al-Muhajireen wal-Ansar then held 105 hostages. Later in September, he said, the armed group Ahrar al-Sham assumed control of the hostages' file. A video published on YouTube on September 7 showed some of the hostages being held by Abu Suhaib, the Libyan local leader of al-Muhajireen. Three people told Human Rights Watch they saw their relatives in the background, confirming the authenticity of the video. Taking hostages is a war crime under the Rome Statute of the International Criminal Court. When civilians are taken hostage in a widespread or systematic way, as in Latakia, it amounts to a crime against humanity under both international customary law and the Rome Statute. UN Security Council Resolution 2139 of February 22, 2014, demands an immediate end to arbitrary detention, torture, kidnappings, abductions, and forced disappearances, and the release of everyone arbitrarily detained in Syria. Largely based on information posted by individuals in the groups who participated in the "operation to liberate the coast" and their supporters on social media sites, Human Rights Watch has identified several people, principally from Gulf countries, who actively raised funds for the operation and for support to the groups involved. Individuals or countries that continue to support the groups responsible for the hostage taking may be complicit in war crimes or crimes against humanity, Human Rights Watch said. Groups that hold hostages should ensure they are treated humanely and immediately released, Human Rights Watch said. Governments with influence over these groups should also urge them to release the hostages. Gulf states should increase monitoring and restrict money transfers from Gulf residents to groups credibly implicated in systematic or widespread human rights abuses and Turkey should, through increased border patrols, restrict entry of fighters and arm flows to groups credibly implicated in the hostage taking and other systematic human rights violations. Human Rights Watch has urged the United Nations Security Council to refer the situation in Syria to the International Criminal Court as the forum most capable of effectively investigating and prosecuting the people who bear the greatest responsibility for serious crimes and of offering a measure of justice for victims in Syria. "Referring Syria to the ICC would send a clear message to all combatants that they must abide by the laws of war," Whitson said. "Civilians in Syria on all sides have paid dearly for Russia and China's obstructionism on the council." Names of hostages that appear in videos published on May 30, 2014 An activist in Latakia working on behalf of the abducted residents identified the individuals that appear in the four videos released on May 30, 2014 as:
Full report at:
http://www.trust.org/item/20140807014827-2qt1t/
------------
Trafficked Kenyan woman in Oman on hunger strike – report
07 August 2014
NAIROBI (Thomson Reuters Foundation) – A Kenyan woman taken to Oman by a recruitment agency with the promise of a job with an international airline is on hunger strike after being forced instead to work as a housemaid, Kenyan media reported on Wednesday.
Winnie Juma, from the Kenyan coast city Mombasa, has refused to eat for a week since starting work as a housemaid in Muscat, the capital of Oman.
"We are devastated as a family as … she is already seeking our help to bring her back home," her twin sister Rhillah Juma told Kenyan newspaper The Standard.
"We had so much hope that my sister could help turn things around for our struggling family but that hasn't happened."
Kenyans often migrate to the Middle East in search of jobs but are sometimes exploited in domestic servitude, brothels, massage parlours or in forced manual labour.
Rhillah Juma told the paper she had spoken to her sister twice by phone since she was flown to Oman by the recruitment agency. "Each time she cried for help to return home," the paper quoted Rhillah as saying.
In November 2013, the Kenyan government lifted a ban it had imposed in June 2012 on Kenyans going to the Middle East as domestic workers. It has faced criticism for failing to monitor overseas recruitment agencies adequately after reports of sexual assault, torture and starvation.
"Most immigrant workers are subjected to inhuman working conditions in the Gulf states," Francis Auma of the coast-based advocacy group Muslims for Human Rights, told The Standard.
"Their travel documents are confiscated on arrival."
Kenya's ministry of labour reported in 2013 that it had inspected 389 out of an estimated total of 500 labour recruitment agencies, the U.S. State Department 2014 Trafficking in Persons Report said.
The newspaper was unable to get comment from the recruitment agency.
(Editing by Tim Pearce; timothy.pearce@thomsonreuters.com)
http://www.trust.org/item/20140806140431-t8o7v/?source=jtOtherNews3
------------
Helmet Rule Relaxation for Sikh Women in Delhi Triggers Copycat Demands
07 August 2014
Delhi government's proposed plan to make helmets compulsory for women pillion riders on two-wheelers, except Sikh women, has evoked a mixed response with some women welcoming it and others questioning exemption for only one community.
The formal announcement and notification of the new rule for women pillion riders has not been made yet. However, the buzz created by the proposed rule has left a section of Muslim women yearning for an exemption similar to the one given to Sikh women.Parveen Abbas, a women advocate, said: "Wearing helmet is important for our safety but it is difficult to wear helmet on a burqa."
"It should not be compulsory for Muslim women pillion riders," said the Delhi High Court lawyer.
Medical student Anushka Verma supported the proposed helmet rule but sought its implementation without any exemption. "If male pillion riders can wear helmets, why shouldn't women do so?", she asked.
Experts like K K Kapila, chairman of the International Road Federation (IRF), a world-wide forum for advocating better and safer roads, have also welcomed the reported decision to make helmets compulsory for women pillion riders.
Janata Dal United leader and Matia Mahal legislator Shoaib Iqbal criticised the selective exemption given to Sikh women.
"Making helmets compulsory for Muslim pillion women travelling on two-wheelers is not acceptable. We will lodge our protest with the Lieutenant Governor," he said.He claimed the community representatives had earlier objected the proposal to make Muslim women pillion riders wear helmets.
A transport department official, who did not wish to be named, confirmed that they had received objections from the Muslim community against making helmet wearing compulsory for Muslim women riding pillion on two-wheelers.
"We have sent the objection concerned to the Lieutenant Governor's office," he said, hinting that the proposal had still not reached a final stage.
It is not that all Muslims are opposing the proposed helmet rule for women pillion riders.
Author Zafarool Islam Khan said: "We should not ask for any exemption on the ground of religion. I think it's a welcome initiative to ensure that every individual wears a helmet while driving or while pillion riding."
Meanwhile, the proposed exemption for Sikh women pillion riders from wearing helmets has been welcomed by the Delhi State Gurdwara Committee (DSGC).Manjit Singh, president of DSGC, told Deccan Herald: "As per Sikh tenets, wearing of caps is not permitted either by men or women. There are some Sikh women who wear headgear. For them, it's not possible to wear helmets." Singh said.
"The DSGC is thankful to the officials for considering its request for making it optional for Sikh women pillion riders to wear helmets," he said.
The government had made wearing helmets mandatory for all pillion riders in 1998. However, following objection from Sikh community, the government amended the Delhi Motor Vehicle rules 1993 in 1999 and made it optional for women.
Not wearing of helmets is a major reason of death for two-wheeler drivers and pillion riders in fatal accidents in the city. In 2013, 593 fatal accidents, with 613 deaths, involved two-wheeler drivers and pillion riders. In 2012, 577 people were killed in 560 fatal accidents involving scooterists and bikers.
http://www.deccanherald.com/content/424062/helmet-rule-relaxation-sikh-women.html
------------
Michelle Obama to African first ladies: Fight for our girls
AUGUST 7, 2014
WASHINGTON, Aug 7 — US First Lady Michelle Obama yesterday called on her fellow presidential spouses from across Africa to "fight for our girls," saying no girl should fear getting an education.
Obama alluded indirectly to the plight of schoolgirls kidnapped by Islamist rebels in Nigeria in a panel discussion with former first lady Laura Bush on the closing day of a US summit with African leaders.
"We have to fight for our girls," she said, speaking to an audience of other first ladies attending the summit, in a nod to the Twitter activist hashtag #bringbackourgirls.
"There should never be a girl in the world who has to fear getting educated. That is something that should be intolerable to all of us."
In a conversation with Bush and moderator Cokie Roberts that dealt with their children, their projects and the pressure and satisfactions of their unique roles as model women, Obama said she thought of what she wanted for her own daughters — Malia and Sasha.
"And if it's good enough for our girls it should be good enough for every single girl in the world," she said.
"But it's going to take leadership like us, women like us, speaking up in our countries and making sure that young girls are not subject to abuse and are loved and valued.
"And until we do that we will not solve these problems."
Although the summit has dealt mainly with investment and economic opportunity in Africa, it also has raised challenges in a region often known for conflicts, famine and harsh treatment of women.
More than 200 schoolgirls remain in captivity nearly four months after being abducted by Boko Haram rebels who stormed a school in northeast Nigeria on April 14 and have carried out more raids since.
The summit has also heard of rape and sexual assault on a massive scale in strife-torn eastern Democratic Republic of Congo.
A theme of the summit has been to highlight how the education and empowerment of girls and women in Africa are key to the continent's future prosperity.
The session was inspired by Bush, who last year in Dar es Salaam launched "The First Ladies Initiative," an annual gathering of presidential spouses to discuss ways they can support women.
Bush said the first ladies had a unique platform to help women to make sure education and involvement in their countries' economic lives are available equally to boys and girls.
"Because only countries where all people are involved can be successful," she said.
In an open letter published yesterday in Seventeen.com, the online version of a magazine whose target audience is young girls, Obama noted that 62 million girls around the world are not in school.
She said the reasons were varied but often the problem is rooted not in resources but in "attitudes and beliefs" that give boys priority in education or force girls into marriage at a very young age.
In panel discussions, women who work in girls' education in Africa shared their experiences with the first ladies.
http://www.themalaymailonline.com/features/article/michelle-obama-to-african-first-ladies-fight-for-our-girls#sthash.uV5ztEpt.dpuf
------------
URL: https://www.newageislam.com/islam,-women-and-feminism/most-pakistani-women-not-consulted-before-filling-of-nikaahnama--study/d/98466