New Age Islam News Bureau
5 Oct 2012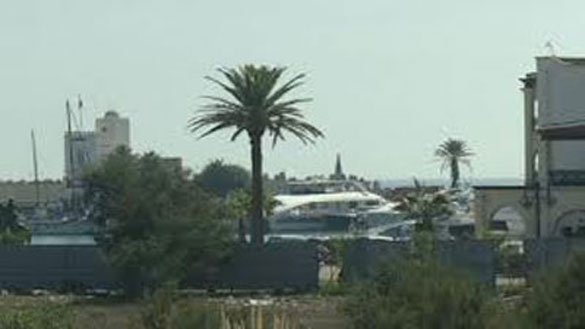 • Police, Armed Pro-Hijab Activists Clash in Baku
• Egypt Salafists Attack Schoolgirls, Tell Them No To Popsicles
• Women's Rights Groups March to Egypt Presidential Palace Calling For a Law Criminalising Sexual Harassment
• Tunisian President Offers 'State Apology' To Woman Raped By Police
• Woman Runs for Chairmanship of Muslim Brotherhood's Party
• Bangladesh: Fatiha Torn Between Passion for Teaching and Deprivation
• Pak SC Issues Contempt Notice to Woman Bureaucrat
• UN Backs Remarks On Afghan Runaway Women
• Decision Pending: Women Participation Presents Conundrum for PTI
• Egypt Court Orders Highest Compensation Ever To Be Paid To Torture Victim
• When it's better to Give Birth in a Foreign Country
• Listen To The New Generation Of Afghans!
• Kenya: Sheila, Iddi Win Women's Charity Boxing Bout
Compiled by New Age Islam News Bureau
Photo: Morocco Denies Entry to Dutch 'Abortion Ship'
URL: https://www.newageislam.com/islam,-women-and-feminism/new-age-islam-news-bureau/morocco-denies-entry-to-dutch--abortion-ship-/d/8885
---------
Morocco Denies Entry to Dutch 'Abortion Ship'
Oct 4, 2012
RABAT: Morocco blocked a Dutch "abortion ship" from entering one of its harbours on Thursday during a campaign group's first attempt to visit to a Muslim country to raise awareness about safe methods of abortion.
The Women on Waves ship, which already has visited traditionally Roman Catholic countries Spain, Portugal and Ireland at the invitation of local women's groups, had planned to arrive at Smir, northern Morocco, but was denied entry.
"The harbour is totally blocked by warships so no one can get in, and there are a lot of police here," said Marlies Schellekens, a doctor from Women on Waves who had gone on shore.
"We're now working on an emergency plan but we have opened up our hotline so women can call for information about the abortion pill."
The group, which was invited to Morocco by rights group Alternative Movement for Individual Freedoms (MALI), wants to spread awareness on land about the use of pills for a medical abortion and said it would carry out abortions aboard the ship in international waters.
Like in other Muslim countries, abortion is illegal and punishable by up to 20 years in prison under Moroccan law, but hundreds of illegal abortions are carried out daily in clinics or using herbal medicines, sometimes resulting in death or injury.
"In Morocco, between 600 and 800 abortions are done every day, but only about 250 are done by doctors, so they are safer, while the rest are taking risks," Schellekens said.
There was no immediate comment from officials on Thursday, but on Wednesday Interior Minister Mohand Laenser, a secular member of the government led since December by moderate Islamists, said the ship would not be allowed to reach Morocco.
"The organizers have never contacted us to seek permission to visit Morocco," Laenser told Reuters. "Plus, we are not going to let them in."
Each year hundreds of single mothers are forced to abandon or give up their babies for adoption because of the stigma linked to abortion and pre-marital pregnancy.
The Moroccan Association Against Clandestine Abortion said in June that the legislation on abortion was disconnected from the social realities of the country and the number of unsafe abortion required a political commitment for a change.
Organizers of an all-gay cruise in June blamed Moroccan officials for the cancellation of what would have been the first visit of its kind to a Muslim country.
http://timesofindia.indiatimes.com/world/rest-of-world/Morocco-denies-entry-to-Dutch-abortion-ship/articleshow/16672998.cms
---------
Police, Armed Pro-Hijab Activists Clash In Baku
By RFE/RL's Azerbaijani Service
October 05, 2012
BAKU -- Police in the Azerbaijani capital, Baku, have forcibly dispersed dozens of protesters gathering outside the Ministry of Education to demand that a ban on Islamic head scarves in school be rescinded.
More than 100 protesters were picketing the ministry building, some of them carrying sticks or poles.
Protesters held placards with slogans like "Freedom to Hijab!" "Stop Islamophobia," and "Islam Will Win!"
Dozens of police used truncheons against the activists.
Several of the protesters, who resisted the police intervention, were detained.
Azerbaijan is a mainly Muslim country with deep Islamic traditions.
Azerbaijan's Ministry of Education officially banned head scarves for girls at schools.
Muslim activists have occasionally protested the ban for some time.
http://www.rferl.org/content/police-azerbaijan-baku-forcibly-disperse-pro-hijab-activists/24729975.html
---------
Egypt Salafists Attack Schoolgirls, Tell Them No To Popsicles
Joseph Mayton | 4 October 2012
CAIRO: Two bearded ultra-conservative men in Egypt attacked four elementary schoolgirls walking down a street eating ice popsicles. The men knocked the popsicles from the girls hands and began yelling at them.
They told them to stop eating the popsicles and go home, Bikyamasr.com witnessed. The girls, shocked at what was happening, stood frozen in their movement.
The two men continued their yelling, telling them to be "modest." The girls began to cry.
A group of men across the street watching the incident were quick to enter the fray, pushing the two men away and kicking them as a yelling match ensued.
One of the men, protecting the girls, continued to shove the two men until they were heading in the opposite direction.
The incident on Thursday highlights the growing influence Salafists, or Islamic puritans, are attempting to have on the streets.
Many women have reported incidents of conservatives in Egypt attempting to force their will on them across the country, attacking them for their "immodesty."
http://www.bikyamasr.com/79212/egypt-salafists-attack-schoolgirls-tell-them-no-to-popsicles/
---------
Women's Rights Groups March to Egypt Presidential Palace Calling For a Law Criminalising Sexual Harassment
4 Oct 2012
Women's organisations and political parties, calling for criminalisation of sexual harassment, to form human chain around presidential palace and submit demands to President Morsi, 6pm Thursday
A coalition of 33 women's rights organisations and initiatives are set to march from Merghani Street in Cairo suburb Heliopolis to the presidential palace, 6pm Thursday, to submit a document to President Mohamed Morsi outlining rights they want enshrined in the upcoming constitution.
The protesters will then be joined by representatives from three political parties, the Egyptian Social Democratic Party, the Constitution Party and the Egyptian Socialist Popular Alliance Party, in forming a human chain outside the presidential accommodation.
Full report at:
http://english.ahram.org.eg/NewsContent/1/64/54786/Egypt/Politics-/Womens-rights-groups-march-to-Egypt-presidential-p.aspx
---------
Tunisian President offers 'state apology' to woman raped by police
04 October 2012
Tunisian President Moncef Marzouki on Thursday offered a state apology to the woman, allegedly raped by two policemen, who is waiting to hear if she will face indecency charges, Marzouki's office said.
"The Tunisian president received the young woman raped by the policemen... and after listening to the details of this painful case... he expressed total sympathy (with the woman) and offered a state apology," a statement said.
Marzouki also "strongly" condemned the rape and hailed the police agents who refused to cover up for their colleagues, something which he said demonstrated that the problem "is not the security institution itself but the mentality of some of its members."
"There is no more tolerance, neither for rapists, nor for those... who want to hide the truth," the statement said.
Full report at:
http://english.alarabiya.net/articles/2012/10/04/241876.html
---------
Woman Runs for Chairmanship of Muslim Brotherhood's Party
03 October 2012
Sabah al-Sakkari, a female member of the Muslim Brotherhood's political wing Freedom and Justice Party (FJP), is running for the first time in the chairmanship elections to replace outgoing chairman of the party Mohammed Mursi, the current Egyptian president.
Sakkari denied allegations that her candidacy aims at embellishing the image of the Brotherhood, frequently accused of discriminating against women.
"I will never accept that the party or the group uses me like a decoration so that people can say the Freedom and Justice was the first party to nominate a woman for chairmanship because this is against my principles," she told Al Arabiya.
Full report at:
http://english.alarabiya.net/articles/2012/10/03/241625.html
---------
Bangladesh: Fatiha Torn Between Passion for Teaching and Deprivation
Hossain Seraj, Magura
October 5, 2012
World Teachers Day being observed today holds very little meaning to Fatiha Nurani, a teacher of AN Sammiloni Girls' High School in the town, as she has not got any salary even after 15 years of service at the institution.
Fatiha, who joined as an assistant teacher for the senior section (classes IX and X) of the school at Niznanduali village under Magura municipality in 1997, is still outside the payroll as the section has remained outside the government's monthly payment order (MPO).
"Now I feel embarrassed to introduce myself as a teacher as I have not got any salary during my 15 years' service. But I cannot resist the urge to attend classes when the school bell rings. The school is adjacent to my house and I have developed a deep passion for teaching," Fatiha told this correspondent on Wednesday.
Full report at:
http://www.thedailystar.net/newDesign/news-details.php?nid=252557
---------
Pak SC Issues Contempt Notice to Woman Bureaucrat
October 5, 2012
ISLAMABAD: The Supreme Court on Thursday issued a show-cause notice to Law Secretary Yasmin Abbasi for not issuing notification regarding the confirmation of Sindh High Court's two additional judges. The court has directed her to file a reply within two weeks explaining why contempt proceeding should not be initiated against her for not complying with its order. A four-member bench of the apex court, headed by Justice Anwar Zaheer Jamali, has also rejected the federal government's review petition against its decision to uphold the Sindh High Court's (SHC) judgement through which the SHC had set aside the decision of parliamentary committee on judges' appointment (PC) to reject the confirmation of two additional SHC judges for permanent appointment. The judges whose confirmation was rejected are Justice Ghulam Sarwar Korai and Justice Irfan Saadat Khan.
http://www.dailytimes.com.pk/default.asp?page=2012\10\05\story_5-10-2012_pg1_2
---------
UN Backs Remarks On Afghan Runaway Women
October 05, 2012
UNITED NATIONS - The United Nations has welcomed a public statement by Afghan officials confirming that it is not a criminal offence for women and girls to 'runaway' from home to escape violence.
Last month, three Afghan officials - the Minister of Justice, Habibullah Ghalib; the Minister of Women's Affairs, Hussein Banoo Ghazanfar; and the Deputy Interior Minister, Mirza Mohammad Yarmand - strongly condemned the wrongful imprisonment of women and girls on charges of 'runaway,' which is often used by prosecutors as evidence of a woman's intent to commit adultery which is a crime under Sharia law.
"The government needs to ensure that law enforcement authorities do not arrest, detain and prosecute any further cases of 'runaway'," said the Country Director of the UN Entity for Gender Equality and the Empowerment of Women (UN Women), Ingibjorg Gisladottir, according to a press release issued at UN Headquarters in New York.
Full report at:
http://www.nation.com.pk/pakistan-news-newspaper-daily-english-online/international/05-Oct-2012/un-backs-remarks-on-afghan-runaway-women
---------
Decision Pending: Women Participation Presents Conundrum For Pakistan Tehreek-i-Insaf (PTI)
By Hassan Ali
October 5, 2012
PESHAWAR: The Pakistan Tehreek-i-Insaf (PTI) leadership is yet to decide whether to take the party's women activists to their 'Peace March' to South Waziristan or not.
And it seems that the party's women leadership stands divided over the issue.
Where one group headed by former provincial women wing president Begum Nassem Hayat deemed the participation of women in the rally against the cultural values of the tribal regions, another group headed by former information secretary of PTI's women wing Esmat Khattak vowed to participate despite threats.
Full report at:
http://tribune.com.pk/story/447221/decision-pending-women-participation-presents-conundrum-for-pti/
---------
Egypt court orders highest compensation ever to be paid to torture victim
03 October 2012
A Cairo court ordered Egypt's Interior Ministry to pay one million Egyptian Pounds ($164,000) to an Egyptian actress in compensation for torturing and forcing her to falsely confess to the murder of her Qatari husband, an Egyptian daily reported on Tuesday.
It is the largest compensation ever paid out by the ministry to a victim of torture.
The incident dates back to 1999, when the then-actress Habiba Mohammed Said was accused of killing her Qatari husband in Cairo, the online edition of Egypt's al-Ahram Online reported.
According to Habiba, she was tortured and sexually abused for eight days by police officers probing the case. She was forced to falsely confess to committing the crime.
Full report at:
http://english.alarabiya.net/articles/2012/10/03/241587.html
---------
When it's better to Give Birth in a Foreign Country
4 October 2012
The majority of expatriate wives living in the Kingdom say they prefer delivering a baby here rather than go back home.
Although women say they prefer to be in the company of family and relatives when delivering a baby, there are more health care facilities in Saudi Arabia. It has a safer and more technologically advanced medical environment than their home countries.
"Medical care in Saudi Arabia is great, except that the nurses at government hospitals can get a bit cranky at times," said Umm Tariq, an American national who is married to a Saudi and living in the Kingdom.
Full report at:
http://www.arabnews.com/when-it%E2%80%99s-better-give-birth-foreign-country
--------
Listen To The New Generation Of Afghans!
October 05, 2012
KABUL: A young woman grabs the microphone and yells, "Listen to the new generation of Afghans!" In the crowd, throngs of young men leap about, shaking their fists. On this October night, Kabul awakens to rock 'n' roll.
The timing of a unique rock festival held in Kabul this week is highly symbolic for the war-torn capital - 11 years ago this month the Taliban were routed by a US-led invasion, having banned music and erased women's rights.
Out in the provinces gripped by an insurgency and ruled by tradition, such a scene is still unheard of, and would face horrific retaliation.
Just five weeks ago, 17 party-goers holding a gathering with music in a southern Afghanistan village were beheaded by Taliban.
But for three days in the capital, the opportunity to rock out is seized by delighted audiences and performers alike at the Sound Central festival, organised by the French Institute of Afghanistan.
Full report at:
http://www.dailytimes.com.pk/default.asp?page=2012%5C10%5C05%5Cstory_5-10-2012_pg7_11
---------
Kenya: Sheila, Iddi Win Women's Charity Boxing Bout
BY CAPITAL LIFESTYLE, 4 OCTOBER 2012
Put a group of women in a boxing ring and they will be first to forget that they were screaming during practice, and proceed to tear you apart.
That's what happened last night when more than eight female celebrities were let loose in a mock boxing bout that - at some moments - had the potential to turn pro.
The intention was to raise funds for the treatment and rehabilitation of one of Kenya's most successful female boxers Conjestina Achieng, whose mental health has been a source of worry for family and friends.
Her plight was highlighted in the media last month, prompting a public outcry where citizens came together and pondered on what to do help make things better.
Full report at:
http://allafrica.com/stories/201210050100.html
---------
URL: https://www.newageislam.com/islam,-women-and-feminism/new-age-islam-news-bureau/morocco-denies-entry-to-dutch--abortion-ship-/d/8885