New Age Islam News Bureau
11 Jan 2017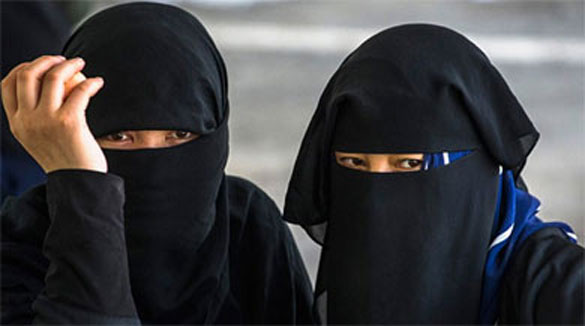 Photo for representational purpose
-----
• Perlis Fatwa Allows Muslim Wives To Leave Home Without Husbands
• Former Nun Turned Muslim Preacher Testifies Against Ahok
• Swiss Muslim Girls Must Take Swimming Classes With Boys: Europe Court
• Pak Women Writers Reminisce About Three Rewarding Years In PWC-LC
Compiled by New Age Islam News Bureau
URL: https://newageislam.com/islam-women-feminism/morocco-bans-production-sale-burqas/d/109683
-------
Morocco Bans Production And Sale Of Burqas: Reports
JANUARY 11, 2017
MOROCCO has banned the production and sale of Burqa full-face Muslim veils, apparently for security reasons, media reports said on Tuesday.
While there was no official announcement by authorities in the North African nation, the reports said the interior ministry order would take effect this week.
"We have taken the step of completely banning the import, manufacture and marketing of this garment in all the cities and towns of the kingdom," the Le360 news site quoted a high-ranking interior ministry official as saying.
It said the measure appeared to be motivated by security concerns, "since bandits have repeatedly used this garment to perpetrate their crimes."
Shopkeepers have been told they must get rid of their stock of Islamic veils within 48 hours or they will be confiscated, Morocco World News reports.
Most women in Morocco, whose King Mohammed VI favours a moderate version of Islam, prefer the hijab headscarf that does not cover the face.
The niqab, which leaves the area around the eyes uncovered, is also worn in Salafist circles and in more conservative regions in the north, from where thousands of jihadists have gone to fight in Syria and Iraq.
In some commercial districts of Casablanca, the country's economic capital, interior ministry officials on Monday conducted "awareness-raising campaigns with traders to inform them of this new decision," the Media 24 website said.
In Taroudant in southern Morocco, authorities ordered traders to stop making and selling burqas and to liquidate their stock within 48 hours, the reports said.
Retailers in the northern town of Ouislane were said to have received similar instructions.
It was unclear if Morocco plans to follow in the footsteps of some European countries such as France and Belgium where it is illegal to wear full veils in public.
The reports were met with a muted response in the absence of official confirmation, though Salafists expressed concern that the measure could be expanded to include the niqab.
"Is Morocco moving towards banning the niqab that Muslim women have worn for five centuries?" Salafism sheik Hassan Kettani wrote on Facebook.
"If true it would be a disaster," he added.
Hammad Kabbaj, a preacher who was barred from standing in parliamentary elections in October over his alleged ties to "extremism", denounced the ban as "unacceptable".
In comments on Facebook, he mocked the "Morocco of freedom and human rights" which "considers the wearing of the Western swimsuit on the beaches an untouchable right".
Oussama Boutaher, a co-ordinator that defends Islamist prisoners, said the burqa ban amounted to "discrimination".
"This shows that we are considered second-class citizens. It attacks individual freedoms even though Morocco has signed a number of international protocols on human rights," he told AFP.
"Our example isn't Afghanistan, but the prophet and his followers," added Boutaher, who also rubbished the idea that curbing the sale of the burqa would improve security.
But politician Nouzha Skalli, a former family and social development minister, welcomed the ban as "an important step in the fight against religious extremism".
The High Council of Oulemas, the country's top religious authority, has yet to comment on the issue of banning full-face veils.
Source: news.com.au/world/africa/morocco-bans-production-and-sale-of-burqas-reports/news-story/96784d326aceaf35411f15fc4fedc0a4
-----
Perlis Fatwa Allows Muslim Wives To Leave Home Without Husbands
January 10, 2017
KUALA LUMPUR, Jan 10 — The Perlis Fatwa Committee has issued an edict allowing Muslim wives to leave their marital home without their husbands' permission if their lives are in danger.
Issued last December, the fatwa stated that if Muslim wives strongly feel that there is no way out of a threatening situation, including those that affect their religious status, physical self, honour, family or possessions, they are allowed to leave without getting permission from the husbands.
"This is after the wife finds that there is no solution besides leaving the home.
"The wife can also leave home without a husband's permission if the husband fails to fulfil his obligation of providing a safe and appropriate home and giving enough nafkah (alimony)," the statement read.
The statement added that Muslim wives would also not be considered as to have committed nusyuz (unreasonable disobedience) under the circumstances until the husbands fulfil their responsibilities.
Perlis Mufti Datuk Asri Zainul Abidin, who posted the statement on his personal Facebook page today, told The Star Online that the fatwa was to protect Muslim wives who had been ill-treated by their husbands.
"We see many women here who are victims. They have been misinformed that they cannot leave their homes in any situation. Their marriages are akin to being in a prison. This purpose of this fatwa is to protect these women," he was quoted saying.
He also reportedly listed several other examples of situations where the Muslim wife could leave her husband's house without permission. They include situations in which the husband was involved in drugs, had sexual diseases or even borrowed money from loan sharks and left their wives to suffer the consequences.
http://www.themalaymailonline.com/malaysia/article/perlis-fatwa-allows-muslim-wives-to-leave-home-without-husbands-say-so
--------
Former Nun Turned Muslim Preacher Testifies Against Ahok
January 10, 2017
Irena Handono, a former Catholic nun who became an Islamic preacher, testified against Jakarta Governor Basuki "Ahok" Tjahaja Purnama on Tuesday, saying Ahok's comments about Surah Al Maidah 51 of the Quran during a visit to Thousand Islands on Sept. 27 aimed to further his political agenda.
"The suspect has used his working hours to do hidden campaigning [...] Why didn't he just talk about work? Why should he talk about the Quran, which is beyond his capacity?" Irena said to the judges, adding that Ahok's working visit should have been about fish cultivation, not the upcoming election.
Irena said that although Ahok did not convey his vision, mission and program during the meeting, the incumbent had encouraged residents to vote for him.
Like other prosecution witnesses who reported Ahok to the police for alleged blasphemy, Irena also condemned Ahok's statement, which some have interpreted as insulting the Quran.
"As a non-Muslim, Ahok should not criticize Islam," she said.
(Read also: Ahok's lawyers criticize witness' background, noting him as Agus supporter)
Ahok's lawyers countered Irena's testimony by grilling her about her educational background, which was later stopped by the judges due to its irrelevance.
The lawyers also brought up Irena's Facebook fanpage which, according to them, frequently attacked Christians. (jun)
http://www.thejakartapost.com/news/2017/01/10/former-nun-turned-muslim-preacher-testifies-against-ahok.html
--------
Swiss Muslim girls must take swimming classes with boys: Europe court
January 10, 2017
Muslim parents in Switzerland cannot refuse to send their daughters to mixed school-run swimming lessons, Europe's rights top court ruled on Tuesday, responding to a challenge by a Turkish-Swiss couple who argued the classes violated their beliefs.
The European Court of Human Rights accepted that the refusal by authorities to exempt girls from the lessons interfered with their freedom of religion. But the interference, it said, was justified by the need to protect the children from social exclusion. School plays "a special role in the process of social integration, particularly where children of foreign origin were concerned," ruled the court, which is based in the eastern French city of Strasbourg. Swimming lessons are "not just to learn to swim, but above all to take part in that activity with all the other pupils", it added. The case was brought by a Turkish-Swiss couple who argued that forcing their pre-pubescent daughters to attend the classes violated their faith.
The court found that the Basel authorities had tried to accommodate the parents' beliefs by, for instance, allowing the girls to wear the full-body "burkini" swimsuit. The court also said that the fine of 1,400 Swiss francs (around 1,300 euros) imposed on the couple in 2010 after a warning was "proportionate to the aim pursued" of getting them to comply with the regulation.
The case was brought by Aziz Osmanoglu and his partner Sehabat Kocabas, whose daughters were born in 1999 and 2001. All their appeals were rejected by Swiss courts, after which they took their case to Strasbourg. The judgement passed on Tuesday is not final. The couple has three months to appeal against the decision.
http://indianexpress.com/article/world/swiss-muslim-girls-must-take-swimming-classes-with-boys-europe-court-4468164/
-------
Pak women writers reminisce about three rewarding years in PWC-LC
Jan 11, 2017
By Madiha Noman
RIYADH — Every organization is formed to get the capability of its members recognized all over the world. Pakistan Writers Club (PWC) is one such organization, which is not only recognized in the Kingdom of Saudi Arabia but its talented members have made their mark in other parts of the world.
The PWC, which evolved almost 25 years ago, not only shares glorious memories but also has a feather in its cap by founding its Ladies Chapter (PWC-LC).
Faiz Al-Najdi, the then president of PWC, came up with the idea of a ladies chapter and laid foundations of PWC-LC on Nov. 15, 2013. There were seven founding mothers, namely Dr. Wardah (convener), Dr. Erum (deputy convener), Farah (finance secretary), Qundeel (PRO), and Asma Tariq, Ambreen Faiz and Shaheen Javed (members).
Ever since its founding, PWC-LC has served as a voice and platform for talented ladies of the Pakistani community in Riyadh. PWC-LC has come of age and has not looked back ever since.
The PWC-LC celebrated the 3rd anniversary of its founding recently. The members expressed their joy and here is what they have to say about their journey through PWC-LC.
Almas Mumtaz, a senior member and currently PRO of PWC-LC, termed her experience as a member to be that of great honor and privilege. "I enjoyed each and every moment with PWC-LC, learned a lot and made new friends," Almas said.
She described the Ladies Chapter as a tribe of successful women who empower each other.
Ambreen Faiz, a founding member, appreciated the ladies for their wonderful work to bring a good name for Pakistani women. "The PWC-LC has provided me an opportunity to hone my skills of public speaking and I remain very hopeful that the group would grow in future," Ambreen said.
Asma Tariq, currently adviser to the convener, said it was an honor and privilege for her to be a founding member of PWC-LC. "I have enjoyed each and every event in the past three years on this beautiful journey and I wish all success for PWC-LC," Tariq added.
Madiha Noman, the current event coordinator, described her three years with PWC-LC as very rewarding. "Women are the building blocks of any society.
PWC-LC has not only acknowledged that but has provided a wonderful platform to the Pakistani women of Riyadh to transform their dreams into reality. I feel honored to be associated with PWC-LC," Madiha said.
Farah Ehsan, the incumbent convener, expressed happiness on the third anniversary of PWC-LC. "I remember that memorable day, 15th November 2013 – when the then president of PWC Faiz Al-Najdi had founded the Ladies Chapter of PWC," Farah said.
She said today PWC-LC was like a bouquet of several beautiful flowers, as the team comprises a host of talented ladies from all fields of expertise.
Madiha Malik, incumbent deputy convener, expressed her two-year journey with PWC-LC as "an amazing one and full of excitement".
"In these past two years, I have met with some wonderful ladies and made friends with them. I found them very talented and have drawn inspirations from them all," Madiha added.
Qandeel Aymen, a founding member, appreciated the efforts of former president Najdi and current president Abdul Rauf Mughal who took the initiative of creating a forum where ladies could manifest their talents and creativity. "I thank all male members who nurtured PWC-LC in a very conducive manner," Qundeel added.
Shaheen Javed, one of the founding members of PWC-LC said, PWC-LC was in fact a group of talented, successful, passionate and adorable ladies. "I find myself to be very lucky among this group of lovely ladies," Shaheen added.
Shumaila Malik, incumbent finance secretary, said her journey of one year with PWC-LC has been a unique experience. "I believe when women with their collective wisdom set out to do anything then they can do wonders," Shumaila said. She also expressed her hope for a better and stronger PWC-LC in future.
http://saudigazette.com.sa/saudi-arabia/pak-women-writers-reminisce-three-rewarding-years-pwc-lc/
-------
URL: https://newageislam.com/islam-women-feminism/morocco-bans-production-sale-burqas/d/109683
New Age Islam, Islam Online, Islamic Website, African Muslim News, Arab World News, South Asia News, Indian Muslim News, World Muslim News, Womens in Islam, Islamic Feminism, Arab Women, Womens In Arab, Islamphobia in America, Muslim Women in West, Islam Women and Feminism, Moderate Islam, Moderate Muslims, Progressive Islam, Progressive Muslims, Liberal Islam