New Age Islam News Bureau
14 May 2013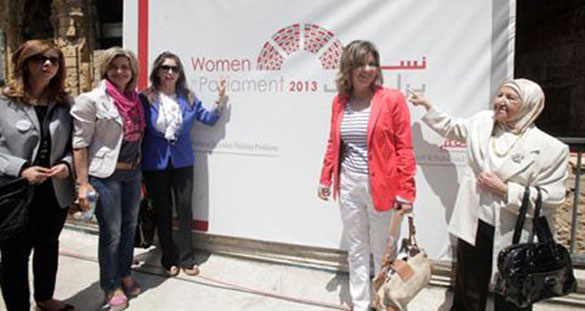 Women in Parliament campaign, Monday, May 13, 2013. (The Daily Star/Mahmoud Kheir)
-----------
• Pakistan Ambassador to US, Sherry Rehman Resigns
• Award Goes To Pakistani Girl Malala Yousafzai, Shot By Taliban
• Police Arrest Woman over Dubai Jewellery Thefts
• Pakistani Woman Gulps Acid after Clash with Husband
• Women Fight for Equal Rights in Post Mubarak Egypt
• London Conference to Promote Partnership between G8 and Arab Businesswomen
• Indonesian Female Candidates Rush To Learn Campaign Strategies
Compiled by New Age Islam News Bureau
URL: https://newageislam.com/islam,-women-and-feminism/new-age-islam-news-bureau/more-than-50-women-to-run-for-lebanon-parliamentary-polls/d/11572
------------
More Than 50 Women to Run For Lebanon Parliamentary Polls
May 14, 2013
By Jana El Hassan
BEIRUT: More than 50 women are planning to run for the upcoming parliamentary polls, as activists are still campaigning for quota in both the Parliament and Cabinet.
"We announce today the intention of more than 50 women, up till now, to run for the parliamentary elections," said the head of the Women Council, Jamal Gabriel, as she read the statement of the coalition of Women in the Parliament 2013.
Around 50 women and activists gathered Monday in Ajami Square in Beirut's Downtown to renew the call for a 30-percent quota for women in the upcoming parliamentary elections and the new Cabinet still to be formed by Prime Minister-designate Tammam Salam. The protest was organized by the coalition of Women in the Parliament 2013 which includes more than 150 women organizations across Lebanon.
Regina Antara, a lawyer, submitted her candidacy for the 2013 polls for the Maronite seat in the northern city of Tripoli. The demonstration, she told The Daily Star, aimed at pressuring lawmakers to approve the 30-percent quota for women.
"I ran for the elections in 2009 and I am running again for the year 2013," Antara said.
She does not come from an established political circle but does have the political background and has developed her skills in the field, Antara said.
"I do not come from a family of politicians, I am a politician myself," she said.
For her part, Olfat al-Sabeh, an activist, said: "A real sense of citizenship can only be achieved by partnership among men and women."
"We are calling for partnership and just equality with men, and we believe having a share in both Parliament and Cabinet would be the first step to turn women into decision-makers," insisted Sabeh.
Prominent activist Linda Matar said such sit-ins and campaigns to promote women's representation in government are necessary. They promote what she called "compulsory optimism," even if their effects are minimal.
"In my personal opinion, we have to be hopeful over such movements because once we stop being optimistic, we will not be able to achieve anything," Matar said. "Our optimism is compulsory, we have no other choice."
Matar said that the country's real problem lies in the confessional system that prevents all Lebanese, both men and women, from having their full rights.
"The problem is in the sectarian system, the heads of sects have the grip on all decisions," Matar said.
The call for a women's quota in Lebanon is a not new one. Women's organizations have been lobbying for years to introduce legislation that would specify a minimum number of female MPs.
Lebanon has ratified the Convention on the Elimination of all forms of Discrimination Against Women and the Beijing Convention, both of which call for greater gender equality.
However, women remain generally under-represented in politics when compared with other countries.
"The women quota is an international resolution and not a Lebanese one," Matar said. "And as international resolutions usually triumph over local ones in the country, we might be able to reach the aspired quota."
http://www.dailystar.com.lb/News/Local-News/2013/May-14/217003-more-than-50-women-to-run-for-polls.ashx#axzz2T7v41XzC
------------
Pakistan Ambassador to US, Sherry Rehman Resigns
2013-05-14
WASHINGTON: Pakistan's Ambassador to the United States, Sherry Reham, has resigned from her post on Tuesday, DawnNews reported.
Sherry Rehman sent her resignation to the Prime Minister of Pakistan, Mir Hazar Khan Khoso.
Serving Pakistan People's Party for a long time, Rehman was elected to the National Assembly in 2002 on a reserved seat for women. She again returned in 2008 as MNA on women's reserved seats. As PPP and its allies formed a government at the centre, Rehman was appointed federal minister for information and broadcasting the same year. However, she resigned from the position in 2009.
Rehman was eventually appointed Pakistan's ambassador to the United States after her predecessor Husain Haqqani resigned over the memo scandal. This year, she was awarded with Nishan-i-Imtiaz, the highest honour given to any civilian, for her performance as ambassador at a time when US-Pakistan relations were passing through a very difficult phase.
http://beta.dawn.com/news/1011217/ambassador-to-us-sherry-rehman-resigns
------------
Award Goes To Pakistani Girl Malala Yousafzai, Shot By Taliban
May 14 2013
A Pakistani human rights activist who founded an all-girls school said the Taliban was "more afraid of the books than bombs" as he and his 15-year-old daughter, who survived an assassination attempt by the Taliban late last year, were honored Monday at the memorial for Oklahoma City bombing victims.
Ziauddin Yousafzai decried political violence during a ceremony held to honor him and his daughter, Malala Yousafzai, who has been recovering in Great Britain since the shooting that garnered international attention. The annual Reflections of Hope Award is given out by the Oklahoma City National Memorial & Museums in honor of the 168 people who died in the 1995 bombing of the Oklahoma City federal building.
The elder Yousafzai said Pakistani citizens are all too familiar with the kind of extremism that led to the Oklahoma attack, as well as the Sept. 11 terrorist attacks and the Boston Marathon bombings last month.
"We share the pain. We share the suffering," he said. "We have tragedies like Boston every day."
He denounced the violence inflicted by Taliban insurgents who have taken the lives of tens of thousands of civilians and soldiers over the past 30 years. He said the Islamic fundamentalists advocate an "ideology of darkness" where truth is stifled and education is discouraged.
"My part of the world is bleeding. I'm here to bring my people out of terrorism," he said.
The award began in 2005, and past recipients include the Rev. Alex Reid of Dublin, Ireland, for his life's work in the peace process in Northern Ireland, and Durga Ghimire, who co-founded a community-based organization dedicated to improving the lives of marginalized people in Nepal. President Bill Clinton, who was president when the Oklahoma City bombing occurred, also has been honored.
Yousafzai accepted the award on his daughter's behalf during his first trip to the United States since the Taliban's assassination attempt on Malala. In a recorded acceptance speech, she said the Oklahoma memorial's recognition served as encouragement to continue being an advocate for the right of girls worldwide to receive an education.
"It's more courage. It's more strength," said Malala, who returned to school in England in March.
Yousafzai founded the all-girls Khushal Public School 17 years ago to foster female leadership in an area where the Taliban has banned girls from attending school. His daughter also was an activist who attended the school until Oct. 9, when the Taliban shot her in the head and neck while she was riding the school bus home. The Taliban said it targeted her because she promoted girls' education and "Western thinking."
Prior to the shooting, Malala spoke out about having the right to speak and to an education. In a video clip played during the ceremony, she said: "I want every girl, every child, to be educated."
The shooting sparked outrage in Pakistan and other countries, and Malala's story captured global attention for the struggle for women's rights in her homeland. Malala was airlifted to Britain from Pakistan to receive specialized medical care and protection against further Taliban threats. She had surgery to reconstruct her skull in February.
Ziauddin Yousafzai said he was honored to be known largely as Malala's father in Pakistan's male-oriented society and dedicated the award to fathers, brothers, sons and husbands "who believe and who accept and who respect their daughters, their sisters, their mothers and their wives."
"They are individuals and they are equal to them," he said.
As he concluded, dozens of teenage girls from nearly three dozen Oklahoma communities entered the stage behind him holding signs that read: "I am Malala." He encouraged them: "We should defeat bad ideas with good ideas."
http://www.thejakartapost.com/news/2013/05/14/award-goes-pakistani-girl-shot-taliban.html
------------
Police Arrest Woman over Dubai Jewellery Thefts
By Bassma Al Jandaly
May 13, 2013
Dubai: A wealthy GCC woman who stole unique pieces of jewellery from stores in Dubai has been caught, police said on Monday.
The woman, who was visiting Dubai with her family, had carried out five thefts but was caught in the act during her sixth attempt.
Police said the woman was the wife of a senior official in a neighbouring GCC country.
Lieutenant Colonel Saeed Al Ayali, director of the criminal investigation department at Dubai Police, said on Monday that five complaints had been received by police from branded jewellery shops concerning the thefts of unique and expensive pieces of jewellery.
Lt Col Al Ayali said the closed-circuit cameras which monitored the shops showed the woman stealing from the stores.
"The images of the woman were distributed to all jewellery shops in Dubai," he added.
Lt Col Al Ayali said a jeweller told police that the woman was at his shop.
Police instructed the jeweller to try to keep her in his shop as long as possible.
"The woman was caught red-handed as she was trying to leave the shop after she stole a piece of jewellery."
The woman was taken to the police station where she said she suffered from a psychological disorder and was unaware she was stealing.
Her husband was also called to the police station.
After searching the room in the five-star hotel where the family was staying police found jewellery worth Dh200, 000 stolen by the woman.
The case has been transferred to the public prosecutor for further investigation.
http://gulfnews.com/news/gulf/uae/crime/police-arrest-woman-over-dubai-jewellery-thefts-1.1182919
------------
Pakistani Woman Gulps Acid after Clash with Husband
May 14, 2013
RAWALPINDI
A woman gulped acid over a domestic dispute in the Airport police limits on Monday.
Gul, her, husband told police that Rubina gulped acid after clash with him. Police said the woman survived after getting medical aid. It was a suicide attempt; police added and launched investigation after registering a case.
http://www.nation.com.pk/pakistan-news-newspaper-daily-english-online/islamabad/14-May-2013/woman-gulps-acid-after-clash-with-husband
------------
Women Fight for Equal Rights in Post Mubarak Egypt
13 May 2013
by SJS Member Submission
"Only reform consistent with the Quran, which indisputably places great value on women, can bring prosperity to Egypt, its people, its government and the Arab region." Aylin Kocaman
Rape in Tahrir Square
January 25, 2013 a 19 year old woman is brutally raped at the two year celebration of Hosni Mubarak's departure from office, one of 19 group sexual assaults that day in Tahrir Square Cairo, Egypt.[1] The Assaults continue on an almost daily basis in Cairo, the center of Egypt's reformed government, and birthplace of hope for so many Egyptians. Women are being gang raped, women's bodies, minds and souls are being savagely attacked, while their cries for justice are denied, ignored and mocked by officials. The sheer brutality of these assaults is appalling and even worse is the reluctance of the Egyptian government to do much about it. Male members of the Shura council, the temporary legislative authority in Egypt, have been quoted as saying that this perhaps will teach women to stay away from dangerous places.[2] Clearly, Egypt's revolution has not changed the oppressive atmosphere for women, they are still being treated as second class citizens, so much so, that their violent sexual assaults are laughed at by men of power. From the ruins of Mobarak's regime and into a new era, women are the ones who really have something to gain from change, their basic human rights. Women must seize this rare moment of political and social change in the Middle East. Women must speak out and fight for equality in a society that has all but disregarded them.
What has changed?
The end of Mubarak's rein over Egypt, after much civil unrest, did little to free women from a society that devalues them and their basic rights as humans. Since President Mohamed Morsi has been elected there has been a political move to suppress freedom of speech heavily in Egypt. Popular satirist Bassem Youseff was charged with crimes ranging from defamation to sedition, for no more than making political jokes on television.[3] Also recently, the Shoura Council has seized women's parliament seats and is trying to put women out of politics all together. Women hold only 2 percent of parliament seats, 11 out of 508. This is a violation of law no. 38/1972 granting women 64 seats.[4] This is a pivotal moment in Egyptian history, with so much on the table women must press the issue. Egyptian women are in danger of living in a country no different than it was under Mubarak's dictatorship. Furthermore, due to deeply ingrained values and gender roles, women face a future of continued inequality and silent suffering. If women do not continue to push for personal freedoms in Egypt, it will remain as it has been for hundreds of years, a prison. The newly signed Egyptian constitution granting women equal rights does so begrudgingly, and the misogynistic overtones contained within the constitution are hard to overlook.
The Egyptian Constitution
The Egyptian constitution was signed into effect by President Mohamed Morsi in December 2012. Women were excluded from the committee that amended the new constitution, instead it was written by a committee of only men, some belonging to the Muslim Brotherhood. The wording of the new constitution is of great concern to women in Egypt, while granting women equal rights in words, it leaves openings for religious interpretations of men in power. This excerpt from the document is of particular concern, "State is committed to taking all constitutional and executive measures to ensure equality of women to men in all walks of political, cultural, economic and social life," however, it stresses "without violation of the rules of Islamic Jurisprudence."[5] Herein lays the root of women's oppression in Egypt, and in the Middle East. Men's interpretation of Islamic jurisprudence can lead to the control and oppression women.
History Lessons
Egypt, predominantly Sunni Muslim, has a strong association with the oppression of women, as do many other Middle Eastern countries. However, in the beginnings of the Islamic faith this was not the case. There have been many significant women leaders in the history of Islam since its founding in the 7th century. Muhammad, the father of Islam, surrounded himself with powerful and influential women. Muhammad's first wife, Khadija bint Khuwaylid, was a powerful businesswoman and fifteen years his senior. Another of his wives, Aisha bint Abu Bakr, was a scholar, a political leader and once led an army into battle.[6] Many scholars of the Islamic religion agree that Islam actually demands that women be full, active members of the society in which they live. But today Islam is an oppressor of women, how is this so? Azizah al Hibri, woman's' rights activist and lawyer explains, "Overtime, patriarchal, tribal, and cultural practices that actually contradict Muhammad's teachings seeped into various schools of Islamic jurisprudence." [7] Islam, while associated with oppression by many and the common scapegoat of politicians' sexist agendas, perhaps is not to blame here. Instead women must address deeply ingrained cultural values. Muslims are deeply bound to and by their religion. Most Muslims, men and women alike, feel that laws should be based, at least partially, on Islamic tradition but culture is not religion; culture is fluid and open to change. Islam is not the oppressor here, it is men's interpretation of the Quran and Islamic teachings. Women have lived in their current circumstances in Egypt for so long that some have come to expect nothing more than a silent servitude to men. However, others continue fight for their right to be heard.
Change
The collapse of the Mubarak regime was of course a huge success for Egyptians, men and women alike. Egyptians rejoiced at having freed themselves from a dictator. However, with the Morsi regime having such radical Muslim Brotherhood roots, Egyptians, especially women, are growing fearful again.[8] A backslide into the radical fundamentalism of the past would be a tragedy of monumental proportions for women. To have fought and won, only to lose in the end, would be a sad conclusion of the freedom movement in Egypt. Historically women have been treated as second class citizens in the name of misguided logic. Many women have even begun to believe this logic themselves. This is the fashion in which women in Egypt have been controlled for hundreds of years. The cycle must be broken.
For reform to truly happen in Egypt there must be freedom of ideas, democracy, and love for other faiths.[9] The current regime, while promoting these ideas vocally, is silently suppressing them and in turn suppressing women. Even the horrific sex crimes at Tahrir Square seemed not to raise concern with male Egyptian leaders. Women must speak out now. Women must embrace this air of change before it is lost to them. Women have broken the silence, and there are men who support their cause, however the cause must be furthered. Women must fight to secure places within the government, and they must work to elect more moderate leaders. If women truly want equality in Egypt they must work against many years of oppression to succeed. It will not be easy, in fact it will be painful, but women must fight now for the future generations of Egyptian women.
Full report at:
http://www.socialjusticesolutions.org/2013/05/13/womens-fight-for-equal-rights-in-post-mubarak-egypt/
------------
London conference to promote partnership between G8 and Arab businesswomen
May 12, 2013
LONDON: A major two-day conference on 'Supporting open economies, inclusive growth – women's role in Arab countries' will be held at Lancaster House in central London on 25th and 26th June 2013, as part of the UK's presidency of the G8 Deauville Partnership with Arab Countries in Transition.
This groundbreaking initiative will bring together businesswomen from the Arab world and their G8 counterparts. It is the first event to bring governments and business organisations together to promote the role of Arab women in the global economy as well as in the individual economies of the Arab Countries in Transition. It will provide the chance for participants to network and cement new business relationships.
Arab women already lead businesses vital to the connection between Arab economies and global markets. They play an increasing role in trade promotion and creating jobs, for men as well as for women, in the Middle East and in partner regions.
The conference will build on these achievements, exploring ways of strengthening the role of Arab women in international trade and maximising their economic contribution through sessions on financing business growth; opening gateways for women into international trade negotiations; promoting women's entrepreneurship; locating women in global supply chains; and creating a workplace in which women can thrive.
A series of workshops will encourage partnerships in financial services, the creative industries, health and education, technology, retail and tourism, energy and infrastructure.
The conference will be opened by a senior Cabinet Minister from the British Government and will be addressed by prominent business leaders from the G8 and regional partner countries. On the final evening, a Business Awards reception will be held to celebrate the achievements of women business and economic leaders in the Arab world.
Full report at:
http://bikyanews.com/88670/london-conference-to-promote-partnership-between-g8-and-arab-businesswomen/
------------
Indonesian Female Candidates Rush To Learn Campaign Strategies
May 14 2013
Female candidates running for next year's legislative election are feeling the pressure to learn the ropes of campaigning fast, while fighting the stigma that their presence in parties' candidate lists are mere formalities.
All 12 parties contesting the 2014 general election have fulfilled the 30-percent-quota for female legislative candidates, according to the General Elections Commission (KPU). But as parties have complained about the difficulty in finding high quality female candidates to reach the quota, many still view female candidates as unworthy contenders, Democratic Party legislative candidate Umi Farida said.
Umi, 35, a former NGO worker whose work focuses on women, labor and minority rights, is a first time candidate for the House of Representatives, contesting in the Central Kalimantan electoral district (dapil).
Following the Constitutional Court ruling early this year that upheld the 30 percent quota requirement for women, party leaders, such as United Development Party chairman (PPP) and Religious Affairs Minister Suryadharma Ali complained about the difficulties in reaching the quota. Syarif from the Great Indonesia Movement (Gerindra) Party also commented that while the party can guarantee quantity, it could not guarantee the quality of many first time female candidates.
Female candidates say that many of their male counterparts have more experience and are more confident in campaigning, while the women still need support in campaign strategies.
The Democratic Party, in collaboration with the University of Indonesia, supported its female candidates by holding a course for them, Umi said. She said the program introduced female candidates to strategies such as mapping out voters and issues specific to voter's needs; as well as fund raising and campaign budgeting.
Binny Buchori, a Golkar candidate focusing on universal health care access, said her party also had training for female candidates. Golkar focuses on legislation processes and development issues such as the Millenium Development Goals. Binny will run in the East Java VII electoral district, covering Ponorogo, Pacitan, Trenggalek and Tulungagung.
Meanwhile, Tunggal Pawestri, an activist running for the Yogyakarta Council with the Indonesian Democratic Party of Struggle (PDI-P), said female candidates had discussed the need for specific training that covered constituent outreach and voter targets. "Male candidates may be more familiar with election strategies, but women need training," she said. For example, they need to know how many votes are needed to win a seat based on the number of voters in an electoral district. For example in her electoral district in Kulonprogo, Tunggul would need at least 25,000 votes to secure a seat in the Yogyakarta Council.
Nihayatul Wafiroh, 33, from the National Awakening Party (PKB), who will run in East Java III — Situbondo, Bondowoso, Banyuwangi — said that some very qualified women had been assigned the numbers one to three on the candidate list. She was listed as number two, which matches the PKB's number on the party list. Despite an open-proportional system, which means those who win the most votes will enter regardless of the rank, Nihayat ul said the top numbers still had a psychological effect on voters.
Full report at:
http://www.thejakartapost.com/news/2013/05/14/female-candidates-rush-learn-campaign-strategies.html
------------
URL: https://newageislam.com/islam,-women-and-feminism/new-age-islam-news-bureau/more-than-50-women-to-run-for-lebanon-parliamentary-polls/d/11572