New Age Islam News Bureau
31 March 2022
• Iran Orders Probe after Women Barred From Football Game
• Red Card! Outrage in Iran over Ban on Female Football Fans
• Afghanistan: Defending the Rights of Women in a Necropolis of Human Rights
• UN Dubai Forum: Women Entrepreneurs Call For Greater Access to Financing
• Afghanistan: UN Special Envoy Holds Dialogue with Women Representatives in Kabul
Compiled by New Age Islam News Bureau
URL: https://www.newageislam.com/islam-women-feminism/female-saudi-cadets-military/d/126702
--------
More Than 200 Female Saudi Cadets Graduated From Military Training Course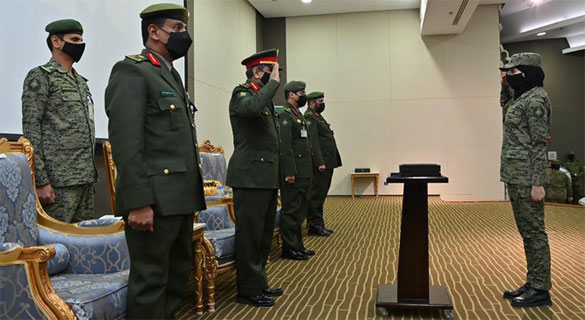 Saudi Arabia opened up military recruitment to women in early 2021 as part of the goals of Saudi Vision 2030. (Supplied)
-----
March 31, 2022
RIYADH: More than 200 female Saudi cadets graduated on Wednesday from a military training course, the General Directorate of Passports announced.
The 228 soldiers, who have completed their fourth basic individual course, were honored during a ceremony presided over by Lt. Gen. Sulaiman bin Abdul Aziz Al-Yahya, the directorate's director general, under the patronage of Prince Abdulaziz bin Saud, the minister of interior.
In a speech, Al-Yahya passed on to the graduates a message of congratulations from the minister and praised the women for the determination they had shown during training. He also stressed the importance of "responsibility, working seriously, being team-spirited and making every effort to serve the country."
Saudi Arabia opened up military recruitment to women in February last year as part of the goals of Vision 2030 relating to empowerment and gender equality in all fields. Saudi women now have the opportunity to join the Royal Saudi Air Defense, Royal Saudi Navy, Royal Saudi Strategic Missile Force and the Armed Forces Medical Services.
The first group of female recruits graduated from the Armed Forces Women's Cadre Training Center in September last year after completing 14 weeks of basic training that began on May 30.
Source: Arab News
https://www.arabnews.com/node/2054056/saudi-arabia
--------
Iran Orders Probe after Women Barred From Football Game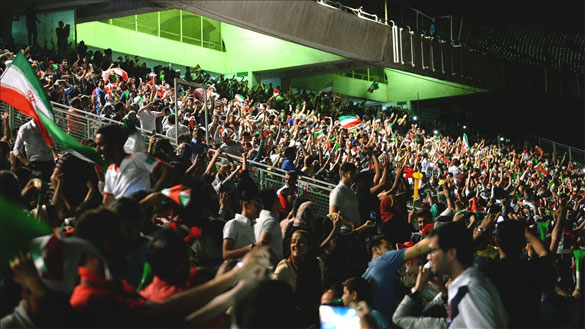 File Photo
-----
Syed Zafar Mehdi
30.03.2022
TEHRAN, Iran
Iranian President Ebrahim Raisi has ordered an investigation into Tuesday's incident during a football match between Iran and Lebanon where women were barred from entering the stadium and pepper-sprayed.
Speaking at a cabinet meeting in Tehran on Wednesday, Raisi ordered his interior minister to "thoroughly investigate" the matter and take "necessary measures", his office said.
The incident that took place outside a football stadium in the northeastern city of Mashhad when Iran was taking on Lebanon in the World Cup 2022 qualifier has led to a widespread outcry across the country.
According to reports and eyewitnesses, women were prevented from entering the stadium despite possessing tickets and were greeted with pepper spray when they protested against the decision.
According to local media, a total of 12,500 tickets had been sold online for the match, with 2,000 seats reserved exclusively for women.
Iran and the world football's governing body FIFA have had many run-ins over the years on the presence of women in football stadiums, with FIFA long demanding that Tehran allow them inside the stadiums.
Women have been barred from entering sports stadiums in Iran since the 1979 revolution.
It remains unclear if FIFA or its Asian chapter will take any punitive action against Iran over the incident, which has already created ripples in the football world.
Outcry
Following the match on Tuesday – which Iran won 2-0 to end up as the group topper – videos circulating on social media showed female football fans angrily protesting outside the stadium.
It sparked massive anger and outrage across the country, prompting top officials to take notice.
Government spokesman, Ali Bahadori Jahromi, said in a statement on Wednesday that government officials, including President Raisi, had "protested" against the incident.
In a separate statement, Iran's Parliament Speaker, Baqar Qalibaf, called it an "irrational and disrespectful" behavior toward women, blaming it on "managerial shortcomings and hasty decisions."
The country's attorney general, Mohammad Jafar Montazeri, also took note of the incident and said it was "unacceptable" to sell the tickets and then prevent women from entering the stadium.
The governor of Mashhad, the second-most populous city in the country, said the people responsible for the incident will "definitely be dealt with."
Mohsen Davari said he "apologizes" to the people who were not able to enter the stadium and were deprived of watching the football match, including the women.
The issue of women's presence in sports stadiums in Iran has been widely debated both inside and outside the country, with the issue even reaching the parliament.
In January, around 2,000 women were allowed to enter the Azadi Stadium in Tehran to watch Iran's match against Iraq, when Iran became the first Asian side to qualify for the 2022 World Cup in Qatar.
Before that, in 2019, women in Iran were for the first time in four decades allowed inside Azadi Stadium to watch the Asian Champions League final between Iran's Persepolis and Japan's Kashima Antlers.
It came in the wake of the death of football fan Sahar Khodayari, who died after setting herself on fire. She had been reportedly arrested after trying to enter Azadi Stadium disguised as a man.
Following Tuesday's match, Iranian team skipper Alireza Jahanbakhsh said it would be great to see women in stadiums, making a strong case for the complete lifting of the decades-long ban.
Source: Anadolu Agency
https://www.aa.com.tr/en/middle-east/iran-orders-probe-after-women-barred-from-football-game/2550388
--------
Red card! Outrage in Iran over ban on female football fans
March 31, 2022
JEDDAH: There was outrage in Iran on Wednesday after thousands of women with tickets were denied entry to a stadium hosting a football World Cup qualifying match.
President Ebrahim Raisi ordered an Interior Ministry inquiry, a regional governor apologized and the country's attorney general said the incident was "not acceptable."
The World Cup qualifier against Lebanon on Tuesday night, which Iran won 2-0, took place at the Imam Reza stadium in the northeastern city of Mashhad. About 2,000 women who had bought tickets for match gathered at the perimeter of the stadium but were not allowed to enter.
Mohsen Davari, the governor of Mashhad, said: "I apologise that many people couldn't enter the stadium. Unfortunately, a large number of people outside were deprived of watching the game."
Attorney General Mohammad Jafar Montazeri said: "If conditions allowed the sale of tickets to women, a suitable place had to be found for them." The incident was "not acceptable ... and showed poor management," he said.
Iran has generally barred female spectators from football and other sports stadiums since the revolution in 1979. The country's powerful clerics say women must be shielded from the masculine atmosphere and the sight of semi-clothed men.
The latest incident is likely to attract the attention of world football's governing body, FIFA, which ordered Iran in September 2019 to allow women access to stadiums without restriction or face suspension from international competitions.
That directive followed an outcry over the death of Sahar Khodayari, a football fan who was detained in 2018 trying to enter a stadium dressed as a man. She later set herself on fire in fear of being jailed.
Source: Arab News
https://www.arabnews.com/node/2054011/sport
--------
Afghanistan: Defending the Rights of Women in a Necropolis of Human Rights
March 31, 2022
By Dr. Nafees Ahmad
The Taliban founded an authoritarian Islamist theocracy in Afghanistan a quarter-century ago that egregiously engrossed in methodical internal subjugation, deprivation of human rights to Afghan citizens. Consequently, the Taliban endured international isolation. Now, once again, they have ascended to power and captured Kabul on 15 August 2021 that received initially mixed indications whether the Taliban 2.0 regime will be a new incarnation this time. While the Taliban have desisted from massive retaliatory exterminations, their imperium has provoked a mass exodus and intensifying uncertainties over how they will deal with women, minorities, media, and socio-political disagreement that have been well-protected under the 2004 Constitution of the Islamic Republic of Afghanistan. There are several questions such as Will the Taliban execute their stated promises about the formation of an inclusive government? Will they respect the diversity of Afghanistan while guaranteeing services and jobs for all Afghan citizens, including women? Will they again establish a Sunni clerical totalitarian regime worse than the Iranian model? Will they abide by their counterterrorism commitments and work with the Western jurisdictions to ensure free economic aid flows or once again allow isolation? To what extent do the U.S. and its allies still impact the promises and prospects of the Taliban? However, in a troubled world, the human right to dignity and the right to human equality of all people have become more needed than ever before.
The answers to the questions hereinabove are fully available under the present 2004 Constitution of the Islamic Republic of Afghanistan that was adopted after the years of protracted conflict and whose fate, now, remains in limbo. It has envisioned the Afghan State as the Islamic Republic of Afghanistan in the Preamble. The National Assembly is the supreme legislative establishment in Afghanistan, consisting of two houses; a) the Lower House (Wolesi Jirga) and; b) the Upper House (Meshrano Jirga). The Wolisi Jirga includes 249 elected seats and is empowered to amend the Constitution's provisions and makes the President accountable to the Wolesi Jirga. The Meshrano Jirga has 102 seats, including a third of presidential appointees, out of which 50% of the seats are for women. The judiciary's highest court is the Supreme Court, which includes nine judges appointed by the President at the approval of the Wolesi Jirga for a term of 10-years. The Ministry of Justice has been empowered for new enactments and law reforms. The Bonn Agreement in 2001 has established the Afghan Independent Human Rights Commission (AIHRC). Thus, AIHRC is assigned by the Constitution to promote and protect human rights and investigate human rights abuses, including war crimes. The idea of diversity is protected under Article 4 of the Afghan Constitution; the nation of Afghanistan shall contain Pashtun, Tajik, Hazara, Uzbek, Turkman, Baluch, Pachaie, Nuristani, Aymaq, Arab, Qirghiz, Qizilbash, Gujur, Brahwui, and other tribes. The majoritarian religion is Islam (Sunni); however, several other minority religions such as Hindu and Buddhism are also professed.
The existential peregrination of Afghanistan is sandwiched between once metropolis of civil liberties and present necropolis of human rights. Today, Afghanistan is jettisoned between Afghan domestic unilateralism narrative and global multilateralism narrative. Geopolitically, Afghanistan is located between South Asia and Central Asia, but it is part of SAARC (South Asian Association of Regional Cooperation)—an inter-governmental organization—bordered by Tajikistan, Turkmenistan, Uzbekistan, China, India, Pakistan, and Iran. The total area of Afghanistan is 647,500 sq. km, and more than half the landmass is mountainous, and it is shared in half by the Hindu Kush mountain range. The total population of Afghanistan is 38,928.34 (2020), and it is 40,003,062 (2021) with a growth rate of 2.40% (2021) and 25.75% (2019) live in urban centres. Afghanistan remains one of the poorest nation-states in the world, with a literacy rate of 36% (14% women and 43% men).
Legal Pluralism
Most legal systems in conflict and post-conflict countries consist of parallel and often contradictory social, economic, and political systems and regulatory mechanisms that are a potential source of future legal insecurity and social and political conflict, and Afghanistan is no exception. However, the Preamble to the Constitution stipulates that the Nation of Afghanistan observes the UN Charter and the UDHR (Universal Declaration of Human Rights). Therefore, Afghanistan is a party to a compendium of international instruments such as CEDAW (U.N. Convention on the Elimination of All Forms of Discrimination against Women) and U.N. Security Council Resolution No. 1325 to secure women's rights. Moreover, the Constitution of the Islamic Republic of Afghanistan obligates the government to foster a peaceful and progressive society based on social harmony, human dignity, equality of justice, protection of human rights, the accomplishment of democracy, and preserving national integration and equality among all ethnicities and tribes. However, the Constitution also states that an explicit provision that no law "contrary to Islam" must not be interpreted imperfectly if the same is problematic for women's human rights.
In Afghanistan, legal pluralism is based on several types of legitimating sources, including International law, State Law, Religious Law, and Customary Law. Traditional practices maintain social order, particularly in rural areas, where the State still has the only limited writ. Each village has its informal customs and processes for enforcing norms and resolving disputes. Therefore, community councils still act as the principal judicial system in the country, and almost 80% of disputes are settled outside the formal judicial system and without any legal documentation due to a lack of access to standard courts and trust deficit in them. Community councils are problematic as they reject anything construed as contrary to their creeds and convictions. As such, disputes relating to marriage, divorce, polygamy, and child custody can be poorly judged. In addition, these councils are dominated by men and have a patriarchal structure in which women are strongly under-represented. In a country where women symbolize family honour and are at risk of being considered goods and properties to be used and exchanged for this purpose, violence against women is widely tolerated at household, community, and national levels due to traditional justice mechanisms being unresponsive to women's human rights.
Implementation with HRDA Constitutionalism
Implementation of human rights in Afghanistan is possible with Human Rights Driven Approach (HRDA) Constitutionalism. HRDA Constitutionalism invokes the application and appreciation of the Constitution of the Islamic Republic of Afghanistan where appropriately sufficient arrangements have been envisioned in the Preamble and Chapter-2 on fundamental rights in the context of women's rights. International Human Rights Law (IHRL) Framework is one of the most significant devices for fostering women's human rights but does not have pragmatic implementation at the grassroots stratum. The constitutionally guaranteed legal equality of women is time and again contravened with the retaining the discriminatory personal laws stemmed from Islamic hermeneutics based on customary laws that are further seconded by the Constitutional recognition of Sharia Law, for example, a woman walks out of an abusive marriage; therefore, the judicial authorities will be subjected to chastisements, despite the fact it does not have any basis in family law, civil law, criminal law or criminal code of Afghanistan. Unfortunately, these punishments are pronounced by the judicial officers as per their interpretation of Sharia law.
The promotion of women's human rights can be accomplished by creating spaces for media campaigns, organizing conferences, encouraging the participation of NGOs, and sensitizing the common people about the human rights of women. Women's organizations will have to work with AIHRC to have a regnant voice on crimes against women while generating parallel documentation of Optional Reports to the CEDAW Committee. Now, there is a necessity to reform the local laws in tandem with the international IHRL obligations of Afghanistan. Regrettably, Afghanistan does not have an appropriate system in place for a pragmatic enjoyment of women's human rights in every walk of life that too in contravention of the constitutional protections.
Traditional Sensitivities & Islamic Councils
Primarily, Afghanistan is a traditional Islamic State in which HRDA Constitutionalism will have greater socio-cultural acceptability provided it is consistent with the applicable Sharia Law system. In this conspectus, appropriate modules can be taken from various other Islamic countries in the neighbourhood like Iran and Pakistan, where the situation is different and beyond. There is a pivotal issue of Islamic interpretations in Afghanistan that percolates from an absence of an accurate understanding of Sharia Law. Therefore, it is crucial to collaborate with Islamic scholars, particularly from the liberal Islamic democracies, to evolve the correct construction of Islamic views with the Afghan scholars on a wide range of subjects, including women's human rights. Thus, a liberal and HRDA Constitutionalism-based elucidation of the Holy Quranic verses has to be commenced by Islamic scholars in Afghanistan. HRDA has to create a social balance between women's family obligations and the rights of women. Such a premise would encourage and facilitate the training of women in the human rights discourse. It would also embolden women's empowerment and provide requisite momentum to feminist movements in Afghanistan.
The diverse challenges to women's rights need to be addressed with carving out a pragmatic role for highly influential Islamic Councils. These are, in fact, women's rights involved in the matters of polygamy, reproductive determinations, child custody & marriage, divorce, preferences for life partners. Traditionally, women's rights in these matters have always been decided by the patriarchal fiefdoms in Afghanistan. There are reasons for such a sorry state of affairs, like the low literacy threshold among the Afghan population that led the people of Afghanistan to exclusively rely upon the religious clergy that has significantly shaped and influenced their way of life, including their personal affairs. The new political leadership can facilitate accessibility and coordination to NGOs and women's rights defenders to sensitize the people in this connection. Therefore, religious scholars must be sensitive to women's rights armed with liberal and harmonious construction of religious texts. These religious scholars can be the change-makers in bridging the contradictions between traditional sensitivities and Islamic beliefs that trample upon women's rights in Afghan society. Thus, it is the Quranic human rights of women that the Afghan State must access, and it must respect the same.
Gender Representation in Judicial Routes
The Afghan Judicial System (AJS) does not adequately represent Afghan women judges; therefore, legal safeguards designed for their protection are often nosediving at the ground enforcement. The Supreme Court of Afghanistan does not have women judges, and the same is the situation within the local judiciary. Further, there is no female representation at the community level again due to the misconstruction of Sharia Law regarding the ability of women to make proper judgments. Now Afghan women judges and lawyers are fleeing for safety and refuge as criminals convicted by them are out for reprisals. It shows an inherent and deep-rooted bias and ill-conceived preponderance of patriarchal and parochial tendencies against women, and AJS is not an exception. The pace of judicial and institutional reforms has been sluggish that added salt to injury. Afghanistan got a chance to codify, revise and develop its laws in conformity with international principles of IHRL immediately after the collapse of Taliban 1.0 in the late 1990s, but it could not do so. Until now, only a few courts premises and several training programmes have been developed in the provinces. Only one family court in Kabul and some courts have been created in the adjacent provinces. Such a lacklustre approach cumulatively resulted in a miserable level of public consciousness regarding new rules, regulations, and laws about women's rights at all AJS and Afghan informal administration levels. Thus, women's human rights cannot be realized in Afghanistan without the representation of women in the AJS.
Women's Safety in A Fragile Transitional State
There is a lack of psycho-physical safety and socio-economic security for women's NGOs and women's rights defenders in all walks of life across Afghanistan. The modes of women's sartorial presentation, socialization thresholds, economic engagements, and education exposure are the regnant determinant of honour in Afghan society and culture. The writ of the patriarchal chief runs and is responsible for protecting the family fiefdom's reputation. By itself, these are stark tests and trials in expanding the scope of accessibility to HRDA Constitutionalism for sensitizing, educating, and devising programmes for Afghan women. The scarcity of understanding the nuances of justice and judicial institutions further impedes their access to public life mobility. However, Islamic councils and religious leaders have allowed few well-connected NGOs to operate to helping vulnerable women in the various communities. Despite all socio-economic trials and tribulations for Afghan women, there is a principal challenge of the rule of law and its application to traditional practices and informal justice systems for achieving justice. In the absence of formal AJS, informal justice systems have mushroomed in Afghanistan. The personnel presiding over them also head the local councils that are perceived as the primary source of traditional norms. Moreover, the lack of infrastructural facilities and logistical support has crippled their faith in the AJS has further deteriorated. The growth of the informal justice systems challenges the AJS, and its prevalence in the future remains a material question.
U.N. Security Council Resolution Principles
The U.N. Security Council Resolution 1325 stipulated fundamental principles, namely; protection, participation, and promotion of women's human rights with the HRDA roadmap and women's rights NGOs have been doing the work for their empowerment despite all odds as under:
-In the context of protection, women NGOs have been operational with the Ministry of Women Affairs (MWA) and the group 'Women Living under Muslim Laws' and other INGOs in training, empowering, and preparing the drafts for new laws of family, marriage, and crimes against women laws, etc. These NGOs and INGOs have also been pushing and encouraging gender mainstreaming within other new laws at household and community levels. Such laws are essential in ensuring the restoration of AJS to enable women to claim their rights. Moreover, the NGOs have been working with MWA to build women's shelters, help centres for those enduring violence and confronting abuse, and address the women's most basic health and economic requirements. Thus, the HRDA roadmap ensures protection by facilitating new legislation and socio-economic security for Afghan women enduring violence and promoting rights-based education.
-In the context of participation, the participation of women in decision-making bodies is a crucial step for securing their human rights. National and Global agencies have been working hard to establish women's Shuras (Decision-Making Councils) among the tribal communities under the Afghanistan National Solidarity Programme. These Councils intend to re-boot those traditional structures already in place to ensure women's participation in a pragmatic orientation. Moreover, there has been a multitude of initiatives from the NGO and political community to integrate the voices of women and promote their participation through different arrangements like the Women's Political Participation Committee (WPPC) and the Afghan Women's Network (AWN), etc. These arrangements not only revive a sense of solidarity and cooperation for women's rights defenders, but they also build partnerships with female Members of Parliament at the national stage. Furthermore, there have been active campaigns for drafting women judges in the Supreme Court. Thus, the women's rights movement has been advancing different advocacy mechanisms for law reforms and political participation at every stage of the AJS.
There is No Conclusion
It is axiomatic that Afghanistan represents an assortment of burning issues germane to HRDA Constitutionalism in defending women's rights in a necropolis of human rights, particularly in conflict and post-conflict settings. Due to the fragile dynamics of the Afghan State and the legal pluralism that has followed, NGOs operating with HRDA Constitutionalism must consider several factors, including functioning in an Islam-driven system in a culturally sensitive trajectory. The participation of women in the existing AJS and their potential drafting in the new judicial arrangements need to be ensured with fair play. All the stakeholders must recognize the challenges of women's safety. The implementation of women's human rights and their integration within the local traditional decision-making institutions must be salvaged beyond the interference of the Afghan State.
Source: Modern Diplomacy
https://moderndiplomacy.eu/2022/03/31/afghanistan-defending-the-rights-of-women-in-a-necropolis-of-human-rights/
--------
UN Dubai Forum: Women entrepreneurs call for greater access to financing
March 30, 2022
DUBAI — The second full day of the World Entrepreneurs Investment Forum (WEIF 2022) on Tuesday, saw women entrepreneurs demanding better opportunities and better access to financing to help ensure a more equitable, sustainable role in business development in the Arab region.
Along with this headline event focused on women, the Forum, taking place in Dubai, also held a ministerial panel on the importance of Micro-, Small and Medium-sized Enterprises, known as MSMEs, for post-COVID recovery. Discussions also highlighted the power of Africa's youth generation as crucial to attracting future foreign investment in the continent's development.
Addressing the panel on uplifting women's entrepreneurship, Farida Al Awadhi, the Chairperson of Emirates Businesswomen Council, said: "Unfortunately, women in Middle East and the Arab countries have been undermined or media has misrepresented them."
Sonya Janahi, CEO of RA'EDAT Arab Woman Portal, agreed, and added: "Arab women have been unprecedented in many things, but unfortunately, there's a lack of international knowledge [about what they are doing]. So let us focus on letting Arab women shine, creating opportunities together to work and collaborate, and focus on how to train and develop women so their entrepreneurship journey can also be an investment journey."
However, all the participants agreed that boosting entrepreneurship and achieving gender parity in the business world required that women have more opportunities and better access to financing, with the aim of putting women entrepreneurs on par with their male counterparts.
"There are many initiatives to bridge this gap, but we are not there yet," said Dr. Louiza Chitour, the HealthTech Programme Manager, Plug and Play Abu Dhabi – a CSR initiative that helps female founders globally acquire funding for and thrive in their businesses.
"So, it's more important for us to be involved in those investment conversations – how to get women to invest, how to educate them – to give them the confidence that they also can be a part of this investment world that's escaping us."
Moderator of the session and the President of the International Women Entrepreneurs Challenge, Ibukun Awosika, pointed out that the challenges of being a woman in the entrepreneurial world are even tougher for African female entrepreneurs.
Speaking later to UN News he said: "There are challenges based on our cultural system, there are challenges common to all men and women entrepreneurs, based on our infrastructure, financial [systems], the perception of a female as opposed to a male, and sometimes the opportunity and the limitation."
Although there have been significant achievements in the last few decades, women's socio-economic disadvantage is still reflected in pervasive gender inequalities in earned income, access to productive resources such as credit cards and assets, education, liberty to pursue a profession and access to financing.
Jessica Neumann, an Investment and Technology Promotion Expert and Gender focal point at the UN Industrial Development Organization (UNIDO) said that the agency is in the process of finalizing its gender lens investing and training e-learning course.
"We decided to design [this] virtual e-learning course with free access to really stop focusing on women and trying to fix them because we are beyond the conversation on what women should do to raise funding for the business, and rather raise awareness [about] the [unfair] power dynamics that exist in the finance industry," she explained.
UNIDO, she continued, had long been focused on gender analysis "and in every project we do, we look at the power dynamics as to where women are excluded, and we take steps and measures to see that they are equally benefitted from our projects. So, this time we are not doing another woman accelerator, we are talking to the men now and trying to make them understand that there is a real business in investing in women."
Governmental support was seen as crucial in achieving gender parity and having more women helm their own businesses.
As Chairperson of Emirates Businesswomen Council of UAE, Farida Al Awadhi summed up: "Yes. We can do it. But the journey is much faster if governments put in place rules, regulations and policies to support women."
Providing government support to the small and medium-sized enterprises (SMEs) also echoed among the speakers during the Ministerial level discussion on Tuesday.
Among the panelists were: Ibrahima Cheikh Diong, UN Assistant Secretary-General and Director-General of the African Risk Capacity Cluster (ARC), Dr. Ahmed bin Abdullah Humaid Belhoul Al Falasi; Minister of State for Entrepreneurship and Small and Medium Enterprises in the United Arab Emirates; and Dr. Abdul Rahim Younes Ali Minister of State, Economy, Development Planning and International Cooperation of Chad.
The Ministerial Panel highlighted the Role of SMEs in developing the world economy, especially at a time of multiple severe global challenges. With the pandemic creating unprecedented disruptions to global economies and labor markets at all levels, supply chains grounding to a halt and lockdowns resulting in the forced closure of many businesses, it is unsurprising that SMEs were the most heavily impacted.
Diong spoke about the challenges that Africans face in terms of investment, and what needs to be done to support small and medium-sized enterprises on the continent.
He added that when addressing the SME sector in Africa, one thing on which all agreed was that 80 per cent of jobs on the continent are provided by African SMEs. "So, it's imperative to take the small and medium enterprises seriously."
The UN official pointed to some of the challenges facing small and medium-sized enterprises in the African continent: First, access to markets, he said, noting that "it is not possible to establish projects in the absence of markets"; second, enabling small and medium enterprises to access finance; and third, providing the necessary resources for capacity-building.
After the session, Dr. Abd al-Rahim Younes on the Minister of State, Economy, Development Planning and International Cooperation of Chad told UN News that Africa is the "continent of future investment" and noted that young people made up more than 60 per cent of over the population. This massive young cohort was now beginning to form companies or to find work in the private sector.
He pointed out that African governments support young people, whether through local, regional or international funding, and stressed that the continent is rich in natural resources such as water, petroleum, minerals and all sources of energy.
"Chad has more than 120 million head of livestock, and more than 25 million hectares of arable land, as well as newly discovered oil fields, in addition to gold in large quantities. We look forward to the future and [the] investment that will come from Arab, European and Asian countries," he stated.
The conclusion of the Advancement of Women's Entrepreneurship workshop also saw the graduation of a number of Arab women entrepreneurs from Egypt and the United Arab Emirates, who were trained on how to develop, sustain and grow their projects.
This training course, entitled 'Economic Empowerment of Arab Women', was conducted virtually online by the UNIDO Investment and Technology Promotion Office.
Held under the aegis of Dubai Exhibition Centre at Dubai Expo 2020, the bi-annual World Entrepreneurs Investment Forum (WEIF 2022), which is co-sponsored by the UN Industrial Development Organization (UNIDO)/Investment and Technology Promotion Offices (Bahrain), will continue on Wednesday 30 March. — UN News
Source: Saudi Gazette
https://saudigazette.com.sa/article/618783
--------
Afghanistan: UN special envoy holds dialogue with women representatives in Kabul
March 30, 2022
Kabul: Deputy Special Representative of the UN Secretary-General, Mette Knudsen, on Wednesday, held a dialogue with women students and representatives in Kabul.
During the talks, Knudsen said no more time should be wasted for girls to be able to return to high school.
"No more time should be wasted for girls to be able to return to high schools. It is in the interest of all Afghans that the rights of women and girls be respected. UNAMA Deputy Head Mette Knudsen today held a dialogue with women students and representatives in Kabul," UN Assistance Mission in Afghanistan (UNAMA) said in a tweet.
Knudsen earlier met University representatives in Kabul and urged equal access to education for boys and girls.
These meetings come as the Taliban has imposed an indefinite ban on allowing female students above the sixth-grade access to schools.
Since taking over power in August last year, the Taliban have rolled back women's rights in virtually every area, including crushing women's freedom of movement.
The vast majority of girls' secondary schools were closed. Universities recently reopened, with new gender segregation rules. But many women are unable to return, in part because the career they studied for is now off-limits as the Taliban banned women from most jobs.
The Human Rights Watch (HRW) women and girls are blocked from accessing health care as well. Reports suggest that women and girls facing violence have no escape route.
Allowing girls into schools and other educational institutes has been one of the main demands of the international community.
The majority of countries have refused to formally recognise the Taliban amid worries over their treatment of girls and women and other human rights issues.
Source: Firstpost
https://www.firstpost.com/world/afghanistan-un-special-envoy-holds-dialogue-with-women-representatives-in-kabul-10503591.html
--------
URL: https://www.newageislam.com/islam-women-feminism/female-saudi-cadets-military/d/126702
New Age Islam Islam Online, Islamic Website, African Muslim News, Arab World News, South Asia News, Indian Muslim News, World Muslim News, Women in Islam, Islamic Feminism, Arab Women, Women In Arab, Islamophobia in America, Muslim Women in West, Islam Women and Feminism