New Age Islam News Bureau
27 Jul 2018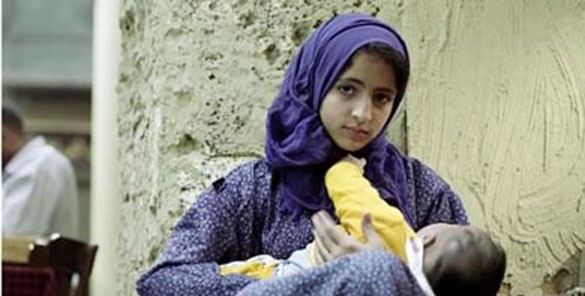 "Currently, More than 43,000 Iranian girls between the ages of 10 to 15 are married."
(Representative Photo)
-----
• Child Widows, a Major Catastrophe in Iran
• Pakistani Women Make History as Tribal Women Vote For The First Time
• The Invisible Female Candidates Shut Out Of Pakistan's Elections
• Kingdom of Saudi Arabia to Have Female Environmental Inspectors
• Dear Sondos Al Qattan: Please Don't Hide Behind Your Hijab
• International Praise for Empowering Saudi Women
• Iraq Wants to Send Home Wives and Children of Moroccan ISIS Fighters
Compiled by New Age Islam News Bureau
URL: https://www.newageislam.com/islam-women-feminism/more-jordanian-women-marrying-foreigners/d/115957
--------
More Jordanian Women are Marrying Foreigners than Ever Before
July 26th, 2018
The total number of Jordanian women who married Arab nationals in 2017 stood at 3,582, while 3,413 Jordanian men married women of Arab nationalities during the same year, the Sisterhood Is Global Institute (SIGI) announced on Wednesday.
Citing the 2017 Supreme Judge Department's annual statistical report, SIGI said that the total number of marriage contracts of Jordanian women to other foreign nationals reached 333, while Jordanian men signed 467 marriage contracts to women of other foreign nationalities, according to a SIGI statement.
As for the Arab nationals Jordanian women married, Palestinians topped the list with 1,760 contracts, followed by Syrians (995), Egyptians (313), Saudis (210), Iraqis (127), Yemenis (64), Lebanese (28), Bahrainis (28) and Emiratis (18).
The Palestinian nationality topped the list of Arab women that Jordanian men married with 1,525 contracts, followed by Syrian with 1,333, Egyptian (185), Iraqi (153), Moroccan (65), Lebanese (53), Algerian (46), Saudi (18) and Yemeni (15).
The US nationality topped the list of non-Arab nationalities Jordanian women married with 108 contracts, followed by the British with 31, Pakistani (31), German (29) and Canadian (27).
As for Jordanian males marrying to non-Arab foreign nationals, US women were at the top of the list with 132 contracts, followed by Ukrainians with 62, Russians (33) and Germans (29), SIGI noted.
SIGI added that several Arab countries grant nationalities to the children of women married to foreigners, such as Tunisia, Morocco, Algeria, Libya, Yemen, the UAE and Iraq, but Jordan only grants children of Jordanian women married to non-Jordanians civil and service privileges, rather than political, without granting them full citizenship.
In this regard, SIGI reaffirmed its demand that the Jordanian nationality be granted to the children of Jordanian women married to Arabs and other nationals.
https://www.albawaba.com/editorchoice/more-jordanian-women-are-marrying-foreigners-ever-1165050
--------
Child Widows, a Major Catastrophe in Iran
26 July 2018
Child widows constitute a great catastrophe in Iran, said Hassan Moussavi Chelak, head of the Social Work Association.
In remarks made on July 24, 2018, Moussavi Chelak, expressed concern over this catastrophe by saying, "The existence of more than 24,000 widows under 18 years of age, warns of a worrying situation."
Moussavi added, "Some of these child widows could even commit crimes or become victims of social harms to earn their living. Economic and psychological pressures build up on child widows, eventually entangling them in psychological and social crises."
According to article 1041 of the Civil Code, the minimum age of marriage for girls is 13. And economic poverty is a significant factor contributing to early marriages and the phenomenon of child widows.
From March 2017 to March 2018 (Persian year 1396), the number of marriages registered in Tehran was 78,972, which included 1,481 marriages of girls under 15 years of age. This is just for Tehran. This statistic escalates in lower-income cities and town and destitute regions.
Some 43,000 girls under 15 were married in this time span across Iran, according to the statistics and monitoring director of the Social and Cultural Council of Women and Family. (The state-run salamatnews.com - July 24, 2018)
Earlier in May, Massoumeh Alishahi, a member of the mullahs' parliament (Majlis), also acknowledged the high number of child widows, and said, "Unfortunately, rural girls have to drop out of school because of a lack of high schools for girls in villages, and their parents force them into marriage after they finish the elementary school. Poverty plays a great role in child marriages. There have been observations where some families give their 9-10-year-old girls into marriage with old men just for a small amount of money to help them with their living expenses." (The state-run ROKNA news agency – May 28, 2018) This is a practice that leads to rise in the number of child widows.
https://women.ncr-iran.org/iran-women-news/5374-child-widows-a-major-catastrophe-in-iran
--------
Pakistani Women Make History as Tribal Women Vote For The First Time
July 26, 2018
Islamabad: Pakistani women made history with an unprecedented turnout in general election on Wednesday as women from remote and tribal areas came out for the first time to vote.
The turnout sent a powerful message about equality and proved to be a victory for Pakistani women.
Women from the conservative province of Khyber Pakhtunkhwa (KP), particularly Kohistan, Dir, North and South Waziristan, were seen queuing up outside polling stations to cast their votes in the general election on Wednesday. Women from these remote areas have long been deprived of their constitutional rights due to conventional tribal traditions. Some of these regions were earlier terrorist strongholds where the militants enforced anti-women laws.
However, women from tribal areas finally broke the shackles by exercising their right to vote for the first time in the country's history.
In the remote districts of Balochistan province, too, women came out in large numbers to vote despite terror attack in provincial capital Quetta on the election day that killed 31 people.
Election Commission of Pakistan Secretary Babar Yaqoob confirmed that women in Dir in the northwest province of KP had cast their votes for the first time in Pakistan's history.
In Kurram district of KP, women voted for tribal district's first and only independent candidate Ali Begum who contested the election against 23 male candidates.
The women of Mohmand tribal district had voted before but this time the turnout increased notably.
North Waziristan Government Administrator Mohammad Ayaz Khan claimed that the region "made history" as the women voted for the first time. South Waziristan local administration also confirmed that female voter turnout was "extremely healthy" and that no complaints were received from the region.
Women in some conservative parts of Punjab also made their voices heard in the general election on Wednesday. Women of Gagh Kalan, a remote village in Punjab's Khushab district, exercised their voting right for the first time. The areas of Sindh province that saw an exceptional turnout of women voters included Badin and Mithi.
Around 105.96 million voters across Pakistan had registered for the July 25 elections while female voters constituted 44.1 per cent of the total eligible voters in the country. In previous elections, even those who were registered were not allowed to vote by men but the new ECP law helped change this tradition.
"Women were intentionally not allowed to vote in previous elections, but the new mechanism by Election Commission greatly benefited women in 2018 elections and would gradually change the perception about women's voting rights in tribal areas," Aisha Khalid, a Gender Studies lecturer told Gulf News.
The positive change and enormous women turnout in Wednesday's election can be credited to the Election Commission Act 2017, which made it obligatory for winning candidates to secure at least 10 per cent of the women's vote from the constituency.
https://gulfnews.com/news/asia/pakistan/pakistani-women-make-history-as-tribal-women-vote-for-the-first-time-1.2257411
--------
The Invisible Female Candidates Shut Out Of Pakistan's Elections
24 Jul 2018
At a tiny gathering in the narrow streets of the eastern city of Lahore, Saira Bano, clad in a burqa, sits quietly among bearded men, who chant "long live Hafiz Saeed".
Saeed leads the Jamaat-ud-Dawa militant group accused of being behind the 2008 Mumbai terror attacks, which killed 166 people. He carries a $10m (£7.6m) bounty on his head.
Bano is contesting Wednesday's election in Pakistan for the Allah O Akbar Tehreek (AAT) party, a new political wing with links to Jamaat-ud-Dawa and the Milli Muslim League, which is on the UN's list of banned organisations.
Saeed may not be standing for office in Lahore, but his face is on all the Allah O Akbar posters and he remains an inspiration for his followers.
"Hafiz Saeed is a good man who helps Muslims around the world, like the Rohingyas. This is all propaganda against Hafiz Saeed, generated by [former prime minister] Nawaz Sharif," says Bano.
Saeed has in the past campaigned against women working, let alone standing for election. But Bano is one of 10 female candidates contesting seats on the Allah O Akbar ticket. The move is not the result of enlightened views, but because new election rules stipulate that at least 5% of a party's candidates must be women. This means a record 558 women will be standing for national and provincial parliament seats this week.
However, most political parties, especially religious ones, are fielding their female candidates in seats they are sure to lose. Bano, who is related to the wife of Sharif, jailed earlier this month for , knows winning is a long shot. But she believes Saeed and his party will consult women like her on policy matters.
At least Bano is being encouraged to campaign. In Peshawar, capital of the Khyber Pakhtunkhwa province in the country's north-west, where women are seldom seen in public areas, Tehreek Labbaik Ya Rasool Allah, another hardline Islamist party, is fielding a female candidate for the national assembly yet none of its leaders have ever met her.
Labbaik was formed last year by a fiery cleric and promises to enforce stricter laws against blasphemy. The party's participation in the elections follows a decision by Pakistan's army to "mainstream" religious extremists.
In Peshawar no one seems to know "Ms Yasmeen", the candidate without a last name and without a face – the space is left blank on campaign posters. When asked about her whereabouts, a male candidate from the party also contesting a seat for Peshawar holds a finger to his lips and says in a hushed voice: "She is a silent candidate. We gave her name to fulfil the requirements of the election commission, but she will not campaign. She is a pious lady and never steps out of her house or talks to journalists."
It is not just the extremist Islamist parties that are fielding female candidates in seats they cannot win. Mainstream political parties, like Sharif's Pakistan Muslim League-N, are doing the same.
Sobia Shahid is standing for the party in Lower Dir, a rural area, also in the north-west, where all the political parties had previously made a written agreement not to allow women to vote. "Despite the fact that men get women to do all their work at home, during elections they don't find them capable to vote and ban them from doing so," says Shahid. "Someone has to stand against this injustice."
She says that by tradition women don't go to funerals – which local politicians are expected to attend – and are not present at tribal councils, making it harder to reach voters. But apart from some sexist statements by her male opponents, she says that male voters have been receptive.
"Surprisingly I have never been discouraged by male voters because they are so happy to see their representative and are eager to share their problems, in the hope that we can resolve them."
Women don't come to political rallies, so Shahid is running a door-to-door campaign. She complains that most women do not have an official identity card, which means they cannot cast a vote.
Asma Alamgir Khan, from a well-established political family in Peshawar, is able to spend big money on her campaign for the Pakistan People's party, led by Bilawal Bhutto Zardari, son of the assassinated former prime minister Benazir Bhutto. She is seen as one of the few female candidates who has a chance of winning.
"The new law is a step forward for women. We are now in the political fray and at least the tradition of silence has been broken," says Khan, standing among a crowd of men.
https://www.theguardian.com/global-development/2018/jul/24/female-candidates-pakistan-elections
--------
Kingdom of Saudi Arabia to Have Female Environmental Inspectors
July 26, 2018
JEDDAH: The General Authority for Meteorology and Environment Protection has started employing women in environmental inspection teams, said its president Dr. Khalil bin Musleh Al-Thaqafi.
This is in line with a decree to support environmental inspection and assessment to reduce pollution, safeguard public health and improve quality of life, he added. Employing women fulfills the need to expand environmental inspections, he said.
The authority, with the support of the environment, water and agriculture minister, is working to provide environmental sustainability under the Kingdom's Vision 2030 reform plan, Al-Thaqafi added.
http://www.arabnews.com/node/1346121/saudi-arabia
--------
Dear Sondos Al Qattan: Please Don't Hide Behind Your Hijab
Shelina Janmohamed
July 26, 2018
Just because you have millions of followers, doesn't make you right. And just because you wear a hijab, doesn't mean you can say whatever you want without being scrutinised. But most of all, if you have a public platform and use it to build your brand and business, you should expect to be fully accountable for what you say.
This is the story of Kuwaiti blogger Sondos Al Qattan, her comments about Filipino domestic workers and the subsequent backlash.
What we should hope for from this sorry tale is that it becomes a turning point in our public conversation, shedding light on serious social problems surrounding domestic workers' rights and true empowerment for all women.
After complaining to her 2.3 million followers about maids having one day off each week and holding on to their own passports, because if they run away "who will refund me?", Ms Al Qattan sought to silence her critics by explaining that she does pay her workers and doesn't beat them.
This hardly seems worth applauding. I'd hope Ms Al Qattan can see the irony in fighting for her own autonomy while being complicit in crushing that of other women.
She has been dropped by the beauty brands for whom she acts as an ambassador. While comments on her social media are blocked, she has just posted images of herself decked in a heavy gold necklace and bangles. From someone who has quibbled about a domestic worker's day off and "refunds", the pictures seem distasteful.
The first result of this episode must be that protecting the rights of workers is put firmly on the agenda. But more significantly, the respect and perception of workers must radically shift. They are not objects, but real human beings.
Ms Al Qattan has also just released a statement asking why her critics are not talking about humanitarian crises elsewhere. It's simple: to say that one day off a week is excessive, to hold a worker's passport so they can't "escape" and to demand a refund in exchange for a human being is a humanitarian crisis.
Next, she has claimed that the criticism she's facing is an attack on Kuwait, the hijab and Islam as a whole. She's wrong. This is a criticism of Ms Al Qattan's specific and toxic attitudes, which as it happen, are in contravention of Islam's guidelines on treating people with respect and dignity.
There are many women like Ms Al Qattan who in the past decade have orchestrated a positive shift in the public presence and depiction of Muslim hijabi women. This has been a welcome development.
And yet while a Muslim hijabi might be breaking down barriers and prejudice, she can still be complicit in the oppression of others.
The bottom line is this. Building your own "liberation" on the backs of others is not a form of empowerment. Influencers and advocates (whether explicit or implicit) of freeing women from traditional constraints – as the rise of the female Muslim hijabi influencer has been all about – cannot do so at the expense of other women.
And just because you are female, Muslim, brown, Arab or hijabi and therefore suffer systemic discrimination – including abuse levelled at the hijab to justify Islamophobia – it doesn't mean you can't be a proponent of systemic injustice. If women who are "breaking barriers" are to mean anything, then it means breaking them for everyone.
This is a very clear example of how privilege comes in different guises. Once can be both discriminated against and a perpetrator of inequality, at the same time. As women, we need to avoid building our own "freedom" and "equality" off the backs of other women.
And so if freedom and equality for women is to mean anything, it must mean women interrogating their own actions.
Dear Ms Al Qattan, as hard as it is to admit, the comments you made equated human beings to objects. Your hijab, your millions of followers and the many barriers you might have demolished don't offer immunity from holding views which – and I'm sorry to use harsh words – are utterly abhorrent.
Please don't hide behind your hijab. You have a chance here to do some soul searching and then to use your platform to make a truly radical transformation to the lives of millions of people and to make a paradigm shift in one of our most urgent global conversations about the rise of modern slavery.
https://www.thenational.ae/opinion/comment/dear-sondos-al-qattan-please-don-t-hide-behind-your-hijab-1.754338
--------
International Praise for Empowering Saudi Women
July 26, 2018
JEDDAH: Saudi Arabia's General Authority of Civil Aviation is training Saudi women for jobs in key departments, including air traffic control, in a move commended by the International Civil Aviation Organization (ICAO) as empowering women.
The organization congratulated GACA for accepting 130 women in Riyadh and Jeddah, its second batch of female trainees, for the Air Traffic Control Diploma program.
GACA President Abdulhakim bin Muhammad Al-Tamimi said the authority was proud of having Saudized 99 percent of its departments, and urged civil aviation firms in the Kingdom to fulfill their national duty and follow suit.
http://www.arabnews.com/node/1346111/saudi-arabia
--------
Iraq Wants to Send Home Wives and Children of Moroccan ISIS Fighters
By Safaa Kasraoui
July 26, 2018
Moroccan newspaper Akhbar Al Yaoum reported on July 26 that the Iraqi government decided to send home the wives and children of Moroccan ISIS fighters after the terrorist group was eradicated from the country at the end of 2017.
The extradition operation is set to be carried out in coordination with the United Nations. and will concern the fighters' wives and children under the age of 15. It will not, however include female ISIS fighters.
A UN team, led by a lawyer, will travel to Iraq to closely monitor the case, the extradition proceedings, and ensure international protection for the operation.
According to Akhbar Al Yaoum, Iraqi Ambassador in Holland Hicham El Alaoui confirmed the news.
The extradition operation will affect all women who are currently being held in Iraqi prisons, with the exception of those who participated in terrorist acts carried by ISIS in Iraq.
Morocco's news agency (Maghreb Arab Press) has not said anything about Morocco's stance on Iraq's decision.
Posing Threat
Throughout his recent interviews with national and international news outlets, Head of Morocco's Counter-Terrorism Bureau (BCIJ) Abdelhak Khiame expressed concern over the threat returned ISIS fighters could pose.
According to Khiame, Morocco's position regarding returning fighters was established in 2015, allowing police to apprehend them for investigation and put them in custody.
Returnees typically receive sentences ranging from 10 to 15 years in prison.
According to El Khiame and official estimates, the number of Moroccan fighters affiliated with ISIS and other transnational terrorist networks is approximately 1,660 fighters.
They are spread throughout the MENA region, but are mainly in Iraq, Syria, and Libya. That figure also includes the 200 or so who have already returned to Morocco.
https://www.moroccoworldnews.com/2018/07/251267/iraq-wives-children-moroccan-isis-fighters/
--------
URL: https://www.newageislam.com/islam-women-feminism/more-jordanian-women-marrying-foreigners/d/115957
New Age Islam, Islam Online, Islamic Website, African Muslim News, Arab World News, South Asia News, Indian Muslim News, World Muslim News, Women in Islam, Islamic Feminism, Arab Women, Women In Arab, Islamophobia in America, Muslim Women in West, Islam Women and Feminism