29 May 2022
• Mohaddesa Jafri, The First Shia Girl In Maharashtra To Become A Commercial Pilot; Being Toasted Inside The Community
• Karnataka: Woman Dies By Suicide, Family, Hindu Outfits Allege 'Love Jihad'
• Karnataka Hijab Row: Mangaluru Muslim Students Seek Permission To Wear Hijab, Submits Memorandum To Deputy Commissioner
• Like The Linda Lindas, This Teen Girl Band In Benin Makes You Dance
• Pakistan: Violence Against Women Rampant Regardless Of Rural-Urban Divide
• How Women Break The India-Pakistan Wall Over Whatsapp, Biryani & Banoffee Pie In Dubai
Compiled by New Age Islam News Bureau
URL: https://newageislam.com/islam-women-feminism/mohaddesa-jafri-shia-maharashtra/d/127119
--------
Mohaddesa Jafri, The First Shia Girl In Maharashtra To Become A Commercial Pilot; Being Toasted Inside The Community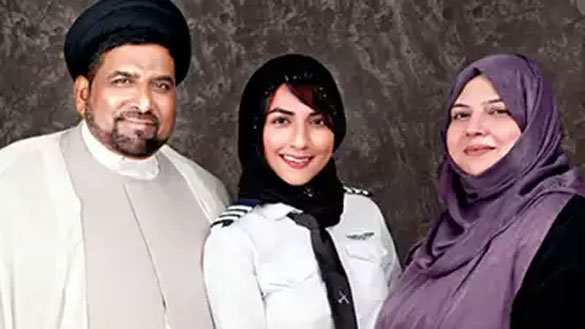 Mohadessa Jafri, a 26-year-old fan of India-born American astronaut Kalpana Chawla, returned from South Africa with ommercial pilot's licence
----
May 29, 2022
Clerics generally are not known to encourage their daughters to become pilots. But a Jogeshwari West couple, Maulana Sher Mohammed Jafri and wife Aalema Farah Jafri, both senior Shia preachers and clerics, are being toasted inside the community and beyond as their daughter Mohaddesa Jafri has just returned from South Africa with a pilot's licence.
"She is the first Shia girl in Maharashtra to become a commercial pilot. My wife and I are preachers. It is because of blessings of Allah and Hazrat Imam Hussain (Prophet Muhammad's grandson who was martyred at the battle of Karbala in 680 in Iraq) that she could realize her dream," said the proud father.
Tall and slim, Mohaddesa, now 26, was barely seven when India-born American astronaut Kalpana Chawla died in the Space Shuttle Columbia disaster in February 2003. She was out in the streets with her father and saw posters and banners of Chawla everywhere. Her father explained to her how the brave astronaut had gone to space but died when the spacecraft she and her other colleagues were travelling in disintegrated while returning to earth.
"I silently became Kalpana Chawla's fan and as I grew up, I read several biographies and hundreds of articles and watched many videos on her. I told my parents I wanted to join the aviation industry," said Mohaddesa, who even worked with an airline's office in Bengaluru briefly before the bug of flying took her to a flying school in 2020 in Springs near Johannesburg, South Africa. Since his father had lived in South Africa for many years, it was easier for him to put in a flying school there.
But months before she left for South Africa and while she trained there, back home her parents had to endure "uncharitable remarks" mostly from relatives. "How could a maulana and alema (female religious scholar) put their only daughter into a pilot's course?" was the unkind comment they heard. "We kept quiet as we knew we were not doing anything wrong. If our daughter had a dream and there was nothing irreligious or immoral in it, we had to support her," said her mother. Her parents became the winds beneath her wings.
Both mother and daughter use hijab and Mohaddesa is ready to tackle the situation when she encounters them in future.
Source: Times Of India
Please click the following URL to read the full text of the original story:
https://timesofindia.indiatimes.com/india/skys-the-limit-for-mahas-first-shia-girl-with-commercial-pilots-licence/articleshowprint/91861517.cms?val=3728
-----
Karnataka: Woman Dies By Suicide, Family, Hindu Outfits Allege 'Love Jihad'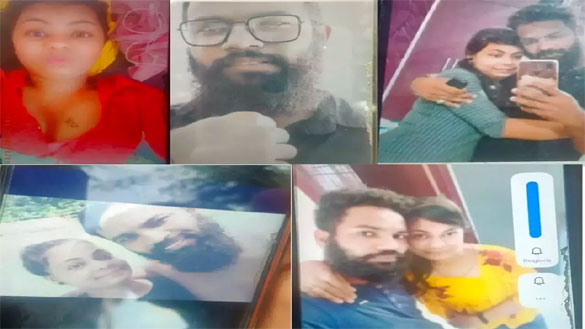 Young woman suicide case takes twist in K'taka, Hindu organisations allege love jihad. Photo : IANS
-----
May 28, 202
A 25-year-old woman Shilpa Devadiga died by suicide after consuming poison over a love affair in Kundapur of Udupi district. The victim's family has accused the Aziz of enacting the drama of love and threatened to convert to Islam. Hindu organisations alleged that she was a victim of 'love jihad'. The police have recovered a letter from the residence of Shilpa.
Source: Times Of India
https://timesofindia.indiatimes.com/videos/city/bengaluru/karnataka-woman-dies-by-suicide-family-hindu-outfits-allege-love-jihad/videoshow/91848836.cms
-----
Karnataka Hijab row: Mangaluru Muslim students seek permission to wear Hijab, submits memorandum to Deputy Commissioner
NewsX Bureau
28th May 2022
Muslim students of Universities & Colleges in Mangaluru went to the Deputy Commissioner's office to present a memorandum requesting permission to wear hijab in classes.
This comes after the degree college declared a ban on hijab or headscarves on campus on May 16.
"After the court decision, nothing happened, and we went about our tests in peace. However, we recently received an unauthorized message instructing us to attend lessons without wearing a hijab. With HC's permission, we went to the principal and attempted to speak with him. He expressed his helplessness. VC echoed the same sentiment" Fathima, a student, expressed her thoughts.
On Thursday, students from Mangaluru University College organized a protest on campus against the wearing of hijab in classrooms. The college was chastised by the students for failing to comply with the Karnataka High Court's directive on hijab in educational institutions.
Hijab demonstrations erupted in Karnataka in January and February of this year, when several students at the Government Girls PU College in the state's Udupi region said they were prohibited from attending courses. Some students said they were denied admission to the college because they wore hijab during the rallies.
A bench of Karnataka High Court dismissed a batch of petitions filed by Muslim girls studying in pre-university colleges in Udupi seeking the right to wear hijabs in classrooms on March 16, stating that wearing the hijab is not an essential religious practice in Islam and that freedom of religion under Article 25 of the Constitution is subject to reasonable restrictions.
The Court also upheld a state decree issued on February 5 that suggested that wearing hijabs in government institutions where uniforms are required can be prohibited — ruling that "prescription of a school uniform" is a "reasonable restriction" that is "Constitutionally lawful."
Source: Newsx
https://www.newsx.com/national/karnataka-hijab-row-mangaluru-muslim-students-seek-permission-to-wear-hijab-submits-memorandum-to-deputy-commissioner.html
-----
Like The Linda Lindas, this teen girl band in Benin makes you dance
May 28, 2022
The first time that Star Feminine Band – a group of 7 girl musicians from the ages of 12 to 19 – played a show in their West African nation of Benin, many in the crowd broke out in both applause and tears.
While the country has seen its share of successful female musicians – singer Angélique Kidjo, for example, has won five Grammys – residents of Natitingou, a town in Benin's conservative north had never seen musical female power in action.
"It was the first time [that girls in the community] saw women play instruments," says Sandrine Ouei, the group's 19-year-old drummer, recalling the event in 2016. "We're showing the world that women have the capacity and the potential, that they can make music."
That's the ethos of Star Feminine Band. Since the group's debut, self-titled album in 2020 – which blends rock and roll with traditional Western African and Beninese music – their music has captured listeners' attention across the globe for pushing boundaries lyrically, linguistically and culturally. They've made a splash in their hometown, signed onto an international label and played shows in France and Switzerland — and in June they're playing at Roskilde, a major music festival in Denmark.
"These girls, when they sing, you just feel the power," says Abbey Wright, founder of the campaign Planet Resolution. Her project aims to get an artist from every country in the world to record a song about climate change. She commissioned the band's latest single "Resolution Song," released in April.
In fact, many of the band's songs – available to stream for free online – tackle social problems, especially girls' and women's issues. So they're kind of like The Linda Lindas, the all-girl teen punk sensation from Los Angeles — only from Benin.
In "Femme Africaine," for example, the singers declare: "You can become prime minister of the country. Get up, we have to do something. African women, be independent." That's an important message in a country where, as of February 2021, a little over 8% of seats in parliament were held by women, according to U.N. Women.
And in the song "L'excision," they sing about female genital mutilation, which 9.2% of women between the ages of 15 to 49 have undergone in Benin, according to UNICEF. "Africa, my Africa, we must stop destroying our women," they sing.
Star Feminine Band does all this in eight languages – English, French and the local languages Waama, Ditamari, Bariba, Fulfulde, Yoruba and Fon. "It's to pass on our message to those who don't understand French," says 12-year-old drummer Angelique Balaguemon. Although it's the country's official language – used in school, politics and the media – not everyone speaks it.
"It's not difficult to [sing about these topics] because we're women ourselves," says Dorcas M'po, a 14-year-old percussion player. And she knows women in town who have experienced these issues, too.
He was inspired by a dark memory from his own childhood. On a walk home from school, he saw a man beating his wife. The visceral image stuck with him.
To get the group started, Balaguemon would first need to teach girls how to play instruments. So he moved to Natitingou from the country's capital Cotonou to offer free music lessons.
To financially support this endeavor, he rented out two houses he built in central Benin. The mayor's office got on board with the project, provided a practice space and helped advertise the lessons over the radio. Soon, girls started trickling in.
And so Star Feminine Band was born. He put his daughters Angélique on the drum kit and 14-year-old Grâce Marina on the keyboards. Anne Sayi, 15, joined as the guitarist; Julienne Sayi, 17, as the bassist; and Urrice Borikapei, 17, Dorcas and Ouei as drummers.
At first, people in Natitingou "didn't understand the project," says Balaguemon. Critics told him that "girls shouldn't play music." But after that first concert on the town square, "everyone started liking Star Feminine Band."
Many girls and women in the area love the band's message – including former child brides, says Dorcas. "They support us [for singing about them]."
In one song, "The Forced Marriage," for example, the girls sing: "Why impose a man on your daughter? African parents, think of us and our future."
That the music is resonating among local girls this way "shows that people who are closer to this scourge are better placed to talk about [these issues]," says Beninese journalist and culture writer Eric Azanney. "It grabs attention."
Girls aren't the only fans. "There are boys who love the [gender equality] subjects" of their music too, says Dorcas – including classmates and members of the school administration and local government.
Star Feminine Band's big break onto the international stage came by chance. Jérémie Verdier, a trumpet player originally from Avignon, France, was taking time off from work to volunteer in Benin in 2018. He overheard the group practicing in what he calls a "a teeny tiny room" in a building behind Natitingou's local museum.
At the mere mention of him being a musician, the girls invited him to play with their band in a concert later that week – before they even knew if he was any good, he jokes. On stage, he quickly fell in love with the band's music.
The girls were still on his mind when he returned to Europe. In 2019, he hooked them up with the Parisian record label Born Bad, known for its off-the-beaten-path artists. It released Star Feminine Band's first record.
Since the band's formation, the girls have played countless shows in Natitingou, made several music videos — and later this year, they'll release their second album and tour Europe again.
For now, practice continues in Natitingou. The girls get together three times a week when school is in session and more during vacations. And every Sunday, they huddle around a computer screen to Zoom with Verdier. He's teaching them English so they can communicate with fans when they go on international tours.
During one Sunday lesson, the girls perform an acapella version of an unreleased, English-language song from their upcoming album. They swing back and forth, swaying in unison.
"Women stand up, stand up for your rights. Get up, stand up, stand up for your rights," they sing, nearly chanting. "Don't underestimate her – because she can do what you do, too."
Source: Npr.Org
https://www.npr.org/sections/goatsandsoda/2022/05/28/1098826216/like-the-linda-lindas-this-teen-girl-band-in-benin-makes-you-dance-and-think
-----
Pakistan: Violence against women rampant regardless of rural-urban divide
28 May, 2022
arachi [Pakistan], May 28 (ANI): Amid growing violence against women in Pakistan, another case of two Pakistani-origin Spanish sisters Arooj Abbas and Aneesa Abbas being allegedly tortured and shot dead has been registered as they failed to get their respective husbands' visas to settle with them in Spain.
Both the sisters, who are Spanish nationals, were married to their cousins in Pakistan more than a year ago, and were not happy with their marriages, reported Just Earth News, citing the police officials.
Cases of honour killing are frighteningly regular in Pakistan, especially in areas close to the tribal regions in the north and west.
More than 470 cases of "honour" killing were reported in Pakistan in 2021, according to the Human Rights Commission of Pakistan (HRCP).
In 2016, the murder of Qandeel Baloch, known as "Pakistan's Kim Kardashian", by her brother Waseem Azeem sparked national outrage and demands for changes to the law. Azeem strangled her in her home in the Punjab province after she shared photos on Facebook of herself with a Muslim cleric.
Azeem was sentenced to life imprisonment but was acquitted in February this year after his parents sought his release. His lawyers used what is known as the Qisas and Diyat law to circumvent the new legislation.
According to Just Earth News, Pakistan is the sixth-most populated country in the world. But it's one of the world's worst performers when it comes to gender parity, according to the World Economic Forum's 2020 gender gap report.
In a derogatory remark in 2021, Former Pakistan Prime Minister Imran Khan said, "Men are not robots, ladies wearing small clothes impact them," thereby subscribing to a view long refuted by a significant body of research that shows that sexual violence is a consequence of perpetrators dehumanising female bodies.
In the name of honour killing, murder committed on the pretext of family honour, women in Pakistan continue to suffer in the hands of perpetrators legitimising their actions through a misplaced sense of justice.
According to a Supreme Court judgment in 2020, Pakistan has one of the highest per capita honour killings in the world. However, by using words like 'honour', the Pakistan society not only downplays the atrocity of the crime but legitimises it with a belief that 'bad character', particularly pertaining to a woman, needs to be punished or it will tarnish the community at large.
Source: The Print
https://theprint.in/world/pakistan-violence-against-women-rampant-regardless-of-rural-urban-divide/975090/
-----
How women break the India-Pakistan wall over WhatsApp, biryani & banoffee pie in Dubai
SAADIA AHMED
29 May, 2022
Before moving to Dubai, I barely had any Indian friends. Living in Lahore, I did meet a few lively Sikh yatris travelling from one part of Punjab to another to visit their holy places. Pakistan of the '90s was quite unlike what children experience today. Sikh yatris would merrily roam the streets of Anarkali Bazar in Lahore chatting and mingling with the locals. Being the granddaughter of immigrants from Jhajjar who took deep pride in their Haryanvi roots, I also knew pre-Partition India through my grandmother's eyes. However, the post-9/11 world presented different realities and things changed. The tensions between India and Pakistan also heightened. The walls and fences became higher.
My first friend in Dubai was my Indian neighbour Mini who helped me settle in a new country in every possible way. From handing me the number of the guy who delivered water cans to encouraging me to start my own food catering business, Mini made my life in Dubai seem much easier than it was. Through Mini, I got to know more women in the neighbourhood who were also Indians.
We were a subject of interest for our respective mothers back home and while visiting Dubai. I remember one of my friends sending my photograph to her mother in Nagpur to show her how a Pakistani girl looked! Of course, I was a rare specimen for her family back home. We both laughed when she hit the send button on WhatsApp. My mother in Lahore was elated to know that I was making friends from India and would often ask me about them. Now when I come to think of it, I realise that she did so because this was the closest that she could feel to the country her parents came from. Even when she visited me once in Dubai, all my mother wanted was to have food at the Indian restaurants because she loved the Indian thali.
In due course, Priya, who was from Kerala, became my best friend in Dubai. We had set up this unsaid birthday ritual of cutting our cakes together. On one of those occasions, Priya's mother was also visiting from India. "Auntie" was a quiet person but the whole act made her so happy that she recorded a video of us cutting Priya's birthday cake. We chuckled at how it would potentially turn into a WhatsApp message forwarded to the entire clan.
Interestingly, despite being among the first of their Pakistani friends, the Indian-Pakistani distinction diminished in no time. Initially, we avoided talking about anything that could potentially lead to a conflict. In fact, we were more polite to each other than we were to people from our own countries. But this is not how genuine friendships work. Soon the inhibitions started falling off and we initiated deeper conversations. We would discuss everything under the sun from the role of patriarchy in governing our lives to the politics that had crippled the lives of the common people. It did not take us long to realise that our similarities are much deeper than our differences.
When I started my catering business, my first client was an Indian, Nahid Sabir who asked me to make her biryani and banoffee pie. She loved my food so much that soon I started receiving orders from many other people in the community. My very Pakistani biryani was an instant hit among my Indian clientele. Many would also order vegetarian options, which I was happy to explore and create. Not only food, but our families were also not much different. Many of us had similar experiences with our 'in-laws'. We found more comfort in our mothers' homes than with the 'in-laws'. Most of us dreaded trips back home because we had found our peace in a life away from the chaos in our own countries. We wanted to break free and live our lives on our own terms. Why am I forgetting the Bollywood films and Pakistani dramas? Most of my Indian friends could not help gushing over Fawad Khan!
Through these friendships we were living our grandmothers' wildest dreams; the women who had to leave their homes to migrate to lands unknown in 1947. Perhaps we were the manifestation of our dead ancestors' longing to see their old home, mohallas, and friends.
The stereotypes we had about each other's cultures and countries came crumbling down through these friendships. I am sure that none of my Indian friends thinks that Pakistani women remain within the confines of their homes wearing a burka. I am also not of the view that all Indian women wear bindi and saris. Some of my friends have never worn a sari their entire lives.
When I was leaving Dubai for Australia, we had tears in our eyes. We knew that despite being just a few kilometres away from each other in our home countries, we might never be able to visit each other. To see each other we had to travel thousands of miles. Perhaps we would never have known the joy of our precious friendships had we not lived together in Dubai. These walls would have never come down had we not stepped away from home and met on these foreign lands. For each of us, the future is brighter now, but we still must travel a thousand miles to hug our friends from the other side of the border.
Source: The Print
https://theprint.in/opinion/how-women-break-the-india-pakistan-wall-over-whatsapp-biryani-banoffee-pie-in-dubai/970537/
-----
URL: https://newageislam.com/islam-women-feminism/mohaddesa-jafri-shia-maharashtra/d/127119
New Age Islam, Islam Online, Islamic Website, African Muslim News, Arab World News, South Asia News, Indian Muslim News, World Muslim News, Women in Islam, Islamic Feminism, Arab Women, Women In Arab, Islamophobia in America, Muslim Women in West, Islam Women and Feminism