Age Islam News Bureau
14 May 2017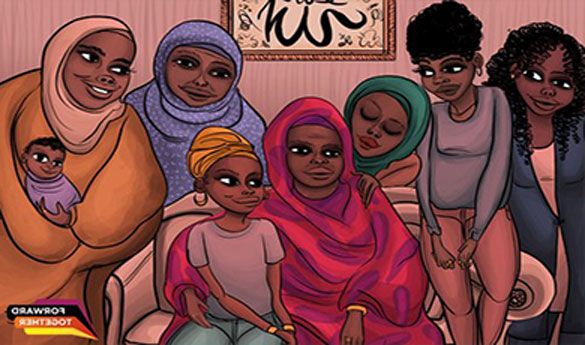 Photo: This #MamasDay, we're showing Muslim & immigrant mamas they're loved and welcome here. Join us—make a card today: http://mamasday.org/act .
---------
• American Mosque Brings Men and Women Together to Pray
• Thousands of Mother's Day Cards Sent to Muslim, Immigrant Moms
• Nihad Was an Islamic State Sex Slave And Is Desperate For A New Life In Australia
• Muslim Divorces Where Man Says 'Talaq' Three Times Are Now 'Really Common' In UK - Even Though They Are Illegal In Pakistan and Face Ban in India
• Iranian Woman to Wash Dead Bodies in Morgue for 2 Years in Adultery Sentence - Report
• 5 Immigrant Women Vie For Miss USA Pageant Title
• Boko Haram Releases Video of Purported Chibok Girl
• Where I Stand: Women Rule, And Mothers Rule Even More
• Meet the American Women Who Are Flocking To Join ISIS
Compiled by New Age Islam News Bureau
URL: https://www.newageislam.com/islam-women-feminism/models-all-shapes-sizes-walk/d/111141
-----------
Models of All Shapes and Sizes to Walk the Runway at Arab Fashion Week
Published May 14th, 2017
The goal of the fashion show is to empower women living with dwarfism. (Shutterstock)The goal of the fashion show is to empower women living with dwarfism. (Shutterstock)
After a huge success in New York Fashion Week, Tokyo and Paris Fashion Week, the Arab Fashion Week will be hosting its first dwarf fashion show on May 20. Fifteen glamorous fashionistas from Dubai and all over the world will walk down the Dubai runway in creations designed and made in NYC by American Wardrobe.
Favorited by Tyra Banks, a pioneer in showcasing models of all shapes and colors, the International Dwarf Fashion Show is not your average size red carpet event.
Unlike the 5.9 inch and 120 pound models one usually sees on the catwalk, Arab Fashion Week will bring back the essence of the fashion by going beyond the physical height standard: Each model is less than four feet!
The goal is to empower women by reversing the diktats of beauty and breaking down stereotypes. For too long, disabled individuals affected by dwarfism have been the victims of discrimination. The International Dwarf Fashion Show to be held during the next Arab Fashion Week will celebrate little people's contribution to social diversity.
albawaba.com/entertainment/models-all-shapes-and-sizes-walk-runway-arab-fashion-week-973790
-------
American Mosque Brings Men and Women Together to Pray
May 13, 2017
Muslim men are usually separated from women during religious services in mosques throughout the world.
But one mosque in northern California has opened up to let men and women pray side-by-side.
The religious center is called Qal'Bu Maryam, which means "Heart of Mary" in Arabic.
Rabi'aKeeble set up the new Qal'Bu Maryam mosque in Berkeley, California. She was a Christian until about 10 years ago, when she accepted Islam.
It has long been a tradition that Muslim men and women pray separately. They sometimes pray in different parts of the same room. In some areas, they meet in different rooms or are divided by a barrier.
As a new Muslim, Rabi'aKeeble says, she could not imagine women praying in the same room with men.
"I think at first - like most new Muslims - I accepted everything because I felt that was my role. I felt that that's what God wanted, was for me to accept what already was happening. But I think as an intelligent thinking person, after a while I began to see that there seemed to be an imbalance in that approach."
Keeble accepted Islam's teachings and customs. But she wanted to see the clergyman during religious services, and not be in a separate room.
She eventually found a way to bring males and females together and give women the chance to see the person leading the service.
HussamMousa was born in Egypt. He says he stopped attending religious services after the birth of his daughter 11 years ago. But he likes the idea of the new mosque and wants to bring his daughter.
"Show her a new model that can kind of point out to her, like you can retain your religious heritage and retain your religious culture in a space and environment where you are equal."
Keeble says some people oppose her idea of having men and women in the same room.
"I've had some backlash from Muslim men. But I was determined from the beginning that if I get threats, or if there's language, or something doesn't feel good about it, I would just ignore it."
Some women say the separation of men and women in mosques is an important tradition they never had a problem with.
"That's how I was raised," said Saleemah Jones, a lifelong Muslim. She now attends the Qal'Bu Maryam mosque in Berkeley. Now, for the first time, Jones prays with men and also gets the chance to lead prayers herself.
"I had never been to a mosque where a woman led a prayer so much as where I would ever think that I would actually lead the prayer as well. So it gives you an empowering feeling. You know you can pretty much go out and do anything."
Rabi'aKeeble says her goal is to create a space where all people feel welcome.
"And if someone wants to join me, male or female, Shia, Sunni, whatever you are, whatever color you are, wherever you come from in the world, then you join me here - and that would be very lovely."
The mosque is the second woman-led Islamic religious center in California. The Women's Mosque in Los Angeles opened its doors in 2015. That mosque holds worship services specifically for women and children.
I'm Bryan Lynn.
Michelle Quinn reported on this story for VOA News. Bryan Lynn adapted the report, with additional material from Reuters. George Grow was the editor.
learningenglish.voanews.com/a/american-musque-brings-men-and-women-together-to-pray/3845047.html
-------
Thousands of Mother's Day Cards Sent to Muslim, Immigrant Moms
By MELISSA NOEL
There is no one size fits all when it comes to the definition of motherhood.
Yet, each year on Mother's Day — one of the biggest commercial holidays in the United States — many cards and other merchandise sold are often lacking in diversity or don't reflect the makeup of the country.
In an effort to change that, Forward Together, a national multiracial organization that works with community leaders for social change, started "Mamas Day". The annual event, now in its sixth year highlights women who are often overlooked in the mainstream celebration of Mother's Day.
Since the 2016 election, there have been some of the highest levels of hate crimes against Muslims or those perceived as Muslim. Forward Together wants to put a stop to this terror with the influence of art. Courtesy of Forward Together
"Our goal with "Mamas Day" has always been to highlight mothers who are invisible in popular representations of motherhood, so we focus on lifting up single moms, queer families, incarcerated parents and immigrant mamas," said Forward Together's Policy Director, Kalpana Krishnamurthy in a statement about this year's celebration.
As a part of its Strong Families initiative, Forward Together is working with 28 partner organizations, including Black Alliance for Just Immigration (BAJI), to send 15,000 cards created by artists of color to these women in an effort to show them that they are loved and appreciated.
"I feel that the cards are reaffirming to a lot of mothers that are going through a lot of xenophobia across the globe, especially here in the United States where we are just berated with a lot of negative connations and imagery about women," BreenaNuñez told NBCBLK.
The artist, who illustrated two of the "Mamas Day" card designs added, "we have to remember that these women also have a lot of strength and beauty and we need to celebrate that. That's what this does."
Mother's Day can be a difficult time for families that have members who are at risk of deportation. Forward Together wants to use art as a form of resistance. Courtesy of Forward Together
Several of the cards illustrate moms of all races and ages teaching and nurturing their children. Others don't feature people at all, but rather images that represent growth, love and strength.
All provide space for the sender to include a personalized message. Some cards will be sent as online e-greetings, while others will be hand delivered to women across the country over the Mother's Day weekend.
This year, with the rise of attacks on immigrant and Muslim communities, including efforts to ban people from several Muslim majority countries from entering the United States and mass deportations, the annual initiative is centering on women from these communities in a show of solidarity.
One of the main goals of Forward Together's 'Mamas Day' is to bring better representation of mothers who are "invisible" in the media, such as single moms and queer families. Courtesy of Forward Together
"Like so many other issues, when we talk about immigration we don't necessarily talk about immigrant women and their stories, issues and challenges that they face," said BAJI's National Organizer, Tia Oso. "Also, the work and the power of black immigrant women are things that are not really touched on a lot. One of our priorities as an organization is to begin to have a focus around them in our work. This is a part of that."
According to Oso, local chapters of Black Alliance For Just Immigration, which are located in cities including Los Angeles, New York and Atlanta, will coordinate deliveries of the cards to women in detention centers, those recently released as well as women who are fighting orders of deportation.
View image on Twitter
Follow
Forward Together @FwdTogether
This #MamasDay, we're showing Muslim & immigrant mamas they're loved and welcome here. Join us—make a card today: mamasday.org/act .
1:37 AM - 20 Apr 2017
112 112 Retweets 297 297 likes
"This project in particular is so beautiful because so many of these artists are bringing their personal and cultural understandings of what it means to honor our mothers. The art we are making is the lifeblood of our peoples, and we hold that historical responsibility to observe, reflect and speak the truth on how we need to show love for the women and mother figures in our lives," said Nuñez.
The hope is that the collaboration of artists and activists across the country, will not only lift the spirits of these women, but also raise awareness about the many family structures in America often marginalized in media and policy discussions.
nbcnews.com/news/nbcblk/thousands-mother-s-day-cards-sent-muslim-immigrant-moms-n756576
-------
Nihad was an Islamic State sex slave and is desperate for a new life in Australia
London: This is the face of an asylum seeker who has been kidnapped, raped and had her baby stolen from her.
NihadBarakat al-Awsi has applied for Australia's protection, along with her sister, three of her brothers, her nephew, mother and sister-in-law's family who all survived Islamic State's attempted genocide of her people - the Yazidis of northern Iraq.
U.S. and Afghan officials confirm the head of Islamic State in Afghanistan, Abdul Hasib, was killed in an operation on April 27, conducted jointly by Afghan and U.S. Special Forces in the eastern province of Nangarhar.
Three years ago, when she was 15, Nihad had many friends, enjoyed school - especially maths and English - and dreamed of becoming a teacher.
But the bright young Yazidi woman's life irrevocably changed one afternoon when a villager from a nearby town sounded the alarm: "IS are coming".
Nihad has sought protection here, because unlike other programs for Yazidi women around the world, including in Germany, Australia is willing to keep her family together.
In 2017-18, Australia will accept 18,750 people fleeing persecution. In March, the government announced it had granted protection visas to 12,000 people displaced by the conflict in in Syria and Iraq. Refugees who have suffered torture and trauma are offered specialist counselling services when they arrive in Australia. Nihad and her family may need them.
Nihad was one of the 6800 Yazidis now believed to have been captured to become sex slaves or fighters.
She cannot erase the mental trauma from her time under the control of the IS "monsters".
"Several times I tried to tell my family about my sister who was being raped in front of me and she was screaming at that time, begging for my mother to come to help her.
"I can't tell anyone about this."
After her capture, Nihad was taken to a village on the Iraq-Syria border, where the male captives were separated from the girls and women.
She was then transferred to Mosul, where a fighter claimed her, and raped her repeatedly before his death in the battlefield nearly two months later. She was quickly "purchased" and forced to marry another "monster", a man known as Abu Faris who already had a wife and a Yazidi girl as his slave.
Many IS slaves have died in captivity but Nihad says she clung to the hope of reuniting with her family. "I used to go to see my sisters and my brother [all in captivity] and I said, 'Please stick to the hope that one day we will be released and we will be returned to our lives'."
Her strength prevailed through the constant rapes and beatings but then she fell pregnant. "I thought I was carrying a small IS man," she says.
"When I got pregnant I thought that I am weak and I am wondering and asking myself, 'Why did this happen?'"
"I disassociated from the surroundings. I felt 'I am lost' but one day I managed to get a phone to call my family and from that moment I clung to the hope again."
Nihad tried to force a miscarriage, but her son did arrive and when he did she named him Issa – Arabic for Jesus. He will turn two in July, though it is now unlikely she will ever see him again. When she escaped she had to leave Issa, then just three months old, with the father, Abu Faris. He remains in northern Iraq and has insisted on keeping the boy.
Even if Nihad had been able to take Issa with her, her people would have rejected her son, she says.
"He is part of me but he's something from those criminals and he represents those criminals. Even if I managed to meet him again, my family and all the Yazidi people would say 'This is a member of ISIS'," Nihad tells Fairfax Media at the headquarters of the London-based charity the AMAR Foundation, which is supporting her rehabilitation.
"I used to carry him and I used to hug him and play with him but I have never forgot my family and I was thinking all the time about returning to my family."
New research from the London School of Economics has found 9900 Yazidis were killed or kidnapped over the course of just a few days in August 2014. The figure is far higher than previous estimates of IS's brutal "purification" of northern Iraq.
An estimated 3100 Yazidis were killed, with nearly half of them executed by gunshot, beheading or being burned alive. The others died from injuries, starvation and dehydration during the siege on Mount Sinjar. More than one-third of those kidnapped remain missing.
Nihad escaped her captor because of a dispute between Abu Faris, his wife and his other Yazidi girl. In a bid to resolve the tension, Nihad was passed to Abu Faris' cousin. From here, with the help of a group of Yazidi women, she was able to finally escape Mosul.
But although she has escaped IS slavery, Nihad says she will never feel free.
"Because Yazidi people are still there under the captivity of ISIS and because I still have a son under the captivity of ISIS, I don't feel that I am free."
Nihad has lost two sisters and a brother to Islamic State and two more brothers have been forced into training in fighter camps.
Despite the stigma Nihad risks in putting her face to the label of "Islamic State sex slave", she is committed to telling the world about what she endured and the ongoing persecution her people face. "I want all the people to imagine the misery that we have passed through."
Nihad doubts she can ever fully recover from her trauma. "Despite all the difficulty that I have suffered, I have decided to continue my life and to be a success but the sadness inside us is so deep."
But she is hopeful she will be granted a protection visa by the end of the year and embark on a new beginning in Australia.
Nihad's ambition is to finish her education, which she has already resumed, and return to the goals she set before IS blackened her life. "I would like to go there to continue to work to be a teacher," she says.
smh.com.au/world/nihad-was-an-islamic-state-sex-slave-and-is-desperate-for-a-new-life-in-australia-20170512-gw3ijm.html
-------
Iranian woman to wash dead bodies in morgue for 2 years in adultery sentence - report
13 May, 2017
An Iranian woman, who cheated on her husband, has been sentenced to lashes and two years of washing dead bodies in a morgue by a court in capital Tehran, a local news agency reported.
The 35-year-old female, who initially denied accusations, admitted her guilt after the investigators provided incontestable proof of adultery, according to the Iranian Students' News Agency (ISNA).
After the confession, her lover was also arrested and put on trial, with the court announcing its verdict in the case on Saturday.
The judges handed the woman a punishment of 74 lashes and ordered her to wash bodies in a morgue for the next two years.
The man is to get 99 lashes, according to the ruling, and will then be exiled to a remote area of the country, ISNA reported.
The penal code of the Islamic Republic of Iran views adultery among the grave of crimes, which may even carry capital punishment in case of multiple violations.
Previously, executions of the unfaithful was performed through stoning, a practice which received worldwide condemnation.
Over 150 people have been stoned in Iran between 1980s and 2010, according to the data from the International Committees against Execution and Stoning.
In 2012, Iran eased its laws on adultery, with the new legislation urging the judges to come up with other punishments for those guilty.
rt.com/news/388270-iran-woman-morgue-adultery/
-------
5 immigrant women vie for Miss USA pageant title
Sunday 14 May 2017
Miss New Jersey USA ChhaviVerg, right, competes during a preliminary competition for Miss USA in Las Vegas. Very emigrated from India with her parents. (AP)
LAS VEGAS: Five of the contestants vying for the Miss USA title have a message to immigrant girls and women watching the pageant this weekend: Set goals, work hard and do not stay in the shadows.
The contestants know what they are talking about as they were all born in other countries and immigrated to the US at young ages as their families pursued their versions of the American Dream. The women are now all US citizens.
"I want them to see that anything is possible if you work hard," said Linnette De Los Santos, who immigrated with her family from the Dominican Republic when she was 5 years old. "As Miss USA, I would love to be able to be that inspiration for our immigrant community. If I would have stopped following my dreams and working hard toward what I wanted, I wouldn't be sitting here as Miss Florida USA or in law school ready to become an immigration attorney."
The competition airs Sunday from Las Vegas.
De Los Santos, Miss North Dakota Raquel Wellentin, Miss Hawaii Julie Kuo, Miss Connecticut Olga Litvinenko and Miss New Jersey ChhaviVerg spoke to The Associated Press about the opportunities and challenges they've faced as immigrants.
arabnews.com/node/1099201/offbeat
-------
Boko Haram releases video of purported Chibok girl
AFP | Published — Saturday 13 May 2017
KANO: The Boko Haram terrorist group released late Friday a video claiming to show Chibok schoolgirls who refused to be rescued as part of a recent swap deal with the Nigerian government.
In the three-minute video, a woman who claims to be Maida Yakubu, one of the 276 schoolgirls kidnapped by Boko Haram in April 2014, is seen wearing a black veil and holding a gun.
Flanked by three other women clad in black, she proclaims her loyalty to Boko Haram, which has been fighting the government since 2009 in an uprising that has killed over 20,000 people.
When asked by a man in the background why she does not want to return home to her parents, she replies: "The reason is that they live in the town of unbelief. We want them to accept Islam."
The woman then speaks in the local Chibok dialect for the rest of the video.
Last week, 82 schoolgirls who were kidnapped three years ago were released after negotiations between the terrorist group and the government.
Presidency spokesman GarbaShehu later disclosed that one girl had refused to leave, saying she had married a Boko Haram fighter.
Analysts said it was likely that others may have developed sympathies for their captors over time.
The militants seized the Chibok girls in April 2014, prompting global condemnation and drawing attention to the bloody insurgency.
Fifty-seven escaped in the immediate aftermath. Of the 219 who did not manage to flee, 106 have either been released or found, leaving 113 still missing.
Boko Haram released a second video on Friday claiming to show five commanders that the Nigerian government freed in exchange for the 82 Chibok girls.
In the video, a man who identifies himself as Abu Dardaa, or Money, said Boko Haram has returned to Sambisa Forest, which was long its stronghold in Borno State, and is preparing to bomb Nigeria's capital city of Abuja.
The threat comes as Nigeria opened another round of talks for the release of more kidnapped schoolgirls.
The Nigerian military said in December that it had ousted Boko Haram from Sambisa Forest.
On Saturday, a statement by Brig. Gen. SaniKukashekaUsman, an army spokesman, confirmed that the man was among those freed in the exchange, while calling the video "mere propaganda."
"He was a direct beneficiary of the process that led to the release of 82 of the abducted girls, and does not have a say or capacity to do anything, therefore his threats should be ignored," the army said.
While the militants have lost significant swathes of territory since Nigerian President MuhammaduBuhari came into power in 2015, they are still capable of launching deadly attacks on soldiers and continue to unleash suicide bombers in cities and camps for internally displaced people in Nigeria's ravaged northeast.
arabnews.com/node/1099131/world
-------
Where I Stand: Women rule, and mothers rule even more
By Brian Greenspun (contact)
Sunday, May 14, 2017
So, my first mistake the other day was asking my dear wife, Myra, what plans she had for Mother's Day.
When she suggested that I was the one who should be making plans for her special day, not she, I responded before I thought it through, "You aren't my mother." That led to a "discussion" that was not dissimilar from other "discussions" we have had during our many decades of blissful marriage that have been mostly unidirectional and at a decibel level that negates any reasonable consideration of hearing aids.
In short, Myra is a woman and women are not people with whom one should trifle.
Since the females of our species are the only people who can be mothers, I thought it appropriate to discuss the difference between the times many decades ago when my father would write a Mother's Day column about my mother and today, when I write about the mother of my child and my child, who is the mother of the two most delicious young people on the planet. Bias intended!
I can tell you with absolute certainty that mothers across our country have changed a great deal over the past few decades. And in so many ways, they haven't changed a bit. They are still the same nurturing, caring, aggressively protective humans whose job it is to preserve and defend our futures — our children.
They are just being so much smarter about how they do motherhood.
Years ago — it was during the Arab Spring — former Israeli President Shimon Peres told me that democracy would be impossible to accomplish in the Middle East as long as half the country was still enslaved. He was talking, of course, about the role women were allowed to play in many old-fashioned Muslim societies which meant, basically, no role at all.
Contrast that to the increasingly larger piece of our "man's world" in the United States that the women in our lives are usurping, and you can see that the evolution of the female of the species is faster and more noticeable in our part of the world. And never shall that particular clock turn back.
Nowhere is this more apparent than in the current health care discussion that has been working its way through the Congress. Whether the issue is funding Planned Parenthood, which handles so many health matters for women in Nevada, or the role, if any, for insurance coverage for female health issues in whatever comes out of Congress as a health care fix; or the role of the federal government in matters of family planning, including abortion when necessary, the fact of the matter is that the subject of such consideration is in almost all cases a woman!
And lest there be any confusion, women's health is all about human health. They are inextricable.
Many decades ago, while Mom was in the kitchen — whether barefoot, pregnant or making cookies — Dad would be making laws that affected the entire family. And the country seemed to tolerate that arrangement.
In the latter part of the 20th century and the entirety of the 21st — so far — it is safe to say that the overwhelming majority of women and a sizable number of men no longer see women in such a subservient role. In fact, cookies come in a slice-and-bake roll, shoes are so stylish that women refuse to go barefoot, and pregnancies, well, pregnancies still happen the old-fashioned way. Most of them, at least.
One major change, though, is that women now walk the hallowed halls of Congress in ever-increasing numbers. And, boy, are they smart and capable and confidant and courageous. Just like the men used to be.
But you wouldn't have known that in the U.S. Senate recently when the majority leader, Mitch McConnell, introduced the country to the Senate's "working group" on health care. There was not a woman in the group even though whatever solution the group comes up with in the Senate will affect all women in the country. Once again, older white men have taken it upon themselves to decide what is best for women.
And, why not? Don't men know more about women when it comes to pap smears, breast exams, family planning, cervical cancers and any number of female-only maladies and issues?
Why would anyone think that men can't and shouldn't make decisions about women in today's world?
I can ask those questions here but I don't dare ask them around my house because the woman in my life will tell me exactly what she thinks about such things. And it won't be pleasant. I dare say, my daughter will concur although much more forcefully, and her 8-year-old daughter will be even more adamant.
We don't live in another part of the world where women do not have a say in their own lives. We live in the 21st century where women in America not only have everything to say about their own lives but take it upon themselves to have a lot to say about ours.
That's just the way it is.
So, on this Mother's Day the best advice I can give to my male contemporaries is to acknowledge the fact that women rule. And the mothers among them rule even more.
Stop trying to control that which should not be ours to determine and let mothers do what mothers do best. Run things.
If you can do that, you will have a Happy Mother's Day.
If you can't, Father's Day is just around the corner and it will be a bitch!
Brian Greenspun is editor, publisher and owner of the Sun.
lasvegassun.com/news/2017/may/14/women-rule-and-mothers-rule-even-more/
-------
Meet the American women who are flocking to join ISIS
By Paul Sperry May 13, 2017
ISIS is recruiting an army of AK-47-brandishing women from the West who are just as bloodthirsty as the men they are marrying. Calling themselves "lionesses of Allah," they are thought to now number more than 600, and they're bearing the next generation of terrorists, whom they call "cubs of the caliphate."
Many of these women are true believers who trust that even with horrific gore and bloodshed, they are helping carry out the holy work of Allah in restoring the ancient Islamic caliphate, and that once it's reestablished, all believers will live in peace and harmony under Islamic rule.
Some of these ISIS brides living in Syria and Iraq have made the terrorist watchlist. Arguably the most dangerous is Sally Jones, 49, a British Muslim convert who goes by the nom de guerre Umm Hussain al-Britani. She is reportedly now on a British special-forces "kill list" after threatening Queen Elizabeth II.
Jones, who in her youth was a guitarist for an all-girl rock band, Krunch, has also been implicated in two foiled plots to kill Americans and is training her young son to follow in her footsteps.
She and other Western women are actively recruiting like-minded "sisters" to their twisted cause. Their primary duty is "to raise the next generation of lions in Islamic State," as Jones' good friend, Umm Muthanna al-Britani, another young British woman, put it in a tweet.
And ISIS pays them a generous stipend for each "cub" they deliver ($25 for each child per month, plus a $400 maternity bonus, and a $500 marriage bonus). This is a strategic move. With more of its men killed in battle, the terror group has to ensure its longevity.
But these moms celebrate death more than life. In fact, they incite their "brothers" to suicidal violence, even reminding them of the supposed heavenly rewards for achieving martyrdom while killing infidels. As Umm Osama, an online friend of Muthanna, once tweeted: "when you get so excited hoping for 7ooris" — the famous "72 virgins" — "remember this n say 'MarhrahadDugma' (u can do it)."
They don't shed a tear if they lose a husband. If he dies in battle, they are "instantly transformed into a hero — the wife of a martyr," or "shaheed," Center for Terrorism and Security Studies fellow Mia Bloom said.
ISIS rewards such widows well. "U dnthav 2 pay 4 ANYTHING if u r wife of a shaheed," one Western woman in Syria wrote.
Increasingly, the women cadres in ISIS are seeking to enter and die on the battlefield themselves, following in the path of their idol, Tashfeen Malik, who pledged allegiance to ISIS before helping her husband massacre 14 innocent people gathered at a 2015 Christmas office party in San Bernardino, Calif.
They routinely tweet and message out of Syria and Iraq their fervent desire to be "martyred in the cause of Allah." This is the overriding ambition of Muthanna, for instance. As she stated in a recent tweet, "I came here to die. I will not leave till I get what I came here for: shahadah [martyrdom]."
In a more recent tweet, she made reference to obtaining a suicide belt to make her death wish come true. "Everyone around me is getting shahadah," she complained in frustration. "When will it be my turn?"
ISIS women, who are known to watch and share gruesome videos of beheadings, appear to have the stomach for it.
Muthanna, for one, cheered the massacre the group carried out in Paris: "Wish I could have seen the hostages being slaughtered last night with my own eyes. Would have been beautiful."
"Burn Paris burn," she gushed in another tweet, adding, "LOL HOW SCARED ARE THESE KUFFAR [nonbelievers]."
More and more ISIS brides are being trained to kill. Last month, ISIS reportedly began deploying a deadly new all-female sniper squad to help fighters in Mosul, Iraq, hold off US and Iraqi forces.
More chilling, ISIS has issued a new marriage certificate allowing brides to carry out suicide missions. Under "condition of wife," it reads: "If the Prince of believers [ISIS leader Abu Bakr al-Baghdadi] consents to her carrying out a suicide mission, then her husband should not prohibit her."
"This may suggest that the group is looking ahead to a similar transition in using female cadres for suicide missions," International Center for the Study of Violent Extremism Director Anne Speckhard said.
Women pose a more daunting security threat to the West, because authorities in general do not expect violence from them. So they can pass security more easily, sneaking into public places carrying weapons or wearing bombs without raising suspicions, even strapping explosives around their waists to appear pregnant.
With ISIS now losing territory in Iraq and Syria, America and Europe could see not just more battle-hardened ISIS jihadists returning home, but also young women trained for suicide missions.
More than 45 American women are said to have joined or tried to join ISIS in Syria. Many have been busted marrying or attempting to wed ISIS fighters.
Shannon Maureen Conley was one of the first cases in the US of a female ISIS wannabe. Because the Denver woman seemed to be the quintessential "girl next door," it shocked terrorism experts.
"I was horrified that she openly admitted to FBI agents that she seriously considered launching a VIP attack right inside the United States," said Speckhard, who is also a Georgetown University psychology professor.
ISIS is known for sex slavery, mass rape and other brutally misogynistic practices. So what in the world would attract Western women to its fold?
"It seems unfathomable to most of us that a female would want to join ISIS, but their online propaganda has a major focus on twisting the concept of women's rights," said Ryan Mauro, a national-security analyst at the Clarion Project. "You'll see pictures of fully covered women with guns, as if they are treated as equals in jihad."
Still, Mauro doesn't buy the conventional wisdom that most of the young female recruits are lonely or angst-ridden and easily seduced into joining ISIS by charismatic male recruiters, who "groom" them much like online child predators.
"It's not as simple as a girl having a crush on a man. That's the easy, politically correct answer," he said. "There's obviously another critical ideological element involved, because those are issues facing all teenagers."
In fact, tweet after tweet from ISIS brides reveal they are less victims than willing participants. They show they plainly know their religion and see living under an Islamic theocracy as superior to the secular democracies of the West.
"NO SISTER leaves the comfort of their homes just to marry some man," suspected American ISIS recruiter Umm Waqqas wrote. "Muslims from all ages are leaving to live in a REAL Muslim country & live under the shades of Sharia," or Islamic law.
Consider the teen daughter of the Khan family of Chicago. The FBI caught her trying to join ISIS as a minor. Records show she was convinced she had to pack up and join the jihad, even if it meant giving up her comfortable suburban life.
The daughter was well-grounded in Islam — having even earned at a young age the honor of "hafiz," for memorizing the entire Quran — long before she watched ISIS videos and decided to forsake America. She left a note explaining she could no longer bear to live in "the land who's [sic] people mock my Allah, my beloved prophet (saw), the commandments of Allah (swt), his law. The ones who are using my money to kill my brothers and sisters."
Both "saw" and "swt" are abbreviations for traditional Muslim phrases.
Her tweets indicated she supported ISIS's violence and even intended to participate in it. Like many female ISIS recruits, she had reasoned through her decision theologically, with little emotion, in spite of the atrocities done in the name of that theology.
Mauro, who is also a counterterrorism professor at Liberty University, points out that female recruits are convinced ISIS is "reflective of Allah's will," and that it's their duty to join its caliphate. Part of that is because ISIS makes a convincing case, scripturally.
"When you look at ISIS propaganda, it's not just well-produced but well-referenced, with tons of references to Islamic verses and scholars," he said. "The propaganda presents researched arguments that enable ISIS recruiters to withstand scrutiny from a prospective recruit."
Plus, the terror group paints an attractive picture of Islamic utopia.
"The ISIS caliphate is portrayed as an ideal society on earth where things are great, with women valued, morals upheld, social services minimize insecurity and newcomers are welcomed into the family," Mauro added. "And you get to earn a ticket to paradise if you die standing against the infidel to preserve it."
toDawlah In sha Allah I can tell you about it," she wrote.
HodaMuthana, a Birmingham, Ala., college student, fled to Syria to join ISIS and is now suspected of acting as a recruiter for the group. In recent online messages, Muthana has encouraged other American Muslims to attack their own country. "Terrorize the kuffar at home," she tweeted, using a derogatory Arabic term for non-Muslims. "Wake up!" "You have much to do while you live under our greatest enemy, enough of your sleeping!" Muthana added. "Go on drive-bys and spill all of their blood, or rent a big truck and drive all over them. Veterans, Patriot, Memorial etc Day parades." The devout 21-year-old Muslim reportedly married an ISIS fighter from Australia less than a month after arriving in Syria, but he died only a few months later in an airstrike.
Shannon Maureen Conley is a Denver woman serving a four-year prison sentence for attempting to join ISIS in Syria, where she planned to marry a Tunisian fighter she met online. A Muslim convert, Conley was arrested at age 19 for providing material support to a terrorist group. In interviews with FBI agents, she "repeatedly referred to US military bases as 'targets,' " a criminal complaint says. She said she sought to "wage jihad" and viewed even women and children as "legitimate" targets if they were visiting a military base. "It is OK to harm innocents if they are part of a target," she said. Conley, who practiced firing rifles at a local shooting range, mentioned attacking a government "motorcade" inside the US. "Conley said she needed to go overseas to be trained in jihad, but did not need to be overseas to wage jihad," the government's complaint said. Before her arrest, the hijab-wearing Conley had been on the FBI's radar for nearly a year, thanks to a complaint filed by a local pastor who feared she was casing his church building for a terrorist attack. She was seen walking the grounds wearing a backpack and taking notes. Asked why she appeared to be targeting the mega church, Conley said, "I hate those people."
Daniela Greene was an FBI translator in Detroit who secretly married an ISIS leader after converting to Islam. She was supposed to be investigating the federally designated terrorist Denis Cuspert, but instead sneaked off to Syria, married Cuspert and warned him that "the FBI had an open investigation into his activities," recently unsealed court records show. The 38-year-old Greene, who held top-secret security clearance, is also suspected of sharing intelligence with the high-value target. The Clemson University alumna lived with Cuspert for 30 days before authorities arrested her. Cuspert, a native of Berlin, is a known ISIS recruiter who has appeared in ISIS propaganda videos, including one in which he appears to be holding a severed head that he claims belonged to a man executed for opposing the ISIS "caliphate." Greene served just two years in prison for her traitorous actions and is now out on supervised release.
Paul Sperry is a former Hoover Institution media fellow and author of "Infiltration: How Muslim Spies and Subversives Have Penetrated Washington."
nypost.com/2017/05/13/meet-the-western-women-who-are-flocking-to-join-isis/
URL: https://www.newageislam.com/islam-women-feminism/models-all-shapes-sizes-walk/d/111141
New Age Islam, Islam Online, Islamic Website, African Muslim News, Arab World News, South Asia News, Indian Muslim News, World Muslim News, Womens in Islam, Islamic Feminism, Arab Women, Womens In Arab, Islamphobia in America, Muslim Women in West, Islam Women and Feminism