New Age Islam News Bureau
29 Jun 2018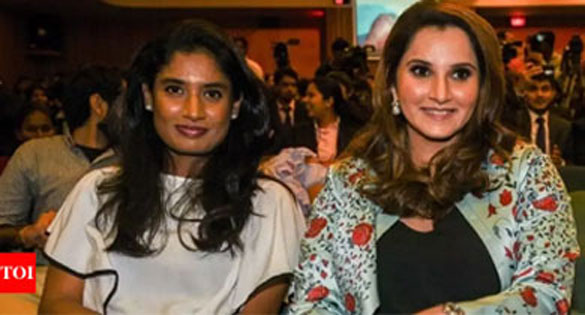 Mithali Raj and Sania Mirza speak about gender equality at UN India Women's anthem launch | Mumbai News - Times of India
-----
• Second Canadian Judge Suspends Quebec Niqab Ban
• Turkish Publisher under Fire for Bias against Headscarved Women
• Egypt: More Women to Join Peacekeeping Force
• Singer, the Filipina Woman, on Trial in UAE for Insulting Islam on Instagram
• Team behind Arab Women's Sports Tournament Feted
• Another First — Women Drivers Can Accept Male Clients
• Searching For Love Online, Indonesian Maids Vulnerable To Being Recruited By Islamic State: Documentary
• Grand Gathering of Iranians in Paris: Women Dignitaries Lend Support
• New Parliament Welcomes More Women in Politics to Improve Turkey's Governance
Compiled by New Age Islam News Bureau
URL: https://www.newageislam.com/islam-women-feminism/mithali-raj-sania-mirza-speak/d/115683
--------
Mithali Raj and Sania Mirza Speak About Gender Equality at UN India Women's Anthem Launch
Garvita Sharma
Jun 29, 2018
On Wednesday evening, the auditorium at an institute in Matunga was full of gripping and inspiring stories of women from different sections of society. The event was the launch of the UN Women India's anthem 'Mujhe Haq Hai'. The video, which left the audience moist-eyed and cheering for those present in the room, urged women to take that leap of faith.
The video features actresses Waheeda Rehman, Aishwarya Rai Bachchan, Kriti Sanon, Sakshi Tanwar, Jennifer Winget, sportswomen Sania Mirza, Mithali Raj, 10-year-old prodigy Tajamul Islam, Deepa Malik, Manika Batra, women's rights activists Meera Khanna, elective representative, Andhra Pradesh Mylapalli Lakshmi, singers Asha Bhosle, Alka Yagnik and Neeti Mohan, among several others.
Speaking about women in sports, cricketer Mithali Raj, who was present at the event, said, "It hasn't been an easy experience. Cricket has always been a male-dominated sport, but things have changed only recently after the World Cup. I've started seeing many girls playing cricket now. My message to women is that it's important to be self-reliant and financially independent, as that gives you the confidence to take on the world. Once a woman is confident, she is capable of emotionally supporting herself. Our parents have been revolutionists and have helped us in shaping our identities. Besides, everybody deserves to be successful and have a shot at fame."
The motive behind the campaign is to give women the right to choose with no fear of judgement and backlash. While sharing her story, tennis champ Sania Mirza said, "People talk in whispers about inequality, it's not really come out in the open. Being a part of the campaign is everything I have always believed in and it's an absolute honour for me to try and make a change. I'll be happy if I'm able to bring about a transformation even in one person or a family by talking or interacting with them."
Women's rights activist Meera Khanna, who has been working for the cause for the last two decades, spoke about how the birth of her first child — a girl — motivated her to take up the cause. Talking about how the movement has changed over the course of time, she said, "From a welfare-based approach, it's now a rights-based approach. As human beings, we have the right to choose and it's a part of our right to live. One can't live with dignity without that."
Musician Arko Pravo Mukherjee was the only male celeb among the women achievers at the event. Having worked on the anthem, he said, "It's a special one for me. Sharing the stage with some fantastic women has been absolutely worth it. It's not every day that you work for something like this."
The star of the evening, however, was the extremely adorable kickboxing champ Tajamul, who humoured the audience with her story. She said, "Kehte hain ki ladki ke liye saari duniya banaayi gayee hai. Agar unhe hi peechay rakhenge toh kaam kaise chalega? Parents ladkiyon ko bahut zyaada support karen. Unhe freedom mile choose karne ka; unki life hai, unhe jeene do aur ladkiyon ko ladkon se oopar hi samjho."
https://timesofindia.indiatimes.com/city/mumbai/mithali-raj-and-sania-mirza-speak-about-gender-equality-at-un-india-womens-anthem-launch/articleshow/64780653.cms
--------
Second Canadian Judge Suspends Quebec Niqab Ban
June 29, 2018
A second Canadian judge suspended Quebec's ban on face-coverings on Thursday, handing a victory to the law's opponents who have challenged it on grounds that it discriminates against Muslim women and violates constitutional rights.
The ban, which forbids face-coverings on anyone giving or receiving public services, was enacted last October. It affects everyone from teachers and students to hospital employees, police officers, bus drivers and transit users in the mostly French-speaking province.
While the law does not single out any religion by name, debate has focused on the niqab, a full-face veil worn by a small minority of Muslim women.
A judge in December suspended the ban until the provincial government crafted regulations. The completed regulations, which included arrangements for individuals to obtain religious exemptions, were poised to take effect on Sunday.
But another judge on Thursday deemed the new rules confusing and ambiguous and suspended implementation again while the court challenge goes ahead. Quebec Superior Court Judge Marc-Andre Blanchard wrote in his ruling that the law appeared on its face to violate the Canadian Charter of Rights and Freedoms, adding it could cause Muslim women "irreparable harm."
Quebec's Liberal government has defended the law, saying it does not discriminate against Muslim women and is necessary for reasons of security, identification and communication. The act's name refers to "religious neutrality" and "accommodations on religious grounds."
Opponents say it targets a visible minority that has been subject to threats and violence. Quebec had about 243,000 Muslims as of 2011, according to Statistics Canada, out of a population of 8 million.
In January 2017, a gunman walked into a Quebec City mosque and shot six people to death. A French-Canadian university student has pleaded guilty.
Commenting on the latest ruling, lawyer Catherine McKenzie, who represents the plaintiffs, said: "I would hope the takeaway is that the courts are still there to protect and defend citizens against government action that doesn't pass constitutional muster."
France, Belgium, the Netherlands, Bulgaria and the German state of Bavaria have imposed restrictions on the wearing of full-face veils in public places. Denmark plans to institute its own ban.
https://indianexpress.com/article/world/second-canadian-judge-suspends-quebec-niqab-ban-5238251/
--------
Turkish Publisher under Fire for Bias against Headscarved Women
Jun 29, 2018
A job advertisement barring headscarf-wearing applicants stirred up controversy for Destek Yayıncılık, an Istanbul-based publisher of popular titles. The online ad for accounting and finance personnel says only women can apply for the position and says "CVs sent by türban-wearing women and men will not be put into consideration," using a derogatory term for headscarf.As the outrage against the company piled up on social media sites, Destek Media Group, the parent company of the publisher, released a statement and blamed an unnamed recruitment employee for the ad.The ad would have likely been downplayed in the late 1990s and early 2000s when an extremely secular elite ruled the Muslim-majority country and openly targeted women wearing headscarves.
However, it received a barrage of criticism yesterday when it surfaced, with people decrying the mindset resembling the "February 28 process," in reference to the 1997 coup that came amid the abovementioned witch hunt against Muslim women. "How backward this is! These people should be reminded in which age they live in!" a social media user wrote. Another user vowed "not to buy any books published by Destek," while yet another user wrote "How fascist you are!" Nedim Şener, a prominent journalist whose books were published by the company, described the ad as "ridiculous" before retweeting the publisher's statement.
The company said in a press statement that the administration was "not aware" of the ad and was not "informed about it" before the ad surfaced online. "We have a policy that does not accept any discrimination based on political views, faith, gender, etc. An employee responsible for posting ads sabotaged them and led us to this dire situation," the company said, adding that the responsible employee was fired and the company restricted posting of ads without the approval of the company's administration. The company also apologized to the "people we upset."
Speaking to Daily Sabah, Destek's owner Yelda Cumalıoğlu said the job ad was "the work of an employee sabotaging [the company]." She noted that the company already had headscarf-wearing personnel, including an administrator and a reception clerk, and they already published books by headscarf-wearing writers. Cumalıoğlu said they have "launched a legal process" against the employee responsible for the ad.
https://www.dailysabah.com/turkey/2018/06/29/turkish-publisher-under-fire-for-bias-against-headscarved-women-1530216124
--------
Egypt: More Women to Join Peacekeeping Force
June 28, 2018
Egyptian Foreign Minister Sameh Shoukry said that his country is proud of its contribution to peacekeeping forces stationed in African countries with 3,000 Egyptian men and women spread across the Congo, Mali, the Central African Republic and Darfur.
During a speech to mark the foreign ministry's celebration of Peace Day, Shoukry said Egypt is proud to be training its peacekeeping forces in preparation for the increasing of its size and also in preparation for a rise in the number of women joining its ranks.
Shoukry said that the peacekeeping community is working towards confronting complex and serious matters to create peace, primarily through political solutions in areas of conflict.
https://www.middleeastmonitor.com/20180628-egypt-more-women-to-join-peacekeeping-force/
--------
Singer, the Filipina Woman, on Trial in UAE for Insulting Islam on Instagram
June 28, 2018
The Filipina woman denied the charge when she appeared in court.
An amateur singer went on trial in Abu Dhabi accused of posting a blasphemous video on Instagram.
Public prosecutors in Abu Dhabi referred the Filipina woman to the Criminal Court of First Instance after cybercrime officials spotted the video that was deemed insulting to Islam.
The video, which was posted on Instagram by the singer, showed her singing and pointing her left hand to a mosque that is visible in the backgrounds according to prosecutors.
Prosecutors charged the Filipina with blasphemy. She, however, denied the charge when she appeared in court.
Her lawyer Nashwa Al Qubaisi argued that the charges pressed against her client were unreasonable and that there was no criminality in her actions.
She argued that there was not enough evidence presented by prosecutors to prove that her client had intentions of insulting Islam through her video.
The lawyer had handed the judge a comprehensive document containing her client's defence and also asked that the woman be cleared of the charges because she was innocent.
https://www.khaleejtimes.com/news/crime/singer-on-trial-in-uae-for-insulting-islam-on-instagram
--------
Team behind Arab Women's Sports Tournament Feted
June 28, 2018
Sharjah: Organisers of February's Fourth Arab Women's Sports Tournament (AWST) honoured those who contributed to the success of the event at the Al Jawaher Reception and Convention Centre on Wednesday.
The ceremony was attended by Shaikh Saqr Bin Mohammad Al Qasimi, chairman of Sharjah Sports Council, and Shaikh Khalid Bin Ahmad Bin Sultan Al Qasimi, chairman of the AWST organising committee.
During the ceremony, organisers recommended improvements for the fifth edition to be held in 2020, such as increasing participation, strengthening media ties and collaborating with experts. Over 1,000 athletes from 67 clubs across 16 countries took part in the most recent edition of the tournament in February.
Shaikh Khalid said: "Sharjah has established itself as an ideal destination for many cultural and sporting events throughout the year. By hosting this outstanding tournament, the emirate continues to add new milestones to its rich portfolio of achievements and reaffirms its supportive stand towards women in sporting, educational, health and professional spheres.
"Sharjah will stop at nothing to carry on with its journey of women's empowerment in sports — its achievement goes beyond organising a successful tournament. The emirate has excelled in achieving an integrated and effective working relationship with various public and private organisations and departments. This highlights the emirate's leading position in organising and hosting major events and activities in compliance with the highest international standards."
https://gulfnews.com/sport/uae/more-uae/team-behind-arab-women-s-sports-tournament-feted-1.2243865
--------
Another First — Women Drivers Can Accept Male Clients
Jun 29, 2018
THE Saudi Public Transport Authority has confirmed that Saudi women who have a regular driver's license, own a car and fulfill all requirements can register in one of the licensed ride-hailing or transportation companies, and start working without having to specify the gender of the client.
The authority pointed out that there is no distinction between men and women behind the driver's wheel, according to a statement published by the authority on its official account on Twitter, Al Arabiya English reported.
The statement also denied reports circulated on social media about banning women from working in the transportation sector through smart applications, or banning these female drivers from transporting male passengers during their shifts in those companies.
Meanwhile, the first female captains for ride hailing apps Careem and Uber have officially started picking up customers.
Amal Farahat, Careem's first Saudi female captain, has a degree in health quality assurance and owns her own quality assurance consultancy company. Yet, she still finds the time to work as a Careem driver to prove to the world that a Saudi woman is able to work in any field and excel in it.
"Being a woman, many of the women passengers will feel safer with me because I know what are the things that bother them about male drivers. I was warned by Careem's trainer about the harassment drivers could face. I found great support at the company itself. There is a protocol to follow if the passenger does anything inappropriate," said Farahat.
http://saudigazette.com.sa/article/537815/SAUDI-ARABIA/Another-first-mdash-Women-drivers-can-accept-male-clients
--------
Searching For Love Online, Indonesian Maids Vulnerable To Being Recruited By Islamic State: Documentary
29 Jun 2018
By Amy Chew
KUALA LUMPUR: Indonesian maid Ika Puspitasari was earning good money and, by some account, had a "glamorous life" within her own community while working in Hong Kong in 2016.
But the domestic helper, who had previously worked in Malaysia, felt lonely, bored and "empty" with her single status in Hong Kong.
Turning to Facebook in search of meaning and companionship, she stumbled upon a news report of a church bombing in Solo, Central Java in 2011 which someone had posted. She started commenting on it.
Her comments drew the attention of pro-Islamic State (IS) militants in Indonesia from a group called Jamaah Ansharut Daulah (JAD). They contacted her and soon she was invited into JAD's Telegram channel.
From then on, they had her in their thrall. She started donating money to their cause. She later married an Indonesian IS member online and agreed to be a suicide bomber.
"In the Indonesian diaspora there is a cluster of people who are agreeble to become suicide bombers," said Indonesian counter-terrorism expert and documentary film-maker Noor Huda Ismail.
Huda is also the founder of the Institute for International Peace Building, a non-governmental organisation established in January 2008 in response to threat of terrorism.
Ika is featured in Huda's latest documentary called Pengantin, which means bride. The word bride is a codeword for "suicide bombers' in Indonesian jihadi language.
The documentary also features another female suicide bomber, Dian Yulia Nova, 32, who was jailed for seven years for plotting to blow herself up outside Jakarta's presidential palace during the changing of the guard in 2016.
Dian worked as a maid first in Singapore and later in Taiwan. It was in Taiwan that she became radicalised online and later married a pro-IS militant who turned her into a suicide bomber. Her husband was also responsible for recruiting Ika.
"There are many cases of maids falling in love online, including those working in Hong Kong. Many of them get conned. By coincidence, those who con them are terrorists," said Huda.
"I want to highlight here that we have a problem," said Huda.
"It (documentary) is a simple story about three women searching for love on social media. Two of them ended up with problematic men while the third was successful in marrying a decent man," said Huda.
"I made this film for these women (migrant women), to warn them that whatever they read and encounter on social media, please verify it. Don't believe everything you read online," said Huda.
According to the World Bank, Indonesia has 6.5 million migrants workers, 78 per cent of them women.
INDONESIAN MAIDS WORKING OVERSEAS TARGETTED BY MILITANTS
Indonesian maids working overseas, especially in developed societies like Hong Kong, are vulnerable to recruitment by Islamic State as they are seen as potential sources of "funds" as they enjoy good salaries and have a steady income flow.
"One of the important messages in the film is that, since they (maids) have money, they have to be careful," said Huda.
"Money provides independence, self-confidence, but it also provides possible risks because they will be seen and approached by irresponsible men who offer love and protection," said Huda.
"They (militants) just want to use them, especially their money. Marriage is one of the ways to gain control (of the women)."
But the numbers are not large.
An estimated 45 out of 150,000 Indonesian domestic helpers in Hong Kong are involved in pro-Islamic State (IS) activities, from funding air tickets to Syria to marrying militant fighters online, according to a 2017 report by the Institute for Policy Analysis of Conflict (IPAC).
Fuelling the women's vulnerability to men offering them so-called love and marriage is the Indonesian culture where marriage is seen as a status symbol for women.
"For Indonesian women, marriage provides for them not only a partner but social status," said Huda.
INDONESIAN SUB-CULTURE VIEWS RELIGIOUS MEN AS BEING OF HIGH STATUS
Living in secular societies like Hong Kong, where the culture and way of life is vastly different to that of Indonesia, renders a sense of dislocation on an Indonesian maid.
This sense of dislocation often times propel them to turn to social media to seek religion as a refuge for their loneliness and sense of emptiness.
"For many of these women, they usually turn to religion for comfort when they encounter social problem," said Huda.
"And the first place they turn to is social media. These women usually have a shallow knowledge of Islam ... they fall for IS propaganda."
According to Huda, the Indonesian sub-culture where a religious man is seen as a man of high status, it is easy to win their trust.
"If you are a religious man, can quote the Koran and hadiths, all of a sudden people will assume you are someone who deserves respect," said Huda. "The jihadists portray themselves this way ... they put a spell on the girl."
The IS campaign is very effective because they use a simplistic cultural approach, according to Huda.
"They tell the girls - the secular system has failed you, corruption is rampant, there is poverty. Our political alternative is the Islamic Caliphate which has been declared. Why don't you try this new system. That's how they approach the women," said Huda.
To counter IS propaganda, there is a need to include a cultural approach, he suggested.
"That is the purpose of my film. I just show the film, to raise awareness, not to lecture anyone," said Huda.
Bahrum Naim, a leading Indonesian IS figure, is behind the man believed to be behind the recruitment of the female suicide bombers, according to Huda.
Rizka Nurul, a research officer at Huda's institute, appears in the film.
According to Rizka, apart from money, Indonesian maids are also targeted by IS because they are seen to be "brave."
"It takes courage for these women to leave their villages to travel to a foreign country to work," said Rizka.
According to Rizka, IS recruiters need women who have courage in order for them to carry out a suicide bombing mission.
Asked whether the women who are both jailed for wanting to be suicide bomber regret their action, she said no." In fact, they seem rather proud of what they had done. They are still radical," said Rizka.
https://www.channelnewsasia.com/news/asia/indonesian-maids-recruited-islamic-state-online-10477864
--------
Grand Gathering of Iranians in Paris: Women Dignitaries Lend Support
Jun 29, 2018
Grand Gathering of Iranians in Paris - A number of women dignitaries from the U.S., Europe and Latin America expressed their solidarity in messages to the Iranian diaspora who are holding their annual gathering on June 30, 2018, in Paris.
In her message to organizers and participants in the grand gathering of Iranians in Paris for "Free Iran – The Alternative", the Hon. Justice Susana Medina, Minister of the High Court of Justice of Entre Ríos, Argentina, supported the work of the National Council of Resistance of Iran and its President-elect Maryam Rajavi to achieve "a free and democratic Iran; an Iran where the state is separated from religion; a tolerant state that ensures the validity of the human rights of all, but especially of women, elderly and children."
Justice Medina who is also the President of the International Association of Women Judges (IAWJ) and President of the Association of Women Judges of Argentina (AMJA), added, "I want you to know that the fight that Maryam Rajavi is leading is also our fight, the one of many women in the world."
Best wishes from U.S.
In her video message to Iranians "who love freedom," U.S. Congresswoman Sheila Jackson Lee, said, "I want to express my commitment and my support of a secular, democratic, non-nuclear republic of Iran as addressed in Mrs. Maryam Rajavi's Ten-point Plan. I believe that democratic change in Iran is within our reach, not only because the regime is engulfed in so many crises but because like you, there is a large and growing group of freedom lovers in Iran and around the world. And I believe under the leadership of Madam Maryam Rajavi… freedom is coming."
In another part of her message to the Grand Gathering of Iranians in Paris, Rep. Jackson Lee said, "As you meet over these days, and as you speak about freedom, the sound of your voices will reach to Iran and those who are fighting for freedom, separate and apart from an oppressive regime, they will be victorious. I congratulate you and celebrate you for this great meeting. And I celebrate your great leader, Maryam Rajavi, who has explained and expressed her commitment to freedom and to human rights and to dignity. And together, we will succeed."
Congresswoman Judy Chu representing California at the U.S. House of Representatives also sent a message of solidarity to the Grand Gathering of Iranians in Paris. She said in her message, "I want to send my best wishes for a successful 2018 international convention for a free Iran… I want you to know that I stand in solidarity with you and your fight for freedom, democracy and human rights in Iran. I am so proud to stand with you in speaking out against Iran's theocratic leaders. I strongly support your work to establish a free and democratic Iran that works with the U.S. and others to build a safer world, not one that funds terror or abuses its own people. So, thank you all again for all your important work to promote human rights and a free Iran and know that I am proud to join you in this effort."
Support from Europe's House of Democracy
Having closely followed and supported the Iranian people's struggle for freedom and democracy, Ms. Beatriz Becerra, member of the European Parliament from Spain and an active member of the Friends of a Free Iran inter-group in the EP, said in her message to the Grand Gathering of Iranians in Paris, "We have been watching with admiration your brave uprisings and protests all over Iran in recent months. I am particularly encouraged by the role women play in leading many of these protests. I think Maryam Rajavi, President-elect of the NCRI, whom I have met several times, is a role model for many women who want to stand up for their rights in Iran."
Ms. Becerra also pointed out, "From all indications, we can see that after nearly four decades of brutal and anti-women rule of the mullahs, the change is about to come to Iran… I, therefore, believe that the Grand Gathering of the Iranian opposition that will be held in Paris on 30 June, can be a turning point towards a democratic change in Iran."
Ms. Ruža Tomašić, Member of the European Parliament from Croatia, also said in a message, "I am so happy that so many of you showed that you want to take Iran in your own hands and make a democracy like you deserve. And since you are having a freedom gathering in Paris, I wish you all the success."
Messages of solidarity from British MEPs
Another member of the European Parliament, Ms. Anthea McIntyre, MEP from the U.K., also sent a message of support to the Grand Gathering of Iranians in Paris, in which she declared support for the Iranian Resistance Movement and its leader, Maryam Rajavi. Ms. McIntyre denounced efforts of those who try to appease the mullahs and stressed, "We need to be standing up for human rights, not just trade at any price. Human rights are very important, and I want to see our European leaders standing up for human rights and refusing to sign trade deals just on the whim rather than true facts and to see actually true progress being made… I think it's very encouraging, when we see people in Iran taking to the streets and standing up against the regime that we have got at present."
She also noted the role of Iranian women in the uprising and the Iranian Resistance and said, "We must see proper democracy; we must see Maryam Rajavi and the opposition come to power in a full democratic way. I am so much in favor of gender equality and I want to see a woman leader in Iran. I think that would solve an awful lot of our problems."
Ms. Julie Ward, another MEP from the U.K., also addressed a message to the Grand Gathering of Iranians in Paris in solidarity and support. Having closely followed the situation for the past few years, she expressed concern in her message about human rights and addressed the situation of women in Iran, saying, "I am very much concerned about the human rights violations and the repression of women in particular. I have always believed that the people of Iran with such a rich history, deserve not to be ruled by a group of backward medieval mullahs. I am particularly troubled by the way the security forces are treating women to impose compulsory hijab."
MEP Ward once again underscored her support for the Iranian opposition, "Therefore, the resistance against this regime by the PMOI/MEK and by Maryam Rajavi for a free secular Iran has had my sympathy and support. I was therefore pleased to witness the uprising of the Iranian people in January and escalation of protests and strikes which are happening every day… I wish my Iranian friends and the organizers to have an excellent and successful gathering."
Ms. Emma McClarkin, another MEP from the U.K., also expressed support for the Grand Gathering of Iranians in Paris. She said in her message, "The people of Iran want real change. From the protests in January, we have seen that you want an end to oppression. That you want freedom and democracy to come to Iran and an end of the oppression by the regime and their security forces. On the 30th of June, I am delighted that the Iranian community will be meeting in Paris… We in the European Parliament will be participating, we will be watching, we will be listening. And we will always be supporting a free Iran."
Ms. Jude Kirton-Darling, Member of the European Parliament, also from the U.K., joined her colleagues in the European Parliament to express her best wishes for the Paris rally on the 30th of June for a free Iran. She stressed in her message, "I believe the European Union and our governments must put human rights as their priority in dealing with Iran. Human rights in Iran continue to deteriorate with peaceful protesters facing intimidation, violence, detention and torture."
Ms. Kirton-Darling placed special stress on women's role in Iran uprising, saying, "That the regime blames these protests on the PMOI, shows how concerned the regime is about the opposition movement under the leadership of Ms. Maryam Rajavi. Women have played an active role in these protests and I really admire their courage. I stand today in solidarity with my Iranian sisters and send solidarity to all of you."
https://women.ncr-iran.org/articles/5289-grand-gathering-of-iranians-in-paris-women-dignitaries-lend-support
--------
New Parliament Welcomes More Women in Politics to Improve Turkey's Governance
Jun 29, 2018
The representation of female lawmakers in Parliament reached its highest level in Turkey with the parliamentary elections, signaling that the influence of women in politics will be increased in the next term. For the 27th Parliament of Turkey, 103 female lawmakers were elected in the parliamentary elections held on Sunday. The increase in the number of female lawmakers is welcomed by many as it is expected that new voices will be heard in Parliament. While the visibility of women in Turkish politics has a long past, their ratio vis-à-vis their male counterparts has been significantly low. The right to run for election and be elected was given to women in Turkey in 1934, making it one of the first countries to grant this right to women.
By having 17 women parliamentarians in the 1935 Parliament, the country had a quite remarkable start in terms of welcoming women into politics. Since then, in the past few decades, the percentage of women's representation has steadily increased. In 2007, the percentage of women represented in the Turkish parliament was 9.1 percent. This number increased to 14.7 with 81 deputies out of 550 in the Nov. 1, 2015 elections and finally in the June 24 elections, the number has reached 17.1 percent. Ahead of June 24, political parties released their candidate lists on May 21, revealing that a total of 904 women from seven political parties were running to become parliamentarians, a record high in Turkey's history.
Approximately 21 percent of the ruling Justice and Development Party's (AK Party) candidates were women. Meaning that 126 of their 600 candidates were women, an improvement compared to the last general elections in which only 12 percent of the party's candidates were women.
With the election result, the ruling Justice and Development Party (AK Party) fulfilled its commitment to include more women and young people in politics. During the run-up to the elections the AK Party Chairman and President Recep Tayyip Erdoğan voiced the significant role of women and young people in society and stressed the need for them to be more active in politics.
The AK Party's election manifesto proved that the party is determined to preserve its progressive attitude when it comes to women and their problems. During its 16-year governance, the party accomplished many achievements to strengthen women's position in society. Among some of the examples: the AK Party added affirmative action in the constitution, founded Family courts to solve family and woman-related cases and passed a law to protect the family and stop violence against women.
In addition to these legal adjustments, women's participation in politics has also increased dramatically. While only 24 women served in Parliament in 2002, that number increased to 81 in November 2015. Meanwhile, women who wear headscarf and thus were banned to be present in public spaces including universities and state institutions, gained the right to be parliamentarians in 2015.
Most of the elected female lawmakers for the 27th Parliament are lawyers. They are followed by academics and engineers.
According to the unofficial results, the highest number of woman deputies was elected from the AK Party, which won 295 seats in total. 126 of AK Party's lawmaker candidates were women and 53 of them won spots in the 600-seat parliament. Women will make up 17.9 percent of AK Party's lawmakers this term, up from its previous 11 percent.
Aside from larger cities, AK Party's female candidates in smaller provinces entered the Parliament as well. According to the unofficial results, AK Party's Bolu deputy Arzu Aydın, Elazığ deputy Sermin Balık, Erzurum deputy Zehra Taşkesenoğlu and Kütahya deputy Ceyda Çetin Erenler will be in the Parliament.
Proportionately, the HDP had the most woman parliamentarians as 25 of the party's 67 deputies are projected to be women, marking a 37 percent female representation rate. 230 of HDP's 600 candidates were women, yet only 25 of them were elected. The pro-PKK HDP had been following a policy to nominate a female candidate for each male candidate.
Meanwhile, some parties including the main opposition scored below the parliamentary average of the women representation percent. The number of woman deputies in the Republican People's Party (CHP) decreased compared to the previous term. The CHP had just 18 woman deputies out of 147.
The secularist center-left party, the CHP, had previously promised that more women would be included in the Parliament. However, when the party announced its candidate lists it drew criticism as many women candidates were not content with their places on the list. Since they were unlikely to get elected according to the list, Nesrin Tuncel and Gülay Emre withdrew their candidacy.
AK Party's ally in the elections, the Nationalist Movement Party (MHP) came close behind the CHP, with 5 woman deputies out of 49, recording a dismal 10 percent woman representation rate in Parliament.
The youngest lawmakers elected in Parliament are also women. The ruling Justice and Development Party's (AK Party) Istanbul deputy Rümeysa Kadak and the Peoples' Democratic Party's (HDP) Diyarbakır deputy Dersim Dağ are both 22 years old.
Surprisingly, Meral Akşener's newly-formed Good Party (İP) was the worst performer in terms of gender equality and woman representation in Parliament, as only three of its 43 lawmakers are women.
İP nominated 134 women candidates, yet only three of them were elected which caused great disappointment to many.
Akşener, who was the only woman presidential candidate of the June 24 elections, will not be among the party's three woman lawmakers. Akşener also served as the country's first woman interior minister in the mid-1990s.
Despite the increase in the representation of women in Parliament, 33 provinces will not be represented by women in Parliament.
In 1954 elections, the number of women parliamentarians saw its lowest point with only two deputies. However, in the 1990's, the situation gained new momentum and women in parliament started to increase again. And in 1993 a female prime minister was elected for the first and only time in the country's history.
Tansu Çiller, a professor of economics was elected as the first woman prime minister of Turkey in 1993 and served until 1996.
https://www.dailysabah.com/elections/2018/06/29/new-parliament-welcomes-more-women-in-politics-to-improve-turkeys-governance-1530210978
--------
URL: https://www.newageislam.com/islam-women-feminism/mithali-raj-sania-mirza-speak/d/115683
New Age Islam, Islam Online, Islamic Website, African Muslim News, Arab World News, South Asia News, Indian Muslim News, World Muslim News, Women in Islam, Islamic Feminism, Arab Women, Women In Arab, Islamophobia in America, Muslim Women in West, Islam Women and Feminism