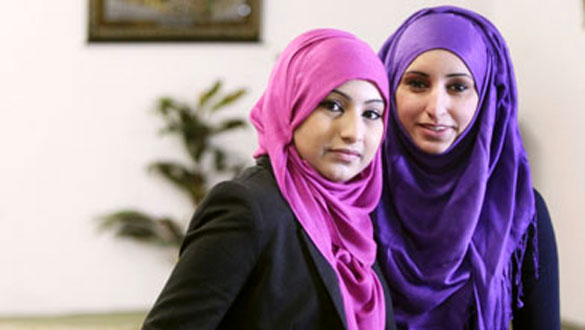 Russia Allows Hijab in IDs
Women Wearing Arab-Style Scarf On Top Of American-Style Outfits
Rights Groups Call on Women to Ignore Aceh Straddle Ban
23 Bangladeshi Girls Return after Languishing In Indian Jail for 2 Yrs
Canadian Muslim Sisters Work to Help Fellow Immigrants Fit In and 'Respect' New Country
Facebook Girls: 'Authorities' To Blame, Says Centre But Mum on Shiv Sena Role
Bahrain: Rights activist Maryam Alkhawaja risks arrest
Appointment of 30 women on the Shoura Council to speed up progress of Saudi Society
Delay Pregnancy after Obesity Surgery, Women Warned: Experts
Domestic Violence Campaign Targets Scottish Muslims
Memoirs of a Shiite Woman
Compiled by New Age Islam News Bureau
Photo: Sisters Sidrah Mobeen, left, and Fatima Mobeen Sisters work to help fellow immigrants fit in and 'respect' new country
URL: https://newageislam.com/islam-women-feminism/misuse-burqua-they-use-copying/d/9974
------------
Misuse of Burqua: "They Use It for Copying in Exams" says Karnataka Education Official
January 12, 2013
'Ban in Christian institutions applicable only on campuses'
Defending the ban imposed by several missionary-run educational institutions in Karnataka on wearing the Burqua on campus, Sr. M. Genevieve, secretary of the Karnataka Regional Commission for Education (KRCE), has said that the garment is "often misused by girl students".
"They use it for copying in exams," Sr. Genevieve said, while gesturing with her hands that girl students hide scraps of paper in the folds of the Islamic outfit.
She was responding to a question about the Burqua ban at a press conference here on Friday called to announce a daylong seminar on "combating saffronisation of education and suppression of subaltern voices". The seminar, scheduled for Saturday, is being organised by the KRCE, which manages 105 Catholic societies and 1,200 Catholic educational institutions.
'OTHER RELIGIONS TOO'
Sr. Genevieve claimed that not just Muslims, but girls of other religions too have started wearing the Burqua as a sort of cover for "immoral activities". "Other girls have also started wearing [the Burqua] to go out with their boyfriends," she said.
When it was pointed out that saffron groups too have tried to impose a ban on the garment, particularly in the coastal districts of Dakshina Kannada and Udupi, she said that the ban in Christian missionary institutions was applicable only on the campus.
"In a girls' college like Mount Carmel College, what is the need to wear the Burqua? There are hardly one or two men there," said Sr. Genevieve, a former principal of the girls' college.
HUGE CONTROVERSY
The banning of the Burqua at the St. Aloysius College in Mangalore had created a huge controversy in April last year after it was reported widely in the print and electronic media.
The case of commerce student Aysha Ashmin made national headlines in August 2009 after the Sri Venkataramana Swamy Government-aided Degree College in Bantwal, Dakshina Kannada, banned her from wearing the Burqua under pressure from activists of the Akhil Bharatiya Vidyarthi Parishad (ABVP).
http://www.thehindu.com/news/states/karnataka/girl-students-often-misuse-the-Burqua/article4299318.ece
------------
Russia Allows Hijab in IDs
11 January 2013
MOSCOW – Expatriate Muslim women working in Russia would be allowed to wear headscarf without covering their faces in their identification papers, in a first positive move after months of debates over Hijab in Russia.
"The order says that it's allowed to take photographs of persons wearing head attire that doesn't cover the face of people whose religious convictions prevent them from having their head uncovered in the presence of strangers," Federal Migration Service spokeswoman Zalina Kornilova told Interfax on Friday, January 11.
"Photographing in overcoats or scarves covering up part of the chin is not allowed."
Kornilova was citing an order by FMS head Konstantin Romodanovsky that has been in force since January 1.
The order sets new rules on photographing and fingerprinting for foreigners seeking work or applying for the registration of patents in Russia.
It was issued pertaining to an earlier 2003 ruling by the Russian Supreme Court which accepted appeals against an Interior Ministry ban on official photos showing people with their heads covered.
Kornilova added that the rules applied on expatriate Muslim women are the same ones for Russian passports.
"These are the same criteria as those for photographs for Russian Federation passports," she said.
"Freedom of worship is guaranteed by the Constitution of the Russian Federation and international treaties on human rights."
Islam sees Hijab as an obligatory code of dress, not a religious symbol displaying one's affiliations.
As for the face veil, the majority of Muslim scholars believe that a woman is not obliged to cover her face or hands.
Scholars, however, believe that it is up to women to decide whether to take on the face veil.
The Russian Federation is home to some 23 million Muslims in the north of the Caucasus and southern republics of Chechnya, Ingushetia and Dagestan.
Islam is Russia's second-largest religion representing roughly 15 percent of its 145 million predominantly Orthodox populations.
The wearing of Hijab triggered a controversy in Russia last October after five Muslim students were banned from attending classes in their school in the village of Kara-Tyube in the southern Stavropol region.
Though they were initially allowed to attend their school in September while donning Hijab, they were told later that they would not be allowed in unless they took off their headscarf.
At the time, Putin backed banning the Muslim headscarf in schools.
http://www.onislam.net/english/news/europe/460837-russia-allows-hijab-in-ids.html
---------
Women Wearing Arab-Style Scarf On Top Of American-Style Outfits
Hijab design contest encounters critics
By Wendy Donahue, Chicago Tribune reporter
January 10, 2013
Hijab is as American as blue jeans for Chicago human rights attorney Shaz Kaiseruddin.
Born and raised in Wilmette, she wore a head scarf as naturally as jeans from the age of 11.
That's one reason Kaiseruddin launched the American Hijab Design Contest last fall, challenging designers to create Hijab styles that are as proudly American, and as open to personal expression, as Levi's or Nikes.
"What we have here today is most women wearing an Arab-style scarf on top of American-style outfits," Kaiseruddin, 31, said. "Arabs have their style of Hijab, Malaysians have theirs, Indians have theirs, but we haven't come up with a Western or American-looking style. I'm hoping to cultivate the creation of a cutting-edge, very American Hijab style."
Kaiseruddin knew not everyone would welcome her efforts. Conservative activist Pamela Geller, executive director of the American Freedom Defence Initiative, denounced the contest on her blog Atlas Shrugs as "trying to make the hideous fashionable." Geller's supporters added vitriol in their comments.
In recent months, Geller's initiative has placed "defeat jihad" ads on Chicago buses and similar ads in New York subway stations. Some were in response to a "My Jihad" ad campaign from the Council on American-Islamic Relations. It's designed to destigmatise jihad with testimonials about what the Islamic concept means to Muslims. "My Jihad is to build friendships across the aisle," reads one of those ads, which can be seen on myjihad.org.
Undeterred by the criticism, Kaiseruddin is extending the deadline for contest entries; there were 70 registrants at last count. She hopes the contest will open minds and inspire similar contests around the world.
"I've always been interested in working for social justice but also have a great love for fashion," she said.
When big-name houses are asked why they don't design for Muslim women, a fashion market that Bloomberg says could be worth $96 billion, they sometimes respond that they don't know how, Kaiseruddin said.
"We're excited to make the unfamiliar familiar," she said.
Design entries must cover "everything but hands, face and feet, in a non form-fitting and non sheer manner," Kaiseruddin said. They also will be judged on "potential for popularity, creativity and American feel."
Entries must come from people or entities in the U.S. Details can be found at americanhijabdesign.com.
wdonahue@tribune.com
http://www.chicagotribune.com/news/local/ct-talk-hijab-design-contest-0110-20130110,0,3116883.story
------------
Rights Groups Call on Women to Ignore Aceh Straddle Ban
January 12, 2013
A network of women's and human rights organizations has called upon women living in the Aceh city of Lhokseumawe to ignore a bylaw banning female passengers from straddling motorcycles.
"We ask the people of Lhokseumawe not to abide by the regulation so that the local government learns a lesson on how to make wise directives," Affan Ramli, a spokesman for the Care for Shariah Civil Society Network (JMSPS), said on Friday, as quoted by Antaranews.com.
The ban is deceiving to the public, according to the JMSPS, because neither Shariah law or precedents set in the development of Islamic jurisprudence deal with the prohibition of women sitting astride on motorcycles.
"None of Aceh's traditional or local laws forbid women from straddling motorcycles," Affan said. "In the history of Aceh, sitting manners have never been stipulated by the government. It was fully created from education and habit."
Suaidi Yahya, the mayor of Lhokseumawe, recently told the Jakarta Globe that he wanted to introduce the bylaw because he had seen people's behavior and morals straying too far from Aceh's Islamic cultural values.
"We want to save women from things that will cause them to violate Shariah law," he said. "We wish to honor women with this ban, because they are delicate creatures."
Despite facing widespread criticism over the bylaw, the government in Lhokseumawe on Monday started enforcing the regulation, though only for civil servants.
The local government circulated a letter explaining the need for women to side-saddle motorcycles while in the passenger's seat in order to prevent immoral acts. The letter also proposed banning men and women from hugging or holding hands while on vehicles.
"We will impose sanctions on [those who break the law]. We will shame them, warn them or fire them," Dasni Yuzar, the secretary of the Lhokseumawe administration, said, as quoted by KBR68h.com.
http://www.thejakartaglobe.com/home/rights-groups-call-on-women-to-ignore-aceh-straddle-ban/565508
------------
23 Bangladeshi Girls Return after Languishing In Indian Jail for 2 Yrs
Our Correspondent, Benapole
January 12, 2013
Indian Border Security Force (BSF) yesterday handed over 23 Bangladeshi girls to immigration police at Benapole check post after the girls completed their two years' jail term.
Quamruzzaman, officer-in-charge of immigration police, said Mumbai police arrested the girls on January 3, 2010 when they arrived in the city in search of jobs. Later, the girls were sent to Mumbai Central Jail where they served two years.
Rights Jessore, a human rights organisation, will send the girls back to their families.
http://www.thedailystar.net/newDesign/news-details.php?nid=264852
------------
Canadian Muslim Sisters Work to Help Fellow Immigrants Fit In and 'Respect' New Country
By Valerie Fortney, Calgary Herald
January 11, 2013
When Fatimah and Sidrah Mobeen arrived in Canada 13 years ago, they could hardly speak a word of English and had little knowledge of the culture they'd just become immersed in.
"Our father would come home each day from his work as a taxi driver and give us lessons in Canada and its people," says Sidrah, now 25, in what I am sure is her trademark rapid-fire speech. "He always wanted to respect our new country and its ways."
The two proved a quick study: in time, they'd learn French, followed by several other languages, including in Sidrah's case, sign language. "I want to be that person who can talk to anyone," she says in almost accent-less English, as she counts off Hindi and Urdu among her specialties. "If you want to spend your life helping others, then you should be able to talk to as many people as possible."
No surprise then that these two diminutive spitfires are the faces behind the Rahmah Women's Centre in Calgary.
Full report at:
http://www.calgaryherald.com/Sisters+work+help+fellow+immigrants+respect+country/7809501/story.html#ixzz2HktZrcPt
------------
Facebook Girls: 'Authorities' To Blame, Says Centre But Mum on Shiv Sena Role
Jan 11 2013
New Delhi: The Centre has told the Supreme Court that the controversial provision in the IT Act under which two girls in Maharashtra were arrested for posting comments on Facebook does not curb freedom of speech and alleged "highhandedness" of certain authorities does not mean that it's bad in law.
The Maharashtra Government, which was also asked to make explanation on the episode, said the arrests of girls in Thane district for making comments on the shutdown of Mumbai for the funeral of Shiv Sena chief Bal Thackeray, were "unwarranted" and "hasty", which "cannot be justified".
Full report at:
http://www.indianexpress.com/news/facebook-girls-authorities-to-blame-says-centre-but-mum-on-shiv-sena-role/1058044/
------------
Bahrain: Rights activist Maryam Alkhawaja risks arrest
By Bill Law
January 11, 2013
A leading Bahraini human rights activist has returned to Bahrain to see her jailed father.
Maryam al-Khawaja, the daughter of Abdulhadi al-Khawaja, flew into the capital Manama on Friday night.
She risks arrest under the country's strict laws governing criticism of the king on social media sites.
Her father was convicted last year in military court of plotting to overthrow the government and sentenced to life imprisonment.
Full report at:
http://www.bbc.co.uk/news/world-middle-east-20994187
-----------
Appointment of 30 women on the Shoura Council to speed up progress of Saudi Society
12 January 2013
The appointment of 30 women on the Shoura Council for the first time in the Kingdom's history has been applauded by Saudis who said it would lead to adopting more important decisions to accelerate the progress and prosperity of Saudi society.
Justice Minister Muhammad Al-Eissa said the participation of women would enrich the discussions at the consultative council. "It is a supplementary addition to the Shoura with people having different experiences, expertise and backgrounds," he said.
Full report at:
http://www.arabnews.com/appointments-speed-progress
------------
Delay Pregnancy after Obesity Surgery, Women Warned: Experts
January 12, 2013
Women who have had weight loss surgery should wait at least a year before trying for a baby, experts have warned.
Having a baby after surgery is safer and associated with fewer complications than becoming pregnant when morbidly obese, say doctors.
But patients should still be treated as high-risk and be "strongly advised" not to get pregnant for 12 to 18 months afterwards, a review suggests.
Full report at:
http://www.thedailystar.net/newDesign/latest_news.php?nid=43894
------------
Domestic Violence Campaign Targets Scottish Muslims
By Catrin Nye
8 January 2013
A new campaign asking Muslim men and women to speak out against domestic violence is being launched in Scotland.
The Change This campaign wants people to report any violence they have seen or experienced.
Muslim women's charity Amina will use Islamic teachings and an Imam to challenge the misconception that Islam allows violence against women.
The charity said it was aware of many cases where people used their religion in an attempt to justify violence.
Full report at:
http://www.bbc.co.uk/news/uk-scotland-20899600
------------
Memoirs of a Shiite Woman
Social history disguised as memoir
January 12, 2013
By Mirella Hodeib
BEIRUT: Rajaa Nehme starts her newly released autobiography, "Memoirs of a Shiite Woman," with Surat al-Fatiha – which begins "Bismillah al-Rahman al-Rahim" (conventionally translated as "In the name of God, the Generous, the Merciful").
Using the opening verse of the Quran to commence her memoir suggests the author has been caught in the wave of religiosity ravaging Arab countries.
Yet the opening gesture of the Lebanese novelist and semiotican is as misleading as the title of her sixth book. Everything about Nehme's work catches readers by surprise, subtly yet systematically destroying any preconceived ideas you may have about the author and the plot.
Full report at:
http://www.dailystar.com.lb/Culture/Books/2013/Jan-12/201934-social-history-disguised-as-memoir.ashx#ixzz2HktNIOZ9
------------
URL: https://newageislam.com/islam-women-feminism/misuse-burqua-they-use-copying/d/9974