New Age Islam News Bureau
1 Aug 2017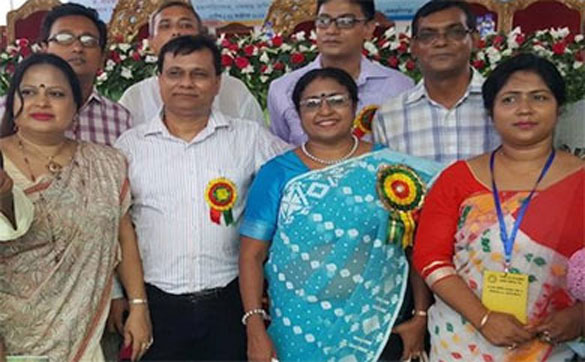 Nomita Halder (front, 2nd from R), of Bangladesh who is appointed acting secretary of the Expatriate Welfare and Overseas Employment Ministry. ‎ - RV
----
• Emirates Highlights Female Role Models In Aviation
• Man Publicly Executed In Yemen for Murder, Rape of Child
• Bangladeshi Catholic Woman Appointed To Top Government Post
• A Million Miles Away Behind Her Own Front Door: A Saudi Woman's Secret Apartment
• USAID Conducts Civil Service Job Fair for Afghan Women
Compiled by New Age Islam News Bureau
URL: https://www.newageislam.com/islam-women-feminism/missing-kerala-hindu-girl-converts/d/112047
--------
Missing Kerala Hindu girl converts to Islam; goes back to parents on HC assurance
July 31, 2017
Three weeks after Athira aka Aysha left home in Kasaragod to study and get converted to Islam, the Kerala High Court on Monday advised her to go with her parents on the condition that she should be allowed to continue with her life as per her wish.
Athira went with her parents after they promised to allow her to continue Islamic religious studies.
After she surrendered to the police at Kannur on July 27, she was sent to a women's home by Hosdurg court.
It was following this that her parents approached the high court seeking her custody.
In the HC, Athira said that she got converted as per her wish and would like to continue her studies.
Her parents also informed court that they would allow her to continue with her beliefs.
Police also said in court that there was a chance the girl could be influenced by IS ideology.
On July 10, Athira had left her home in Uduma of Kasaragod district after leaving behind a 15-page letter explaining her experiences and how she was attracted towards Islam.
After leaving home, she had contacted her maternal uncle and informed that she was not able to find peace at home.
On Thursday while speaking to Asianet News after she surrendered to police in Kannur, Athira had said that she was staying with one of her friends in Kannur and was ready to go back to her parents if they were willing to allow her continue in Islam.
She added that she got converted to Islam without any compulsion.
"There were many allegations that I have gone to join Islamic State. I have not even taken my passport. I am a bit concerned about people connecting me to IS, but I have no connection with that. I love my parents, I have no problem living with them if they are willing to accept me, but I want to study the Islamic religion," Athira said.
She had told Asianet that she has been studying about Islam for the last many years and her parents were accepting of her earlier.
http://www.thenewsminute.com/article/missing-kerala-hindu-girl-converts-islam-goes-back-parents-hc-assurance-66045
--------
Emirates highlights female role models in aviation
1 August 2017
Emirates recently hosted Shaesta Waiz for a Boeing 777 simulator challenge in its home base of Dubai, highlighting the importance of women's contributions to the growth and development of aviation. Waiz is the founder and pilot of Dreams Soar, Inc. (DSI), a non-profit organization whose mission is to inspire and empower young females to become the next generation of STEM (science, technology, engineering and math) and aviation professionals. The outreach includes a global solo flight mission, where Waiz is piloting a single-engine Beechcraft Bonanza A36 to circumnavigate the globe.
Waiz stopped in Dubai, one of 34 stops across 18 countries in her five-continent journey, which will clock in just under 47,000 km upon completion.
Waiz was met at Emirates Aviation College by Bakhita Al-Muheiri, Emirates Boeing 777 first officer, to test her aerial skills in an Emirates Boeing 777 simulator. Al-Muheiri is one of Emirates' youngest female Emirati pilots at 24 years.
Adel Al-Redha, executive vice president and chief operations officer at Emirates, said: "Through our National Cadet Pilot Programme, we want to grow the next generation of female pilots, by creating an environment that retains, nurtures and values them so they are able to progress and take a wider role within our industry. We also believe that one of the ways to support the need for pilots today is to tap into the female talent pool and inspire them to take their career path into aviation which is one of the most rewarding fields."
Al-Muheiri said: "I am truly inspired by Shaesta's story. As the first civilian female pilot from Afghanistan, she has demonstrated that the world is full of possibilities and when we expose females to a wide range of careers in STEM and aviation we boost their interest to enter fast-moving sectors with a wealth of opportunities."
Waiz said: "An airplane doesn't know if you are a girl or boy, what your religion or background is. It reacts based on the input of the pilot. My hope from the time I spent flying the Boeing 777 simulator with Bakhita, learning of her empowering story, and Emirates helping to pave the way for many more young women, is for more role models to devote their time and energy inspiring our next generation."
http://www.arabnews.com/node/1137596/corporate-news
--------
Man publicly executed in Yemen for murder, rape of child
August 01, 2017
A man convicted of raping and murdering a three-year-old girl was executed in the Yemeni capital Sanaa on Monday in front of hundreds of onlookers, witnesses said.
A policeman fired five bullets from an assault rifle into Muhammad al-Maghrabi, 41, as he lay with his hands handcuffed behind his back on a blanket on the ground in Sanaa's Tahrir Square, after a judge read out the death sentence.
The execution drew an unusually large number of onlookers - some perched up telegraph poles and many watching from rooftops - because of the young age of Rana al-Matari, the victim.
Security was tight amid fears of a revenge attack on Maghrabi by armed tribesmen related to his victim. The police truck transporting Maghrabi to the square was escorted by five police patrol vehicles.
Yahya al-Matari, the father of the girl, told reporters after the execution that he felt as if he had been reborn. "This is the first day in my life," he said. "I am relieved now."
http://nation.com.pk/international/31-Jul-2017/man-publicly-executed-in-yemen-for-murder-rape-of-child
--------
Bangladeshi Catholic Woman Appointed To Top Government Post
31/07/2017
The appointment of a Catholic woman to one of Bangladesh's top bureaucratic posts has been welcomed with great enthusiasm by the minority Christian community of the predominantly Muslim nation. Nomita Halder from Shelabunia Church in Khulna Diocese was appointed acting secretary of the Expatriate Welfare and Overseas Employment Ministry. She is the first Christian in Bangladesh to hold such a high post in the civil service since independence from Pakistan in 1971. Halder had served as a personal secretary to Prime Minister Sheikh Hasina since 2014.
"Nomita Halder's appointment is a matter of joy and honor to minority Christians in Bangladesh," noted Cardinal Patrick D'Rozario, Archbishop of Dhaka. "She has been very helpful to the church in times of need, and hopefully her new post will broaden the scope of her support to the community further," the cardinal said in remarks to UCANEWS.
Nirmol Rozario, president of Bangladesh Christian Association described Halder's appointment as an "inspiration" to the Christian community. "She has been appointed to the post deservedly. She has proved the notion that minorities can't get top government posts is wrong," Rozario told UCANEWS. "We had a state minister from the Christian community and now we have a secretary. It is not just a matter of joy but also a great source of inspiration," he said.
Muslims account for 90 percent of Bangladesh's 160 million population. Hindus come next with 8 percent and the rest belong to other religions including Buddhism and Christians. The majority of the estimated 600,000 Christians are Catholic. (Source: UCAN)
http://en.radiovaticana.va/news/2017/07/31/bangladeshi_catholic_woman_appointed_to_top_government_post_/1327958
--------
A million miles away behind her own front door: A Saudi woman's secret apartment
Aug 01, 2017
At first people refuse to believe that a strange new thing can be done, then they begin to hope it can be done, then they see it can be done — then it is done and all the world wonders why it was not done centuries ago.
— Frances Hodgson Burnett, "The Secret Garden"
Maha Almutairi has a secret apartment.
At 35, like most unmarried Saudi women, she still officially lives at home. Her father decides what can and can't happen in his home. Decisions about what she will study, where she will work, all are subject to her father's permission.
Can she have cats? Not anywhere in the apartment building her father owns, he ruled, even though Almutairi has long loved rescuing strays and hiding them in her room.
Could she travel abroad to study medicine? No, her father said, not without a male relative to accompany her. She gave up on being a doctor and signed up to study interior design at a school in Riyadh.
But she has been growing more independent.
When her father tried to force her into a marriage with a man he thought would be a suitable partner, she refused.
"It's my decision," she told him.
Two years ago, after her mother died and Almutairi became depressed, her father let her get a job at Flormar, a makeup store at a nearby mall. Work has gone well, although she recently started wearing a face veil after a wealthy male customer sent his bodyguard to the mall offering to pay her to see him.
She didn't tell her father what happened. He'd have made her quit.
Under Saudi Arabia's strict guardianship laws, which King Salman has recently pledged to review, women must obtain permission from a male guardian — a father, husband or in some cases even a son — to apply for a passport, travel abroad or marry.
Often, they need such consent even to get a job or obtain medical care.
Some women try to defy the system, fleeing to another country or defiantly renting an apartment on their own, where they can live under their own roof. In many of these cases, though, the women have been charged with running away and jailed.
Almutairi knew it would be useless to ask her father for permission to rent an apartment where she could keep her cats. He'd never agree.
So she got a secret apartment.
An apartment rental app offered a variety of places in Riyadh, and it was operated by a property management company that does not require a guardian's approval for a lease — many common restrictions on women, including housing, are matters not of law, but social custom.
Almutairi figured it wouldn't count as running away if she rented an apartment, but stayed there only part time.
Two months ago, she rented a three-bedroom place behind a barbershop in east Riyadh. She began moving in her 10 cats.
::
She heard their cries before she entered the apartment, fumbling with the keys on the threshold as the meowing rose in a crescendo. She opened the door to a chorus of hungry yowls.
She had told her family she was going to work.
Almutairi removed her black head scarf and abaya to reveal short black hair, a white T-shirt and black pants. She greeted Shushu first, her favorite shy, gray Persian, then Souada, a coal-black shorthair with emerald eyes. The most unpopular cat she named Chris, after the American television show "Everybody Hates Chris."
Shushu, Souada and Chris were cowering near a large litter box on the gleaming, white-tile floor of a nearly empty living room that smelled of disinfectant. In one corner was a stack of cardboard boxes, a cat tower and a cage.
Inside the cage was an aggressive orange-and-white tom cat that stood on its hind legs, clawing at the bars. Almutairi opened the cage, grabbed the cat and cradled him like a baby. The cat licked her fingers and commenced purring.
"I missed him!" Almutairi said, smiling.
She retreated into a small kitchen to mix up a batch of food: kibble, along with cooked chicken and rice.
Almutairi moved to the next room, sparely furnished with Persian rugs, seat cushions and a low table.
Every day, she spends a few hours here, more on weekends. She fantasizes about the day when she might be able to stay, to wake up with the hot sun streaming through the window, sip her morning tea with a cat on her lap.
And talk to no one at all.
The rent for the apartment is 2,400 riyals a month, about $640 — more than half her monthly salary.
"It's worth it, because it makes me happy," she said.
She has never had guests; not even her family has seen it. Her sisters don't know about the apartment, though they know she has pets.
"Why are you wasting all your money on them?" they say.
Almutairi replies, "I adopted them from the streets. You want me to leave them in a park?"
She worried when she first moved in that she wouldn't be able to handle the responsibility of heading a household. What if she couldn't pay the rent? What if someone found out?
Soon after she moved in, she temporarily rescued an injured dog, and a conservative neighbor belonging to the religious police complained to the authorities that it was howling.
She gave the dog away, but then the same neighbor complained again after Almutairi mistakenly left her garbage in the wrong spot outside.
She came home one day to find a window mysteriously opened from the outside. One of her cats had escaped, and she suspected the neighbor.
Still, the religious police have been stripped of many of their powers in recent years, and the complaints eventually stopped.
Almutairi's ambitions grew.
She has been setting money aside and investigating land for sale outside the city. She found an acre she could buy for about $80,000 and envisions starting a no-kill animal shelter. She could get a loan from a bank to buy it. But she would have to give up her apartment. Her father would have to help her get the loan. She's waiting until the fall to decide.
In the apartment, it was quiet — so quiet she could hear the low hum of the air conditioner, the cats lapping up their water.
When the call to prayer sounded from the nearby mosques, it reverberated in the empty rooms.
Almutairi had been home for about two hours. Soon, she knew, she would have to bundle back up in her scarf and abaya and leave for work.
"What I'm doing isn't wrong," she said.
She sounded convinced.
http://www.latimes.com/world/middleeast/la-fg-saudi-apartment-2017-story.html
--------
URL: https://www.newageislam.com/islam-women-feminism/missing-kerala-hindu-girl-converts/d/112047
New Age Islam, Islam Online, Islamic Website, African Muslim News, Arab World News, South Asia News, Indian Muslim News, World Muslim News, Women in Islam, Islamic Feminism, Arab Women, Women In Arab, Islamophobia in America, Muslim Women in West, Islam Women and Feminism