New Age Islam News Bureau
23 Sept 2017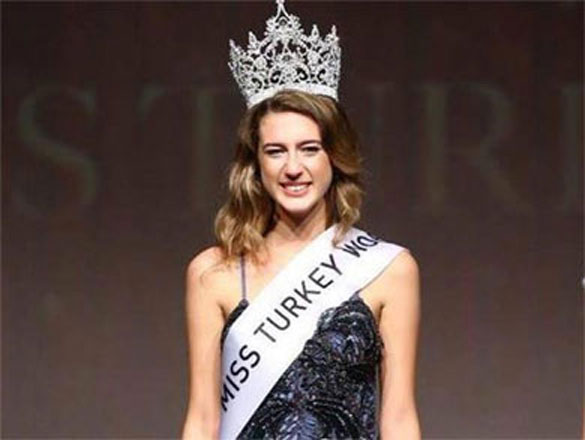 Itir Esen reportedly said the Twitter account did not belong to her Itir Esen reportedly said the Twitter account did not belong to her
------
• Kerala Woman, Athira, Who Left Home To Become Muslim Returns
• Austria Burqa Ban: Government Warns Muslim Women to Show Faces in Public or Be Fined
• Rajkot Woman Alleges Her Husband Subjected Her To 'Triple Talaq'
• Five Arrested For Involvement in Child Marriage to 'Settle Gambling Debt'
• Priyanka Chopra Proud of Malala's Achievements
Compiled by New Age Islam News Bureau
URL: https://www.newageislam.com/islam-women-feminism/miss-turkey-loses-crown-contentious/d/112638
--------
Miss Turkey loses crown over contentious coup tweet
September 23, 2017
ISTANBUL : The winner of Turkey's national beauty pageant was Friday forced to hand back her crown hours after winning, over a tweet relating to the failed coup which was deemed offensive.
Itir Esen, 18, won Miss Turkey 2017 during a ceremony in Istanbul on Thursday night and was going to represent the country in the Miss World competition in China. But organisers said that would not be possible after they discovered an "unacceptable" tweet Esen sent around the first anniversary of the July 15, 2016 coup attempt aimed at ousting President Recep Tayyip Erdogan.
In the tweet, she compared the blood shed in her menstrual cycle with that of the 249 people who lost their lives during the failed coup and are now celebrated in Turkey as martyrs.
"I am having my period this morning to celebrate the July 15 martyrs' day. I am celebrating the day by bleeding on behalf of our martyrs' blood," she wrote.
Organisers said they had seen the tweet after the beauty contest's results were announced and had to hold an hours-long meeting to verify the post.
Can Sandikcioglu, head of Miss Turkey, said in a statement that the tweet was posted by Esen.
"The Miss Turkey organisation, whose objective is to promote Turkey in the world and to contribute to its image, cannot accept such a post," he announced.
Esen's title was handed to Asli Sumen, who came second and who will now represent Turkey in the Miss World contest in China on November 18.
Esen is not the first Turkish beauty queen to fall foul over a social media post.
In 2015, prosecutors launched an investigation against former Miss Turkey beauty queen Merve Buyuksarac on charges of insulting Erdogan through social media posts.
Buyuksarac was given a 14-month sentence by an Istanbul court last year, but the sentence was suspended on condition that she does not reoffend within the next five years.
Opposition critics of the president have decried shrinking freedom of expression under Erdogan in Turkey, where thousands have been prosecuted for social media postings deemed to have insulted the Turkish leader.
http://nation.com.pk/international/23-Sep-2017/miss-turkey-loses-crown-over-contentious-coup-tweet
--------
Kerala Woman, Athira, Who Left Home To Become Muslim Returns
By Shaju Philip
September 23, 2017
A woman in Kerala's Kasargod who wanted to convert to Islam and had run away from home has returned to her parents and received counselling from a Hindu outfit. Athira (23), left home on July 10 leaving behind a letter stating her intention to convert to Islam, appeared before police on July 27. When she refused to go home, she was sent to a women's hostel.
The college student said she was attracted to Islam because of her Muslim classmates. "I was attracted to Islam because of my Muslim classmates in college. I was influenced by the speeches of Zakir Naik. I developed an interest in the monotheism when friends (Muslim) spoke against idol worship in Hinduism. Now, my misunderstandings about Hinduism have been cleared and I have returned to my religion," Athira said on Friday.
Kasargod circle inspector Vishwambaran Nair said the police was investigating to ascertain the facts behind Athira's disappearance. He said she was helped by activists of PFI. After she returned home, Athira went through some sessions of counselling by a Kochi-based organisation called the Arsha Vidhya Samajam, which is believed to have convinced her to stay a Hindu.
Athira said activists of the Popular Front of India, a Muslim outfit, had helped her to be in hiding after she left home on July 10. The student said she was helped by her Muslim friend Shareefa and her brother Siraj, who is a PFI activist. Athira stayed with Shareefa before turning up before Kasaragod police on July 27. She is believed to have gone to the police according to the advice of some PFI activists.
Athira's parents moved a habeas corpus in Kerala High Court which asked her to go to her parents. As Athira stuck to her stand on religion, her parents told her that she would be allowed to live as a Muslim, after which she consented to join her family. Later, activists of the Arsha Vidhya Samajam visited her and took her for counselling at its Kochi centre.
http://indianexpress.com/article/india/woman-who-left-home-to-become-muslim-returns-kerala-kasargod-4856894/
--------
Austria burqa ban: Government warns Muslim women to show faces in public or be fined
September 23, 2017
The Austrian government has issued posters and leaflets threatening Muslim women with fines for wearing face veils ahead of the introduction of a controversial ban.
The authorities launched the publicity drive to raise awareness of the legislation outlawing niqabs and burqas, which will come into force on 1 October.
Under the new "integration" policy, anyone wearing clothes that obscure their face in public can be fined €150 (£132) and must remove the offending garment "on the spot" if ordered by police. Those who refuse can be taken to a police station.
Austria's parliament approved the ban in May despite protests from Muslim groups and opposition from lawyers and the country's own president. The Anti-Face-Veiling Act will prohibit face coverings in all public places and buildings, including courts, schools, and transport.
Police will issue on-the-spot fines to residents and visitors to the country whose faces are "hidden or concealed by clothes or other objects in such a way that they are no longer recognisable", authorities warned. "Please be aware that in any case you must uncover your face on the spot when asked to," said flyers distributed by the Austrian interior ministry.
"If ultimately you continue engaging in the offence by refusing to uncover the face, attempt to repeat it in spite of being admonished, or your identity is impossible to determine, you might have to accompany the police agent to the police station."
The ban will technically apply to all face-concealing headwear, including surgical masks, fancy dress and balaclavas worn in certain circumstances. But the intention of the legislation is to ban Islamic headdresses, prompting accusations of discrimination against Muslim women.
The ban is part of a raft of "integration" policies, that require migrants deemed to have a good chance of gaining asylum to attend courses on the German language, job applications and Austrian values, or have their benefits cut.
Critics have characterised the legislation as a knee-jerk reaction to stem rising support for the populist Freedom Party of Austria.
Thousands of protesters took to the streets of Vienna to demonstrate against the proposals earlier this year, with organisers declaring: "Every woman must be able to move freely in public without harassment and discrimination - no matter what she does or does not wear."
Legal body the Austrian Bar Board said the burqa ban ran counter to the country's constitutional democracy and "the fundamental rights of the freedom of conscience and the freedom of private life".
Austrian president Alexander Van der Bellen has publicly opposed the policy, telling school pupils: "It is every woman's right to always dress how she wants."
A French businessman has pledged to pay all fines imposed on women wearing a full-face veil in Austria. Rachid Nekkaz, who already pays fines for women who wear Muslim niqabs and burqas despite bans in France and Belgium, provoked criticism from Austria's Foreign Minister Sebastian Kurz.
"I am reaching out to all women in Europe and especially to women in Austria who voluntarily wear the burqa, I will always be there and pay the fines," Mr Nekkaz was quoted as saying in a Servus TV interview aired on Thursday evening. The property investor, who has Algerian heritage, said accepting freedom of religion meant accepting the religion's visibility. He said he has already spent around €300,000 (£221,220) covering fines in France and Belgium.
Mr Kurz, who is the conservative front-runner for next month's national election with his People's Party, said: "Whoever wears niqab or burqa in Austria has to deal with the consequence."
He threatened to fine Mr Nekkaz if he followed through with his plans.
http://www.independent.co.uk/news/world/europe/austria-burqa-ban-muslim-women-face-veils-public-fines-legislation-october-1st-force-a7960816.html
--------
Rajkot woman alleges her husband subjected her to 'triple talaq'
September 22, 2017
A WOMAN LODGED a complaint with Mahila Police Station in the city late on Thursday alleging her husband abandoned her by pronouncing 'talaq' thrice after beating her up and while she was unconscious around one-and-a-half-year ago. This is the first case in the city where in a woman has alleged she had been subjected to triple talaq since the Supreme Court suspended the practice for six months in August this year.
Rubina Lakhani (23), a resident of Mochi Bazaar near Jubilee area of the city filed a complaint with Mahila Police at 6:45 pm on Thursday. In her complaint, Rubina stated that around one-and-a-half-year ago, her husband Afzal Lakhani beat her up severely and pushed her over domestic quarrel. Due the the beating, the victim fell unconscious. "However, when I regained consciousness, my in-laws asked me to leave my home as, they claimed, my husband had divorced me by pronouncing talaq thrice. I argued that I was unconscious and that I had heard nothing of sort. But they did not listen to me and asked me to leave," Rubina, mother of a three-year-old son stated in the complaint.
She further said that since then, she had been living with her pareants in Mochi Baraz. Police said that Rubina had married Afzal around five years ago. "They had domestic issues and would often lead to physical assaults. Based on her complaint, we have registered an offence under IPC Sections 498 (a) (husband or relative of husband of a woman subjecting her to cruelty), 323 (voluntarily causing hurt), 504 (intenstional insult with intention to provole breach of the peace) and 114 (common intention)," Bhura Vadhiya, police inspector of Mahila Police Station said on Friday.
The police have booked Afal, his parents, sister and maternal grandfather for the said offence on the basis of the complaint filed by Rubina. Incidentally, the Supereme Court had suspended the tripple talaq practice prevelent among Muslims of the country for six months in August this year.
http://indianexpress.com/article/india/rajkot-woman-alleges-her-husband-subjected-her-to-triple-talaq-4856433/
--------
Five arrested for involvement in child marriage to 'settle gambling debt'
Qurban Ali Khushik
September 22, 2017
ive people, including a prayer leader, were arrested on Friday evening for their suspected involvement in marrying off a five-year-old girl to a 15-year-old boy in Dadu's Taluka Johi area allegedly to settle a gambling debt, police said.
Shahid Ali, the father of the minor girl and a resident of Khandhani village, was amongst those taken into custody after he was suspected of having contracted the marriage between the underage girl and boy in order to settle a Rs40,000 gambling debt, police said
Police said that Shahid had lost the money in a gamble to the 15-year-old child groom, a relative of his. Unable to settle the debt in financial terms, he decided to marry his daughter off to the boy.
After receiving information about the marriage, Senior Superintendent Police Dadu Shabbir Ahmed Sethar ordered a police team to conduct a raid in Shahid's village to arrest those involved.
Following the raid at the child groom's house, Shahid and Maulvi Karim Bux ─ the prayer leader who contracted the marriage ─ were arrested, police said.
Although the boy managed to escape a police raid at his house, he was arrested in a separate raid carried out in a neighbouring village, police said. However, he was later released by police as he was underage. The minor girl was also briefly detained and released for the same reason.
Two other people were also arrested and a case was registered against the accused under sections 3 and 4 of the Child Marriage Restraint Act 2016, Station House Officer TR Khan said.
Further investigations into the matter are underway, police said.
Inayat Ali Jamali, a social activist and head of a children's rights committee, urged the police not to release the groom and demanded that all gambling dens be closed down in the area.
Child Rights Committee Coordinator Dadu Niaz Chandio appealed to PPP Chairman Bilawal Bhutto Zardari to direct Sindh Chief Minister Murad Ali Shah and Inspector General Police Sindh A.D. Khawaja to protect children in the province from underage marriage.
PPP MPA Dr Sajeela Leghari urged local police to constitute teams and conduct raids on gambling dens in the area.. She termed the forcible marriage of minor children with youths or elders illiteracy, and promised to highlight the issue of child marriage in the Sindh Assembly.
https://www.dawn.com/news/1359343/five-arrested-for-involvement-in-child-marriage-to-settle-gambling-debt
--------
Priyanka Chopra proud of Malala's achievements
September 23, 2017
Indian actress Priyanka Chopra says that she can't believe she met Malala Yousafzai, a Nobel Laureate from Pakistan.
Yesterday Malala's tweet could tell she was excited after meeting Priyanka Chopra.
Can't believe I met @priyankachopra! ???? #UNGA2017
While Priyanka Chopra showed the same response and said that she was proud of Malala's achievements.
Oh @Malala no words will be enough...I can't believe I..met..U!!You're just a young girl with so much heart..and such achievements.so proud.
http://nation.com.pk/international/22-Sep-2017/priyanka-chopra-proud-of-malala-s-achievements
--------
URL: https://www.newageislam.com/islam-women-feminism/miss-turkey-loses-crown-contentious/d/112638
New Age Islam, Islam Online, Islamic Website, African Muslim News, Arab World News, South Asia News, Indian Muslim News, World Muslim News, Women in Islam, Islamic Feminism, Arab Women, Women In Arab, Islamophobia in America, Muslim Women in West, Islam Women and Feminism