New Age Islam News Bureau
15 Dec 2017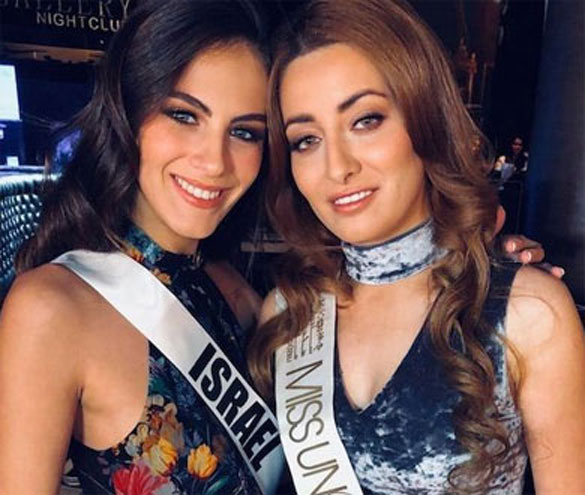 Adar Gandelsman of Israel (left) and Sarah Idan of Iraq pose together while in Tokyo in November. (Image: Instagram, Adar Gandelsman) ** FILE **
-----
• US Woman Used Bitcoin to Move Cash to Islamic State, Police Say
• Over 1,000 Single Muslim Women Apply For Haj Pilgrimage
• Broken Criminal Justice System Core Issue in Violence against Women
• Indian Cabinet to Take Up Today Bill Making Instant Talaq an Offence
• Briefing Session Held on Women's Rights in FATA
• DRF launches Network of Female Journalists on Online Safety
• Iran: Flogging Sentence for a Young Kurdish Female Student
Compiled by New Age Islam News Bureau
URL: https://www.newageislam.com/islam-women-feminism/miss-iraq-moves-family-country/d/113581
--------
Miss Iraq moves family out of country: Picture with Miss Israel sparked death threats
December 14, 2017
An Iraqi beauty pageant contestant recently had to usher her family out of the country after she publicly admitted a friendship with Miss Israel.
Social media posts by Adar Gandelsman of Israel and Sarah Idan of Iraq captured global headlines in November after the two snapped pictures together in Tokyo. Islamic extremists caught wind of the bond between the International Beauty Pageant 2017 contestants, then the death threats began rolling in.
Miss Gandelsman recently told Israel's Hadashot newspaper that her friend's family fled the country to ensure their safety, The Jerusalem Post reported Thursday.
"She [took the picture] so that people can understand that it's possible to live together," Miss Gandelsman said. "In order for people to see that we can connect, in the end we are both human beings."
Miss Idan, 27, currently resides in the U.S. She recently attempted to quell anger over the original post on Nov. 13 by noting her desire "for peace between the two countries" on Instagram — but to no avail, the newspaper reported.
https://www.washingtontimes.com/news/2017/dec/14/sarah-idan-miss-iraq-moves-family-out-of-country-p/
--------
US woman used bitcoin to move cash to Islamic State, police say
December 15, 2017
A New York woman has been accused of laundering bitcoin and other cryptocurrencies and wiring the money to help the so-called Islamic State.
Zoobia Shahnaz, 27, was charged with bank fraud, conspiracy to commit money laundering and money laundering and is being held without bail.
Ms Shahnaz was born in Pakistan and worked as a lab technician in the US.
Prosecutors say she took out fraudulent loans of $85,000 (£63,000) in order to buy the bitcoin online.
Bitcoin is an online currency. Despite not being legal tender - it can't be used to pay for traditional goods and services - the value of bitcoin has rocketed this year.
What is Bitcoin?
It has been exploited by criminals to launder money. British authorities are pushing to increase regulation of the currency.
According to court records, Ms Shahnaz, who lives in Brentwood on Long Island, was a lab technician at a Manhattan hospital until June.
Prosecutors said that Ms Shahnaz obtained a Pakistani passport in July and booked a flight to Pakistan with a layover in Istanbul, intending to travel to Syria.
She was arrested at John F Kennedy airport carrying $9,500 in cash, just under the limit of $10,000 that a person can legally take out of the country without declaring the funds.
Searches of her electronic devices showed numerous searches for Islamic State-related material.
Ms Shahnaz faces up to 20 years in prison on each of the money laundering charges and up to 30 years for the bank fraud charge.
Her lawyer, Steve Zissou, said she was sending money overseas to help Syrian refugees.
"What she saw made her devoted to lessening the suffering of a lot of the Syrian refugees and everything she does is for that purpose," Mr Zissou said outside the courthouse.
http://www.bbc.com/news/world-us-canada-42362478
--------
Over 1,000 Single Muslim Women Apply For Haj Pilgrimage
Dec 14 2017
Over 1000 Muslim women have so far applied for Haj pilgrimage without 'Mehram' (male companion) and the numbers are still growing.
This comes after the Centre lifted a ban on Muslim women going for Haj without Mehram recently.
In view of the "overwhelming" response, the Ministry of Minority Affairs has now extended the last date for submission of Haj applications up to December 22.
According to the new policy, women above 45 years of age, who wish to go for the Haj but do not have a male companion, are allowed to embark on the annual pilgrimage to Makkah and Medina in Saudi Arabia in groups of four or more women.
"The decision to lift the ban has generated very positive results. Muslim women, from across the country, are applying in large numbers to go for Haj without Mehram," Minister for Minority Affairs Mukhtar Abbas Naqvi said on Thursday.
He also launched a web portal for private tour operators (PTOs), saying it was aimed at ensuring transparency.
"Through this portal, the PTOs can apply online with the required documents. The applications will be scrutinised by the Haj Division of the minority affairs ministry. After this, a draw of lots will be done online and the quota will be allocated. It has also been clearly instructed that any discrepancies in facilities for Haj pilgrims going through PTOs will not be tolerated," Naqvi added.
Though there is a web portal, an official said that pilgrims, including PTOs, can also submit applications by hand.
The government started receiving applications for Haj 2018 on November 15.
More than 2.63 Lakh people have applied for undertaking the annual pilgrimage till December 13.
Out of this, 1.38 Lakh applications have been received online.
Several Muslim organisations, including executive committee member of the All India Muslim Personal Law Board Khalid Rasheed Firangi Mahali, had objected to the revised Haj Policy, accusing the government of meddling with the Sharia law.
http://www.deccanherald.com/content/648155/over-1000-single-muslim-women.html
--------
Broken criminal justice system core issue in violence against women
December 15, 2017
ISLAMABAD: The broken criminal justice system and misrepresentation of religion, as witnessed in the 'dharna' last month at Faizabad, were the core issues perpetrating violence against women in the country.
This was stated by Senator Farhatullah Babar at the launching ceremony of three publications on women related issues by the National Commission on the Status of Women at a local hotel in Islamabad on Thursday.
He said that even a constitutional body like the Council of Islamic Ideology (CII) had interpreted religion in ways that militate against women.
At the time of the passage of the Child Marriage Act by the Sindh Assembly, requiring a minimum age of 18 years for the marriage of girls, the then chairman of the council had asked for a 'treason trial' of members of the provincial assembly.
Sometimes back, the council decreed that DNA tests were not permissible in rape cases, he said. The beating of wives by husbands is also permissible according to the council but community homes for elderly are not permissible as these are against our cultural norms and traditions, he added.
If we can demand a special public prosecutor for crimes against media persons, why the same can't be demanded 50 per cent of the population which is also very vulnerable, the senator said.
They are victims of violence in the name of honour and subjected to gang rape and acid throwing to disfigure them. The instruments of violence against them vary from area to area.
About the jirga system, he said that by excluding women from it and institutionally degrading them, the jirgas have been nothing but instruments of violence against women.
To empower and enable them to fight crimes, women must have economic rights, the right to own land, the right to inheritance and equal wages. The draft constitution of October 1950 contained clear-cut provisions for ending all forms of torture and also for equal wages for women.
But both the provisions were deleted in the draft constitution finalised in 1956, he said.
https://www.pakistantoday.com.pk/2017/12/14/broken-criminal-justice-system-core-issue-in-violence-against-women/
--------
Indian Cabinet to Take Up Today Bill Making Instant Talaq An Offence
Dec 15, 2017
New Delhi: The Centre is all set to put before the Cabinet on Friday the Muslim Women (Protection of Rights on Marriage) Bill, 2017, to make the practice of "instant" triple talaq an offence. According to the draft bill sent out to states earlier this month, it was proposed that triple Talaq be made a cognisable and non-bailable offence that would attract a jail term of three years.
The draft law was prepared in the backdrop of the August 22 verdict of the Supreme Court striking down the practice of "instant" triple Talaq as illegal. The draft law was sent to states for their views on December 1and they were asked to reply by December 10. The government's justification for the law stems from the fact that there have been reports of several divorces by way of Talaq-e-Biddat despite the SC verdict.
Assam, Jharkhand, Madhya Pradesh, Maharashtra, Manipur, Uttar Pradesh and Uttarakhand have written back to say that they support the draft legislation.
The draft law, which will be considered by the Cabinet on Friday, was prepared by an inter-ministerial group headed by home minister Rajnath Singh. The other members include external affairs minister Sushma Swaraj, finance minister Arun Jaitley, law minister Ravi Shankar Prasad and his junior in the ministry P P Chaudhary.
According to the proposed law, a victim of instant divorce can seek the custody of her minor children as well as maintenance from her husband by approaching a magistrate after registering a complaint with police. Under the law, triple talaq in any form — spoken, in writing or by electronic means such as email, SMS or WhatsApp — would be banned.
Trafficking draft law too
The Trafficking of Persons (Prevention, Protection and Rehabilitation) Bill, 2017, in the works since last year, is slated to be tabled before the Union Cabinet for approval on Friday. The draft bill addresses prevention of trafficking, and rescue and rehabilitation of victims. It makes way for stringent punishment.
https://timesofindia.indiatimes.com/india/cabinet-to-take-up-today-bill-making-instant-talaq-an-offence/articleshow/62076997.cms
--------
Briefing session held on women's rights in FATA
press releas
DECEMBER 15, 2017
ISLAMABAD: The 16 Days of Activism against Gender Based Violence is an international campaign originating from the first Women Global Leadership Institute sponsored by the Centre for Women's Global Leadership In 1991.
To commemorate 16 Days of Activism and International Human Rights Day, UN Women in collaboration with the Ministry of Human Rights and National Commission of the Status of Women co-organised a briefing session at a local hotel on "Women's Rights in FATA." UN Women has undertaken a gender analysis of legal reforms and customary practices in FATA, in order to strengthen evidence base for legal reforms and policy action. This informative briefing session was an opportunity for UN Women to share the analysis and key findings of this gender analysis.
Mr. Jamshed Kazi Country Representative of UN Women welcomed the guests to the session and spoke about the importance of sharing these key findings with stakeholders in order to better formulate policy. He said "UN Women is working on FATA to collect data, do gender analysis etc. in order to have it used for policy action in partnership with civil society and government stake holders."
Ms. Rabiya Javeri Agha Secretary Ministry of Human Rights spoke about the linkage between women's rights and human rights and the work of the ministry in this regards. She said "We are mandated to support all human rights institutions in the country." She further said "I commend UN Women because this gender analysis work will address the gender concerns in the environment of reforms that is going on right now."
Ms. Khawar Mumtaz Chairperson National Commission on Status of Women (NCSW) gave the concluding remarks and spoke about the way forward. She pointed out the need to work on mainstreaming FATA women and closing the gender gaps, especially in voter registration and informed that "The commission is ready to work with women in FATA. We hope to get our member from FATA soon." She concluded on a positive note by saying "When you work with passion, the things always change."
UN Women also launched a very enlightening documentary showcasing women's experiences and achievements in FATA, with the aim to amplify the voices of women for inclusion in all stages of reforms process.
The overall feel of the event was that women need to have a stronger role in FATA reforms process and their priorities should be duly reflected in the legal and policy reforms. While enormous challenges are there, efforts are being made to ensure women's inclusion and representation in order to safeguard women's rights in FATA. With the coordination and cooperation of all stakeholders i.e. Government, civil society etc., desired positive change can be brought forward to improve the lives of all citizens especially women.
https://dailytimes.com.pk/159923/briefing-session-held-womens-rights-fata/
--------
DRF launches Network of Female Journalists on Online Safety
December 15, 2017
BY FARAH JAMIL
In this digital age, it has become even easier than before to be stalked, harassed and intruded. During these times of fast digital innovation, it is important for women to assess their risks online, analyze them and browse securely.
With growing privacy concerns on digital spaces, Digital Rights Foundation (DRF) sought to increase awareness about privacy issues especially for female journalists and defend the right to privacy by research and reporting the tactics around surveillance. Digital Rights Foundation marked the launch of their Network of Female Journalists on Online Safety on 12th December. The launch was coupled with a two-day advance training in Bhurban – Murree with 28 female journalists from across Pakistan.
The objective of the network was to empower female journalists to practice and promote online safety within media houses and to raise awareness regarding digital rights issues in mainstream media. Journalists were made aware about reporting on digital rights issues leading to improved quality of reporting when talking about the said rights.
Nighat Dad, the Executive Director of Digital Rights Foundation, said, "The line between online and offline is blurred making digital rights as important as other rights. Pakistan particularly lacks in recognizing rights of people in online spaces as the awareness around the issues is next to none."
She added, "By training journalists on reporting on digital rights and prioritizing online safety given the sensitive nature of their work, the network aims at spreading the word beyond the realms of books and articles and into the mainstream media."
The network will ensure quick and easy access to DRF's Cyber Harassment Helpline to journalists and human rights defenders. The helpline is the first of its kind in Pakistan and provides legal advice, digital security support, and psychological counseling to the victims of cyber harassment.
The participants of this training session were all female journalists who belonged to reputable channels and newspapers, bloggers, writers, human rights defenders and students from every part of Pakistan. The participants were informed about difference software and tools through which female journalists can protect their online spaces such as social media accounts and e- mails.
While talking about the role of digital rights foundation – Umaima Tahir – working as journalist in The Nation said, "I have been with DRF since the past two years. This is a great initiative. It will not only connect journalists across Pakistan but also build a strong network on digital security. In case someone has some issues related to digital security they can turn to anyone in the network.
To a question, Umaima answered, "I believe female journalists are more threatened as compared to male journalists. Females should know how to keep their information and data secure while using online space. DRF is doing exceptional work by training ladies to keep themselves secure in the cyber world.
Sabahat Khan – a journalist working in Jahan Pakistan – who mostly covers stories regarding women and children rights, shared her views, "How to protect and minimize harm on our physical safety is something we learned from experience. DRF is doing a great job by making us aware regarding digital threats and online security. Keep up the good work."
Sabin Agha – a Journalist, Documentary Film Producer & Media Teaching Consultant talked about the importance of digital safety, "For journalists, learning to protect their safety by controlling their digital footprint is crucial. Government's intelligence agencies and terror networks; they all monitor our work, putting our data at the risk of being hacked. We need to fortify our digital security otherwise it may lead to legal or even deadly consequences us as well as our sources. And as a female journalist, I am well aware how nasty the digital space can be if I am doing a controversial story, especially on politics. Women tended to suffer more on social media."
She went on to say, "This training equipped me with digital weapons to fight back cyber criminals and their attacks. Specific technical advice was shared on how to encrypt information or to remain anonymous. It also presented different digital tools that I can use to guard my devices."
Najia Mir – Goodwill ambassador at International Human Rights Commission- IHRC and an anchor at KTN TV also shared her views. "It was an experience that will live long in my memory.Much needed learning opportunity for me, Very interactive and participatory. Liked the way the training was structured along with the refreshing practical exercises.Very well organised and implemented. A lot of lessons learned for me, that I will definitely share in my circle. Certainly all participants would benefit from it".
To know more about the training session and future plans, we managed to talk Shaukat Ali – Program Manager of Online Safety of Female Journalists.
Shaukat highlighted the motive of this session, "We believe that everyone, regardless of their gender, should be able to work without the fear of getting insulted or threatened. We will keep enlighten the female journalists on the importance of not leaving digital footprints when they are online in future also".
"We envision a place where all people, and especially women, are able to exercise their right of expression without being threatened", added Shaukat.
https://www.samaa.tv/pakistan/2017/12/drf-launches-network-of-female-journalists-on-online-safety/
--------
Iran: Flogging sentence for a young Kurdish female student
14 December 2017
The Women's Committee of the National Council of Resistance of Iran condemns the flogging sentence issued for a young Kurdish female student and calls on the nation's women and youths to protest against such criminal verdicts.
The NCRI Women's Committee urges international human rights and women's rights organizations to undertake effective measures to stop such cruel and inhuman punishments.
On December 7, the Student Day in Iran, the clerical regime's court in Saqqez, Iranian Kurdistan, sentenced Zamaneh Zivi to cash fine and 50 lashes of the whip on the charge of "disruption of public order." She is a senior student of law at Payam Noor University of Saqqez in Kurdistan.
The Iranian regime's resort to such an inhuman punishment for a girl student only indicates its fear of rebellions by the Iranian people, particularly the students and youths. It also reveals the true nature of Rouhani, the mullahs' president who pretends to be a moderate.
The Women's Committee of the National Council of Resistance of Iran
http://www.women.ncr-iran.org/statements/4578-iran-flogging-sentence-for-a-young-kurdish-female-student
--------
URL: https://www.newageislam.com/islam-women-feminism/miss-iraq-moves-family-country/d/113581
New Age Islam, Islam Online, Islamic Website, African Muslim News, Arab World News, South Asia News, Indian Muslim News, World Muslim News, Women in Islam, Islamic Feminism, Arab Women, Women In Arab, Islamophobia in America, Muslim Women in West, Islam Women and Feminism