Age Islam News Bureau
24 May 2017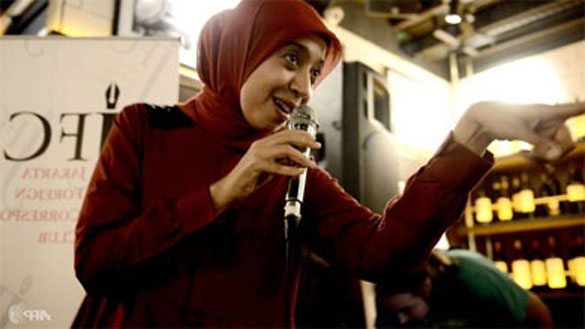 Comedian Sakdiyah Maruf sees an alarming trend in Indonesia of "more rigid and conservative practices of religion" which she believes tend to marginalise women, and is very concerned about issues such as early marriage and domestic violence. AFP/GOH Chai Hin
----
• Indonesian Female Muslim Comic Standing Up To Extremism
• Somali-Born Muslim Woman a Member Of Islamic State, Federal Police Say
• 4 Muslim Canadian Women Who Have Zero Time for Fitness Stereotypes
• Trump in the Middle East: A Muslim Woman's Take
• Indian Woman Uzma, Who Claimed She Was Forced To Marry Pakistani Man, Allowed To Return Home
• Sisters in Islam: Hannah Just Sharing Her Personal Journey
Compiled by New Age Islam News Bureau
URL: https://www.newageislam.com/islam-women-feminism/minor-girls-marriage-48-year/d/111267
--------
Minor Girl's Marriage to A 48-Year-Old Leads To Brother's Suicide as a Protest in Pakistan
May 24, 2017
WAZIRJABAD- A 16-year-old youth on Tuesday committed suicide as a protest against his father's decision to marry off his 13-year-old sister to a 48-year-old landlord of Sindh, on the advice of his spiritual guide, in Sohdra.
Sajida's elder brother Ghulam Abbas, a dyer in Sohdra Bazaar, resisted the wedding ceremony but he failed to save his sister. He got disappointed and swallowed poisonous pills. He was rushed to RHC Sohdra and then to THQ Hospital Wazirabad where he was given medical aid. Then he was shifted to DHQ Hospital Gujranwala due to his critical condition but he could not survive and breadth his last. His father Faqeer Ali had migrated from Sehwan to Sohdra some 10 years ago. Murshad or spiritual guide of Faqir Ali resides in Sehwan in the shrine of Laal Shehbaz Qalandar. Faqir spends his 6 months in a year in Sehwan Shareef in the company of his Murshad. He had directed Faqeer Ali to marry off his daughter namely Sajida to Ata Muhammad, a Wadera of Sindh. Ata came to Sohdra where he was allegedly married with Sajida.
The Sindhi Wadera left Sohdra soon after the news of his suicide. Some members of the family refuted Nikkah of Sajida and Wadera Ata saying that only engagement ceremony was held.
http://nation.com.pk/national/24-May-2017/minor-girl-marriage-leads-to-brother-s-suicide
--------
Indonesian Female Muslim Comic Standing Up To Extremism
May 24, 2017
Wearing a red Hijab and all-encompassing gown, Sakdiyah Maruf cuts an unusual figure in a dark, smokey Jakarta bar as she reels off taboo-breaking jokes to laughter from a rapt audience.
She is a rare character in Indonesia -- a female Muslim stand-up using humour to challenge prejudice against women and rising religious intolerance.
Despite resistance from those who believe a woman's place is not on stage cracking jokes, even within her own family, the 34-year-old has forged ahead and is winning fans at home and abroad.
In the country with the world's biggest Muslim population, she does not shy away from sensitive subjects. Her jokes touch on topics ranging from Jakarta's recent religiously-charged election -- which saw the Christian incumbent ousted by a Muslim -- to sex and alcohol.
"Hijab, Niqab, Burqa -- it saves you from a bad hair day," she said to laughter from the crowd in the Indonesian capital, a typical gag that gently pokes fun at her own religious customs.
Maruf jokes about how women were not allowed to attend public events in the small, conservative community on Java island where she grew up, and that she is seeking to be more progressive by trying "to have sex even though I am married".
For the slight, unassuming lady, comedy is a playful form of resistance to a creeping conservatism she believes is eroding the rights of women in her homeland.
Indonesia has long been praised for its inclusive brand of Islam but this reputation has been tarnished by a rise in attacks on minorities and the growing influence of a vocal hardline fringe.
The comedian sees an alarming trend of "more rigid and conservative practices of religion" which she believes tend to marginalise women, and is particularly concerned about issues including early marriage and domestic violence.
For Maruf, humour is the perfect weapon to tackle such trends.
"The message can be very aggressive but it can be delivered in a very subtle way," she told AFP. "You speak to people's hearts instead of only their minds."
'Are you for real?' -
Maruf comes from a traditional family in the provincial Javanese town of Pekalongan, an unlikely background for a witty, worldy-wise stand-up.
She became interested in comedy at an early age by watching US sitcoms such as Roseanne and Full House, a love that she carried with her to university, where she started performing stand-up in 2009.
Depending on the audience she will either perform in English -- which she studied at university -- or the main Indonesian language of Bahasa.
Sakdiyah Maruf still has a day job working as an interpreter at conferences, but regularly performs in comedy clubs and nights in Jakarta, where she lives.
In the early days, the comic would lie to her parents when she performed at university or headed into Jakarta for shows, believing they would disapprove, but as she became successful it was far harder to conceal the truth.
She says she has managed to reach a kind of uneasy truce with her family.
"We have disagreements sometimes, but they are cool with it," she explained.
But the greatest resistance has come from conservatives who don't think Muslim women should be comedians at all.
One woman came up to me after a show and said 'are you for real, are you wearing this Hijab for real?'," she recalled.
Still, Maruf has not been put off and her irreverent brand of humour has won her fans outside Indonesia.
In 2015 she was awarded the Vaclav Havel International Prize for Creative Dissent established by the New York-based Human Rights Foundation and last year took part in a BBC-run global stand-up jam.
Her humour seems more relevant than ever as concerns escalate about declining religious freedoms in Indonesia after the jailing this month of Jakarta's Christian governor for blasphemy, a verdict that sparked criticism inside the country and abroad.
But Maruf remains confident that Indonesia will remain a tolerant country -- not least because a devout Muslim woman like herself can still get up on stage and crack jokes.
She said: "If you can write 'Indonesian conservative Muslim female stand-up' in one sentence, why be so pessimistic?"
http://nation.com.pk/international/24-May-2017/female-muslim-comic-standing-up-to-extremism
--------
Somali-born Muslim woman a member of Islamic State, Federal police say
May 24, 2017
MICHAEL OWEN
A Somali-born Muslim woman from Adelaide has been charged with being a member of terror group Islamic State, but her lawyer says she will fight the allegations.
The woman, whose identity is suppressed due to an ongoing anti-terrorism investigation by federal and state authorities, faces up to 10 years in prison.
Handcuffed and wearing a hijab, the 22-year-old appeared calm in the dock of the Adelaide Magistrates Court late yesterday as she was accused of being a member of a known terrorist ­organisation. She made no application for bail and was remanded in custody until her next court ­appearance on August 15. Australian Federal Police ­Assistant Commissioner for counter-terrorism Ian McCartney said the charges were "serious and significant and should be not underestimated".
He said it would be alleged the woman cultivated relationships with Islamic State members and also pledged her allegiance to the terrorist organisation.
The majority of the woman's alleged criminal activities were conducted online, he said, where she connected with terrorism suspects around the world.
Police yesterday stressed there was no known link between the woman and the explosion in Manchester.
The South Australian Joint Counter-Terrorism Team, which includes the AFP and the Australian Security and Intelligence ­Organisation, started investigating the woman last July, when she attempted to travel overseas.
This "trigger point" ultimately led to the execution of search warrants on a property in Adelaide's western suburbs yesterday morning and the woman's arrest.
SA Police deputy commissioner Linda Williams said there was no planned attack and no known ongoing threat to South Australia in relation to the woman's activities, although the investigation was ongoing.
"We've made constant risk ­assessments throughout the investigation and we are comfortable this was the right time to make the arrest," she said.
The woman is an Australian citizen who arrived in the country at the age of 14 from Somalia. Mr McCartney said the complex ­investigation included obtaining evidence from "overseas jurisdictions".
"She has been aware she's been on the radar of law enforcement authorities in Australia," he said.
"We've conducted a number of lines of inquiries, both online and offline, of various individuals.
"It is concerning that people so young remain susceptible to extremist ideologies and are willing to engage in criminal activities that attract significant penalties."
Outside court, her lawyer Craig Caldicott said she would plead not guilty and protested her innocence, saying authorities had not provided any details of the case against her.
"If the AFP would give me their brief that they've been working on for the last year, then I might be able to answer some of the questions," he said.
"She will plead not guilty ­because she hasn't committed the offence. My instructions are that she will be applying for bail. She is not guilty of the charges and ­intends to defend them.
''Because she is innocent of the charges, I would assume that is why she appears calm."
He said the AFP had been investigating the matter since July last year yet had not "jumped on it".
"Where is the evidence? You would have thought by this stage, after 10 months, they would have a ream of material they could place before the court, but here it is and they are asking for several months to get their act together."
http://www.theaustralian.com.au/in-depth/terror/somaliborn-muslim-woman-a-member-of-islamic-state-federal-police-say/news-story/9349a325c0797a6098cd928ce41e9c4e
--------
4 Muslim Canadian Women Who Have Zero Time For Fitness Stereotypes
Maham Abedi
05/23/2017
It's almost lunch time and Saman Munir is sitting at a coffee shop in Mississauga, Ont. with a black hijab wrapped around her head.
She swipes around on Instagram before pulling up a Nike ad that shows Muslim women exercising. One woman runs down a street in a Middle Eastern country, while another figure skates on a dimly lit ice rink.
"They are all Muslim," she says excitedly.
The 37-year-old is a mother of three, a wife and an entrepreneur. She also knows her way around a boxing ring. In fact, she could probably beat you in a match.
But you may not guess that by looking at her.
Munir is a brand ambassador at her local UFC Gym, and boxing is her passion. But when she's throwing punches at her trainers, she's not just working out. She's inadvertently busting stereotypes about Muslim women.
"The people who are working out, they think it's a girl with a hijab, she probably doesn't know much," she says, talking about prying eyes at gym. "But when they see you working out, you can tell from their face they have a totally different perspective." Munir wears a tightly fastened hijab while exercising, and opts for loose-fitting sweatpants. The YouTuber and social media personality is known for her makeup tutorials, but this not-so-glamorous look may be her favourite.
"It's something that makes me happy. I'm focused, I'm doing my thing. I look like crap, and I don't care," she says proudly.
But it isn't a confidence that came easily.
Intimidated by judgment-filled gazes in her earlier years of working out, Munir often took off her hijab at the gym. People looked at her "in a funny way," and it took her time to get over the fear of standing out. But now, she has more important things on her mind.
"I have three kids, I have goals," say says, including being a role model for her young daughter.
Now that she's over it, there's little stopping her.
"If a non-hijabi can do it, why can't I do it?"
Zehra Allibhai is always on the move.
The mom of two has been a fitness trainer for more than 15 years, but exercise has been part of her life long before that. She was on practically every sports team in school, often as the captain, and spent hours shooting hoops on the driveway outside her suburban Ontario home.
The health enthusiast also runs a blog called "The FitNest," where she shares workout tips, recipes, and life hacks.
In essence, fitness is a part of everything Allibhai does.
And she's been able to integrate her religious beliefs with her fitness lifestyle seamlessly. But there were times the hijab-wearing woman faced discrimination.
In high school, a coach from an opposing team demanded she be disqualified for not wearing shorts like the other girls.
"My coach and my team stood up and said, 'Well, if Zehra can't play, then the whole team forfeits,'" she recalls with pride.
While those instances have been rare, curiosity about Muslim women who exercise is far more common.
At the gym, she sometimes finds herself answering questions like, "Don't you get hot?," though she says it's never in a hurtful way.
"Just because I have a hijab on my head, doesn't mean that I'm different," she says.
Before having her daughter, Nazima Qureshi was heavy-lifting weights, attending yoga classes, and regularly hitting the gym.
Now, her toddler and new business called "Nutrition By Nazima" leave little time for traditional workouts. But that doesn't mean she isn't exercising.
"I've gotten more creative," she says. "The challenge is more balancing my responsibilities and taking time out for myself."
The nutritionist and personal trainer is making sure other Muslim women do the same.
"A lot of Muslim women, they're not putting themselves first, and they don't see that value in it," she says, adding that it's a cultural mindset she hopes to shift.
She teaches mommy-and-me fitness classes, and organizes outdoor activities for women.
More recently, she gathered a group of moms who hike new trails around the Greater Toronto Area.
"Every Sunday morning, before any of our kids wake up, we just leave the house and explore."
These are baby steps in her larger goal of making fitness a greater focus of the Muslim community, where a lack of culturally relevant information often prevents people from making lifestyle changes. The nutritionist wants to give Muslims the tools to think beyond salads and treadmills when they think of healthy living.
"A lot of the information is very generic. The Muslim community doesn't necessarily resonate with it," she says.
Through her recipes (tandoori salmon tacos, for example) on her website, counselling and workshops, Qureshi shows Muslims they don't have to give up their cultural food, or lifestyle, to be healthy.
"They can make health a priority without having to compromise their own health and traditions," Qureshi says.
Rhyana Dawood isn't afraid of calling it like it is. And she says rising Islamophobic hate crimes — right here in Canada and around the world — since the 2015 Paris terror attacks are making Muslim women fearful for their safety.
It's something she's witnessed as interest in her martial arts organization has spiked among Muslim women wanting to learn self-defence.
"It's very real, the fear that they feel," she says.
The Toronto-native owns a non-profit called Martial Smarts and often holds free workshops for at-risk groups, such as sex workers, women living in shelters and Muslim women.
Martial arts is more than a workout, or self-defence. Dawood says it teaches women essential life skills — many that are also in-line with her religion.
Like Islam, Dawood says the sport teaches respect, discipline, and how to protect yourself and others around you.
The athlete has been training in martial arts since she was nine years old, but says as a Muslim woman, she's still underestimated when she walks into workshops.
"When I go in, they don't expect that it's going to be me that's going to be teaching them self-defence," she says. "I definitely don't like somebody that would do that."
"The beauty of it is, if you have the skills then they can't really say anything about it. Your abilities speak for themselves."
Online, she faces another round of critics, receiving messages like: "The first thing you should do empower yourself is take off your hijab."
But there's little that fazes Dawood, and she hopes she can help empower Muslim women who are intimidated by hate.
"I can still do all this stuff with my hijab, and show other women that it is possible," she says. "You don't have to give up your deen (faith), or you don't have to give up your values, in order to excel."
http://www.huffingtonpost.ca/2017/05/23/muslim-fitness-stereotype_n_16770120.html
--------
Trump in the Middle East: A Muslim woman's take
By Raheel Raza
May 23, 2017
President Trump's first visit abroad seems steeped in powerful religious themes that stood out for me as both a practicing Muslim woman and a fierce opponent of radical Islam.
It began with his wife, the First Lady Melania Trump, who did not cover her hair like so many other visitors to Saudi Arabia, the kingdom that forbids women to so much as drive. And just as Mrs. Trump did not bow to their patriarchy, President Trump did not bow to their king, a notable improvement over the behavior of his predecessor.
After the "sword dance" (ardah – which melted Twitter) and the multi-billion dollar arms deal came the moment we all were waiting for: what would President Trump say in the heart of the holiest place of the religion to which so many have deemed him to be "phobic."
Well, for a man who has been called an "Islamophobe" more often than perhaps any man in history, President Donald Trump looked anything but scared, as he danced with sword-wielding Muslims and addressed the leaders of more than 50 Muslim nations.
In fact, he looked comfortable. A world leader in charge, in command of the issues, capable of bringing vastly different peoples together to face a shared enemy (Iran, more on that in a moment), and clearly not afraid to call upon the Muslim world to stop tolerating extremism in its midst.
In fact, he did more than tell them not to tolerate it: he told them to drive it out.
"A better future is only possible if your nations drive out the terrorists and extremists," he said. "Drive. Them. Out. DRIVE THEM OUT of your places of worship. DRIVE THEM OUT of your communities. DRIVE THEM OUT of your holy land, and DRIVE THEM OUT OF THIS EARTH."
Note how he said "your holy land." He repeatedly acknowledged the holiness of that land for Muslims – both for the assembled nations at the Arab Islamic American Summit, and to the more than a billion Muslims around the world including me. And he rightly cited this holy ground as grounds to drive evil out of its midst.
"This is a battle between Good and Evil," the President said. "When we see the scenes of destruction in the wake of terror...we see only that they were Children of God whose deaths are an insult to all that is holy."
He continued: "Will we be indifferent in the presence of evil? Will we protect our citizens from its violent ideology? Will we let its venom spread through our societies? Will we let it destroy the most holy sites on earth?"
Here, President Trump mentions "ideology" – another deep and persistent theme in his speech, and in his broader approach to the Middle East. President Trump announced the opening of a new Global Center for Combating Extremist Ideology (as it should have been done in the first place a long time ago) right in Saudi Arabia. He mentioned "ideology" no less than seven times in his speech, and set forth a bold goal to "defeat terrorism and send its wicked ideology into oblivion."
The war against radical Islam is an ideological war. Whether this barbaric, misogynist and murderous ideology is carried under the flag of ISIS, Al Qaeda, the Muslim Brotherhood or even some of the assembled nations to which President Trump spoke – the ideology of radical Islam is the problem and ideology should be the focus. Donald Trump understands this. The ideology of radical Islam is the enemy of the civilized world – not Islam, not Muslims – our enemy is the ideology.
And there is one radical regime that does more to spread and fund and weaponize this evil ideology than perhaps any other: the murderous totalitarian terrorist-funding regime of Iran.
As President Trump said to the assembled Muslim nations, "all nations of conscience must work together to isolate Iran, deny it funding for terrorism, and pray for the day when the Iranian people have the just and righteous government they deserve." And when the President continued his journey to Israel, he continued this theme, vowing that "Iran will never have nuclear weapons," and rightly observing that the threat of Iran "has brought many parts of the Middle East toward Israel," including Saudi Arabia.
Some of his critics say that isolating Iran will create disunity in the Muslim world.
True, Iran is not the sole problem, nor the only purveyor of the ideology of radical Islam. And, of course, Saudi Arabia's newly-found fondness for Israel is likely more about "the enemy of my enemy is my friend" than a genuine new affection for Jews. But at least we are finally having an adult conversation about the ideology of radical Islam.
The American president – who has simultaneously been called an "Islamophobe" and an "anti-Semite" – danced with Muslims and prayed with Jews in an attempt to bring them together to fight our common enemy – the ideology of Islamist Extremism– and to possibly broker a peace deal.
Only history will tell if his efforts will be a success. The President of the United States played the 'Trump' card. Now it's up to the Muslim nations to either play a steady hand or keep producing jokers.
Raheel Raza is a Pakistani-born human rights activist, President of Muslims Facing Tomorrow, founding member of the Muslim Reform Movement, and an advisory board member of Clarion Project. Her films and writings are available at ClarionProject.org.
http://www.foxnews.com/opinion/2017/05/23/trump-in-middle-east-muslim-womans-take.html
--------
Indian woman Uzma, who claimed she was forced to marry Pakistani man, allowed to return home
May 24, 2017
Uzma, the Indian woman who had claimed that she was forced to marry a Pakistani man, has been allowed to return home by the Islamabad High Court.
An Islamabad High Court bench, headed by Justice Mohsin Akhtar Kayani, returned Uzma her original immigration form.
The court also ordered that police provide security to the Indian woman till the Wagah border, Geo News reported.
Uzma, 20, had travelled to Pakistan earlier this month, has said that her Pakistani husband Tahir Ali 'forced' her to marry him at gun point and also harassed her.
Uzma had approached the Islamabad High Court on May 12 to provide security for her journey back to Delhi and to issue duplicate travel documents which were allegedly stolen by Tahir.
Tahir had filed a petition, asking the court to arrange a meeting with Uzma and also stop her from going back to India.
Foreign Office spokesman Nafees Zakaria had earlier said that Uzma would only be able to return to her country once all the legal requirements were completed.
http://indiatoday.intoday.in/story/uzma-india-woman-pakistan-returns-home-islamabad-high-court/1/961572.html
--------
Sisters In Islam: Hannah Just Sharing Her Personal Journey
May 24, 2017
PETALING JAYA: A Muslim NGO is the latest to come to Hannah Yeoh's defence following a claim by a lecturer that the Selangor state speaker's autobiography was an attempt to promote Christianity.
In an email to FMT, Sisters in Islam (SIS) said that people should not view the biblical quotes as her attempts to preach her religion but instead as a mere sharing of her personal journey.
"The insertions of biblical texts and discussion about her connection with her faith displays her trust and conviction towards her religion in helping her strive to serve the public."
Yeoh's autobiography, "Becoming Hannah: A Personal Journey", recently stirred controversy after Universiti Utara Malaysia (UUM) lecturer Kamarul Zaman Yusoff said it would influence him on Christianity as the book has "too many stories and quotations from the Bible".
Kamarul, who has since lodged a police report against the DAP assemblywoman for proselytising – also said Yeoh's biography should only be sold in bookstores that sell Christian religious materials.
SIS then trained their guns on Kamarul, stating that his arguments were baseless.
"The arguments presented by Kamarul Zaman lack justification of her intent to proselytise and portrays her in a negative lens especially towards the Muslim community."
They went on to argue that Article 11(1) of the Federal Constitution gives right to all individuals to practice and profess their religion which also includes citizens from other religions.
"Our own faith and religious conviction doesn't wither by just merely reading an autobiography with excerpts or parables extracted from other religious books."
SIS isn't the first to defend Yeoh over her book, which is an account of her life as she rose to prominence after winning the Subang Jaya state seat in 2008 with a huge majority.
Opposition leaders such as DAP secretary-general Lim Guan Eng and PKR Seri Setia assemblyman Nik Nazmi Nik Ahmad had countered Kamarul's accusations.
On May 15, Yeoh lodged a police report against Kamarul Zaman over an essay he had posted on his Facebook page. She said the posting was defamatory in nature.
The essay – titled "Hannah Yeoh contoh hipokrasi terbesar DAP" ("Hannah Yeoh is the biggest hypocrite in DAP") – alleged that Yeoh had mixed politics with her Christian faith.
Kamarul Zaman further alleged that this was despite Yeoh's party being at the forefront in championing secularism.
In her report at the USJ police station, Yeoh alleged that 16 others, including PAS portal Harakahdaily and Malay daily Utusan Malaysia, as well as a number of blogs, had carried the defamatory essay.
http://www.freemalaysiatoday.com/category/nation/2017/05/24/sisters-in-islam-hannah-just-sharing-her-personal-journey/
--------
URL: https://www.newageislam.com/islam-women-feminism/minor-girls-marriage-48-year/d/111267
New Age Islam, Islam Online, Islamic Website, African Muslim News, Arab World News, South Asia News, Indian Muslim News, World Muslim News, Women in Islam, Islamic Feminism, Arab Women, Women In Arab, Islamophobia in America, Muslim Women in West, Islam Women and Feminism