New Age Islam News Bureau
14 Dec 2016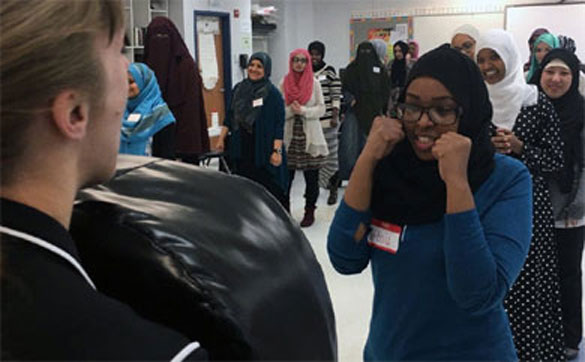 Iftou Yoya practices her punch at a self-defense class at the Al-Amal School in Fridley over the weekend. Max Nesterak | MPR News
--------
• Enthralling Music: US Artist Emphasises Women Empowerment
• Turkish Authorities Detain Two Female Pro-Kurdish Lawmakers
• Chelsea Handler Slams White Female Trump Voters in Essay
• Tourism Sector to Employ 1.7m Saudi Youth By 2020
• Senate Panel Rejects PTI's Women Representation Bill
Compiled by New Age Islam News Bureau
URL: https://newageislam.com/islam-women-feminism/minnesota-muslim-women-turn-self/d/109379
-------
Minnesota Muslim women turn to self-defense courses after hate crimes rise
Dec 13, 2016
With the number of hate crimes targeting Muslims on the rise in the U.S., some Muslim-Americans are responding by taking self-defense courses.
Nausheena Hussain organized a self-defense class last weekend in Fridley because she wanted her fellow Muslim WOMEN to be prepared for the worst.
"Given the sort of negative national rhetoric around Muslims we've been seeing across the nation ... we wanted to make sure we could prepare the women just in case something were to happen," said Hussain, executive director of RISE (Reviving the Islamic Sisterhood for Empowerment).
• Somali-Minnesotan lawmaker: DC cab driver threatened me
FBI statistics show the number of assaults on Muslims in 2015 was the highest it's been since just after the Sept. 11, 2001 terrorist attacks. And the Southern Poverty Law Center recently reported 867 hate incidents in the 10 days after the presidential election.
The Saturday class at Al-Amal School class was taught by Brooklyn Park police Sgt. Toni Weinbeck, who demonstrated basic self-defense strategies like punching, elbowing and kicking. She described simple safety precautions like being aware of your surroundings and staying in well-lit areas.
Many of the group of about 20 women who attended the class said they have already had experiences that make them feel unsafe.
Paige Ingram said a man once tried to pull off her hijab. Amina Gouse said she was chased through a parking lot. Hussain said she's been yelled at from passing CARS.
Other women said they've never been attacked or intimidated, but they've begun to feel less safe in recent weeks.
"I've never actually felt threatened or unsafe until after the elections," said Iftou Yoya, a new executive board member for RISE. "And I feel like a lot of people have those same sentiments now."
During a visit to a mosque in Virginia Monday, U.S. Attorney General Loretta Lynch railed against the spike in hate crimes against Muslims, saying they "stain our dearest ideals and our nation's very soul."
Hussain says she plans to organize more self-defense trainings since so many women showed interest in the class.
https://www.mprnews.org/story/2016/12/13/minnesota-muslims-self-defense-hate-crimes
-------
Enthralling music: US artist emphasises women empowerment
December 14, 2016
islamabad-US musician Mahogany Jones and her band introduced hip hop to an excited audience at Aiwan-e-Quaid Hall, a US embassy statement said on Tuesday. The group's performance, sponsored by the American Embassy, emphasized the importance of women empowerment.
Mahogany Jones visit to Pakistan coincides with the '16 Days of Activism against Gender-Based Violence', November 25-December 10.
The group conducted a variety of performances and workshops in Pakistan organized by 'American Voices' and 'The Kuch Khaas Centre for Arts, Culture, and Dialogue'.
"It is a privilege to be in Pakistan during the 16 Days against Gender-Based Violence Campaign," lead performer Mahogany Jones said.
"In this program, I have been running workshops with Pakistani young artists and look forward to the collaborations. Pakistan is brimming with talented and socially committed young performers."
American Ambassador David Hale welcomed the musical group to Islamabad and commented on the power of music to educate.
"Music can challenge our understanding of the world, open our minds to new ideas, and bridge cultural gaps," he said.
The American Embassy supports arts programming through a variety of initiatives. Each year, with US government support, dozens of Pakistani musicians participate in programs like the Pakistani Showcase at South-by-Southwest Music Festival, the Dosti Music Project, and Daniel Pearl World Music Days.
http://nation.com.pk/islamabad/14-Dec-2016/enthralling-music-us-artist-emphasises-women-empowerment
-------
Turkish authorities detain two female pro-Kurdish lawmakers
Dec 13, 2016
Turkish authorities have arrested two pro-Kurdish lawmakers for alleged links to Kurdish militants.
Caglar Demirel, representing the largest Kurdish-populated city of Diyarbakir, and Besime Konca, from the city of Siirt, were arrested on Tuesday. They are both with the pro-Kurdish Peoples' Democratic Party, also known as the HDP.
In a message posted on Twitter, the HDP said, "Head of the party's parliamentary group, Caglar Demirel, and Siirt MP, Besime Konca, were unlawfully detained in front of our (Ankara) headquarters."
Turkey's state-run Anadolu news agency said that two WOMEN were held as part of an anti-terror investigation.
The country's Dogan news agency said Konca was taken to court in the southeastern province of Batman, where she was released under "judicial control."
The agency said an investigation had been launched into the lawmaker after she allegedly spoke at the funeral of a man killed during security operations against Kurdish militants in the southeastern city of Diyarbakir.
Reacting to the latest arrests, Cabbar Leygara, who is the co-president of the HDP in Diyarbakir, said Kurdish people wanted to be a part of peaceful parliamentary politics, adding, "We want democracy to win in Turkey."
In May, the Turkish parliament adopted a bill that lifted immunity for dozens of lawmakers, which government critics feared would see HDP lawmakers face criminal prosecution and lose parliamentary seats.
Turkish police officers detain protesters in Kadikoy district in Istanbul during a demonstration against the arrest of nine pro-Kurdish lawmakers, November 6, 2016. (Photo by AFP)
On Monday, nearly 240 people were also arrested for similar charges.
Turkey's Interior Ministry said the detentions were made in 11 provinces, adding that the 235 people were held on charges of "spreading terror group propaganda" over social media and acting on behalf of the Kurdistan Workers' Party (PKK).
Among those arrested were nearly 120 officials of the HDP, the second-largest opposition party in the Turkish parliament.
The main leaders of the HDP have already been jailed pending trial over alleged ties to the PKK. Ankara accuses the HDP of acting as the PKK's political arm.
http://www.presstv.ir/Detail/2016/12/13/497743/Turkey-HDP-lawmakers
-------
Chelsea Handler Slams White Female Trump Voters in Essay
Published December 13, 2016
Chelsea Handler is facing heat for an essay she penned this week calling for WOMEN to come together and support each other.
However, in the same essay published by Thrive Global, Handler singles out white female voters who supported Donald Trump -- a move that many are calling hypocritical.
Handler said there is a problem with "women supporting women" in the United States.
"One of the saddest things about November 8," she added, "were the women of America who somehow managed to vote for Donald Trump, specifically the 53 percent of all white female voters who chose Mr. Trump."
Handler noted that America "is a free country, and we are free to differ on public policy" but "what kind of a woman votes for a white, entitled rich guy who has spent his entire life working the system for excess personal profit while insatiably groping strange women for personal pleasure.
She said it was especially frustrating because Hillary Clinton is "arguably the mostly qualified Presidential candidate in modern American history " and would have "lift[ed] America up out of its 240-year 'winning streak' of male dominance and patriarchy."
She also said that "94 percent of black women voted for Hillary Clinton, because unlike white women, black women don't take their rights, liberties, or justice for granted."
Source: foxnews.com/entertainment/2016/12/13/chelsea-handler-slams-white-female-trump-voters-in-essay.html
-----
Tourism sector to employ 1.7m Saudi youth by 2020
Dec 14, 2016
By Fatima Muhammad
JEDDAH — Up until now the tourism sector has provided 1,329,000 jobs to Saudi youth and it aims at employing 1,700,000 by 2020.
Princess Noura Al-Saud from the National Center for Human Resources in the Tourism Sector (Taqamul) highlighted the role that the tourism sector can play in providing job opportunities for youth of both genders as well as the various business opportunities it can OFFER.
She noted that researches in the Kingdom have found that the sector lacks manpower, facilities and training. She also noted that the small and medium businesses operating in the sector are employing 50% of the overall people in the sector.
The princess was speaking at the Women Empowerment and Integration Forum here on Monday evening.
Globally, she noted, women constitute 46% of the manpower working in tourism, and they are developing the sector to meet the demand and overcome the obstacles in the sector. She mentioned that they have provided 110,000 training workshops which serviced 700 individuals.
Haytham Banawi, head of the employment at the Human Resource Development Fund, said women in the kingdom tend to restrict themselves to only work places that are private. "We work on improving the work environment but women must have vision to work in different sectors and under different conditions," said Banawi.
"My goal is to become a minister!" said Nadia Ba'ashin, dean of Jeddah International College, a statement that provoked the audience, majority of which were women who uploaded her dream by clapping.
Ba'ashin was speaking about how WOMEN can set their priorities and decide on their goals. She added that she would write down her goals and prioritize them and achieve what is achievable.
Ba'ashin was talking to female university students and encouraged them not to put marriage as an ultimate goal but proceed their lives and advance in their education and career instead of waiting for a man. "In my age marriage was the one and only goal of a woman. This should change in your generation! Invest in your own selves, get training and advance your career," she said.
She also encouraged women to take care of their health, spirits and families to achieve a balance between personal and work life.
http://saudigazette.com.sa/saudi-arabia/tourism-sector-employ-1-7m-saudi-youth-2020/
-------
Senate panel rejects PTI's women representation bill
Dec 14, 2016
ISLAMABAD: The Senate Standing Committee on Law and Justice on Tuesday rejected a private members' bill seeking to ENHANCE women's representation in the district and civil courts.
The members of the committee headed by Javed Abbasi of the ruling Pakistan Muslim League-N (PML-N) were of the view that there was no need of the legislation at the moment since "adequate representation" of women in the judiciary was already being ensured through merit.
The bill, titled "the Civil Courts (Amendment) Bill 2016" had been moved by Senator Azam Swati of the Pakistan Tehreek-i-Insaf (PTI) in September.
Through the bill, the PTI senator had sought amendments to the Civil Courts Ordinance 1962 and suggested that one-third of the total number of additional district and civil judges "shall be WOMEN".
It may be recalled that the same committee had previously rejected a similar constitution amendment bill moved by PPP's Babar Awan seeking more representation of women in the higher judiciary.
The Statement of Objects and Reasons attached to Mr Swati's bill stated that the bill strived to encourage and promote adequate representation of WOMEN in the judiciary. "Although there are women judges in the district courts, their number is far from adequate. It is thus the aim of this bill to acknowledge the representation of women as judges in the district court," it says, adding: "A woman judge represents the lives, the sensibilities, and impacts of the law on more than half of the population of the country."
Interestingly, the committee's meeting was attended only by the four members of the PML-N, including its chairman, as no opposition member turned up at the meeting despite the fact that a number of opposition's bills were on the agenda.
Due to the absence of the movers, the committee deferred consideration of the Constitution (Amendment) Bill 2016 and the National Commission for International Law and Commitments Bill 2016, moved by the PPP senators.
The committee also discussed the recommendations of the Senate Standing Committee on FINANCE that the Pakistan Bureau of Statistics (PBS) should be given autonomy and representation from all the provinces.
Senior officials of the Statistics Division informed the committee that the PBS enjoyed functional autonomy as per law and that its governing council already had representation from all the four provinces.
The Committee while expressing satisfaction over the reply of the Statistics Division disposed off the matter.
The meeting was attended by Senators Saleem Zia, Nehal Hashmi, Ayesha Raza Farooq and Minister for Law and Justice Zahid Hamid. Secretary of the Ministry Karamat Hussain Niazi and officials of the other relevant departments were also present.
During the meeting, Law Minister Zahid Hamid once again criticised the opposition for doing politics over its bill seeking formation of a commission to hold inquiry into Panamagate scam.
The bill has been pending before the committee for the past over two months and it has failed to make a final decision on the issue due to a deadlock between the government and the opposition.
Published in Dawn December 14th, 2016
https://www.dawn.com/news/1302231/senate-panel-rejects-ptis-women-representation-bill
-------
URL: https://newageislam.com/islam-women-feminism/minnesota-muslim-women-turn-self/d/109379
New Age Islam, Islam Online, Islamic Website, African Muslim News, Arab World News, South Asia News, Indian Muslim News, World Muslim News, Womens in Islam, Islamic Feminism, Arab Women, Womens In Arab, Islamphobia in America, Muslim Women in West, Islam Women and Feminism, Moderate Islam, Moderate Muslims, Progressive Islam, Progressive Muslims, Liberal Islam