New Age Islam News Bureau
7 Nov 2018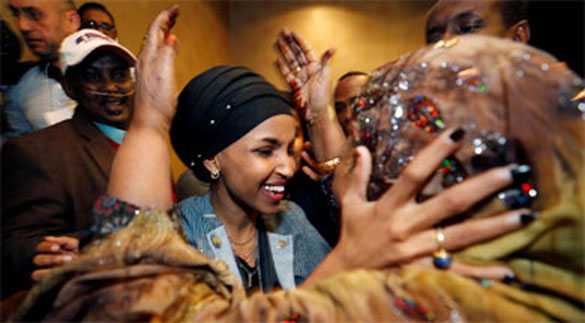 Democratic congressional candidate Ilhan Omar is greeted by her husband's mother after appearing at her midterm election night party in Minneapolis, Minnesota, U.S. November 6, 2018. REUTERS/Eric Miller
-----
• Iran Sentences 24 Protestors, Including Two Women
• Saudi Princess' Trunk Show Lights up Restaurant with Inspiring Fashion
• Increased GCC Applicants for Cartier Women's Initiative Awards
• Indonesian StartUp Uses Road Safety to Drive Women's Empowerment
• Women Corporate Sponsorship Program Launched
• Nine Iranian Women Activists Summoned for Questioning at Tehran's Evin Prison
Compiled by New Age Islam News Bureau
URL: https://www.newageislam.com/islam-women-feminism/minnesota-michigan-send-first-muslim/d/116818
--------
Minnesota, Michigan Send First Muslim Women to US Congress
November 07, 2018
CHICAGO: Voters in Minnesota and Michigan on Tuesday elected the first two Muslim women to serve in the US Congress, a former refugee who fled Somalia's civil war and a Detroit-born Palestinian-American.
The victories by the two Democrats — Ilhan Omar and Rashida Tlaib — came on an election night when members of multiple minority groups had a chance to score electoral firsts.
In Florida, Lebanese-American Donna Shalala is starting a third career with her election to the House, after serving in President Bill Clinton's Cabinet and running major universities.
In Minnesota, Omar, about 36 and a naturalized American citizen and state representative, follows another trailblazer: She will succeed US Congressman Keith Ellison, who in 2006 became the first Muslim elected to Congress and is stepping down to run for state attorney general.
The Minneapolis woman campaigned on policies embraced by the Democratic Party's most liberal wing: universal health care, free college tuition and robust public housing.
"I did not expect to come to the United States and go to school with kids who were worried about food as much as I was worried about it in a refugee camp," Omar said in an interview last month. She spent four years of her childhood in a refugee camp in Kenya.
Two years ago, she became the first Somali-American to win a seat in a state legislature, on the same night Republican Donald Trump won the presidency after a campaign in which he called for a ban on all Muslims entering the United States.
Omar wsill also be the first Congress member to wear a Muslim hijab, or head scarf.
Tlaib, 42, also has a history of breaking barriers: In 2008 she became the first Muslim woman elected to the Michigan Legislature.
The oldest of 14 children, Tlaib was born to a family of Palestinian immigrants in Detroit, where her father worked at a Ford Motor Co. plant.
The former state representative also ran on a liberal platform, backing Medicare for All, immigration reform and a call to overturn Trump's executive order banning most people from five Muslim-majority nations from entering the United States.
Both women ran in heavily Democratic districts. Minnesota state data showed Omar winning by a large margin, and Michigan media reported that Tlaib had won.
Tlaib linked her campaign to the surge of female political activism in the United States following Trump's stunning 2016 victory, alluding to the millions of women that took to the streets of Washington and major cities across the country after his inauguration.
"Today, women across the country are on the ballot. Yes, we marched outside the Capitol, but now we get to march into the Capitol," she wrote on Twitter on Tuesday. "We are coming!"
Meanwhile, 77-year-old Democrat Shalala won in a Miami district that had long been in Republican hands. Shalala has sought to turn her age into a positive by stressing her experience with this slogan: "Ready on Day One."
Shalala served as Clinton's secretary of Health and Human Services for his entire presidency and has made health care a centerpiece of her agenda. She was president of the University of Wisconsin before that, and after Cabinet service she ran the University of Miami until 2015.
After that, Shalala was president of the Clinton Foundation until 2017. She counts the Clintons as close friends; Hillary Clinton campaigned for her this year in Miami.
Asked in a recent interview why she chose to take this fresh path after such a long career, Shalala said: "What I decided in my mind was that I wasn't finished with public service. I wanted to take a shot."
Shalala is originally from Cleveland, is of Lebanese descent and has a twin sister. She has lived in the Miami area since 2001.
http://www.arabnews.com/node/1400546/world
--------
Iran Sentences 24 Protestors, Including Two Women
6 November 2018
Iran's judiciary convicted at least 24 protesters, including two women, on vaguely defined national security charges, Human Rights Watch said today.
Their prison sentences ranged from six months to six years.
They were among more than 50 people arrested on August 2 during a protest in Tehran about deteriorating economic conditions and corruption.
Authorities also arrested a human rights lawyer who had been convicted to three years in prison for reporting a protester's death in detention on October 28.
"Iranian government officials repeatedly advertise to the world that the repeated protests in the country signal that there are real freedoms in Iran, while these same protestors languish in prison for years," said Michael Page, deputy Middle East director at Human Rights Watch.
"Prosecuting peaceful protesters will only add fuel to Iranians' boiling frustration and discontent with the situation."
Three sources with close knowledge of the protesters' cases told Human Rights Watch that prosecutors charged them with "assembly and collusion against national security" due to "participating in a protest without a permit that disrupted public order."
In the sentencing of at least two people, including Saba Kordafshari, 19, the evidence prosecutors presented was solely their social media posts reporting on the protest.
Two sources reported to HRW that prosecutors and prison officials denied the detainees access to a lawyer throughout the investigation and the trial and pressured them to plead guilty.
Iranian law restricts the rights of detainees charged with national security crimes to see a lawyer during the investigation period.
https://english.alarabiya.net/en/News/middle-east/2018/11/06/Iran-convicts-24-protestors-including-two-women.html
--------
Saudi Princess' Trunk Show Lights up Restaurant with Inspiring Fashion
November 06, 2018
RIYADH: Nozomi, a high-end Japanese restaurant in Riyadh, was turned into a mini runway, complete with models, emerging and well-known local and international fashion designers, when the founder of the Saudi fashion community, Princess Noura bint Faisal Al-Saud, held a private trunk show on Monday.
The participating designers showcased their latest fashion at Nozomi in a private and exclusive show. The princess, who is also the founder of Global Fashion House, and whose vision is to enable Saudi designers to emerge, aims to support them and on Monday had their work displayed.
With background music playing loud and sushi and fancy drinks being served, the five emerging local designers opened the show. Shams hit the runway first with her designs. The one that stood out was a floor-length black chiffon dress that was short at the front and hit the floor with a meter-long train in the back, buckled securely by a red chiffon belt with a large flower at the back.
Khawla Al-Harbi was second, with eclectic designs, and each one different. Her first design was white pants also supporting a top with a train and massive earrings and hold boots. Her designs were dominantly white, the last a long dress adorned in large silver fish scales.
Mashael Al-Nassar's designs were a unique blend of see-through fabrics, which was very modern and elegant. Ashwag Al-Mutairi's collection featured white high-waisted pants and a sequined black top.
Saja Yousef stood out with her all-white attire collection. The first was an ankle-length white dress and jacket which was the same color and length of the dress. But she has designed not only clothes but also bags, which the models showcased during the event. The invitees were impressed by the emerging Saudi designers. One exclaimed that they had the potential to be recognized worldwide, with a little more work and experience.
Even at an all-female event, the guests were immaculately dressed, wearing exquisite abayas of different colors and designs. It was a fashion trunk show, after all. But most notable was an abaya by designer Nouf G, who was draped in a red Shomakh (red Saudi head cloth) abaya, with the other half of a light grey tribal design. "Each one of my abayas has a story. A unique story. I make one of each design only," Nouf G said.
After the top Saudi emerging designers finished, the Saudi favorites took over, with names such as Lum by Lama Taher, RE:UNITE, Hindamme and Mashael Al-Rajhi. Each of the designers had a unique and signature look.
The Lum ball gowns were the essence of sophistication and femininity. RE: UNITE by Noora Al-Harthi was trendy and stylish. Hindamme by Mohammed Khoja featured the famous bomber jackets and cool attire galore. Al-Rajhi was a unique blend of tribal, color and artistic designs. The night concluded with fashion international stars Lama Askari and Tony Miranda.
Askari spoke to Arab News about the inspiration behind her beautiful pastel gowns: "The inspiration behind the collection was the butterfly effect, the transformation from the caterpillar to the butterfly. Most of the colors I used had two to three combinations, even in the embroideries. Because butterflies inspired me, I tried to stick to the color scheme I found in real butterflies."
Princess Noura ended the night energetically as she said: "The attendance was more than we expected. We were getting last-minute calls to attend (the show was private and by invitation only). Everyone was so positive, in a good mood and very proud to show their work.
"I am proud of these Saudi designers. Everyone was so stunned by their work. It was exciting and hectic." After the show, many of the attendees asked to meet the emerging local designers to buy their designs.
Asked which of the emerging designers was her favorite, the princess said: "Each one of them has their own style. Whatever is inside them came out today, I saw it.
"The event was better than I expected. I want aspiring or emerging designers to come out and show what they really are."
http://www.arabnews.com/node/1400466/saudi-arabia
--------
Increased GCC Applicants for Cartier Women's Initiative Awards
November 06, 2018
Cartier and Alfaisal University recently conducted a first-of-a-kind lecture and introduction to their women's initiative to support women entrepreneurs at the university campus in Riyadh. This year's Cartier Women's Initiative Awards applications number over 2,800 worldwide, with the MENA region ranking first in terms of submissions. It is the first time the program has received applications from Saudi Arabia, which accounts for nearly a quarter of the region's 895 candidacies.
To further encourage the region's female entrepreneurs, the Cartier Women's Initiative Awards hosted a breakfast presentation for 200 students at Alfaisal University in Riyadh on Oct. 31. The university's students have singular opportunities for collaborative research and international study. Furthermore, student associations, clubs, and organizations provide opportunities for both personal and professional growth as the university seeks to graduate socially responsible global citizens that are committed to lifelong learning and personal development in service to others.
"We are very proud to be hosting this Cartier Women's Initiative Awards presentation, which aims to raise awareness about the program among the country's students and youth," said Alban du Mesnil du Buisson, managing director, Cartier Saudi Arabia.
Launched in 2006 to support for-profit startup projects by female entrepreneurs, the Cartier Women's Initiative Awards encourage bold ideas and creative excellence.
"Cartier has over the years cemented strong ties with the MENA region, and more specifically Saudi Arabia. We are delighted to see such significant increase in Cartier Women's Initiative Awards candidates in our region," said du Buisson.
Seema A. Khan, member of the advisory board for Alfaisal College of Business, was the opening key note speaker for the Cartier Women's Initiative Awards launch in Saudi Arabia and was selected for her contributions to opening the door for minorities on Wall Street and Riyadh's "Main Street."
"Cartier is known for valuing the contribution of their people and other cultures as a magical mix that results in beautiful works of arts. This initiative is bringing their appreciation of value to the market in general by profiling women globally who drive real impact in their communities and markets," Khan said.
She is a partner of The Seed Advisory Group, a New York-based global strategy firm.
"Building projects that go beyond the fleeting fashions of the day is at the core of Cartier's values, which is why promoting impact-driven businesses through such programs as Cartier Women's Initiative Awards is indispensable. It is part of who we are and what we strive for," added Sophie Doireau, managing director, Cartier UAE and India.
http://www.arabnews.com/node/1400336/corporate-news
--------
Indonesian StartUp Uses Road Safety to Drive Women's Empowerment
2018-11-06
By Michael Taylor
KUALA LUMPUR — Iim Fahima Jachja cannot operate a vehicle and relies on a driver to get around the Indonesian capital, Jakarta, but that did not stop her from putting road safety at the heart of her women's empowerment startup.
Since launching in late 2016, Queenrides has attracted 200,000 members to join its website.
Aside from reading articles about lifestyle and financial management, members can also gather in person for workshops covering topics like sexual health and family planning.
But road safety has been a focus from the beginning said, Jachja, a mother of two.
"When you are safe on the road, you can be the best you want to be," she told the Thomson Reuters Foundation by phone from Jakarta.
Road deaths are high in Indonesia, according to the Transport Ministry, which counted 162,000 fatalities last year, compared to 136,000 in 2015.
In a country undergoing rapid urbanization as incomes increase, more people are buying vehicles, putting stress on the road network. Many drivers avoid taking tests by paying corrupt officials for driving licenses, said Jachja.
The road risks are rising for women in particular, she said, because changing social attitudes mean that more of them are working and commuting.
At the same time, relatively few women have taken driving lessons and tests to acquire licenses, she said. Only about 20 percent of 7,500 Queensrides members surveyed said they had taken a driving test.
"This is a major issue —this is a crisis — but people haven't noticed the situation," said Jachja about the number of road deaths in Indonesia.
Low-income countries have fatality rates more than double those in high-income countries, according to the World Health Organization (WHO).
There were 104 million registered vehicles in Indonesia, a nation of 238 million people, according to the WHO's latest report on road safety published in 2015.
As well as enabling its members to exchange views and learn more about road safety online, Queenrides arranges workshops with input from the ministry of transportation and traffic police.
Participants have gone on to take driving lessons and tests, said Jachja. That trend could make Indonesia's roads safer, said Liviu Vedrasco, a road safety expert at the WHO in Bangkok.
"There are some studies that suggest women are more careful and follow the rules better than men," he noted.
One of the Sustainable Development Goals set by the United Nations in 2015 is to halve the global number of deaths and injuries from road traffic crashes by 2020, said Vedrasco.
As the number of female drivers increases, Indonesia's ministry of transportation has stepped up efforts to reduce crashes involving women by working with outside partners, said Budi Setiyadi, director of land transport at the ministry.
"Queenrides is needed for women riders in Indonesia to be given a good education in driving safely, because women have a primary role," Setiyadi said in an email.
"They can educate their children, their families, and the surrounding environment."
As more Indonesian women join the workforce and take to the roads, Queensrides can also help them assert control in other areas of their lives, according to Jachja.
For example, about 30 members gathered last month in child-friendly cafe in Jakarta to discuss family planning, and strategies for educating their teenaged children about sex.
The United States-based Johns Hopkins University sent experts to the workshop part of a program targeting "married women of reproductive age", according to Dinar Pandan Sari of the university's Centre for Communication Programs in Jakarta.
"The fact that in just two years, Queenrides has been able to grow from an idea to 200,000 women joining their movement is remarkable," Sari added.
Queenrides teams up with other organizations to provide information on issues like women's rights, while members can also receive financial planning advice from institutions including Indonesia's Bank Mandiri.
As Queensrides' membership grows, revenue from advertising on the website should increase as well, allowing the startup to expand its programs, according to Jachja.
She said she aims to attract 5 million members over the next three years, making Queensrides the biggest women's empowerment platform in Southeast Asia.
"If you can conquer Indonesia, it is easy to conquer any other area in the world," said Jachja about her homeland, a sprawling archipelago of more than 17,000 islands, and a multitude of languages and cultures.
"Conquering Indonesia is like conquering five countries at the same time." — Thomson Reuters Foundation
http://www.saudigazette.com.sa/article/547321
--------
Women Corporate Sponsorship Program Launched
2018-11-04
DUBAI – In line with the initiatives launched as part of the Year of Zayed, Global Women In Leadership (WIL) Economic Forum announced Sunday the launch of its Women Corporate Sponsorship Program WCSP. This initiative, which Global WIL launched together with its partners will allow Saudi female leaders and young entrepreneurs access to the forum at a reduced rate or fully paid for.
The meeting which will be taking place on November 14-15 in Dubai, United Arab Emirates, under theme 'Stretch: Aspiring for more', is held under the patronage of. Sultan bin Saeed Al Mansouri, UAE Minister of Economy, and organized by Naseba. The meeting is set to bring together a diverse group of leaders in the worlds of business, politics, arts and media to share strategies and insights in an aim to shape a sustainable future economy.
"Celebrating the Year of Zayed is something that goes hand in hand with our values at Global WIL, and is a great occasion to partner with private sector organizations who share a common desire to support women in the workplace and impact society in a very pragmatic way. The legacy of giving as well as the UAE values of hospitality, generosity, tolerance and sense of unlimited possibilities shaped our Women Corporate Sponsorship Program," said Sophie Le Ray, CEO of Naseba.
"We are very proud to bring this initiative forward to all our WIL platforms around the world and are calling global and local organizations to participate and foster new opportunities for women to thrive in the marketplace," she added.
The WCSP will be awarding up to 200 tickets to female managers, executives and entrepreneurs who are the next generation of leaders, giving them the opportunity to, for the duration of two days, connect with like-minded individuals, attend interactive workshops and sessions by recognized world leaders, share best practices, successes, ideas and encourage debates, to become better equipped to lead their organizations and communities.
Sodexo Middle East, one of Global WIL partners in this initiative, believes that championing diversity and inclusion in the society should be at the core of every company's responsibility. In only two years, the company successfully managed to surpass major milestones on the way to reaching its overall D&I objectives.
"At Sodexo, we believe that a successful business should look beyond only profit, and take its responsibility to make a positive impact on the society it operates in," said Simon Seaton, CEO Global Onshore Energy & Head of Middle East, Sodexo
"As a global company we have taken on a number of initiatives that emphasize our commitment to diversity and inclusion, and more so, our Middle East operations has a firm commitment in place to have gender-balanced recruitment and promotion processes. As a result, Sodexo ME has seen a 40% increase in the number of female talents in leadership and senior management positions over the past two years, this even reflects at the board level, where we recently appointed the first female member to a Sodexo joint venture in the Middle East," he added.
To request a voucher under this initiative, women are encouraged to visit the Global WIL WCSP website to complete the form, after which they will be contacted by the Global WIL team to facilitate their registration. With only 200 vouchers release as part of this initiative, it is highly recommended to register at the earliest.
"We recognize that driving one›s career in the corporate world is complex, enduring and rewarding if supported by sponsors and mentors along the way. Through this initiative, we want to connect the next generation of female talent with today's most prominent leaders, in order to learn and enhance their leadership skills," added Le Ray.
In its tenth edition, Global WIL Economic Forums' agenda boasts yet another impressive lineup of speakers across a wide range of industries and career accomplishments, such as Hind Alowais, Vice President, International Participants, EXPO2020, Osman Sultan, CEO, DU, Alisha Moopen, Executive Director and CEO, Aster & Medcare Hospitals & Clinics, Sylvia Metayer, CEO, Corporate Services Worldwide Sodexo, Sheikh Hussein Al-Banawi, Chairman and CEO, Banawi Industrial Group (B.I.G), and Mariah Idrissi, the first hijab wearing model in an international fashion campaign, to name a few. All of who will address topics such as diversity and inclusion, innovation, arts & culture, CSR, and creating a socioeconomic impact through investment and entrepreneurship.
Additionally, the Forum agenda includes a range of sessions, inspiring keynotes, and interactive panel discussions centered around women in the fields of science, technology, engineering, and mathematics (STEM), education, finance, healthcare, female tech entrepreneurs, creating sustainable workplaces, hiring and retaining diverse talent. — SG
http://saudigazette.com.sa/article/547203
--------
Nine Iranian Women Activists Summoned for Questioning at Tehran's Evin Prison
6 November 2018
Nine women activists were summoned for questioning at Tehran's infamous Evin Prison, the primary site for the housing of Iran's political prisoners since 1972, Iranian lawyer Amir Raisian said.
The lawyer told Iranian news agency IRNA that these activists were interrogated and charged this week, citing documents from the Office of the Attorney General in Evin.
He added that the warrant failed to mention the reasons behind pressing charges and that the prosecutor said the women were summoned in order for the prosecution "to only make some inquiries."
Meanwhile one of the activists, who asked the news agency to remain anonymous, stated that she was summoned with nine other activists and that there were more activists who would be summoned and questioned in the coming weeks at the Evin Prison as well.
Iranian authorities are arresting many activists on various charges, such as propagating against the regime, or threatening national security.
On Monday, the Iranian judiciary released Huda Ameen on bail after she was arrested for more than two months on charges of "attempting to dismantle family structures" by setting up training workshops on "conditions of marriage contracts" and "equality in domestic work."
However, other activists such as Najma Wahidi, Mariam Azad and Radwanah Mohammadi who work in the field of women's rights, were arrested along with Huda Ameen on similar charges. They are still being held by security forces.
Human rights groups say Iranian authorities deny women detainees the right of visitations or to call their family members, and they are also denied the right to choose a lawyer.
The activists' relatives say they are forced to only choose from a list of 20 government lawyers.
https://english.alarabiya.net/en/News/world/2018/11/06/Nine-Iranian-women-activists-summoned-for-questioning-at-Tehran-s-Evin-Prison.html
--------
URL: https://www.newageislam.com/islam-women-feminism/minnesota-michigan-send-first-muslim/d/116818
New Age Islam, Islam Online, Islamic Website, African Muslim News, Arab World News, South Asia News, Indian Muslim News, World Muslim News, Women in Islam, Islamic Feminism, Arab Women, Women In Arab, Islamophobia in America, Muslim Women in West, Islam Women and Feminism