New Age Islam News Bureau
9 Feb 2019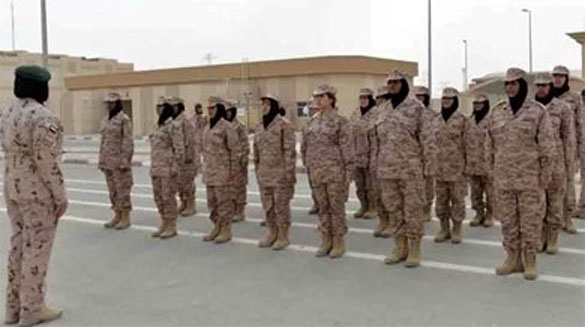 The military and peacekeeping program for Arab women was launched this week at the Khawla bint Al Azwar Military School in Abu Dhabi. (WAM)
-----
• Syria Amends Civil Law Giving Women More Rights
• Pakistan Women's Rights Activist Released From Detention
• A Cafe Giving Hope to Women In Pakistan's Lyari
• Khatija Rahman, AR Rahman's Daughter, Has Now Opened Up On Facebook to Defend Her Father
• Muslim, Christian Leaders List Evidences against Female Circumcision
• Canadian Women Emerge From ISIS's Crumbling Caliphate
• Jeddah's Effat University Celebrates A 'Female Success Story'
• This Young Jewish Woman and A Young Muslim Woman Teach School kids About Racism
• Is Australia Targeting Saudi Women Fleeing Oppression?
• 60 women complete 5-day trek from Abu Dhabi to Al Ain
• Emirati Women Scale Significant Heights At All Fronts: Shaikha Fatima Bint Mubarak
• Very few women nominated as mayoral candidates in Turkey's local polls
Compiled by New Age Islam News Bureau
URL: https://www.newageislam.com/islam-women-feminism/military-peacekeeping-programme-arab-women/d/117703
--------
Military and Peacekeeping Programme for Arab Women Launched
February 05, 2019
A ceremony to mark the launch of the military and peacekeeping programme for Arab women was held today at the Khawla bint Al Azwar Military School in Abu Dhabi.
Staff Colonel Afraa Saeed Al Falasi, Commander of the Khawla bint Al Azwar Military School; Noura Al Suwaidi, Director-General of the General Women's Union; Dr. Mouza Al Shehhi, Executive Director of the UN Women's Liaison Office for the GCC; senior military officers; and representatives of Ministry of Foreign Affairs and International Cooperation attended the ceremony.
Speaking on the occasion, H.H. Sheikha Fatima bint Mubarak, Chairwoman of the General Women's Union, GWU, President of the Supreme Council for Motherhood and Childhood, and Supreme Chairwoman of the Family Development Foundation, FDF, said the UAE's collaboration with UN Women to host the Arab women military and peacekeeping capacity-building training programme was a testament to the great confidence in the country's leadership. The UAE signed a Memorandum of Understanding with UN Women on 28th September, 2018, to develop the capabilities of Arab women in military and peacekeeping operations.
Sheikh Fatima affirmed the UAE's success in achieving gender balance and stressed the importance of women's representation in all work avenues. She highlighted the UAE's support to women's participation in maintaining peace and security in the Arab region, and around the world. She noted the presence of women in peacekeeping missions was necessary and contributed significantly to the effectiveness of such operations. It also gives women the ability to perform their duty towards their countries and the needy around the world.
Mohammed bin Ahmed Al Bowardi, Minister of State for Defence Affairs, emphasised the ministry's strong interest in training Arab women in the fields of military and peacekeeping operations. He said the UAE was committed to advancing the agenda of women, peace and security, and fast-tracking the adoption of Security Council Resolution 1325 at home and abroad.
Al Bowardi added that the UAE was committed to providing women with the necessary skills to contribute to global peace and security, defending the interests of the state and providing humanitarian assistance during crises. The programme has more than 100 participants from seven Arab countries, including the UAE.
Staff Colonel Afraa Al Falasi said, "Khawla bin Al Azwar Military School is honoured to host the first batch of trainees for this programme, the first of its kind to be held in an Arab country. Participants will be trained in military sciences, including infantry, weapons, combat paramedics, internal security, field engineering, physical fitness, Jiu Jitsu, martial arts, defence, coexistence, field skills and topography."
The programme will contribute to preparing women officers for the United Nations peacekeeping operations, increase the number of women qualified to serve as officers in the army, and establish support networks for women interested in military action and peacekeeping.
https://www.emirates247.com/news/emirates/military-and-peacekeeping-programme-for-arab-women-launched-2019-02-05-1.679147
--------
Syria Amends Civil Law Giving Women More Rights
February 08, 2019
Sami Moubayed
Damascus: Syria's parliament passed groundbreaking amendments to the country's civil law—in place since 1953—including raising the minimum age for marriage to 18.
During the war child marriage spiked dramatically as economic conditions worsened in the country and families found themselves in compromising positions.
Before the war, marriage age was fixed at 17—but exceptions were allowed if girls as young as 12 were capable of proving they were "physically and mentally" ready for married life.
Now such legal waivers—which many young girls had been forced to sign by their fathers—have been scrapped.
The new law—passed on February 5—also prohibits women being married off by a family member without her verbal consent.
Additionally, women are now allowed to specify in the marriage contract that they forbid their husband from taking a second, third or fourth wife—as permitted by Islamic Sharia.
If a husband does re-marry, without consent of his wife, he is now subject to legal punishment and his wife is empowered to file for divorce.
While the amendments do not abolish polygamy they could upset conservatives in the country who consider men are entitled to marry multiple women according to Islam.
The amended civil law also allows women to inherit from their grandfathers, if the parent dies while the grandparents are still alive.
Previously, only male grandchildren were entitled to such an inheritance.
Additionally, clauses were made amending child-custody rights, which previously kept male children in the care of their mothers until the age of 13, and girls to the age of 15.
Critics argue the legislation is the least of the country's worries given its dire economic condition having just come out of a grueling eight-year war.
They speculate the legislation is aimed at diverting public attention away from acute shortages in electricity and heating fuel, while others say the government was trying to market Syria as a progressive country that was children and women-friendly in an effort to shed the negative publicity that came with the war.
https://gulfnews.com/world/mena/syria-amends-civil-law-giving-women-more-rights-1.61928813
--------
Pakistan Women's Rights Activist Released From Detention
2019-02-07
ISLAMABAD — One of Pakistan's leading women's rights activists has been released from police custody, she told AFP Thursday, after Amnesty International said she and others had been detained "arbitrarily".
Gulalai Ismail was arrested along with 17 other members of the Pashtun Protection Movement (PTM), a peaceful organization defending the rights of ethnic Pashtuns, during a protest in Islamabad on Tuesday.
"It was very painful for my family, who took 30 hours to know where I was," she told AFP, adding that she had been freed late Wednesday.
She was separated from the other activists, she said, and was not placed under official arrest.
"They didn't charge me with anything. They didn't let me contact my lawyer. They just kept moving me around," she said. "You cannot arrest citizens and just disappear them."
An Islamabad police official dealing with the case swept the claims aside. Police follow "a proper procedure and her claims of an encounter are unthinkable," he told AFP, referring to extra-judicial murders, or "encounter killings" as they are commonly known in Pakistan.
He accused Ismail and the other activists of uttering "anti-state slogans".
Ismail was briefly detained in October after speaking at another PTM meeting. Her brief disappearance this week has inflamed social networks, with the hashtag #WhereIsGulalai going viral.
She has been freed, but "as a human rights defender, she is still not safe," said Rabia Mehmood, a researcher for Amnesty International.
"It is really alarming that peaceful protests are constantly targeted by the Pakistani state," she added.
The PTM is demanding, among other things, an end to what it says are enforced disappearances and extra-judicial murders of ethnic Pashtuns by police and other security officials.
Ismail is also the co-founder of Aware Girls, an NGO that promotes gender equality. She has received several international awards. — AFP
http://www.saudigazette.com.sa/article/558668/World/Asia/Pakistan-womens-rights-activist-released-from-detention
--------
A Cafe Giving Hope to Women In Pakistan's Lyari
by Faras Ghani & Zehra Abid
Feb 9, 2019
Karachi, Pakistan - Set up in 2017, the Lyari Girls Cafe is located on the roof of a block of residential flats on a street called Phool Patti (petal) Lane.
The bullet-poked walls of the buildings around the cafe are a reminder of Lyari's past.
The area suffered at least two decades of conflict and almost became an adjective to describe Karachi's violence.
But this cafe, giving hope to female residents, offers English language classes. Makeup and hairstyling lessons are delivered in Kachchi, the language spoken by many in the area.
There are computer classes in Urdu and guest lectures on topics ranging from mental health to photojournalism and cybercrime laws.
https://www.aljazeera.com/news/2019/02/cafe-giving-hope-women-pakistan-lyari-190209055023041.html
--------
Khatija Rahman, AR Rahman's Daughter, Has Now Opened Up On Facebook to Defend Her Father
by Sameer
Feb 08, 2019
Mumbai: AR Rahman's daughter, Khatija attended an event which was organized on the occasion of the 10-year celebrations of the music of 'Slumdog Millionaire'.
Instead of focusing on what she said, many netizens trolled her for wearing 'Hijab'.
Here're a few of the reactions of Twitterati.
According to the report published in Times Now, Khatija defended and said, "The recent conversation of myself on stage with my dad has been doing the rounds. Although, I didn't expect such an overwhelming response. However, there were certain comments which said that this attire is being forced by my dad and that he has double standards. I would like to say that the attire I wear or the choices I make in my life does not have anything to do with my parents. The veil has been my personal choice with complete acceptance and honor. I'm a sane mature adult who knows to make my choices in life. Any human being has a choice to wear or do what he/she wants and that's what I've been doing. Hence, kindly don't make your own judgments without understanding the exact situation. #freedomofchoice #Embracingmyidentity".
Mr. A.R. Rahman also shared his family photograph with caption, "The precious ladies of my family Khatija, Raheema, and Sairaa with NitaAmbaniji #freedomtochoose ".
It may be mentioned that on the occasion, she appreciated her father's generosity and said, "the world sees you for your awards and accomplishments but for me, I think the most important thing that you have done as a father is the values you have taught us. Your humility matters the most for me. Not an atom of your character has changed ever since you won the Oscars. Ten years back and now, you are still the same except the time you spend with us has reduced. I think you are making it up now by taking us on short trips!".
She further said, "I am deeply inspired by your generosity. There are a lot of things (social welfare work) which you do and which you don't tell us and I come to know through third persons". "He (AR Rahman) follows the Prophet (PBUH)", she added.
When she asked her father to give advice for his kids, Mr. Rahman said that he had taught everything he had learned from his mother and now, she has to follow her heart. "Pray to God, he will guide you", he added.
The team of Slumdog Millionaire also attended the celebration.
https://www.siasat.com/news/ar-rehmans-daughter-trolled-wearing-hijab-heres-how-she-defends-1465015/?utm_source=spotim&utm_medium=spotim_recirculation&spotim_referrer=recirculation&spot_im_comment_id=sp_4Fl8yuOi_1465015_c_D3JAid
--------
Muslim, Christian Leaders List Evidences against Female Circumcision
Feb 8, 2019
By Abbas Jimoh
Christian and Muslims leaders under the auspices of the Side By Side Movement for Gender Justice in Nigeria (SBSMJN) have urged the Federal Government to commence aggressive actions to stem Female Genital Mutilation (FGM) in the country.
They made the appeal Wednesday in Abuja at the briefing marking the International Day of Zero Tolerance for FGM in Nigeria.
The Christian Association of Nigeria (CAN) Chairman North-west zone, Dr. Israel Akanji and a lecturer at the Bayero University Kano (BUK) Prof. Mustapha Hussain Ismail, who are the co-chairs of the movement, told newsmen that unlike the male circumcisions which have evidence in the Abrahamic covenant with God, there are no scriptural evidences for female circumcision.
They were accompanied by the Acting Executive Director of the African Centre for Leadership, Strategy and Development Centre (Centre LSD), Mr. Monday Osasah and women leaders of CAN and FOMWAN among others.
"Female genital mutilation (FGM) which is practiced for a variety of cultural reasons and involves the ritual cutting or removal of some or all of the external female genitalia is a practice having no health benefits to the victim but with well-documented evidences of harms. FGM comprises all procedures that involve partial or total removal of the external female genitalia, or other injury to the female genital organs for non-medical purposes.
"The practice is mostly carried out by traditional circumcisers, who often play other central roles in communities, such as attending childbirths. In many settings, health care providers perform FGM due to the erroneous belief that the procedure is safer when medicalized. The World Health Organization (WHO) strongly urges health professionals not to perform such procedures. Female genital mutilation (FGM) is recognized internationally as a violation of the human rights of girls and women," they said.
According to them, the practice reflects deep-rooted inequality between the sexes and constitutes an extreme form of discrimination against women, as it is nearly always carried out on minors.
They said the practice also violates a person's rights to health, security and physical integrity, the right to be free from torture and cruel, inhuman or degrading treatment, and the right to life when the procedure results in death.
"FGM includes procedures that intentionally alter or cause injury to the female genital organs for non-medical reasons. The procedure has no health benefits for girls and women and the procedures can cause severe bleeding and problems during urinating, which later could result in cysts, infections, as well as complications in childbirth and increased risk of newborn deaths. More than 200 million girls and women alive today have been mutilated in about 30 countries in Africa, the Middle East and Asia where FGM is concentrated, FGM is mostly carried out on young girls between infancy and age 15," they said.
They also listed immediate and later complications of FGM including hemorrhage, acute infection, bleeding of adjacent organs, violent pain resulting in serious shock while later complications include vicious scars, chronic infection, hematic complications and obstetric complications among others.
https://www.dailytrust.com.ng/muslim-christian-leaders-list-evidences-against-female-circumcision.html
--------
Canadian Women Emerge From ISIS's Crumbling Caliphate
February 9, 2019
Syria (CNN)Her face covered by a black veil, with just a slit for her eyes, Dura looks like dozens of other black-clad women clustered on blankets with their children, all former subjects of ISIS's crumbling caliphate in Syria.
But this woman is a long, long way from home.
When I address her in Arabic, she replies in English with a distinctly North American accent. "I'm sorry, I don't speak Arabic very well," she says.
On this nondescript patch of ground on the vast plains of Eastern Syria, hundreds of people from all around the world are being identified, questioned, sometimes detained. More arrive every day, as they flee ISIS's last enclave, the besieged town of Baghouz Al-Fawqani.
I spoke to people from Canada, Kazakhstan, Azerbaijan, Iraq and Syria, as coalition warplanes roared overhead looking for targets. With the exception of Dura and a fellow Canadian woman, nearly everyone denied any connection with ISIS. Each had ended up in this desolate corner of Syria by sheer chance, they said.
The college student from Toronto
Dura Ahmed, 28, is originally from Toronto, Canada. She arrived here like the others on the back of a pickup truck driven by fighters with the US-backed Syrian Democratic Forces (SDF).
I switch into English. "How did you end up in Syria?"
"My husband came here first in 2012," she says. "He tried to convince me for two years to come, but I said no, no, I don't want to. Then finally he said you have to come, but I was studying."
I ask her what she was studying.
"English and Middle Eastern studies. I didn't know anything about ISIS or anything. He said just come and see. Come and see."
"You were studying the Middle East and didn't know anything about ISIS?" I asked, puzzled.
"I didn't really watch the news. No one liked to talk about it. I was really oblivious to what was going on. In the end I said fine, if I don't like it, I'll come back," she said.
So to Raqqa, ISIS' de-facto capital, she came in 2014. What she saw, she liked. "It was an easy life. It was a city. It was stable," she said. "You're there and you're eating Pringles and Twix bars. You're just there. You don't feel like you're in a war." "But hadn't you heard all the stories of people having their heads cut off, of mass executions?" I asked.
"No," she replied, and then adds, as if talking about the weather: "Briefly, just briefly, I heard about some executions taking place."
"Did you hear about the slaughter of Yezidis, of Yezidi women being enslaved?" I asked.
"When I came here, I heard. I haven't seen one, but..." Her answer trailed off with a nervous laugh. "Well, having slaves is part of Sharia," she finally ventured. "I believe in Sharia, wherever Sharia is. We must follow whoever is implementing the way, the law."
Did she regret coming to Syria, I asked, wondering if she felt disillusioned with the Islamic State, after years of being forced back by a US-led coalition, moving from place to place, and ultimately ending up in a "caliphate" of just 1.5 square miles under frequent airstrike.
"No. I had my kids here," she replied. Her two young boys, Mohammed and Mahmoud, were at her feet. Their faces and clothing were caked with dust, their noses running. The younger one, Mahmoud, had no shoes.
The graphic designer from Alberta
Sharing Dura's blanket, apart from the other women, was a 34-year-old graphic designer from Alberta. She declined to tell us her name, but described her life in Syria in detail.
She, too, came to Syria at her husband's bidding.
"He's like, 'it's obligatory for you to come here. You have no choice, and as your husband I'm telling you to come here.' And as a Muslim wife you have to obey, even though it was really hard for me to do it." She takes a deep sigh. "I had to."
Like Dura, she claims she knew nothing about ISIS or Syria before she made the journey here.
"I'm not the kind of person who watched the news," she said. "I didn't follow any of this kind of stuff. I used to be a graphic designer and I used to work from home and just take care of the kids. I was never interested in what was going on in the world."
Her first husband was Bosnian, and left Canada to join ISIS "as a cook, not a fighter," she says -- a common description from ISIS wives. Cook or not, he was eventually killed in the fighting, she says.
For two years she was single, and then re-married, this time a fellow Canadian. He, too, was killed in the fighting. She is pregnant.
Through both marriages, she lived a cloistered life in Raqqa, attending to her two sons. She didn't send her children to school, she says. "It was too dangerous and there were too many bombings. They don't speak Arabic. So I taught them myself," she replied.
When I tried the most basic of Arabic out on her son, Yusif, he stared at me blankly.
The middle-aged man visiting 'a dear friend'
Every adult who arrives is questioned by intelligence officers with the US-backed Syrian Democratic Force. All adult males, and foreign women, are also questioned by American, British and French personnel who have parked their armored vehicles on a low bluff overlooking the assembled civilians. Our SDF escorts made it clear we were not to approach or take images of the American staff and their colleagues.
The US military had questioned Fattah Al-Khatib, a man in his 50s with a thick white beard, originally from Idlib Province in Western Syria. Fattah told me he made the journey east to visit a "dear friend." When fighting broke out, he and his family were forced to follow the retreating ISIS fighters.
"Do you or any or your family have any connections with ISIS?" I asked him.
"No," he answered, adding "that's exactly what the American intelligence people asked me. No, I don't."
I asked him about the situation inside Baghouz Al-Fawqani, where food and supplies are known to be running low, and people are living in tents. "It's normal," he said. "People have set up stalls and are selling and bartering food and other goods. There are people from all over the world. There are many people from Chechnya."
"It's strange," I said, "that you find a Chechen in Baghouz Al-Fawqani, isn't it?" I ask. Baghouz Al-Fawqani, even in the best of times, has never been on the tourist circuit, and SDF commanders say there are many Chechens among the 500 ISIS fighters holed up in the town.
"I don't know if it's suspicious or not," he replied, shrugging off my question with complete nonchalance.
The last survivors of an airstrike
Abdul Rahman, a young man in his 20s, and his extended family were on the receiving end of an airstrike in the town. When I met him, he was sitting upright with a blanket on his lap. His face, hands and arms were severely blistered. A bandage wound round his head above bloodshot eyes. Next to him sat his kid sister, with burns on her face as well.
Abdul Rahman's house in Baghouz Al-Fawqani took a direct hit at about three in the morning, a few days ago. Asked if anyone died, he responded quickly: "My mother, my brother, his wife, his son, my sister, my wife, my daughter, my uncle, his wife and their two children," he says.
His father, Salam, 45, listened. He has a bandage on his left hand and his face is severely scarred. Another bandage winds around his neck and over his chin; he says his jaw was broken in the airstrike.
"I'm afraid," he told me, his voice shaking. "Do you understand? I'm afraid. All I have left is my daughter and my son." He covered his face and broke down in tears.
By mid-afternoon, two white buses arrived. Women and children climbed onboard for a five-hour drive north, to an already overcrowded camp for the displaced near the town of Al-Houl. Men believed to be ISIS members are sent to a separate camp for further questioning. This includes more than 800 foreign fighters.
But for the crying of babies, the passengers are subdued. Willing or otherwise, these former subjects of the once-feared Islamic State have lost everything. Their so-called caliphate has been reduced to a tiny dot on the map, soon to be erased all together.
While they lived under ISIS rule, state preachers and propagandists doubtless argued that the terror group would resurge to defeat its enemies against all odds. Some might still believe it.
But on the bus, it seemed, reality had sunk in. The caliphate is on the brink of death. This is the end.
https://edition.cnn.com/2019/02/09/middleeast/canadian-women-isis-syria-wedeman-intl/index.html
--------
Jeddah's Effat University Celebrates A 'Female Success Story'
February 08, 2019
JEDDAH: Effat University celebrated 20 years of educational achievement on Feb. 7 under the patronage of Prince Khalid Al-Faisal, adviser to the Custodian of the Two Holy Mosques and governor of Makkah Region.
On its 20th anniversary, Effat university also celebrated the graduation of 1,100 students.
The ceremony was attended by many members of the royal family, including Prince Turki Al-Faisal and Princess Lulwa Al-Faisal, vice president of the board of trustees and the general supervisor of Effat University.
Princess Lulwa opened the proceedings with an inspiring speech about the story of her mother, Queen Effat Al-Thunayyan, and about her work in supporting women's education in Saudi Arabia.
Effat University is a pioneer in creating new educational opportunities for Saudi women.
"Today we celebrate a purely female success story," said the princess.
Addressing the graduates, she said: "The question (that was asked 70 years ago) was: Why teach women? Why give them jobs? The answer is: We were preparing for this day, for the era in which Saudi women have their natural position in public life, in building the country and developing it. Where women stand completing the row next to men, their brothers, where they stand as an impenetrable wall for their country."
The princess said that women in Saudi Arabia are finally able to bridge the gaps that could not be filled before.
"You are the answer to this question that has been asked for 70 years. You are answer to the call of the present time. Congratulations! I feel I can see Queen Effat putting her pen cap back on and smiling. Triumphantly, Effat Al-Thunayyan answered the call with her words and deeds, perseverance and patience."
Next, President of Effat University Haifa Jamal Al-Lail delivered a speech addressing the importance of this celebration, since Effat was the first private female college. It was established in 1999 and became a university in 2009.
She said: "The goal of the celebration is to highlight the role of the university in the process of national development, to celebrate the achievements of the university and to strengthen the identity of the university locally and internationally.''
During the ceremony, there was a video presenting the most prominent Effat graduates and showing how Effat has paved the way for them to pursue their careers.
Assistant professor and provost Malak Al-Noori told Arab News how Effat helped to prepare females for a bright future: "Effat was established to offer women empowerment opportunities and special majors that are not offered by other universities.''
She added: "We also help our students to get not only the academic aspect of an education, but most importantly a well-grounded personality."
Effat University was founded by Queen Effat Al-Thunayan, wife of King Faisal.
She was a pioneer in the education and empowerment of Saudi women, and started Dar Al-Hanan School, the first school for girls in the Kingdom in 1955, opening doors for Saudi women to be educated right to this day.
Prince Turki Al-Faisal said: "The university will continue to pursue the excellence that is worthy of the name Effat."
He told the graduates: "You are the future and the hope to achieve the aspirations of leadership of your country.''
The happiness of this day would not be perfect without family support, said Hala Al-Zahrani a first honor architecture major graduate and a mother of one, speaking to Arab News.
"I am really thrilled. I cannot believe that I finally made it to this day. I appreciate all that Effat university taught me and the way my family supported me led me to this success.''
http://www.arabnews.com/node/1449201/saudi-arabia
--------
This Young Jewish Woman and A Young Muslim Woman Teach School kids About Racism
Daniel Sugarman
February 7, 2019
The classroom is full but attentive, with the students, aged 14 and 15, sitting in chairs arranged in a horseshoe shape.
In front of them are two young women; Zaynab Albadry, who is Muslim, and Roxana Jebreel, who is Jewish.
The workshop session they are conducting is highly interactive.
"Nine parts of people's identity are protected by the 2010 Equality Act," Ms Jebreel says, discussing the UK's main legislation codifying anti-discrimination law.
"We're going to ask you to form groups and try to work out what those nine aspects of identity might be."
After a couple of minutes, students are encouraged to suggest answers. Some come easily — gender, race, religion, sexuality, disability. Others, such as age and gender reassignment, take a bit more time. The final two — pregnancy and maternity, and marriage and civil partnerships, are provided by the session convenors.
"Do people still face discrimination?" asks Ms Albadry. "Yes," multiple students respond in unison, without hesitation.
The seminar is the brainchild of an organisation called Stand Up! Education Against Discrimination. It was launched in January 2017 as part of Streetwise, a partnership between the Community Security Trust and Maccabi GB which works to empower Jewish students in certain areas, including anti-bullying, personal safety — and antisemitism and discrimination.
Nathan Servi, the head of education at Maccabi GB, is manager of both the Streetwise and Stand Up! projects.
"In 2015 we had a review of all our work and decided that we really felt the need to export antisemitism education to mainstream schools", he said.
"What we really wanted to do was to create an interfaith partnership. The obvious outlet for this was Tell Mama."
Tell Mama, a national project which, as its acronym indicates, works on "Measuring Anti-Muslim Attacks", works closely with the CST.
"The idea was to have somebody from a Jewish background and someone from a Muslim background, together coming into a classroom of around 30, anything from 14- to 17-year-olds and discuss racism and discrimination, with a specific focus on Islam and Judaism, and therefore antisemitism and anti-Muslim hate."
The programme has received funding both from the government and from private donors.
"Sometimes we'll go to funders and they will ask us, 'who else is doing this work, outside of the community?'" Mr Servi said.
"There are a number of projects and organisations that do similar type of work, but we have a number of USPs. First of all, having two young representatives of their faiths, of their communities, come in together is really powerful. The factuality of our programme as well is probably unique, because we use CST and Tell Mama resources, statistics and incidents."
In the last two years, Stand Up! has run seminars for over 10,000 students in 55 schools around the UK, primarily in London, but also in cities including Manchester, Bristol and Liverpool.
"The sessions are usually an hour or two hours — either an hour where we then go back for a second part, or two hours straight," Ms Albadry explained.
The sessions are from students between 13 and 18, with slight adaptations depending on age, "but the structure is almost always the same.
"We start by talking about discrimination as a whole, and the Equality Act. We frame it around the Equality Act because obviously not all students are Muslim or Jewish, and they need to understand that discrimination as a whole is unacceptable, and then we tell them that we will be focusing on one part.
"We actually talk about being abused based on different aspects of your identity and not just one type of identity, which we think is important also."
Mr Servi stressed that "one thing we have been very careful in doing is represent our expertise, but also be very open about what is not our expertise.
"So with all the other protective characteristics, we've partnered with other national organisations that support those categories. For example, with LGBT advocacy and training, we've partnered with Galup and Keshet UK."
The sessions then move on to discuss Islam and Judaism — via an interactive quiz, in which students are asked questions about both faiths.
"We break down the stereotypes for both communities," said Ms Albadry.
"We hand out an A5 sheet, which asks, 'What stereotypes do you know?' In some schools they've never actually met a Jewish person and don't Jewish students or anything, but they will always know the stereotypes, which is really interesting.
"Some of the things that come up include 'rich', 'stingy', 'big families' sometimes, 'greedy', 'controlling the world' — conspiracy theories come up quite a lot, from 'controlling the media' to 'controlling the world' — and when you ask them where they've heard this they say 'oh, we've just heard it on YouTube or something like that.'
"With the Muslim community it will be things like 'terrorism', 'sexism' comes up quite a lot, 'dress rules', specifically for women, do come up.
So we try to break these down. We talk about both communities — where the hatred and discrimination started from, historical tropes — and then we move on to talk about what's happening today. We'll talk about terrorism and immigration with the Muslim community, with the Jewish community we talk about where the idea of being money-hungry, of being stingy, comes from.
"In the second part we move on to talk about reporting and the importance of reporting. So we take them through a range of incidents, whether it's happening on the bus, or online — because they usually think that the online space is separate.
"We show them statistics from CST and Tell Mama, and we ask, 'Have you experienced anything?' In almost every class, a student will put up their hands — if not most of them — and they've faced discrimination at a very young age — sometimes they're opening up for the first time, because we're trying to create that safe space.
"But then when you ask them whether they've experienced anything online, more hands go up, because they haven't considered it as an incident or an act of discrimination.
"Then we focus on reporting. We give out cards at the end, with the numbers of different organisations to report incidents to."
Sitting in on a couple of sessions at local schools in London, pupils' engagement with the subject matter was clear to see, whether Jewish, Muslim or otherwise. By the second session, even students who were clearly less confident had started to make their voices heard.
In one session, pupils were told what to do if there's an incident of discrimination happening on a public bus: you can alert the driver and they should have recordings of the incident via multiple cameras, and be able to contact the police directly via a specially installed panic button.
However, not all sessions were as straightforward.
"We had a kid who told Zaynab, 'I hate all Muslims, but you're a really nice one", Mr Servi recalled.
"We've had times where a student has said to us, 'We just want the UK to be for white normal English people', and we've turned round to him and said, 'What's normal? Do you not think we're normal?'" Ms Albadry said.
"We don't actually shut them down completely — we'll just keep asking them questions. Sometimes the students around them will be agitated and want to respond to them, so we give them the chance to do so as well.
"And eventually they realise that the statement being made was not right. When we break it down, they tend to realise it themselves and just start absorbing. Or they realise that their ideas are being challenged and they need to go and do their research further.
"We've had times when students — I've showed them an example of something that's being shared online, like a picture saying, 'Keep calm and kill all Muslims' — and a student said to me, 'Actually that's dark humour, that's fine'. And other students turned around to them and said: 'What if someone said kill all your group of people' — and everyone started thinking about it, and then they realised it wasn't right. So usually the response comes from students within the classroom."
Mr Servi concurs.
"There're a number of challenges. You sometimes get left-wing challenges, sometimes right-wing challenges At times we go into Muslim schools or schools with a high percentage of Muslim students, and we hear a lot of anti-Jewish conspiracies, from 9/11 to all the stuff that we adults know about.
"But up until about a year ago there was a huge amount of conversation about UJS and students on campus, and antisemitism on campus specifically. And I said that antisemitism doesn't start on campus, it doesn't start at Fresher's week.
"And the same goes for anti-Muslim hate, and the same for any other type of discrimination. Without having a serious intervention, and a serious programme that tackles these issues early on, then we can't expect for it not to pop up at university."
Stand Up! has a number of other exciting projects in the pipeline. The organisation has been working on video to "introduce Judaism and Islam to young people.
"It has two rabbis and two Muslim leaders, one male, one female [of each]. From the Jewish perspective there's an Orthodox and Progressive rabbi; from the Muslim perspective, there's a very well known imam and a female faith leader."
But above all, they're hoping to expand the programme further afield.
"In terms of reach we've exceeded our expectations and been in many more schools than we thought we would be," Mr Servi says.
The opportunities for expansion are "almost limitless. There are 3,400 secondary schools in the country".
Mr Servi expressed his thanks to MHCLG and Betty Messenger Charitable Foundation, which have funded Stand Up! until now and will do for the next three years.
https://www.thejc.com/news/news-features/this-young-jewish-woman-and-young-muslim-woman-teach-schoolkids-about-racism-1.479686
--------
Is Australia Targeting Saudi Women Fleeing Oppression?
08/02/2019
An Australian television programme is contending that Australian border forces have been targeting women they suspect are fleeing Saudi Arabia and blocking them from entering the country and applying for asylum. The Australian investigative television show Four Corners unearthed evidence of at least two young Saudi women being sent home after arriving at Sydney Airport and indicating they planned to file asylum claims.
Four Corners also found that Australian authorities ask Saudi women who arrive alone why they are traveling without a male guardian, and ask for their guardians' phone numbers.
Despite recent reforms in the Kingdom, Saudi Arabia maintains a severe system of male guardianship that requires women to have a male relative a father, uncle, husband, brother or even a son serve as their guardian and make critical decisions on their behalf. Women are prohibited from applying for passports or travelling abroad without permission from their male guardian.
"This system strangles women …and considers them as minors in society," Suad Abu-Dayyeh, a women's rights activist and MENA region consultant for Equality Now, told FRANCE 24.
Many things considered normal for women even in other parts of the Arab world, such as baring skin, wearing too much makeup or swimming in public are considered moral crimes that can land one in jail. Women also become the targets of honour killings at the hands of their families.
Four Corners spoke to several Saudi women who managed to flee to Australia. All of them are still waiting for their asylum claims to be processed. But even in Australia the women don't feel safe because they are regularly harassed by Saudi men trying to persuade them to return home. Four Corners confirmed that at least one of the men involved in the harassment works for the Saudi Ministry of the Interior.
At least 80 women sought asylum in Australia in recent years, according to the Four Corners report. According to World Bank data, 1,169 Saudis left the country as refugees in 2017. That same year Australia resettled 15,100 refugees, according to UNHCR. In 2015-2016, the numbers of refugees originating from Iraq and Syria eclipsed those from other countries, according to Settlement Services International. Saudi Arabia was not in the top 10.
Denied entry
One of the Saudi women interviewed on the TV show said that, in 2017, she went to the Sydney airport to meet a friend who had fled Saudi Arabia via Indonesia and was planning to ask for asylum in Australia. She never emerged from airport arrivals, and her friends in Australia haven't heard from her since.
The program also detailed the case of a woman who landed at the Sydney airport in November, 2017. She was interrogated, detained for three days without access to a lawyer and then forcibly deported, according to Taleb Al Abdulmohsen, a Saudi psychiatrist and activist based in Germany who spoke to FRANCE 24 and was interviewed on the show. He said the woman was detained for three days without access to a lawyer and then forcibly deported.
"They started to meticulously interrogate girls at the Australian airport at least since August 2017. It is getting worse," Abdulmohsen said on the program. "They ask the Saudi woman if her male guardian allowed her to travel. They ask for his phone number to call him. They also ask her to give them her cell phone and read her SMS, WhatsApp and other chat messages and emails, searching for signs of asylum intent, and they meticulously search the luggage to find any signs of asylum intent such as school certificates."
A woman denied entry to Australia still has the right to apply for asylum, but the process becomes very different. "They take you to a detention centre, and the treatment is very harsh," Abdulmohsen told FRANCE 24. For an asylum seeker, a detention centre in Australia is "the worst place you can be in all developed countries."
Many women do not get as far as Australia. Four Corners also told the stories of two Saudi sisters who were planning on traveling to Sydney from Hong Kong last September. The young women had valid Australian visas but Saudi officials stopped them at the Hong Kong airport, took their passports and asked Australian consular officials to cancel their visas. The officials complied. The sisters have spent the last four months in hiding in Hong Kong.
Escape
Just getting out of Saudi is an ordeal.
"There's really two methods for doing this," Adam Coogle, a Middle East Researcher for Human Rights Watch told the program. "One is they hack into their father's phone and change the permission settings for their travel … and run to the airport… The other method is if the family takes a vacation, they flee and abscond while outside the country."
The Four Corners investigation began in January when Rahaf Mohammed al-Qunun, a Saudi teenager, ran away during a family vacation in Kuwait. She intended to go to Australia, but was detained in Bangkok. Thai authorities initially said they would deport her, but she barricaded herself in her room at the airport transit hotel and quickly opened a Twitter account, sending the #SaveRahaf hashtag global.
At the time, Qunun had a valid Australian tourist visa. Her plan was to spend a few days in Bangkok before she continued on to Melbourne, where she would apply for asylum. As soon as she landed in Bangkok, she told Four Corners, a man approached her saying he was there to help her get a visa for Thailand. That was a lie; the truth was her family had reported her missing and he worked for the Saudi embassy. He took her passport.
As soon as she heard about the case, Australian journalist Sophie McNeill flew to Bangkok, snuck past the guards outside Qunun's room and barricaded herself inside with the young Saudi woman. Qunun said she would not leave the room until she spoke to a representative from the United Nations High Commission for Refugees (UNHCR).
Eventually UNHCR gave her refugee status. The Australian government said they would review her case but it would take time. Canada granted her status within a matter of hours of her request. A week later she arrived there.
Qunun told Four Corners she had been warned about border agents in Australia. "I heard that they investigate women, especially Saudi women and ask them where their guardian is," she said. "So, my plan was to tell them that my father knew about this and he has allowed me to travel."
Where is Dina?
The outcome for girls leaving Saudi Arabia isn't always as rosy as it was for Qunun.
In April, 2017, 24-year-old Dina Ali Lasloom was stopped in the Philippines on her way to Australia and had her passport confiscated.
Lasloom's story also went viral after a stranger she befriended in the airport filmed a video of her saying she would be killed if she returned home and posted it on social media. But the intervention was to no avail. Men who were said to be her uncles showed up in the airport, duct taped her mouth shut, taped her arms and legs together, and forced the screaming young woman onto a plane. Activists heard reports she was being held in a shelter for women, which effectively serve as prisons, but she hasn't been heard from and her exact situation is unknown.
What is sure is that women who are returned to the Kingdom face bleak futures. "They will be living in hell," Abu-Dayyeh told FRANCE 24. "If they are not killed they will be locked in home, they will be imprisoned at home."
The Australian Border Force issued a statement after the broadcast, without addressing any of the specific allegations in the piece. "Any traveller who seeks to engage Australia's protection obligations are subject to a process that confirms their circumstances and whether their reasons for seeking to enter Australia require further consideration against Australia's non-refoulement obligations, or whether they can be removed to their home country or place of departure, consistent with Australia's international obligations," the statement read in part.
https://www.france24.com/en/20190208-australia-targeting-saudi-women-fleeing-oppression
--------
60 women complete 5-day trek from Abu Dhabi to Al Ain
February 08, 2019
Sami Zaatari
Abu Dhabi: Sixty women from different nationalities were welcomed back by their families on Tuesday after completing a five-day 170km Women's Heritage Walk across the desert from Abu Dhabi to Al Ain.
Now in its fifth year, the Women's Heritage Walk, which is supported by groups including the Salama Bint Hamdan Al Nahyan Foundation and the Department of Culture and Tourism — Abu Dhabi, looks to replicate the historical journey Emiratis used to make when going from Abu Dhabi to Al Ain for trade and cooler weather.
As part of their journey, the women would start their day just before sunrise, walking an average of 10 hours until near sunset when they would set up camp and sleep under the stars.
To celebrate the completion of the walk, a closing ceremony was held at the Cultural Foundation in Abu Dhabi as each woman was awarded a certificate by Shaikh Nahayan Bin Mabarak Al Nahayan, Minister of Tolerance, who was there to congratulate the women.
"For the fifth consecutive year, courageous and adventurous women representing the diverse population of the UAE have renewed a tradition that has shaped Emirati culture," said the minister.
"Your planning, prudence, physicality, prowess and persistence are all admirable," he added.
Shaikh Nahayan also praised the diversity of the group, which he said made the Heritage Walk a unique and special event.
"You came from different nationalities, cultures, religions and ethnicities. You are a microcosm of the UAE's amazing diverse population.
"Our community has been strengthened by your walk across the desert, you all undoubtedly walked with one another and bridged many cultural gaps. Your tired muscles and sand-filled boots differed not one bit from those of your companions, as you all discovered your communal humanity," he added.
Deeba Tamim, a British resident who took part in the walk said it was her first adventure into the UAE's desert after living in the country for 25 years.
"I joined the Women's Heritage Walk to experience the UAE in a different way," she said. "I've lived here for 25 years and have never done a desert trip.
"We were walking on average for about 10 hours day and experienced every type of weather along the way.
"I do a lot of fitness training so I didn't get any aches or blisters, and in fact that was one of things I wanted to challenge myself on — to see if I was going to be able to endure the whole walk," she added.
Noura Zaatari, a Lebanese resident who took part in the walk said she enjoyed being outdoors and reconnecting with nature.
"It was a very beautiful experience. This was the first time for me, leaving my family and everything behind.
"I enjoyed every moment of the walk and the chance to bond with so many different ladies," she added.
Imryhine Ca Aya, from the Philippines, said she was proud to have completed the long walk.
"It was amazing, we were out walking every day for almost 10 hours covering a distance of up to 30 kilometres. The big challenge for me were the big sand dunes, but once we reached the top of the dunes, the view of the desert was beautiful.
"The weather was also a challenge, there were rain storms, wind storms, cold weather, hot weather and humidity — all of this made the experience more fun," she added.
Aya spoke fondly of what she called the sisterhood that formed between the women during the walk.
"We were strangers at the start, but as we were in this journey together, we all helped and motivated one another. For five days, it was like one big family."
https://gulfnews.com/uae/60-women-complete-5-day-trek-from-abu-dhabi-to-al-ain-1.61907649
--------
Emirati Women Scale Significant Heights At All Fronts: Shaikha Fatima Bint Mubarak
February 08, 2019
Emirati women scale significant heights at all fronts: Shaikha Fatima Bint Mubarak
Abu Dhabi: Her Highness Shaikha Fatima Bint Mubarak, Chairwoman of the General Women's Union (GWU), President of the Supreme Council for Motherhood and Childhood, and Supreme Chairwoman of the Family Development Foundation (FDF) has affirmed that Emirati women have scaled enviable heights in both the government and private sectors thanks to the support provided by the country's wise leadership.
Shaikha Fatima made the remarks as she received this evening at Qasr Al Bahr, Gulshara Abdykalikova, Secretary of State of Kazakhstan, now on a state visit to the UAE.
"UAE is setting a precedent in gender balance and women's empowerment at the workplace as they now account for more than 66 percent of jobs in the government sector," Shaikha Fatima said, highlighting the recent directives by the UAE leadership to boost the representation of Emirati women in the Federal National Council to 50 percent from the next legislative chapter.
"Over 23,000 Emirati businesswomen are running UAE40 billion in successful investments and are excelling themselves across various economic and social domains," she added.
Abdykalikova commended Shaikh Fatima's significant role in ensuring Emirati women's empowerment at all fronts.
Attending the meeting were Shaikha Alyazia Bint Saif bin Mohammad Al Nahyan, the wife of Shaikh Abdullah Bin Zayed Al Nahyan, Minister of Foreign Affairs and International Cooperation; Noura Khalifa Al Suwaidi, Director-General of the General Women's Union, and Farida Al Awadhi, Chairwoman of the Emirates Business Women Council.
https://gulfnews.com/uae/government/emirati-women-scale-significant-heights-at-all-fronts-shaikha-fatima-bint-mubarak-1.1549652327123
--------
Very few women nominated as mayoral candidates in Turkey's local polls
February 08 2019
KA.DER, a women's rights organization which advocates equal representation of women and men in all fields of life, has criticized Turkish political parties for nominating very few women to run as mayors in the upcoming March 31 local elections.
"The number of female candidates nominated by parties for the March 31 elections has created a total disappointment. Very few women have been nominated as mayoral candidates by the People's Alliance and Nation Alliance," KA.DER said in a press release issued on Feb. 6, referring to the electoral alliance between the ruling Justice and Development Party (AKP) and the Nationalist Movement Party (MHP) and the one between the main opposition Republican People's Party (CHP) and İYİ (Good) Party, respectively.
Of the 1,297 mayoral candidates that the AKP has announced for across Turkey, only 24 are women, corresponding to a staggeringly low 1.25 percent, according to information the association has gathered from party headquarters and media.
The main opposition CHP, on the other hand, has so far released the names of 842 mayor candidates, only 44 of them are women, corresponding to a mere 5.23 percent.
Of the 750 candidates announced by the MHP, 14 are women, whereas İYİ Party, which is the only political party to have a female leader, has named only five women as mayoral candidates, out of a total 122 names (corresponding to 3.85 percent). The Saadet (Felicity) Party has named only two female candidates for the upcoming elections, making up 0.77 percent of the total 261 names.
This election, the party to have nominated the most female candidates is again the Peoples' Democratic Party (HDP), putting forward 145 women, out of 290 in total, as mayoral candidates. This makes it 50 percent female representation in the local elections.
"The interest of women in political party membership and politics is increasing day by day, but their visibility in the parties' decision-making structures and mechanisms is very low. The political figures that overlook women have lost their plausibility and sincerity regarding women issues," said KA.DER President Nuray Karaoğlu in the press release.
'Positive discrimination remains unfulfilled'
"The positive discrimination [for women] has again remained unfulfilled," an academic at the Istanbul-based Altınbaş University has said, also criticizing the number of female mayoral candidates.
"Of the 51 metropolitan municipality mayoral candidates that the CHP has announced, only two are women [Aydın Mayor candidate Özlem Çerçioğlu and Amasya Mayor candidate Arife Serpil Saraçoğlu]. For the district mayoral candidates on the other hand, of the 785 people, only 39 are women. In Istanbul's 39 districts, there is only one woman candidate. I find CHP chair Kemal Kılıçdaroğlu's statement 'Women suggest male candidates' very unfortunate," said Zeynep Banu Dalaman, the manager of the Research Center on Gender and Women's Studies at Altınbaş University, in a statement on Feb. 8.
"This is an indicator of how the patriarchal mentality which the CHP harbors is actually far from its social democrat principles. This statement, in a time when women abstain from competing with men in politics, when they go through anxiety of being ill-treated in nomination races, shows how they [women] are right regarding their concerns," said Dalaman.
http://www.hurriyetdailynews.com/very-few-women-nominated-as-mayoral-candidates-in-turkeys-local-polls-141099
--------
URL: https://www.newageislam.com/islam-women-feminism/military-peacekeeping-programme-arab-women/d/117703
New Age Islam, Islam Online, Islamic Website, African Muslim News, Arab World News, South Asia News, Indian Muslim News, World Muslim News, Women in Islam, Islamic Feminism, Arab Women, Women In Arab, Islamophobia in America, Muslim Women in West, Islam Women and Feminism