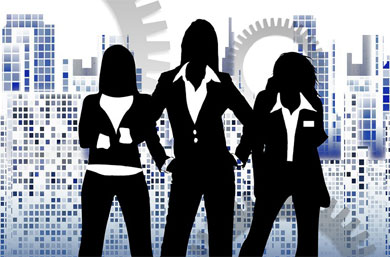 The Gulf markets have been favourable towards women's participation in launching their own businesses. The COVID-19 pandemic should not now create a situation where these gains are frittered away.
Image Credit: Wikimedia Commons
-----
• Combating Coronavirus: Women-Run Businesses Now Join War on Covid-19
• Combating Coronavirus: Cops Grant Two Emirati Girls' Wish on Eid
• Women's Organisations Criminalised in Turkey After Scores of Arrests
• Women Crushed to Death in Sri Lanka Stampede For $8 Handout
• Princess Hind Al Saud: The Ambassador of The Global Campaign Against COVID-19
Compiled by New Age Islam News Bureau
URL: https://newageislam.com/islam,-women-and-feminism/new-age-islam-news-bureau/middle-east-women-entrepreneurs-will-get-their-dues/d/121951
--------
Middle East Women Entrepreneurs Will Get Their Dues
May 26, 2020
The professional playing field may not be level for women just yet... but it's getting there. This past decade we have been witnessing something of a golden age for female entrepreneurship. Indeed, it has never been easier before for women to start and run businesses.
On the global stage, the number of women-owned firms in the US increased by 114 per cent in the last 20 years, according to a 2017 report by National Women's Business Council. A 2018 American Express study further found that women make up more than 40 per cent of new entrepreneurs in the US, while the number of women-owned businesses in the country multiplying 31 times since 1972.
This new climate of female professional empowerment is also sweeping across the Middle East.
A burst of regional transformation
Today, one in three start-ups in the Middle East is founded or led by a woman – a higher percentage than in Silicon Valley. This number is expected to continue growing as women entrepreneurs leverage the internet and digital channels to enter the workforce and start their own businesses. Given that women's increasing participation in the workforce could add an estimated $2.7 trillion to the region's economy by 2025, female-led companies could be transformative for the Middle East.
Recognizing the importance of supporting women entrepreneurs in any economy, the UAE offers a number of platforms for them to develop their business. Some of them, through local partnerships such as the International Trade Centre's (ITC) SheTrades initiative, provide a unique network and platform to connect local women entrepreneurs to global markets, address trade barriers, and create greater opportunities.
Through an interconnected ecosystem of tailored business solutions and knowledge-sharing, SheTrades supports and empowers female entrepreneurs to realize their fullest potential by connecting women buyers and suppliers across regions and offering training workshops on logistics concepts and best practices for global trade.
A vital need
The development of women entrepreneurship is a priority for the MENA region, especially as a driver for economic growth, diversification and development. Female labor force participation rates in the MENA region are among the lowest in the world. Therein lies the opportunity for entrepreneurship to help women generate their own income, which corresponds to higher spending on family welfare, which could range from improving nutrition to boosting girls' literacy rates and access to education.
A 2018 Mastercard report revealed a lack of female business owners in the region: in the UAE, only 2.8 per cent of all business owners are women. In Saudi Arabia, this number is 1.4 per cent, while Egypt takes the lead for women-owned business representation at 3.3 per cent.
Much needs doing
But women-owned businesses in the MENA region represent a wealth of untapped potential – in 2017 alone, 33 per cent of women-run enterprises in the UAE generated revenue in excess of $100,000, compared to 13 per cent in US, based on a Payfort report. This highlights the growing potential of women-owned businesses, but more support is required from both the private and public sector to encourage women to take the entrepreneurial route.
While the proportion of established businesses owned by women in the UAE, Saudi Arabia and Egypt are among the lowest in the world, those that became successful and growth-focused were among the most innovative and internationally driven.
New ways
Thankfully, the tide is changing. Today, more venture capitalists who are women are looking to invest in other women-owned businesses. The public and private sectors are also furthering their efforts to provide equal opportunities, encouraging SME development and championing women-owned businesses.
The gender gap is slowly and steadily closing as we acknowledge the female potential. Dismantling discriminatory barriers to trade will help women entrepreneurs start their businesses, join the workforce and connect to global value chains, in turn, bolstering economic growth and stimulating long-term benefits for the region.
As the world begins to recover from the pandemic, let us continue to work to a future where men and women can participate equally in the global economy.
- Jean-Francois Condamine is UPS President for growth and emerging markets.
https://gulfnews.com/business/analysis/middle-east-women-entrepreneurs-will-get-their-dues-1.71649015
--------
Combating Coronavirus: Women-Run Businesses Now Join War on Covid-19
Ashwani Kumar
May 25, 2020
These SMEs led by women receive logistical assistance from the Abu Dhabi Department of Economic Development (ADDED).
Family-owned small and medium-sized enterprises (SMEs) in Abu Dhabi are manufacturing thousands of cloth masks to help in the UAE's fight against coronavirus.
These SMEs led by women receive logistical assistance from the Abu Dhabi Department of Economic Development (ADDED).
"The efforts made by the government encouraged me to produce this critical product in the required timeframe as we are part of the country's frontline," said Fatima Mohamed of Al Merriah Services, praising the support offered by the government.
Alya Al Qubaisi of Uno Boutique said such a project will allow SMEs to support the UAE's fight. "We ensure that sanitisation measures are taken before, during and after production of the masks."
https://www.khaleejtimes.com/coronavirus-pandemic/combating-coronavirus-women-run-businesses-now-join-war-on-covid-19-
--------
Combating Coronavirus: Cops Grant Two Emirati Girls' Wish on Eid
Afkar Abdullah
May 25, 2020
The Ajman Police received the request from the mother of the girls, aged 11 and 12.
Two Emirati girls in Ajman had a simple Eid wish: To finally see the outdoors after being stuck at home for more than three months. And the emirate's police happily agreed -so off the kids went on a sightseeing tour of the city, on board the officers' patrol car.
The Ajman Police received the request from the mother of the girls, aged 11 and 12. She said her daughters badly wanted to step out after months of staying home, but they never gave her a hard time.
"They were very obedient and they understood how serious the Covid-19 situation is," the mother told the police via Instagram. They knew that movement restrictions are necessary to fight the virus and sterilise the streets nationwide.
Upon learning about the girls' wish, the media and public relations department of the police called the mother and promptly organised a tour.
Right in the morning of Eid Al Fitr, the kids hopped aboard the women's police patrol car that took them around the tourist spots of Ajman.
They also visited the operations room and met Lt Shaima Khaled Al Mazmi, who then walked them through the high-tech facilities and smart technologies used by the police to keep the emirate safe and secure, especially amid the pandemic. At the end of the tour, they also received Eidi, some sweets and cakes.
The family was overwhelmed and thanked the Ajman Police for such a sweet Eid surprise.
https://www.khaleejtimes.com/uae/ajman/combating-coronavirus-cops-grant-two-emirati-girls-wish-on-eid
--------
Women's Organisations Criminalised in Turkey After Scores of Arrests
MAY 25, 2020
WOMEN'S groups, their slogans and their right to organise have been criminalised by the Turkish authorities with the arrest of scores of Kurdish women last week.
Police swooped to detain prominent activists from the TevgeraJinen Azad (TJA) and Rosa Women's Association in a large-scale operation on Friday in which security services smashed down doors in a series of night-time raids.
Offices were ransacked and key documents taken, despite lawyers not being present, from the Rosa Women's Association building in the city of Diyarbakir in Turkey's largely Kurdish south-east.
The association was established in 2016 after all women's organisations in Diyarbakir were shut down by presidential decree. It is the only women's group engaging in support work and active struggle combating violence against women.
A 24-hour confidentiality clause was imposed on the case file, meaning that details of the reason for the detentions and the charges being brought were initially unknown.
But lawyers confirmed that the authorities have banned prominent slogans used by the women's movement including "Jin jiyanazadi" ("women, life, freedom" in Kurdish) along with "Women want peace" and a slogan demanding the whereabouts of disappeared Kurdish student GulistanDoku.
A banner proclaiming that femicides are a political issue has been outlawed and activists are being charged for calling the pro-Kurdish opposition Peoples' Democratic Party (HDP) co-chair system — which allows for equal representation on the basis of sex in the party's structure — "a red line." The party's policy has been banned and branded an act of terrorism by the government.
The women detained were quizzed about their organisations' support for each other and why they planned activities for International Women's Day on March 8.
Others were grilled over their support for the Peace Mothers and involvement in actions in solidarity with the Kurdish hunger strikes, led by HDP MP Leyla Guven, that demanded an end to the isolation of Kurdistan Workers Party (PKK) leader Abdullah Ocalan, which ended in May 2019.
TJA warned: "Women's right and freedom to independent organisation is being criminalised. All uses of the right to freedom of expression in favour of women's freedom are being treated as incriminating evidence."
"Being a woman, being Kurdish, living in Kurdish areas results in a threefold increase in oppression," the group said, adding: "TJA is facing attack because it opposes the … draft law to allow child marriages and to pardon rapists who agree to marry the child."
The group said that it organised the March 8 rally to stand against femicide, rape, racism, sexism and against the removal of elected HDP officials, along with opposition to war, exploitation and patriarchy.
"If this is a crime, then we are all committing this crime. We hereby invite all to stand up for TJA. "
https://morningstaronline.co.uk/article/w/womens-organsations-crminilaised-turkey-after-scores-arrests
--------
Women Crushed to Death in Sri Lanka Stampede For $8 Handout
21 May 2020
Three women have been trampled to death during a stampede for an $8 cash handout in Sri Lanka's capital Colombo amid growing desperation among Sri Lankans struggling to make ends meet during a coronavirus lockdown that has smashed the economy.
Some 1,000 people queued outside a businessman's warehouse for his annual handout during the Muslim fasting month of Ramadan, local member of parliamentMujibur Rahman said on Thursday.
There was a rush for the 1,500 rupee gift - about the same amount as a labourer's daily wage - when the gates opened, he said.
"Some people tried to break the queue and enter," Rahman told the AFP news agency. "That is when the women at the top of the queue fell and were trampled to death."
Nine others were seriously hurt in the stampede and taken to hospital, he said, adding that there was a larger-than-usual crowd during this year's event, which has been taking place for decades.
"People have not earned any money for two months because of the virus lockdown [since March 20]," Rahman said.
"People are desperate. When they heard about today's donation, over a thousand turned up."
The businessman, who has not been named by the authorities, and five of his assistants were arrested for violating the lockdown, Colombo police chief DeshabanduTennakoon told reporters.
Government cash handouts this month - 5,000 rupees ($27) each to 5.14 million families living below the poverty line - also sparked chaotic scenes in villages.
Colombo and a neighbouring district are under lockdown, although some of the coronavirus restrictions have been lifted in other parts of Sri Lanka.
The country has recorded 1,045 infections including nine deaths so far.
https://www.aljazeera.com/news/2020/05/women-crushed-death-sri-lanka-stampede-8-handout-200521170739273.html
--------
Princess Hind Al Saud: The Ambassador Of The Global Campaign Against COVID-19
May 23, 2020
In the fight against the spread of COVID-19, strong leadership is key and this is why Princess Hind Bint Abdul Rahman Al Saud has been named Ambassador of the Regional Social Responsibility Network, a global campaign that supports the efforts and advocacy work of governments and organizations around the world geared towards curbing the current pandemic.
The Regional Social Responsibility Network, which is part of the United Nations Global Compact, was launched between March 25 and June 25, as an international campaign to support efforts against the spread of COVID-19. It includes the participation of many Arab and international figures and is in cooperation with the International Community Responsibility Federation.
With a long career in various business and social fields, HRH was chosen as the ideal candidate to provide insights and support to the campaign. To mark the occasion of her landmark appointment, the Princess took to Twitter to share words of gratitude: "I have had the honor to be selected as an ambassador to support international efforts in the fight against the current pandemic."
The campaign will include key events such as the launch of the "Supporting Ambassador For The International Efforts To Fight COVID-19," bringing together renowned leaders and personalities who will leverage their strengths and presence in order to spread important messages to various communities across the globe on the roles they can play to help curb the coronavirus pandemic.
The Chairman of the Board of Directors of the Regional Network for Social Responsibility, Professor Youssef Abdel Ghaffar, stated that this campaign aims to shed light on societal and global solidarity that has emerged in these unprecedented times, and the success of many national and international efforts in limitingthe negative effects of the novel coronavirus.
Princess Hind Al Saud
A businesswoman with an extensive career spanning economic, commercial, and social fields, Princess Hind Al Saud is a figure that has long supported the goals and aspirations of Arab women through her active participation in national and regional forums. She has also headed many committees and seminars geared towards the growth of female participation in the field of business.
Amongst her many roles, the Princess has headed:the Supreme Committee for the "QafeletAbnaaAlshuhada" (the Sons of Martyrs) in Saudi Arabia (2019); the 2ndArab Conference for Creativity and Entrepreneurship in Lebanon (2018); the 8thWomen's Conference in Jordan (2018); and the 7th Arab Women's Conference held in the United Arab Emirates (2017).
She has also held the position of Deputy Chairman of the Executive Council of the Women's Chamber branch in Riyadh (2006) and chaired the organizing committee of the 2nd Businesswomen's Cultural Forum in Riyadh (2006). Finally, she has been a member of: the organizing women's committee for the 2ndRiyadh Economic Forum (2005); the Women's Chamber of Commerce and Industry in Riyadh (2004); and the National Committee of Women's Council of Chambers of Commerce in Riyadh (2004).
https://www.abouther.com/node/29371/people/leading-ladies/princess-hind-al-saud-ambassador-global-campaign-against-covid-19
--------
URL: https://newageislam.com/islam,-women-and-feminism/new-age-islam-news-bureau/middle-east-women-entrepreneurs-will-get-their-dues/d/121951
New Age Islam, Islam Online, Islamic Website, African Muslim News, Arab World News, South Asia News, Indian Muslim News, World Muslim News, Women in Islam, Islamic Feminism, Arab Women, Women In Arab, Islamophobia in America, Muslim Women in West, Islam Women and Feminism