New Age Islam News Bureau
4 Jan 2016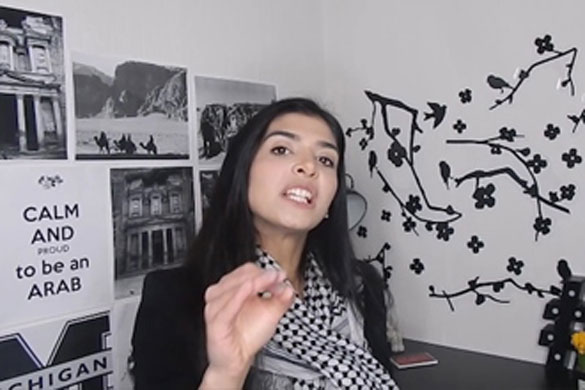 Photo: "I support any decision made by the Palestinian people, in order to regain its rights and its land," said Lina Allan, referring to the act of stabbing Jews. (Image source: YouTube)
----------
• Indonesia's Muslim Women Hail Female-Only Motorbike Taxis
• AIMMM gets is first woman executive member
• Woman gang-raped by two youth
• Woman among 3 nabbed after 4-hour shootout
• Finally, Filipino gets a call from Saudi 'dad'
• Pink Caravan Ride to start on March 7
Compiled by New Age Islam News Bureau
URL: https://newageislam.com/islam-women-feminism/michigan-woman-blasts-muslims-say/d/105863
----------
Michigan Woman Blasts Muslims Who Say Stabbing Jews Is Forbidden Under Islam
Jan. 3, 2016
A Michigan woman posted a video on YouTube supporting Palestinian stabbing attacks against Jews and blasted Muslims who try to argue that stabbing is "haram," or forbidden, under Islamic law.
The Middle East Media Research Institute translated the Arabic-language video posted on YouTube last week by Lina Allan, who MEMRI described as "a Palestinian-Jordanian activist who lives in Michigan." Her Twitter profile — where she describes herself as "an optimistic person" — also states Michigan as her location.
Allan disparaged Muslims who claim Islam does not allow stabbing attacks, accusing them of trying to be "muftis" and telling them to "go back to watching Turkish soap operas."
Throughout the video, titled, "Is Stabbing Jews Haram [Forbidden]?" she notably used only the word "Jews" to describe the target of stabbing attacks, not "Israelis."
Appearing to compare Jews to animals, she likened those who believe stabbings are prohibited under Islam to defenders of "animal rights – not human rights, but at best, animal rights."
MEMRI reported that in 2012, Allan told Jordan's Roya TV that she represented the State Department's U.S.-Middle East Partnership Initiative (MEPI) in the Jameed Festival in Jordan, a food and culture event honoring rural women.
A State Department press official was not immediately available Sunday morning to respond to her claim.
"Some people have commented on the Palestinians' stabbing of Jews, by saying that it is haram, that it is prohibited," Allan said in the video.
She described opponents of stabbings as holding a hypocritical position, such as smokers who say cigarettes are "halal," or permissible under Islamic law.
"[W]ho are you to say what is halal and what is haram," she asked critics of stabbing attacks. "Sadly, there are many people in the Arab world who think that just because their mother and father are Muslim, they themselves automatically became muftis, and are allowed to say what is halal and what is haram — according to their whims and personal desires, of course."
"If they like smoking, they pronounce cigarettes halal, and if they hate cigarettes, they pronounce them haram," she said.
"Nobody can feel the suffering of the Palestinian people but the Palestinians living in Palestine," Allan said. "I wish that you would stop interfering. Spare us your views, and go back to watching Turkish soap operas. It would be better if you didn't talk about something you don't understand."
"I, Lina Allan, do not support the Palestinian government or any party. I support the Palestinian people, and I support any decision made by the Palestinian people, in order to regain its rights and its land," she said.
As she delivered her statement, hanging behind her on the walls were photos of ancient Petra in Jordan and a sign that read, "Calm and Proud to Be an Arab."
Israel has faced a wave of nearly daily stabbing, car-ramming and shooting attacks since September, that has been widely encouraged in songs and videos on Palestinian social media. The latest attack was a shooting in Hebron on Sunday.
http://www.theblaze.com/stories/2016/01/03/michigan-woman-blasts-muslims-who-say-stabbing-jews-is-forbidden-under-islam/
----------
Indonesia's Muslim Women Hail Female-Only Motorbike Taxis
January 04, 2016
Female motorbike taxi drivers in headscarves zig-zag through heavy traffic in the Indonesian capital Jakarta, the latest two-wheeled transport service for women making a dent in the male-dominated world of ride-hailing apps in the Muslim nation.
A flurry of new motorbike taxi options have in the past year appeared in the metropolis of 10 million, led by popular service Go-Jek, giving Indonesia's growing middle class a greater choice of transport to get through some of the world's worst traffic jams.
The services -- many inspired by ride-sharing app Uber and accessible on smartphones -- are a challenge to traditional motorbike taxis in Indonesia, known as "ojeks", which are ubiquitous but have drawn criticism with their dishevelled, dangerous drivers and unpredictable pricing.
Several services with women drivers entered the market in 2015 after years of growing piety in Indonesia, which has the world's biggest Muslim population, and amid heightened safety concerns following reports of attacks on women by male motorbike taxi drivers.
They are in part designed with religious sensitivities in mind, as an increasing number of Muslim women wear headscarves and follow strict interpretations of Islam that forbid close contact with the opposite sex, except between married couples.
"The need for transportation for women is huge, especially in big cities where rates of crime and sexual harassment are very high," Evilita Adriani, co-founder of motorbike taxi company Ojek Syari, told AFP.
- Only Muslim drivers -
Popularly known by its nickname "Ojesy", it is the service that aims most clearly at devout female passengers, requiring its drivers to be Muslim women wearing headscarves and loose-fitting clothes.
Ojesy drivers can currently only be hailed by a phone call or through mobile messaging service WhatsApp, but the service is also developing an app that was being tested out this month.
The service, which began in Indonesia's second-biggest city Surabaya in March before expanding across the main island of Java, only accepts female passengers or children.
"I feel more comfortable sharing a ride with a fellow Muslim woman," said Nurlaila, a Surabaya housewife who goes by one name.
She uses the service to take her children to school -- a common practice in the country where whole families often travel squashed together on a motorbike.
"Thank God for Ojesy."
The company says business is booming -- after starting in March with Adriani as its only driver, it now has 350 drivers.
Other motorbike taxi companies vying for a stake in the female market include app-based service LadyJek, whose drivers dress in pink jackets and helmets, and Sister-Ojek, a start-up that began operations earlier this year with capital of just $100.
Indonesia stands out for the number of motorbike taxi services aimed at women that it boasts, with female drivers relatively rare in many developing nations where the mode of transport is popular.
But they do exist in some other countries, including in Liberia where a group of female drivers, sick of being robbed, took to the wheel, reportedly donning pink helmets and jackets and calling themselves "The Pink Panthers".
The trend for motorbike taxi-hailing services started in earnest last year with Go-Jek in Jakarta, a general service for anyone wishing to order a motorbike ride, which was quickly followed by others such as GrabBike and Blu-jek.
- Tough security measures -
The women-only services are slightly more expensive than others, but insist they have better security measures.
Calls have been growing for heightened security after reports of women being stalked and harassed by male motorbike taxi drivers, while the rape of a young woman in India by an Uber driver last year also added to safety concerns about ride-hailing services.
LadyJek drivers can activate a loud alarm if they are attacked or feel threatened, while Ojesy and Sister-Ojek only operate between sunrise and sunset.
However the services are unlikely to overtake major competitors like Go-Jek as many women in Indonesia, where the majority practise a moderate form of Islam, have few qualms about taking a motorbike taxi driven by a man.
The services also try to make themselves attractive to drivers, with Ojesy allowing Muslim housewives and university students to work part-time.
Housewife Endang Kartini, 38, said working for Ojesy part-time allowed her to buy cosmetics and give her children pocket money, without interfering with other activities.
"I can still attend Muslim prayer groups," she said.
http://www.ndtv.com/offbeat/indonesias-muslim-women-hail-female-only-motorbike-taxis-1261920
----------
AIMMM gets is first woman executive member
By Amrita Madhukalya
January 04, 2016
For the first time in the history of the All India Muslim Majlis Mushawarat, a Muslim woman has been elected as one of the 20 members of the Markazi Majlis-e-Amla (Central Working Committee) of AIMMM for the term 2016-2017, headed by Navaid Hamid, who is the seventh president of the 50-year-old apex body of Indian Muslims. The AIMMM is an umbrella body of many Muslim social, cultural, political and religious organisations, and is largely apolitical.
Uzma Naheed, who has been a vocal opponent of the difficult situations that the Indian Muslim woman faces, says that she takes this as Allah's blessings. "I want to be the voice of the voiceless. And being part of a body that decides on policies, I think this is a great opportunity for me to push my efforts for the upliftment of women," she says. "I want to give the Indian woman the rights that she has been bestowed by the Quran, but have been denied systematically. The Indian Muslim woman is not aware of her rights and responsibilities, and I want to reintroduce her to her rightful position in society."
Uzma comes from a deeply religious family, who have been the founders of the University of Deoband. He father Maulana Ahmad Salim Qasmi is the present vice-chancellor of the Darul-uloom Deoband Waqf, and her great grandfather, Maulana Qasim Nanotwi was the founder of the Darul Uloom Deoband. Her grandfather, Qari Tayyab, too, was vice chancellor of the Darul Uloom Deoband. She is a prominent member of the All India Muslim Personal Law Board (AIMPLB), and is runs the IQRA school of Islamic studies.
She feels that her background has helped in getting her ideas across to orthodox corners. "Most of the critics were students of my father, or grandfather, or great grandfather. And they would somehow stop from criticising me.
Internationally, when I go to speak on forum, they take is as the opinion of an Indian ulema, because my ideas are within the Sharia framework. They would say that my ideas are different, but not wrong," she says. As for her own family, her father would tell her that her work is part of the jurisprudence and he would never stop her. "He would say that he was an aalim, not a mufti, and so he won't stop me. But he would tell me to remember that I am a Muslim, and I must keep in mind the interests of Islam."
Uzma says that the Quran does not discriminate between a man and a woman. "Thousands of years ago, women in the Muslim world were jurists, interpreters of the Hadith, and the Quran, and they represented Islam, and not just women. Somehow, we seem to have forgotten that," she says. Uzma is also working to help Muslim women enter businesses, and by her efforts 3000 women have already entered different businesses.
As part of IQRA, her family had designed a curriculum for Islamic schools keeping in mind the globalised world. "I brought the curriculums in India in 1996, and we run it in 200 schools today," she says. "I try to teach the children that Islam is not only for Muslims, and that we must treat other communities with respect and compassion," she says.
Belongs to a religious family
Uzma comes from a deeply religious family, who have been the founders of the University of Deoband. He father Maulana Ahmad Salim Qasmi is the present vice-chancellor of the Darul-uloom Deoband Waqf, and her great grandfather, Maulana Qasim Nanotwi was the founder of the Darul Uloom Deoband. Her grandfather, Qari Tayyab, too, was vice chancellor of the Darul Uloom Deoband. She is a prominent member of the All India Muslim Personal Law Board (AIMPLB), and is runs the IQRA school of Islamic studies.
http://www.dnaindia.com/india/report-aimmm-gets-is-first-woman-executive-member-2161980
----------
Woman gang-raped by two youth
January 04, 2016
HAFIZABAD
A married woman was gang-raped by two youth in Sooianwala village here the other day. According police source, the woman, wife of Zakaullah was going through a street in the village. All of sudden two youth identified as Irshadullah, son of Muhammad Aslam and Waqas alias Vicky allegedly abducted her. They took her to a house where they allegedly raped her. The Vanike Police have arrested both the accused and registered a case against them accordingly.
TWO KILLED IN ACCIDENTS: Two youth were killed and another injured in two road accident. According to rescue sources, Shahid, son of Ahmad Khan of Dera Chadharan was on the way to his village on a bike. When he reached Kolo Road, a speeding car, coming from the opposite direction, hit his bike. As a result he died on the spot. The car driver abandoned his car and fled away. Another Muhammad Luqman, an employee of Zakat and Usher Committee Gujrat, son of Hafiz Muhammad Suleman, senior clerk of the same department and elder brother of Muhammad Hashim, an attendant of DCO office, was killed on the spot while another seriously injured when their bike hit a donkey cart on Gujranwala Road near Bhirri Morr. The deceased was laid to rest in the local graveyard Saturday evening.
Man assaults brother's wife
KASUR
A fiendish man allegedly raped his sister-in-law (brother's wife) here in Village Roday on Sunday.
According to the police, the woman, wife of Shakeel Ahmed, was alone and asleep in her room. In the meanwhile, Jameel entered the room and allegedly raped his sister-in-law.
The Mandi Usmanwala Police have registered a case on the complaint of the woman.
WORKER ENDS LIFE: A poverty-stricken worker of Powerloom committed suicide by hanging himself in the Powerloom here at Pirwala Road on Sunday.
Muhammad Shafiq, 26, a resident of Bhusarpura was worried about his financial condition and was unable to pay off his loans since long. He ended his life by hanging himself in the Powerloom.
However, his family members alleged that Powerloom owner Muhammad Ahmed and his account Ali Raza along with others killed Shafiq over monetary dispute. The Kasur Saddr Police have launched investigation into the incident.
http://nation.com.pk/national/04-Jan-2016/woman-gang-raped-by-two-youth
----------
Woman among 3 nabbed after 4-hour shootout
January 04, 2016
GUJRANWALA
The police arrested three suspects including a woman after four-hour-long shootout in Khiali area Sunday evening.
Three persons including the cameraman of a private TV channel got bullet injuries in the shootout.
According to police, acting of a tip-off, the police carried out a raid on a house in Faisal Colony of Khiali area. On seeing the police, the outlaws holed up in the house, started firing on the police. The police called in re-enforcement and soon heavy police contingent along with a bullet proof van reached the spot. They besieged the house and a shootout erupted with intense crossfire at intervals. The shootout lasted about four hours and after intense shelling of tear gas in the house, police commandos entered the house. They managed to arrest three outlaws including a woman.
They were shifted to an unidentified location for interrogation. Two passersby and a cameraman of a TV channel got bullet injuries in the incident.
The police have started further investigation.
http://nation.com.pk/national/04-Jan-2016/woman-among-3-nabbed-after-4-hour-shootout
----------
Finally, Filipino gets a call from Saudi 'dad'
4 January 2016
RIYADH: A Saudi man residing in the capital has contacted the Filipino who has been searching for his father for 15 years and told him that he was ready for a DNA test.
An excited Elayan Kris Allafi, the 31-year-old Filipino, expressed thanks to Arab News via an online conversation for publishing his story in its Jan. 2 edition. He said the Saudi man contacted him early on Saturday morning and expressed his willingness to undergo a DNA test for final confirmation and completion of legal procedures.
"Thanks to Arab News, this is for the first time in my life I got to hear from him," Allafi said.
"Thank you for your help. They are now talking to each other on the phone," Allafi's wife told Arab News while he engaged in a phone conversation with the Saudi man calling from Riyadh. "They are now discussing how to undergo the DNA test" she said,
Allafi provided some documents, photos and letters to Arab News, dated 1984 from Riyadh, bearing the name of the sender and his postal address.
Allafi said: "Thanks to Allah, I am so happy the man is willing to recognize me but wants to be sure that everything goes through the legal process. He expressed his willingness to undergo DNA test."
The Saudi man also had a conversation with this reporter on Saturday and expressed his willingness to end the suffering of Allafi.
According to Allafi, his mother met the Saudi man in Manila in 1983-84 through a Filipino friend who was a business partner.
"I retained my name in my passport in the hope to see him one day, although it is something unfamiliar in the Filipino community to have such a name. However, everybody knows me there as "Arabia son".
Allafi, who is now already married, said that when he was 17-18 years old, he had started the search for his father. He was raised in the Christian community in Isabella and has been working in in Malaysia since 2005.
"I am confident about meeting my father, so that I can visit the Two Holy Mosques with my wife to perform Umrah" he told said from Malaysia.
He is now pursuing Islamic studies in Malaysia to learn more about his original religion, and uses the Arabic name in his Facebook account.
"Once he recognizes me, I will perform Haj immediately," he said.
http://www.arabnews.com/saudi-arabia/news/859971
----------
Pink Caravan Ride to start on March 7
January 4, 2016
Dubai: Pink Caravan Ride 2016, the annual breast cancer awareness drive, will be held on March 7-17 this year.
The ride will include more 100 riders, medical teams and volunteers to raise awareness about breast cancer, the importance of early detection examinations and to offer free screenings for everyone.
The ride is being held under the patronage of Shaikha Jawaher Bint Mohammad Al Qasimi, Wife of the Ruler of Sharjah, Founder and Royal Patron of the Friends of Cancer Patients (FoCP), International Ambassador of the World Cancer Declaration for Union for International Cancer Control (UICC) and International Ambassador for Childhood Cancer for UICC.
Over the years, the Pink Caravan has succeeded in offering free screenings to 36,332 women and men throughout the UAE's seven emirates. The Pink Caravan has also gained considerable success in raising awareness about the importance of early breast cancer detection.
During the ten-day ride, the medical staff will offer free breast cancer screenings to all community members, and raise breast cancer awareness through distribution of brochures and organising of lectures and workshops on how to perform self-examination, methods of dealing with the disease and also provide support to existing patients.
Expressing pride in the Pink Caravan's achievements, Shaikha Jawaher said: "The Pink Caravan Ride will continue as long as the challenge imposed by breast cancer still exists. We therefore call on all community segments, government entities, private institutions and civil society organisations, to support and interact with the Pink Caravan's activities and programmes."
She added that the ride was part of the UAE's strategy to ensure people's happiness and the wellbeing of its residents: "We urge everyone to actively engage in its activities and contribute to helping it pursue its mission and achieve its goals. We do not want any Emiratis or residents living in the UAE to suffer from the physical and psychological pains caused by breast cancer. We neither want any family to suffer from the painful, grave effects caused by all types of cancer that are curable, treatable and survivable if detected early."
Breast cancer is the most common type of cancer affecting women worldwide with approximately 1.1 million women across the world diagnosed with breast cancer every year, 410,000 of whom will die of the disease. But if found in the early stages, 98 per cent of women can be completely treated and cured and figures show that 80 per cent of women's breast cancers are detected by women during self-examination.
The Pink Caravan Ride launched in 2010 by the Friends of Cancer Patients, organises an annual horseback expedition that travels across all seven emirates, accompanied by its riders, mobile clinics and media teams. The ride marking its 10th anniversary will begin in Sharjah and conclude in Abu Dhabi.
http://gulfnews.com/news/uae/health/pink-caravan-ride-to-start-on-march-7-1.1647995
URL: https://newageislam.com/islam-women-feminism/michigan-woman-blasts-muslims-say/d/105863
New Age Islam, Islam Online, Islamic Website, African Muslim News, Arab World News, South Asia News, Indian Muslim News, World Muslim News, Womens in Islam, Islamic Feminism, Arab Women, Womens In Arab, Islamphobia in America, Muslim Women in West, Islam Women and Feminism