New Age Islam News Bureau
07 July 2022
• 'Muslim Mother Cannot Be the Child's Guardian': Kerala High Court Kept Sharia above Constitution Because Of Previous SC Judgments
• Saudi Filmmaker Ahd Kamel's 'Sanctity' To Be Part of Netflix's 'Because She Created' Collection
• Shumaila, a Pakistani Woman Arrives In India To Marry Her Distant Relative
• Saudi Women Staff at GASTAT Spend Over 30,000 Hours A Day in Census Work
Compiled by New Age Islam News Bureau
URL: https://newageislam.com/islam-women-feminism/metro-ban-religious-belief-iran-hijab/d/127428
--------
Metro Ban for Women, Regardless Of Nationality or Religious Belief, Without Head Coverings in Iranian City, Mashhad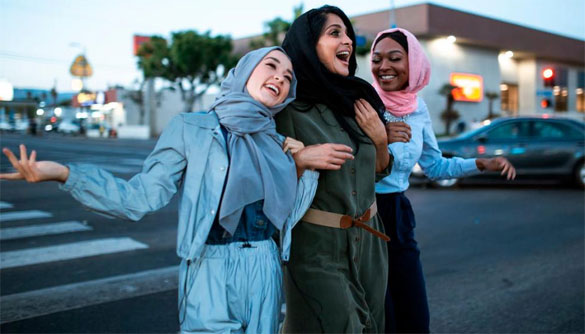 Pix for representational purpose only. Photo: The sun Daily
----
July 6, 2022
TEHRAN: Women in Iran's second-largest city will be banned from taking the Mashhad metro if they are not wearing a head covering, local media reported on Wednesday.
Since the country's 1979 Islamic revolution, Iranian law requires all women, regardless of nationality or religious belief, to wear a hijab that covers the head and neck while concealing the hair.
But many have pushed the boundaries over the past two decades by allowing their head coverings to slide back and reveal more hair, especially in Tehran and other major cities.
Mashhad's deputy prosecutor wrote to the city's governor "demanding he ban women not wearing an Islamic head covering from accessing the metro", said the Young Journalists Club (YJC), a news agency linked to state television, publishing a copy of the June 26 letter.
If officials do not enforce the ban by July 6 "they will be prosecuted", the letter said.
Mashhad, the capital of northeastern Razavi Khorasan province and home to more than three million people, is the site of the Imam Reza shrine, which honours one of the most revered figures in Shiite Islam.
"The letter from Mashhad's deputy prosecutor is in accordance with the law," Iran's attorney general Mohammad Jafar Montazeri told the YJC, confirming the note's authenticity.
On Tuesday, local media said authorities had closed three coffee shops in the city of Qom due to female customers not wearing head coverings.
Last month, police arrested several girls in the southern city of Shiraz after they removed their head coverings during a skateboarding event, along with organisers.
Source: Free Malaysia Today
https://www.freemalaysiatoday.com/category/world/2022/07/06/metro-ban-for-women-without-head-coverings-in-iranian-city/
--------
'Muslim Mother Cannot Be the Child's Guardian': Kerala High Court Kept Sharia above Constitution Because Of Previous SC Judgments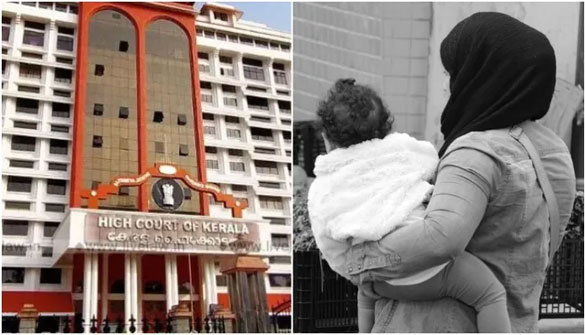 Image used for representational purpose (Source- Live Law)
----
Jul 7, 2022
KOCHI: There is nothing in the Quran or Hadith that bars Muslim women from being guardians of their minor children but the law laid down by the Supreme Court doesn't allow testing the Muslim personal law on the anvil of right to equality (Article 14) or right against discrimination (Article 15), the high court said in a judgment.
Considering the question whether the Quran or Hadith specifically prohibit or bar a mother from being the guardian of her minor child's person and property, a division bench of Justices PB Suresh Kumar and CS Sudha noted that in the absence of a specific mention in the Quran and the Hadith, there are interpretations both ways. An appeal filed by C Abdul Aziz of Kallai in Kozhikode and 12 others through advocate KM Firoz was considered by the court.
The court's judgment on Tuesday said, "If succession and like matters of secular character has nothing to do with religion, the same would be the position with… guardianship... In this modern age, women have scaled heights and have slowly but steadily stormed several male bastions… many Islamic countries or Muslim dominated countries have women as their heads of State..."
"Just as one cannot read into the Qur'an or Hadith what is not stated therein, one cannot also say that something has been prohibited or barred, because the Qur'an or Hadith is silent on the same. This is especially so when an interpretation has been given that a father or judge can entrust a mother with guardianship; that after the father and paternal grandfather, there is no prohibition in the mother taking the role of guardianship. These interpretations have been stated to have been given by Imams. But it is also pointed out that opinion of Imams cannot override what is contained in the Qur'an and the sayings of the Prophet. This is all the more so, when it is stated that Islam does not have priest-hood and do not recognize anyone to be infallible," the court said.
But the court was quick to point out that the law laid down by the SC through its judgments does not allow for testing the Muslim personal law on the anvil of constitutional rights such as right to equality or right against discrimination.
Source: Times Of India
https://timesofindia.indiatimes.com/city/kochi/no-bar-in-quran-hadith-on-muslim-womans-right-to-be-childs-guardian-hc/articleshow/92713300.cms
--------
Saudi filmmaker Ahd Kamel's 'Sanctity' to be part of Netflix's 'Because She Created' collection
July 06, 2022
DUBAI: Saudi filmmaker Ahd Kamel's short movie "Sanctity" is joining Netflix's curated collection "Because She Created," which features 21 Arab films by female directors.
The collection — which spans various genres, including documentaries, drama and romance — features films that are new to Netflix and will be released on July 7.
It includes the works of critically acclaimed Algerian, Egyptian, Jordanian, Kuwaiti, Lebanese, Moroccan, Palestinian, Saudi, Sudanese, Syrian and Tunisian filmmakers.
The new collection celebrates the creativity of the Arab world's female storytellers and aims to give more people a chance to see their lives reflected on screen.
Jeddah-born Kamel's short film "Sanctity," which was released in 2013, focuses on social traditions that make friendships between men and women seem abnormal. She explores the concept through a story about a young Saudi widow who tries to protect her unborn child.
"Sanctity" was nominated for a Golden Bear at the Berlin International Film Festival in 2013.
Another film to be featured in the "Because She Created" category includes "Stateless" by Moroccan filmmaker Nariss Nejjar, which tells the story of a 35-year-old woman who is haunted by the memory of her childhood being ripped away from her when she was estranged from her family and forced into exile in Morocco.
Algerian filmmaker Latifa Said's 2019 movie "The Room" tells the story of an Algerian expatriate who discovers who her father really is after he passes away, through his objects and the things he owns.
Meanwhile, Fatma Zamoun's multi-character drama "Parkour," which is set in Algeria, essays a couple preparing for their wedding before things take an unexpected turn.
These films are joined by "Bint Werdan," an office comedy by Kuwaiti filmmaker Maysaa Almunin, and "Selma's Home," a family drama by Jordanian filmmaker Hanadi Elyan, among others.
"We're proud to be telling more stories by Arab filmmakers that can resonate with women from all walks of life and from around the world. Together, their voices provide inspiration for the wider creative community, while highlighting the importance of equitable representation in storytelling, and why it matters," Nuha El-Tayeb, director of content acquisitions for Netflix MENA and Turkey, said in a released statement.
Source: Arab News
https://www.arabnews.com/node/2117641/lifestyle
--------
Shumaila, A Pakistani Woman Arrives In India To Marry Her Distant Relative
Jul 6, 2022
ATTARI: Finally after overcoming cross-border hindrances and bottlenecks, Pakistani national Shumaila arrived in India from to marry her distant relative Kamal Kalyan.
On Wednesday Shumaila, a resident of Lahore, entered India via Integrated Check Post, Attari along with her relatives where she was received by Jalandhar resident Kamal Kalyan and his family members.
Both of them were engaged online in 2018 and were set to marry in 2020 which couldn't happen due to a coronavirus outbreak.
"I am feeling very good as if I am with my own people and not with strangers, no one is new for me , all are mine," said Shumaila adding she was being welcomed not as "daughter-in-law but as a daughter."
She said her marriage was "arranged" by the family and she simply abided by what she was told to do. "As cousins, I used to talk to Kamal often, we would also have video chats on various occasions", she said.
She said there was party time going on in her friend's circle in Lahore and almost all of her friends had come up to Wagah (Pakistan border) to see her off.
Echoing with Shumaila, Kamal, who has a car bazaar in Jalandhar, said: "I did whatever my father and other family members decided".
Qadian resident Chaudhary Maqbool Ahmad who himself is married in Pakistan claimed that he had helped Shumaila and Kamal to fulfil the travel formalities etc. He urged the Central government to simplify the visa formalities so that the marriages could be solemnised between the families divided across the Radcliffe Line without passing through cumbersome travel formalities.
Shumaila said she had to apply a couple of times before she was given a visa.
"There are a lot of people who want to travel but their spirits are dampened due to cumbersome visa formalities, the governments of both countries should simplify the process," she said.
Source: Times Of India
https://timesofindia.indiatimes.com/city/ludhiana/pakistani-woman-arrives-in-india-to-marry-her-distant-relative/articleshow/92706845.cms
--------
Saudi women staff at GASTAT spend over 30,000 hours a day in census work
July 06, 2022
RIYADH — Dr. Fatimah Aloef, vice president of the General Authority for Statistics (GASTAT), said Saudi women employees at GASTAT were spending a total of over 30,000 hours per day in census 2022 duty all over the Kingdom.
Speaking to Al-Watan newspaper, she said the Saudi Census 2022 was a unique experience in many respects compared to the previous one. "The participation rate of women constituted more than 20 percent of the total census enumerators, and they together spend an average of more than 30,000 hours per day on census work in all regions of the Kingdom," she said.
According to Aloef, the great roles played by Saudi women in the census work and at GASTAT showed the importance of their pivotal role in fieldwork in all sectors. She expressed pride in her presence at GASTAT leading the women's team who have proved themselves in all work sites. "This confirms the remarkable contributions of Saudi women in all sectors in the Kingdom. This is what makes us proud that these jobs, tasks and positions benefit this country in its march forward advancing the wheel of development," she said.
The Saudi Census 2022 witnessed unprecedented participation of women since the launch of its various phases. The participation of women in the census coincided with remarkable growth in their pivotal and effective role in almost all sectors. Their participation was distinguished during their presence in the workplace, where they assumed leadership positions and participated effectively in fieldwork in all regions of the Kingdom.
The women employees are performing many tasks during the ongoing massive census exercise with their active participation in various statistical works, such as collecting and developing data, in addition to fieldwork represented in visiting families and individuals to complete the census form, and many other tasks and roles. They have proved their mettle demonstrating real capabilities in managing affairs with the highest specialized and distinct talent and skills.
The role of women enumerators and researchers includes the use of national address in the census; implementation of rules and methods of queue system during the enumeration process; access to real estate units, filling up the family data form; using tablets to complete the household data form and deal with data providers.
Source: Saudi Gazette
https://www.saudigazette.com.sa/article/622655/SAUDI-ARABIA/Saudi-women-staff-at-GASTAT-spend-over-30000-hours-a-day-in-census-work
--------
URL: https://newageislam.com/islam-women-feminism/metro-ban-religious-belief-iran-hijab/d/127428
New Age Islam Islam Online, Islamic Website, African Muslim News, Arab World News, South Asia News, Indian Muslim News, World Muslim News, Women in Islam, Islamic Feminism, Arab Women, Women In Arab, Islamophobia in America, Muslim Women in West, Islam Women and Feminism