New Age Islam News Bureau
17 Jul 2015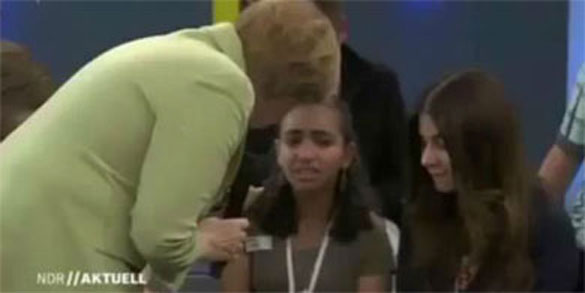 German Chancellor Angela Merkel reduced Palestinian girl to tears by explaining her policy on asylum and adding that "sometimes politics is hard". (Photo: DHA)
--------
• Merkel mocked online after reducing Palestinian girl to tears
• Pakistani Asia Bibi to Appeal for Freedom through Pakistan's 'Flawed Legal System'
• Cameroon bans Islamic face veil after suicide bombings
• Iowa women welcome female Muslim athletes to RAGBRAI
• Mom Jailed after Murdering 8 Newborns: Infanticide Was Just 'a Form of Contraception'
• Young Muslim Women run marathon even if hungry
• Is Gal Gadot's Wonder Woman a Feminist Dream?
• Muslim Father kills 18-year-old daughter in UP for repeatedly running away from home
Compiled by New Age Islam News Bureau
URL: https://newageislam.com/islam-women-feminism/merkel-mocked-online-after-reducing/d/103938
-------
Merkel Mocked Online After Reducing Palestinian Girl to Tears
July 16, 2015
German Chancellor Angela Merkel drew mockery online on Thursday for stroking the back of a Palestinian girl facing possible deportation after she had reduced her to tears by explaining her policy on asylum and adding that "sometimes politics is hard".
One participant defended her, saying he respected her attempt to explain the situation where other colleagues might "talk around it".
The hashtag #merkelstreichelt (merkelstrokes) and video clip of Merkel's exchange with a roughly 10-year old girl went viral. The girl, identified as Reem, from Lebanon has lived in Germany for four years but her family may be forced to leave.
During a discussion forum in the northern city of Rostock organised by the chancellor's office, Reem told Merkel in good German she wanted to study in Germany. It was unpleasant that she could not share the enjoyment of life experienced by her peers because of uncertainty over whether she will be able to stay, she said.
"I understand," said Merkel. "However ... sometimes politics is hard. When you stand in front of me and you are a very nice person, but you know in Palestinian refugee camps in Lebanon there are thousands and thousands (of people) and if we say you can all come and you can all come from Africa and you can all come. We can't manage that."
At that point Reem cried.
Looking surprised, Merkel walked up to her and said: "Ah, you did a great job."
The moderator of the discussion intervened to say the young woman was crying more because of her difficult situation than over whether she had done a good job in presenting her views, Merkel retorted: "I know ... Still, I want to stroke her." She then stroked Reem on the back.
Tweets mocked Merkel, accusing her of looking clumsy and lacking empathy.
"With the chancellor in the zoo," tweeted Torsten Gaitzsch.
"#merkelstrokes with the cold hand of an ice queen" wrote Martina Wilczyniski.
Felix Seibert-Daikerac, who moderated the forum, told the Sueddeutsche Zeitung that Merkel had reacted in a humane manner.
"Of course, we all would have liked Merkel to take Reem in her arms and say 'you can stay' but that is not the situation." He said she respected her attempt to explain the political situation to a child. "Many colleagues would have talked around it."
Immigration has shot up the political agenda due to mounting fears among Germans about how to cope with a flood of asylum seekers, especially from the Middle East and Africa and many of Merkel's conservatives want her to take a harder line.
Reflecting mounting resentment among Germans, the number of attacks on refugees is rising. So far this year there have been 150 such attacks, already nearly as many as in the whole of last year. President Joachim Gauck this month warned that xenophobic attitudes are taking root.
http://www.todayszaman.com/latest-news_merkel-mocked-online-after-reducing-palestinian-girl-to-tears_393906.html
---------
Pakistani Asia Bibi to Appeal for Freedom through Pakistan's 'Flawed Legal System'
By Dan Wooding, ASSIST News Service On July 17, 2015
PAKISTAN (ANS - July 16, 2015) -- Asia Bibi, the Pakistani Christian mother-of-five who is on death row, has been given one last chance to challenge for her freedom from the noose, after a Supreme Court appeal date has been set for Wednesday, July 22nd, starting at 9.00am Pakistan time (5am GMT).
The British Pakistani Christian Association (BPCA) has called on Christians across the globe to pray for her freedom and for justice to be served through the courts.
One of the solicitors involved in the case has just contacted the BPCA officer, Mehwish Bhatti, to pass on who news.
Mehwish said: "I am pleased at this early date, the legal process in Pakistan can be so delayed. Perhaps the international pressure felt by our Government has resulted in the expedition of her case. I hope that this time the courts make the right decision and free sister Asia. Six years in a dingy, dark cell in complete isolation will no doubt have caused great trauma, especially when coupled with a nation's unfair hatred."
Asia Bibi, who was gang-raped, beaten and has served 5 years' imprisonment for saying: "My Christ died for me, what did Muhammed do for you?" whilst being insulted for her faith, became the only victim of this sad and notorious incident.
"Her words have deemed by most religious experts from all faiths to be a harmless question that exhibits little to qualify as a blasphemy, yet Asia has been forced to cook her own food from raw ingredients and to live in isolation due to significant threats, bullying and attempts at taking her life," said a spokesperson for BPCA in the UK.
"The imam who preached hatred towards her through a public tannoy (speaker) inciting people to hatred and who forced the blasphemy charges to be laid against her; the women who first beat her and insulted her God which she could not bear despite absorbing all personal insults; and the rapists who cruelly tortured and dishonored her have all kept their freedom."
Release Asia BibiThis is the last chance for freedom through legal process for Asia Bibi, and many humanitarians are questioning whether or not a Supreme Court Judge will vindicate poor Asia, in a society that has created pariah status for alleged blasphemers, especially Christians.
Chairman of the BPCA, Wilson Chowdhry said: "The draconian blasphemy law of Pakistan has been condemned globally and is a tool for discrimination, vendettas and hatred. The impunity with which perpetrators of false charges can stir up community hatred, magnified by the intolerance and similar permission for mosques to preach hatred, have created a toxic situation for minorities. They are now fleeing Pakistan in their droves with thousands upon thousands being re-persecuted in South-East Asian countries such as Thailand, Malaysia and Sri Lanka."
He added: "Ignoring the plight of Pakistani Christians has backfired on Western nations enmeshed in duplicitous politics, based on trade agreements and the ostensible ally relationship of Pakistan in the war against terror. This has culminated in seeping extremism and hatred in the countries of the West which, if unchallenged, will one day result in similar terror closer to home. It is time for a global strategy that recognizes the need to resolve conflict and hatred in the Islamic world to stem precipitating animosities in countries foolishly deemed safe."
He added, "We are working tirelessly to help end injustice for Asia Bibi but we can't do it without you."
http://www.crossmap.com/news/asia-bibi-to-appeal-for-freedom-through-pakistans-flawed-legal-system-19797
------
Cameroon Bans Islamic Face Veil after Suicide Bombings
16 July 2015
Cameroon has banned the wearing of full-face Islamic veil, including the Burqa, in the Far North region, following two suicide bomb attacks.
Two women dressed in the religious garments blew themselves up on Sunday in Fotokol, killing 13 people.
The governor of the mainly Muslim region said the measure was to prevent further attacks, Reuters reports.
Last month, Chad announced a similar ban after suspected Boko Haram militants attacks in its capital.
Both Cameroon and Chad neighbour Nigeria, where the Boko Haram Islamist group has been based - and both have suffered attacks by the insurgents.
In Nigeria, Boko Haram militants have increasingly been using female suicide bombers as they are often able to smuggle bombs into public places without detection.
BBC Africa Live: News updates
The governor said that Muslims in the north of Cameroon have also been banned from holding large gatherings without permission as the end of Ramadan nears, the Associated Press news agency reports.
"We are also systematically checking all vehicles, and controlling all luggage and the population should collaborate because there is a serious security threat to our nation," Governor Midjiyawa Bakari is quoted as saying.
The wearing of the full-face veil has not been banned in Cameroon's other provinces.
About 20% of the 22 million people living in Cameroon are Muslim - and most of them live in the Far North region, according to the country's National Institute of Statistics.
On Wednesday, Gabon - which borders Cameroon to the south - also announced it was banning the wearing of full-face veils in public and places of work.
The mainly Christian country said it was prompted to do so because of the attacks in Cameroon.
The full-face Islamic veil was banned in May in public places in Congo-Brazzaville, to "counter terrorism", although there has not been an Islamist attack in the country.
This year Chad, Cameroon and Niger have been helping Nigeria recapture territory from Boko Haram in north-eastern Nigeria - and are part of a boosted regional force that has been created to taken on the insurgents.
http://www.bbc.com/news/world-africa-33553041
------
Iowa Women Welcome Female Muslim Athletes to RAGBRAI
By Lily Abromeit, The Gazette
JULY 16, 2015
Last summer, 12 women who went to high school together in Urbandale hatched a plan. To mark their 50th birthdays in the coming year, they would ride RAGBRAI 43 next week — but with a few extras.
The women, some of whom still live in the state, decided to sponsor nine female Muslim athletes to fly to Iowa to participate in the ride.
"Our mission was to really promote female participation in sports as a female right and our hope was to kind of bring that to the attention and help inspire other women to pursue athletics," said Nanci Freed, who lives in Cincinnati and will be working the social media and logistics of the team.
Freed said they got the idea from one member of the group, Mara Gubuan. Gubuan, now living in New York, is the co-founder of Shirzanan Global, a non-profit that promotes Muslim female athletic participation.
"Thinking about our upcoming milestone 50th birthday … we just decided (to) do something physically challenging," Gubuan said. "We just decided, let's make it physically challenging but also socially relevant."
For RAGBRAI, the group is sponsoring nine female Muslim athletes who have reached successes in their own countries. They will come to Iowa and stay with the Iowa women and ride alongside them.
The athletes range from an Olympic weight lifter to a soccer player from Afghanistan to a snowboarder from Iran. The women will be coming from Pakistan, Iran, Jordan, Egypt, Afghanistan, as well as from a few places around the United States.
"We wanted to identify and partner with women who had already broken the stereotypes," Freed said. "They come to represent that it is possible."
Gubuan said she hopes these women will inspire other young women and girls, especially Muslim girls, to pursue athletics.
Freed said they had to go through all of the logistics of getting the women here, like applying for and obtaining visas and credentials. But everything came through approved last week and the Muslim women arrived Thursday. The whole team will participate in a short ride Friday in Des Moines.
Sue Thomas, who lives in Marion, said she has been training for most of the year as this will be her first RAGBRAI.
She said she's nervous about the challenges.
"I think it will be extremely challenging and then also I have a partner who is a global cyclist from Jordan, I'm her American partner, so that should be challenging because I'm sure she'll be a lot better than me," Thomas said.
Freed said while the Muslim women most likely haven't had to do rigorous extra training, they will face some of their own challenges.
"The good news is that they are young, in- shape athletes that have been training so they're probably in pretty good shape. But they're traveling from across the world," she said, adding that for many of them it will be the end of Ramadan, meaning they will be ending a fast.
Despite the challenges expected for everyone, Thomas said she is excited to be reunited with her old classmates as well as be exposed to different cultures.
"This is probably one of the most diverse teams they've ever had," she said, "so that should be kind of historical."
http://thegazette.com/subject/news/iowa-women-welcome-female-muslim-athletes-to-ragbrai-20150716
-----
Mom Jailed after Murdering 8 Newborns: Infanticide Was Just 'a Form of Contraception'
By Steve Weatherbe, LIfe Site News On July 16, 2015
VILLERS-AU-TERTRE, France, July 15, 2015 (LifeSiteNews) - Dominique Cottrez, the French woman who murdered and hid eight of her children as "a form of contraception" as soon as she bore them, should be out of jail "in a few months." The woman had been nominally sentenced to nine years' imprisonment by a jury who considered her judgment impaired.
Cottrez lied continuously on the witness stand during her week-long trial. The French national newspaper Le Figaro reported, "Ms. Cottrez consistently provides whatever answers which, she believes, will please those who question her, so she speaks but says nothing."
Because of the early-release policies of the French legal system and because she has already served several years in jail, Cottrez's nine-year sentence is already nearly over. "This woman, who no longer pose[s] any danger to society - on this, the experts are unanimous - should regain her freedom in some months," stated Le Figaro. "The public prosecutor can certainly appeal. But is it his interest to appear the sore loser by not accepting the balanced decision of a jury in a singular case?" The prosecutor had called for an 18-year sentence.
Cottrez may have killed her babies while suffering from diminished capacity under stress, as defense attorney Frank Berton urged and the jury evidently believed, but she showed cunning on the stand, blaming her father for impregnating her, a move Le Figaro admitted was calculated to make herself out to be the victim. DNA testing on the bodies, however, proved that the babies were all fathered by Cottrez's husband.
Cottrez said she had not gotten abortions for the unwanted babies she bore between 1989 and 2000 because she, a nurse's aide, feared doctors. She strangled them instantly, wrapped them in plastic, and hid them in different places on the family property (where they were discovered, after it was sold, by the new owner) rather than burn the bodies. She told the jury she did not want to cause them suffering. She also said she viewed infanticide as "a form of contraception." Why not get contraception, then? She did not want to face a doctor about it.
Not all French people were as balanced as Le Figaro. Jeremie Mani, the owner of an internet moderation and filtering service, reflected in a recent blog post that the lack of restraint in public comments about the mass murder had led to many deletions.
"More than 8 out of 10 posts were deleted. Well above the average, which is approximately 20%. How to avoid messages that pollute the wire and that contribute nothing to the debate?"
Among the examples he cites: "The girl she killed 8 babies !!!!! There are no excuses !!!!!"; "Petasse Grosse cow b**** penalty of death by freezing"; "What kind of monster she must be .... It was especially wrongful accusing a man who is no longer with us ... She deserves the death penalty."
Joseph Meaney of Human Life International in Paris told LifeSiteNews that the general impression created by the trial was that the woman was "mentally disturbed[.] ... These ladies who deliver and commit infanticide seem to be in denial of their pregnancies or suffering from post-partum depression."
Meaney said that "people in France and elsewhere are still shocked by infanticide after birth, which is a good thing." At the same time, "illogically," the French are complacent about abortion. In fact, infanticide "tends to be used as an argument for abortion. If only these women 'got help' to abort," they would not have to resort to infanticide.
Meaney noted that obesity appeared to play a part in recent cases of multiple infanticide, because it concealed the pregnancy from others and even from the women themselves. Indeed, according to a Time Magazine article written in 2010, when Cottrez's crimes were first uncovered, 230 Frenchwomen a year "discover their pregnancy only while giving birth."
The article, "Why are French Women Killing Their Babies?," notes that Cottrez's crimes make for the fifth mass infanticide in France since 2003. In 2009, for example, Veronique Courjault was convicted of killing three newborns, and 2010, Celine Lesage was convicted of killing six. This spring in Louchats in the southwest of France, five infants' bodies were discovered in a farmhouse, four in a freezer, and police committed the female householder for psychiatric examination.
The mental disturbance from which Cottrez and others may suffer is called "pregnancy denial," Dr. Michel Delcroix, a gynecologist who testified in the Courjault case, told Time in 2010. A form of schizophrenia, a woman in its throes disbelieves so strongly in her pregnancy that she even denies the evidence of birth itself. "Once the child they never wanted arrives, they get rid of it to restore order to what they believe is nonpregnant reality."
Delcroix believes that infanticide is increasing because society no longer values motherhood, children, and family.
http://www.crossmap.com/news/mom-jailed-after-murdering-8-newborns-infanticide-was-just-a-form-of-contraception-19775
-------
Young Muslim Women Run Marathon Even If Hungry
By: Samira Gutoc
July 17th, 2015
In Marawi City, the holy month of Ramadan was an occasion to showcase a healthy lifestyle.
"We don't just sleep during Ramadan like many are practicing, we are fasting to be healthy," said Trekee Dayan of Tawi-Tawi, sports chief of the Autonomous Region in Muslim Mindanao (ARMM).
"On the contrary, we feel energized during Ramadan, not bored, sleepy or less productive," said Leah Mehila, a member of Young Moro Professionals Network, Northern Mindanao.
The ARMM has organized Ramadan sports festivals for the last three years to generate more support for Bangsamoro athletes.
This year, 200 joined the Ramadan Fun Run to push for ARMM athletes who will join the Batang Pinoy-Mindanao leg set in Koronadal City later this year.
ARMM athletes are slowly making a name for themselves in the country, dominating the 2013 Nestea Beach Volleyball Tournament.
In Tangkal, Lanao del Norte province, a former conflict zone, women and men also held a fun run to gather the residents in a show of solidarity toward peace-building.
Participants included police, Army personnel running side-by-side with former members of the Moro Islamic Liberation Front.
Filipino Muslim women are also participating in the fun runs and other sports events.
Women's Islamic Initiative in Spirituality and Equality said that in the past many Muslim women had made their mark in the Olympics.
Among the more prominent Muslim women athletes is Nawal El Moutawakel of Morocco who won a gold medal in the 400-meter hurdles in the 1984 Olympics. El Moutawakel served as vice president on the International Olympic Committee, the first Muslim woman to do so. Ghada Shouaa, who represented Syria, won a gold medal in the heptathlon during the 1996 Summer Olympics.
http://newsinfo.inquirer.net/705803/young-muslims-run-marathon-even-if-hungry#ixzz3g996JbUs
-----
Is Gal Gadot's Wonder Woman a Feminist Dream?
by Lior Zaltzman, July 14, 2015
I would love to talk to you all about Vanity Fair's interview with Gal Gadot, but first, a brief Hebrew lesson.
Gal, when pronounced in the authentic Hebrew way, does not rhyme with 'all' at all, I'd say it rhymes more with pal. /but you don't have to take my word for it, just listen here .
And while Gadot is riverbank s , not riverbank. I guess I can let that slide.
And now that I'm done being a stickler for Hebrew, let's move on to the glory that is Gal Gadot, Israeli model and actress, and her promising future. The 30-year-old Israeli was featured in the August issue of Vanity Fair as part of the promotion campaign for "Batman v. Superman: Dawn of Justice" film, in which she'll be starring as Wonder Woman.
Gadot, who previously appeared in the "Fast and Furious" series, is about to star in some pretty exciting movies, including "Keeping Up with the Joneses" with Jon Hamm and Isla Fisher, and two thrillers: as Ryan Reynolds' wife in "Criminal" , and alongside Aaron Paul and Kate Winslet in "Triple 9" . But Wonder Woman is definitely her biggest role yet.
As for why she's the perfect candidate for the amazonian woman is gold, red, white and blue, Gadot shared the following anecdote with Vanity Fair:
I don't remember this, but my mom told me that when I was three they threw a party on the rooftop of the house. They put me to bed, and I heard people coming into the house and no one came to me. I went to the rooftop and took a hose and I started to spray water on everyone, just to get attention.
I, for one, am pretty excited for this movie, gripes about Ben Affleck as Batman aside (I'll give him a chance).
But more than anything, I'm really happy for the return of Wonder Woman to live action. Like, well, not many of my generation, I have watched the campy 1970s "Wonder Woman", with Lynda Carter as Wonder Woman. And I loved it. Just check out this cheesy, yet enjoyable montage:
Also, like Lynda Carter, who played Wonder Woman in the 70s, Gadot is a former beauty queen. She was Miss Israel in 2004 and represented Israel at that year's Miss Universe pageant.
Wonder Woman isn't perfect , but she's a cool, smart, strong and confident woman. She's someone for girls to look up to. Yes, she's sexy and somewhat scantily clad, but in 2015, we can have superheroes that don't only target horny, young white males, right?
Right? The new trailer for Batman v. Superman is exciting, but also somewhat disappointing on that end. It shows lots of women talking, they're mostly talking to and about a man (particularly Superman). Not that we were expecting this movie to pass the Bechdel Test … But the only few seconds with Wonder Woman are silent. Sure, she looks badass and gorgeous. But she doesn't speak.
According to Vanity Fair, Gadot "has taken some heat for not being as buxom as the DC Comics character" to which "she points out that Amazons did not prize large breasts."
Seriously? Can we please not? What do Wonder Woman's breasts have to do with her ability kick butt?
So yes, thanks to Gal Gadot, Wonder Woman is finally getting the silver screen time she deserves, but let's hope the movie shows her as a more active participant.
On the bright side, Gadot is slated to have her own feature film in 2017. (Chris Pine is rumored to play Steve, the US army pilot whose plane crashes in the Amazonian and is saved by Wonder Woman) So we could still get a superhero movie that passes the Bechdel test soon.
http://forward.com/the-assimilator/311928/gal-gadot-is-glorious/#ixzz3g9AbGTjl
-----
Muslim Father Kills 18-Year-Old Daughter In UP For Repeatedly Running Away From Home
July 14, 2015 - 16:37
Meerut: An 18-year-old girl was strangulated to death allegedly by her father, who was apparently upset over her behaviour of repeatedly running away from home in Mobin Nagar area here.
The 55-year-old accused, identified as Saeed, later surrendered before the police, and was arrested on Tuesday, following which he was sent to jail, police said.
The victim was the youngest of the six daughters of Saeed, who was unhappy over her repeatedly running away from home. She was lately gone again for a month, Lisadi Police Station In-charge Rabindra Singh today said.
And, yesterday, when she returned home, the father-daughter duo had a quarrel, during which, Saeed, in a fit of rage, strangulated her with a rope, he said. PTI
http://zeenews.india.com/news/uttar-pradesh/father-kills-daughter-in-up-for-repeatedly-running-away-from-home_1629988.html
------
URL: https://newageislam.com/islam-women-feminism/merkel-mocked-online-after-reducing/d/103938