New Age Islam News Bureau
6 Dec 2013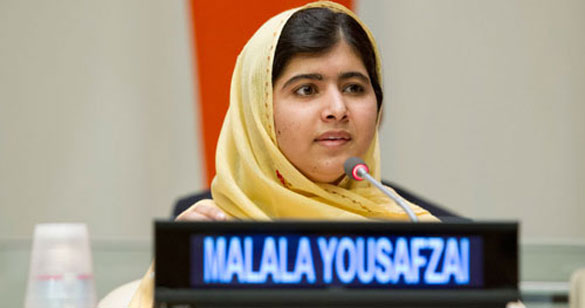 Malala Yousafzai. UN Photo/JC McIlwaine
-----------
• Malala Awarded 2013 United Nations Human Rights Prize
• Video of Fun-Loving Veiled U.S. Muslims Goes Viral
• Baluchi Sunni Woman Elected Mayor Is First For Iran
• Afghan Policewoman Is Killed, Fourth in Last Six Months
• UN Mission Pushes To Improve the Role of Women In Somalia
• Swat princess, Musarrat Ahmed Zeb promotes education
• Morocco Islamists under Fire over Women Bill
• Thirty seven thousand women were raped in the suburbs of Damascus only - Bianca Madia
• Nelson Mandela Daughters Asked For Film Premiere to Go On
Compiled by New Age Islam News Bureau
URL: https://newageislam.com/islam-women-feminism/memorial-girl,-7,-believed-been/d/34741
------------
Memorial for Girl, 7, Believed To Have Been Killed By Her Pakistani Father
6 Dec 2013
DUBAI // Grieving pupils have set up a playground memorial for a classmate believed to have been murdered by her father.
Flowers, notes and cards are mounting up at Raffles World Academy in Jumeirah in tribute to the seven-year-old victim.
The memorial is helping the children, parents and teachers mourn the popular grade 2 pupils, said Mark Thompson, head of the junior school, on Thursday.
"Children have put a little card or some flowers and written notes on what they feel for our little girl," he said.
"It is very touching and beautiful. Children have made pictures and put them up."
A Dubai Police source said the bodies of two girls, age 2 and 7, were found on Sunday night.
It is believed their Pakistani father drowned them before killing himself.
The girls' mother found the bodies when she arrived home from a night out.
The memorial has been set up in a playground just outside the child's classroom.
Pupils from the primary school, high school, teachers and parents have written in a book placed at the memorial. The notes and cards will later be sent to the girl's family, Mr Thompson said.
Counsellors have been brought in by the school to help the children and teachers deal with their grief.
Teachers have also been trained in grief counselling to help them attend to the children and answer their questions.
"We have taken careful advice from professional counsellors about how to deliver support to students and teachers," Mr Thompson said. "The grade 2 students have needed the most support and have had the most help.
"They have asked some questions. Everyone is comprehending what has happened at their own level.
"We do not speculate about what has happened also because we don't know the details are accurate."
The pupils' questions or concerns are being handled individually in different classrooms. The school plans to continue to monitor the children and keep counsellors available.
"The memorial has been a whole school effort and it has genuinely brought us together," Mr Thompson said. "I'm touched by so many messages. I think what is touching is the range of beautiful thoughts that people have expressed."
The girls' mother found her husband's body in the swimming pool at their villa off Emirates Road and found her daughters strangled and then drowned in an upstairs bathroom, police said.
Investigations are under way to find the reasons behind the deaths.
rtalwar@thenational.ae
http://www.thenational.ae/uae/courts/memorial-for-girl-7-believed-to-have-been-killed-by-her-father#ixzz2mjpZ05qt
------------
Malala Awarded 2013 United Nations Human Rights Prize
PTI | Dec 6, 2013
UNITED NATIONS: Pakistani teenage activist Malala Yousafzai, who survived a Taliban assassination attempt last year, has been awarded the 2013 UN Human Rights Prize, an honour previously given to icons like late Nelson Mandela in recognition of outstanding achievement in human rights.
The prize is awarded every five years and has previously been bestowed on Amnesty International and former US president Jimmy Carter.
"The Prize is an opportunity not only to give public recognition to the achievements of the recipients themselves, but also to send a clear message to human rights defenders the world over that the international community is grateful for, and supports, their tireless efforts to promote all human rights for all," the Office of the High Commissioner for Human Rights (OHCHR) said in a statement.
Apart from Yousafzai, the other five winners of the award are son of freed slaves who works to eradicate slavery Biram Dah Abeid of Mauritania, campaigner from Kosovo for the rights of short statured people Hiljmnijeta Apuk, President emeritus of the World Federation of the Deaf Liisa Kauppinen, Former President of the Morocco Association for Human Rights Khadija Ryadi and Mexico?s Supreme Court of Justice.
The award ceremony would take place at the UN headquarters here on December 10 as part of the annual commemoration of Human Rights Day, which would this year include the observance of the 20th anniversary of the creation of OHCHR and the adoption of the Vienna Declaration and Programme of Action.
High Commissioner for Human Rights Navi Pillay said human rights are increasingly permeating all corners of the work of the United Nations, and that is fundamentally changing the way the UN works with national authorities and the international community.
"The key now is to implement the laws and standards to make enjoyment of human rights a reality on the ground. Unfortunately, too often, the political will, and the human and financial resources, to achieve this are lacking," she said.
The High Commissioner said the 20 years since Vienna have seen many setbacks and a number of tragic failures to prevent atrocities and safeguard human rights.
"In several instances where deplorable, large-scale violations of international human rights law were occurring, the international community was too slow, too divided, too short-sighted ? or just plain inadequate in its response to the warnings of human rights defenders and the cries of victims. We can and we must do better," she added.
http://timesofindia.indiatimes.com/world/pakistan/Malala-awarded-2013-United-Nations-Human-Rights-Prize/articleshow/26946220.cms
----------
Video of Fun-Loving Veiled U.S. Muslims Goes Viral
6 Dec 2013
(WOMENSENEWS)-- Have you ever seen a Muslim woman skateboarding with heels? A Muslim veiled woman fencing at Olympics level? A veiled woman performing handstands, or juggling in the street?
Well you might see me doing one of those things if you check out a two-and-a-half minute video shot by two Brooklyn-based friends, Habib Yazdi and Abbas Rattani.
The video features a dozen Muslim women; all of us veiled, dressed modestly but wearing the latest trends. Our hair is partially covered, totally covered, or sometimes wrapped in a turban. Mixed with the Jay-Z's "Somewhere in America" soundtrack, the video offers an antidote to prevailing western stereotypes of Muslim, veiled women as inactive, passive, uniform in their appearance, and hidden.
Shot in five cities--New York, Los Angeles, Boston, Washington, D.C., and Hillsborough, S.C.--the mission of the video is to project a positive, rarely seen image of veiled Muslim women living IN the West. A year after participating in the video, I am pleasantly surprised to find it doing just that, offering an image that is both joyful and realistic.
Released on Nov. 30 the video is rapidly attracting viewers on Youtube and being heavily shared on Facebook and other websites. It was removed from Vimeo on Dec. 3 for copyright infringement involving the soundtrack, but had amassed 70,000 views within three days of being made public.
I took part in that project as a model for the New York-based Underwraps agency. We shot in a cold Saturday afternoon in December 2012 in Prospect Park, Brooklyn, with two others models and the head of the agency, Nailah Lymus.
From climbing on trees to scaling to the top of shipping containers to performing stunts, the intense activity on that shoot made us almost forget the biting cold.
Habib Yazdi directed us with the help of a producer named Sara Aghajanian. They said they wanted to project an image of strong and confident veiled Muslim women. They wanted something that mainstream media has never showed. The one and only rule they gave us was "Be yourself and have fun!"
A few days ago, I sat with Yazdi, a 27-year-old American Muslim of Iranian heritage, at a diner in Manhattan and learned more about what the project meant to him. Born and raised in Texas, he said he was ridiculed and taunted in high school for having a mother who wore the hijab.
"It was always on my mind, 'why is it ridiculed that my mom dresses like this?' And 'why is it seen as something lesser or inferior to other women?' I think that kinda stayed with me for a long time," Yazdi said.
Finding Fashion in Iran
After being teased in the United States by those who had no understanding of the veil that his mother was wearing, Yazdi remembered being pleasantly surprised when he encountered Iranian women wearing the veil in a country where it is mandatory.
"I saw a lot of young women who were forced to wear the scarf but they do it in such a fashionable way such as it defied the whole meaning behind why you are supposed to wear it. I was really taken by their strong sense of fashion there and how they use these restrictions imposed by the government to rebel within these restrictions," he said.
Yazdi has not showed the video to his mother yet but he's sure she will like it.
With its lack of narration, its trendy look and dynamic hip hop soundtrack, Yazdi and Rattani adopt a commercial approach meant to popularize the image of veiled Muslim women as "bold, powerful, young, rebellious, and fashionable women," Yazdi said. "We want to give people a different experience of what they tend to see and hear about Muslim women. You see how easy it is to manipulate images to create an idea, so for us it was like, why don't we do the same thing? Why don't we do our commercial and manipulate the images in our favor?"
If this kind of media were more widespread, the director thinks it could help change perceptions about Islam and women.
"Imagine if these images of Muslin women we have in the video are more prevalent, it becomes cool, it becomes hip, it becomes something that you are exposed to," said Yazdi. "If you see this and it is presented in such a fun and cool capacity, everyone is going to respond to that."
A Realistic Depiction
I can't speak out enough about the importance I see of this effort. The woman that I am in that video--doing a handstand among other things--is the woman that I am every day. In addition to my commitment to journalism, I am a very active woman. I'm into sports. I love being creative through fashion. Today I no longer wear the hijab but I covered my hair for nearly two years. During that time--as in none other--I found I had to show and prove that I was not inferior.
I decided to remove the veil just a few weeks before the Underwraps Agency put me on the set for this shooting, with my hair wrapped in a black turban.
People unfamiliar with Islam often assume a woman cannot workout, cannot play sports, cannot go out on her own, must be accompanied by a male relative, and so forth. In some parts of the world--such as Saudi Arabia--these restrictions might apply. For most of us, fortunately, they do not.
To combat the reductive stereotypes, we need more media that reflects our multi-faceted identities as Muslim women. It might not be every day that you witness veiled Muslim women wearing heels and skateboarding. But if you are ready to perceive us, you will come across plenty of active, funky, joyful, confident Muslim women who are also wearing the veil.
Each model in the video offers strong examples of what it means to be Muslim woman in America. There's Marwa Atik, co-founder and designer of Vela, a Los-Angeles based hijab company; Ibtihaj Muhammad, the American Olympic fencer; and Noor Tagoori, a young CBS radio journalist whose dream is to become the first Hijabi anchorwoman or talk show host on American television.
Jay-Z's song "Somewhere in America" has roused some controversy online because of two curse words in the track. Yazdi and Rattani have since released another video with a sanitized version of the song.
Otherwise, the music is essential to the message of "all things being possible in America," Yazdi said. "It is almost a shout out to say okay there are some good things here. As much as this country is to blame for the images that were very harmful for Muslim women, it is still a place where you can dress like this, act like this and be like this."
I strongly share that view. When I decided to wear the hijab, I felt comfortable doing so because I was living in the United States where freedom of belief really does seem to exist. As a French citizen, I was never AS uncomfortable as when I traveled home with my hair covered. Wearing hijab is not allowed in school and public jobs in France and covering your hair is often perceived as a lack of social integration. In the United States, by contrast, it can be a way to follow the director's orders and "be myself and have fun."
Hajer Naili is a New York-based reporter for Women's eNews. She has worked for several radio stations and publications in France and North Africa. She specializes in Middle East, North Africa and women in Islam.
http://www.trust.org/item/20131204094912-5l0ed/
-------------
Baluchi Sunni woman elected mayor is first for Iran
6 Dec 2013
The election of the first Baluchi woman last week as the mayor of Kalat, a city in the south of Iran, was an unprecedented event in one of the most underprivileged and conservative provinces in Iran. It is a significant step which local experts believe that can inspire Baluchi women to work for more rights and break boundaries that have been created by both the state and society.
Samiyeh Balochzehi, 26, who was elected mayor by the Kalat city council, is an engineer and has a master's degree in natural resources management from the Islamic Azad University Science and Research Branch in Tehran. A local who spoke to Al-Monitor on condition of anonymity said that Balochzehi is a widow, that her sister is on the city council and that she comes from a wealthy and influential family.
The five-member city council voted unanimously for Balochzehi. The significance of the election was not lost on the president of Kalat's city council, who, according to a local website, Baluch Press, said, "The election of a Baluchi woman can encourage local women. This could be an opportunity for all those who are, in spite of their qualifications, isolated from the society."
Electing a female mayor is by itself a very rare event in Iran. Female mayors who are Shiite and come from the majority Persian ethnicity are extremely rare, but electing a female mayor from two distinct minority sets in Iran, the Baluchi and the Sunnis, is unprecedented.
The province of Sistan-Baluchistan is situated in southeastern Iran and at 187,502 square kilometers [72,395 square miles, roughly the size of Washington state] is Iran's largest province. From the north of the province to the city of Zabol (the famous ancient city) is the region of Sistan, whose population is mostly Persian-speaking and Shiite. The Baluchi people, who speak Baluchi and are Sunni, populate the area between Zahedan and Chabahar, in the south of the province. Of the 2.6 million inhabitants of the province, approximately 65% are Baluchi.
This province has historically suffered from political repression, economic deprivation, and has witnessed violence through terrorism from extremist Sunni groups and drug smuggling.
According to the head of the Literacy Movement Organization of Iran, in an interview with the Ghanoon newspaper, the province of Sistan-Baluchistan has the worst literacy rate for those ages 10 to 49 in Iran. The province also has the highest number of married girls under the age of 15. According to the 2013 demographic report, in Tehran only 0.8% of girls under the age of 15 are married. In Sistan-Baluchistan, however, the number is 2%.
The city of Kalat stands out as being a particularly traditional and conservative area in Iran, with many societal restrictions on women. Also, according to the Criminology Center of Tehran University, there is a high level of violence against women in Sistan-Baluchistan.
However, it appears that Balochzehi has overcome these barriers. One of her acquaintances who spoke to Al-Monitor said that Baluchzehi is not like most woman from Kalat. "She only knows how to make spaghetti and that is because as a student she has lived away from home for a long time," the acquaintance said, attempting to demonstrate how Balochzehi has ignored the traditional role of women in society. The acquaintance credits the support of her wealthy and influential family in allowing her to break with tradition. "Her father is an admirable man. When his daughters were going to school, they had his complete support."
The support of her family will be necessary if Balochzehi is to be successful. Based on the information gathered by Al-Monitor, the municipality of Kalat, which is to be directed by Balochzehi, has no female employees. There are 16 men working at the municipality; five of them are full-time employees and the rest are part-time.
A Baluchi university professor told Al-Monitor, "This young lady will have a difficult time given the conservative and patriarchal atmosphere of the city of Kalat and the all-male staff of the municipality. But she is lucky since, because of her father, she has powerful and influential supporters like the local clerics and the community elders."
Mohammad, who is from the Sarbaz area, which is part of the city of Kalat, described Kalat as "a small city with three banks, a local administrative office, one clinic, and few shops. The city works like an office. It starts in the morning, people from nearby villages come to shop, and in the evening the city shuts down. It only has about 10,000-15,000 inhabitants."
This Baluchi citizen also believes that the new mayor has a tough road ahead. "People of that region are very conservative, especially when it comes to women. I cannot stress that enough. It is the most conservative city in Baluchistan. For example, until just a few years ago many would not allow their daughters to attend university. But thankfully the situation is improving."
The armed Salafi supporters of al-Qaeda, such as Jaish al-Adl, which is a branch of Jundallah, are also active in Baluchistan. From time to time there are bloody conflicts between these groups and the Iranian armed forces. These armed groups, because of their radical religious conservatism, are strongly opposed to the idea of women as active members of the public sphere.
One of Samiyeh Balochzehi's friends, however, says that the new mayor will not back down. She tells Al-Monitor: "I asked her if she thinks she can succeed given the male-dominated environment that she has to work in. She responded that she does not doubt her own abilities."
According to local Iranian media, in her introduction ceremony, Balochzehi laid out some very modest goals. She said that she would focus on "building parks and recreational centers for woman and children" in additional to other restoration and renovation projects.
Even if Baluchzehi is not successfully in her endeavors as mayor, however, a sociologist in Tehran who specializes in woman's issues told Al-Monitor that Balochzehi's new position may have a symbolic impact that can open doors for other woman. "It will help break taboos for women," the sociologist told Al-Monitor. "It will give them confidence. Baluchistan is very conservative but we should remember that after the revolution and the Islamization of schools, more families were willing to let their children attend school and university. People like Samiyeh encourage the other educated girls to becoming active members of the society instead of staying at home."
The lack of media attention however demonstrates how ignored this province is and how far they still have to go. News of the first female Baluchi mayor was not really reflected in either the reformist or the conservative newspapers. The only media to reflect this news were the local Baluchi press. A journalist working for the Reformist Shargh newspaper said that he had not even heard of it until I informed him. He believed that the nuclear deal and the domestic disputes have overshadowed this unprecedented news.
http://www.al-monitor.com/pulse/originals/2013/12/sunni-woman-first-iran-mayor.html#ixzz2miwrJ3nQ
-------------
Afghan Policewoman Is Killed, Fourth in Last Six Months
By ALISSA J. RUBIN
6 Dec 2013
KABUL, Afghanistan — Two gunmen on a motorcycle shot and killed a policewoman in western Afghanistan on Thursday, wounding her daughter and two other family members who were with her. It was the fourth killing of an Afghan policewoman in the last six months.
"Her name was Masooma, and she was very active in her job," said Gen. Abdul Rahim Chikhansori, the acting police chief for Nimruz Province. "The enemy of Afghanistan didn't tolerate her great service and active approach, and unfortunately she was martyred."
There were conflicting reports about which relatives were with her and the extent of the injuries to her daughter and the two others, who may have been her children or her daughter's children.
The attack took place on the outskirts of Zaranj, the provincial capital, early Thursday morning, as Ms. Masooma, who like many Afghans used only one name, was taking her young relatives to school before going to work.
Female police officers, especially in more rural areas, are extremely vulnerable. That is partly because there are so few of them that they are easily spotted, and also because of an ingrained cultural resistance to women taking public roles.
"For a woman, being a member of the police force is not acceptable to many in Afghan society," said Georgette Gagnon, the head of human rights for the United Nations in Afghanistan.
There are just 37 policewomen in all of Nimruz Province, said Farida Hamidi, a member of the Parliament from the province, who was nearby at the time of the shooting.
Ms. Masooma worked as a searcher and was often stationed at the governor's compound to frisk women as they entered the building, said Ms. Hamidi, who said she recalled frequently seeing the policewoman at her post.
Like many women in the police force, Ms. Masooma took the job out of necessity.
"She was 48 years old, and she was a widow. She had children and was the breadwinner for the family," Ms. Hamidi said. "She used to come to me whenever she had problems as a woman and police officer because I used to serve as director of women's affairs before going to the Parliament."
The police have not caught the gunmen, and no one has claimed responsibility for the killing.
Two of the three other policewomen killed this year were in Helmand, a predominantly Pashtun province that borders Nimruz. The third was in Nangarhar, also a predominantly Pashtun province, but in the far east of Afghanistan.
In much of Afghanistan, the idea of a woman working outside the home is only beginning to be accepted, but employment as a policewoman is still viewed as shameful by many people because it often means working side by side with men.
Nimruz, a province in the far west of the country that borders Iran and Pakistan, has become increasingly unstable, according to local officials.
And the audacity of the crime, taking place in broad daylight on a public road, is a signal of the increasing lawlessness in the area, said Mohammad Nader Baloch, the deputy chairman of the provincial council.
"This is not the first incident in which the terrorists are conducting an assassination attempt in daylight in the middle of the city," Mr. Baloch said. "But the authorities have failed to control them."
Jawad Sukhanyar and Taimoor Shah contributed reporting.
http://www.nytimes.com/2013/12/06/world/asia/gunmen-kill-afghan-policewoman.html?_r=0
----------
UN Mission pushes to improve the role of women in Somalia
6 Dec 2013
The UN Mission in Somalia has today hosted the Women and Peace Security Open Day, an event meant to foster the role played by women in society. The event brought together several stakeholders and women from different walks of life who shared their experiences and ideas on how the lives of women in Somalia can be improved.
Speaking at the event, the UN Special representative of Secretary-General for Somalia Nicholas Kay expressed the commitment of the UN to empower the women and ensure that they play an active role in their country's affairs.
"The whole point of this event and the whole objective of the United Nations support of gender in this country is to make sure that the women's voice is heard more loudly more often and in more places. We need to ensure that women's voices and women participation is strong in the federalism process, in the review of the constitution, in the democratization and elections process. Women must have a strong place, a strong voice in all of those processes and we shall make sure that that happens," he said.
The event was also attended by the President of the Federal Republic of Somali H.E Hassan Sheikh Mohamoud who pledged to implement recommendations by the UN to check commitment of crime against women.
"The government has decided to create out of your recommendations, a special police unit for crimes against women. The unit will be made up of mostly women. We have given this task to the Police Commissioner and the recruitment of female officers is going on. These women will be in charge of this special unit. The second is that the government will create special clinics for the victims of rape and sexual related cases, which we don't have. These people need treatment, normal checkup facilities are not enough, they need special clinics and the government is working on that, and a safe house to help them deal with the trauma" he affirmed.
Members of the civil society pointed to the cultural discrimination as one of the main constraints to their engagement in society.
"The main obstacle for women is not religion, people may say it is this Islamic Religion but it's not that, it is the culture. It's the culture because our system is still based with the selection of Members of Parliament. Our government is based on the clan system and the clans prefer that the leaders of the clans are the males. We are in the male dominated society so who will be first, it's the males, and I will not have a chance because they will give a male my position. So the main obstacles are peace and security and then the culture," said Halima Ismail Ibrahim, Chairperson of Somali Civil Society Coalition.
The women further called on the government to undertake practical steps towards addressing structural obstacles that limit their participation and empowerment, especially in areas such as education and employment.
"The women are done with lip service, we want real tangible action and we just don't want to say, whenever we talk about women representation, that through one or two put somewhere, all of a sudden all our problems are solved. Our problems are institutional. Women are discriminated against early on in education, in job opportunities and then later on in decision-making bodies. So we want to assure the president and the rest of the government that we are committed and we want to be his partner in this role, but we are done with lip service and we want real tangible solutions," said Rukia Mohammed, the lead researcher Puntland Development Research Centre.
The AMISOM Chief of Staff, Ambassador Epiphanie Ntamwana among other stakeholders, also attended the event.
http://www.somalicurrent.com/2013/12/04/un-mission-pushes-to-improve-the-role-of-women-in-somalia/
------------
Swat princess, Musarrat Ahmed Zeb promotes education
6 Dec 2013
SWAT, Pakistan – Efforts to revive Swat after the Taliban's 2007-2009 reign of terror are enjoying a boost from royalty.
Musarrat Ahmed Zeb, a princess of the former Swat royal family, vows not only to rebuild the schools the Taliban blew up but to build new ones so that every boy and girl in the Swat Valley can obtain an education.
"There needs to be more high schools, especially for girls," Musarrat, daughter-in-law of the last wali to rule the Princely State of Swat, told Central Asia Online in an exclusive interview, adding that most parents in Swat would send their daughters to schools, colleges and universities if the facilities existed nearby.
Musarrat, a member of the National Assembly and mother of two sons and two daughters, was married to the late Miangul Ahmed Zeb, son of Miangul Jahan Zeb. Jahan Zeb, who died in 1987, ruled the Princely State (which includes the present Swat District, Shangla and Buner) from 1949 to1969.
Musarrat praised the wali's commitment to education and women's rights.
"Wali sahib was fond of education," Musarrat said of her father-in-law. "He established primary schools in every village and middle schools for every three or four hamlets. He established the first girls' high school in Swat."
"Wali sahib made education (primary and middle) compulsory for every child," Musarrat recalled. "That's why most of the elderly ladies [in Swat] are literate."
Musarrat has a long record of commitment to female education, founding four schools in different parts of Swat to teach women embroidery, stitching, knitting and other skills before the TTP took control of Swat in 2007. "The Taliban forced three of them to close," she said. (The last one in Saidu Sharif closed last year because Musarrat had too many other commitments.)
"I encouraged the women of Swat by telling them that there is no darkness in life," she said. "I told them to stand up and use their talent and skills for the welfare of others as well themselves."
Hope follows the Taliban's legacy of destruction
The work of repairing education in Swat will be considerable.
The Taliban during their reign of terror bombed about 200 schools in Swat District, and about 400 total in Malakand Division. And the recently appointed chief of the Tehreek-e-Taliban Pakistan (TTP), Mullah Fazlullah, a native of Swat, has regularly railed against girls' education in his radio broadcasts and ordered the October 2012 attempt to assassinate girls'-education activist Malala Yousafzai in Mingora.
Still, progress has been made. After the military drove out the TTP from Swat in 2009, it became possible to promote higher education there, Musarrat said, adding that she worked with other locals in founding Swat University in Mingora. It was announced in 2009 and opened in 2011.
Swat also obtained a cadet college in Guliabad, she said. The college held its first passing-out parade November 21.
"The government is committed to promoting education in Swat," guest speaker and KP Assembly Speaker Asad Qaisar said during the parade. "Also, the government is making all-out efforts to provide all possible facilities to valley residents."
Seeking other improvements
Musarrat's ambitions for helping Swat extend to healthcare, the environment, hydro-power and tourism.
"The area needs more hospitals as well as more facilities in the healthcare units that it already has," she said.
She personally paid for additional blood centrifuges for Swat hospitals when a dengue fever epidemic swept through the district this past September. Musarrat also sponsors a number of charitable organisations working on health care, especially against the genetic blood disease thalassaemia.
She encouraged road reconstruction to bring tourists back to Swat. "All [of Swat's] roads and bridges need to be rebuilt by summer to attract people," she said.
The army and KP government have supported a number of festivals, sporting tournaments and concerts in recent months to promote Swat's image, she said. "Peace has been restored. People from around the country and world should resume visiting Swat. But the KP government should do more too to improve the lives of the local people, who suffered the most."
http://centralasiaonline.com/en_GB/articles/caii/features/pakistan/main/2013/12/05/feature-01
-----------
Morocco Islamists under Fire over Women Bill
6 Dec 2013
RABAT — A long-awaited law to combat violence against women is currently under study in Morocco, but the Islamist-led government has had to revise its proposals after sharp criticism from rights groups. A preliminary version of the bill, which is still in the drafting stage, threatens prison sentences of up to 25 years for perpetrators of violence against women. In addition, the bill would take unprecedented steps toward criminalizing sexual harassment, with those convicted risking possible three-year jail terms. As in numerous other Arab countries, sexual harassment of women is commonplace in Morocco, despite the adoption of a new constitution in 2011 that enshrines gender equality and urges the state to promote it. But despite the progress that this new law would represent, women's associations have strongly criticised the proposed legislation. In particular, they accuse Bassima Hakkaoui, the minister for women's affairs – herself a member of the ruling Islamist Party of Justice and Development – of excluding them from the drafting of the bill. "We have waited for years for this law and we are now very disappointed by its content," said Najat Errazi, who heads the Moroccan Association for Women's Rights, speaking in Casablanca at a meeting to discuss the bill.
http://www.saudigazette.com.sa/index.cfm?method=home.regcon&contentid=20131206188731
------------
Thirty seven thousand women were raped in the suburbs of Damascus only - Bianca Madia
6 Dec 2013
The number of victims during the war in Syria has exceeded 100 thousand people; the number of refugees has exceeded two million people. Statistics usually bypass the number of victims among women. But crimes against women are an essential part of the tragic statistics of this war, participant of the women's movement in Syria Bianca Madia said in an interview with the Voice of Russia.
The number of rapes committed during the last three years is simply enormous. The Human Rights Watch organization (HRW) recently published a report on the living conditions of Syrian women. But there is not one iota of truth in this document; it looks like it was created only to accuse the authorities. There's not a word about the crimes of the militants. I can say with full responsibility that the Jabhat al-Nusra and Islamic State of Iraq and the Levant militants use to burst into small villages, kidnap women and rape them. After this they are usually killed or left in sexual slavery. If a woman survives, she needs professional medical help, otherwise she will remain crippled - mentally and sometimes physically.
Do you have any proof, exact numbers?
According to the report of the Syrian National Reconciliation Commission, 37 thousand cases of rape were recorded in the suburbs of Damascus. And this is the data from those cities and villages that were liberated from the terrorists. Women are now working with psychologists. So far, there is no data from the areas that are held by the terrorists. The veracity of my words can be proved by numerous videos. Our militants are very fond of recording their "heroics". When they cut off the head of another "unfaithful sinner" or rape someone, they record this process. Then, when the army mops up the area from militants, it finds such videos recorded in the phones of killed bandits.
A video was found recently, which is already published on the Internet, showing an incident in one of the districts of Homs, where terrorists kidnapped young girls and women, stripped them naked and drove in an open pick-up truck along all the roads of the district. The car stopped several times and the women were raped... At the same time wives of these militants were giggling and whooping, congratulating the raped women with their new status of concubines. Once a video was found showing women with covered faces cutting off breasts of raped women and then throwing the bodies in the scrap yard. And there are lots of such cases, most of which happen in Homs and in the suburbs of Damascus. Lots of bodies of murdered women with cut off body parts are found in scrap yards.
A psychologist from Homs wrote a report about a very young patient of his, who had been subjected to gang rape, while being kept prisoner by terrorists. He ends his report with these words: "My colleagues and I still can't cure her... She used to tear her clothes off and beat her head against a wall, trying to kill herself."
After such incidents many women run away from the country to Lebanon, Turkey or Jordan. They try to forget their life in Syria and its tragic events. And nobody knows how many of these aggrieved women live there.
Are they hiding for fear of wry glances?
Of course! They don't want to admit it, because they are afraid of public opinion. After all, this is a spot on your entire life, even if you're a victim.
http://voiceofrussia.com/news/2013_12_04/37-thousand-women-were-raped-in-the-suburbs-of-Damascus-only-Bianca-Madia-2261/
------------
Nelson Mandela daughters asked for film premiere to go on
6 Dec 2013
Prince William and others attending the London premiere of a new film about Nelson Mandela were told of his death Thursday night as the closing credits rolled.
The news broke during the premiere. Stopping the screening of Mandela: Long Walk to Freedom was discussed, but Mandela's daughters asked that the film continue, a spokesman with the production said Thursday night.
His two youngest daughters, who were at the premiere, were told of their father's death during the screening "and immediately left the cinema," a statement from the Nelson Mandela Foundation said.
The film's producer, Anant Singh, announced Mandela's death once the film was over, and he called for a moment of silence.
The audience included the film's stars and William and his wife, Kate.
"It was extremely sad and tragic news," William said upon leaving.
When asked on the red carpet on her way into the premiere about her father, Zindzi Mandela had said, "My father is fine. ... He's just a typical 95-year-old who is frail."
Actor Idris Elba, who plays Mandela in the film, later said in a statement: "I am stunned at this very moment, in mourning with the rest of the world and Madiba's family. We have lost one of the greatest human beings to have walked this earth. I only feel honoured to be associated with him."
Many South Africans called Mandela by his clan name, Madiba, which means "reconciler," as a token of affection and respect.

http://gulfnews.com/arts-entertainment/celebrity/nelson-mandela-daughters-asked-for-film-premiere-to-go-on-1.1263821
------------
URL:
https://newageislam.com/islam-women-feminism/memorial-girl,-7,-believed-been/d/34741