New Age Islam News Bureau
7 Apr 2018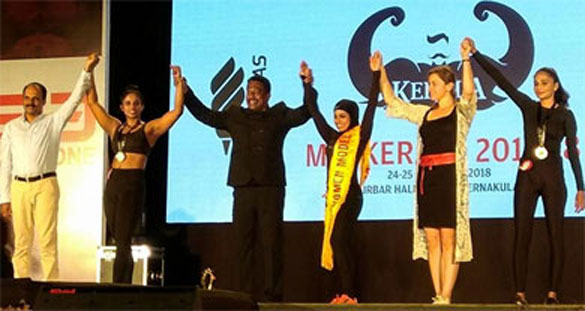 Majizhiya Bhanu, third from right, at the event organised by Body Builders Association of Kerala at Durbar Hall Ground in Kochi.
-----
• Shahira Yusuf: Meet the Black British Muslim Model with Big Ideas
• Three Saudi Women Appointed In Newly Formed General Authority for Culture
• Iran: Women Teachers Stage Protests in Tehran and Yazd
• Syrian Women Remember 'Past before the Past' With Art
• Iran: Highest Rate of Women's Suicide in the Middle East
• Austrian Muslims Condemn Hijab Ban Proposal
• Pregnant Woman Allegedly Shot Dead By Brother Over 'Honour' In Khairpur
Compiled by New Age Islam News Bureau
URL: https://www.newageislam.com/islam-women-feminism/meet-majizhiya-bhanu-india-first/d/114857
--------
Meet Majizhiya Bhanu, India's first hijabi bodybuilder
April 06, 2018
A 23-year-old female winning the women's category of a Mr Kerala bodybuilding competition certainly deserves the spotlight.
Breaking the male bastion and that too in a hijab makes this achievement even more laudable.
The Mr Kerala competition organised by Body Building Association Of Kerala and Sports Council Of Kerala in Kochi recently was Majiziya Bhanu's first as a bodybuilder and probably the only one in the State to do so in a hijab.
Building a dream
Majiziya was very much interested in sports as a child.
Growing up in Orattakeri, a small village in Kozhikode district in Kerala, she participated in athletics and other sports.
"Living in a village, away from the city presented many challenges in terms of facilities available for training. But I was so eager and enthusiastic to learn that my parents Abdul Majeed and Rasiya Majeed would often inquire about different sports in the nearby town for me.
"There were no facilities available. But I never gave up; I did everything with what was available and would go out and explore when I got the chance to," she recalls.
In 2016, Majiziya took an interest in boxing but gave it up as she was not allowed to enter the ring wearing braces.
She turned to powerlifting and won the coveted 'Strong Woman of Kerala' title thrice in the event organised by Kerala Powerlifting Association.
She also won a silver medal in the Asian Powerlifting Championship in 2017.
Bodybuilding started featuring in her plans very recently.
At first, she was sceptical about the whole idea but put her preconceived notions to rest when her husband Nour Ahmad encouraged her to participate in the Mr Kerala competition.
"Though I am active and strong when it comes to powerlifting, I never even thought of bodybuilding or 'building a physique'. But Nour who stays miles away from me in Afghanistan urged me to go for it. He gave me instructions on how I should train and also perform on stage," she says.
Breaking stereotypes
The sight of a woman bodybuilder in hijab, though striking, also proves a point.
"I wear a hijab and I am proud of it as it's my identity. I felt special and unique when I was on stage wearing one.
"If a woman is free to show her body, why should she not be free to cover it?
"I want to let the world know that the hijab is never an obstacle for a woman who wants to achieve the impossible. It's not just a piece of cloth, it offers strength and dignity," Majiziya says.
Chasing obstacles
Reaching this far also came with its fair share of challenges.
"When I started going to the gym, people would advise me not to. My parents also faced disapproval. They supported me and helped realise my dreams. In the end, it is all about standing up for my rights and fighting for my dreams."
This final year BDS student has ambitious plans for the future. She is looking forward to participating in the World Championships, be a good doctor and help people.
"I want to start a sports academy for children. I want to continue what I am doing and make my husband, parents and country proud," Majiziya says.
Ultimately, she says it's about you and your passion.
"Articulate your dreams, listen to your intuition, be gutsy and take risks, nurture yourself, go with the flow, don't be afraid, work hard and stay focused," she adds.
http://www.rediff.com/getahead/report/achievers-meet-majizhiya-bhanu-indias-first-hijabi-bodybuilder/20180406.htm
--------
Shahira Yusuf: Meet the black British Muslim model with big ideas
by Anealla Safdar
April 7, 2018
"I ain't no kendall jenner but I'm a black muslim girl from east london that's about to finesse the modelling industry".
Those are the words of a tweet penned in November last year by Shahira Yusuf, known in the fashion world only as Shahira, that has been shared almost 60,000 times.
At 20 years old and standing tall at 5'11, the Londoner is one of a handful of Muslim models who proudly wears the hijab as she sashays down the runway.
In recent years, model agencies have recruited a few young, visibly Muslim women in a bid to both capitalise on the Muslim market and to increase diversity on the catwalk.
Shahira's turn came when she was 17; she was approached on the streets of London by Sarah Doukas, founder of Storm Model Management, an agency that represents some of the world's most recognisable faces.
Al Jazeera spoke to Shahira, who has Somali origins, about the moment she was discovered, her concerns about the world and why she doesn't resent labels.
On the meaning behind that viral tweet ...
"I get asked this very frequently, and I understand it can be interpreted in different ways.
"But the tweet simply meant, I am not a model that comes from a tremendously successful, nor privileged background, but I am a Black Muslim that is going to take the industry by storm."
On representation in the fashion industry ...
"I do feel that the fashion industry has made some changes, but I don't think it'd be right to conclude 'Yes! The fashion industry is representative!' just because improvements have been made.
"I do believe that an effort is being made, especially in recent times, though there's a lot more that can be done.
"In my personal opinion, I feel like there's more representation within mainstream fashion than high-end fashion. And you often see the drastic differences in campaigns or runway shows.
"For me, equal representation of models of different ethnic and religious backgrounds is about being completely inclusive. You shouldn't pick and choose when to be inclusive; it should be something that's a no-brainer and always done. Unfortunately, something that's so easy to do isn't practised to the degree that it should be. It should be a norm, not a trend."
On being discovered ...
"I was scouted at the age of 17 by the founder of Storm Model Management, Sarah Doukas. I was with a friend just casually strolling down the streets of central London, and Sarah must have tapped me on the shoulder and asked me some questions, such as if I modelled, ever considered modelling, and if I wanted to.
"I was very confused, it all happened so fast but I remember at the time saying I wasn't really interested.
"I was only 17, and for some reason, I was scouted frequently. To this day I still am, so I didn't really think too much of it. I was given a scout card but did not take the opportunity up until late 2017, at age 20.
"I remember approaching Storm with my sister and it felt so surreal at first. But the agents made me feel welcome immediately, and I pretty much became a Storm model that day."
On whether labels should be resented or celebrated ...
"I guess it's dependent upon the label I'm given. Of course, if it's Muslim, 'hijabi' and black, for instance, I cannot resent it. It makes me who I am, and I'm very proud of who I am. So why would I resent it?
"However, I understand that for some people they don't agree with being categorised under labels, but labels such as those are what makes up one's identity."
On concerns about the world ...
"Honestly, what am I not concerned about should be the question. As sad as it is, there are way more things many of us are concerned about than not concerned about.
"If we truly scrutinise the state of the world today, would it be wrong to feel futile?
"Tragedies such as the Grenfell Tower, the enslavement of black Africans in places like Libya, the bombings in Ghouta, Syria, the mistreatment of Rohingya Muslims, my home country Somalia and many more."
On racism in Britain ...
"I couldn't label the entire nation racist, but heck, no one can deny that the West has been built upon imperialism, colonisation and slavery.
"I feel it's important to use social media to raise awareness of social issues such as racism. It exists, and I could never turn a blind eye to something I feel so strongly against."
On whether models should be role models ...
"My personal stance on this is, models don't choose to be 'role models'. Neither does anyone really. It's kind of inevitable, especially in creative fields.
"As for young children looking up to people as role models, I believe the parents should perhaps have that conversation with their child.
"No one's perfect. When it comes to labelling people good and bad role models - it's just important children understand that 'role models' are human, and are able to distinguish morally good actions from bad."
On the future ...
"I genuinely just want to continue to find my feet in this big, opportunistic world. I, of course, am excited to see my modelling career further, perhaps land myself some covers in the future, and simply continue to build myself as a model. I also look forward to doing some more travelling, and definitely see myself further immersing myself in charity or organisational work."
https://www.aljazeera.com/indepth/features/shahira-yusuf-meet-black-british-muslim-model-big-ideas-180312130951706.html
--------
Three Saudi women appointed in newly formed General Authority for Culture
6 April 2018
Saudi Arabia's Minister of Culture and Information, Dr. Awwad bin Saleh Al-Awwad, has appointed a new board of directors for the kingdom's General Authority for Culture which handles and oversees all the cultural activities in the country.
Among those appointed were three women, two of which are theater and film directors.
The first is Mona Khazindar who is a prominent figure in Saudi Arabia's art scene. She is the first woman and first Saudi ever to be appointed as director general of the Institut du Monde Arabe, and is also vice president and founding member of the "Al Mansouria Foundation for Culture and Creativity", the non-profit cultural foundation which aims to promote Arab contemporary art.
Also appointed is playwright and theater director Maysa al-Sobehy who became famous for her work in theater and arts throughout the Kingdom of Saudi Arabia. Her work was soon recognized in international festivals she managed to shed light on cultural and social topics.
And lastly, Saudi Arabia's first female director, Haifaa al-Mansour will be on the board of directors as well. Al-Mansour's work is renowned in the kingdom where she has been very outspoken about the importance of culture and film in the kingdom and has pioneered the industry for the country.
Awwad, who is also the chairman of the General Authority for Culture, said that the board of directors' main duty will be to develop the cultural and arts sectors in the kingdom at a competitive level and highlight them. They will also work on cultural exchanges with other countries and introduce the world to the creative and cultural aspects of the kingdom while disseminating a message of peace and love through literary, intellectual and cultural works.
They will also invest talents and energy to develop creative platforms in various segments of society in order to achieve the kingdom's Vision 2030 plan.
The authority will mainly be focused on the sectors of film and content, literature, theater and performing arts, in addition to music and visual arts.
https://english.alarabiya.net/en/life-style/art-and-culture/2018/04/06/Three-Saudi-women-become-part-of-newly-formed-General-Authority-for-Culture.html
--------
Iran: Women teachers stage protests in Tehran and Yazd
06 April 2018
Women teachers and political activists staged a picket line protest on Thursday, April 5, 2018, in solidarity with the imprisoned teacher, Mohammad Habibi.
The protest was held outside the Kar-o Andisheh Professional High School in Shahriar, Tehran Province, where this political prisoner used to teach. The protesters demand Mr. Habibi's release.
Mohammad Habibi, member of the board of directors of the Iranian Teachers' Trade Union, was brutalized by IRGC agents on Saturday, March 3, 2018, at this school before the eyes of his students. He was taken to jail after her residence was ransacked.
On the same day in Yazd, central Iran, more than 400 teachers and staff of the Education Department, mostly women, staged a gathering outside the Governorate of Yazd protesting discrimination against students who go to public schools due to poverty. They demanded elimination of this discrimination. Students who go to private schools are allocated 3 million touman per capital budget, while in public schools, each student is granted a budget of only 700,000 toumans.
http://www.women.ncr-iran.org/iran-women-news/4938-iran-women-teachers-stage-protests-in-tehran-and-yazd
--------
Syrian women remember 'past before the past' with art
Apr 06, 2018
The first time Srwah Al Hamoud felt happiness in a long time was when her crocheted multi-coloured flowers and pineapples were unveiled at the Moncton Public Library.
The 50-year-old Syrian newcomer says it may be difficult for other people to see the connection between crocheting and the traumatic loss she experienced in Syria, but to her the connection is in time itself.
She called it the "past before the past," when she used to crochet for fun and relaxation, when crocheting wasn't her way of keeping the bad memories of war and loss at bay.
"Now when I'm sad I crochet just to forget my sadness … to remember the good days," she said in Arabic.
Her pieces are displayed at the library entrance alongside many others made by Syrian women, in the exhibit called "Roots, Stories and Memories."
It was the idea of art therapist Dominik Robichaud, who said she hopes art can help women heal from the war they've left behind.
"The main purpose is to create a safe space where difficult feelings or painful memories can be explored through art," Robichaud said.
The exhibit unveiled on March 27 and will be at the library until Apr. 20.
It took Al Hamoud a month to complete all the pieces that are hanging on the library walls, but she said in that month she made new friends and came out of her shell.
"She brought us together," she said of Robichaud. "My kids signed me up for this and I'm really glad."
The connection to war in Aliaa Obaid's art is easier to see. She took old books and repurposed them, using the pages as a way to sculpt trees and Barbie dresses.
She mixes childhood memories — the doll — with drawings of dead children and tanks. And to her, there is no way to separate those two memories the way they are separated in the exhibition.
"Because the memories, they collect each other, sweet and bitter memories all mix together," she said.
She said cutting the pages, rearranging them and drawing the children was a way to find some relief.
"We brought out all the bad things inside of us, all the bad stuff we poured it out into the books and the pages," Obaid said.
Al Hamoud, who proudly pronounced she was from the city of Dair el zour on the shores of the Euphrates, said the exhibit opening was a highlight for her that she shared with daughters in Turkey.
"Directly, directly I sent them photos," she said, laughing. "They were very happy to see them."
But Al Hamoud was more sombre about the family still in Syria.
"The living was great in Syria, our past was sweet. We lived under one roof. With our friends and family and children. But now we're separated. I don't know about my family, or my sisters," she said.
Her hope is that people who see the art will "stand with us and help our people," she said. "Stand with the Syrians whose blood is shed. That's what I wish, my wish."
http://www.cbc.ca/news/canada/new-brunswick/syrian-women-art-therapy-moncton-library-1.4606986
--------
Iran: Highest rate of women's suicide in the Middle East
06 April 2018
In a matter of two days, three women committed suicide in Iran and lost their lives.
A 68-year-old woman set herself aflame in Kouy-e Naft District of Ahwaz and died. This was announced by Reza Rafii, public relations director of the Emergency Medical Center of Khuzistan, on Wednesday, April 4, 2018.
The next day, Thursday, April 5, 2018, head of the Police Station in Tehran's Niavaran announced that they had been informed at 1 a.m. that a 24-year-old woman had lost her life after throwing herself off an apartment complex in Kamraniyeh.
Also in Masjid Soleiman, southwestern Iranian Province of Khuzistan, a female college student hanged herself at home on Wednesday, April 4, 2018, and died.
Increasing pressure and restrictions on women in Iran and numerous obstacles for women's employment and social activities has led to widespread depression and despair among women and culminated in a high rate of suicide, the highest for women in the Middle East.
http://www.women.ncr-iran.org/iran-women-news/4936-iran-highest-rate-of-women-s-suicide-in-the-middle-east
--------
Austrian Muslims condemn hijab ban proposal
6th Apr 2018
By Askin Kiyagan
VIENNA (AA): Austrian Muslims and a number of other civil society associations on Thursday strongly condemned a legal proposal to impose a 'hijab' ban after it was announced by the Austrian prime minister.
Chancellor Sebastian Kurz on Wednesday said that legal preparations were under way to ban the hijab (headscarf worn by Muslim women) in elementary schools.
He said the legal proposal was called "the child protection law" and was aimed at preventing the formation of "a parallel political ideology" in the country.
Ibrahim Olgun, the head of the Islamic Religious Authority of Austria (IGGO), described the proposal as "unacceptable" in his interview to Anadolu Agency. He said the proposed ban was merely aimed at creating an agenda in which children would be used as political tools and the headscarf would be portrayed as an Islamic political symbol.
"If politics is not done through the kippah of Jews or Christian crosses, no politics can be done over the headscarf," he noted.
He also said the proposal was a violation of human rights, stressing that it was in contradiction with parental freedom to decide on how to discipline one's children. "We strongly condemn this announcement."
Dr. Farid Hafez, a political scientist, said such problematic announcements originated from "an authoritarian mindset on the part of the state".
Dr. Sonia Zaafrani, the head of the Initiative for Discrimination-Free Education (IDB), said the headscarf was not an obstacle to integration with regard to the education system.
Stressing that the headscarf ban contradicted the constitution, Zaafrani said Austria should refer to the second article of the European Convention on Human Rights, which declares that states should act in accordance with their citizens' views of the world and their religious beliefs.
Secretary General of the Vienna Islamic Federation (IFW) Harun Erciyas argues on his behalf that this school hijab ban has been brought up in order to eventually impose a complete ban on the hijab.
"Banning in the name of equality and freedom is not acceptable," he added. He also said under the current circumstances, where most children did not wear the hijab to school, the proposal served as an agenda to paper over serious issues in the country.
In Austria, where Islam has been one of the officially recognized religions since 1912, there is a population of over 600,000 Muslims, corresponding to seven percent of the population, according to figures obtained from the Vienna Islamic Federation.
http://muslimnews.co.uk/news/islamophobia/austrian-muslims-condemn-hijab-ban-proposal/
--------
Pregnant woman allegedly shot dead by brother over 'honour' in Khairpur
Hanif Samoon
April 07, 2018
An eight months pregnant woman who had contracted a marriage of her own will was shot dead allegedly by her brother over 'honour' in Sindh's Khairpur district on Friday evening, police said.
The victim, a mother of one, had willingly married a man from a caste different than hers in a court of Sukkur in August 2016 without her family's approval.
Apparently angered by the move, the 25-year-old woman's brother opened fire on her while she was asleep in their family home, located within the limits of Wada Machhoon police station in Khairpur.
Police arrested the prime accused on Saturday, and registered a first information report (FIR) under Section 302 (premeditated murder) of Pakistan Penal Code against him, the victim's father and three others on a complaint of SHO Bagh Chand Oad on behalf of the state.
Addressing a press conference in Khairpur, the husband of the deceased woman revealed that the victim was taken away from his house six months ago by her family on the assurance that they would not hurt her and would bring her back after the delivery of their second child.
However, they killed her after the woman's father during a jirga declared her 'kari', or a woman who has brought dishonour to her family, and asked his son to kill his sister, the husband alleged.
According to the husband, his wife who was eight months pregnant was killed a day before being produced in the Sindh High Court in Sukkur, where he had filed a petition seeking her recovery after finding out about the jirga's pronouncement against the victim.
Police officials said they were conducting raids to arrest the remaining accused nominated in the FIR.
Scores of young women in Pakistan are still being murdered by relatives for bringing shame on their family, more than a year since new laws came into force aimed at stemming the flow of 'honour killings'.
A report furnished by Sindh's women development department earlier this month showed that a total of 1,643 cases of various types of violent acts — from honour killing to custody of children and maintenance — were filed by women from across the province since July last year.
https://www.dawn.com/news/1400151/pregnant-woman-allegedly-shot-dead-by-brother-over-honour-in-khairpur
--------
URL: https://www.newageislam.com/islam-women-feminism/meet-majizhiya-bhanu-india-first/d/114857
New Age Islam, Islam Online, Islamic Website, African Muslim News, Arab World News, South Asia News, Indian Muslim News, World Muslim News, Women in Islam, Islamic Feminism, Arab Women, Women In Arab, Islamophobia in America, Muslim Women in West, Islam Women and Feminism