New Age Islam News Bureau
7 Jun 2019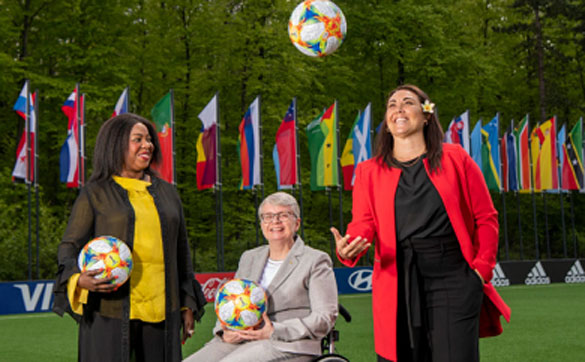 Photo: Fatma Samoura, Sarai Bareman and Joyce Cook are part of Fifa's management committee CREDIT: PAUL GROVER
--------
• Making Its Texas Debut, Rohina Malik's One-Woman Show Pulls the Veil off Muslim Stereotypes
• German Woman Faces Islamic State-Linked Terrorism Charges
• Filipino Woman's Facebook Post on What It's Like to Be Catholic and Muslim Goes Viral
• A Woman Even Here: Protecting Arab Women's Rights Is a Key to Mitigating Conflict in Middle East and North Africa
Compiled by New Age Islam News Bureau
URL: https://www.newageislam.com/islam-women-feminism/meet-football-powerful-women-tasked/d/118819
--------
Meet football's powerful women tasked with rebuilding Fifa - and their incredible journeys to the top
Jeremy Wilson, chief sports reporter
7 JUNE 2019 • 7:00AM
There could be few jobs in sport more daunting than clearing up after Sepp Blatter and his cronies, but then you spend an afternoon with FatmaSamoura, Fifa's first female, black or Muslim secretary general, and life suddenly gains more perspective.
Samoura had risen to become the United Nations' most senior official in Africa when Gianni Infantino, Fifa's new president, telephoned in 2016 and asked her to fill a position that had been held for most of the previous 40 years by two men now banned from all football activities: Blatter and his old sidekick Jerome Valcke. It was a timely call.
After 22 years working in the middle of some of the world's worst humanitarian emergencies, Samoura was approaching a very different crossroads. "Gianni's offer came when I was 54," she says. "I had already taken the decision to leave the UN at the age of 55. That is if I survived. I had reached a stage where I thought, 'I can't take these images any longer'.
"You absorb a lot that people don't see and my philosophy was that, if you start to become unaffected by the suffering, it's time to go. I didn't want to become cynical. I had seen it all."
We meet at Fifa's headquarters in Zurich and, after much laughter during a photo-shoot of football's three most powerful women, chief member associations officer Joyce Cook and chief women's football officer Sarai Bareman also listen in captivated and solemn silence as Samoura agrees to expand on her jaw-dropping UN career.
There was the catastrophic drought and floods in Mozambique. There was the loss of her friend, Pascal, who was shot dead while heading up the Save the Children operation that arrived into a refugee camp seven minutes before Samoura's convoy.
There was the evacuation of 99 children from Chad in a plane that should have held only 27 following news that fighters from Sudan were approaching. There was the humanitarian base in Abeche with no water and no electricity, but more than 3,500 refugees who had been forced to flee villages following attacks by gangs of horsemen who were burning houses and raping women.
"One of the worst hardships you could ever find," Samoura says. A French Legionnaire at a nearby camp would react by "losing his mind" and shooting dead four people. Samoura was in charge of security and "did not sleep" for the three days and nights until he was caught.
There were the numerous tense and lengthy negotiations with warlords, often armed with AK-47s, in an attempt to get humanitarian aid through a certain route. Abductions were not unusual and Samoura, who can speak five languages, would face particular difficulty once the time came to leave a refugee camp.
"They could block you, put you in a house for a few hours. You have to be patient, persevere, listen and sometimes just let them say what they have in their heart."
There was the creation of a village in Madagascar, where 94 sets of twins could live, for the first time, with their biological parents. "Twins were considered a curse – they could only be abandoned or killed," she explains.
Then there was the organisation of peaceful and democratic elections in previously war-torn countries, campaigns against female genital mutilation, lifting international sanctions and introducing programmes to tackle unemployment, poverty and malnutrition. Devastatingly a 20-month girl was sexually mutilated before having her tongue and six fingers cut. She was then left to be attacked by a lion. "And she survived," says Samoura.
"It was a job where you realise the importance of having people you can call on," she says. "In front of danger and death, nobody is essential."
The job also underlined football's unique influence. "In Liberia, child soldiers would fight and kill each other every day," she says. "The only time they would stop was when it was raining or there was a football game.
"My first experience with Fifa was after the Rwanda genocide. The first time that young people came together and spoke to others from a different ethnic group was because there was a project to build a football pitch."
Samoura became "a crazy football fan" during the 1970 World Cup – the first that was televised in her home city of Dakar in Senegal. Her husband, a former player, urged her to take the Fifa role. "As a black woman in a very conservative society you rarely find a man who sacrifices his career. He accepted to take care of our children and understands the importance I attach to helping people."
Samoura was named last year by Forbes as the most powerful woman in world sport. Bareman and Cook also arrived following the collapse of Blatter's regime to make it an unprecedented trio of women on Fifa's management board and a fourth was added last week when Kimberly Morris was appointed Chief Human Resources and Services Officer. Previously, there were none.
As a girl, Cook would infuriate her parents by ruining school shoes playing football in the streets. She became an intensive care nurse in the National Health Service, but developed a condition called psoriatic arthritis.
"For two years, I wouldn't leave the house," she says. "I hated being in a wheelchair, the way people looked at me and the loss of control." A reluctant decision to go and watch Manchester United proved life-changing.
"We went and, for 90 minutes, I forgot how miserable I felt. Football gave me my life back."
From there, Cook became a hugely successful campaigner for increased accessibility at stadiums across Europe and it was largely her work which forced Premier League clubs to implement minimum standards for disabled fans. Infantino became aware of Cook's achievements and, as an openly gay person in football, she has helped make Fifa more diverse.
"We all know about the past – Fifa wasn't an easy organisation to deal with, but I know very well the work we are now doing and the people we are," says Cook. "It is the job of a lifetime."
Bareman would also play street football with boys while growing up in Auckland and progressed to the national team of Samoa, her mother's homeland. She worked in property funding but, during a trip to Samoa, saw an advert to run the finances of the Samoa Football Federation.
"A two-week holiday ended up being seven years," she says. Samoa had just been suspended for misuse of Fifa funds, but Bareman, who would soon become the federation's chief executive, oversaw an extraordinary project of renewal at every level.
"I would drive out to rural areas and see whole communities come together – it was where I learnt to love football for more than what happens on a pitch."
Bareman was elected to represent the Pacific region on the Fifa reform committee that was set up following Blatter's departure in 2015 and, after advocating higher female representation, she was asked to lead a new dedicated women's division. An unusual career aim is to make her job redundant. "The goal is to mainstream the women's game – it means you wouldn't be sat here interviewing me in the end because there wouldn't need to be a chief women's football officer."
A repeated message is that the change these three women so strikingly represent has been genuine. "This was not an easy job – it [Fifa] was a house that nobody wanted to be associated with," says Samoura. "I was not expecting to see such a demoralised and demotivated staff.
"The whole institution was under investigation, but I don't think the media did the staff justice. The top was doing something that the base did not know. I spent a lot of time listening to the staff. I would come into this office and cry. People were telling me, 'Fatma, we cannot go out on public transport with the Fifa logo on our suit. People are accusing of us'. But the people who work here love football and they have passion. They should believe in themselves. Today I am proudly wearing my Fifa uniform and the perception has radically changed."
She lists a series of statistics. A 25 per cent increase in sponsorship revenue. Four times more money going out to member associations. Administration costs down from 37 per cent to less than 20 per cent today. Almost 50 per cent of women within Fifa's workforce. A global annual rise in development projects from around 30 to 450.
Doubled prize money at the Women's World Cup and a guaranteed $500 million (£392 million) to globally develop women's football over the next three years."People thought before that Fifa was a material world – today it is a people world,"Samoura says. "We want more diversity. This was also my daily fight in the UN. It is a male-dominated society. We have every day to show we are the best in our position."
Issues that were seldom talked about in global football governance are now firmly on Fifa's agenda. These include sexual assault and an ongoing investigation began last year into allegations that were made against senior Afghanistan football officials, with Fifa yesterday explaining the timing of its intervention.
A child safeguarding kit will be launched this year and there will be event safeguarding in France should any of the female players wish to raise concerns. "We aren't afraid to touch subjects that perhaps those in football who have been there a long time find difficult to take on," Cook says. "Our experience, and the way we support each other, is pushing those boundaries."
They proudly note that a record nine cities have already bid for the next women's World Cup in 2023 and could not be more excited for the month ahead. "It's going to be so cool," Bareman says. "I believe this will be a game-changing moment and, in years to come, people will look back on France 2019 as the one that took women's football to the next level."
https://www.telegraph.co.uk/world-cup/2019/06/07/footballs-powerful-women-tasked-rebuilding-fifa-remarkable-backstories/
----------
Making its Texas debut, Rohina Malik's one-woman show pulls the veil off Muslim stereotypes
FILED UNDERTHEATER AT 22 HRS AGO SHARE
Rohina Malik knew she was onto something when after a performance of her one-woman show Unveiled, in which she portrays five Muslim women living in the West, a college student in the audience asked to speak to her. He was shaking and sobbing.
"He told me, 'I thought you wore the veil to celebrate 9-11. I didn't know you wore it for God.' It made me realize this misinformation is so deep and what I was up against," Malik recalls.
The Chicago-based playwright has met with great success with Unveiled, touring it for the past 10 years to universities, houses of worship and theaters from New York to South Africa. Now she's bringing it to North Texas for its Lone Star State debut June 12-30 at WaterTower Theatre in Addison.
The reception has led to two more plays, The Mecca Tales and Yasmina's Necklace, both nominated for Jeff Awards, Chicago's version of the Tonys. Malik says she's also having conversations with Hollywood studios about joining a TV writing staff or producing her own series, which she describes as a Muslim version of HBO's Girls.
Pretty good for a Montessori teacher who turned away from her passion for theater after college for practical reasons and because she didn't see anyone like herself on stage or television. In high school in the diverse Chicago suburb of Skokie, she had taken every drama class offered and wrote and performed in plays.
"I didn't think I could have a career, so I went against my heart," the London native says in a phone interview from her adopted city, where her parents emigrated from Pakistan when she was 15. "I found myself staring at the clock, waiting to go home. Every birthday, I would get depressed. Something was missing. ... I had a lot of stories in my head, and I wanted to share them."
An incident at a friend's wedding not long after 9-11 got Malik back on her path. A man from another party had an angry response to her hijab — the head-covering worn by religious Muslim women —and rushed toward her as if he were going to attack, she says. The story is told by Maryam, the first character in Unveiled, a Pakistani immigrant and dressmaker in Chicago's famed Devon Avenue commercial district.
"We're always depicted as the terrorist, bad guys who want to do evil," Malik says. "The women are either oppressed in their veils, or they're plotting with the men. I was so sick of it. My community contributes. We're doctors, we're lawyers. I felt by writing plays, I could put the audience in the living rooms of normal Muslim people."
Even though she couldn't shake the memory, it took a few years for Malik to put pen to paper. One day, she saw an ad for a class at Victory Gardens Theater on how to write a one-person show and told her husband he would have to watch the kids.
Showing up with just a few pages, she developed Unveiled at Victory Gardens and Chicago Dramatists, where she is now resident playwright emeritus. Malik performed an early version with three characters at the Fillet of Solo Festival in 2008. Her teacher Will Dunne suggested tea as a thread. Each of the characters sips a different flavor of the universal beverage as they talk about their experiences.
Besides Maryam, they include Noor, a Moroccan-American lawyer who also has been victimized by violence; Inez, an African-American Muslim shamed into removing her hijab after 9-11; Shabana, a London rapper and daughter of South Asian immigrants fighting an arranged marriage; and Layla, a Palestinian immigrant and restaurant owner whose brother, a medical professional, lost his life in the World Trade Center rescue mission.
Malik flirted with the idea of having other actors play some of the roles. When 16th Street Theater artistic director Ann Filmer saw it, she told her she would premiere it but only as a one-woman show.
"It's been so effective in creating an atmosphere of dialogue," Malik says of Unveiled. "There's always a post-show discussion and civilized conversation. The play doesn't end when I take my bow. It's just starting."
Manuel Mendoza is a freelance writer and a former staff critic at The Dallas Morning News.
https://www.dallasnews.com/arts/theater/2019/06/06/making-texas-debut-rohina-maliks-one-woman-show-pulls-veil-muslim-stereotypes
----------
German woman faces Islamic State-linked terrorism charges
JUNE 07, 2019
Federal prosecutors say a 32-year-old German woman faces terrorism charges for joining the Islamic State group in Syria.
Carla-Josephine S., whose last name wasn't released for privacy reasons, is also charged with child endangerment resulting in death and other offenses, prosecutors said Friday.
She's accused of taking her three children to Syria in 2015.
Prosecutors say she joined the Islamic State group and lived in one of their facilities.
Her children underwent IS ideological indoctrination, and her son took paramilitary training before he was killed in 2018 when their compound was bombed.
Unable to convince her husband to join her, S. in 2016 married an IS fighter from Somalia and took paramilitary training herself.
She was arrested upon her return to Germany in April. Prosecutors wouldn't give any details about her daughters.
https://www.miamiherald.com/news/nation-world/article231294383.html
----------
Filipino Woman's Facebook Post on What It's Like to Be Catholic and Muslim Goes Viral
A Filipino woman has gone viral on Facebook after sharing her life living as both a Catholic and a Muslim, and how the two different religions co-existed in their home.
ArizzaNocum, in her Facebook post last week, said that she grew up in a household with a Catholic father who was a former seminarian and a native of Zamboanga city, and a Muslim mother with a family line that grew up in Siasi, Sulu where "Islam commingled with Tausug customs to create a culture that respected faith, bravery, and compassion."
According to Nocum, who works as a senior marketing executive at a public relations firm, both her parents wanted to keep their religion and had decided to start a family that "identified with both, respected both, and lived with both."
She then explained that she had a very odd childhood while growing up in Zamboanga and in Manila where both her father and mother's side had different customs.
"On one side of the family, I had Catholic relatives who strictly observed Lent and did not even allow us to laugh during Good Friday; grandparents who welcomed their parish priests frequently to their homes for merienda; and aunts and uncles who would pull out all stops for nochebuena," she said in her post.
"On another side, I had cousins bringing in delicious Tausug delicacies during Muslim holidays; tall uncles who, in their Eid outfits, looked like dashing Arabs with their beards and tall noses; and aunts and lolas I would silently observe as they would lay down their mat in our house and get ready for Salat (prayer) five times a day."
In their own home, however, her family practices a more neutral stand as they don't have any religious symbols.
"No one was allowed to eat pork – except my dad. And, when I get into big trouble, I would sometimes have two lectures from my parents – one based on what Jesus taught and another on what is written in the Quran," she said.
Nocum saw all the common traits both sides share including education, careers, upbringing, and connecting with families.
"So, this week, as the holy month of Ramadan comes to a close, I write these words as an appeal to peace, an appeal to empathy," Nocum said.
"Every Filipino can do a better job at remembering that the Philippines is a country of many faiths and cultures – each one as vibrant and worthy of admiration as the rest," she added. "The next time we think of stereotypes, belittle or ostracize, or label a person because of what we see in the media, I hope we can think twice."
"Because of the way I grew up, I learned that, Muslim or Christian, the same stories – stories of poverty, success, failure, sadness, happiness, hope – bound us together."
While speaking to Coconuts Manila, Nocum said that she made the post as a personal reflection on what the month of Ramadan was for her, and that she did not expect the post to go viral.
"What I wanted to explore through my post is what this whole period can mean for both Muslims and non-Muslims in the country," she told the publication.
https://nextshark.com/catholic-muslim-filipino-woman/
----------
A Woman Even Here: Protecting Arab women's rights is a key to mitigating conflict in Middle East and North Africa
June 6, 2019, 10:03 PM IST Rudroneel Ghosh in Talking Turkey | World | TOI
A pertinent session at the ongoing Women Deliver Conference 2019 focussed on the challenges faced by women in the Arab world. Hosted by UNFPA Arab States Regional Office, the session delved into the double discrimination that women in the Arab world often have to put up with. The reason for this double discrimination is the fact that much of the Middle East and North Africa region is in conflict. And conflict situations are particularly hard on women given that they engender shortages of everything from security to food supplies.
Here are some shocking statistics. Globally, around 136 million people are in need of humanitarian assistance of which 36 million are women. Of the latter 40% are from Arab states. Plus, research has shown that the fragility of a state is directly proportional to maternal mortality, adolescent pregnancy and child marriage. All of these are rampant in conflict- ridden or conflict-affected Arab states. This reality compelled one of the speakers of the session, Princess Sarah Zeid of Jordan, to comment that women in the Arab world are superwomen because of the extreme hardships they have to endure.
It is a sad fact that the largest number of refugees is in Muslim states. This in turn sees these countries having some of the highest rates of still-born births and maternal mortality. Add to all of this the deeply conservative attitudes towards women in many parts of the Arab world. This stems from the influence of Wahhabism on the strength of petro-dollars over the last 50 years. The conservative interpretation of Islam and its influence over Sunni populations meant that women in these societies came to be seen as inferior to men. And from this flowed diminishing rights of Arab women in terms of inheritance, property, marriage and free choice.
In this grave context, sexual reproductive health rights of Arab women are given short shrift. Abortion is not even a serious conversation because choice for many Arab women remains elusive. And when conflict starts defining Arab states, like what is happening to Libya or Syria, women's rights get pushed to the back burner. For the world and policymakers, identifying the double discrimination faced by Arab women in conflict situations becomes difficult.
But this must never be and that's why the conference session was named 'A Woman Even Here'. In fact, focussing on the plight of Arab women in fragile states is a good way to mitigate the conflicts themselves. For, when you start thinking about what these distressed women need in terms of sexual reproductive health rights, bodily security, food, psychological assistance, etc and start working towards providing those, you immediately create situations that mitigate the conflict.
I know that given the complexity of the conflicts in the Arab world solutions are not easy. But the women's empowerment movement should not forget the plight of our Arab sisters who are perhaps the most discriminated among women given the double whammy of conflict and social conservatism. Protecting Arab women's rights is a key to mitigating conflict in the Middle East and North Africa.
https://timesofindia.indiatimes.com/blogs/talkingturkey/a-woman-even-here-protecting-arab-womens-rights-is-a-key-to-mitigating-conflict-in-middle-east-and-north-africa/
URL: https://www.newageislam.com/islam-women-feminism/meet-football-powerful-women-tasked/d/118819