New Age Islam News Bureau
28 November 2021
• Married Sikh Woman Goes To Pakistan With Hubby As Part Of A Jatha, Converts And 'Weds' Lahore Man
• "Despite The War, Afghanistan Is Beautiful," Says The Country's First Woman Tour Guide
• 'We Will Start Again': Afghan Female Mps Fight On From Parliament In Exile
• Saudi Women Comprise Fifty Percent of Budget Airline Flyadeal's Cabin Crew As It Doubles Its Fleet
• In A First, BSF Deploys Women Jawans In Jammu To Safeguard Border With Pakistan
• Iraqi-Kurdish Woman First Named Victim Of Mass Drowning In The English Channel Tragedy
• Winners Crowned On Final Day Of Women's Taekwondo Championship In Riyadh
• Top Arab Actors Pluck Plum Roles in Cairo Festival Competitor 'Daughters of Abdul-Rahman'
• Turkish Woman Says Subjected To Strip Search In Police Custody
Compiled by New Age Islam News Bureau
URL: https://www.newageislam.com/islam-women-feminism/sikh-pakistan-gurupurab-jatha-lahore/d/125856
--------
Married Sikh Woman Goes To Pakistan With Hubby As Part Of A Jatha, Converts And 'Weds' Lahore Man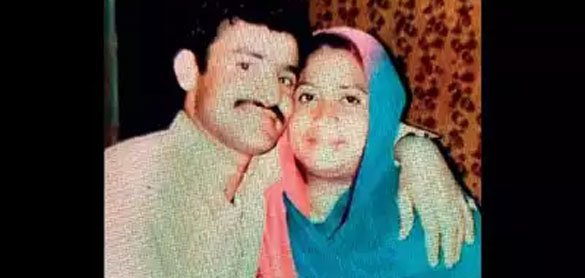 The Bengali Sikh woman with Imran from Pakistan
-----
Nov 28, 2021
ATTARI: A married Sikh woman from Kolkata who was part of a jatha that visited Pakistan for Gurpurb "converted and married" a Muslim man at Lahore. She was apparently accompanied by her Indian husband during the pilgrimage and marriage.
According to sources, the woman, Parminder Kaur (name changed), had crossed the international border from Attari on November 17 to take part in celebrations on the birth anniversary of first Sikh master Guru Nanak Dev. She married Lahore resident Muhammad Imran on November 24. Intelligence sources here said that before marrying Imran, she embraced Islam and was rechristened as Parveena Sultan after filing a petition in a Lahore court.
A Lahore-based deed writer Rana Sajawal confirmed that the Indian woman, accompanied by two men including a Sikh, had come to purchase an affidavit. He said since the women didn't have any Pakistani identification, he had issued the document in the name of Imran, a resident of Rajan Pur area. Sources said that Kaur had met Imran on social media and her husband was aware of her ties.
While confirming the incident, SAD (D) president Paramjit Singh Sarna, who is also the former president of Delhi Sikh Gurdwara Management Committee, said the marriage of a Bengali Sikh woman with a Lahore man had brought much embarrassment to the community. "Such acts can even lead to a ban on Sikh pilgrimage to Pakistan," said Sarna. He also advised the pilgrims going to Pakistan as part of jathas to restrict themselves to religious activities.
According to sources, Imran wanted to come to India but couldn't as he didn't have an Indian visa.
Similarly, Kaur was denied permission to stay in Pakistan, following which, she and her Indian husband arrived at Attari on late Friday evening and reached Kolkata on Saturday. Sources opined that she would apply for Pakistan visa to be with her Muslim husband.
Source: Times Of India
https://timesofindia.indiatimes.com/city/amritsar/kolkata-sikh-woman-goes-to-pakistan-with-hubby-weds-lahore-man/articleshowprint/87956937.cms?val=3728
-----
"Despite The War, Afghanistan Is Beautiful," Says The Country's First Woman Tour Guide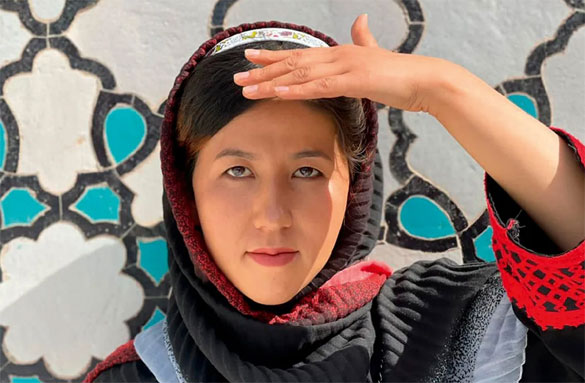 From being a shepherdess in Ghor province to Afghanistan's first female tour guide
-----
By Fatima Haidari
28 November 2021
When I first told my father about my decision to become a tour guide, he was angry. He asked if I intended to bury myself alive as this would threaten the honour of our community. On tours, I remember men on the streets laughing and looking at me strangely, saying, "See her, a Hazara girl [Hazara is an Afghan ethnic minority group], walking alone with strange men." I remember the Sufi at an old shrine who judged me for spreading "vice and apostatizing". Each time he saw me, he would say, "You are walking with heretics and strangers. You have to repent soon." I would reply with a smile, "Yes, kaka jaan (dear uncle)." It was tough enough that there were the restrictions of the pandemic to consider.
My path to becoming Afghanistan's first female tour guide began by guiding sheep and cows to green pastures. Born as the youngest of seven, in the deprived and outlying Lal wa Sarjangal district of Ghor province, I had to work as a shepherdess at the age of eight. It was my introduction to leading a group.
Shepherding was also how I got an education, when studying was forbidden to most girls. The boys studied on the sands under the shade of a tree beside a small river. I would take my sheep to graze nearby so I could listen to their teacher. When the Red Cross offered healthcare and food to families with daughters in school, I convinced my parents to let me go—their condition was that I continue being a shepherd. I had no books or pens and would practice writing on the sands.
In 2009, when I was nine, we moved as internal refugees to the city of Herat. I bought notebooks with the money I earned from spinning wool into yarn and sewing the Afghani menswear Herati yakhan dozi; three years later, I earned enough to join primary school. I also attended free English classes for refugees and soon joined the organisation as an assistant English teacher while I completed schooling. In January 2021, I got together 10 of my friends to open a voluntary organisation that included a library for girls.
Journalism is a challenging profession for women here but I saw it as a bridge to a better future. One of my projects at Herat University was on Afghanistan's tourist attractions, and I began to post about the places I was reading of, on a Facebook travel group. That's when Biktop, a traveller from Ukraine, messaged me to ask if I could show them my city. I got to make new friends from another country and I had a lot to share about Herat. Biktop ended up suggesting my guide services to Untamed Borders, a travel company specialising in inaccessible areas. Last year, they came to Herat, joined a group I was guiding and hired me. They took me through the process of picking up guests at the airport, briefing them about security and taking them around Herat.
The risks that international travellers face are different from what I face as a local woman; one thing we did was to ensure that travellers didn't stay on the streets or in one place for too long. My first trip with Untamed Borders was in October 2020; I juggled tours with university and later began guiding for the travel company Silk Road Afghanistan too. I got to lead 100 people over 30 tours and I dreamed of taking groups across Afghanistan and having my own company one day.
Afghanistan has a history of over 6,000 years; its monuments and scenic beauty are the greatest draws for travellers. The 1970s saw over 90,000 tourists; after that, security issues deterred most. People have negative stereotypes about life here but despite the war, Afghanistan is beautiful. I wanted my tours to reflect its positive qualities.
I would tell stories of women in Afghanistan, and show guests ancient places I loved, like the Herat Central Blue Mosque—highly detailed with blue tiles and, according to our beliefs, the world's biggest mosque; guests felt peaceful sitting there and appreciating its beauty. We'd go to the Timurid shrine at Gazur Guh and Herat Citadel, dated to 330BC, when Alexander the Great and his armies arrived.
We would walk through a bazaar where various ethnic groups sold traditional and handmade souvenirs, and stop at an old teashop where the owner would talk about his time as a Jihadi who fought against the Soviet Union invasion of Afghanistan at the turn of the 1980s. Much of Herat is educated so you can see women in teahouses, though they are allowed to go out only if accompanied by male family members.
My guests gave me a different worldview as we exchanged notes on our cultures. Meeting solo women travellers especially gave me strength and the willingness to move around on my own; they gave me the perspective that the world is for the brave.
I had never been anywhere alone until I became a tour guide. My parents are conservative; my sisters were forced into marriage when they were 13 and 15. But having agreed to my tours, my parents were more open about letting me travel alone; I went to Kabul twice for a scholarship and as practice for guiding tours outside Herat.
The toughest part was taking guests to conservative areas. I would constantly think, "Do not get kidnapped, do not get killed." If guests wanted to eat dinner at a restaurant, I would spend the night at the hotel as my home in the suburbs was a two-hour drive. Being a tour guide helped me become more courageous and independent—I am alone again now too, in Italy, where I am thirsty because nothing tastes like Afghani chai.
Until recently, I was a tour guide, a university student, a teacher, a social worker, a radio host speaking with women about overcoming hardship. Everything changed this August. I found myself thinking of all the women who fought against misogyny and other barriers. I have observed women who were burned, stoned, kidnapped, forced into marriage, murdered. I have also seen women raise their voices and never give up. There were women who were successful doctors, mothers, teachers, politicians, singers, policy-makers, scientists. Under the Taliban, what would happen to all of us? I couldn't let all the positive changes in my life turn to dust. And yet, to survive, I had to leave my wonderful country. I am so thankful to those who considered me and arranged my flights out.
I still want to graduate, be a tour guide, do volunteer work for refugees, be a journalist covering women's issues, and help children who lack the economic resources to study in Afghanistan. When it is safe for women like me to return, I want to open a tour company in Afghanistan and train more female guides. Give me a hundred reasons to fail, I will show a thousand reasons to succeed. I am Fatima, 23, a fighter from Afghanistan in Italy.
Source: The cntraveller
https://www.cntraveller.in/story/despite-the-war-afghanistan-is-beautiful-says-the-countrys-first-woman-tour-guide/
-----
'We will start again': Afghan female MPs fight on from parliament in exile
Amie Ferris-Rotman
27 Nov 2021
It is a Saturday morning in November, and Afghan MP Nazifa Yousufi Bek gathers up her notes and prepares to head for the office. But instead of jumping in an armoured car bound for the mahogany-lined parliament in Kabul, her journey is by bus from a Greek hotel to a migrants' organisation in the centre of Athens. There, taking her place on a folding chair, she inaugurates the Afghan women's parliament in – exile.
"Our people have nothing. Mothers are selling their children," she tells a room packed with her peers. "We must raise our voices, we must put a stop to this," says Yousufi Bek, 35, who fled Afghanistan with her husband and three young children after the Taliban swept to power in August. Some around her nod in agreement; others quietly weep.
Yousufi Bek, from the northern Takhar province, is one of 28 female MPs who have found refuge in Greece, a country most had never visited before. Until recently, these women made up more than 40% of Afghanistan's female MPs. Now they are confronted with an unrecognisable alphabet and an uncertain future.
November sunshine pours through the windows as the room buzzes with energy. The women take turns speaking, standing up to address their peers. They express opposition – to the Taliban, to what they described as Pakistan's outsized influence on recent events – as they would in parliamentary sessions in Kabul, by rhythmically drumming their fingers on the table.
During meetings with Greece's prime minister, Kyriakos Mitsotakis, and president, Katerina Sakellaropoulou, the MPs have pushed the country's authorities to advocate for Afghan women with other EU member states. They have also petitioned several ambassadors, including the US envoy, to pressure their governments to consider human rights when working with the Taliban.
Shagufa Noorzai came up with the idea for a parallel parliament in exile with Yousufi Bek. A teacher before becoming a legislator, while in office Noorzai focused on improving the financial status of women and set up a foundation aimed at supporting homeless children and widows in her native Helmand province. "I want women in Afghanistan to think, 'Shagufa didn't forget us. Shagufa wants to do something for us'," says Noorzai, who at 24 became the youngest member of parliament when she was elected in 2018. Many of the MPs have seen fierce opposition when seeking election; Yousafi Bek's campaign was the target of a deadly suicide bomber.
In the coming weeks, the MPs will hold virtual sessions with Joe Biden's administration, US Congress members and UN security council officials, which will be facilitated by Mina's List, a non-profit that supports women's political leadership and is working with the Afghan female lawmakers.
On the agenda: the women's rights crisis under Taliban rule, ensuring aid reaches the millions of starving Afghans facing a cruel winter and keeping pressure on western nations to provide safe passage for Afghan women who worked as judges, prosecutors and activists, as well as those who served in the security forces.
"Our intention is to really leverage all of those networks, to amplify the women's agenda, to amplify their platforms, to help them have opportunities," says Tanya Henderson, Mina List's founder and executive director.
Emotions were high when the women gathered for the first time at a community centre run by Melissa Network, a grassroots network for female migrants and refugees that played a role in their evacuation.
"You realise how much power lies with women," says Nadina Christopoulou, an anthropologist and director at Melissa Network. Thousands of women have come through her doors in recent years, but this is the most high-profile group.
It has not been an easy adjustment: the basic lodgings are a far cry from the opulent houses of many Afghan politicians in Kabul and their home towns.
Wiping away tears with her headscarf, long-serving MP Homa Ahmadi shows a recent photo on her phone of Taliban MPs in Kabul. Where she once sat surrounded by female peers and men in suits, there are now only men wearing turbans and sporting long beards.
No country has recognised the Taliban government, though senior officials from some, including the UK, have met the group's leadership in recent weeks, where they advocated for women's rights. But those delegations contained no women, sparking outcry from prominent Afghan women and causing German MEP Hannah Neumann last week to criticise such meetings as "counteracting the whole argument".
The parliament in exile wants to bring to safety the nine female MPs who remain behind in Afghanistan. They are in hiding, a traumatic predicament the women know all too well.
"[Since August], the Taliban have killed schoolgirls, policewomen and women in government. The family members are too afraid to speak up," says Fawzia Hamidi, 48, a lawmaker from northern Balkh province. Formerly a prosecutor for cases of violence against women, Hamidi describes recent murders in the region as the tip of the iceberg.
AFGHANISTAN-CONFLICT-WOMEN-PROTEST<br>A member of the Taliban speaks with women protestors as another tries to block the view of the camera with his hand during a demonstration held outside a school in Kabul on September 30, 2021. (Photo by BULENT KILIC / AFP) (Photo by BULENT KILIC/AFP via Getty Images)
Others, such as Halima Askari from central Wardak province, crossed overland to Uzbekistan. In her second trimester of pregnancy, a doctor in Tashkent told her the baby's oxygen levels were severely depleted due to stress. Now in her third trimester, she will give birth in Greece.
Hamidi describes how she was separated from her five-year-old daughter, Hadia, as she entered Uzbekistan under the cover of darkness. "Hadia didn't have a passport. So I was on one side of the border, and she on the other," she says through muffled sobs. She is still waiting to be reunited with her daughter.
Source: The Guardian
https://www.theguardian.com/global-development/2021/nov/27/we-will-start-again-afghan-female-mps-now-refugees-are-still-fighting-for-rights
-----
Saudi Women Comprise Fifty Percent of Budget Airline Flyadeal's Cabin Crew As It Doubles Its Fleet
FAHAD ABULJADAYEL
November 27, 2021
JEDDAH: Saudi Arabia's budget airline Flyadeal aims to nurture and promote local female talent as it's doubling its fleet by end of next year, its chief commercial officer told Arab News.
Ahmed Albrahim said the low-cost airline's fleet contains 15 A320 narrowbodies, and it will continue to receive more aircraft of the A320 Neo class.
The airline seeks to empower Saudi women in the aviation industry, he added, saying: "We have the first chief people officer, which is a female, also the first female airport duty manager, and first female pilot."
The low-cost airline launched its first direct flights from Jeddah to Dubai last week. The new route signaled the company's first international journey from the airport.
In a report recently issued by the International Air Transport Association, total airline industry losses from 2020 to 2022 are expected to reach $201 billion despite a post-pandemic improvement.
Net losses are expected to come in at $11.6 billion in 2022 after a $51.8 billion loss in 2021, IATA said in its latest outlook for airline industry financial performance, showing improved results amid the continuing COVID-19 crisis.
Albrahim admitted that the last two years had been bad for the industry. Likening it to the 2008 global financial crisis, he said during that time "people lost their spending power."
"Back in 2008 when the world witnessed the financial crisis, people lost their spending power," he said, It was a very tough time for everybody including airlines.
However, he added, the COVID-19 has changed people's behaviors due to social distancing measures and airlines have to work out different strategies to ensure a smooth recovery. Albrahim said people now want all operations carried out electronically or "touchless."
Albrahim said this is putting pressure on all airlines. However, the airline official expressed optimism that the industry will recover and the flyadeal will grow from a "lean startup" into a key aviation player.
"We were able to recover a lot because we are domestic airlines, and because we are one of the very few airlines in the region that follows the low-cost carrier," Albrahim said.
Source: arab news
https://www.arabnews.com/node/1976371/business-economy
-----
In A First, BSF Deploys Women Jawans In Jammu To Safeguard Border With Pakistan
By Gloria Methri
28th November, 2021
In another impetus to women empowerment, the Border Security Force (BSF), for the first time in Jammu, deployed its women jawans at the international border with Pakistan. The women bravehearts will guard the border and thwart terrorist infiltration bids along the Line of Control.
At the Jammu international border, women BSF soldiers were seen maintaining a round-the-clock vigil, keeping a tab on the enemy's activity. Just opposite this area is the nefarious Pakistan and its terror camps, where the terrorists are waiting for an opportunity to sneak into the Indian territory.
This is the first time women jawans are patrolling at the Jammu border. While has been a tradition at the international border along with Punjab and other regions, it is for the first time that women soldiers have been deployed in J&K.
Speaking to Republic TV, one of the jawans guarding the border said, "We are ready to perform every duty, no matter what challenge we are faced with. As the winter season brings more fog, there will be an increase in infiltration activities, but we are ready to resist the enemy at the border."
Another soldier said she wants to ensure that everyone back at home feels safe as the BSF remains alert at the border with Pakistan.
Its been 9 months since the ceasefire agreement between India and Pakistan, when both the armies agreed to hold fire, but the nefarious designs of Pakistan continue along the LoC as well as the international border. With the onset of snowfall in the northern region, Pakistan is trying to divert its focus to the international border, which is the low-lying area of Jammu and Kashmir.
In recent months, the union territory has witnessed heightened terror activities since June 7, when a drone attack was reported at the Indian Air Force station in Jammu. The security forces have since then, carried out 6 to 7 counter-terror operations along the LoC, successfully eliminating at least 7-8 terrorists. The longest-running counter-terror operation is still underway in the Bhataduria area of Kashmir's Poonch, where terrorists are being apprehended and planned attacks are being foiled by the army.
It has been an all-around challenge for the security forces this year, as Pakistan poses a major threat to J&K, but the women bravehearts of the BSF are ensuring that the country's borders are secured and the citizens sleep in peace.
Source: Republic World
https://www.republicworld.com/india-news/general-news/in-a-first-bsf-deploys-women-jawans-in-jammu-to-safeguard-border-with-pakistan.html
-----
Iraqi-Kurdish woman first named victim of Channel tragedy
ARAB NEWS
November 27, 2021
LONDON: A Kurdish woman from northern Iraq has been named as the first identified victim of this week's mass drowning in the English Channel.
Maryam Nuri Mohamed Amin, 24, was messaging her UK-based fiance when the dinghy she was traveling on began to sink on Wednesday.
She was one of 27 people who died while attempting the perilous journey from the French coast to Britain, which has claimed dozens of lives this year.
Her fiance told the BBC that she tried to reassure him that they would be rescued while they were sinking, but she perished along with 26 others. Just two passengers survived.
There were 17 male casualties, six women — one of whom was pregnant — and three children.
The two survivors, a Somali and an Iraqi, have been discharged from a French hospital and are expected to be questioned about the incident.
Amin had attempted the journey with a female relative, both hoping to join family in Britain.
She was messaging her fiance on social media app Snapchat moments before the dinghy began to capsize.
She hailed from Souran, a town in northeast Iraqi Kurdistan. Her family are awaiting the return of her body for a funeral.
A relative said: "Her story is the same as everyone else — she was looking for a better life. One of her uncles was one of the people closest to me. He cared for us when my father was a political prisoner. But the family have had such a tragic life."
Source: arab news
https://www.arabnews.com/node/1976261/middle-east
-----
Winners crowned on final day of women's Taekwondo championship in Riyadh
ARAB NEWS
November 27, 2021
RIYADH: The podium finishers at the World Taekwondo Women's Open Championships in Riyadh were presented with their medals on Saturday by the vice president of the Saudi Arabian Olympic Committee.
Prince Fahd bin Jalawi bin Abdul Aziz was in attendance on the final day of the competition to give the winners their medals at the Prince Faisal Bin Fahd Olympic Complex.
South Korea took the gold and Russia was awarded silver with Portugal and Morocco taking a shared bronze medal.
The ceremony was also attended by the president of World Taekwondo federation, Choue Chung-won, as well as the president of the Saudi Taekwondo Federation, Brig. Gen. Shaddad Al-Omari, and undersecretary of planning and development at the Ministry of Sports Adwa Al-Arifi.
Source: arab news
https://www.arabnews.com/node/1976406/sport
-----
Top Arab Actors Pluck Plum Roles in Cairo Festival Competitor 'Daughters of Abdul-Rahman'
Alissa Simon
Nov 27, 2021
One of three Arabic-language films in the Cairo Film Festival international competition, the feminist dramedy "Daughters of Abdul-Rahman" shows how many Jordanian women put the traditional expectations of their patriarchal society ahead of their own desires and the resulting collateral damage. After world premiering in Egypt, the debut feature of director-writer-producer Zaid Abu Hamdan will segue to the Red Sea Festival in Saudi Arabia.
The inspiration for the plot came from the multi-hyphenate's own mother, as he realized that she had been unable to achieve her private aspirations. He says: "Having to be the perfect eldest sister, then a young wife living up to the social standards expected of her, then a mother to four boys, all that seemed to put her personal plans on hold."
Eventually, Abu Hamdan sent out 300 surveys to Jordanian women of different religious, educational and socio-economic backgrounds. What came back was so unsettling that it caused him to re-evaluate the homeland he loved and took for granted. He says, "So many of the women fantasized about screaming their truth and shouting out their anger."
Casting the four semi-estranged sisters of the title took longer than Abu Hamdan imagined. He wanted them to be credible as relatives and display familial chemistry.
First to sign was Jordan-born international star Saba Mubarek. She took on roles as executive producer and as Amaal, the most conservative of the sisters. Abu Hamdan recalls: "It was a tricky decision as I wrote Amaal to be an overweight 'typical' housewife and her face is almost fully covered in many scenes of the film. Saba has a beautiful figure and a very known face … she's the sexy diva! After several discussions, something in my gut told me that her eyes alone are strong and expressive enough that she can give me that magic from behind the burqa, and so she did."
As he was writing the script, Abu Hamdan kept thinking of Kuwait-born, Syria-trained actress Farah Bseiso as the eldest sibling Zainab. But as he geared up for production, he couldn't locate her. He says: "She had quit her long and successful career and took off to the US with her family." In the meantime, he cast Palestinian citizen of Israel Hannan Hillo as the sexy sister Samah. He says, "She had a hippy vibe when I saw her audition tape, yet, she just had my character's soul somewhere in there."
After Hillo joined the cast, Abu Hamdan located Bseiso, but she had no plans to exit retirement. Nevertheless, she promised to read the script and send feedback. Abu Hamdan says: "Three days later, Farah sent an email saying that Zainab is the role that will be her comeback. I was over the moon! This email is printed on A3 paper above my desk."
Finding the youngest daughter, Khitam, marked the last piece of the puzzle. After watching an audition from Mariam Basha, known for the Oscar-nominated Palestinian short "The Present," Abu Hamdan knew, "Bingo! I have the daughters of Abdul-Rahman."
Abu Hamdan's directing career includes short films, episodes of "Sesame Street," sport shows and other forms of content, but he is content with his current niche. He says, "My latest work was MAC Cosmetic's Ramadan miniseries "Qata'ef," featured in Vogue Arabia, which starred five beautiful women. What I realized is that empowered female characters with a distinct point of view excite me, and working with actresses [is] a challenge that I adore." His next feature film, now in development, also centers around a woman, but of a very different type.
Source: variety
https://variety.com/2021/film/global/cairo-film-festival-daughters-of-abdul-rahman-1235120513/
-----
Turkish woman says subjected to strip search in police custody
by TurkeyPurge
Nov 28, 2021
Tuğba Arıcı, a Turkish social media user, has tweeted that she was subjected to a strip search while in police detention for insulting President Recep Tayyip Erdogan on social media.
According to Turkish legal and preventative search regulations, strip-searches can only be conducted in exceptional cases, such as when there are credible indications that the person has contraband materials on their person. In such cases, the search must be conducted in a manner so as not to humiliate the person and as quickly as possible. When there is a credible suspicion that something is hidden in the person's body, officers are required to ask the person to remove it himself and inform him that if he disobeys, the removal will be done by the prison doctor.
Dozens of women, including prominent writers and a politician, revealed in December 2020 that police had strip-searched them while in custody.
Pro-Kurdish Peoples' Democratic Party (HDP) lawmaker Ömer Faruk Gergerlioğlu brought several reports into the public eye in late 2020.
Some women related their experiences long after the incidents during a Turkish wave of revelations similar to the international #MeToo movement in which women described past sexual harassment.
Source: Turkey Purge
https://turkeypurge.com/turkish-woman-says-subjected-to-strip-search-in-police-custody
-----
URL: https://www.newageislam.com/islam-women-feminism/sikh-pakistan-gurupurab-jatha-lahore/d/125856
New Age Islam, Islam Online, Islamic Website, African Muslim News, Arab World News, South Asia News, Indian Muslim News, World Muslim News, Women in Islam, Islamic Feminism, Arab Women, Women In Arab, Islamophobia in America, Muslim Women in West, Islam Women and Feminism