Age Islam News Bureau
16 May 2017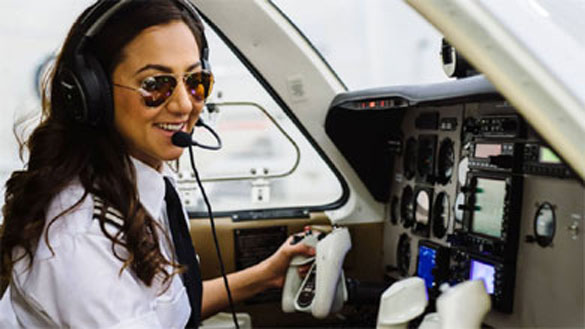 Afghan woman seeks to become youngest to make solo round-the-world flight -File Photo
----
• Religious Fundamentalism New Challenge for Women Empowerment
• Afghan Woman Seeks To Become Youngest To Make Solo Round-The-World Flight
• Rozina Sheikh, Ahmadabad Girl, Scores 97 Percentile Rank in Class 12; Aspires To Become A Doctor
• Failure to Recognise Religious Marriages May Point to a Lack of Political Will
Compiled by New Age Islam News Bureau
URL: https://www.newageislam.com/islam-women-feminism/marriage-muslim-woman-during-iddat/d/111166
--------
Marriage of Muslim woman during 'iddat' not void, says Delhi Court
May 15, 2017
As the issue of triple talaq is being debated in the Supreme Court, a city court has ruled that the marriage performed by a Muslim woman during the 'iddat' (waiting) period is not void. The Delhi court dismissed the claim of a man, accused of domestic violence by his wife, that their wedding was invalid as the per Islamic law, as she had not completed 'iddat' after getting a divorce from her first husband.
In Islamic law, a divorced woman has to wait during the 'iddat' period for about three months before she can remarry. "Any marriage performed by a Muslim woman during the iddat period is an irregular marriage and not a void (batil) marriage. Hence, the contention of the man on this aspect is found to be without any merits," Special Judge Bhupesh Kumar said while relying on a Supreme Court observation.
The court said there was "sufficient evidence" to issue notice to the Muslim man, who worked with the Coal India Ltd in Chhattisgarh, under the domestic violence act, saying "even depriving aggrieved person economically or financially amounts to domestic violence."
In her complaint seeking Rs 10 lakh compensation and monthly maintenance from the accused man, her second husband, the woman had said that he had concealed his first wedlock from her and when she found out about it, he started avoiding her and stopped sending her money.
She said she had married the accused after obtaining divorce from her first husband.
The man, on the other hand, denied that he had married the complainant, saying she was in the 'iddat' period and any wedding during this period is invalid.
"As per Islamic law, the female cannot remarry during 'iddat' period and any marriage taking place during 'Iddat' period cannot be termed as valid marriage," he said, adding that the woman got divorced from her first husband on October 4, 2012 and the second nikah was performed two days later.
The court also rejected the man's contention that the provisions of Protection of Women from Domestic Violence (PWDV) Act are not attracted as there are no allegations of physical, sexual or verbal abuse in the application.
http://indianexpress.com/article/india/triple-talaq-marriage-of-muslim-woman-during-iddat-not-void-court-4656862/
--------
Religious fundamentalism new challenge for women empowerment
May 16, 2017
There is no lack of political efforts in countering extremism but the ruling party is still maintaining good connection with "Tetul Huzur" which is alarming, said Rasheda K Choudhury, executive director of Campaign for Popular Education (Campe). She was referring to the government's recent communication with the Hefazat-e Islam's Bangladesh leader Shah Ahmad Shafi.
"They [Hefazat] are intervening in the national curriculum of our text books. Communal thoughts of who is Muslim and who is Hindu are being instilled into children's brains…these are the challenges that we need to counter," Rasheda, also adviser to a former caretaker government, added.
They were speaking at the launch of a report "Human Development in South Asia 2016: Empowering Women in South Asia".
Mahbub ul Haq of Centre of Pakistan prepared the report that was launched by the BRAC Institute of Governance and Development of BRAC University at BRAC Inn Centre in the city.
Violence against women costs some 2.4 percent of GDP, said Professor Mustafizur Rahman, a distinguished fellow at the Centre for Policy Dialogue.
There has been many laws framed in Bangladesh to ensure gender equality but the enforcement of the laws remains a big concern, he said.
He also noted that use of technology to spread fundamentalism is a huge challenge for women empowerment.
http://www.thedailystar.net/country/fundamentalism-new-challenge-women-empowerment-1406095
--------
Afghan woman seeks to become youngest to make solo round-the-world flight
16 May 2017
MONTREAL: An Afghan pilot hoping to become the youngest woman in history to complete a solo round-the-world flight was preparing Monday to start the Transatlantic leg of her journey.
Shaesta Waiz, 29, was born in a refugee camp at the end of the Soviet war in Afghanistan before immigrating with her family to the United States in 1987.
There, she discovered a passion for flying and obtained her pilot's license -- becoming the youngest certified civilian female pilot from Afghanistan.
Now she wants to share that sense of freedom of soaring high above ground with other young women.
"When I found my passion -- flying -- that's when I started to challenge myself. I started to read. I started to do better in maths. I started to look at the world differently, the sky differently," Waiz said as she made a stopover in Montreal.
"What's important is finding your passion and going after it."
Waiz took off from Daytona Beach, Florida on Saturday and has mapped out a route that will take her aboard her Beechcraft Bonanza A36 aircraft approximately 25,800 kilometers to more than 18 countries, including Spain, Egypt, India, Singapore and Australia, before ending the trip back in Florida in August.
During her 30 stopovers, the engineering graduate and the International Civil Aviation Organization (ICAO), which is backing her trip, will host events to try to get schoolchildren interested in science -- notably aeronautics.
According to ICAO figures, less than five percent of commercial pilots are women.
"If you really break it down into science, technology, engineering and math and explore what those career fields offer, it's very exciting," Waiz said.
"We hope to present to the young kids at these events what those careers are... and hopefully get them to pursue these careers that are in need of more talent."
On the website of her non-profit Dreams Soar, she commented: "Every time I open the door of an aircraft, I ask myself, 'How did a girl with my background become so lucky? The truth is, anyone can be me.'"
http://www.arabnews.com/node/1100401/offbeat
--------
Rozina Sheikh, Ahmadabad Girl, Scores 97 Percentile Rank in Class 12; Aspires To Become A Doctor
May 14, 2017
By Raqib Hameed Naik
Ahmadabad: On the morning of Thursday, May 11, Rozina Razil Shaikh, 17 along with her two brothers and mother were glued to the internet to check her Gujarat class 12 science stream result. Within moments, the family had a lot to celebrate.
Rozina had scored 97.07 percentile in the Science Stream.
The Shaikhs live in Vatva village of Ahmedabad in Gujarat. Their house has since been flooded with people visiting them to congratulate the feat achieved by Rozina.
"I am feeling quite good and relaxed after the result. I wanted to score good and I scored well," Rozina told TwoCircles.net .
Her percentile rank in science theory is 99.36 and percentile rank in overall theory is 96.74, whereas the overall percentile is 97.07.
Rozina's father, a doctor by profession, died in a car accident in 2010.
After her father's death, the family of four is being supported by her mother, Maqsuda Shaikh, who works as a tailor and earns about Rs 5,000 a month.
"The income of my mother barely supports our expenses. I had applied for scholarship after finishing my 10th and I did get one from a Baroda-based charitable trust which gave me 18000 per year to study. It covered my school fee and books expenses," said Rozina. The 17 year old girl was dedicated to score well and pursue her dream of becoming a doctor like her father.
"11th and 12th are very crucial from the perspective of getting into a medicine career. For these two years, I studied 8-10 hours every day apart from lectures at school. My mother and brothers have been continuously supporting me," says Rozina.
The girl's mother is more than happy and says that she was determined to get her children educated, at any cost. She works as a tailor to support her children's and sometime a few relatives also extend help.
"Mai bohut khush hui beti ka result sunke.Paise ki dikkat thi ghar main magar bache bhi aqalmand the ki paisa khali padahi ke lie mangte the (I felt very happy about my daughters result. There is financial problem, but my kids were quite wise that they asked money only for studies)," Maqsuda Shaikh told TCN.
"Inke walid bhi khete the ki bacho ko padhana hai, ye nhi ki ladki hai toh nahi padhani hai.Unka ek hi arman tha ki bachoo ko achi taleem deni hai.Aur humne bhi himmat nhi hari (Their father was also determined to get them good education and not like others, who think that girls shouldn't be provided with education. He had only one dream that his children should be good and well educated and we also didn't lost the hope)," she added.
Rozina appeared in National Eligibility and Entrance Test (NEET) on May 7 and she is hopeful that she will go through it.
"I can only pursue MBBS if I get seat in a government college and fee. If not, then I will opt for pharmacy because we don't have money to pay the fee of private MBBS colleges," she says.
http://twocircles.net/2017may14/409493.html?utm_source=feedburner&utm_medium=email&utm_campaign=Feed%3A+Twocirclesnet-IndianMuslim+%28TwoCircles.net+-+Indian+Muslim+News%29
--------
Failure to recognise religious marriages may point to a lack of political will
2017-05-15
Waheeda Amien
South Africa's Constitution allows for laws to be passed that recognise religious and traditional marriages as well as personal and family law systems. These are systems that regulate marriage, divorce, matters affecting children - including guardianship, custody, access, maintenance and inheritance.
This is a radical departure from the colonial and apartheid era when South Africa's common law definition of marriage was seen simply as a union between one man and one woman. In other words, a legal marriage in South Africa was characterised by heteronormativity and monogamy. Same-sex marriages and potentially polygynous marriages were excluded from the legal definition of marriage. This affected African customary marriages, Muslim marriages, Jewish marriages and Hindu marriages, which are all potentially polygynous.
The situation changed in the post-1994 democratic era. A law was passed in 1998 that afforded African customary marriages full legal recognition. And the Civil Union Act made marriages between same-sex couples legally possible.
Yet, potentially polygynous marriages such as Muslim marriages, Hindu marriages and Jewish marriages have not yet been afforded legal recognition. This failure is tantamount to saying that religious marriages are inferior and less deserving of legal protection. It infringes the rights to dignity, freedom of religion and equality of spouses in religious marriages and children born within those marriages.
Women are particularly badly affected. Take the case, for instance, of a Muslim wife who has a substantially smaller estate than her husband. She could be left financially destitute should the marriage end in divorce. Yet, she has no recourse under South African law because her marriage is not legally recognised.
Muslim women are also at a disadvantage because polygyny isn't regulated. This means that men can enter into subsequent marriages without their knowledge. Women also have difficulty accessing a Muslim divorce even though their right to divorce is recognised under Islamic law. This results in them being held hostage in unwanted marriages.
The fact that the absence of laws pertains to minority religions in South Africa – Muslims make up 2% of South Africa's population, Hindus 1% and Jews 0.2% – is no excuse for the failure of government to protect them.
This article deals mainly with the challenges facing Muslim women, which is the subject of a court challenge.
Working for equality
There have been numerous efforts to afford recognition to Muslim marriages. None, however, have been successful.
The first was in 2003 when the South African Law Reform Commission submitted the Muslim Marriages Bill to the Ministry of Justice and Constitutional Development.
The bill followed substantive consultations with the Muslim community and civil society. But it was viewed as unIslamic by some clergy which meant it was shelved.
This was followed by an attempt on the part of the Commission on Gender Equality and the Department of Justice and Constitutional Development, which drafted the Recognition of Religious Marriages Bill. The bill recommended recognition of all religious marriages. There were no considerable consultations around the bill which meant that it didn't elicit much support.
After years of inaction, a concerted campaign by a civil rights group, the Womens' Legal Centre Trust led to the Department of Justice and Constitutional Development finally turning its attention to the Muslim Marriages Bill. In 2010, an amended version of the bill was approved by Cabinet. This meant that it could enter the parliamentary process.
But this has still not happened. The Ministry of Home Affairs appears unwilling to table the bill because there's less support for it – changes were made without consultation with the Muslim community – as well as the fact that it flouts the commitment to gender equality under the constitution. For example, the bill does not afford equal rights to divorce between Muslim women and men, to the disadvantage of women.
Lack of support for the amended bill may appear to be a reasonable justification for not pursuing it in Parliament. But it does not explain the delay in enacting the bill prior to 2010 when the 2003 version of the bill appeared to have support among many of the Muslim clergy.
The delay may point to a lack of political will on the part of government.
Challenges
The legislative options on the table would ensure women were better protected. But they also pose challenges.
The recommendation by the Recognition of Religious Marriages Bill for self-regulation of religious marriages means that existing discriminatory religious rules and practices could be allowed to continue within religious communities.
At the same time, the bill's recommendation that dissolution of religious marriages must be regulated through the Divorce Act could ensure formal equality between spouses. Yet, it might not engender substantive equality since it wouldn't regulate existing discriminatory religious divorce rules and practices.
While Muslim, Hindu and Jewish wives could obtain a civil divorce through the bill, they may be constrained from getting a religious divorce. They would therefore be deemed to still be married under religious law thus preventing them from concluding further religious marriages. Yet, their husbands would be able to enter subsequent marriages due to the polygynous nature of their religious marriages.
In contrast, the Muslim Marriages Bill recognises existing Muslim rules and practices, including discriminatory ones. But it purports to regulate them in a way that affords protection to women. For example, the bill proposes to regulate polygyny in accordance with the Qur'anic precept of equality and requires existing wives to be notified of their husbands' intention to marry again.
The bill further purports to regulate a man's right to arbitrarily divorce his wife by requiring him to follow due process. Moreover, the bill recognises various forms of Muslim divorce including those available to women under Islamic law. If enacted, it would allow women to enforce Islamic law rights that they are presently unable to access.
The bill, therefore, potentially offers more protection for women than they otherwise have as a result of non-recognition of their Muslim marriages.
Challenging injustice
The Women's Legal Centre Trust has again launched an application asking the Western Cape High Court to compel government to recognise Muslim marriages. The matter has been set down for 28 August 2017.
This is an unprecedented case and its outcome will have far-reaching consequences.
Will the judiciary have the courage to act where government has thus far failed?
- Waheeda Amien is Associate Professor in Law at the University of Cape Town.
http://www.news24.com/Columnists/GuestColumn/failure-to-recognise-religious-marriages-may-point-to-a-lack-of-political-will-20170515
--------
URL: https://www.newageislam.com/islam-women-feminism/marriage-muslim-woman-during-iddat/d/111166
New Age Islam, Islam Online, Islamic Website, African Muslim News, Arab World News, South Asia News, Indian Muslim News, World Muslim News, Women in Islam, Islamic Feminism, Arab Women, Women In Arab, Islamophobia in America, Muslim Women in West, Islam Women and Feminism