New Age Islam News Bureau
5 March 2015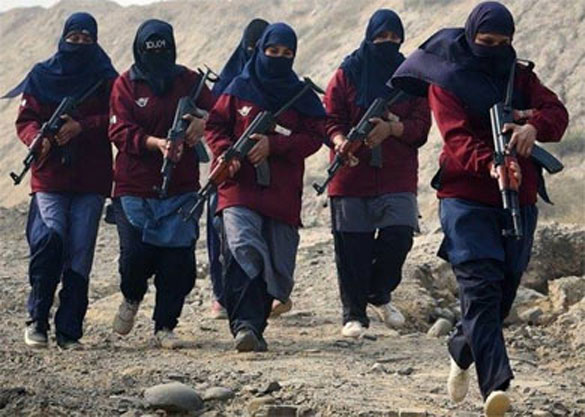 Pakistan's elite women commandos
-----------
• Pakistan's Elite Female Force Fighting the Taliban
• Play About Female Muslim Boxers in Bradford Now Showing
• RI Ready to Implement Action Plan on Women's Protection in Indonesia
• Reducing Rape to a Generic Indian Male Mindset Fails Its Victims
• Police Bust Muslim Gang in Oxfordshire Who Sexually Exploited Over 300 Girls
• America's First All-Female Mosque Is Receiving Praise — and Some Pushback
• Former FBI Informant: FBI Encouraged Me to Sleep With Muslim Women for Intel
Compiled by New Age Islam News Bureau
URL: https://www.newageislam.com/islam,-women-and-feminism/new-age-islam-news-bureau/marriage-of-minor-girls--muslims-can't-rely-on-personal-law,-says-madras-hc/d/101837
-----------
Marriage of Minor Girls: Muslims Can't Rely On Personal Law, Says Madras HC
MOHAMED IMRANULLAH S.
March 5, 2015
In a significant judgement, the Madras High Court has ruled that Muslims cannot rely upon their personal law to claim a right to give minor girls in marriage immediately after they attain puberty.
In a significant judgement, the Madras High Court has ruled that Muslims cannot rely upon their personal law to claim a right to give minor girls in marriage immediately after they attain puberty.
In a judgement reserved in the Principal Seat of the High Court in Chennai and delivered in the Madurai Bench, Justice C.T. Selvam held that such a right would run counter to the Prohibition of Child Marriage Act 2006 aimed at preventing the "evil practice" of child marriage besides safeguarding the health of girl children and elevating the status of women.
The verdict was delivered while dismissing a criminal revision petition filed by a Muslim family challenging an order passed by a judicial magistrate in Perambalur in 2012. The Magistrate had confirmed an order passed by the district child welfare officer preventing the family from solemnising the marriage of a 15-year-old girl.
In the meantime, a public interest litigation petition has been filed in the Madras High Court Bench here seeking a direction to the State Government officials to desist from interfering with marriage of Muslim girls.
The PIL filed by advocate M. Mohammed Abbas is expected to be listed for hearing before a Division Bench of Justices S. Tamilvanan and V.S. Ravi on Friday.
http://www.thehindu.com/news/cities/Madurai/marriage-of-minor-girls-muslims-cant-rely-on-personal-law-says-hc/article6962618.ece
-----------
Pakistan's Elite Female Force Fighting the Taliban
March 5, 2015
Women from the most conservative region of Pakistan are training to fight the Taliban on the frontline.
Female recruits in Peshawar are hoping to become part of an elite police force deployed in the north-western part of the country.
http://www.bbc.com/news/world-asia-31742995
-----------
Play about female Muslim boxers in Bradford now showing
March 5, 2015
No Guts, No Heart, No Glory' is a play about young female Muslim boxers in Bradford which is now showing in London, The Independent reports.
Written by Aisha Zia and Evie Manning, the play is an indicator of strong Muslim women and women empowerment. "I wanted to challenge expectations and stereotypes," Zia said.
Zia and Manning learnt about Ambreen Sadiq nd Saira Tabasum, British-Pakistani Muslims and boxers living in Bradford, and contacted them to tell their true stories.
After than Zia and Manning started looking for young women to fill out the production. They were looking for girls who could act and learn to box, and held auditions in schools and colleges. The girls they selected are mostly from Bradford and their parents come from various parts of Pakistan. "People come to the play and expect to see oppressed girls but actually they are having fun, they are angry and aggressive and dancing," said Manning.
Common Wealth Theatre's 'No Guts, No Heart, No Glory' shows at Southbank Centre's WOW: Women of the World Festival, from March 5th to March 8th.
http://www.pakistantoday.com.pk/2015/03/05/foreign/397420/
-----------
RI Ready to Implement Action Plan on Women's Protection in Indonesia
March 04 2015
Indonesia is preparing for the implementation of a national action plan on women's and children's protection and empowerment in conflict-prone areas, an official said on Wednesday.
"In small and big-scale conflicts, women and children always suffer the most. That's why they need to be protected and empowered," Women's Empowerment and Child Protection Ministry secretary Sri Danti Anwar said.
For this purpose, representatives of relevant governmental and non-governmental institutions had met to strengthen coordination in implementing the action plan, she said.
The action plan was mandated in Presidential Regulation No. 18/2014 on the protection and empowerment of women and children in social conflicts, she said.
The action plan's implementation will boost women's participation in halting, handling and recovering from the impacts of conflicts, and peace can be promoted, built and preserved within families and communities, Sri said as quoted by Antara news agency. (++++)
http://www.thejakartapost.com/news/2015/03/04/ri-ready-implement-action-plan-women-s-protection.html
-----------
Reducing rape to a generic Indian male mindset fails its victims
Priyamvada Gopal
4 March 2015
The story now has the status of dystopic legend. On a cold December Delhi night in 2012, a young woman returning home from watching a film with a male friend was gang-raped, beaten and thrown out of a bus to die. Given a series of pseudonyms, most frequently "Nirbhaya" or the Fearless One, her sickening fate caught the horrified imagination of middle-class urban India and the world beyond. Young people, men and women, poured out on to the streets to call for an end to rape and to demand that Indian cities be made safer for women.
For many, the rape of an educated young woman travelling on public transport in India's capital city spoke to an unacceptable – and for some, embarrassing – discrepancy between the soaring growth figures which nourished an increasingly affluent Indian middle class proud of its modernity, and what was frequently described as a "backward" or "barbaric" mindset.
Now India's Daughter, a documentary by British filmmaker Leslee Udwin, aired on BBC4 on Wednesday night, has ignited a new controvers. The film purports to expose this savage mindset by carrying an interview with Mukesh Singh, one of the jailed rapists whose appeal against his sentence is still pending. In it, an apparently unremorseful Singh blames rape squarely on women roaming in public places at night. His famously bullish lawyer, ML Sharma, has also suggested that the victim was responsible for her fate in a culture which has "no place" for women.
On the basis of complaints, including the charge that the convicted rapist's remarks incite violence against women, the Indian government has taken steps to restrain the Indian media from showing the interview until further notice. Significantly, many Indian women's rights activists have also suggested that it is judicially problematic to air Singh's statement while the matter is still in the courts.
In an impassioned statement which uses the word "civilised" in three consecutive sentences as an exhortation against critics of the broadcast, Udwin has appealed to Indian prime minister Narendra Modi to personally intervene against what she deems attempts to "silence" her film through "kneejerk hysteria".
Udwin's elevation to the status of free speech martyr and the ensuing controversy is likely to boost the viewing figures in Britain for a film that she describes as having been made through enormous personal sacrifice. She has stressed her abdication of home comforts to travel with Conradian determination to explore "the blackest recesses of the human heart". Indian feminists, on the other hand, have expressed unease – not only with the timing of the documentary's broadcast which might, they fear, result in a further trial by media of the accused, already fast-tracked through the judicial system because of the public outcry, but also with some of the premises both of the film and the associated "Daughters of India" global campaign against sexual violence to be launched next week at a star-studded New York screening.
As the leading feminist campaigner and Secretary of the All-India Progressive Women's Association, Kavita Krishnan, notes, Indian anti-rape protestors themselves have unambiguously rejected the patriarchal language which denotes women as daughters, wives or sisters entitled to protection in that capacity rather than as human beings who will assert themselves and resist attacks on their bodies and rights.
Indian women's rights campaigners – who, as it happens, have been active and vocal on the question of rape for decades before December 2012, even if that miserable event galvanised a wave of impressive fresh protests – frequently find themselves wedged between Indian patriarchs who deny that rape is a serious problem or blame it on westernisation, and the well-meaning but often ill-informed "maternalism" of some western feminist quarters that lay the blame on a particularly retrograde mindset in India. It is a false choice rightly rejected by Krishnan and others even as ruling right-wing Indian politicians have quickly taken recourse to the language of "hurt sentiments" and wounded national pride in objecting to the film.
In contrast, Indian feminists fully believe that rape culture must be widely exposed and discussed as precisely a national problem, though hardly a uniquely Indian one. They also believe, correctly, that violence against women cannot be discussed as a single issue reducible, in Meryl Streep's rather jejune words, to a "mindset that must be made to know it has no place in the civilised world". Systemic sexual violence is not a cocktail party faux-pas; it will not blush and quickly mend its ways for fear of bad publicity and not being allowed to sit at the table of the putatively "civilised", although quite which rape-free country is hosting this dinner is as yet unknown.
One of the great strengths of India's diverse and flourishing women's rights movement is that many of its most powerful voices stress the systemic and universal nature of sexual violence which, however, takes different forms depending on context. Rape can be a perfectly modern weapon that is intimately connected to other systems of privilege, exploitation and inequality, including, in the Indian context, caste oppression, religious chauvinism, resource appropriation (including that of mineral-rich land from indigenous tribal communities by multinational corporations) and the vicious economic inequalities fostered by an unfettered capitalism prosperity that has yet to bring basic shelter and nourishment to millions.
To talk about rape in terms of a savage cultural psyche locked to the past is to miss the dense wood for the most exotic trees if that discussion does not examine how the same government appealed to now by Udwin is backed by Hindu right-wing political groups which allegedly wielded mass rape as a weapon against Muslim women in Gujarat in 2002 where Modi was chief minister. (One Hindu supremacist recently called for even dead Muslim women to be raped). To not note the ways in which rape has been systematically used to keep Dalit women and communities "in their place" by upper-castes threatened by change is to fail rape victims. To not think about how class rage can be lethally displaced on to the bodies of women in a context where economic disenfranchisement crackles like lightning through the body politic of India is to fail rape victims. To reduce rape to a matter of a generic Indian male mindset is to fail rape victims. It is, at best, embarrassingly facile. At worst, it is to collude in the silences about gender exploitation and sexual violence as very modern problems inseparable from every other form of global exploitation that blights our supposedly emancipated times.
http://www.theguardian.com/commentisfree/2015/mar/04/reducing-to-a-generic-indian-male-mindset-fails-its-victims
-----------
Police bust Muslim gang in Oxfordshire who sexually exploited over 300 girls
March 4, 2015
LONDON: A report found that over 300 victims may have been groomed and assaulted by Oxfordshire gangs over the last 16 years.
The report found that as many as 373 girls may have been subjected to "indescribably awful" sexual exploitation in Oxfordshire, southern England.
Following the report, British Prime Minister David Cameron promised tough action Tuesday against teachers and social workers who fail to protect children in their care, as a new report identified hundreds more potential sex abuse victims.
A series of recent scandals have revealed that children across Britain had been abused on an "industrial scale", Cameron said, blaming the "'walk-on by' culture" of officials, including police officers.
Under his proposed new measures, the existing crime of "wilful neglect", which carries a maximum jail term of five years, will be extended in England and Wales to cover children's social care and education.
The findings follow a string of similar investigations that have revealed widespread sexual abuse of children, many of whom were being monitored by local authorities.
"Today, I am sending an unequivocal message that professionals who fail to protect children will be held properly accountable and council bosses who preside over such catastrophic failure will not see rewards for that failure," Cameron said.
"Children were ignored, sometimes even blamed, and issues were swept under the carpet — often because of a warped and misguided sense of political correctness," he added.
"That culture of denial which let them down so badly must be eradicated."
The report into abuse in Oxfordshire accused authorities of "serious failings" in the way they treated young girls' claims they were being abused by gangs of men.
Victims were plied with drugs and alcohol before being forced into prostitution, raped and drugged, the report said, but the local council failed to recognise the scale of the problem.
"What happened to the child victims of the sexual exploitation in Oxfordshire was indescribably awful," said Alan Bedford, the author of the independent review.
Maggie Blyth, independent chair of the Oxfordshire Safeguarding Children Board (OSCB) that had some responsibility for the girls, apologised.
"It is shocking that these children were subjected to such appalling sexual exploitation for so long. On behalf of the OSCB I would like to apologise," she said.
The report has echoes of another investigation that last year identified at least 1,400 potential victims of child sexual exploitation in the northern English town of Rotherham.
The inquiry detailed gang rape, kidnapping and trafficking of girls as young as 11 between 1997 and 2013, but said local officials failed to act against the mainly South Asian men responsible for fear of being seen as racist.
Similar cases of widespread sexual abuse of children — sometimes by organised gangs — have been revealed in recent years in the cities of Derby and Rochdale.
Britain has also been gripped by revelations of child sex abuse by some of its best-loved celebrities and claims against top politicians and establishment officials.
The government announced last year it was setting up independent inquiry to look into how public institutions and bodies failed children going back decades.
But the probe has yet to get going after the first two chairwomen stepped down over accusations they were too close to the establishment. A New Zealand judge, Lowell Goddard, was named last month to take the helm.
Under Tuesday's plans, the government will set up a new national whistleblowing helpline for public sector workers and a mechanism put in place to claw back pay-offs for those who failed to protect victims.
Child sexual abuse will also be prioritised as a national threat, Cameron said, meaning police forces will have a duty to share resources and intelligence.
http://tribune.com.pk/story/847965/police-bust-muslim-gang-in-oxfordshire-who-sexually-exploited-over-300-girls/
-----------
America's first all-female mosque is receiving praise — and some pushback
March 5, 2015
Southern California may be the land of Hollywood and movie glamour, but it's also home to the one of the country's largest Muslim populations. Hasna Maznavi is at home in both of those worlds.
Maznavi, who's a comedy writer for a living, recently opened a mosque. It's something she dreamed about doing from the time she was seven years old, but her idea for the mosque kept shifting as she grew up.
Then Sept. 11 happened, and Maznavi saw how American attitudes toward Muslims began to shift. With quotes from the Quran being batted about in the news, Maznavi decided she wanted to find out what the Quran actually said. So she sat down and read it.
"I went into it thinking that I was going to find all hell and damnation," she says. "But I found this loving, generous, forgiving God in the Quran. And so my concept of what Islam was and is drastically changed from my knowledge of the Quran."
She also began to learn about Islam's rich history of women scholars, and realized she wanted to hear their perspective. That's when she knew that the mosque she longed to open was meant to be one for women. She started to put her plan into action and earlier this year, the Women's Mosque of America held its first service in downtown Los Angeles.
Women leading women in prayer is common in Islam and women's mosques exist in other parts of the world, but this is a first here in the United States. Maznavi and her co-president, Sana Muttalib, say they braced for some backlash. But feedback has been mostly positive, including from imams across the US.
But Mustafa Umar, an imam and the director of education at one of Southern California's largest mosques, is not pleased with the new mosque.
"My biggest issue is that there's no need for this, so why do it?" he asks. "It reinforces the stereotypical portrayal of Muslim women as being oppressed, and I just don't feel it's the case here in Southern California."
Umar points out that his mosque does plenty of programming for women. But congregants of the women's mosque think he's missing the point. Mona Hanouni, a local neonatologist who went to one of the mosque's first services in February, says she stopped going to other local mosques because she felt marginalized.
"I never felt I could get close enough to the imam to ask him any questions, or I would have to ask my dad to go and do that," she says. "I never dreamed that this would be possible. I mean, this just blew my mind."
The media also can't seem to get enough of the new mosque. After all, when Muslim women make the news, it's typically not as empowered leaders — especially not within their own religious communities.
Moznavi says she doesn't mind the coverage, but she also thinks it can miss the larger picture. "Even if mosques had perfectly equal spaces and state-of-the-art everything, we would still do this," she says, comparing the mosque to women's colleges. "We would still have this women's mosque because women just need a safe space to be with their sisters."
The empowerment thing seems like it's already working. The female scholar who gave the sermon, or khutbah, at a recent service had never given one before. She had written plenty, but they were delivered by men at other mosques.
Maznavi hopes to see the women's mosque movement grow. "I always imagined that it would spread to different chapters across America," she says, "that women from neighboring mosques could go there for empowerment, sisterhood, inspiration, a chance to deliver khutbah, and then go back to their local mosques and join the boards of those mosques empowered."
At the discussion session after a February service, eight-year old visitor Bayan Altalib raised her hand. "Can you put a female mosque in Connecticut?" she asked.
Considering the excited response Masnavi has received from women both near and far, one might just be coming soon.
http://kbia.org/post/americas-first-all-female-mosque-receiving-praise-and-some-pushback
-----------
Former FBI Informant: FBI Encouraged Me to Sleep With Muslim Women for Intel
05/03/2015
To Muslim mosque members in the Los Angeles area, Craig Monteilh was known as Farouk al-Aziz, a French Syrian looking to reconnect to his Islamic roots. But behind the devout facade and convincing knowledge of Islam, Monteilh was spying for the FBI, which instructed him to go as far as sleeping with Muslim women to gain information.
Monteilh joined HuffPost Live to share his story and discuss how he went from a criminal to an FBI informant to a witness in a case against the Feds.
Monteilh had his own brush with the law, having served time for using fraudulent checks. His familiarity with criminals in Chino prison enticed the FBI to recruit him to root out organized crime and later seek out terrorists as part of Operation Flex.
"The FBI paid me to infiltrate mosques in Los Angeles and Orange County in Southern California, as a very broad surveillance operation to give them the personal information of Muslims," he told host Josh Zepps on Monday.
That "personal information" comprised of emails, cell phone numbers, names of known associates and where they attended mosque. Monteilh said he even placed recording devices in the offices of imams and a local Muslim Student Union. The FBI would then gather the data and share the intel with the Office of Foreign Assets Control for the purpose of thwarting potential terror attacks.
Monteilh's informant role had an intense training process, during which he learned to "pretend to be Muslim."
"The FBI trained me in the tenets of Islam, in the elementary principles of Arabic, and just to blend into the community and to slowly integrate myself as a Muslim male," he said.
The operation included even more extreme breaches of privacy, with Monteilh going as far as dating and having sex with Muslim women to extract intelligence.
"I portrayed myself as a unmarried male, although I was married," he said. "Within the Muslim community, they would help me to get a bride, so they would introduce me to single Muslim women. I would go out on dates and things like that. … [My FBI handlers] instructed me, if I was getting good intel, to allow it to go into sexual relations."
The undercover plot eventually took an ironic turn when his extreme jihadist rhetoric alienated his targets, who reported him to the FBI. In 2007, the Islamic Center of Irvine filed a restraining order against him, effectively blowing his cover.
As Monteilh remembers, very few of his targets actually used similar jihadist rhetoric. The only time he heard extremist language was after some prodding and "inciting" on his part.
"They'd follow my lead," he said.
Looking back on his undercover operation now, Monteilh said the monthly $11,200 compensation he received "clouded his judgement," making it tough for him to question the practice. Although he originally felt it was his "patriotic duty" to help the FBI operation, he had a change of heart.
"I began to be conflicted because I was spying on innocent people. They were not involved in criminal activity," he said. "They were not espousing terrorist rhetoric, but I was still spying on them and giving the FBI the information they wanted."
Monteilh has since spoken out against the FBI's controversial informant program and even planned to testify in a class action suit against the FBI. The case was dismissed because it would risk exposing "state secrets."
Learn more about the FBI's informant program by watching the full HuffPost Live conversation here.
Sign up here for Live Today, HuffPost Live's new morning email that will let you know the newsmakers, celebrities and politicians joining us that day and give you the best clips from the day before!
http://www.huffingtonpost.com/2015/03/04/fbi-informant-craig-monteilh_n_6800126.html?ir=India
-----------
URL: https://www.newageislam.com/islam,-women-and-feminism/new-age-islam-news-bureau/marriage-of-minor-girls--muslims-can't-rely-on-personal-law,-says-madras-hc/d/101837