New Age Islam News Bureau
18 October 2022
• Bangladesh Disallows Bollywood Actress Nora Fatehi's Dance to Save Dollars
• Islamic Society of Baltimore Now Has Female Resident Scholar
• Female Arab Music Legends Collaborate For Fifa World Cup Song
• Tehran Billboard of Famous Women in Hijab Changed a Day After Going Up
• Worry Grows For Iranian Woman Athlete Who Climbed Without Hijab
• Nestlé Pakistan Leads Rural Women to Financial Empowerment
Compiled by New Age Islam News Bureau
URL: https://newageislam.com/islam-women-feminism/mariam-saleh-laden-red-sea-saudi-arabia-egypt/d/128211
--------
Mariam Saleh bin Laden Is the 1st Arab Woman to Swim across the Red Sea from Saudi Arabia to Egypt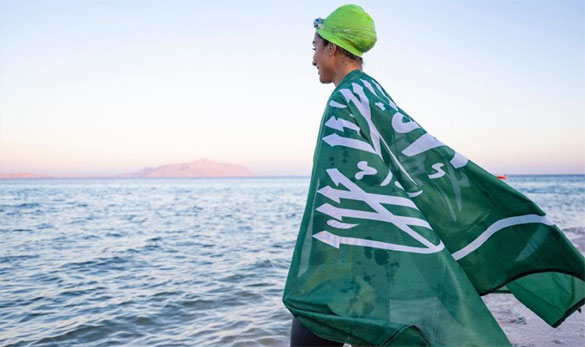 Dr Mariam Saleh Bin Laden [mariamsalehbinladen/Instagram]
-----
October 18, 2022
Saudi swimmer and Doctor Mariam Saleh bin Laden managed to cross the Red Sea between Saudi Arabia and Egypt, the first Arab woman to do so.
Crossing the Red Sea was one of her dreams, she said, adding that her goal is to raise awareness of coral reef conservation.
Saleh managed to accomplish the task by swimming across the Strait of Tiran, according to al-Arabiya channel.
"I am very grateful to be the first Saudi, the first Arab and the first women to swim from Saudi Arabia to Egypt.. I never thought I would do this swim without a shark cage. But putting ourselves out of our comfort zones is what makes us stronger," she wrote on Instagram post.
"It's always been a dream of mine to swim from Saudi Arabia to Egypt. Today I finally did it. I am so grateful to have been introduced to @lewis.pugh . When I heard about his plan to swim across the Red Sea, I had to take this opportunity to join him," Saleh added.
Source: Egypt Independent
https://www.egyptindependent.com/saudi-doctor-is-the-1st-arab-woman-to-swim-across-the-red-sea-from-ksa-to-egypt/
--------
Bangladesh Disallows Bollywood Actress Nora Fatehi's Dance to Save Dollars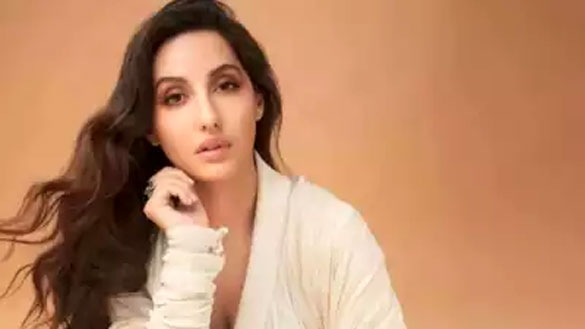 Bollywood actress Nora Fatehi (File photo)
-----
Oct 17, 2022
The Bangladesh government denied a Bollywood actor permission to perform at an event in the capital Dhaka in a bid to save dollars as part of austerity measures.
Nora Fatehi, known for her work in the Indian film industry, wasn't granted permission "in view of the global situation and with the aim of maintaining the foreign exchange reserves," according to a notice issued by Bangladesh's ministry of cultural affairs on Monday. Fatehi was scheduled to dance and hand out awards at an event organized by the Women Leadership Corporation.
The ministry referred to the central bank's restrictions on dollar payments amid dwindling foreign exchange reserves, which slipped to $36.33 billion as of October 12 -- enough to cover roughly four months of imports -- from $46.13 billion a year earlier.
Fatehi, who comes from a Moroccan-Canadian family, made her debut in Hindi films in 2014, according to the IMDb website.
The International Monetary Fund is preparing to send its first negotiation mission to Bangladesh later this month to open talks with the government on loans the country has sought, according to Anne-Marie Gulde-Wolf, deputy director of the Asia and Pacific Department at the IMF.
The reserves "are still at a comfortable level, but the direction has been going down," she said at a media briefing on Oct. 13. The IMF is discussing an economic program that will "contain measures to stabilize the economy and to avoid a further downturn in the economy."
Source: Times Of India
https://timesofindia.indiatimes.com/world/south-asia/bangladesh-disallows-bollywood-actresss-dance-to-save-dollars/articleshow/94923327.cms
--------
Islamic Society of Baltimore now has female resident scholar
By Maya Lora
October 15, 2022
CATONSVILLE, Md. — Huda Hasan can trace the confidence she has both in herself and in her Islamic faith to time she spent in a classroom with Maryam Azam.
Azam taught Hasan Islamic and Quran studies at the Al-Rahmah School in Windsor Mill. Hasan, 21, and her friends found themselves looking forward to Azam's class every day, drawn by what Hasan called her "practical, friendly approach."
"A lot of youth struggle with religion, especially in this day and age. So the way she taught us, we were able to grow in love in our religion," Hasan said. "And she always told us that no matter where we go, people should know that we're young American Muslim females in society by looking at our character and the way we treat other people."
Azam's ability to connect with her students is just one of the reasons she was recently named the Islamic Society of Baltimore's first female resident scholar.
A handful of families established the Islamic Society of Baltimore in 1969, according to the organization's website. The society bought an 8-acre lot, in Windsor Mill close to Baltimore City, in 1982 to build its Sunni mosque, Masjid Al-Rahmah. The Islamic Society of Baltimore now offers several services and facilities, including the Ah-Rahmah School where Azam teaches middle school during the day and high school students in an after-school program.
Lead Resident Scholar Yaseen Shaikh said a resident scholar is another name for an imam who lives and serves within the community.
Responsibilities include planning and speaking at community events, addressing issues facing the Muslim community and providing religious guidance, Azam said.
Azam wants people to understand that while she's certainly breaking stereotypes, roles like hers have always been open to women in Islam.
"Our religious legacy is basically: Women have been in this position for years, or like in leadership positions for years," Azam said. "People, a lot of times they stereotype Islam with women don't work or women don't serve as leaders of the community and women are oppressed."
Azam added that while she's the first female scholar at the Islamic Society of Baltimore, women in her position are "actually more common than we know," it just may not be as prominent in certain cultures.
"When you learn Islam properly, you really realize that nothing is stopping you. Your religion is not stopping you, definitely," Azam said.
Shaikh said the Islamic Society of Baltimore felt the need for a female resident scholar who could "serve the needs of the wider community but also focus on the development and nurturing of young, confident Muslim women."
Shaikh said the religious affairs committee, which makes recommendations for resident scholars, picked Azam rather than launching a national search.
Azam grew up in Montgomery County, born to parents who immigrated from Pakistan. She completed her studies in higher Islamic education at Darul-Uloom Al-Madania in Buffalo, New York, and started teaching at Al-Rahmah in 2014 after moving to Baltimore; she also has a bachelor's degree in health services management from the University of Maryland Global Campus. The Baltimore County resident is married and has three children in addition to her 2-year-old ragdoll cat, Munchkin.
Azam is also the director of the Tariqah program, an after-school, coed program for high school students who attend public school during the day. Azam said the curriculum helps students maintain their Islamic identity while navigating high school.
"Islam has been miscommunicated and misconstrued," Azam said. "One of my goals is to help them understand that, OK, if somebody says something about Islam you don't just accept it. You have to explain to them that maybe you got the information from the wrong resource, maybe you didn't understand it. So actually helping them understand their religion better."
For example, Azam said, some of her female students will express frustration with "gender responsibilities," pointing out things their brothers get to do that they can't. But Azam said under Islam, those activities are restricted for everyone.
"A lot of times these students that come to us from high school, it actually helps them because they realize that a lot of things that they're allowed to do or not allowed to do have really nothing to do with their religion," Azam said. "It's basically culture."
Girls in the community find Azam relatable, Shaikh said; his own daughter looks up to Azam.
"She'd already been teaching at the school, already serving in many different areas of the organization without really being given the title of resident scholar, even though she was known to be one," Shaikh said. "Every individual that I've spoken to has been really happy about having this resource in the community and a guide in the community that they can relate to."
Azam has to break some barriers to be relatable. Azam chooses to wear a niqaab, a face veil that exposes only the eyes. As a result, people have made assumptions about her both outside and within the Muslim community, such as that she can't speak English or that she holds extreme views.
Despite those stereotypes, Azam feels comfortable and confident in her niqaab, even when teaching or speaking at community events.
"I've never been at a point where I have to like, take it off in order to prove myself or to fit in," Maryam Azam said about wearing a niqaab.
"I've never been at a point where I have to like, take it off in order to prove myself or to fit in," Azam said.
Hasan, who chooses to wear a hijab, said Azam taught her and her friends that clothing does not limit them. While the hijab is compulsory in some cultures and has sparked unrest in places like Iran, Hasan said it isn't forced and that girls didn't have to wear it to represent Islam, emphasizing instead character and how you treat others. Those are lessons she took from Azam.
Years later, Hasan continues to turn to Azam for spiritual guidance, saying Azam was always a mentor in addition to being a teacher.
But her service has gone well beyond that, Hasan said.
"She probably doesn't even know this," Hasan said. "But she really has made an impact to a lot of people that she might not even know."
Source: Washington Post
https://www.washingtonpost.com/local/islamic-society-of-baltimore-now-has-female-resident-scholar/2022/10/15/8fbb02de-4c89-11ed-8153-96ee97b218d2_story.html
--------
Female Arab music legends collaborate for Fifa World Cup song
October 08, 2022
The first Fifa World Cup to be held in the Middle East will bring together a star-studded lineup of football players in Qatar in November. While it promises to be a great spectacle, Arab music legends will provide the soundtrack.
The most recent song to be released as part of the official soundtrack is Light The Sky, which follows the releases of Hayya Hayya (Better Together), Arhbo, and The World is Yours to Take.
It is quite notable in that Light The Sky is a breathtaking collaboration amongst four of the most well-known female vocalists in the Arab world.
Emirati singer-songwriter Balqees, award-winning Moroccan singer-songwriter Manal, Moroccan-Canadian sensation Nora Fatehi and Iraqi diva Rahma Riad, all contribute their enchanting voices to the captivating tune.
Female referees
The song's highly energised music video also pays tribute to the first Middle Eastern World Cup's ground-breaking choice of female referees.
In Qatar, matches will be overseen by Stéphanie Frappart from France, Salima Mukansanga from Rwanda, and Yoshimi Yamashita from Japan. Neuza Back from Brazil, Karen Daz Medina from Mexico, and Kathryn Nesbitt from the United States will serve as assistant referees.
More releases are expected to in the sunup to the start of the tournament on November 20.
By fusing the universal languages of music and football, the multi-song Official Soundtrack, driven by the Fifa Sound strategy, is uniting musicians, fans, and players to express their passion.
Fifa Entertainment Executive and song producer RedOne said: "Light The Sky invites us to "shout if you're with me" and brings to life the spirit of collective celebration of the Fifa World Cup — an energising message as we look forward to a game-changing tournament of firsts."
"This is an inspirational song with its roots firmly in the Middle East. It is also fitting that the first-ever female referees at a Fifa World Cup are part of this release that will connect with football and music lovers of all ages."
Source: Gulf News
https://gulfnews.com/qatar-world-cup-2022/news-views/watch-female-arab-music-legends-collaborate-for-fifa-world-cup-song-1.1665203809346
--------
Tehran billboard of famous women in hijab changed a day after going up
October 14, 2022
TEHRAN: A photomontage of dozens of renowned Iranian women all observing hijab disappeared from a Tehran billboard Friday within 24 hours of going up, after drawing criticism amid protests over Mahsa Amini's death.
Iran has been gripped by a month of protests since Amini died after being arrested by the morality police in Tehran for allegedly violating the country's strict dress code for women.
The street violence has led to dozens of deaths, mostly of protesters but also members of the security forces, and hundreds have been arrested.
The original billboard appeared early Thursday on Valiasr Square, in downtown Tehran, bearing a photomontage of an array of celebrities around the slogan "The women of my homeland, Iran."
Among them were athletes, political figures and scientists such as late mathematician Maryam Mirzakhani, early 20th century revolutionary figure Bibi Maryam Bakhtiari and poet Parvin E'tesami.
But on Friday morning, the photomontage was replaced by a white background, although the new version retained the slogan.
Fars news agency said the move came after some of those featured had asked for their pictures to be removed, citing a "lack of coordination" with them.
Others criticized the billboard for featuring women who had removed their headscarves during the recent protests, it added.
Award-winning Iranian actress Fatemeh Motamed-Arya demanded her picture be removed in an emotional video that went viral on social media.
"I am Mahsa's mother, I am Sarina's mother, I am the mother of all the children who are killed in this land, I am the mother of all Iran, not a woman in the land of killers," Motamed-Arya said.
She appeared in the video without a hijab headscarf, seemingly in a vehicle as it passed Valiasr Square.
The billboard was raised by Owj Arts and Media Organization, known for pro-revolutionary films and cultural production.
The decision to remove the pictures was taken after "controversies and reactions," the organization said in a statement carried by state news agency IRNA.
The billboard on Valiasr Square often features symbolic murals related to religious, social and political themes.
Source: Arab News
https://www.arabnews.com/node/2181126/middle-east
--------
Worry grows for Iranian woman athlete who climbed without hijab
October 18, 2022
SEOUL, South Korea: An Iranian female competitive climber left South Korea on Tuesday after competing at an event in which she climbed without her nation's mandatory headscarf covering, authorities said. Farsi-language media outside of Iran warned she may have been forced to leave early by Iranian officials and could face arrest back home, which Tehran quickly denied.
The decision by Elnaz Rekabi, a multiple medalist in competitions, to forgo the headscarf, or hijab, came as protests sparked by the September 16 death in custody of a 22-year-old woman have entered a fifth week.
Mahsa Amini was detained by the country's morality police over her clothing.
The demonstrations, drawing school-age children, oil workers and others to the street in over 100 cities, represent the most-serious challenge to Iran's theocracy since the mass protests surrounding its disputed 2009 presidential election.
Rekabi left Seoul on a Tuesday morning flight, the Iranian Embassy in South Korea said. The BBC's Persian service, which has extensive contacts within Iran despite being banned from operating there, quoted an unnamed "informed source'' who described Iranian officials as seizing both Rekabi's mobile phone and passport.
BBC Persian also said she initially had been scheduled to return on Wednesday, but her flight apparently had been moved up unexpectedly.
IranWire, another website focusing on the country founded by Iranian-Canadian journalist Maziar Bahari who once was detained by Iran, alleged that Rekabi would be immediately transferred to Tehran's notorious Evin Prison after arriving in the country. Evin Prison was the site of a massive fire this weekend that killed at least eight prisoners.
In a tweet, the Iranian Embassy in Seoul denied "all the fake, false news and disinformation'' regarding Rekabi's departure on Tuesday. But instead of posting a photo of her from the Seoul competition, it posted an image of her wearing a headscarf at a previous competition in Moscow, where she also took a bronze medal.
Calls to the Iranian Embassy in Seoul rang unanswered on Tuesday.
Rekabi didn't put on a hijab during Sunday's final at the International Federation of Sport Climbing's Asia Championship, according to the Seoul-based Korea Alpine Federation, the organizers of the event.
Women competitors always wear hijab
Federation officials said Rekabi wore a hijab during her initial appearances at the one-week climbing event. She wore just a black headband when competing on Sunday, her dark hair pulled back in a ponytail" she had a white jersey with Iran's flag as a logo on it.
Rekabi was a member of Iran's 11-member delegation, which comprises of eight athletes and three coaches, to the event, according to the federation.
Federation officials said they were not initially aware of Rekabi competing without the hijab but looked into the case after receiving inquires about her. They said the event doesn't have any rules on requiring female athletes wearing or not wearing headscarves. However, Iranian women competing abroad under the Iranian flag always wear the hijab.
South Korea's Justice Ministry refused to confirm whether the Iranian athlete is still in South Korea or has left the country, citing privacy-related regulations. South Korea's Foreign Ministry said it has no comments on the issue.
Rekabi, 33, has finished on the podium three times in the Asian Championships, taking one silver and two bronze medals for her efforts.
So far, human rights groups estimate that over 200 people have been killed in the protests and the violent security force crackdown that followed. Iran has not offered a death toll in weeks. Demonstrations have been seen in over 100 cities, according to the group Human Rights Activists in Iran. Thousands are believed to have been arrested.
Gathering information about the demonstrations remains difficult, however. Internet access has been disrupted for weeks by the Iranian government. Meanwhile, authorities have detained at least 40 journalists, according to the Committee to Protect Journalists.
Iranian officials, including Supreme Leader Ayatollah Ali Khamenei has repeatedly alleged the country's foreign enemies are behind the ongoing demonstrations, rather than Iranians angered by Amini's death and the country's other woes.
Source: Gulf News
https://gulfnews.com/world/mena/worry-grows-for-iranian-woman-athlete-who-climbed-without-hijab-1.91340565
--------
Nestlé Pakistan leads rural women to financial empowerment
OCTOBER 18, 2022
Naseem is a beneficiary of the Nestlé BISP Rural Women Sales Program, a program that creates livelihood opportunities for deserving rural women and helps them become financially empowered. She earns an independent income and supports her family, but her story had challenges at every step.
Some time back, Naseem lost her son, who was an earning member of the family, and not only did she have to grieve the loss of a son, but this loss also came along with additional financial challenges because of a lesser earning hand in the family.
To support her husband and to make ends meet, Naseem opened a small grocery shop in her vicinity with limited products. During one of their visits to the village, the Nestlé team visited her and offered her a loan to procure healthy Nestlé products that she could sell to the community.
The Nestlé BISP Rural Women Sales Program was envisioned to provide livelihood opportunities to the poorest of the poor women, helping them become financially independent. Not only does this program empower women but is also aligned with Nestlé's values of diversity for social impact and empowering women.
Under this program, rural women are trained on the fundamentals of sales, pricing and profit margin and are made aware of product nutritional benefits and methods of preparation and use. After this training, they become retailers (who own and sell at shops) or sales agents (who sell to shops as micro distributors, engage in door-to-door selling and sell products from their homes).
Nestlé extended PKR 2 million as revolving credit to Akhuwat Pakistan, (the largest interest-free microfinance program) to provide microloans to sales agents who, as a result, have opened their own shops in their villages. Till date, 200 microloans have been given with an average of PKR 15,000 per beneficiary.
This loan and expansion efforts resulted in an incremental income of Rs. 6000 per month on average, which Naseem now contributes to the household. Not only has she gained financial empowerment in the face of adversity but has also become a symbol of hope for many other women in her community who hope to become strong financially as well.
On this International Day of Rural Women, it is very important to remember and honor women like Naseem who are key agents for achieving sustainable development and contributing significantly to the economy and communities.
Source: Daily Times Pakistan
https://dailytimes.com.pk/1014229/nestle-pakistan-leads-rural-women-to-financial-empowerment/
--------
URL: https://newageislam.com/islam-women-feminism/mariam-saleh-laden-red-sea-saudi-arabia-egypt/d/128211
New Age Islam, Islam Online, Islamic Website, African Muslim News, Arab World News, South Asia News, Indian Muslim News, World Muslim News, Women in Islam, Islamic Feminism, Arab Women, Women In Arab, Islamophobia in America, Muslim Women in West, Islam Women and Feminism